Top 10 Road Trips from Marbella
Puerto Banus
Caminito del Rey
Fuengirola
Sierra de las Nieves
Tangier, Morocco
Rio Guadalmina
Monda
Casares
Torremolinos
Top 10 scenic trips from Marbella
Nestled on the Mediterranean in the foothills of the Sierra Blanca mountains between Malaga and the Strait of Gibraltar, Marbella couldn't have a more naturally beautiful setting. A major Costa del Sol city and municipality, it hosts the HQ of the region's Association of Municipalities and its stunning scenery and glam nightlife make it a major tourist draw. Reality TV stars and more mortals alike are drawn to The Golden Mile ‐ a glittering strip of high-end hotels, dapper restaurants and exclusive clubs that keep the resort bouncing until the wee small hours. But there's another side to 'Marbs' ‐ as well as its sublime scenery, the casco antiguo (old town) is peppered with pretty floral displays and winding lanes, and if you look closely you'll find traces of the Roman, Moorish and Phoenician cultures that once ruled the roost here.
There's a long list of legendary things to see and do in Marbella. For starters, Alameda Park is a lovely green space where you can take a cathartic stroll and soak up fountains, tropical trees and marble walkways. Then there are 20 beaches in and around the city, including the bijou, Blue Flag El Faro, which is ideal for families. And if golf's your bag, 32 manicured courses await, including top-notch La Quinta Golf and Country Club.
Hire a car in Marbella and take advantage of its prime coastal location to explore the Costa del Sol and further afield ‐ exciting road trips really add another dimension to this destination.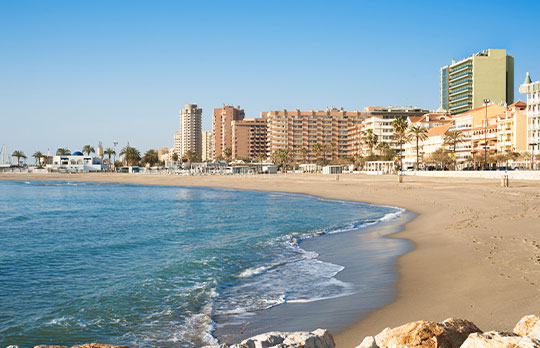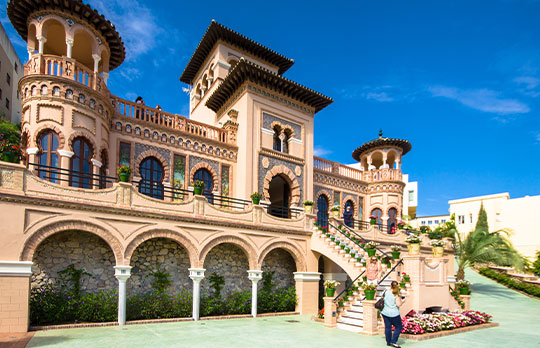 Top tips on driving in Marbella
Your Marbella road trips will be here faster than a reality star snaps a selfie. But let's pause briefly for some useful driving tips.
Firstly, take your full UK license with you and always remember to drive on the right-hand side of the road.
Don't touch a drop if you're driving ‐ the blood-alcohol limit on Spain is 0.05% and 0.01% for drivers with less than three years experience. The motorway network is impressive but includes lots of toll roads (Autopista), with fees similar in price to Italy and France.
The national speed limit on motorways is 120km/h and it's 50km/h in most cities and towns. The coastal roads around Marbella are some of Europe's most scenic and link major cities as well as smaller rural locations.
Now we've caught up with some driving advice, let's take off on those road trips!
Puerto Banus
Just 15 minutes from Marbella via the AP-7 and Autovia del Mediterraneo/A7, Puerto Banus is a super-quick road trip that delivers glamour by the champagne bucketload. Apart from spotting Lamborghinis, Ferraris, and Bugattis, you can send your credit card into meltdown by splashing out on designer goods in high-end malls or spend a luxuriant night at the Hard Rock Hotel. Don't forget to grab a picture at Salvador Dali's rhinoceros statue and pick up some local bargains at the Plaza Antonio Banderas artisanal market.
Caminito del Rey
One hour's drive inland from Marbella via A-355 and A-357, Caminito del Rey is a thrilling natural site that's not for the faint-hearted. The steep walls of Los Gaitanes Pass and narrow Puente Caminito del Rey bridge are one of southern Spain's most iconic sites, and there's also a path a mere one metre wide that's pinned to the cliff walls some 100 metres above the ground. Other attractions here include the Cave of Dona Trinidad, which boasts Palaeolithic cave art and the distinctive oval silhouette of Huma Mountain.
Fuengirola
Fancy a half-day trip to a fantastic location? Fuengirola is just 25 minutes from Marbella via the A-7 and doesn't disappoint. At Bioparc Fuengirola, you can see orangutans, tapirs, gorillas, hippos and crocodiles in ethical enclosures (without bars). There are also three beaches to choose from, each of which has soft sands and sumptuous waters, and Plaza de la Constitucion is a laid-back spot to enjoy tapas and gaze at the lovely Church of Nuestra Senora. If you're yearning for action meanwhile, try wakeboarding or water-skiing.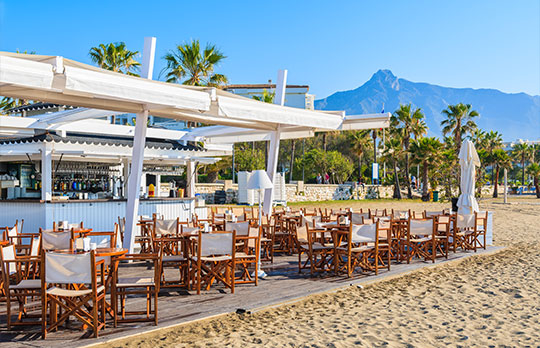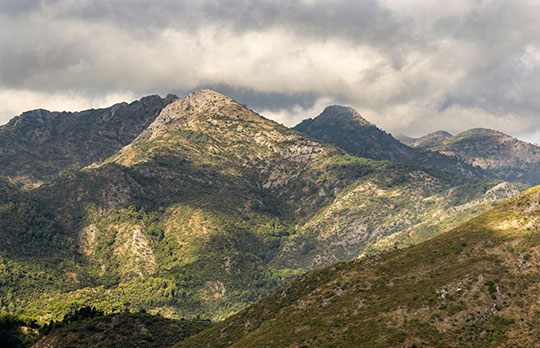 Malaga
A day trip to Malaga is almost mandatory when you're in Marbella ‐ just 50 minutes along the coast via AP-7, this classic Cost del Sol city has much to recommend it to all types of visitors. Exciting things to do here include visiting the 11th century Moorish Alcazaba palace (while enjoying the panoramic city views) and exploring 14th century Gibralfaro castle. And don't forget to see the 1st century AD Roman Theatre, Picasso Museum and Pompidou Centre. Finally, there are brilliant beaches here too, including Malagueta, El Palo and San Andreas.
Sierra de las Nieves
Only one hour and 15 minutes away via A-355 and A-366, Sierra de las Nieves mountains are a road trip destination that delivers big on scenery. Climbing the road upwards from Marbella, there's a great viewpoint just outside Ojen offering outstanding views across the city and its surrounds, the Al-Andalus Cultural Centre at Guaro is also worth a visit, as are the Arab castle remains in Casarabonela. For something a little different, stop at Apiflora to slip into a bee-keeper outfit and learn how these amazing creatures organise their miniature societies and produce delicious honey. What a buzz.
Tangier, Morocco
How does a couple of days in a famous north African city sound? Morocco's Tangier is three hours from Marbella via the AP-7 (and the ferry from Tarifa) and offers the chance to experience a unique culture. The Medina is a maze that stimulates the senses ‐ with market stalls selling everything from fish and spices to handmade rugs and brass jewellery ‐ with the hustle and bustle occasionally broken up by views across the Bay of Tangiers that appear around many corners. Meanwhile, the Kasbah palace has ornate courtyards and marble fountains, and the Garden of Hercules is supposedly where the mythical strongman stayed while preparing for his 11th labour ‐ pilfering golden apples from the Garden of the Hesperides!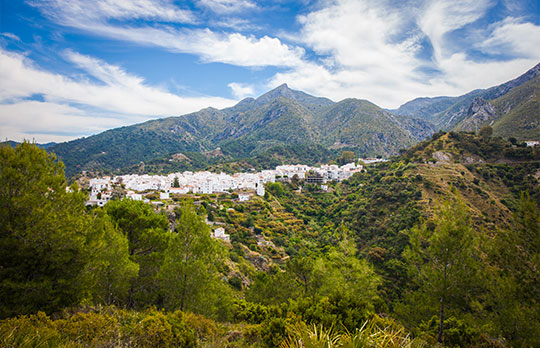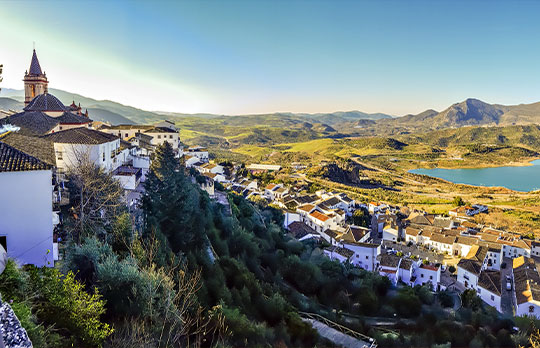 Rio Guadalmina
30 minutes from Marbella via Autovia del Mediterraneo/A-7, Rio Guadalmina near Benhavis is a terrific day trip destination if you love action. The River Guadalmina cuts through the terrain to dramatic effect in this area, creating cliffs, caves, slopes and deep pools which you can swim in, hike over or, if you're up for it, go canyoning in (as part of a guided tour). Benahavis village also has its charms ‐ a traditional Moorish mountain village, it has a surprisingly sophisticated cuisine scene. For exciting activities, pretty scenery and tasty food, Rio Guadalmina packs a punch.
Monda
A picturesque town in Malaga province, Monda is 25 minutes north of Marbella via A-555. The main attraction here is the well-appointed Castillo de Monda hotel, which enjoys a prime mountaintop position with the villages smaller whitewashed buildings cascading down below it. There's a small but perfectly formed village square (Plaza de la Ermita), a little museum and, just outside the village, a Roman road and olive oil mill. The hotel is built on the site of the original Monda Castle, which plays a prominent role in Spanish history and folklore.
Casares
45 minutes west of Marbella via AP-7, Casares is another wonderful white village, with its own unique history and distinct character. First settled by the Phoenicians in 2000BC and later popular with the Romans for the health-giving properties of its spas, Casares took shape as the town we recognise today in the 12th century with the foundation of the Moorish settlement of Casar (meaning fortress or castle). Hotspots here include the Iglesia de la Encarnacion, La Casa de Bias Infante (former home of the famous Nationalist leader executed at the start of the Spanish Civil War), and global fusion restaurant Arroyo Honda.
Torremolinos
A famous tourist resort 45 minutes up the coast via AP-7, Torremolinos previously suffered from a reputation as one of the cheaper Costa del Sol choices, but it has enjoyed a resurgence in recent years. It's now starting to rival some of its more high-end neighbours thanks to its pristine beaches, excellent range of restaurants and hotels, and superb variety of pubs, clubs and evening entertainment. Be sure to explore the Old Town and enjoy sipping a coffee and soaking up the local ambience, then sample fresh seafood in the Carihuela district and relax in Parc de la Bateria.