Rhodes Airport Destinations
Heading off on your hols (or maybe a business trip) from Rhodes soon?
Whether you live there all the time or are just calling it home for a while, we're envious!
With scorching hot summers, soft sand beaches and plenty of reminders of its starring role in ancient history, the largest of Greece's Dodecanese Islands is simply lovely. Known as 'The Knights' Island' because it was a hub for the order of the Knights of St John during the Crusades, Rhodes is packed with iconic attractions and amazing things to do.
For instance, the Old Town of Rhodes features Hippocrates Square, the Palace of the Grand Master and Port of Mandraki, while sites like the Springs of Kallithea and Acropolis of Lindos are in easy driving distance. And no doubt you also enjoy the plethora of bars and restaurants or perhaps even scuba diving amongst the shipwrecks and sea caves?
As outstanding as Rhodes is, a trip away will let you recharge your batteries somewhere a little different, catch up with family and friends or maybe even secure your next big business deal. But if you haven't travelled for a while (and had the good fortune of landing on this blog) you'll be wondering what the latest and greatest Rhodes Airport destinations are. Relax – we've got you.
Rhodes Airport destinations list
Ready for those Rhodes Airport destinations? Find them right below!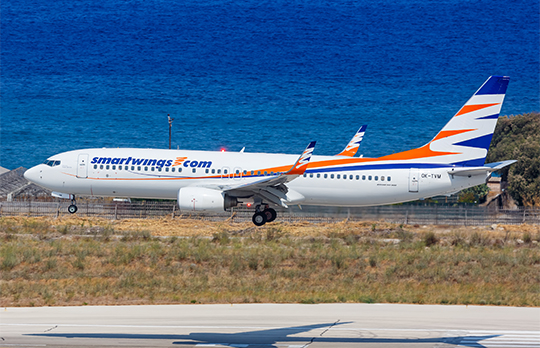 Rhodes Airport UK and Ireland destinations
Need to fly from Rhodes to the UK or Republic of Ireland? You've got a choice of flights to get you back to Britain or the Land of Saints and Scholars – fly from RHO to Aberdeen, Glasgow, Edinburgh, Belfast, Newcastle, Leeds, Manchester, Birmingham, Bristol, Cardiff and London (all airports). And when you need to reach the Republic, fly into Dublin, hire a car from Enjoy Travel and Ireland's your oyster!
Rhodes Airport European destinations
Want to reach other Greek locations or elsewhere in Europe? Fly from Rhodes Airport to Greece destinations like Athens, Santorini, Chania, Heraklion, Kos, Samos and Karpathos. Many flights to the rest of Europe are seasonal, so please check the official channels to confirm. But these include destinations like Belgrade, Frankfurt, Paris CDG, Riga, Tampere, Bucharest, Timisoara, Vienna, Helsinki, Brussels, Lodz, Poznan, Zurich, Hamburg, Stuttgart, Basel, Cologne, Rostock, Amsterdam, Milan-Malpensa, Naples, Graz, Copenhagen, Bergamo and Verona.
Rhodes Airport rest of the world destinations
Want to wander a little further afield? You can also fly from Rhodes Airport to global destinations like Israel and Armenia – handy for a tourist trip that's a little different or if you happen to have connections there!
Rhodes Airport indirect destinations
Can't find a direct flight from RHO to your final destination? Don't worry – with so many direct flights, it's easy to find a connection to almost anywhere. Whether you want to see Japanese cherry blossoms in full bloom or enjoy St Patrick's Day celebrations in Boston, anything's possible with a little research.
Where are the best places to fly from Rhodes Airport?
Not got your next trip from Rhodes Airport nailed down, but you're keen to get away somewhere special?
No worries – check out a few recommendations:
Choose Aberdeen if you fancy cosying up in Britain's chilliest city. But there's more to this famous city in Scotland's North East than bracing walks along the beach – you can also enjoy museums, castles, galleries and 165 miles of surrounding rugged coastline. Aberdeen's old town is characterised by charming cobbled streets and ancient buildings, while its granite-hewn new town hosts trendy boutiques, bars and eateries. A little further out into Aberdeenshire meanwhile, you can enjoy dramatic Munro mountain peaks, skiing and snowboarding in winter and hiking and mountain biking when it's a bit warmer. If you're into golf, there are also some excellent courses in this part of the country, including Murcar Links Golf Club, Balnagask Golf Club and Hazlehead Pines.
Choose Edinburgh to experience elegant architecture, fascinating history and the world-renowned arts scene in one of Europe's cultural capitals. Edinburgh's old town is full of tottering multi-storey tenements, mysterious alleyways and secret courtyards, with the city's castle perched on a volcanic plug serving as the centrepiece. In the Adams-designed New Town meanwhile, the streets are characterised by elegant Georgian symmetry – a harmony sung in stone. Buy everything from bagpipes to designer trainers in Princes Street then treat yourself to lunch and cocktails in a trendy George Street bar. And if you're lucky enough to visit in August, the streets are absolutely buzzing with artists, performers and visitors from around the world flocking together for the Fringe – the world's largest arts festival.
Choose Belgrade to soak in the unique atmosphere of Serbia's capital – a city prized by the Austrian, Ottoman, Byzantine and Roman empires. Exciting things to see and do here include exploring the imposing Belgrade Fortress (which sits on a lofty ridge overlooking the confluence of the Sava and Danube rivers, people-watching in the arty Skadarlija area with its chic cafes and street performers and admiring the huge and ornate St Sava church. For something a bit different, picnic on the beach or kayak in the water at Ada Ciganlija (an island on the Sava in the middle of the city), and shop til you drop then relax with champers at Knez Mihailova Street (a trendy pedestrianised road where the cool people hang out).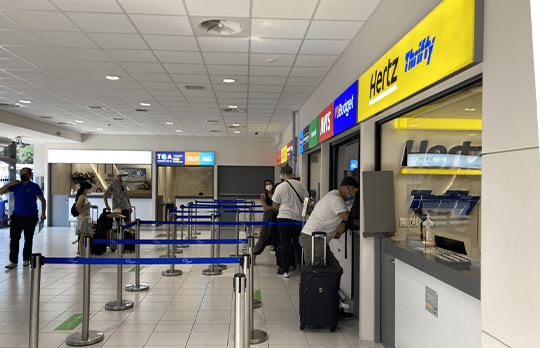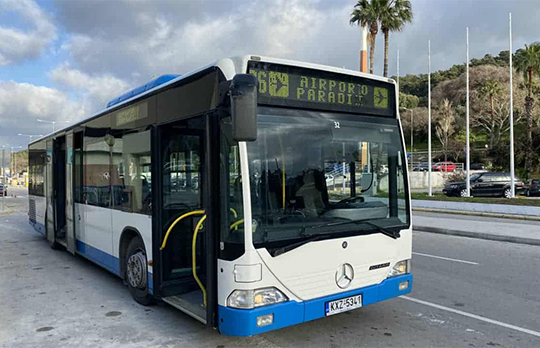 From Rhodes Airport to the world
Fancy flying a little further? Here are a few travel tips:
Choose Paris for a romantic weekend in the City of Light. Great things to do in Gay Paris include seeing the Mona Lisa (and other bigger and arguably better paintings) at The Louvre, gazing at modern art from Warhol and Picasso at Centre Pompidou (did you know this building inspired Nike's Air Max 1 trainer design?) and enjoying street food from all over the world at the massive Ground Control Food Hall near the Gare de Lyon. Meanwhile, film lovers adore cinema hopping between the gorgeous arthouse emporiums in the Latin Quarter and you can catch up and coming bands at the rough and ready La Station venue.
Choose Tel Aviv to experience Israeli hospitality in (arguably) the nation's most open-minded city. Taking a segway tour is a smart idea for your first activity – by the time you've cruised past landmarks like Tel Aviv Museum of Art, Habima Square, Rothschild Boulevard and the city's beaches and waterfront, you'll really have your bearings. If you're an architecture fan, pop into the Bauhaus Museum on Bialik Street to learn more about the seminal school of architecture that earned Tel Aviv its 'White City' moniker, then you can head to the Old Jaffa area to step back in time amidst Andromeda's Rock, the Al-Bahr Mosque and Wishing Bridge. The nightlife in Tel Aviv is also very deep and diverse – try Levontine for relaxed cocktail bars and restaurants or Florentine for lively pubs, bars and clubs.
Choose Armenia if you fancy seeing a small yet culture-packed former Soviet nation with stunning scenery. If you haven't been before, capital Yerevan is definitely the best place to start your Armenian adventure. The expansive Republic Square is impressive, the weekend Vernissage flea market is a hotspot for unusual bargains, and a scenic walk through the Hrazdan Gorge is a real treat. Then if you want to walk on the wild side, visit Shikahogh State Reserve. This verdant forest is Armenia's second-largest and peppered with pretty waterfalls and wonderful wildlife including bears, leopards and wild goats. If you find religious buildings inspirational, don't leave without visiting the iconic monastery at Noravank – surrounded by vertiginous red cliffs, the legend goes that this ancient building was protected by the Heavenly Father when the Mongols invaded the area centuries ago.
Which airlines fly from Rhodes Airport?
Depending on your destination, you can choose from a wide range of airlines flying out of Rhodes Airport. Carriers currently include Aegean Airlines, Air Baltic, Air France, Air Serbia, Bluebird, British Airways, Condor, Corendon Dutch Airlines, easyJet, Edelweiss Air, Freebird Airlines, Lufthansa and Ryanair.
There's a Burger King, Starbucks, bar and more for refreshments, as well as all of the usual amenities.
How can I hire a car at Rhodes airport?
Hiring a car at Rhodes Airport (or almost any destination) is simple with Enjoy Travel. Drop your dates and details in our search engine and you 'll have a choice of car rental deals from reliable providers in a click.