10 Best Weekend Breaks from Paris
Honfleur
Lyon
Strasbourg
London
Deauville
Annecy
Baie de Somme
Marseille
Bruges
Etretat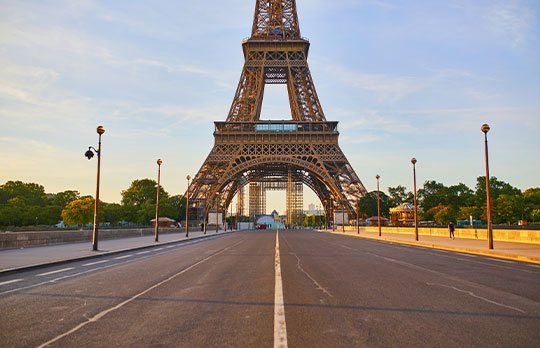 Top weekend breaks from Paris
Ah, Paris. Even if you've never been there, there's a good chance the City of Love occupies a space in your imagination through film, music, fashion, food and many other spheres. France's thriving capital has a population of 2.1 million and as a financial, commercial and political centre, it's had a global influence for centuries. Paris is absolutely packed with iconic tourist attractions – from the Eiffel Tower to Arc De Triomphe and Sacre Coeur to Notre Dame. And when it comes to art and culture, it's hard to beat, with the Pompidou Centre showcasing some of the world's greatest modern art and the labyrinthine Louvre hosting the enigmatic Mona Lisa and many other old masterpieces.
Paris definitely delivers when it comes to dramatic architecture and massive monuments – but thanks to strict planning laws and well-ordered arrondissements, it feels calmer and more manageable than other capitals. And when it comes to cuisine, you're spoiled for choice: everything from a croque monsieur in a kerbside café to a slap-up meal in a Michelin-starred establishment is prepared to perfection. If you're partial to a spending spree, there are plenty of designer boutiques, chic independent shops and bustling markets where you'll pick up anything from one-off haute couture pieces to antique lamps. Last but not least, its geographical position means it's ideally placed for exciting getaways elsewhere in France as well as neighbouring nations like the UK, Luxembourg, Belgium and the Netherlands.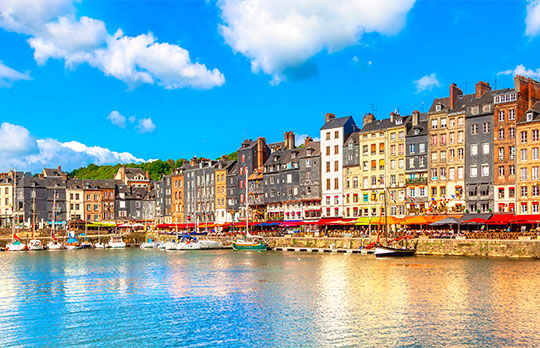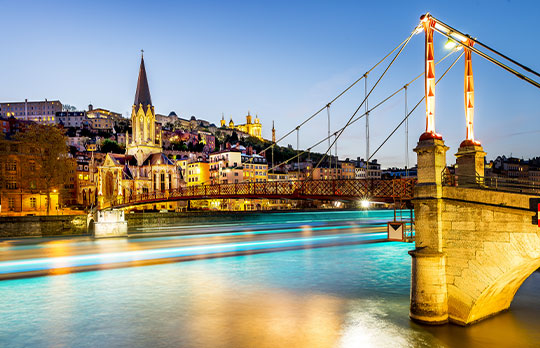 Prepping for your break from Paris
Your weekend breaks are on their way shortly. But perfect planning requires preparation – let's take a look at some tips.
First, the basics: always drive on the right, wear your seatbelt and proceed with caution. The city centre is hectic and subject to several restriction zones, so if you can avoid getting behind the wheel in the city centre, it's best to do so – save yourself for venturing further afield.
Use your Satnav to plan the best route to your weekend road trip destination and avoid roadworks. Remember that the driver and all passengers must wear seatbelts, children under 13 aren't allowed to ride in the front (unless the back seats are occupied by other children) and babies and infants around 1 year old should se secured in rear-facing car seats. As you'd expect, drinking and driving isn't tolerated – the blood alcohol limit in France is 0.02%.
Now let's take off on those weekend breaks.
Now let's get stuck into those London getaways!
Honfleur
Two hours and 25 minutes northwest of Paris via the A13, Honfleur is a top-notch weekend break destination. One of the most picturesque ports in France, Honfleur is one of the highlights of Normandy and a brilliant choice if you like a refreshing break at the beach. The stunning old harbour is called Vieux Bassin and it's famous for its tall, colourful timber-framed houses. Another famous historical attraction is the Lieutenance – this impressive building was the residence of the French monarch's lieutenant until the 17th century. Top-rated places to stay in Honfleur include Hotel Eden Spa, Les Maisons de Lea and Hotel l'Ecrin.
Lyon
How does a trip to another interesting city sound? Lyon is 4 hours and 30 minutes from Paris, so you might want to make this a long weekend to make the most of it, but it's definitely worth your while. This city earns its UNESCO World Heritage Site seal of approval thanks to an expansive renaissance old town, rambling Roman ruins, grand Presqu'ile quarter and notable industrial districts. Founded 2000 years ago, it flourished thanks to the silk trade and its strategic position where the Saone and Rhone rivers meet. These days, it's rated by those in the know as the cuisine capital of the world – so the food even surpasses Parisian standards!
Strasbourg
Four hours and 45 minutes from Paris, Strasbourg is a considerable drive away but build in a pitstop and you'll be richly rewarded for your drive. The Capital of Alsace, Strasbourg has been disputed territory between France and Germany for generations and boasts a unique mix of the two cultures in everything from food to architecture. Strasbourg Cathedral was the tallest building in the world until 1874 and panoramic views from the north tower reach the fringes of the Black Forest. Meanwhile, La Petite France is the most photographed area in the city, with its pastel-coloured timber houses, weirs and waterways, and Parc de l'Orangerie has a mini-zoo and farm (fab for kids), boating lake, lots of tree-lined romantic walks and its own resident storks.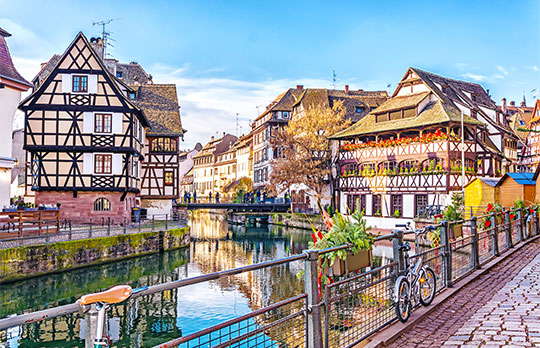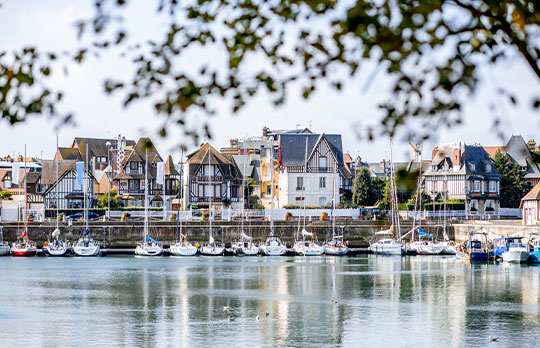 London
5 hours and 30 minutes from Paris via the Channel Tunnel, London needs no introduction. There's so much to do in the UK capital that you'll want to spend a very extended weekend here, so make sure to give yourself plenty of time to enjoy it to the fullest. Brilliant things to do include strolling through Columbia Road Flower Market and enjoying the beautiful blooms, watching world-class tennis at Wimbledon (if you're there in July), and snapping selfies near the canal boats at Little Venice. What else? There's always Buckingham Palace, Madame Tussauds, Trafalgar Square, and cool city views from Primrose Hill. Top places to stay include The Dorchester, NoMad London, The Hoxton and Cadogan Gardens.
Deauville
Ready for another delightful weekend break? Deauville is 2 hours and 30 minutes from Paris via the A13 and it's a corker. So what's there to do in this lovely Normandy destination? How about strolling along 2km of soft, sandy beach, strolling past dinky beach huts and colourful parasols, then popping into chic shops? There's also horse racing (two famous courses), polo (the sport, not the mints), two excellent golf courses and a pristine Pompeian bathing area with fabulous fountains, pools, pillars and mosaics. You can also visit the beautiful Belle Epoque Villa Strassburger, try your luck at the casino and (if your timing's right) see the stars at the Deauville American Film Festival.
Annecy
At 5 hours and 35 minutes from Paris via the A6, Annecy is a bit of a trek. But it's one you won't regret. Because Annecy isn't only one of France's most beautiful medieval towns – it also snuggles on the shore of the cleanest lake in Europe. While you're here you can chill out on the lake's Blue Flag beaches and splash in the water while gazing at the dramatic mountains beyond. Or follow the path of the Thiou River as it snakes through the old town's pedestrianised streets and romantic passageways. And there's always Jardins de l'Europe – a gorgeous green space for picnics and other pleasures. What more could you possibly want?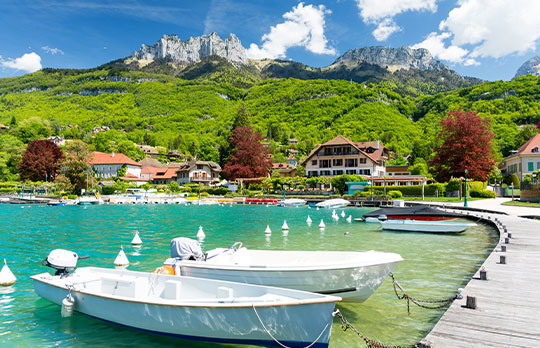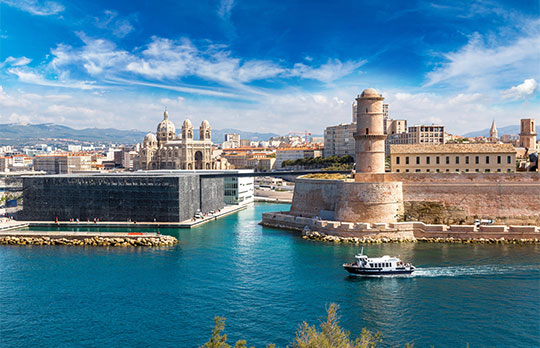 Baie de Somme
Ready for a scenic trip that takes you back to nature? Baie de Somme is 2 hours and 40 minutes from Paris via the A16 and it's a destination that you'll absolutely love. While you're visiting this dreamy landscape, there's loads to do. Like sea kayaking. Horse riding along the sands at Marquenterre. Tree bathing in Maizicourt gardens. Land sailing (it's a thing). And hopping aboard the steam-powered Bay of Somme railway. Throw in historical attractions like Chateau de Rambures and Amiens Cathedral, and you'll never be bored.
Marseille
A famous port city in the south, Marseille is 7 hours and 40 minutes from Paris via the A6 and A7. But schedule a couple of pitstops and you'll be there before you know it. And this is one seriously cool city when you get there. Highlights include the dramatic hilltop church, Notre Dame de la Gare, the otherworldly coves, beaches and inlets of the Calanques, and Le Panier – the atmospheric Old Town.
Bruges
Fancy a weekend in a location that some claim is even more magical than Paris? Bruges in Belgium is 3 hours and 35 minutes away via the A1 and it doesn't disappoint. Top things to do in this spellbinding medieval wonderland include gazing at wonder at the ornate interior of the Basilica of the Holy Blood and cruising on the swan-kissed canal. Then there's the vertiginous Belfry Tower, the infamous Torture Museum and the Lovers' Bridge. What a place.
Etretat
3 hours northwest of Paris via the A13, Etretat is another exceptional coastal location that makes a marvellous weekend destination. Great things to do include wandering along the magical white cliffs (inspo for artists like Monet), enjoying the lush upper gardens and picking up artisan cider and awesome cheese in the charming town centre. If possible, visit in spring or summer – it's lovely all year round, but winters in Etretat can be a little on the chilly side.