Top 10 Halifax Road Trips:
Hebden Bridge
Haworth
Glossop
Todmorden
Yorkshire Wildlife Park
Castle Hill
Pontefract Castle
Ogden Water
Kilburn White Horse
Norber Erratics
The biggest town in Calderdale, West Yorkshire, Halifax is replete with striking Victorian architecture and has a proud industrial history. Attractions like the Halifax Minster, Piece Hall, Eureka! The National Children's Museum, shops, theatres, markets and a magnificent culinary scene mean it's a buzzing place to visit.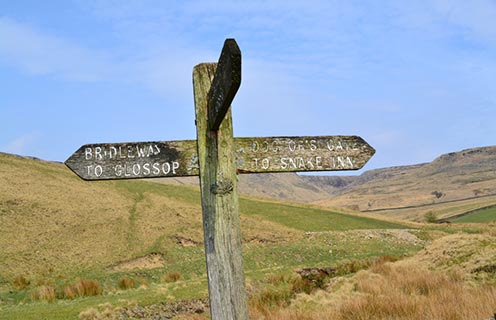 10 of the best scenic drives from Halifax
One of the iconic attractions here is Dean Clough, a former carpet mill which has been converted into a 22-acre mixed use complex that houses restaurants, cafes, arts and culture venues, shops, event spaces and even a hotel – you can easily while away an interesting afternoon here!
For something a little more active, you might want to try the Halifax Ski & Snowboard Centre. Located in a scenic spot in the hills overlooking the town, this all-weather snowsports centre is suitable for novice or intermediate-level enthusiasts and the snowboard sector is particularly impressive with its moguls, fun box and big air jump.
Halifax Borough Market is one of the best places to pick up a bargain here and as you browse through the maze of stalls, you'll find everything from retro clothes and crafts to antiques, books, music and food and drink. The town has plenty of great green spaces, too – from North Dean Woods to Manor Heath Park and People's Park.
But Halifax is also in striking distance of some of Britain's most beautiful scenery, in Yorkshire and further afield, and it's therefore a brilliant base for scenic road trips through undulating hills and dales, charming villages and stunning natural attractions including lakes, cliffs, coves, waterfalls and weird and wonderful rock formations.
Hire a car in Halifax from Enjoy Travel and you can take off on an adventure all of your own – with plenty of low-cost deals to choose from high-quality car hire partners, you can make your arrangements in two shakes of a lamb's tail and look forward to hitting the road!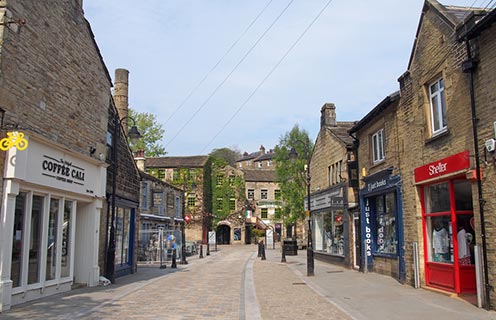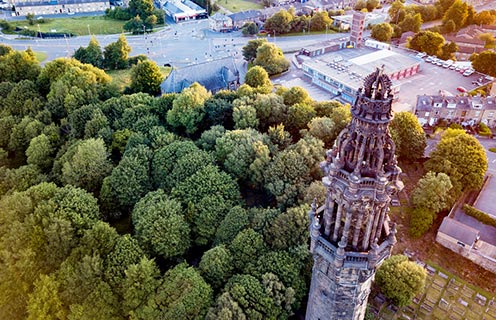 Tips on driving in Halifax
Your top 10 scenic road trips from Halifax are coming right up. But first let's pause briefly for a few useful driving tips for this area – if you've not been for a while, they could make your journey much smoother.
When you're exploring the stunning countryside around West Yorkshire watch out for livestock like sheep on the road – waiting patiently while they cross is part and parcel of rural life.
Be aware that once you get into the Yorkshire Dales, many of the roads are single lane and have no central line marked out – so slow down completely when another vehicle approaches and draw into the side to let it pass.
Remember to be considerate of drivers behind you who may be local residents keen to go about their daily business – if you see traffic building up behind you, pull over to let drivers pass and then you can continue at a sensible speed.
There are eye-popping views around every corner here but please be careful where you stop to take photos – only stop when it feels safe and don't break suddenly or block single lane roads.
You should also choose the right type of rental car for your needs – a 4x4 is probably not necessary unless poor weather is predicted and/or you intend driving off the beaten track, and if you're a solo driver or couple, a large car is unnecessary and unwieldy on narrow roads.
Now that you've got a few refresher tips for driving in Halifax and Yorkshire, let's get cracking with those 10 scenic road trips!
1. Hebden Bridge
If you like beautiful old towns (who doesn't?) then a drive out to Hebden Bridge is a must. This hub has been known as 'the greatest town in Europe' since cheap housing attracted hordes of creatives in the 1970s and it's still a boho hive of independent shops and live music venues surrounded by trees and waterways. Equidistant from Leeds and Manchester, its ambience is a unique blend of classic and contemporary elements.
Getting there: Hebden Bridge is around 20 minutes from Halifax via the A646.
2. Haworth
Do you love brilliant literature and bucolic countryside? Then Haworth will be right up your street because this West Yorkshire town and the dramatic, rolling moorland that surrounds it inspired local sisters Anne, Charlotte and Emily Bronte to pen iconic novels like Jane Eyre and Wuthering Heights. Visit their former home at Bronte Parsonage Museum and visit the famous Bronte Waterfall with its stone chair the sisters used for storytelling sessions.
Getting there: take the A629/B6141/B6144 to reach Haworth in around 25 minutes.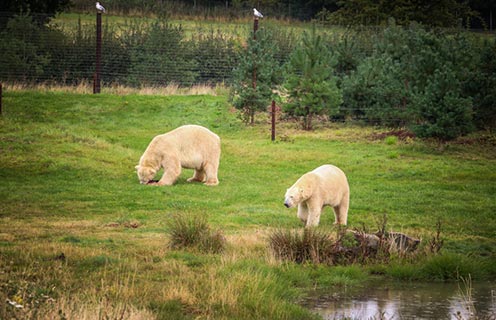 3. Glossop
A handsome market town in High Peak, Derbyshire, Glossop is situated at the bottom of the Snake Pass, close to the iconic Dark Peak. Old Glossop dates back to the 12th Century and has an ancient market cross and lots of charming stone cottages, while Manor Park is a lovely green space in what was previously the grounds of a grand manor house, and a town centre full of pubs, restaurants and craft shops.
Getting there: take the A6024/B6105 from Halifax to reach Glossop in one hour.
4. Todmorden
Another terrific town surrounded by imposing moorlands, Todmorden in Calderdale has sublime scenery, awesome architecture and a dynamic creative community. If you like bird watching and horse riding, you'll be in your element here, the Rochdale Canal Towpath is perfect for an evening stroll and there are tea rooms, cafes and pubs aplenty. As the home of the 'incredible edible' natural food movement, it's a hotspot for foodies too.
Getting there: Todmorden is 30 minutes form Halifax via the A629/A646.
5. Yorkshire Wildlife Park
Want to go wild for a day? A trip to Yorkshire Wildlife Park near Doncaster is always a firm favourite with kids of all ages. Amazing animals here include polar bears, lions, tigers, sea lions, giraffes, rhinos, wolves and more, with special shows, ranger talks and animal experiences available – ideal if you want to get close to red pandas, bush dogs, primates and capybaras. Refuel your belly before returning home with an afternoon tea from the inhouse café – delish!
Getting there: Yorkshire Wildlife Park is one hour from Halifax via the A629/A58/A1/A638.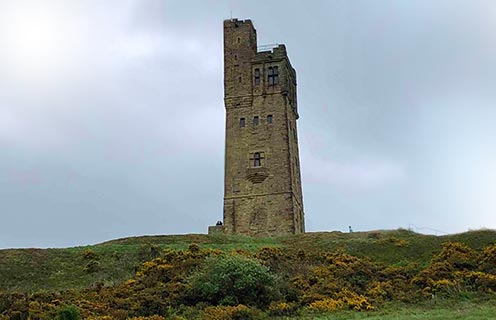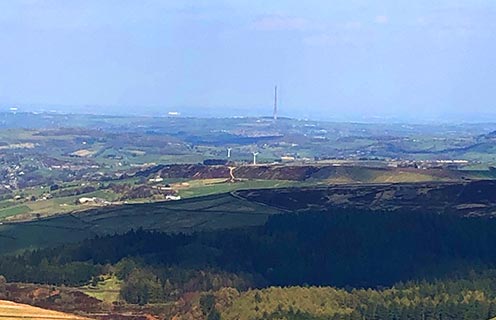 6. Castle Hill
For a quick drive that rewards you with an amazing panoramic view, head over to Castle Hill at Huddersfield, a Grade II listed Victorian tower built in a commanding position back in 1899. If you're a football fan, tie your visit in with watching tenacious local team Huddersfield AFC play at John Smith's Stadium – the atmosphere is always electric!
Getting there: Castle Hill is 38 minutes south of Halifax via the A629.
7. Pontefract Castle
If you're a history buff, the drive out to Pontefract Castle is a must. These fascinating castle ruins in the heart of Yorkshire has been known as the Key to The North since the 13th Century and has played a starring role in some of English history's most famous events, such as the Norman Conquest and sealing of the Magna Carta. There's lots to explore in this family-friendly venue where the past comes alive.
Getting there: Pontefract Castle is 45 minutes from Halifax via the A58/M62.
8. Ogden Water
When you want to get away from it all, relax and unwind, Ogden Water Local Nature Reserve ticks all the right boxes. This Calderdale scenic spot is a favourite place for locals and visitors alike to walk, picnic, orienteer, and spot wildlife like waterbirds, butterflies, moths, bats and hedgehogs. This stunning spot attracts over 300,000 visitors a year and when you get there and soak up the serenity, you'll immediately understand why.
Getting there: Ogden is 30 minutes away via the A629.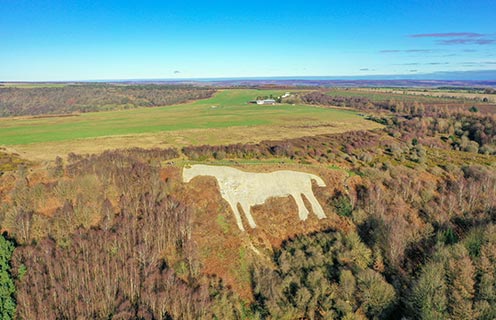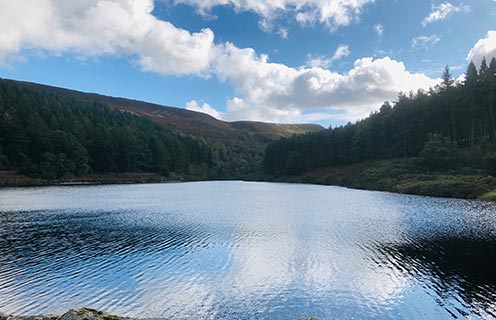 9. Kilburn White Horse
An iconic equine figure cut into a hill in the North York Moors National Park, the impressive Kilburn White Horse is 97m long by 67m high and covers 1.6 acres – it's the largest hill figure in England. Created in 1857 by Thomas Taylor of Kilburn, it can be seen from as far away as Leeds (45km away). This is an easy drive through magnificent moorland and provides lots of unique selfies for your Instagram account!
Getting there: Kilburn White Horse is one hour and 30 minutes from Halifax via the M62/A1/A168.
10. Norber Erratics
This might sound like the name of a post-punk band, but it's actually Britain's finest collection of erratic glacial stones. Sitting on the slopes of Ingleborough in the Yorkshire Dales, these huge otherworldly stones look so haphazard in style and formation that you'd be forgiven for thinking they'd dropped from outer space. In fact, they were transported here on an ancient glacier during the ice age.
Getting there: Norber Erratics are 1 hour and 35 minutes form Halifax via the A629/165.
And voila – your 10 jaw-droppingly scenic road trips from Halifax are complete.
Hire a car in Halifax from Enjoy Travel and a whole world of adventure awaits in West Yorkshire!