Top 10 Amsterdam road trips
Delft
Zaanse Schans
Marken, Volendam & Edam
Texel Island
Hoge Veluwe National Park
Scheveningen Beach
Keukenhof Park & Castle
IJmuiden aan Zee
Giethoorn
Alkmaar
One of the world's most iconic cities, Amsterdam is characterised by authentic multistorey gabled buildings mirrored in sparkling canal waters and criss-crossed by pretty footbridges. But it also blends old with new, as museums packed with classic artworks complement contemporary design hubs, with a liberal night time economy that attracts pleasure seekers from all over the world.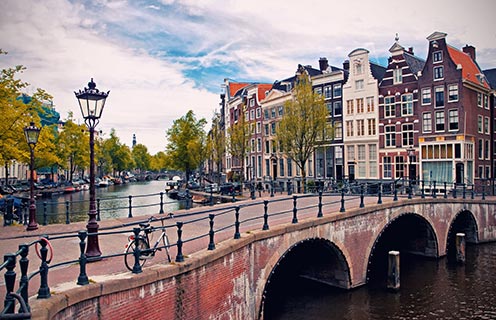 10 of the best scenic drives from Amsterdam
The pick of the bunch for many culture vultures is the Van Gogh museum, which hosts the world's largest collection of paintings by the troubled Dutch master, but as you wind your way through the city's collections, you'll also gaze in wonder at works by Rembrandt, Mondrian and Matisse amongst others.
The vibe here is encapsulated by the phrase 'gezellig' (which translates as something close to 'cosy'). You'll feel this signature Amsterdam ambience as you sit sipping coffee, or something stronger if you're not driving, in canalside bars and cafes, watching the world (and the city's cast of colourful characters) go by.
The trendy Jordaan area is packed with suave bars and restaurants, antique shops, independent art galleries and lush courtyard gardens, so it's a great place to lose yourself for an afternoon, while if you're in need of a retail fix, the 9 Streets shopping district is located in a network of narrow lanes radiating eastwards from the Prinsengracht canal. And for a taste of alternative culture, try Westergas, an expansive complex of former industrial buildings which used to house Amsterdam's gasworks. Here you'll find boho craft beer bars and microbreweries, artisan coffee roasters, an arthouse cinema, and regular food markets and craft festivals.
In many areas of the city proper, you might find it more convenient to get around via bicycle or canal boat, but it's definitely worth hiring a car to explore the amazing countryside surrounding the city, which boasts everything from beautiful beaches to eye-popping flower fields and historic buildings to iconic windmills.
Rent a car in Amsterdam from Enjoy Travel and Netherlands adventures are within easy reach - with low-cost deals from high-quality car rental partners at your fingertips, what are you waiting for?
Top tips on driving in Amsterdam
Your top 10 road trips from Amsterdam are coming up, but first let's take a brief pitstop for some driving tips that will keep you safe and sound in and around this superb city.
First off, as we said earlier, the best way to get around the city centre is by bike or on foot as the roads are very narrow and labyrinthine.
However, there might be times when you do want to drive through the city centre, so please take your time and beware of bikers and pedestrians as you'll find them throughout town, and they have the right of way.
Furthermore, always drive on the right on the canal ring as all streets in this section are one way and proceed with caution at intersections as there's often no signage, especially at canal bridges – treat these areas as if they were four-way stop. You should also be patient if you get stuck behind unloading lorries – this is common in Amsterdam and there's no option but to wait until the driver is finished with their task.
Now it's time to get rolling with your scenic road trips!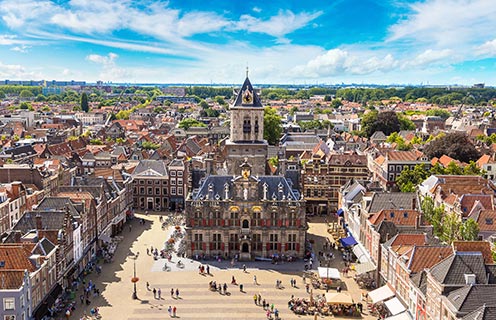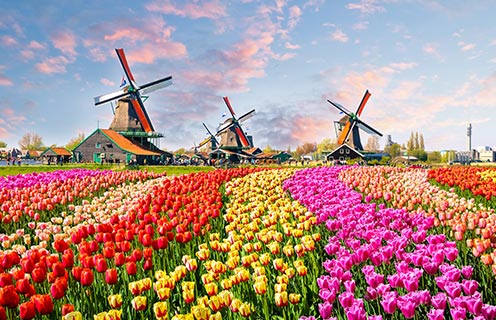 Delft
One of the coolest small cities in the Netherlands, there's much more to Delft than its distinctive blue and white ceramics. For starters, there's a bijou network of canals here and starting at Markt Square you can see the Town Hall and Nieuwe Kerk, while the old town has landmarks like Oostpoort Gate and the work of legendary local artist Johannes Vermeer is celebrated at the Vermeer Centre.
Getting there: Delft is 54 minutes from Amsterdam via the A54.
Zaanse Schans
If you love windmills, a visit to the charming village of Zaanse Schans is a must. A traditional settlement peppered with 18th and 19th century windmills and houses set along the river Zaan, it satisfies history buffs with its own dedicated museum and you can also learn how to make clogs and stock up on local cheese and bread – delicious!
Getting there: Zaanse Schans is just 20 miuntes north of Amsterdam vis the A8.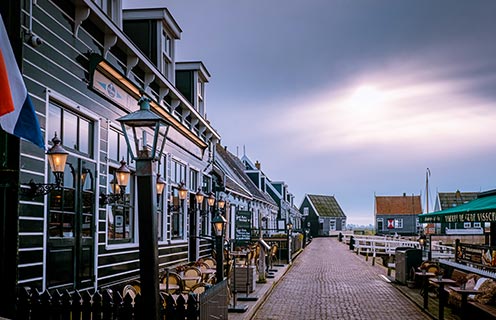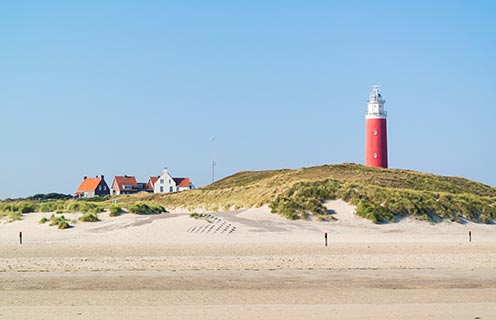 Marken, Volendam & Edam
Picture postcard villages permeate the Netherlands and Marken, Volendam and Edam are a terrific trinity. Edam is famous for its tasty local cheese, but there are also cool canals and medieval streets to explore, Volendam is a quaint fishing village blessed by the lovely St Vincent's church, and Marken is a former island with lots of unusual buildings perched on stilts!
Getting there: Edam is 25 minutes from Amsterdam via the N247.
Texel Island
Located in north Holland's Wadden Sea, Texel Island is the biggest of the West Frisian Islands and you can reach its sublime sandy beaches via a swift ferry from Den Helder. The Dunes of Helder National Park boasts a diverse ecosystem with lots of wildlife and stunning scenery, while the Eierland Lighthouse in the north of the island affords amazing views of the North Sea.
Getting there: Den Helder is just over one hour north of Amsterdam via the A7.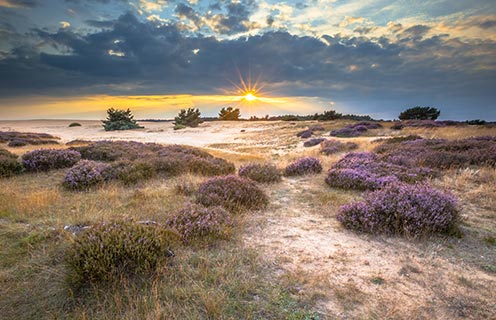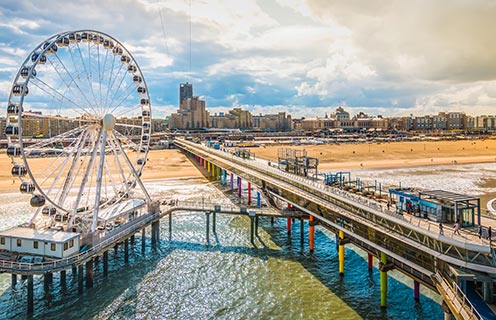 Hoge Veluwe National Park
Fancy combining some tree bathing with learning about unique biology and geology, then topping it all off by gazing in wonder at some world-class artworks? Then a trip to the Hoge Veluwe National Park is right up your street – the Museonder museum is packed with exhibits on the area's natural history and the Kroller-Muller museum hosts masterpieces by Picasso and Van Gogh. Wildlife here includes deer, wild boar and badgers.
Getting there: Hoge Veluwe is one hour from Amsterdam along the A1.
Scheveningen Beach
If you do like to be beside the seaside, bucket and spade loads of fun await at Scheveningen Beach near The Hague. There's a large sandy beach here, traditional pier and promenade – as well as lovely bars, cafes and restaurants, windsurfing and kitesurfing are popular in the summer when the water is warmer. For something a little different, visit the miniature city at nearby Madouradam.
Getting there: Scheveningen Beach is one hour from Amsterdam via the A4 and A44.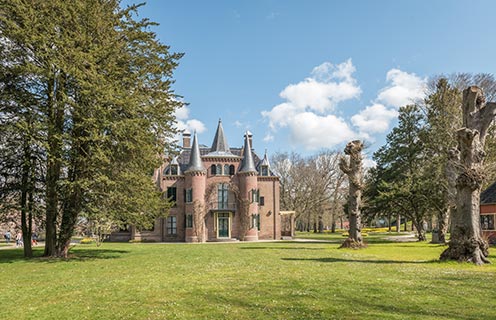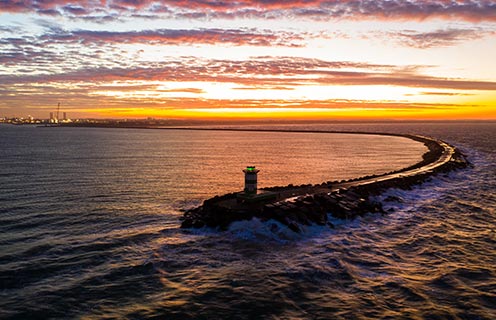 Keukenhof Park & Castle
Do you love fabulous explosions of floral colour? Then a drive out to Lisse and Keukenhof will be a dream for you! Known as the 'Garden of Europe', Keukenhof hosts one of the world's largest flower gardens – Keukenhof Park, which is located next to the historic manor house Castle Keukenhof, in Lisse. Mid-March to Mid-May is the best time to visit as the famous 8-week tulip display is in full bloom!
Getting there: Lisse is 35 minutes from Amsterdam along the A4.
Ijmuiden aan Zee
The largest stretch of beach in the Netherlands is located within striking distance of Amsterdam, just north west of the city where the River IJ flows into the sea. At hotspot Ijmuiden aan Zee, you can try paragliding or windsurfing, then chill out at one of the many laid-back and friendly beach bars afterwards. For a mix of adrenaline-fuelled fun and relaxation, this is hard to beat.
Getting there: Ijmuiden am Zee is just 40 minutes form Amsterdam via the A9.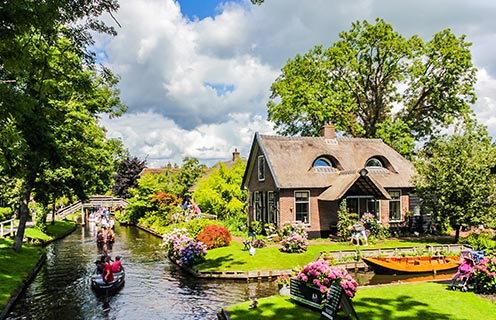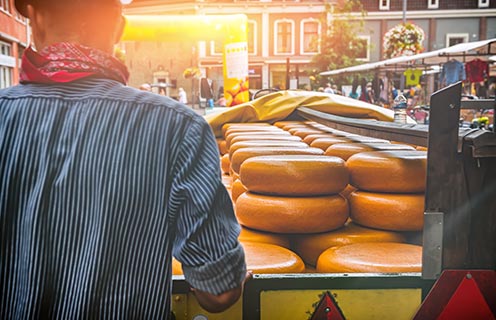 Giethoorn
For a timeless taste of the Netherlands, the picturesque village of Giethoorn is always worth a visit. Set in the stunning Weeribben-Wieden National Park, it's packed with traditional thatched houses, wooden footbridges, and gorgeous flower gardens cascading down to the canals. Visit local history museums and sumptuous restaurants or simply hire a boat and mess about on the water – wonderful!
Getting there: Giethoorn is one hour and 30 minutes north east of Amsterdam via the A6.
Alkmaar
Foodies with a penchant for cheese should definitely sniff out the historic city of Alkmaar, located just 45 minutes from Amsterdam. The Alkmaar Cheese Market is famous across the continent and it's the living embodiment of a tasty trade that's lasted since the 14th century here. If history is your bag the impressive Grote Kerk is another highlight, and if you've got a designated driver, a trip to the Nationaal Biermuseum is extremely refreshing and you can sample the delicious brews before you buy.
Getting there: Alkmaar is just 45 minutes from Amsterdam via the A9.
Hire a car in Amsterdam and the open roads of the Netherlands are yours to explore – pick us up a pair of size 9 clogs when you get there!