10 Epic Road Trips from Strasbourg
Colmar
Eguisheim
Kayersberg
Staufen
Riquewihr
Heidelberg
Ribeauville
Luneville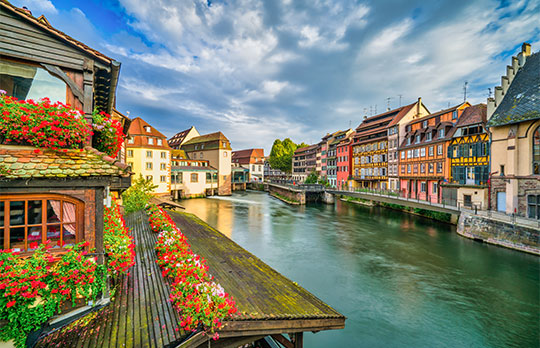 Top 10 scenic road trips from Strasbourg
So you're based in Strasbourg but want to know about the best road trips from the city to surrounding French areas and beyond? We've definitely got you covered. But isn't Strasbourg simply a stunning city? The capital and jewel in the crown of the Alsace-Lorraine region, this magnificent metropolis mixes the best bits of French and German cultures together in a heady mash-up that stimulates all the senses! From its gorgeous Gothic cathedral to the labyrinthine alleys and half-timber houses of its old town and the canals of Petite France, there's something easy on the eye at every turn. You'll find traditional markets, food and music here, alongside international streetfood and contemporary architecture – this city beautifully balances its Alsatian culture with that of its substantial cohort of international students.
Brilliant things to see and do in Strasbourg include wandering the charming cobbled streets of the old town and Grand Ile, climbing the north tower of the cathedral to see right across the city to the edges of the Black Forest, and relaxing in the lush surroundings of Parc de l'Orangerie. The 17th century Barrage Vauban fortified bridge and weir is a must-see, with its striking pink Vosges sandstone and anyone interested in politics should definitely book a trip to the European Parliament to see democracy in action and explore the iconic cylindrical building and its expansive debating chamber. Last but not least, if you're a foodie, trying authentic dishes like sauerkraut, Tarte Flambee (Alsace's answer to pizza) and Kugelhopf cake is a must.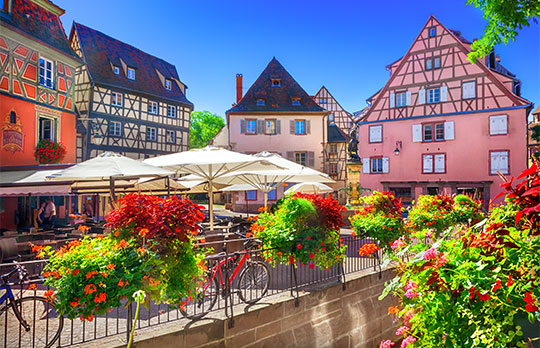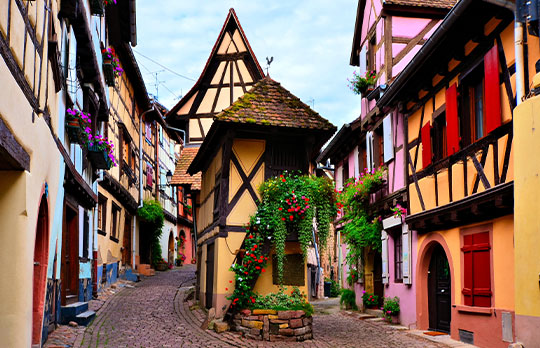 Top tips on driving in Strasbourg
Top 10 epic road trips rolling right up, but let's take some driving tips on board first.
First off, Strasbourg has low emission zones where driving is strictly restricted on certain days at certain times – double-check this online and with your car hire provider.
Beware of the alcohol limit when driving in France. If you've got less than three years' experience on the road, it's 0.2g per litre, whereas it's 0.5g per litre if you have over three year's driving under your belt.
Don't wear headphones while driving – whatever your reason – and remember that the speed limit on lots of A and B roads has fairly recently been reduced to 80km/h. Strasbourg is close to the German border and in striking distance of lots of exciting destinations there, but please check beforehand that your car rental terms and conditions allow you to travel outwith France.
In the unlikely event you're in an accident, call 112 immediately to talk to an operator in English and get help straight away.
Let's get our engines started for your road trips now!
Colmar
Just 55 minutes away from Strasbourg via the A35, Colmar is a cracking Alsatian city that's a fab road trip destination. Thanks to its remarkably well-preserved Medieval architecture, visiting Colmar really does feel like stepping into a time machine and if you can book a guided tour you'll learn all about the history of the renaissance government buildings and lovely half-timbered merchants' houses. Meanwhile, Musee d'Unterlinden is housed in a 13th century Dominican convent and showcases 7000 years of Rhineland history via rare artefacts and artistic masterpieces by the likes od Monet and Renoir. Don't miss Little Venice – this romantic canalside quarter is a lovely place to people watch.
Eguisheim
Around one hour south of Strasbourg via D1083, Eguisheim is a pretty village on the Alsace Wine Trail that's definitely worth visiting. In the past it has earned the title of France's Favourite Village and you'll understand exactly why when you park up and wander around. With medieval houses, winding alleyways and vibrant floral displays, it really is lovely and a walk through the Ramparts (old town) is the perfect way to start your adventure. The Grand Rue is full of striking pastel-coloured townhouses in pretty pastel colours and there's even a park with storks!
Kayersberg
Another highly-rated village for its aesthetic appeal, Kayersberg is one hour's drive away from Strasbourg via the trusty A35, so it's definitely a doable day trip. Its striking white timbered houses are the first things you'll probably notice, there are several scenic hiking trails that open up the area's rare beauty to anyone fit enough to slip into a pair of boots and get moving for a few miles, and 64 at Le Chambard Hotel offers Michelin-starred dining. The ruined 13th century castle will definitely spur your imagination, but the blooming garden below it is even better – wander around for a while and relax in the fresh air and floral scents.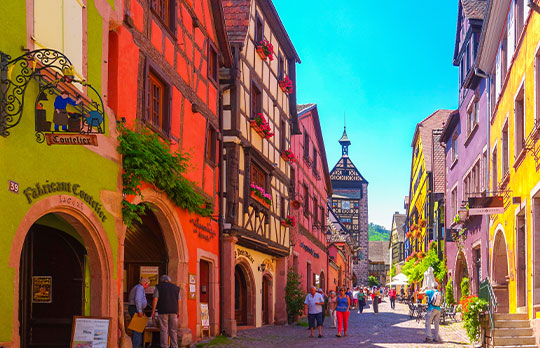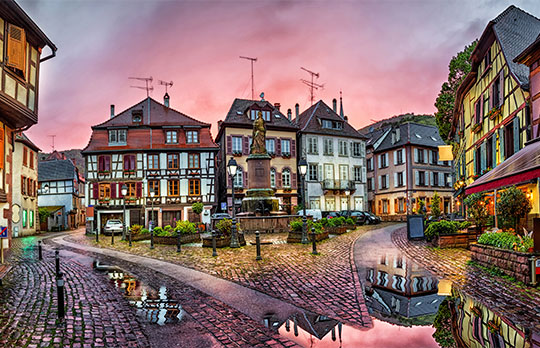 Staufen
Fancy a cross-border road trip? Germany's Staufen is just one hour and 20 minutes' drive away from Strasbourg via the A5 and doesn't disappoint. Famous for Staufen Castle (sitting on its hilltop perch overlooking the town) and surrounding vineyards, the drive in is inspirational and there's plenty to do when you get there. The coffee shops here offer some of the tastiest cakes in Germany and if you've got a designated driver, take a tour of the famous Schladerer brewery and sample its delish fruit brandies!
Riquewihr
50 minutes from Strasbourg via the D1083, Riquewihr might be tricky to pronounce, but don't let that put you off a road trip to this scenic town. Nestled amidst undulating verdant vineyards, this medieval French village projects a timeless charm and a welcoming ambience all of its own. The old town is perfect for romantic walks that can easily extend into the surrounding forests and the Musee du Dolder has guns, bladed weapons and other historical artefacts that help bring the area's history to life. Meanwhile, the Hugel et Fils vineyard is a must-visit if you're a fan of a nice drop – the tasting room opens from Easter to Christmas, but the accommodating guides will show you around any time of year, provided you contact them beforehand.
Heidelberg
One hour and 40 minutes' drive up the A5, Heidelberg is another smashing German road trip destination you should definitely add to your driving itinerary. This is the former seat of power of the Prince Electors of Heidelberg and the rambling ruins of their Renaissance-style castle (Schloss Heidelberg) is still one of the main attractions here. Surrounded by rolling hills offering scenic views, it's a lovely place to drive around and you really get a sense of the city's ambience in the cafes and squares of the Aldstadt (old town). Other attractions include the elegant Alte Brucke (Old Bridge) crossing the Neckar river, and iconic Heidelberg Tun wine barrel, which can hold a staggering 220,000 litres of wine!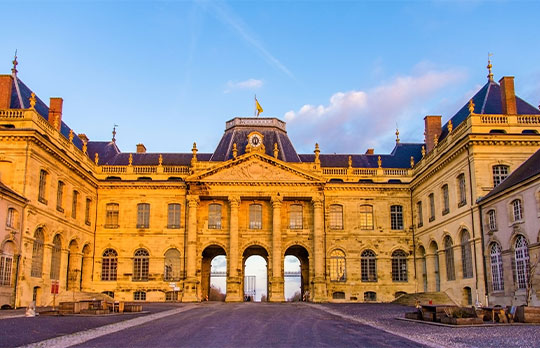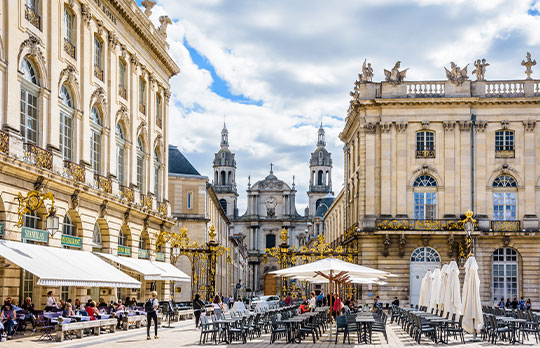 Ribeauville
A 45 minute scoot down the A35, Ribeauville is ideal for an afternoon road trip when you need a quick change of scenery. Another wonderful Wine Route town, it's one of the oldest in the Alsace Region and its location between vineyards and mountains makes it particularly beautiful. The town and its surrounding hills are characterised by the impressive ruins of the Three Castles of the Lords of Ribeaupierre, which overlook the noble Grand Rue and its surrounding streets packed with pretty flower-adorned buildings dating from the 15th to 18th centuries. Its packed cultural calendar includes the Spring Market, Kougelhopf Festival in early May and Fiddler's Fair in September – amongst many other fairs and gatherings.
Luneville
One hour and 25 minutes' drive via the A4 and N4, Luneville is a manageable road trip from Strasbourg. And what delights await when you get there? Awesome attractions include the 18th century Chateau de Luneville (known by locals as 'Little Versailles) and its neighbouring Parc des Bosquets, a nice green space much-loved by locals. The Baroque church of Saint-Jacques de Luneville is popular with architecture fans and there are several chic cafes where you can order a tasty meal and watch the world go by.
Nancy
One hour and 50 minutes west via the A4 and N4, Nancy makes a magnificent road trip target from Strasbourg. If you like amazing architecture, you'll be in seventh heaven here. The swish 18th century Place Stanislas is a UNESCO World Heritage Site which includes the Opera House, City Hall, Triumphal Arch and Fine Arts Museum, Villa Majorelle is a fine example of turn of the century Art Nouveau design, while Musee de l'Ecole de Nancy showcases how the Art Nouveau movement took Europe by storm.
Metz
One hour and 40 minutes' drive up the A4, Metz is our final Strasbourg road trip target and it's an absolute peach. Notable buildings here include the towering Metz Cathedral (which took 300 years to complete and has more stained glass than any other worldwide), its own outpost of the Pompidou Centre (looks striking outside and hosts Picasso, Kapoor et al inside) and Porte des Allemands – the last castle bridge standing in the nation.