Driving in Norway – 15 Things You Need to Know
Choose the correct side of the road
Check the age and license requirements before renting a car
Don't underestimate driving times & distances
Pack mandatory items
Stick to the speed limit
Pay attention to parking
Seatbelts for adults and children
Winter tyres
Headlights
Alcohol limits
Unusual Give Way rule
Hire a fuel-efficient car
Take care of your brakes
Service stations & toll roads
Emergency phone numbers
Norway – a gorgeous place to hit the road
Ah, Norway. Land of majestic fjords, the magical midnight sun and mind-blowing northern lights.
There are lots of reasons to love this scintillating Scandinavian nation, including bracing mountain hikes, stormwatching (yup, that's a thing), amazing art museums and galleries, whale safaris, saunas, skiing, and surfing.
Big cities like Oslo, Bergen, Tromso and Trondheim blend cosmopolitan vibes with small-town hospitality – with lashings of unmistakable Scandi cool. And the nation's 6 regions boast eye-popping mountain peaks, bottomless aquamarine waters, pounding waterfalls and more. Driving in Norway is an epic adventure, but before you get behind the wheel, take time to read these 15 carefully collated tips!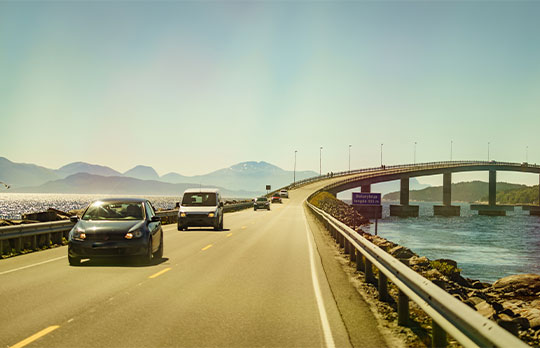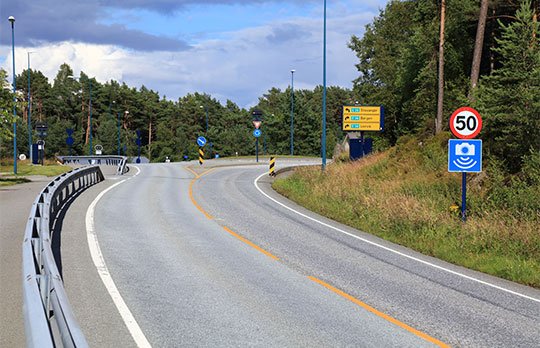 15 things you need to know about driving in Austria
Choose the correct side of the road
Please, please always drive on the right-hand side of the road in Norway. Only around 35% of nations drive on the left-hand side of the road now (most of them ex-British colonies). But do you know why most people used to drive on the left? Interestingly, it stems from feudal society – since most people are right-handed, swordsmen preferred to progress on the left as it kept their right hand closer to a potential attacker and meant there was less chance of their scabbard hitting passers-by. Right-handed people also prefer to mount a horse from the left and it was safer to mount and dismount at the side of the road than in the midst of traffic. Pretty cool, right?
Check the age and license requirements before renting a car
It's important to understand some basic requirements before you rent a car in Norway. Confirm with your rental provider, but the conventions are that you have to be 21 or older to rent a car and have held your driving license for at least 12 months. You can use non- EU/EAA licenses for up to three months and if your license isn't printed in English, you'll need to get an international driving permit.
Don't underestimate driving times & distances
Norway is the longest country in Europe, so there are lots of stretches of isolated (albeit beautiful) road. For instance, it would take 30 hours at least to drive from the southern tip to the far north of the nation. So plan road trips sensibly and no matter what the distance, always pack a warm change of clothes, plenty of water and snacks. Another note of caution: mountain passes will often close in extreme weather conditions like strong winds and heavy snow, and at higher altitudes, this can even happen during summer. Before setting off on a trip through the mountains, check for road closures on the Norwegian Roads Administration website.
Pack mandatory items
There are a few items that every car driving in Norway is required to have. These are a warning triangle and hi-vis reflective jacket, a fire extinguisher, spare bulbs for the vehicle's external lights, and a first-aid kit. There are also several items you shouldn't bring with you to Norway – including meat, dairy products, most fresh fruit, plants, plant products and vegetables.
Stick to the speed limit
As ever, it's essential to stick to the speed limit on Norway. The general Norwegian speed limit is 50mph, except for built-up areas and town centres, where it's 30mph, and residential areas, where it's 20mph. On dual carriageways and motorways, the speed limit can be as high as 70mph but please always check the local signage to be sure.
Pay attention to parking
Please be aware of the parking restrictions in towns and cities in Norway – they're quite strict but fairly clear. You'll find metered parking on weekdays on city streets and car parks (called 'P-hus') are plentiful in big cities. However, automated parking meters (called 'P-automat') is the most common form of parking. It works in a way you're probably familiar with – park your car first, put the required amount of cash in the nearest meter and grab your ticker. Don't park without observing the proper rules – otherwise you'll be fined or, in some circumstances, have your car towed and impounded.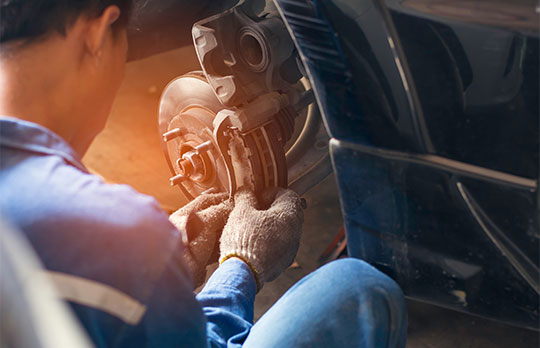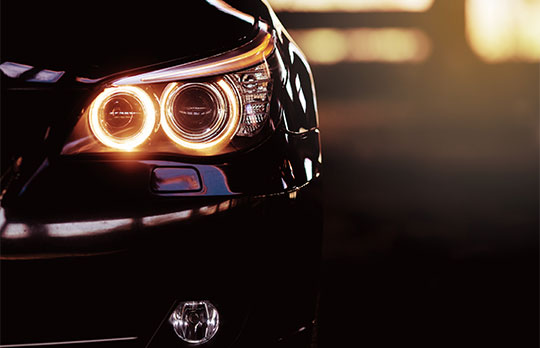 Seatbelts for adults and children
Everyone inside your vehicle has to wear a seatbelt. Kids must sit in a child restraint that's appropriate for their size and all children under 4 have to sit in a rear-facing child safety seat. It's the parent/guardian's responsibility to fit their child's car seat, so please make sure that you have all the appropriate equipment and arrangements made before hitting the road in Norway.
Winter tyres
The rules about winter tyres in Norway are very specific. You should only use studded tyres between November 1st and the first Monday following Easter Monday. But in Finnmark, Troms and Nordland counties, you can use studded tyres from 16th October to 30th April. Tyres should have at least a 3mm tread depth between November 1st and the Sunday after Easter Monday – this applies in the three aforementioned counties between 16th October and 30th April. Minimum tyre tread depth outside winter is at least 1.6mm. You should never use summer tyres on winter roads – it's very dangerous as they don't have enough grip.
Headlights
You should use dipped headlights when driving in Norway all year round – even on the brightest midsummer day, it's the law. Your vehicle headlights shouldn't radiate light brighter than 0.7 lux at a height of 1.1m, measured 25m from the lamp. You can use dipped headlights in combination with full-beam (as appropriate) but you're not permitted to use dipped headlights combined with fog lamps.
Alcohol limits
You shouldn't drink and drive anywhere, but the law in Norway is particularly strict. The legal blood alcohol limit here is 0.02% and applies to anyone driving any motorized vehicle. You should also be careful with medication – any bought in Norway which you should avoid if driving have a red triangle on the packaging.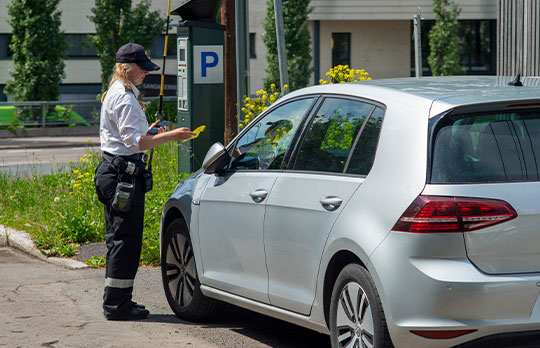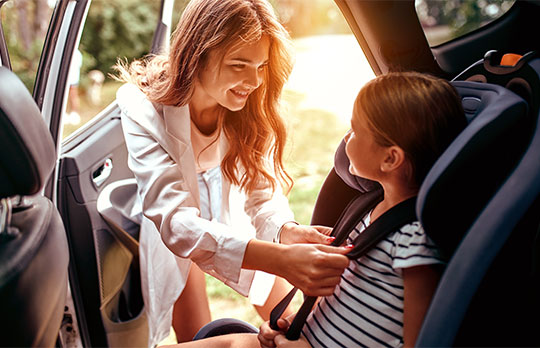 Unusual Give Way rule
There's also a quirky give way rule in Norway you should be aware of. On main roads in the countryside and bigger roads in towns, the person travelling on the road has right of way (as you'd expect). But on smaller roads and especially those in residential/suburban areas, the person joining the main road from the right at a junction has priority. A yellow diamond denotes roads where you have the right of way, but be aware that this might change at different sections. There's obviously a lot of scope for danger with this rule, so please proceed with caution.
Hire a fuel-efficient car
Fuel (petrol and diesel) is getting expensive in many countries, but it's always dear in Norway. Therefore, it's important to hire a very fuel-efficient vehicle, or perhaps consider an electric vehicle. There are over 17,000 charging points across Norway and 3,300 rapid chargers, plus many hotels offer free charging too – so there's no need to worry that the charging network won't support your road trip plans.
Take care of your brakes
Plenty of roads in Norway have long, winding downhill stretches where your brakes are prone to overheating. Drive in a lower gear to mitigate this. That way, any braking you have to do will be more gentle and you'll keep your brakes cooler. On the flipside, watch out for your engine overheating when you're motoring back uphill – keep a close eye on your vehicle's temperature gauge.
Service stations & toll roads
As we've said, fuel prices are high in many nations globally, but like anywhere else, they vary from location to location in Norway. There are plenty of petrol stations in major towns and cities, but they're few and far between in mountainous and remote areas, such as northern Norway. If you want to plan ahead and see which service stations are available on a particular route, the Viamichelin website is a good resource. There are several toll roads in Norway, and no one is exempt from paying. These include popular areas/routes such as Halogaland Bridge, Jondal Tunnel, Oslofjord Tunnel and the Atlantic Ocean Road.
Emergency phone numbers
In the event of an emergency, contact the police in Norway by dialling 112. For non-emergency police queries, call the central switchboard on 02800. You can contact the Norwegian fire service on 110. And you can call an ambulance and urgent healthcare assistance in Norway on 113. Norway also has an air ambulance and emergency search and rescue service. In the unlikely event you need these, they'll be provided after you call 112.