Ireland Car Hire
Find the best deals in Ireland
With a massive choice from the biggest brands, Enjoy the best way to find the best prices for car hire in Ireland.
Huge choice of cars to suit every budget
Save up to 70% compared to buying on the day
10 years experience in car hire
Compare car hire in Ireland
Fly to the foggy and mysterious Atlantic island called Ireland. The Emerald Island, with its wild beauty and rich culture, is waiting for you to discover it. The intricate Celtic art and the enchanting music that honours the glorious past will keep you company, together with its warm and smiling inhabitants, on a journey so adventurous but also full of warmth and serenity. Today's Ireland is a place where you will build real relationships with its people, learning its history and its cultural values, through a journey full of cosmopolitan air and a down-to-earth perception.
In its small area, Ireland manages to hide tremendous secrets. Secrets that are ineffable and they're there hiding only to be discovered by its travellers. Between its vast meadows and its cloud-covered mountain peaks, there are lakes, coasts and thousands of islands that each one of them has a unique story to tell. But only if you are there to hear it.
Ireland is also known for most of its excessive history, with medieval and fenced towns and castles that have survived to the present day. But to be able to visit these remote historical sites, you must have a vehicle at your disposal that will allow you to create a complete picture of the history and tradition of this place. With a car of your own, you will escape from the trampled, and you will be able to experience a compelling experience that will be etched in your memory forever. Experience the driving through the notorious Wild Atlantic way with 2.500km of pure driving joy to the heart-stirring views of Sligo and the Classiebawn Castle, a place that arouses your most fairytale fantasies. And you can make it all a reality just by renting the car that fits your own needs through Enjoy Travel! An ideal option to star your Irish trip and make it more pleasant is by hiring a car, car rental prices start at just 5€ per day (depending on your requirements) - with partners like Hertz, Avis, Europcar Enterprise and Sixt offering their premium services 24/7.
Guide to Ireland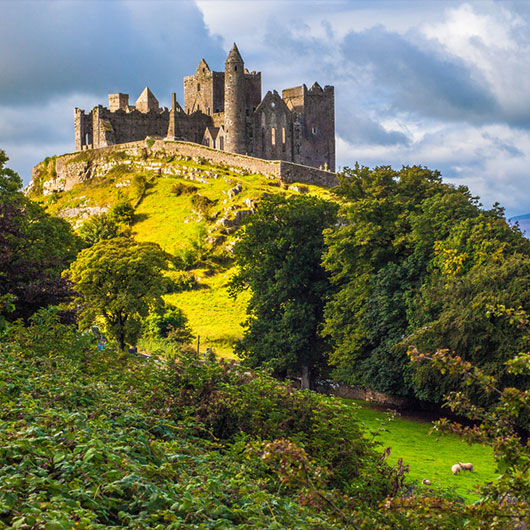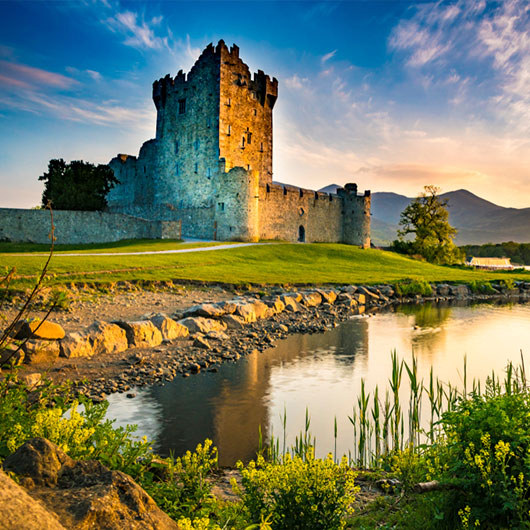 Although it is a small island, Ireland has a significant impact on today's world as we know it. Geographically cut off from the rest of Europe during the demographic, cultural and economic deterioration of the Middle Ages, the Irish Christian monks kept the fire of literature alive and handed it back to the Old Continent. Ireland for the following years was the birthplace of some of the greatest writers of contemporary literature, such as Oscar Wilde, James Joyce, W.B. Yeats and Samuel Beckett. During the 1800s, massive waves of Irish immigrants forced by famine and colonial oppression shipped to the United States, Canada, New Zealand, and Australia, seeking new and better opportunities abroad. Although now that peace is prevailing in the Northern Ireland region, back then the political and religious conflict had long monopolised the world's attention.
Politically, the Irish people are divided between the Republic of Ireland in the south, with a population of 4.5 million that occupies 80% of the island, and Northern Ireland, with a population of 1.8 million. Northern Ireland is a province under the jurisdiction of the United Kingdom - as are Scotland and Wales - while the Republic of Ireland is an independent nation with its own seat at the United Nations. The island is divided into four counties, Leinster, Münster, Connaught and Ulster, and 32 counties, each with its own unique identity and geographical pride.
With a length of 300 miles and a width of 150, this is the island with the most beautiful and picturesque coastal cliffs in whole Europe; you can not hide from the constant gaze of the sea that is always present. Although located in the north, Ireland is characterised by a mild, coastal climate due to Gulf Stream. You have to be very lucky to get to see the white snowflakes in this place. On the other hand, the rains are abundant in this country, reaching up to 100 inches per year in the cloudy and foggy Connemara, while in Dublin it reaches about 30 inches every year. So, at any time of the year you visit Ireland, remember to have an umbrella with you. As Oscar Wilde once said: " There's no bad weather, only inappropriate clothing."
Republic of Ireland
The Republic of Ireland tends more to the US, geographically and economically. Almost every family in Ireland probably has a brother, cousin, niece or an uncle living in America. The Irish immigrants brought with them - as it was natural - their way of life and their traditions, with the most notable example, would be St. Patrick's Day. The most widespread national holiday in the English-speaking world is celebrated in four consecutive festival days in Dublin city.
During the "Celtic Tiger" business eruption from 1995-2007, American companies invested in the country, seeing Ireland as a force to be reckoned within the European and global economic landscape. The so-called Silicon Bog is home to the largest multinational companies such as IBM, Intel, Microsoft, Apple, Facebook and of course, Google.
Until recently, Ireland was one of the most ethnically homogeneous nations on earth, but the change brought by the "Celtic Tiger" entrepreneurship changed the data significantly, attracting Europeans from Eastern Europe, Africans and South Americans. Population census samples show that 10% of the population was born outside of Ireland. This cultural exchange, of course, also had an impact on Irish cuisine. Economic migrants added their national elements to the already existing cuisine, creating a new world of exciting flavours. Fresh local ingredients also complement the result, such as Irish beef, lamb and dairy products that are among the top in Europe.
Northern Ireland
Northern Ireland, on the other hand, is a more underrated region, often overlooked by travellers, for some unexplained reason. Northern Ireland, with an unforgettable landscape etched in the memory of every traveller and the authentic friendliness of its inhabitants, is the perfect hybrid of Irish and Scottish culture. From its nearest point, it is only 17 miles from enchanting Scotland. Logically, the pronunciation of the Northern Irish is clearly different from that of the southern. Northern Ireland is part of the United Kingdom and occupies 6 counties in the ancient Irish province of Ulster. Its shoreline boasts the appearance of an alligator skin of Giants Causeway, while inside it is protected the largest lake in the United Kingdom, the Logh Neagh.
The people of Northern Ireland fall into two categories: the Unionists - those who feel they're British - and the Nationalists - those who feel they're Irish. Those born in the northern area of Ireland can choose which of the two passports they want to use. The conflicts between the two parties in the 1960s were always about nationality rather than religion. But right now Northern Ireland is healing from its past mistakes and has become one of the safer places in the Western world.
But Northern Ireland undoubtedly has inseparable ties with the Republic of Ireland. This geographical and political divide may be evident on the island. Still, people continue to cross these two countries daily, in order to do their shopping, vacations and leisure. No matter what border you may be visiting today, modern Ireland is cosmopolitan, full of vibrancy, friendliness and has modernised in an ever-growing economy that follows the current trends of the time, looking carefully at its past.
Things to do in Ireland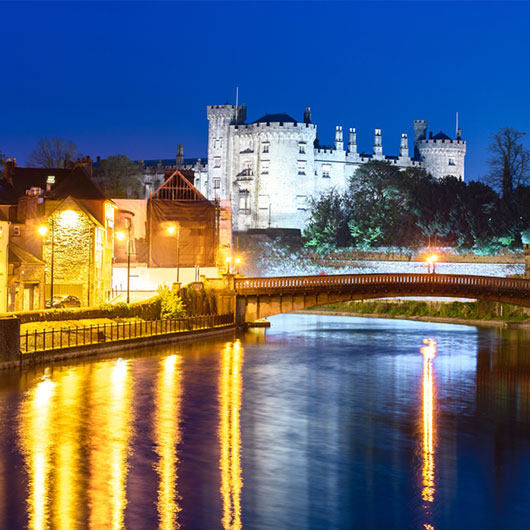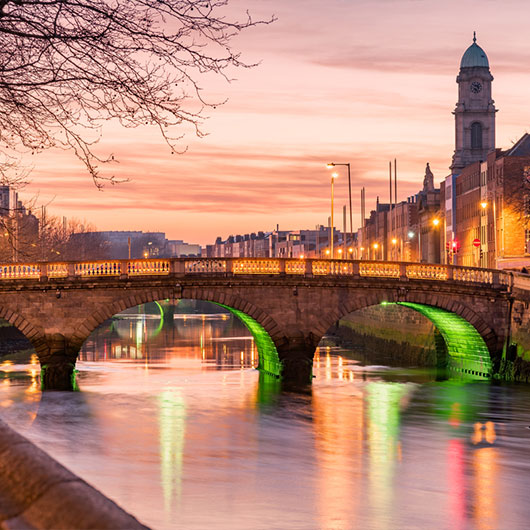 Dublin
Dublin has a population of 1.3 million - more than a quarter of the country's population. But the centre of tourist interest is a tight and packed triangle between O'Connell Bridge, St.Stephen's Green and Christ Church Cathedral. Within this triangle, you'll find the famous Trinity College with a massive collection of 7 million printed volumes and significant quantities of manuscripts, including the book of Kells.
Of course, you will take the opportunity to visit the Guinness factory, one of the most popular attractions in Dublin, and for a good reason. It's definitely a lot more than a place where you can try a few pints. You will discover for yourself the place where it all began, in an interactive experience that sinks into the hops and wheat of every Guinness. Discover the whole magical process of preparation of our beloved dark beer, enjoying the product in its production place, with a stunning panoramic view of the city.
The much-promoted area of Temple Bar, with its trendy shops, cafes, theatres, galleries, pubs with live music and restaurants, feels like the real heart of the city. And with government tax incentives and lots, amounts of money spent on its development, the Temple Bar district has now become a thriving hot spot not only for beer drinking but for the overall advocacy of Dublin's culture.
Also a significant historical landmark, as well as a massive government complex, Dublin Castle was built in the 13th century on the site of a Viking settlement. Until 1922 it housed the British headquarters in Ireland. The structure of the castle is Georgian, with the required large reception hall and the palace apartments, as well as the Gothic chapel and its numerous museums. It's primary use today is to inaugurate presidents and host state dinners.
Kilkenny and Cashel
Suppose you start your drive from the east end of Ireland (Dublin) to the west where Diggle is located. In that case, the two most ideal stops along the way are Ireland's most important medieval town called Kilkenny and an early Christian area of Rock of Cashel.
Ireland's most beautiful hinterland, Kilkenny gives you a truly authentic countryside feel. The castle and the cathedral stand representatively in front of all their visitors, adorned with colourful shops and medieval facades. Although its quarry produces black limestone, it has acquired the pseudonym of "Marble City". While it is undoubtedly a small state of 10,000 inhabitants, on the contrary, it presents a remarkable history, which played an essential role in the Middle Ages as the capital of Ireland.
As it rises above its fertile plain Tipperary, the Rock of Kassel stands out; one of Ireland's most historic and evocative landmarks. In 1101 the Rock was given to the ownership of the Church, the iron forts and the old houses of the village were replaced by the majestic stone buildings that visitors see today and wonder.
Belfast
Belfast, also known as the birthplace of the Titanic, was considered important shipbuilding and industrial power of the past. Although funding has dwindled in the area, Belfast officials hope the historic district will continue to attract investors as well as many tourists. Walking in the most bright and busy pedestrian centre, we can not imagine this peaceful area without heavy traffic.
For a first-timer, Belfast might be straightforward to navigate. There are four zones of interest: the northern zone which has the Titanic Quarter and the docklands, the western area; the more working-class sectarian neighbourhood, the central location with the Donegall Square, the City Hall and the shops, and lastly the southern zone with the Botanic Gardens, Queen's University and Ulster Museum.
These two attractions that certainly stand out from the rest are the Belfast Titanic, and the Lyric Theater, which is difficult not to notice as their modern construction is very different from the traditional red brick that surrounds every building in old Belfast. However, the core of your navigation will depend on another four significant milestones: the Albert Clock Tower, the City Hall, the Shaftesbury Square and Queen's University. Check them on your map and use them to navigate as you stroll the moist streets of Belfast.
Eating out in Ireland
Food for several years in Ireland was not considered a pleasure but merely a matter of survival. Also known as the "Potato Land", Ireland has a high annual consumption of starch, but in the last decade, it has decreased compared to earlier times. Today's Irish cuisine, however, has variety, richness and diversity thanks to the admixture of its inhabitants. You will find that Irish cuisine has fantastic choices of vegetables, meat, dairy and fresh fish caught directly from the cold Irish Sea.
The famous "Irish Fry" breakfast
Starting your day, you can try the famous country breakfast named "Irish Fry" or as it is called in South "Ulster Fry", which will not only fill you with energy for the rest of your activities during the day but will definitely keep you full until the moment of your lunch. A complete, nutritious and complete breakfast, consisting of fresh juice, hot tea or coffee, cereals, freshly baked eggs, delicious bacon, juicy sausages and roasted tomatoes, mushrooms and an unusual and unique black pudding made by pig's blood (trust us, it's great) . The toast is traditionally served with butter and jam while the smell of freshly baked Irish bread from a traditional bakery will enchant you, as well as its taste. In Dublin, some of the best breakfast places are the family-run bistro of WUFF on Stoneybatter, the lovers of the classic in Bakehouse Bakery and Eatery next to Ha'penny Bridge and the all-in-one O'Neil's Pub & Kitchen at Suffolk Street.
Restaurants
In search of the proper restaurant in Ireland, choose the place that is full of locals and not the one that is full of tourists. Usually, these restaurants are located one to two blocks further from the usual tourist places that unsuspecting visitors go. The food in these places is definitely better and most of the time cheaper. Especially in the catering part, it is always wise to trust the choices of the locals. In the most classy restaurants, look for the "early bird" offers (between 17:30 - 19:00), which will allow you to dine in places that in any other case you would not choose, but at lower prices. And remember that the city's high-end restaurants are packed from 20:00 and on, especially on weekend time.
Quick and safe choices of food next to Grafton Street are the two pubs on Duke Street, called "The Duke" and "Davy Burns" which serve reliable pub lunches. In northern Dublin, we have the restaurant "The Church" which took its name from the church of St. Mary that was housed there. It is quite a trendy cafe, bar and restaurant, which offers a hearty menu for all tastes. Visit it for a "tasty pilgrimage". South of Temple Bar and Dame Street you can dine in two classy and exceptional restaurants and cafés. "Tronandero" is ideal for a quiet and romantic dinner, dressed in red silk and decorated with photos of famous actors who have visited it. And also the "Boulevard Cafe" with its most trendy and Mediterranean cuisine, which focuses mainly on Italian dishes.
Transport in Ireland
Ireland's newly built highways have greatly improved the driving experience across the country and now connect most significant cities (Dublin, Belfast, Cork, Waterford, Limerick and Galway). However, the remarkable and touristy places that are worth visiting, still have narrower and more demanding roads with which they are connecting with the rest of the country.
Driving Tips
The driving experience in Ireland is fantastic. Of course, it is enough to stay in the left lane and get used to the traffic through the roundabouts. Roundabouts don't have to be scary. After all, you are used to speeding cars on your highways back in your country; this is nothing compared to it. Traffic at a roundabout always draws your attention to the right-of-way. It also helps to remember that the driver is still in the centre of the road.
Obviously, seat belts are mandatory for everyone, with children under the age of 12 and under 1.5 meters tall being required to sit in a child safety seat. Also, be aware of the benefits of towing and emergency. For those travellers who may be overwhelmed by the stress of driving on the streets of Ireland, they could get an L sign mark from a gas station or car shop, which will relieve you of the stress of your driving performance and inform others. Just be sure to use it outside of Dublin. Be aware of the current European road rules. For example, your mobile phone is not allowed to be used while driving (only with headphones or Bluetooth headsets), and you should set the headlights of your car to the lowest level in day hours.
Speed Limits
Speed limits are 50 kilometres per hour (roughly 30 miles per hour) in residential areas, 80 kph (approximately 50 mph) on rural roads, 100 kph (about 60 mph) on national highways, and 120 kph (roughly 75 mph) on motorways. Keep in mind that there are surveillance cameras that are strictly enforcing speed limits. Drivers who exceed the speed limit are being photographed and will get a nasty bill in their mail. So think about twice before you put that pedal to the metal.
Tolls
he M-50 ring road surrounding Dublin carries a 3€ toll, paid electronically with an eFlow pass. Other Irish motorways, linking smaller cities farther from Dublin district, may bring tolls ranging from 1.30€ to 2.80€ which must be paid as you pass through, and it's more comfortable using cash.
Public transport
Travelling to Ireland can be done in two ways, either by plane or by boat. Travelling by boat is more time consuming, and that is why it is better to choose the flight as an option.
Airports
The Republic of Ireland has three international airports, placed in Dublin, Cork and Shannon, while Northern Ireland has only one in Belfast. Dozens of European airlines offer direct flights to Ireland including Aer Lingus, Air France, British Airways, Virgin Atlantic and Lufthansa among others. And from the States, there are Aer Lingus, American Airlines and United are some of the major airlines with direct flights to Ireland.
If you are offered the opportunity not to get "involved" with congestion in busy and dense Dublin, then the choice of Shannon Airport can be a much less stressful point for your entry and exit from the country. The transition to the "other side of the road" will become smoother driving around the peaceful and quiet rural area of Shannon in contrast to urban Dublin.
Cheap Flights
Finding the right flight can save you time and money. When comparing your options, take into account the time it takes to get to the airport and how early you should arrive at check-in. Of course, choosing a cheap flight can also have some potential disadvantages: such as non-refundable and non-exchangeable tickets, minimal to no customer service, routes to airports far from the city and restricted luggage limits. If you are travelling with a lot of luggage, a cheap flight can cause you many more problems than it can solve. So to avoid any unpleasant surprises, carefully read the offered services and the terms of each airline.
Buses
Public buses are a reasonable solution and cover almost all distances of cities. Most bus services start from the centre, specifically from the docks next to the Ο'Connell Bridge, if we are talking about Dublin. If on the other hand, you are afar from the centre, any passing bus can take you there. Please pay special attention to the number of buses listed on the windshield as they approach the stop.
Top Tips when hiring a car in Ireland
● Before your trip, take some time to research reputable car hire companies in Ireland. Look for rental companies that have positive customer reviews, offer a wide range of vehicles, and have convenient rental locations throughout the country.
● Compare car hire deals: To get the best car hire deals in Ireland, compare prices and packages offered by different car hire agencies. Online platforms and travel websites are great resources for finding competitive rates and exclusive discounts.
● Consider booking in advance: It's advisable to book your car rental in advance, especially during peak travel seasons or popular events. This ensures availability and may help you secure better prices.
● Look for cheap car hire options: If you're on a budget, search for cheap Ireland car hire options. Many car hire agencies offer economy or compact car models that are more affordable while still providing adequate comfort and reliability.
● Check for the best car hire deals: Keep an eye out for special promotions and discounts offered by car hire companies in Ireland. These deals may include reduced rates, free additional drivers, or unlimited mileage. Sign up for newsletters or follow car hire agencies on social media to stay updated on the latest offers.
● Opt for a well-established car hire company with a good reputation in Ireland. Popular options include Irish Car Rentals, Dooley Car Rentals, and international brands like Avis, Hertz, and Budget.
● Explore rental locations: Besides major airports like Dublin Airport and Knock Airport, car hire enterprises have rental cars throughout Ireland, including in Dublin City Centre, Cork City, and other towns and cities. Check if your preferred car hire agency has a rental car location near your destination to save time and hassle. Airport locations are incredibly convenient.
● Consider van hire: If you're traveling with a large group or have plenty of luggage, consider van hire in Ireland. Many car hire companies offer vans or minivans that can accommodate more passengers and provide extra space for luggage.
● Check driving requirements: Ensure that you have a valid driving license from your home country and, if necessary, obtain an International Driving Permit (IDP) before arriving in Ireland. The IDP is typically required if your license is not in English or if you hold a non-European Union (EU) driving license.
● Familiarize yourself with road rules: Before driving in Ireland, familiarize yourself with the local road rules and regulations. Pay attention to speed limits and be aware that there are speed cameras placed throughout the country to enforce the speed laws and ensure road safety.
● Check for child seats: If you're traveling with children, confirm if your car hire company provides child seats or booster seats. Some companies offer these as additional extras, so it's essential to request them in advance.
Got a Question? Chat with our UK support team
Online chat help is open 08:30am to 17:00 weekdays. Email: [email protected]
FAQs about car hire in Ireland
Most frequently asked questions about hiring a car in Ireland
Yes. You can drive across Ireland.
It is true that Ireland as a whole has a big reputation for being an expensive country to travel to, but the truth is that there are a lot more affordable options than most think. Per day you'll need around €109.
Ireland is known for its highlands and other natural landscapes, and the best way to reach them is by taking a road trip around the country. Thus, renting a car in Ireland is an amazing idea.
As we've mentioned above, riding your way through Ireland is a great way to see it. Make many stops along the way and experience the true face of this Irish country.
Spring is the best time to travel to Ireland.
It's €109 for a week, or €15.50 per day
It's €499 for a month, or €18 per day.
It's €499 for a month, or €18 per day.
Price of fuel in Ireland is between €1.54 and €1.25 per litre.
The cost of hiring a car in Ireland can be as little as 5€ per day, depending on your requirements, destination and the time of your booking.
Most of the famous companies are available for you to book in many of Ireland's airports, such as Hertz, Avis, Europcar, Centauro, Alamo, Enterprise, Keddy and Sixt.
You will drive on the left side of the road in Ireland.
You will need either a valid, full national driving license of an international driving permit to drive in Ireland. In the Republic of Ireland, you must carry your driver's license at all times. It is necessary also to have car insurance either in your name or as a named driver on another's policy.
The speed limits in Ireland are as follows: 50 kph in built-up areas. 80-100 kph on open roads. 120 km/h on dual carriageways and motorways.
The biggest airports of Ireland are Dublin Airport, Cork Airport and Shannon Airport.
Ireland's new motorways have vastly improved the cross-country driving experience, but the best intimate sites still require you to drive on narrow country lanes.
Explore popular places in Ireland