Menorca Car Hire
Find the best deals in Menorca
With a massive choice from the biggest brands, Enjoy the best way to find the best prices for car hire in Menorca.
Huge choice of cars to suit every budget
Save up to 70% compared to buying on the day
10 years experience in car hire
Compare car hire in Menorca
Menorca (the official name in Spanish and Catalan) also known as Minorca, is a Spanish island in the western Mediterranean and part of the Balearic Islands which include the larger Mallorca (Majorca) and legendary Ibiza. The fine natural harbour of Mahón (aka Mao), the island's main town, is considered to be the best port in the Balearics and it was much prized for its strategic value in the wars of the 18th century. Now it's just as highly sought out for its stunning clear waters over white sands, on which moored yachts appear as if they're floating mid-air (because the water is so clear). Menorca has generally been overshadowed by its larger neighbours, but over the past few decades tourism on the island has boomed. There are now direct flights to Menorca from major airports in London and Barcelona and recently the island has attracted tech entrepreneur incomers. Enjoy Travel has got you covered with great hire car options here. at even better prices, so you can maximise your Menorca vacation without car hassles. On Menorca, a nippy and economical Fiat 500 or similar mini-size vehicle is only €4.86 (£4.41) a day in the off-peak season, just €33 for 1 week. A slightly larger economy-size car like the roomy Seat Ibiza is a meagre €5.14 (£4.66) a day, while a standard-size Peugeot 3008, an SUV-hybrid which seats 5 comfortably, starts from just €12.86 (£11.66) a day! Find the best deals when you pre-book with Enjoy Travel and embrace the open road in this sublime sun-kissed island.
Guide to Menorca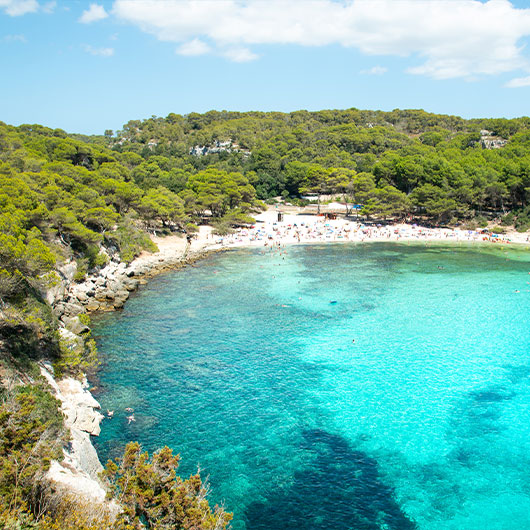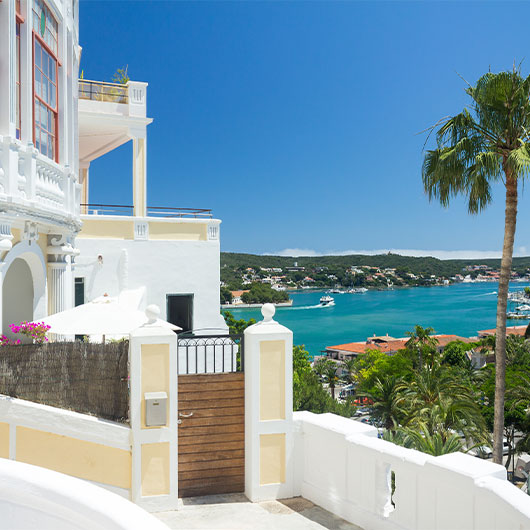 Past & present
Menorca has been settled for at least 4,000 years. Until the Roman arrival it was largely untouched during this time, as indicated by numerous prehistoric remains and sites. The first Menorcans probably lived in caves on the north coast, and they also left behind interesting stone structures called talayots (stone towers, thought to have been watchtowers) and taulas ('tables'), standing stones with large horizontal plinths on top which were probably pillars of a larger structure. The island is also dotted with naves/navetas (meaning 'boats' because they look like upturned boats) which are actually graves. The landscape is primarily limestone plateau, which is used for grazing. However, richer soils in some areas are terraced and produce cereals, potatoes, melons, pomegranates, figs, and almonds. There are wells aplenty in Menorca too, indicated by the lovely windmills above. Fishing is abundant, especially on the norther coast where lobsters are plentiful. Another industry is leather shoes manufacture, employing about 10% of the workforce: Abarcas are the simple leather sandals popular with locals and tourists alike, and they make a great souvenir.
Menorca was designated a UNESCO natural biosphere reserve in the 90s, recognising the high degree of compatibility achieved between economic development and expenditure, and the conservation of a heritage and landscape that has been maintained with exceptional quality. It has a very rich and traditional rural countryside which hosts a remarkable diversity of Mediterranean habitats in which rare animal species and plants live, some of which are under threat of extinction. The climate on the island means that, although the tourist season is May-October (with the peak between July and September) the temperature is still pleasantly warm in winter and particularly attractive are the almond blossoms in spring. July and August are very hot of course, and a lot of places close between November and March. Menorca is all about getting out on that crystalline water (there are 80 beaches and bays) whether swimming, diving, kayaking, paddleboarding or sailing. Once back on land, travel into the island's rural interior for some picturesque driving then come back for a plate of seafood at a harbourside restaurant. It's often said that no-one is in a rush on Menorca, so get ready to relax!
Mix of cultures
Like many islands in the Mediterranean, Menorca has been invaded and occupied by different peoples over the millennia due to its geographically strategic importance. Menorca came under total control of the Romans by 121 BC and after the Romans, the Vandals occupied it in the 5th century. Next were the Moors from North Africa, who controlled much of southern Spain and Portugal for centuries, until Menorca was re-conquered by Christian Crusaders in the 13th century (on January 17th, 1287 ‐ this date became Menorca's National Day.) In the 16th century the island was largely destroyed by Turkish naval attacks, then in 1708 the island came under British rule which would last a century (during which time the Brits introduced gin distilling, and drinking in general became more popular) with sporadic periods of French and Spanish rule. It was during these recent invasions that Mahón became a free port and its cosmopolitan legacy was sealed, although Menorca suffered serious poverty during the 19th and 20th centuries. Menorca became part of Spain in 1802. Today, Menorca is a popular tourist destination in the Mediterranean (not as popular as Ibiza or Mallorca) known for pristine beaches and waters, for Roman and Muslim remains, and for Paleo-Christian church structures, British architecture and even modernist features on buildings.
Nature & Wildlife
Menorca is one of the most pristine islands of the Western Mediterranean. The island has an area of 700 square kilometres (276 sq. mi) in which nearly all of the natural habitats which exist in the Mediterranean can be found. There is a high number of native species of flora and fauna, and the traditional agricultural methods are claimed to demonstrate a harmony between humans and nature. The lovely interior of the island, with its canyons, caves, lush woodland and pastures (which are covered in wild flowers in spring) appear to have hardly changed in centuries.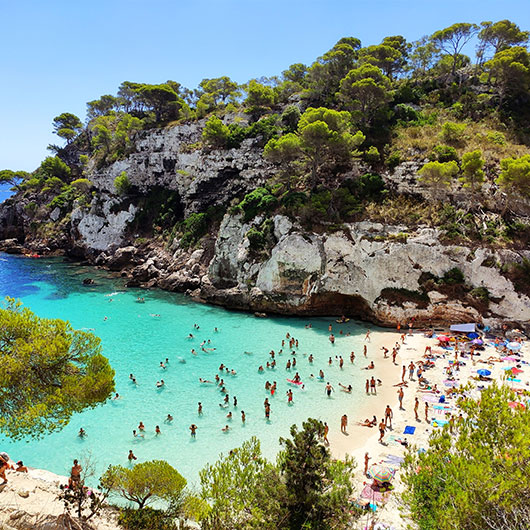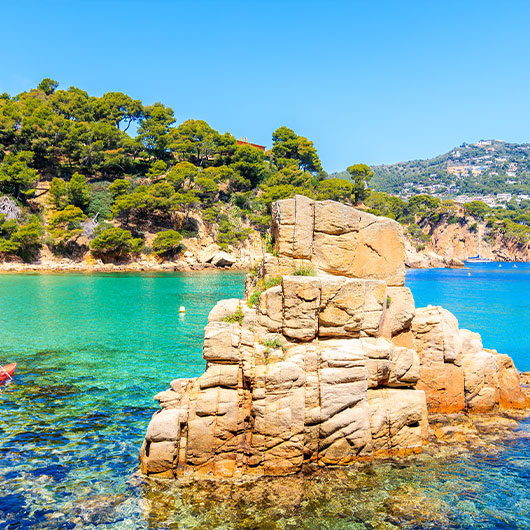 What to do in Menorca?
Apart from the typically lovely beaches, coves and sea around Menorca, and its dazzling array of wildlife (look out for terrapins!) another reason to choose this island is that it has always been less crowded than the more touristy Mallorca or the hedonist Ibiza. Development here has always been strictly regulated to preserve the island's natural beauty, which makes Menorca a bit of a hidden gem.
Beaches!
Menorca is less well known than Mallorca and Ibiza, but it's no less attractive for beaches and azure coastlines than these competitors. Top beaches in Menorca include Pregonda near Es Mercadal ‐ a long beach with reddish-gold sand and pink rocks creating the appearance of a lunar landscape and flanked by dunes and green fields. As it's on the quieter north coast of Menorca, there are tiny islands just off shore that protect the bay from the northerly winds, so the sea is usually flat, calm and crystal-clear. It's actually a marine reserve which requires about 30 minutes trekking from the car to reach but it's totally worth your efforts and bring snorkelling gear for this one! Meanwhile, Cala Macarella near Alaior is a lovely little cove of white sands and turquoise water (of course) surrounded by those magnificent pine trees you find on the Balearics. It's warm enough to sunbathe even in winter but unfortunately, it's very busy during the high season, so go in spring or autumn/fall if possible. Within walking distance is the Macarelleta cove, which is smaller but just as pretty (and popular with naturists).
Cave clubbing, anyone?
Menorca is known as a quiet island, but it still has a buzzing nightlife, especially in the harbour areas of its main cities Mahón and Cuitadella. Covas den Xoroi is set in natural caves 25m above the ocean in Cala en Porter and it hosts well-known guest DJs from UK and Ibiza. It's mellow during the day and a full-on club at night. A few of the beach resorts have a dancefloor, while the big clubs have multiple rooms with different styles of music. Recently Latin music has gained in popularity, fuelled largely by immigrants from Argentina and Brazil, so Latin lovers can enjoy tango and salsa music and dancing too. Also, remember that in Menorca as elsewhere in Spain people go out late ‐ 11 pm at the earliest ‐ so if you're planning to go out before this you should find most places pretty deserted until 11-12.
Kids attractions
Menorca is also great for kids. Camí de Cavalls coastal path is a pleasure, but maybe too strenuous for very small kids. However, there's also Jeep safaris, kayaking for kids, boat trips, scuba-diving instruction, the Lloc de Menorca Zoo, and many more. Es Grau beach and nature reserve is just 9 km (6 mi) from Mahón and is perfect for paddling and playing ‐ the water is just 20 cm deep, at a distance of 40 metres from the coast, so it's very safe.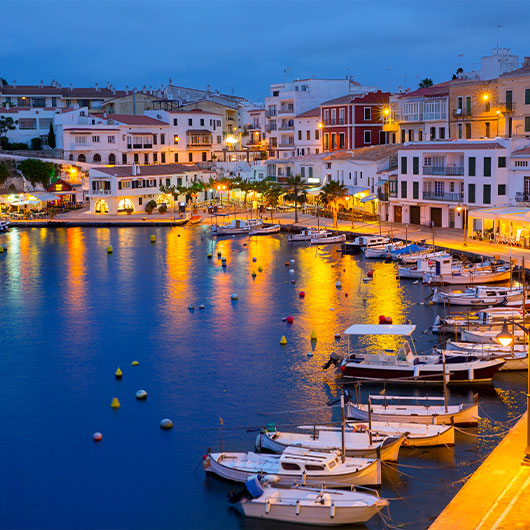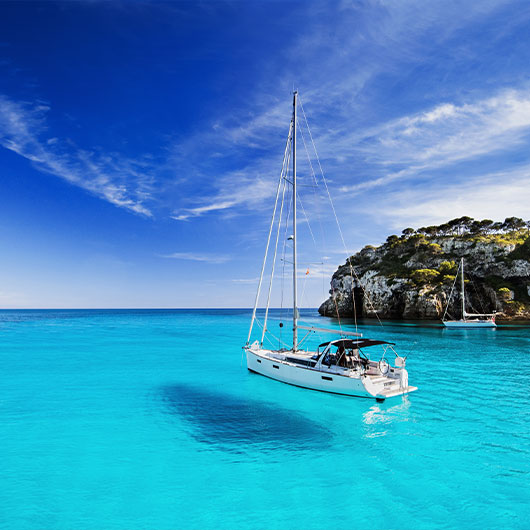 Eating out in Menorca
Menorca has developed a lively culinary scene in recent years ‐ here is a sample of its eclectic eateries:
Tapas, naturally
In any region of Spain, travellers want to eat good tapas. Can Vermut overlooks the harbour of Mahón, Menorca's capital. Sit up at the bar or on one of the outside tables and order a vermut (vermouth, the house tipple) as you browse the small but freshly-prepared menu items. Try the superb homemade croquetas and meatballs with a delicious aubergine lasagne. Also popular among both locals and travellers is torrade (an open toasted sandwich) topped with sobrasada (a spicy cured sausage native to the Balearics), Menorcan cheese and honey. Friendly and helpful staff added to the experience overall.
Menorcan stews
Enjoy spectacular views from the terrace of Cap Roig, a stylish restaurant on a clifftop about 15 minutes' drive north of Mahón. It's famed for its arroz caldos, which are brothy stews made with fresh fish stock, differing in both taste and texture from the more well-known paella. Their fried prawns are so juicy, and lobster caldereta (Balearic rich stew) is also fantastic. Reservations are recommended (especially at weekends) as the quality and freshness of its food has made Cap Roig a real hit. Unfortunately, like many of the island's restaurants it's closed during the off-season from around mid-October to Easter.
Michelin dining
Mon Restaurant i Fonda is located in between Ciutadella's waterfront and main square. This stylish restaurant is the creation of Menorca-born, Michelin-star chef Felip Llufriu. Choose between a €20 (£16.70) three-course set menu, or the more extensive tasting menu for just under €50 (£41.80), both of which showcase local produce such as lobster, cod, prawns, beef and suckling pig. The staff is friendly and always happy to provide off-menu alternatives if you have dietary requirements ‐ simply ask what's available when you order. The interior is modern and classy, with several rooms available above the restaurant.
Transport in Mernorca
Airport
Mahón Airport (MAH) is primarily a holiday airport, with a large number of charter flights, especially in summer. Most of the traffic comes from various European countries, and 3.5 million passengers used the airport in 2019.
Buses
Menorca's Bus Network covers the essentials and is served by three autonomous but co-operating companies, with very reduced services to tourist areas in winter. There are no trains on Menorca.
Driving Tips
Drive on the right-hand side of the road in Menorca. The speed limit in town is 50 km/h (30 mph) and 90 km/h (55 mph) on all other roads. Additionally, there are important tips to remember when driving on Menorca:
The road network reflects the island's natural biosphere status - no motorways, limited coastal roads, and a myriad of small narrow lanes. That being said, traffic is light except in July/August on the main roads.
Seatbelts are compulsory front and back of the vehicle and children under 12 must sit on booster seats, the alcohol limit is 25 micrograms per 100 ml (of breath), and using a mobile phone is punishable by a €600 fine. Also, know your road signs (Mahón is Maó) and where the nearest petrol/gas stations are (and their opening times!) Finally, don't forget photo ID if paying by credit card.
With these key safety tips in mind, here are a couple of scenic drives on Menorca:
S'Albufera Des Grau is Menorca's official nature reserve and town. It is one of the most important wetlands in the Balearic Islands and in winter more than 90 species of birds migrate here. A freshwater trail leaves Es Grau, taking visitors along wooden walkways over marshes. Leave the car in Es Grau for a while and take a deserted coastal walk to Tammarell's beach. Menorca's biosphere status and its contribution to taming overdevelopment are thanks to this wonderful wet haven.
The Favaritx Lighthouse is also in the S'Albufera Nature Reserve. It's possible to walk there following the famous Cami de Cavalls walking route from Es Grau if you have 3 hours to spare, but there's no reason not to drive as the road comes close to the lighthouse. You can't enter the lighthouse or grounds, but you can walk around it. Afterwards, head to the Cavelleria Lighthouse which is a bit underwhelming but is close to the stunning, secluded Cavelleria Beach.
Got a Question? Chat with our UK support team
Online chat help is open 08:30am to 17:00 weekdays. Email: [email protected]
FAQs about car hire in Menorca
Most frequently asked questions about hiring a car in Menorca
A Seat Ibiza is €5.14 (£4.66) a day when you book off-peak.
A Fiat 500 or similar mini-size car is only €4.86 (£4.41) a day in off-peak season when you pre-book online.
The minimum age to hire a car in Menorca is 25 and please remember that and drivers must have held their license for 3 years or more.
Not usually because most companies offer excess-free packages
Yes – this is no problem if they have a valid license and pay an additional daily fee.
There are a lot of tiny, narrow roads on Menorca and the island is compact, so unless you plan on off-roading, a mini-size or economy car is ideal.
Contact your Menorca rental provider. Also, in the unlikely event you have a serious accident in Menorca call 112 immediately for emergency services. You can call this number from anywhere in Europe and you'll be redirected right away to the relevant emergency services by an operator. The service is available in English, German and French.
Menorca is on the fine line between inexpensive and expensive as a destination. On average you'll spend €78 per day.
If you want to go around the whole island and explore the most beautiful remote parts of it then a renting a car is necessary and advisable.
The best way to get to know Menorca is to do it with a route plan that, over several days, allows you to get closer to different towns, beaches, hiking trails and restaurants to get a general idea of the whole island.
The best time to travel to Menorca is during the summer, as it is when temperatures rise and there is little risk of rain. The best months to enjoy the tranquillity of the island, with some atmosphere, are June and September.
It's €33 for a week, which is €5 per day.
Price of fuel in Menorca is around EUR 1.34 and EUR 1.02 per litre of gas.
Explore popular places in Spain