Ibiza Car Hire
Find the best deals in Ibiza
With a massive choice from the biggest brands, Enjoy the best way to find the best prices for car hire in Ibiza.
Huge choice of cars to suit every budget
Save up to 70% compared to buying on the day
10 years experience in car hire
Compare car hire in Ibiza
Ibiza has only 1 main airport but literally dozens of off-airport car hire companies surround the airport. You can get some real bargains if you're prepared to take a 2 to 10 minute transfer to the car hire shop
The prices can be real cheap if you book online, literally you could pick up a car from not much more than £1 per day. However be careful of the quality of the off-airport car hire outlet and check the small print. If its too good to be true then its likely the car hire outlet isn't making any money so they'll be looking to sell you extras
OK rent-a-car, Centauro, Hiper H rent a car and Keddy are good quality, low cost and national off-airport car hire companies and if you buy the excess waiver package, you can't go too far wrong
Many cars will come with air conditioning but its worth while checking since the temperatures in summer can rocket to well above 30 degrees centigrade (86 degrees Fahrenheit)
Drinking and driving is strictly prohibited on the island of Ibiza. The maximum alcohol per blood limit is 0.05% and for drivers with less than 2 year driving experience the limit reduces to 0.03%
Guide to Ibiza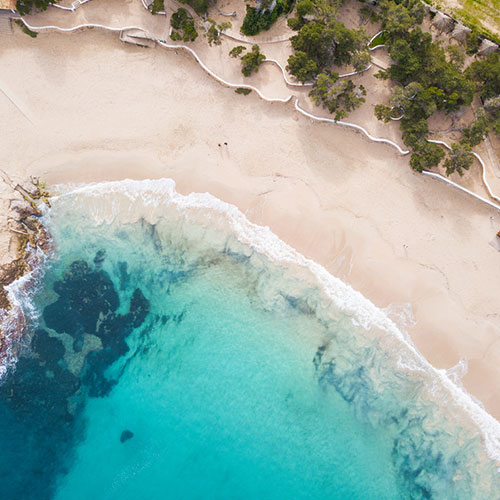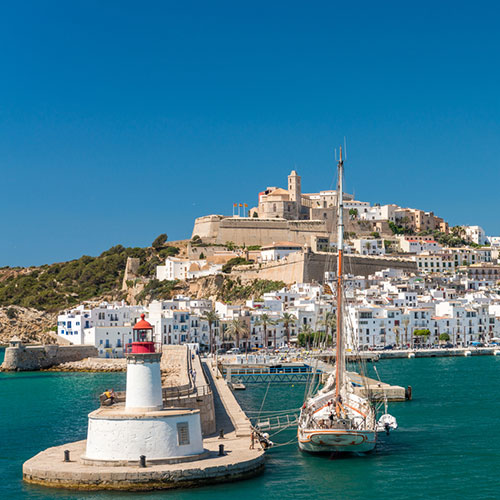 The island of Ibiza is in the Mediterranean Sea 108 Kilometres from Dénia, Spain which is just south of Alicante and north of Benidorm. The capital is Ibiza Town with 49,388 inhabitants and the total Ibiza population is 143,856 as at the 1st January 2017.
Ibiza is the 3rd largest of the Balearic Islands after Majorca and Menorca, and the most southerly of the islands. Official languages are Spanish and Catalan.
A brief history of the island of Ibiza
The historic island was founded in the year 654 BC by Phoenician settlers who traded in wool, salt, dye and fish making Ibiza a popular stop on route through the Med trade route. Many buildings and artefacts have stood the test of time thanks to a treaty between the island and the Romans. The island stood through the dark ages and middle ages, it was attacked and conquered many times by the Vandals (circa 5th century), the Byzantine empire, the Moors and then Berber settlers who converted the island to Islam, the Norwegian King Sigurd (circa 1110 AD), then conquered by Aragonese King James I (circa 1235 AD).
The island was hit by the black plague in 1348 and then again in 1652 wiping out 6000 of the islands 7000 inhabitants. King Philip of Spain imposed language and religious rule on the island throughout the 1700's and the Catholic Church took rule during much f the 18th and 19th centuries. Tourism started taking form on the island from 1930 changing the labour and political landscape and bringing a new and welcomed form of industry for the inhabitants.
During the second world war, Ibiza played a key part of Europe's defences as a watch out and the airport was established as a military base both in the Spanish civil wat and world war 2.
During the second half of the 20th century and especially in the 70s, 80s and 90s Ibiza began to boom as a tourism centre with its popular beaches, hotels, ports, bars and night clubs in particular as the dance scene erupted during the late 80s and early 90s. Ibiza is now home to some of the most popular discos and dance clubs which are open all summer attracting clubbers from all over Europe especially the UK and Germany.
What to do in Ibiza?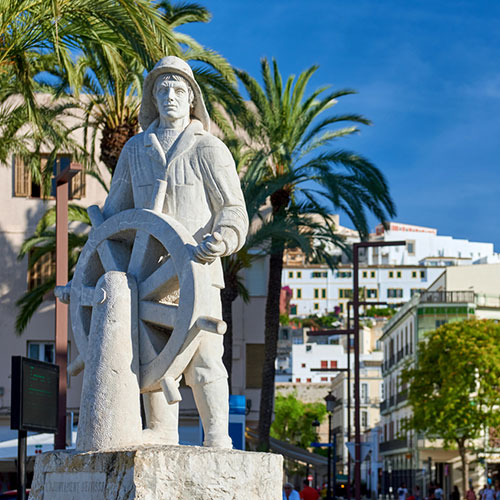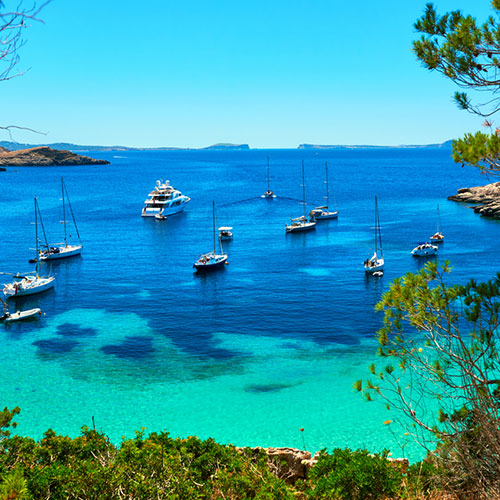 Ibiza is now a popular tourist island attracting visitors from across Europe and the world thanks to its cast nightlife, night clubbing scene, picturesque villages, history, beaches, yago retreats, hotels, bars, shops and ports in particular Ibiza Town its capital.
Ibiza Town (locally known as Evissa Town), is a bustling port town built around Ibiza Castle. Running along the edge of the harbour you'll find a plethora of café's and restaurants from Mediterranean food, tapas, pizzerias, Italian restaurants to kebab shops, grills and bars. There is no shortage of food outlets here to suit all appetites. Also known as the Old Town this part of the city is over 2500 years old with a mass of history, architecture and culture.
Popular boat trips around the island
Boat trips are hugely popular, you can book a boat trip for the day, morning, evening or just a few hours on a wide selection of different types of boats. You can go on a snorkelling trip, a boat party or a popular tour to the nearby island of Formentera which is around 30 minutes away and also bustling with quality cafes and restaurants.
Shopping around the port is also popular, with a range of market stalls around the port and surrounding the castle. Why not take the walk up to the castle? Be sure to take water with you on a hot day as you climb the steps. Once you reach the top you'll find beautiful views across the city, the Mediterranean and beaches across the island.
Ibiza has two National Parks
The Ses Salinas National Park and the nature reserve of es Vedrà, known by a small rocky island.
Ibiza Horse Valley in the northern part of the island is another wonderful place to go. It's where horses can live wild and free. They have a good program set for visitors, trekking on horseback, scuba ping, cross country cycling.
Of course, Ibiza is well known as a clubber paradise it is the place to enjoy the Balearic vibe.
But there is much more to this island than just dance music and clubs.
It has over 80 beaches and offers great water-based activities. But to see them you will need Ibiza car rental, especially since Ibiza has very little in the way of public transportation.
Great beaches
Necropolis is another UNESCO heritage site. It dates back to 7th century BC and it experienced enormous growth through the expansion of the city.
Talking about structures, Ibiza Cathedral is another interesting site. It started as a parish in the 13th century as a promise made by conquerors of the island. Some believe it was set up in an existing building, a mosque, but this has never been proven.
What is known is that different sections were added through centuries and today the cathedral keeps many works of art.
Eating out in Ibiza
Eating out in Ibiza
La Bodega, Ibiza Town. Located just on the edge of the Old Town on route to the castle, La Bodega is a popular and high quality Tapas restaurant with a traditional Spanish menu and feel with a friendly atmosphere serving a range of quality wines. Address: Carrer Bisbe Torres Mayans, 2, 07800 Eivissa, Illes. Phone +34 971 19 27 40
Los Pasajero, Ibiza Town. This friendly restaurant serves a range of local food and is located right on the port close by the harbour. You can sit outside by the harbour and enjoy the atmosphere whilst drinking some quality local wines, beer or enjoying a cocktail. A good selection of local fish, local meat dishes, pastas and tapas are on offer. Address: Carrer de Vicent Soler, 6, 07800 Eivissa, Illes Balears. Phone +34 653 35 09 61
Restaurant Gastro Bar, Ibiza Port. In the heart of the old town this is a child friendly restaurant offering a range of food for all the family. From pizza, pasta, paella to the usual's for kids such as chicken nuggets, fish fingers and chips. You can sit outside and enjoy the cooling water spray in the mid-day heat. Address: Carrer Enmig, 15, 07800 Eivissa, Illes Balears, Spain. Phnoe +(34) 971 124 432
Ibiza Airport
Ibiza Airport (IBZ) also known as Sant Jordi Airport welcomed over 8 million passengers in 2018 making it Spain's 8th busiest airport. There are a range of on-airport and off-airport car hire providers in and around Ibiza Airport. The on-airport providers provide convenience and are popular but beware the queues can be extremely long during the peak times and prices are high in comparison to some of the trusted off-airport car hire providers.
The airport is surrounded by numerous off-airport car hire providers which can range from walking distance to a 2 to 10 minute bus transfer. Prices can be extremely cheap for the car hire itself, starting at as little as €1.20 per day however take care to read the providers terms and conditions carefully and its worth using a broker who will carefully select the more reputable providers so you can relax knowing they are legit.
When choosing your car hire provider the price is obviously going to be very important but other key factors to consider include their reviews, both the average score and number of validated reviews, the distance from the airport and frequency of the bus transfer (or walking distance), how long they have been operating and their experience, whether the brokers and comparison sites choose to display them (and its worth noting you'll often get a better price by booking through a broker or comparison website than direct), and also whether they are independent, national of international brands.
Enjoy Travel chooses its Ibiza Airport car hire partners carefully and gives recommendation to;
Centauro – an established national brand with low prices and good customer ratings and just 3-5 minutes transfer from IBZ airport
Europcar – an international brand with excellent customer ratings and this car hire provider is located in the airport terminal meaning no transfer and great convenience
Top Tips when hiring a car in Ibiza
● A big number of users encountered rental cars in Ibiza for less than £29 per day.
● Booking your rental car in Ibiza in advance even if it's by at least 1 day before your trip ensures you'll get cheap car hire deals.
● Ibiza car hire prices in the Airport are much cheaper than other locations such as the city centre of the island.
● The car hire services offered by the car hire companies in the Airport include the best car hire deals on the island, making them the most popular car hire option.
● Santa Eulalia is a picturesque town located on the east coast of the island of Ibiza that should be visited if you have rented a car.
● The old town of Ibiza, also known as Dalt Vila, is a UNESCO World Heritage Site due to its historical significance and cultural value.
● Compact hire car models in Ibiza are cheaper and more popular than other vehicle types.
Got a Question? Chat with our UK support team
Online chat help is open 08:30am to 17:00 weekdays. Email: [email protected]
FAQs about car hire in Ibiza
Most frequently asked questions about hiring a car in Ibiza
You can hire an economy car (Fiat 500 or similar) in the low season from as little as € 1.00 per day / € 8.00 for a week.
You can hire a Nissan Qashqai or similar intermediate car from €11.97 per day (€83.77 for a week).
The cost of a Vauxhall / Opel Astra starts at €12.65 per day, depending on the month in which when you travel.
At Ibiza airport you'll find Europcar, Enterprise, Alamo, Keddy, Avis, Hertz and Sixt. If you want to go cheaper you can find a range of companies surrounding the airport within walking distance or a short shuttle such as OK Rent a Car and Hiper H.
It is just 6 KM from the airport into the capital. You can drive it or take a taxi in 6-10 minutes depending on traffic. Take the E-20 motorway.
The fastest route from Ibiza airport to San Antonio is 28 KM and takes around half an hour to drive.
You can drive it in around 30 minutes with a hire car or take a taxi. To drive you'll take the E-20 towards Ibiza Town, then pick up the C-731 towards San Antonio.
The driving speed limit in Ibiza is the same as mainland Spain which is 120 KM/H on the motorways, 90 KM/H on the main roads and 50 KM/H in built up areas.
In the summer months it can reach 35 degrees centigrade, the average for August is 30 degrees through the day and 21 in the night. The coldest month is January where the average is 17 degrees.
Ibiza is known for being expensive among Spanish destinations but the truth is that it's not pricier than London, plus you get to enjoy sunshine and the beach.
Renting a car in Ibiza will allow you to traverse the island and explore more freely, thus we'd say it would make your trip much better.
In Spain, as in most countries, you drive on the right and although a bit aggressive at the wheel, in general Spaniards are good drivers who respect traffic signs and speed limits.
One way to get to know the island and its coves is to take a boat trip, one of the most popular activities to do in Ibiza.
Without a doubt, one of the most recommended times to go to Ibiza is in the months of April to June. In these months the climate is warm and pleasant and it is not as crowded as in the summer months, which allows you to enjoy its natural jewels in a special way.
For small cars the budget friendly options begin at £45 for a week, which means more or less £6.30 a day.
The cheapest offers allow you to rent a car for a whole month for £240, or £8 per day. As mentioned earlier, this depends on the season you book and the car type.
The average price of a litre of fuel in Ibiza can vary between EUR 1.15 and EUR 1.01.
Explore popular places in Spain