Spain Car Hire
Find the best deals in Spain
With a massive choice from the biggest brands, Enjoy the best way to find the best prices for car hire in Spain.
Huge choice of cars to suit every budget
Save up to 70% compared to buying on the day
10 years experience in car hire
Compare Car Hire in Spain
Spain's extensive road network offers excellent opportunities for exploration and adventure. Most Spanish motorways are free to use and are usually designated as 'A' roads. There are also a number of toll roads, designated as 'AP', on which you can pay by card, cash or electronic payment (device required). In addition, there are a number of national 'trunk' roads between cities.
There are some wonderfully scenic routes in Spain, reflective of the nation's vast and varied landscape, which ranges from low and coastal to high and mountainous. One of the most awe-inspiring drives is the route from Barcelona to Monserrat. This is not a trip for every driver and can be challenging, but the twists, turns and magnificent sights make it a rewarding one. Don't get lost! Be sure to add a Sat-Nav to your car hire booking.
The maximum motorway speed is 120km/h. This reduces to 100km/h on roads with two or more lanes running in each direction. In built up areas the speed limit is 50km/h. Residential areas usually have a speed limit of 20km/h. Keep in mind this is just an overview and there are further restrictions. It's important to take notice of relevant signage as you drive.
It's worth keeping in mind that there may be changes for British drivers in Europe since Brexit. For further guidance visit the UK Government information page.
Corona Virus travel information is also constantly changing, a good source of information on the latest Covid-19 restrictions for Spain is the UK government website.
Guide to Spain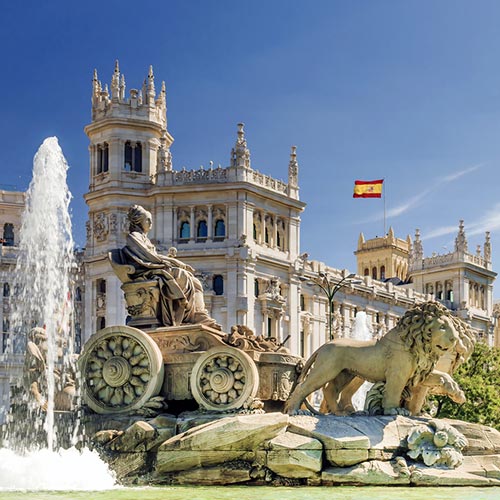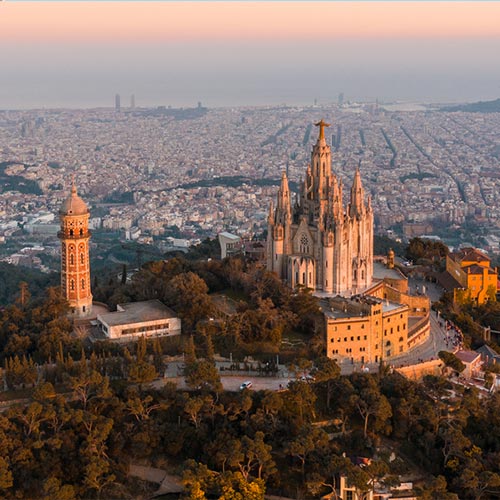 From the Age of Expansion to Modern Spain
The region we know as Spain today has a long and varied history. Once made up of many regions inhabited by various tribes, it has, over centuries, hosted many people and cultures, as evident in the many archaeological sites which exist today. Modern Spain dates back to the Middle Ages when the House of Habsburg unified a number of smaller Kingdoms. This period is often called the Age of Expansion and marks the starting point of Spain's long history as a major colonial power. By the 1500s the Spanish Empire was being born, seeing the country discover and colonise many Mediterranean and New World territories. At the height of his power Charles I, Emperor and King (1521-1556) was the most powerful person in the known world.
From 1936 to 1975 Spain was ruled by dictator Francisco Franco, who became head of state during the Spanish Civil War (1936-39). Upon the death of Franco in 1975 we see the birth of the Spain we know today. A constitutional, parliamentary monarchy began, and a new constitution was created in 1978. Spain joined the European Union in 1986 and was one of the first countries to adopt the Euro, in 1999. One of the most popular holiday destinations in Europe, Spain's rich mix of natural beauty and fascinating history attract over 80 million tourists each year.
Artists, Authors and Sweet Spanish Music
Spain has long inspired artists, famous names such as Pablo Picasso and Salvador Dali hail from the country. The most famous writer in Spanish history is Miguel de Cervantes, his novelDon Quixote,has been translated into 140 languages, only the Bible has been translated more. Music is also an enormous part of Spanish life, with its gorgeous guitars and captivating castanets, Flamenco music and dance is a treat for the ears and eyes and can be found in the streets and squares of most Spanish towns and cities.
Spain is a land of exceptional beauty and between the soft summer sands of its coastal regions, the rugged mountains of its inlands and the busy cosmopolitan nature of its cities, there is something for every kind of visitor.
Things to do, see and visit in Spain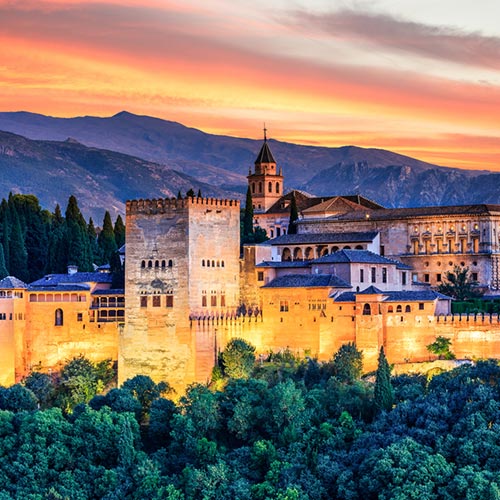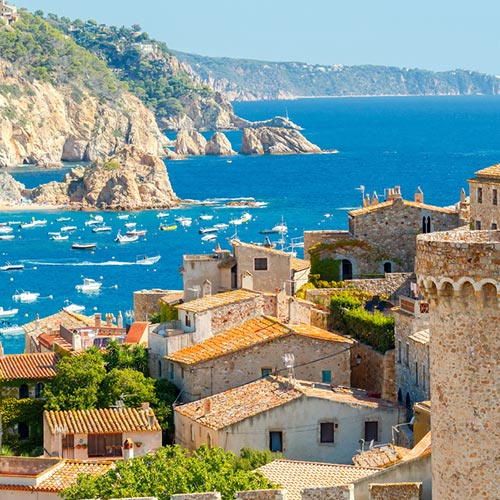 The Geographic Heart
The capital city of Madrid sits at the centre of the country. With over 3 million residents it is one of Europe's largest, most populated cities. With restaurants and shopping opportunities galore, you will soon fall under the spell of this vibrant city. The nightlife in Madrid is second to none with everything from small jazz and cocktail bars to larger on-trend nightclubs. Madrid is one of Europe's premier destinations for art and culture. The Prado Museum is a particular gem and has works from major Spanish artists such as Goya and Velázquez, best of all admission is free! The city also serves as an excellent base location for drivers who wish to explore what Spain has to offer in all compass directions, rather than being tied to one region.
Southern Sea and Cities
The popular southern coast stretches along the Mediterranean to France and is home to many of the popular tourist resorts such as Alicante, Benidorm and Malaga. Beautiful beaches line this region and you will be spoilt for choice wherever you end up. A very popular option is the Playa de Maro, a one hour drive from Malaga. Its crystal-clear waters offer perfect opportunities for snorkelling. This beach is surrounded by beauty, including a gorgeous waterfall.
The cities of Seville and Valencia are world famous for their oranges, and you should definitely try some, but there is so much more to see in both places. Seville Cathedral is the largest Gothic church in the world and houses the elaborate tomb of explorer Christopher Columbus. Admission prices are reasonable, and you can walk around the church at your leisure or join a tour for a little extra. The City of Arts and Sciences in the port city of Valencia is an amazing group of modern museums, in a breath-taking architectural design. They have an enormous range of exhibitions, events and activities for all the family.
Explore the North
Often overlooked by holidaymakers, the north of Spain is a vast and beautiful region with some stunning sights to behold. A two and a half hour drive from the port city of Bilbao will take you to Picos de Europa Spain's first national park, opened in 1918. This region offers breath-taking mountains and photogenic forests. A must for any traveller wanting to get out into nature.
Best beaches in Spain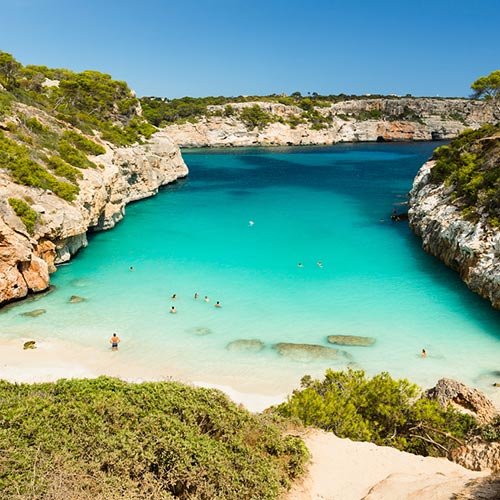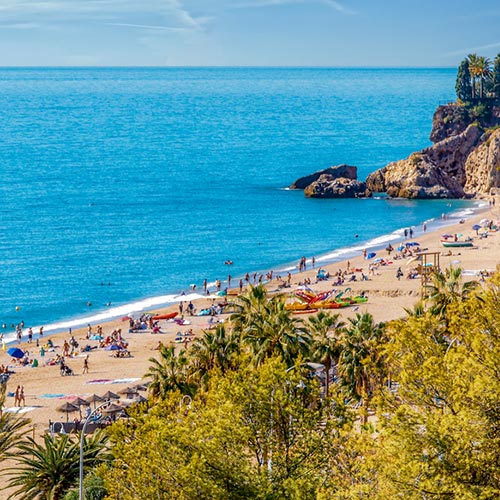 As you know, Spain is famous for sun, sea, and sand. Which is brilliant news for pleasure-seekers but makes it tricky to pack in as many coastal hotspots into a tight itinerary as possible. Don't throw your swimming costume back in your suitcase just yet though – because we've gathered together the best beaches in Spain for your delectation. Happy days!
The most bijou and serene of San Sebastian's three beaches, Playa de Ondaretta is located between Monte Igueldo and Miramar Palace. This swish seafront is complemented by first-rate watersports, haute cuisine restaurants, striking iron sculptures and a miniature island which (if you're strong and healthy) you can swim out to. And last but not least, if you're bored of the beach you can hop on the mountain funicular and drink in the divine views.
Puerto Banus, Marbella
Often heralded as Spain's most beautiful beach, Marbella's Puerto Banus is a palm-fringed, mountain-backed Costa del Sol classic, with year-round sunshine, powder-soft sand, and blissful blue waters. Named after local legend Jose Banus, its marina and buildings are built with an Andalusian aesthetic and the natural attractions are complemented by designer boutiques and celeb hangouts. If you want to hang out with the Hollywood set in Europe, this is one of their most beloved locations.
Platja des Coll Baix
This sublime, unspoiled stretch of Mallorcan sand is a hidden gem that's ripe for discovery. Platja des Coll Baix is a stunning secluded beach tucked under cliffs, which you can only reach via a forest hike or by boat. Its access problems mean it's not best suited for families but if you're up for an adventure, this crescent beach with crystalline waters is well worth the effort it takes to get there. Pack a picnic and you might be lucky enough to get it all to yourself!
Praia de Lumebo, Galicia
A bijou cove surrounded by rugged cliffs and rock stacks, Galicia's Praia de Lumebo is characterised by white sands and hypnotic waves. Only accessible on foot via a narrow path, if you're up for tackling the access challenges you can spend a sun-kissed day in splendid isolation, bathing in the cool water and relaxing with a refreshing drink as you soak up one of the legendary sunsets. When you want to get away from it all, this is definitely one of Spain's standout beaches.
Playa Oyambre, Comillas
Located west of Comillas on Spain's northern coast, the golden sands of Playa Oyambre are part of a protected nature park and it's a popular spot for camping and surfing. Surrounded by undulating fields, verdant forests and rolling hills, it's nothing short of spectacular. As you might imagine, the waves and currents can get very strong here, so please only swim when you see green safety flags flying. If you like catching waves and sleeping under the stars, this has to be one of the best great outdoors spots in Europe.
Driving in Spain
Once you get used to driving on the right-hand side, Spain is an excellent place to drive. The vast road network here connects not only major cities like Madrid and Barcelona, but also extends to more remote locations – practically no adventure is off limits. And at 16,000km, it boasts the world's fifth-largest motorway network. You have to be switched on top drive here however, especially in urban areas, where some drivers are a law into themselves. Running red lights, failing to use indicators and a cavalier approach to roundabouts are all common, so drive assertively but safely and expect the unexpected.
From sunny coastal roads to dramatic mountain passes, Spain is stacked with cinematic landscapes that are ideal for exploring by car and there are lots of legendary routes to choose from. For starters, the N-340 from Adra to Malaga showcases Costa del Sol's beautiful beaches and headlands or alternatively, the sky-high road from Ardales to El Chorro winds through eye-popping rock formations. Meanwhile, for a highway that's truly scenic, try the Autovia A-8, which takes in Bilbao, Santander and Gijon, en route to Baamonde – via gorges, mountains and the lovely Cantabrian Sea coast.
The ideal car to hire for your trip to Spain depends on your itinerary and the needs of your travel party, but there are lots of styles to choose from. For a little fun and excitement, you could cruise around the coast in a convertible, while an electric car might be best for cities like Madrid which imposes a low emission zone. Alternatively, a comfy sedan or 7-seater could be a good pick if you have kids and elderly relatives in tow. Whichever you choose, you'll always grab a great car hire deal at Enjoy Travel.
Rules & recommendations for a safe Spanish drive
Driving in Spain is perfectly manageable for the vast majority of drivers, but you should follow a few rules and recommendations to stay safe. First off, always drive on the right, wear your seatbelt and observe the speed limit. It's 20km/h on motorways, 50km/h on roads with two or more lanes travelling in the same direction, 30km/h on a two-way road with raised pavement each side and 20km/h on urban roads with no pavement or where it's at the road level.
Avoid blocking the outside (fast) lane unless you want speedy local drivers dangerously close to your bumper, and don't drink and drive – the 0.05% limit here is one of the strictest in Europe. There are several toll roads in Spain (designated 'Peage') and they're the fastest routes between major destinations but you can find slower, scenic alternatives. You must have two warning triangles in your car, which should be placed at front and rear of the vehicle if you break down and you should also have a high-vis jacket to wear in such circumstances. Your car also needs a first aid kit, spare bulbs, spare tyre and well-stocked toolkit. In general, driving in rural areas is less hectic than city driving, but keep your wits about you wherever you hit the road.
Getting to and from Spain
Spain has over fifty airports with the main/busiest being Madrid and Barcelona. Malaga and Alicante airports offer superb access to the southern coast. Spain's islands such as Ibiza and the Canaries have their own airports. Dozens of international airlines fly in and out of Spain every day, including most major carriers and many budget options. Car hire is available at all major Spanish airports.
However, you get in to Spain, hiring a car with Enjoy Travel will give you the freedom and flexibility to discover, explore and fall in love with this spectacular country.
Key stats for driving in Spain
SPEED LIMIT

120 kph (Motorways)
40 kph (School Roads)
50 kph (Built up Areas)
00 kph (Outside Built up Areas)

DRINK LIMIT
0.05
EMERGENCY NO'S

112 (Emergency Services)
092 (Police)

TOLLS

Most A roads are toll roads in Spain.
Hiring a car in Spanish Airports
Booking your car advance through EnjoyTravel.com offers a range of advantages; you'll save money and have a far greater choice with regard to the type of vehicle you get. Car hire in Spain can start from as low as £3 a day (depending on your requirements) but costs vary throughout the year, being more expensive in the high season of spring and summer. Car hire companies at Spanish airports include OK, Centauro, Europcar, Alamo, Record Go, and Keddy.
You can find further information about the most popular Spanish airports here:
Important Top Tip: Make sure you understand what is required of you when driving in Spain, such as toll roads and speed limits, the information on this site is a good starting point, but it's important to do your own research.
Some rules of the Spanish road:
You must be 18 or older to drive
You must drive on the right
Seatbelts must be worn by the driver and passengers
Always carry your driving licence. Citizens of the EU, and a number of non-member European countries only need their regular driving licence. Travellers from other countries may need further documentation or an international licence.
It's illegal to use a mobile phone while driving
Children must be over 136cm tall to sit in the front of the car. However, it is advised to keep children in the back-seat area if under 150cm.
Top Tips when hiring a car in Spain
● There are several car hire companies in every airport in Spain. Their car hire desks can be found very easily and are conveniently accessible.
● Make sure to take your valid driving licence with you at all times during the trip. If you're visiting from the United Kingdom, you do not need an international driving permit to drive in Spain, your UK licence is more than enough.
● Most travelers receive better car hire deals when picking up their Spain car hire at the airport. This is because usually the car hire company at the airport offer better deals. Make sure to compare prices before heading there.
● If you book your Spain car hire at least 1 day in advance before your trip, you are more likely to receive a better price. For the best Spain car hire deals make sure to make your reservation several days in advance. This is also crucial if you'd like a wider variety of car models to pick from.
● Most car rental companies out of Spanish airports are generally more expensive. For the cheap car hire options make sure to check a car hire agency in the Airport first.
● You can find different hire car models in Spain for less than £20 a day.
● Compact cars in Spain make for the best car hire deals and are overall cheap cars and more popular than other car types.
● If you'd like to go to the more rural parts of Spain, your best option is Spain car hire, because public transportation tends to not be very reliable in the countryside.
● The perks of a cheap car hire in Spain include the magnificent views while riding on the coastal roads, winding mountain roads and highways.
● If you chose to go for a rental car, you should keep in mind outside of major Spanish cities, the roads are smooth and clear, offering several routes to naturally beautiful places.
● One of the most popular is the Sierra de Guadarrama mountain range, located 82.1 km north of Madrid. It's an ideal destination if you arrived in Madrid and wish to explore the surrounding areas. Just make sure you visit the car hire company first to grab your rental car.
● Depending on the rental company, you'll be offered restraint systems if you're traveling with children. The hire cars come equipped with all the necessary accessories to make sure your kids are traveling safely.
Got a Question? Chat with our UK support team
Online chat help is open 08:30am to 17:00 weekdays. Email: [email protected]
FAQs about car hire in Spain
Most frequently asked questions about hiring a car in Spain
This is dependent on the time of year. At the height of summer, you will be looking to pay around £10 per day for a small car. In the winter the same car would start from £3 per day depending on the location, and demand at the time when you book.
The cheapest car hire with Enjoy is often one of; SurPrice, Record Go, Ok Rent a Car, Gold Car or Centauro but you'll find all the options on our website which are calculated daily.
The maximum motorway speed is 120km/h, reduces to 100km/h in some cases. In built up areas the speed limit is 50km/h. Residential areas usually have a speed limit of 20km/h. Always obey local signage.
The legal driving age in Portugal is 18, however the car hire companies have their own rules, and often add a surcharge for under 21s or under 25s.
You can hire a BMW X1 from £22.37 per day in Spain.
You can get a Fiat 500 or similar from around £3 to £10 per day (probably during the winter).
You can find big brands like Europcar, Alamo, Enterprise, Avis, Hertz, Firefly, Budget and Sixt, but also many local ones such as MasterKings, Surprice, Centauro, Best Deal, Yes Car Hire, Luz Ocean Drive, Record Go, OK Rent-a-Car, Gold Car and Air Auto.
120 KM per hour is 74.6 miles per hour.
1 Euro (EUR) is equal to roughly 89p however this fluctuates daily depending on the exchange rate.
£1 (GBP) is equal to roughly 1.25 Euros however this fluctuates daily depending on the exchange rate.
In general Spain is not very expensive when compared to other European countries like Germany, France and Belgium. On average you'll spend £54 per day in the big cities (Madrid and Barcelona).
Renting a car in Spain will make your trip much cheaper than you imagined and you can make the most of your trip with a car since the distance between Seville and Barcelona (same from Madrid to Valencia) is huge.
In Spain, as in most countries, you drive on the right and although a bit aggressive at the wheel, in general Spaniards are good drivers who respect traffic signs and speed limits.
Spain is the favourite destination of millions of tourists who want to know one of the most beautiful and, above all, interesting countries in Europe. It is very important to start organising your trip as soon as possible because the difference between the south (Andalusia) and the north (the Basque Country) is significant.
Summer is the hottest season in Spain and also the driest season, if you want to enjoy the beach we recommend that you visit Spain in the months of June, July and August.
For small cars the budget friendly options begin at £22 for a week, which means more or less £3 a day.
In Spain, the cheapest offers allow you to rent a car for a whole month for £225, or £7.50 per day. As mentioned earlier, this depends on the season you book and the car type.
Since the inflation in 2022, the prices have gone up and the average price of a litre of fuel in Spain can vary between EUR 1.53 and EUR 1.88.
Explore popular places in Spain