Malta Car Hire
Find the best deals in Malta
With a massive choice from the biggest brands, Enjoy the best way to find the best prices for car hire in Malta.
Huge choice of cars to suit every budget
Save up to 70% compared to buying on the day
10 years experience in car hire
Compare Car Hire in Malta
Malta is a trio of islands, Gozo, Malta and Comino. They sit in the Mediterranean Sea just below Sicily. They are not part of Italy.
The population of Malta is around 494,000 a reasonable sized population for the space that exists there.
The capital city is Valetta and was birthed by the Knights of St John who created it as a refuge to care for injured soldiers and pilgrims during the 16th Century, before it had a lonely tower St Elmo (Large fortress) that kept a watchful eye on its shores.
The main island of Malta is where the majority of the population inhabits, it is home not only to some of the oldest known architecture in existence but it is also a hub for tourists that arrive for the partying, swimming and leisurely island lifestyle enclosed in historical beauty.
Public car parks are operated all over the islands and are governed by parking attendants. These car parks are free of charge although if you wish to tip the attendant this is acceptable and welcomed
Msida is the old capital of Malta and houses the University of Malta that boasts an alumni of some of the finest and most dangerous minds of our time, Edward de Bono, Physicist and father of Lateral thinking, Marie-Louise Coleiro Preca 9th President of Malta and the late dastardly dictator of North Korea Kim Jong-Il.
The first settlers of Malta were mostly farmers and fishermen from Sicily, Africa, across the Mediterranean and Europe. The intense farming made the area itself eventually too arid to raise crops on.
One of the largest businesses on the island is ship building, repair and general maintenance this has grown since the early 1990s as a port of repair on an exceptionally busy trade route.
Guide to Malta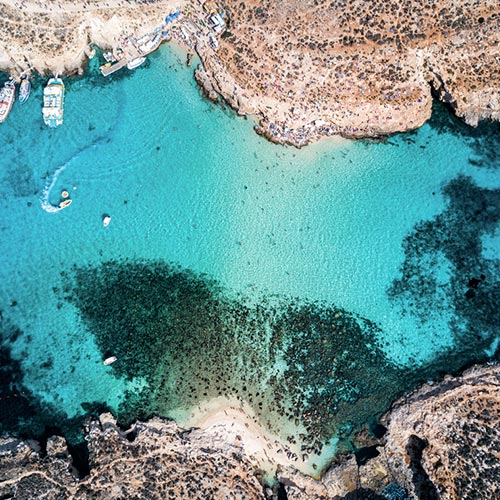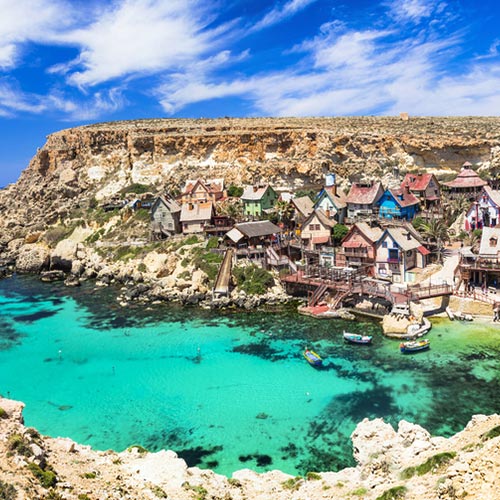 Malta is a wonderful group of islands with incredibly desirable locations for films shoots, religious reflection, swimming in topaz coloured water, chowing down on the freshest seafood that you will find in this part of the Mediterranean. There is no shortage of Idyllic spots in this small island group which is also somewhat of a paradoxical situation as there are plenty of places to go even though it is just a corner of this planet. Choosing the right place will be up to where you wish to plant yourself and at what time of year, bear in mind that with it being so idyllic and also so small there are thousands if not millions of tourists that fly in and out of here all the time, they come for the history, for stag and hen do's, for the seafood, for the caves and rocky wonderlands of the surrounding landscape.
The Capital city of Valletta
Partying is not everyone's thing and nor should it be especially when you are on an island that has a history longer than a horse's mane (there are still horse and carts that operate on the island). The city of Valetta is a joyously gorgeous place to visit, the entrance to the city built for Gentlemen by Gentlemen (Just an old saying as all are welcome) is a grand stone fortification, the great entrance is a gate that takes you into a labyrinth of a city, the streets are unlike any that are around today, they were built with the cities protection in mind and are mostly very steep, narrow and oddly connected. The stairs in this city were too built for the knights to climb up and down with their heavy armour so this is a good time to announce the reminder that comfortable shoes are a must here. There are again numerous restaurants and bars housed in these city walls and one of the most picturesque is tucked away just near the entrance Rampila Restaurant which is a great spot to stop in for a little Maltese wine on the terrace and the Alijotta soup(Maltese fish stew) will bring tantalising delight to your buds, if this seems too upmarket for you and just want a quick lunch to then continue taking in the sites like Saint John's Co-Cathedral, built to honour the Knights of Malta in their successes of defending their land against the advancing Ottoman empire or The Grand Harbour where the Great Siege of 1565 was staged, then head over to Rubino, it has all the pleasures of Maltese cuisine.
Blue Lagoon
When partying has gotten too much and the history is giving you a headache then take one of the many buses, taxis or drive your hired car up to the top of the island of Malta and take the ferry over to Gozo or Comino, on the west coast of Comino is the infamous Blue Lagoon, it is a piece of heaven on earth, a shallow bay that is bordered by a rock formation and the island of Comino, this place gets extremely busy during the summer months and the water is freezing up until late May, the ferry runs from Cirkewwa (Nothern tip of Malta) around every 30mins or so, the last ferry back is between 5 and 7pm but as this is a sellers' market so make sure you get there early for the attendant might just change their minds about running till 7pm and there are no places to stay overnight. If you choose to hop off the ferry onto Comino then you will enjoy the stunning atmosphere of the place however if you so wish you can keep going over to Gozo which is the inhabited island with around 37 000 people known as Gozitans living there and the bar restaurant atmosphere is more of the wonderful Mediterranean, with its beach front outlook and famous movie spots like the Fallen Azure window featured in many popular TV series and films, the sunsets alone are worth the trip, they're the kind that if you wished to only see one last one, this is it.
Malta Airport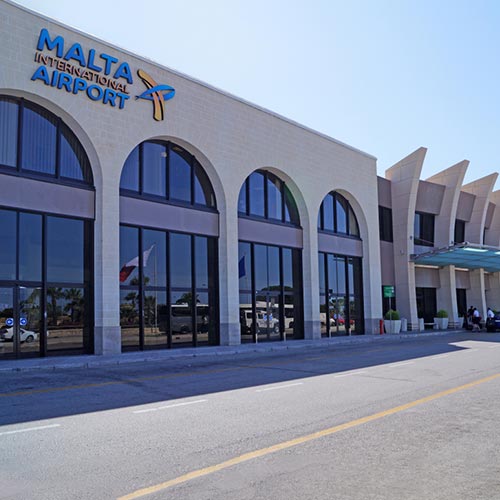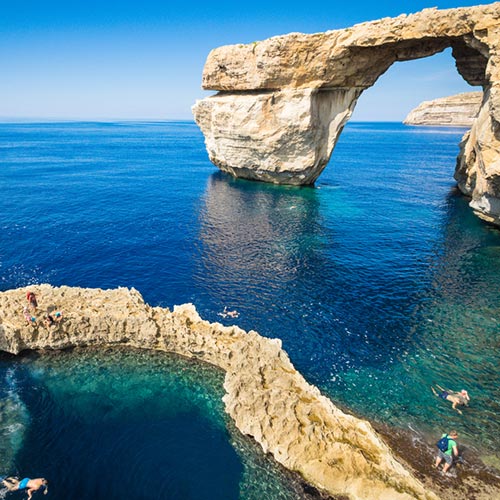 About Malta Airport (MLA)
Unlike a lot of the other surrounding areas in the Mediterranean, Malta has only one airport that services the group of Islands, Malta, Gozo and Comino. It is a central location that is great for starting and ending your trip as, aside from taking a boat, it is the only entrance and exit from this great country.
The usual large car rental names are on offer with reasonable prices. Those companies are Budget, Thrifty who also operate as Dollar rent a car, Europcar, 1st Car Rental who also operate as Active car rental, Avis, Goldcar rental, Green Motion car and van rental, Hertz, Tipoa, Drifter car hire, Optimo, Surprice car rental and of course Sixt.
The companies with physical desks within the airport are Avis, Europcar, Hertz, Budget, Thrifty, Goldcar, Sixt, Green Motion and the local First Car Hire.
A short history of Malta Airport
This single passenger terminal has been in operation since 25th March 1992, before then the only airport that serviced the islands was the old Luqa terminal which has been repurposed for cargo only. Malta airport is the main headquarters for Air Malta and Medavia, during days of the Libyan Civil war some of the Medavia staff were held captive as they had been accused of being Gaddafi regime sympathisers.
The first airfields of Malta were established at Ta'Qali, Hal Far and Luqa, they were support centres for the British allied forces during World War II. These airports were hammered by the enemy and mostly destroyed except for Luqa airport which stayed standing.
The Luqa airport terminal was rebuilt over time by the government however it was around 1989 that it was decided the airport would no longer be able to handle the increasing trade and a new site was to be laid in Gudja, it took just 29 months to have the new airport up and running which was a record at the time, in February 1992 Malta Airport was opened for business. It has since been increasing in popularity with Ryanair flying there at least twice a day from London airports and also having around 6 planes that are permanently stationed there.
Aside from being a passenger terminal and smallish retail centre the airport is also home to Air Wing of the Armed Forces of Malta and two Italian air force helicopters that are predominantly used for search and rescue missions for the surrounding area.
Malta Driving and Hiring TOP TIPS
Some handy hints to help you when comparing Malta car hire.
The average price of a rental car in Malta is £11.26 a day, but the cheapest can be found from as little as £2-£3 per day.
The most popular car is a Peugeot 108 with an average daily price of £8.17, but in the winter season that drops significantly.
A Toyota Aygo can be found in certain circumstances as low as £1.10 a day.
The most popular supplier is SurPrice, with an average £6.57 a day ticket.
Malta Airport (MLA) is the most popular pick up location, available car hire brands include SurPrice, Ecovia, SIXT, Green Motion, Europcar, Hertz, AbbeyCar and Carwiz.
The speed limits on the roads in Malta are in km/h. As it is a small group of islands that are densely covered in access routes the limits are 80km/h for open roads and maximum of 50km/h in cities and other developed areas.
The legal blood alcohol level for drivers is 80mg BAC.
There are cameras all over the island both stationary in spots dotted throughout and mobile on police vehicles.
Road signs of Malta are standardised similar to the rest of Europe however as this is a curvy, hilly island there are more bends than you would ordinarily expect, the sign for Multiple Dangerous Bends is one to keep an eye out for.
Nightlife and eating out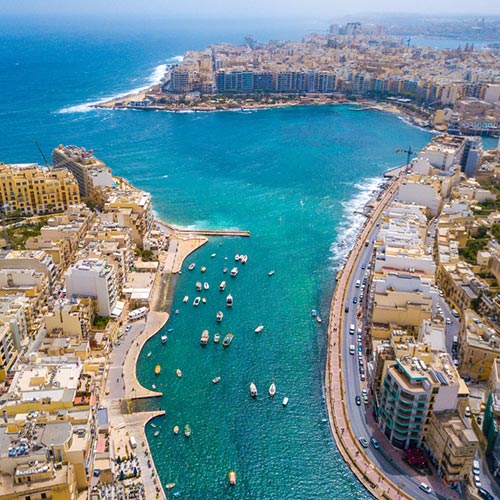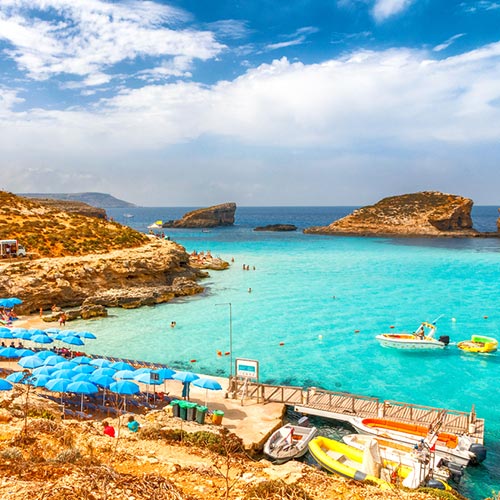 Fishing and local specialities
No trip to Malta is complete without a visit to Marsaxlokk, accessible by bus, car, or whichever transport you have chosen. Marsaxlokk (Pronounced Marsha - Schlok) was once the busiest fishing village ever seen in Malta, the boats would head out in the early morning and bring back their catch to sell straight off their bow...or stern, this has now adapted with the times and the fisheries take their catch to Marsa the fishing market however on Sundays you can step back in time and buy direct off the boats, this is an incredibly popular event for the locals so arrive early or you will miss out. Where there's a catch of the day there's got to be a mouth to eat it, restaurants line the harbour walls, the ones that are on the road closest to the water are usually not the best, a number of them offering free wine with the seafood and neither are very good, jumping over the road to where you can still see the sea but will be granted the pleasure of well-prepared fish and crisp apple noted wine is worth the lack of absolute waterfront. One of the winners in this particular area is the Ir Rizzu they keep it simple and allow you to choose and watch your lunch being prepared. The market across the road has all the souvenirs your friends back home will love you for as well.
Last but in no way least is the incredible Blue Grotto, famed for its turquoise waters and eye watering cliffs, this jewel in Malta's armour is a must see, the buses go here every day with the last leaving the Grotto around 5.30, once you've climbed down the many steps the guides will be waiting with their boats ready to drive you round to the romantic setting, if you are lucky they may even let you take a dip, this is their livelihood and it's a sellers' market again so play it their way and you won't luck out.
Malta Nightlife
St Julian's bay is one many homes for nightlife, if you are after a place to dance the whole holiday away and wake up in an ancient town then this one is perfect for you. There are numerous clubs restaurants and bars both on the waterfront and the back streets, one of the more unique finds here is Juuls Bar which is not only a restaurant and bar that offers some of the longest ice teas ever encountered where the pouring is not measured(this is commonplace for the island) it also houses a delicious menu of vegetarian delights, a rarity on the island that is more often than not filled with fantastic meat dishes, but with Juuls Bar it doesn't stop there, they also host Reggae parties across the island, nights that go on till you wished they might never end.
If this type of party is not for you then still near St Julian's bay is the famous party hangout area of Paceville, here you will be given the opportunity to play out the evening in a traditional Irish pub, straight from the homeland, or one of the countless clubs and bars that line this areas streets, remember they don't pour or charge the way they do at home so beware.
Got a Question? Chat with our UK support team
Online chat help is open 08:30am to 17:00 weekdays. Email: [email protected]
FAQs about car hire in Malta
Most frequently asked questions about hiring a car in Malta
There are a few sites that offer incredibly low deals however the best price, inclusive of all charges and a fair fuel policy, for hiring a car at the airport £3.88 per day for a Chevrolet Spark, and from £5.40 for a Volkswagen Polo or similar, this is for a driver over the age of 25.
There is the possibility of a deal for £1.93 per day however this deal is non inclusive. The cheapest that can be found with inclusive cover is £3.88 per day for a Chevrolet spark or similar out of the main holiday season.
The cheapest is £3.88 per day for a Chevrolet Spark or similar however for 28 pence more you can get a more luxurious Peugeot 108 and for a couple of extra quid you can upgrade to a VW Polo.
Avis, Europcar, Hertz, Budget, Thrifty, Sixt and the local service First Car Hire. Other companies will happily drop a car off to the airport and they are much cheaper, Surprice and Aquarius both do pickup and drop off from Malta Airport. A few other local services will deliver the car to the airport but this will incur additional costs.
The public transport system of buses travel throughout the island of Malta, they are frequent and new however during busy times they can be incredibly packed, if you are to travel on them the earlier the better, then you need to think about the amount of time you have on the island as the buses weave in and out of towns. A compact car is probably best although again there's quite a bit of traffic on the island. For the adventurous you could hire a helicopter to get you around, less traffic, most of the attractions are accessible via boat, many options which is the best is up to your level of patience.
If you are from outside the EU then you will need an IDP(International Drivers Permit) to drive in Malta and you must have this on you at all times. Even if there is a no deal Brexit UK drivers will still be able to use their license without additional permits.
Contact the local authorities first then the car company that you hired the rental from.
Some of the roads are unpaved and rocky, this makes for rougher conditions. Be wary when driving in a foreign country as the road rules are different and driving temperaments can be unusual as well.
The prices in Malta are quite affordable for all budgets, although if you travel to the island in the summer months you will see the price of some products and services increased.
Yes, it is one of the best ways to get around this island as it gives you total autonomy to fully explore it.
Driving in Malta can be difficult. Firstly you drive to the left. Additionally, there is a lot of traffic in Malta but this could be good in the case you're still getting used to driving in Malta's streets.
The best way is to start from the big cities. Entire cities built in different historical periods; strongholds of the Phoenician, Roman and Anglo-Saxon world. Then explore its Interesting monuments.
The best time to travel to Malta is during the spring or autumn. Easter and Christmas are also good dates to visit. Traveling in summer is not a bad choice, but the influx of tourism is much higher and it is hot.
For small cars the budget friendly options begin at £23 for a week, which means more or less £3.2 a day.
The cheapest offers allow you to rent a car for a whole month for £173, or £5.77 per day. As mentioned earlier, this depends on the season you book and the car type.
The average price of a litre of fuel in Malta can vary between EUR 1.54 and EUR 1.27.
Explore popular places in Malta