Valletta Car Hire
Find the best deals in Valletta
With a massive choice from the biggest brands, Enjoy the best way to find the best prices for car hire in Valletta.
Huge choice of cars to suit every budget
Save up to 70% compared to buying on the day
10 years experience in car hire


Compare Car Hire in Valletta
There are nine main car hire companies operating out of Valletta airport.
It's definitely recommended to book in advance to secure a good price, costs are much higher on the day at the airport.
You must be at least 21 years old to be able to rent a car in Malta, and drivers under 25 years of age may incur a surcharge. The maximum age is 70 years old.
You'll need a valid driving license, your passport and a credit card to pay the deposit.
The national extra-urban speed limit is 80 km/h (50 mph), 50 km/h (31 mph) in built-up areas and sometimes 35 km/h (22 mph) within villages.
There are a number of speed cameras on the island, with speed limits set at 60 or 70 km/h (37 or 43 mph)
The Maltese drive on the left hand side of the road and cars are right hand drive, definitely something to remember if travelling from elsewhere in Europe.
There are no real motorways in Malta, main roads are usually a dual carriageways.
Although generally speaking the quality of the roads is good some of the smaller B roads aren't in great condition so you might be in for a bumpy drive.
Driving in Malta can be challenging, with impatient drivers, traffic jams and tricky traffic situations. Locals can often view road signs as more of a guide than a law.
Parking in Valletta is extremely limited so make sure you've checked out your options before arrival.
Guide to Valletta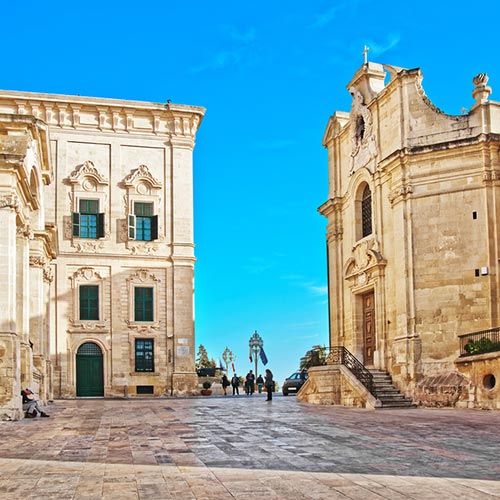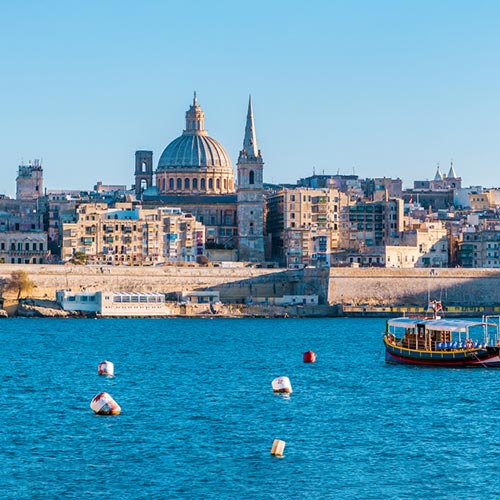 Founded back in 1566 Valletta is the capital of Malta and one of the smallest (and southernmost) capital cities in Europe. Valletta is absolutely jam-packed with buildings of archaeological significance so much so that UNESCO listed the whole city as a World Heritage Site back in 1980. Built on a small peninsula between two harbours it's streets are laid out in a grid like fashion said to help channel the breeze to keep you cool in the hot summers.
Baroque style churches
Despite being less than 1km in size Valletta has 25 churches and many of the Baroque style buildings date back to the 16th century. Valletta is also Malta's administrative and commercial hub, with several government departments occupying some of its historical buildings.The city was originally established for military and strategic reasons but later developed into one of Europe's finest architectural showstoppers. It's little wonder it as the European Capital of Culture in 2018.
Apart from is incredible history Valletta has a lot to offer in the way of modern attractions with quirky little boutique hotels as well as dozens of modern bars and restaurants. Due to its coastal position there are also tons of outdoor pursuits to enjoy including sailing and cycling.
What to do in Valletta
As we mentioned Valletta is a small city absolutely packed with things to do, at its widest point it will only take you about 20 minutes on foot to cross it. But with its streets lined with glorious golden buildings, fabulously ornate churches and richly embellished palazzos it's easy to lose days on end in this deceptive little city.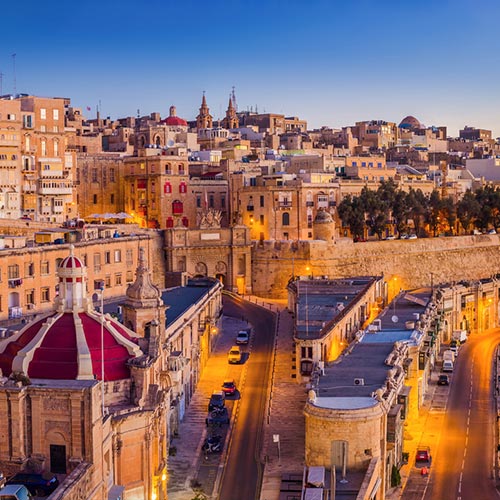 Without a doubt the number one thing to see in Valletta is St Johns Co-Cathedral. From the outside this cathedral might not look like much but once you step through the doors you are transported back in time, with its rich gilding and stone carvings every wall is a glittering monument to it's Baroque heritage. If you can tear your eyes away from the spectacular frescos above your head under your feet you'll see a patchwork quilt of tombstones belonging to Baroque Knights.
The Grandmasters Palace was one of the first buildings to be erected by the Knights soon after the foundation stone to the city was laid in the 16th century. It was once the seat of power for the Order of the Knights of St. John and served as the Governor's Palace during British rule, nowadays it houses the Office of the President. Through a seperate side door in the courtyard you can access The Armoury which houses the world's largest collection of arms and armour that is still in its original location.
For one of the best views in Valletta head to the Barrakka Gardens. There are two of them to choose from (Upper and Lower) both of them come with panoramic views over the harbour. Originally built with roofs, which were later removed by the French to make them public gardens, these arch lined gardens are packed with flowers and sculptures. There's plenty of shady spots to enjoy a drink from the cafe if you find yourself caught in the blazing summer sun.
Fort St. Elmo has been standing guard over the Grand Harbour and Marsamxett Harbour for centuries. It played a really important role in the defence of Malta in the Great Siege of 1565 and has recently been restored back to its former glory. The fort is also home to the National War Museum which covers the warring history of Malta and the surrounding islands all the way from the Bronze age to World War II. Entrance prices are very reasonable for the amount there is to see here. There are also lots of short but informative videos along the way to keep the whole family entertained.
A revolutionary hospital in 1574
Built in 1574 La Sacra Infermeria was one of the most revolutionary hospitals in Europe. The chemists here lead the way with groundbreaking treatments and were the first to discover using silver to prevent the spread of bacteria and using honey on wounds. The interactive audio visual tours run every hour between 11am-4pm with a guided tour after.
For the theatre lovers out there try and time your trip with when one of the infrequent shows at the Manoel Theatre are being performed. Although you can take part in a 30 minute guided tour of the theatre the best way to appreciate its beauty and impeccable acoustics is during one of its sell out performances. Thought to be the third oldest working theatre in Europe it retains many of its original features dating back to 1731 when it was constructed.
16th century church
The foundation stone of Valletta was laid on the site of The Church of Our Lady Of Victory. This small 16th-century church was the first building to be erected in Valletta stands proudly today, having recently benefited from some restoration work. The main attraction here are the beautiful ceiling paintings depicting the life of the Virgin Mary
Valletta is surrounded on three sides by water, so it makes sense that one of the best ways to see the city is from a boat. The public ferries are an inexpensive way to get a different perspective of the city. For some stunning photo opportunities head over to the Three Cities in the morning and Sliema in the afternoon to capture Valletta in the best light. There are longer guided tours you can take from the harbour if you prefer.
If you'd rather have a little local knowledge guiding you round Valletta then the Majestic Valletta half day walking tour is perfect for you. Stopping at many of the places listed above your professional tour guide will provide in-depth information on all the sights you'll be seeing.
Eating out in Valletta
It's hard to go wrong with restaurants in Valletta, whatever your craving you'll find a cafe, bar or restaurant serving up amazing food with Scicillian and Arabic influences. Unlike other cities owing to its diminutive size you'll find locals dining amongst the tourists, this means that you can almost always be assured of a good meal. No one wants to get a bad reputation with the local community.
For fine dining look no further than Fifty Nine Republic, this compact and stylish restaurant changes its menu every couple of months so the food is always seasonal and exquisite. Booking is a must if your planning to eat here of an evening at the weekend. They also have one of Valletta's most delicious wine lists which can be perfectly paired to your menu choices by knowledgeable staff.
Noni is another fine dining must visit in Valletta, Chef Jonathan Brintcat reinterprets dishes from Malta and the Mediterranean by adding a touch of classic French cuisine. One of the specialities here is the slow-cooked octopus tagine, locally sourced and melt-in-your-mouth perfection.
Legligin, meaning 'one who drinks a lot' in Maltese is a restaurant cum wine bar serving up some amazing tapas alongside an extensive 30+ wine list. This wine cellar turned bar keeps its wine at the perfect temperature in holes in the walls. When you order a bottle, the owner quaintly plucks it out of the wall and pours it for you. Try not to get too attached to a dish here though there's no set menu and the selection of food is ever changing.
For an unbeatable lunch on a budget the Piadina Caffe is the place for you. You'll find it just around the corner from the St John Co-Cathedral and their speciality is their piadina (a type of flat bread hailing from the Emilia-Romagna region of Italy). You can grab a quick breakfast here too consisting of fresh croissants, muesli or toast topped with Italian hams before starting your adventures because they are open from 7.30am
Valetta Nightlife
Since being awarded its Capital of Culture status in 2018 Valletta has experienced a huge surge in nightlife with the area around Strait Street being the most lively. If you're looking for something a little more refined and laid back then head to the harbour where you can enjoy a more peaceable drink and take in the view.
Bridge Bar is the place to be if you're looking for an all night party, open until 4am every day the wide selection of wines and beers make this keep this place popular. Sit under the stars surrounded my old Maltese balconies with a drink in hand and enjoy the live jazz from 8.30pm May-October.
Trabuxu Wine Bar is was one of the first in an ever growing number of wine bars in Valletta. Set in a 400 year old wine cellar if you love pairing a crisp chilled Maltese chardonnay with some delicious local cheeses then this is the bar for you. It's cosy atmosphere makes it the perfect hangout for warm summer evenings or chilly winter nights.
Gin bars are experiencing somewhat of a renaissance at the moment and Valletta certainly isn't missing out on this trend. Yard 32 has over 250 different gins on offer from around the world. With live music most nights from 8.30pm you can sample one (or more, who's counting?) botanical beverages whilst listening to anything from jazz bands to solo violinists.
If you're looking for something a little more upbeat then head to Havana. Although its set about 8km outside of Valletta it's one of the biggest clubs in the area. Serving up a mix of hip hop and R&B its popular with locals and tourists alike its split over two floors with a number of different bars and seating areas. With state of the art lighting and sound systems ensuring a unique vibe and top local DJ's keep the party going up to the early hours of the morning, you'll often find yourself queuing down the street to get in.
Whilst Malta might be making a name for itself with its wine we couldn't leave StrEat off our list of hotspots for a drink. Set beneath street level in another gorgeously vaulted cellar you'll find probably the largest selection of whisky on the island. They also have an extensive menu here to choose from, perfect for when you want to try another whisky.
Got a Question? Chat with our UK support team
Online chat help is open 08:30am to 17:00 weekdays. Email: customersupport@enjoycarhire.com
COVID CLEAN & SAFE PLEDGE
FAQs about car hire in Valletta
Most frequently asked questions about hiring a car in Valletta
If you book well in advance, a car in winter from Malta airport such as a Chevrolet Spark, Peugeot 108 or similar, can cost as little as £3.88 per day.
Car hire prices average at about £ 12 a day, there is a premium on the summer months which is fixed well in advance so make sure you book early to get the best deal.
You can choose from, Avis, Europcar, Thrifty, Sixt, Hertz and Budget. There are also a number of local companies that don't have bases at the airport but will deliver your car for you.
All roads lead to Valletta, which means major road signs can be found all across Malta and finding your way there by car is easy. Its around 10km from the airport to the city centre and takes about 15 minutes to drive.
Valletta is the capital city of Malta, located on the north west coast of the island.
The currency in Valletta and the rest of Malta is the Euro.
Prices start from around £ 11 a day for a Vauxhall Astra or similar, if you book in advance.
Use discount code FREEFIVE on the Enjoy website and get an extra 5% saving.
Valletta is small and cheap to get around since the city has extensive bus networks. If you are not fond of bus timetables and delays you can always hire a car in Valletta with Enjoy with prices starting from £ 6.00 a day. Fuels cost: £1.31/£1.18 a litre for unleaded/diesel.
The bus network is good in Valletta but hiring a car will depend on what you want to see and the places you plan to visit.
The city of Valletta is pretty easy to get around by bus, bot and car (if you are planning on visiting places that buses don't stop).
Valletta's roads are very straight, with "Republic street" leading to most of the must seen attractions of the city.
In Malta they drive on the left side of the road with roads being very narrow in the city centre.
The best time to visit the capital city of Malta is in Spring and the early months of Summer (April-May-June).
It really depends on the place you will be staying and what you plan on seeing. By hiring a car you will have more sightseeing options and you won't have to worry about missing the bus.
Explore popular places in Malta