Sliema Car Hire
Find the best deals in Sliema
With a massive choice from the biggest brands, Enjoy the best way to find the best prices for car hire in Sliema.
Huge choice of cars to suit every budget
Save up to 70% compared to buying on the day
10 years experience in car hire


Compare Car Hire in Malta
Sliema is a coastal town on the north east side of the Island of Malta in the northern harbour district. The town is filled with residential and commercial accommodation, businesses, shopping, bars and restaurants.
The population of Sliema is around 23,000 people however this number varies greatly during the peak holiday season.
The word itself Sliema is the Maltese word for 'Peace' and is sometimes used as a greeting or a salute.
The harbour of Sliema is called Marsamxett Harbour and was used by the Ottomans to land and begin their invasion however when they arrived they were confronted by the Grand Harbour's defences which were far too strong.
The speed limits on the roads in Sliema are in km/h and have a maximum of 50km/h in and around the city.
Originally the city was a stronghold and then the glorious Our Lady Star of the Sea church was built in the harbour on the shore and brought people in mass to live around it, eventually gaining its status as a parish in 1878.
The first sea water distillery was created in Sliema in 1881, it was made to help hydrate British troops.
The legal blood alcohol level for drivers is 80mg BAC.
There are cameras all over the island both stationary in spots dotted throughout and mobile on police vehicles.
Sliema was traditionally a small fishing village which was popular as a spot for the wealthier inhabitants to holiday in, now with the enormous amount of modern building that have been thrown up most of this history is lost as the houses were demolished to make way for progress.
Manoel Island Service station is the closest place to Sliema to refill, it's on the way to Valletta via the coast.
Guide to Sliema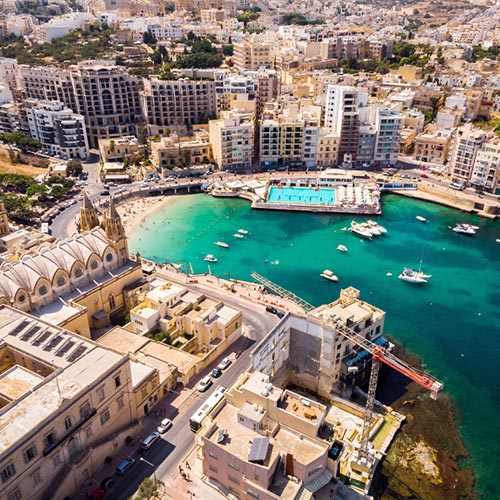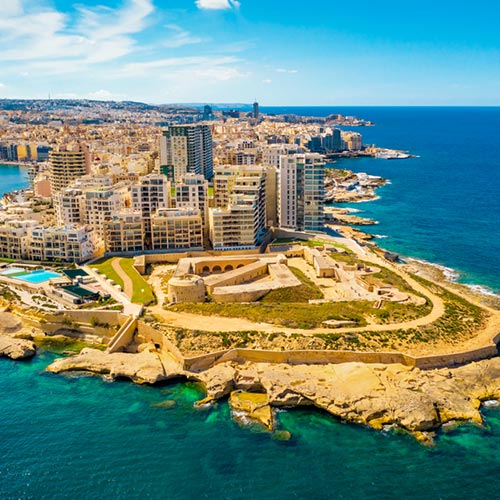 Where would be best to start in a city that has more historical attractions than the British museum, café's that rival Italy, restaurants that stand on the shoulders of age old tradition and bars that challenge the imagination. All of these things Sliema has to offer and so does the rest of the island but how about none of that, how about surprising yourself with an underwater tour, Scuba diving is incredibly popular in this part of the world, with its clear turquoise waters and wartime relics that have been harvested and protected, there will be plenty for you to see and the water is a reasonable temperature from May, if you don't mind the cold the flights and accommodation are ludicrously cheap in the off season. The people at Watercolours Dive Centre are some of the best on the island. There's caverns to explore within the immediate vicinity, something to warm you into the treasure hunts that are around the rest of this magical island. Just close to Sliema is Manoel Island, where the British water lighter HMS X-127 was sunk by an enemy torpedo, this is another rung in the extendable ladder of Malta's history of being a support centre for many armies and conquerors across time.
Once you're out of the water and have stared at the great dome building Our Lady of Mount Carmel that sits in the city of Valletta, you will need to bring yourself back to this day and age and Sliema will provide again with its multiple shopping spots, Plaza shopping centre, The Point shopping centre (Where you can sneak a little more history in with a quick pit stop at Piazza Tigne) is filled with all the largest brands Polo, Lacoste, Nike the ones that you can of course get at home but you're on holiday so you may buy that knit that you couldn't justify at home. Sliema has so much more to offer than those big names though and they are only a carved stone street away, Tower road is home to some independent designers but the back streets are where you will find hidden gems like Cabouxon for homewares and jewellery, then down the road from there is Sunset Records where all the latest and oddest vinyl will be waiting for your ears and wallet to buy, they have a section at the back for clothes too, you can't go wrong with a bit of Pete Tong underwear (They don't have this but they should).
Sliema's History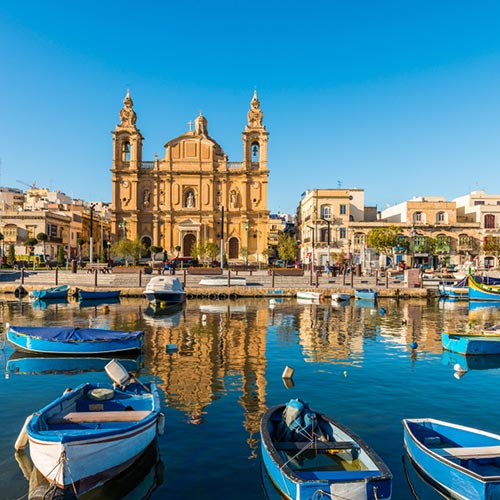 Malta UNESCO world heritage
It's definitely one of the most popular spots on the island for residents and tourists alike, the long promenade and the even longer nightlife draws humans from everywhere. How did it come to be like this though, from its origins of a humble fishing village, crops were raised on the island as well as far back as 5900 BC until the land was over farmed and became impossible to inhabit. Settlers returned around 3850 BC although some may say that the island could've been lost for that period, being found again by this group who went on to build the Megalithic Temples a UNESCO world heritage site of which Malta has many. Sliema however had always been a spot of tranquillity where the fisherman would bob away waiting for a bite and the spectators on the shore would wait patiently for their breakfast. This lasted until the rise of the Ottoman Empire and the Turkish soldiers turned Sliema or 'il-Qortin' as it was once known, into a camp for their troops, they were led by Dragut. His life came to an end when a strike force came from Fort St Elmo, Valletta and overthrew him and his troops. The next great shift in Sliema's history was when the Knights of St John arrived and ordered fort St Tigne to be built so that the Maltese could make a stand against the French who wished to occupy the land, Malta has a long history of being occupied by other countries. Our Lady Star of the Sea church was built in Sliema around 1855 and this brought people from all over the island to worship, then turned what was once a quiet fishing village then troop camp then worship land into a place for the wealthier of Malta to holiday.
The British continued to build whilst in the area adding Sliema Point Battery, Cambridge Battery and Garden Battery to enhance fortifications in the years spanning 1872-94. Sliema has turned into what is now one of the most sought after residential and commercial areas in the whole country, the high rises were built on top of this long history making a new a vibrant land for shops, restaurants, cafes and bars to flourish.
Shopping & Nightlife
Shopping is for the materialistic, which is all of us at some point but Sliema is for the every person and whilst here, remembering this is just one city in this rabbit hole of an island, you should go to see the Cat Statue, its perched on the edge of the promenade overlooking St Julian's Bay, one of the hottest spots for nightlife on the island. Now all this diving shopping and looking has made you hungry, well food is a specialty of this part of the island and no way will you find something older and more traditional than L-Ahwa bakery on St Trophimus St, this is just off the beaten track near where the ferries leave from Sliema to go to Valletta, there is no sign on the door so you will have to follow your nose and the locals.
Maltese wines and cocktails
Education limits are reached, swimming dreams are conquered and bread hopes have been realised now time for a well-earned drink and a sunset gander, Temptasian rooftop lounge has a few Maltese wines by the glass and a cocktail menu that has all the classics, A Bellini on the rooftop may just be the ticket for those tired feet. Fancy is not always the first choice for anyone and getting to the rooftop may be a little challenging (there's an elevator of course) so forgo those cocktail dreams and dive into the Hole in the Wall Bar and Pub that blends it's craft beer selection perfectly with its mixer of independent rock music to make a smoothie of small bar fun, it's the oldest pub on the island and has a little kitchen to knock up a tasty hot sandwich to accompany your drinking.
All of this can be a little too much, the food, the drink, the people, it can be an exhausting city so do yourself and friends or partner a favour, grab a pizza from Vecchia Napoli and go out on the rocks in front of Torri ta'San Giljan and enjoy the gentle splashing shores of the city known as 'Peace'.
Day trips from Sliema
Food, drink, dining
Food is next on the agenda and there is no shortage of tapas on the menu with the majority of places offering free bites with their drinks. If you wish to have a good sit down meal then you will be pleasantly surprised, there are over 20 Michelin starred restaurants in the city alone and Al Bora comes highly recommended, although the price tag may seem high for a cuisine of this calibre it's not, with dishes like the Iberian Ravioli with truffle Consomme on the menu your salivating will be justified.
Taking the long tasting menu will afford you the gift of the dish Norway lobster, veal stew, cauliflower and Thai sauce, there's no more to say about it. Community favourite cum tourist hot spot Casa Gonzalez has all the local ingredients your heart can handle, the Manchego cheeses, the Acorn fed Iberico Ham, Andalusian blood sausage, sweet red peppers stuffed with cod, prawns and béchamel sauce, the list goes on and you won't be begging them to stop.
Hiring a car in Sliema
There are a number of places to hire a car throughout the island, in Sliema there are around five that range from the well-known Hertz to the very local Cholot, the best bet is to research deeply before you rent. Renting from within Sliema is possible however the ideal prices due to competition are at the airport, which is a short bus ride away, then you can drop it back there on your way out of the country.
The companies that run directly out of the airport are Budget, Thrifty/Dollar rent a car, Europcar, 1st Car Rental/Active car rental, Avis, Goldcar rental, Green Motion car and van rental, Hertz, Tipoa, Drifter car hire, Optimo, Surprice car rental and of course Sixt.
The companies with physical desks within the airport are Avis, Europcar, Hertz, Sixt, Aquarius and the local First Car Hire.
Got a Question? Chat with our UK support team
Online chat help is open 08:30am to 17:00 weekdays. Email: customersupport@enjoycarhire.com
COVID CLEAN & SAFE PLEDGE
FAQs about car hire in Sliema
Most frequently asked questions about hiring a car in Sliema
Your best bet is hiring a car from Malta airport, in winter such as a Chevrolet Spark, Peugeot 108 or similar, and it can cost as little as £3.88 per day.
The cheapest is £7.50 per day for a Kia Picanto or similar. The cheapest that can be found from the airport with inclusive cover is £6.38 per day for a Chevrolet spark or similar.
The cheapest is £6.38 per day for a Chevrolet Spark or similar however for 28 pence more you can get a more luxurious Peugeot 108 for £6.66 per day.
Malta airport to Sliema is 10 km and a 15 to 20 minute drive.
Avis, Europcar, Hertz, Budget, Thrifty, Goldcar, Sixt, Green Motion and the local service First Car Hire. Other companies will happily drop a car off to the airport and they are much cheaper, Surprice and Aquarius both do pickup and drop off from Malta Airport. A few other local services will deliver the car to the airport but this will incur additional costs.
The public transport system of buses travel throughout the island of Malta, they are frequent and new however during busy times they can be incredibly packed, if you are to travel on them the earlier the better, the streets of the immediate Sliema are best to wander on foot.
If you are from outside the EU then you will need an IDP(International Drivers Permit) to drive in Malta and you must have this on you at all times. Even if there is a no deal Brexit UK drivers will still be able to use their license without additional permits.
Contact the local authorities first then the car company that you hired the rental from.
Explore popular places in Malta