Glasgow Car Hire
Find the best deals in Glasgow
With a massive choice from the biggest brands, Enjoy the best way to find the best prices for car hire in the United Kingdom.
Huge choice of cars to suit every budget
Save up to 70% compared to buying on the day
10 years experience in car hire
Compare car hire in Glasgow
Glasgow is Scotland's biggest city and is located in the west of the country close to the River Clyde.
It's one of the world's most welcoming cities, with a proud working-class heritage, an inclusive civic identity and a modern multicultural population with a fiercely independent outlook – if you're about to visit there for the first time, prepare to fall in love with Glasgow's amazing people.
Hiring a car in Glasgow is easy and a range of trusted operators can meet your needs. But please don't leave this Scottish cultural hotspot without spending some time there and soaking up the amazing ambience.
This city guide covers everything from driving to dining and explains why Glasgow's miles better than most other cities.
Guide to Glasgow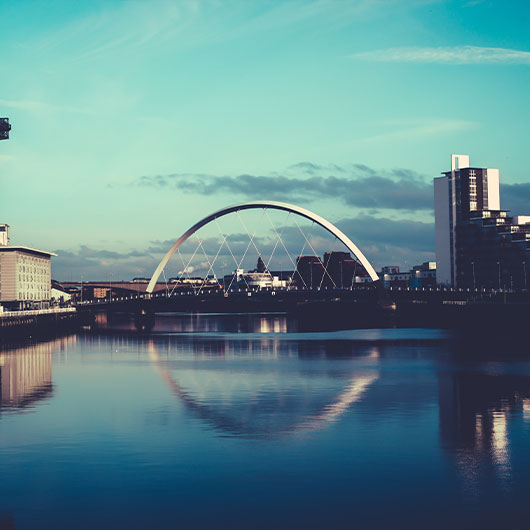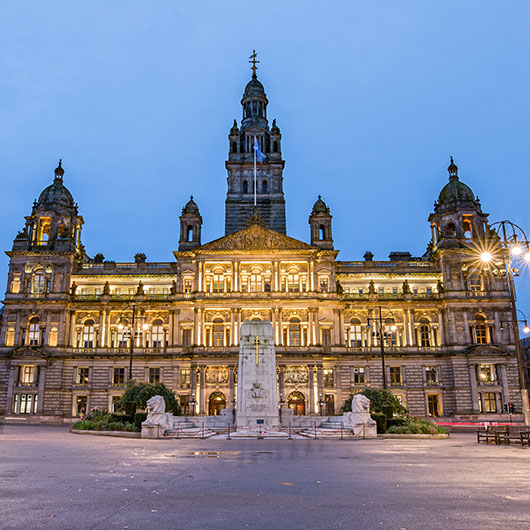 People from Glasgow are called Glaswegians and are sometimes referred to as 'weegies' (mostly by residents of other areas of Scotland). Most visitors will confirm that they are some of the world's friendliest and funniest people, with a natural ability to converse confidently and humorously with anyone ‐ while you're in the city, there's no doubt that you'll enjoy intelligent and witty 'banter' (conversation) with everyone from cab drivers to bartenders and museum guides.
Glasgow eating out, bars & restaurants
Eating out in Glasgow is a great experience for visitors ‐ if you're a fan of high-end cuisine served in refined surroundings, you'll love elaborate establishments like The Corinthian Club and Hutchesons, while you can sample authentic Scottish seafood and specialities like haggis at eateries like The Gannet, The Buttery and Café Gandolfi. The city has recently been named the UK's top cultural and creative centre by the European Commission, earning it's top spot thanks to criteria like 'cultural participation and attractiveness' and 'openness, tolerance and trust'. It's the home of many of Scotland's national performing arts organisations, such as Scottish Opera, Scottish Ballet, the Royal Scottish National Orchestra and the National Theatre of Scotland, while eight winners of the prestigious Turner Prize have either been born in Glasgow, trained their or work in the city.
You won't be surprised that Glasgow offers Scotland's liveliest nights out ‐ pubs and clubs like The Bell, Bananamoon, The Sparkle Horse and Nice N Sleazy are legendary, while nightclubs like SubClub, The Sanctuary and The Garage keep the party going until the wee small hours of the morning. Culture vultures also have rich pickings in Glasgow's magnificent museums and entry to most of them is free. Museum highlights here include The Kelvingrove Art Gallery and Museum, which has 22 galleries covering everything from Egyptian artefacts to seminal architecture and design, Riverside Museum, which celebrates Glasgow's transport history with exhibits on steam locomotives, train, trams and ships, and Scotland Street School Museum, another iconic edifice designed by Charles Rennie Mackintosh, which tells the story of Scotland's excellent education system. Last but by no means least, sport plays a vital role in Glasgow culture. Rival football clubs Celtic and Rangers are Scotland's two most successful teams and Celtic was the first British club to win the European Cup, in 1967. The national football stadium Hampden is located here and it was the host city for the 2014 Commonwealth Games. But football isn't the only popular pastime in Glasgow – rugby club Glasgow Hawks is perennially popular and Glasgow Rocks is Scotland's only professional basketball team. Its also a city with a fine fighting tradition ‐ world champion boxers from Glasgow and surrounding areas include Jim Watt, Ricky Burns and Scott Harrison.
Martial Arts
And martial arts in Glasgow attract high-kicking participants of all ages, with dojos for diverse disciplines like Capoeira, Tai Chi, Karate, Aikido, Krav Maga and Wushu. In terms of more casual participation sports, provided the weather is nice, you'll see people in Glasgow participating in everything from jogging to impromptu games of football and frisbee. Meanwhile, of you need your workout fix while visiting, gyms like LivingWell, Arc Health & Fitness and Central Strength Gym offer one day passes for visitors ‐ check online for details.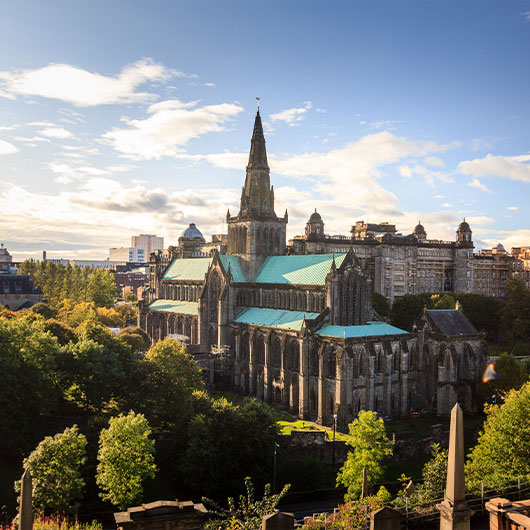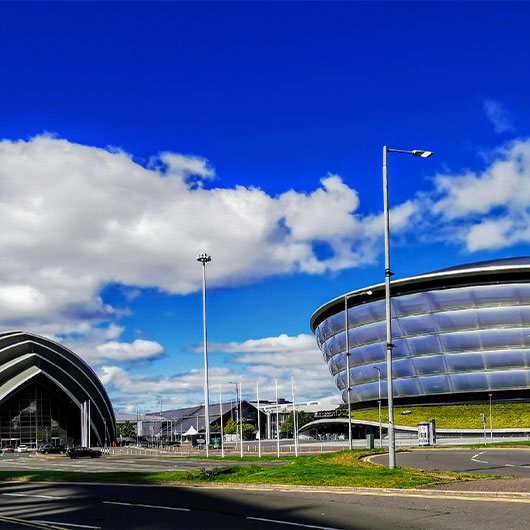 History of Glasgow
Glasgow was founded in the 6th Century AD when St Mungo, an apostle of the Scottish Kingdom of Strathclyde, constructed a church at a location named Glas Gu (Green Place).
The area's fishing industry helped it flourish and it had a bishop by 1115AD and a cathedral by 1136AD. In around 1175AD, the King gave Glasgow a charter which granted its inhabitants certain privileges and rights, indicating its increasing importance to the nation as a whole.
Glasgow in the middle ages
By the middle ages, Glasgow had a population of around 1500 ‐ this made it smaller than many other Scottish towns at the time, particularly those on the east coast which benefitted from close trading proximity with continental partners like Holland, Germany and the Scandinavian nations.
Nevertheless, Glasgow grew steadily, gaining its own university by 1451, becoming a royal burgh by 1454 and being granted an archbishop in 1492. By this time several bustling markets had spring up and the city's commerce was driven by products like wool and linen, fruits and vegetables, meat, fish, grain and horses.
17th century Glasgow
In the 17th Century the city suffered from a series of setbacks, including an outbreak of plague and large-scale fires in 1652 and 1677, but by the 18th Century it was regaining economic power thanks to so-called tobacco lords who profited from the new transatlantic trade routes Scotland was able to fully exploit after the Acts of Union in 1707, which united the parliaments of Scotland and England.
By the 19th Century Glasgow was booming thanks to a globally significant ship-building industry and infrastructure improvements ushered in as part of the Industrial Revolution.
In the 20th Century the city suffered from chronic unemployment in the 1930s and was bombed by Germany during WWII ‐ the city centre largely escaped serious damage, but two devastating attacks in a neighbouring town and industrial centre were dubbed the Clydebank Blitz.
20th century
In the 1960s and 1970s, Glasgow's workers moved from traditional heavy industry to the service sector and authorities embarked on a huge slum clearance project which demolished run down areas like the Gorbals and relocated many inhabitants to overspill 'new towns' on the outskirts of the city and beyond, like East Kilbride, Cumbernauld and Glenrothes.
In 1990 Glasgow was named European City of Culture and a modern cultural renaissance began which has persisted to this day and makes it one of the world's most dynamic and creative cities.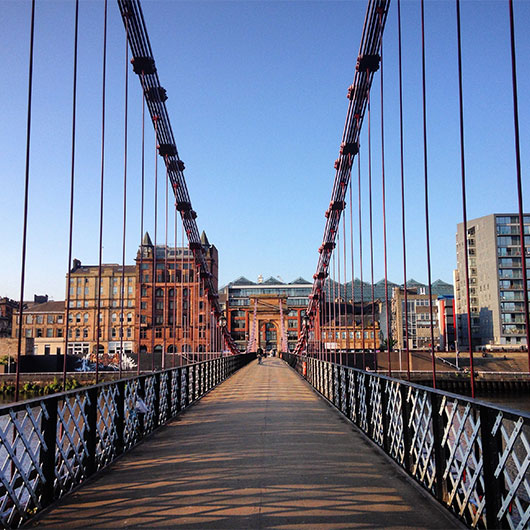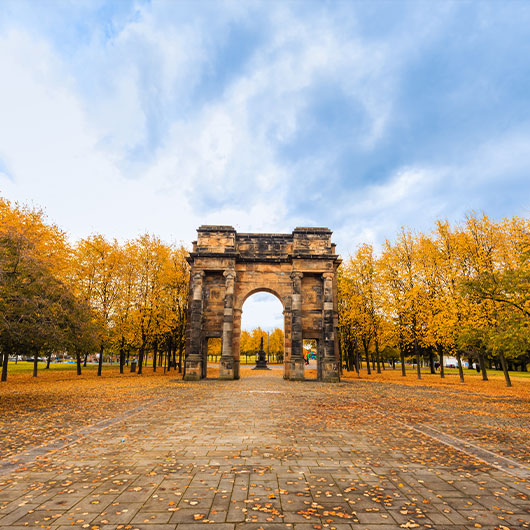 Glasgow ‐ fascinating facts about the Dear Green Place
Glasgow's nicknames are 'Glesga' (a local Scots language pronunciation of the name) and 'Dear Green Place' (the Cumbric language origin of the name means 'green place' or 'green hollow').
The population of the Greater Glasgow area is around 1.2 million, which makes it the biggest city in Scotland and one of Britain's most densely populated urban areas.
Glasgow Airport is Scotland's principle long-haul airport and the second busiest next to Edinburgh.
Glasgow landmarks include The People's Palace and Winter Gardens (a museum which brings the city's social history to life), The Mackintosh House in Hillhead (which showcases iconic designer Charles Rennie Mackintosh's greatest interiors) and The Duke of Wellington Statue at the Gallery of Modern Art at Royal Exchange Square. What's most significant about this latter attraction in contemporary culture is that humorous Glaswegians ensure the Duke always has a traffic cone on his head!
Glasgow University is a major research-led higher education institution which has carried out world-changing work for over 550 years. Its cross-disciplinary areas of excellence are cultural and creative economies, future life, precision medicine and chronic diseases, the nano and quantum world, addressing inequalities and one health (addressing the interdependency of global human and animal health).
Glasgow is home to Scotland's two biggest football teams, Celtic and Rangers, who have one of the world's oldest sporting rivalries.
Famous Glaswegians include comedian Billy Connolly, polymath writer and artist Alasdair Gray, critically-acclaimed author James Kelman, music groups and solo artists Simple Minds, Primal Scream and Lewis Capaldi, legendary football manager Sir Alex Ferguson and world boxing champion Benny Lynch.
Glasgow's subway system is the world's third-oldest after London and Budapest and locals refer to it as 'the Clockwork Orange'.
You drive in the left hand side of the road in Glasgow ‐ this rule is the same in all areas of Scotland and the wider UK.
Speed limits for cars in Glasgow and the rest of Scotland are 112 km/h on motorways, 48 km/h in built-up areas, 32 km/h in many residential/school areas, and 96 km/h outside built-up areas.
If you're coming from an EU country you can use a valid license to drive any type of vehicle specified on it. Non-EU visitors with a valid license can drive any small vehicle for up to 12 months. You can check your UK driving eligibility here.
Road signs in Scotland mainly conform to international standards, but you'll see some that include Gaelic as well as English words. English, Gaelic and Scots are Scotland's three official languages.
The currency in Scotland is pound sterling, the same as the rest of the UK.
Getting to and from Glasgow
Glasgow Car Hire
Car rental in Glasgow is fast and efficient, with a broad and deep choice of quality models from trusted operators like Europcar, Keddy and Easirent. If you're not familiar with these companies and require reassurance that they can meet your needs, here's some information on their credentials:
Europcar was founded in Paris in 1949 and is now a global enterprise with a car hire presence in practically every market on Earth. It prides itself on offering excellent customer care and the Europcar fleet is refreshed regularly – cars are replaced once they have driven 13,500 miles.
Keddy is owned by Europcar and was launched in 2015 to provide price-focused customers with a simplified car rental offering. It operates in 145 different countries and is backed by the hard-won reputation of its parent company and the support of its own dedicated staff.
Easirent is a British-owned, family-run car rental company founded in 1999 which has a presence at most UK airports and is expanding into the US market. It aims to deliver competitive prices and provide quality vehicles, with an unwavering commitment to customer satisfaction.
With Enjoy Travel, you can take your pick from great deals from all of the above car hire competitors, capitalise on regular special discounts and book your vehicle quickly, efficiently and securely.
Scots drive on the left and your ideal car will be based on criteria like size, fuel efficiency and versatility and performance on different types of terrain. However, to give you an idea of the types of cars you can choose from these operators, makes and models can include the likes of the Ford Focus, Toyota Aygo, Kia Optima, Fiat 500, Vauxhall Corsa, Volkswagen Passat Variant and Nissan Qashqai.
Some rules of the road
Remember to drive on the left side of the road, with the outside right lane used to overtake on motorways
Speed cameras can be found on any kind of road
When driving in London, there is a congestion charge to be paid
It is illegal to call or text while driving
Any child under the age of 12 or shorter than 4 foot 5 inches must use a child seat
This information is a good starting point, but it is important to also undertake your own research as to the rules of the road that are most applicable to your visit, as speed limits and toll or congestion charges can differ depending on your destination.
Glasgow Airport (GLA)
Glasgow Airport (GLA) is situated in Paisley, Renfrewshire, 15.9 km west of Glasgow city centre.
It's Scotland's second-busiest airport, processing 8.84 million passenger annually, and you'll find flights from major airlines like British Airways, Delta Air Lines, easyJet, Emirates, KLM, Lufthansa and Virgin Atlantic.
Car hire in Glasgow airport
Booking your hire car in advance allows you a greater choice when choosing your vehicle, and allows you to save money with our 5% online discount. Costs vary according to your choice and the time of year for your booking, with the popular times of spring and summer being more expensive. Depending on your requirements, car hire can be as little as £8 a day. Typical car hire companies at UK airports include Alamo, Enterprise, Sixt, Thrifty, Easirent and Europcar.
A number of reputable car rental firms have a presence at Glasgow Airport, including Alamo, Europcar, Keddy, Easirent, Enterprise, and Green Motion Car and Van Rental. You'll find most car rental companies located outside the main terminal close to domestic arrivals, or beside terminal 2 and prices start from around £10 a day, depending on vehicle type and operator.
Here are some more useful facts about Glasgow Airport:
The airport first opened in 1966, has one main runway which is 2658m long, two terminals and is served by 30 carriers covering over 100 destinations.
GLA has 102,000 air transport movements per year and ships 13,033 tonnes of air cargo.
It offers the cheapest airport pint in Britain and you'll find pub prices at GLA significantly lower than they are at London airports.
Over 500 staff are employed here, the complex contains 110 different companies and it supports 30,000 jobs in Scotland as a whole and 5000 directly. GLA contributes £1.44 billion to Scotland's economy – the largest contribution of any airport.
Glasgow has a new £1.6 million luxury lounge, with a design that pays homage to the airport's original designer, architect Sir Basil Spence.
Glasgow Train Stations
Glasgow has 2 main train stations in the city:
Glasgow Airport Parking
Glasgow airport offers a range of car parking options, and equally there are some great nearby park and ride car parks which are independently owned. The airport offers the standard long stay and short stay, for convenience and within walking distance, whereas the cheaper offers tend to be a short 5 to 8 minute shuttle bus away.
To compare all of the onsite and off-airport car parks, you can click and book Glasgow airport parking with Enjoy, likewise you may want to check on FHR Glasgow Airport Parking, one of our partner websites, and between the two, you'll find every option available at the cheapest price.
Top Tips when hiring a car in Glasgow
A great number of users encountered rental cars in Glasgow for less than £41 per day.
Booking your rental car in Glasgow in advance even if it's by at least 1 day before your trip ensures you'll get cheap car hire deals.
Renting your Glasgow car hire from any of the car hire locations in Glasgow apart from the Glasgow Airport will be immensely more expensive. Such locations in Glasgow include the Glasgow central station, the car rental centre in the city centre and more.
Economy hire cars in Glasgow are very popular and cheaper than other car types.
Economy cars found in the Glasgow Airport make for the best car hire deals.
When you arrive at the car hire desks make sure you have with you your international driving permit, go over all the details of the booking such as purchase insurance and drop off service before signing.
Once you get your Glasgow car hire, you should begin exploring the city centre and its surrounding interesting places such as the Trossachs National Park, Clyde Muirshiel regional park, Pollock country park and of course the Scottish Highlands.
Got a Question? Chat with our UK support team
Online chat help is open 08:30am to 17:00 weekdays. Email: [email protected]
FAQs about car hire in Glasgow
Most frequently asked questions about hiring a car in Glasgow
Car rental costs vary depending on make, model, operator and hire duration. But as a rough guide, it's currently possible to hire a model like a Ford Focus from as little as £11.04 per day and a Volkswagen Transporter from £28.50 per day.
At the time of writing, you can hire a Toyota Aygo for £8.04 a day.
Most car hire operators have packages for customers aiming at the lower end of the pricing spectrum. For example, at the moment you can rent a Ford Fiesta from Easirent for £9.10 a day and a Kia Optima for £12.99 a day.
21 is the minimum age for renting a car in the UK.
Additional charges can sometimes be incurred for insurance, upgrades, damage, older and younger drivers and fuel, but your rental operator should clarify this from the start of your agreement.
Finding the best car for getting around Glasgow depends on your needs. For instance, a family of four might feel comfortable in a sleek sedan like a Vauxhall Insignia, but a solo traveller or couple may prefer a compact car like a Ford Fiesta for cruising city streets and easy parking.
Many rental agreements include collision damage protection and third party liability insurance, but please ask your operator to confirm which additional cost would he applied in the event of damage being caused to your vehicle or that of a third party. In the event of a serious accident, please remember that 999 is the emergency services number in Glasgow, Scotland and the rest of the UK.
You should always drive on the left side of the road in Scotland.
Yes, Glasgow is one of the most expensive cities in Scotland. During your trip to Glasgow you should expect to spend around £98 per day.
Glasgow is a big city, it was listed as the top cultural centre in the UK - thus, there are plenty of things to see. We'd definitely recommended renting a car during your trip in Glasgow as it will make the experience so much better.
By visiting the most popular attractions of the city, you'll have seen the most essential parts of Glasgow, such as George Square, Glasgow Cathedral, The Riverside Museum and Kelvingrove Park.
The best months in Glasgow are May, June, July and August. You'll want to visit during one of these months even if they're high season. The good weather makes it worth it.
For a budget-friendly car it would be £60 for a week, or £9 a day.
Monthly prices for an inexpensive car in Glasgow start at £543, or £18 per day.
The cost varies between £1.19 and £1.02 for a litre of fuel in Glasgow.
Explore popular places in Scotland