Alicante Car Hire
Find the best deals in Alicante
With a massive choice from the biggest brands, Enjoy the best way to find the best prices for car hire in Alicante.
Huge choice of cars to suit every budget
Save up to 70% compared to buying on the day
10 years experience in car hire
Compare car hire in Alicante
With its busy airport and bustling resorts, Alicante is a tourist hotspot which has retained lots of its original charm – including a quaint old quarter, expansive waterfront and romantic castle. The capital of the province of the same name and a famous Mediterranean port for centuries, it's blessed by mild winters, hot summers and a legendary nightlife characterised by wild (and welcoming) pubs and clubs that are buzzing into the wee small hours. Attractions here include the Museo de Arte Contemporaneo de Alicante (packed with masterpieces by Dali, Miro and more), beautiful baroque Basilica de Santa Maria, with its imposing twin towers, Roman ruins at Lucentum and pretty Playa de San Juan beach northeast of the town. Popular activities include kayaking in the Cabo de San Antonio, gourmet wine tasting and tapas, beginners surf courses and exploring the amazing Canelobre Caves. Famous people from Alicante include renowned novelist Azorin, tennis ace David Ferrer, sculptor Eusebio Sempre, and painter Juana Concepcion Frances.
Hire a car in Alicante and you can explore the region under your own steam and in the privacy of your social bubble. Picking the perfect deal is easy at Enjoy Travel – drop your dates in our search engine and compare packages from premium providers. For instance, hiring a mini-sized car in Alicante like a Ford Ka is £14.35 a day if you book ahead of time, an economy car like a Fiat 500 is £18.55 a day and an intermediate car like a Nissan Qashqai is £31.30 a day. Roll out in Alicante and see what this sublime part of Spain has to offer!
Guide to Alicante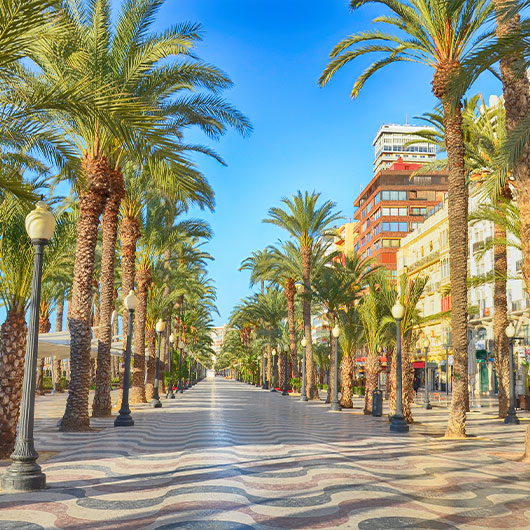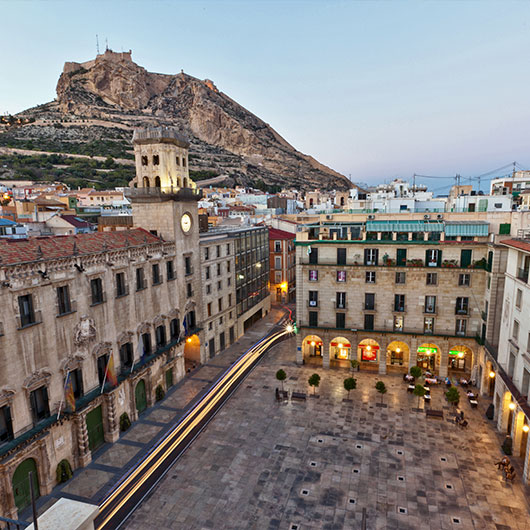 History
Alicante has an interesting history stretching back thousands of years. The first inhabitants were tribespeople arriving from Central Europe in 5000-3000BC and main settlements included Mount Benacantil, Benalua and Albufereta. By 1000 BC, visiting Phoenicians and Greeks had introduced innovations like the wheel and alphabet, and by 600 BC the area was contested by Rome and Carthage, with Rome eventually dominating and ruling the area until around 500AD. However, it was the Moors who built the present-day Alicante, with it subsequently being captured by the Castilians in the late 13th century and becoming part of the Kingdom of Valencia in 1308. The city flourished over the next few centuries, becoming Spain's third-largest trading port on the back of olive oil, orange and wine exports. These days, it thrives thanks to its sea port and international airport.
Culture
Alicante's culture is buzzing, supported by galleries, museums and a packed festival calendar. Easter (Semana Santa) is, always a good time to visit ‐ there's a huge procession on Holy Wednesday with various religious orders participating and elaborate decorations. Bonfires of St John is another exciting event,and it heralds the arrival of the summer season with bonfires and fireworks. The city's no slouch when it comes to visual art either ‐ the Alicante Museum of Contemporary Art is located in a lovely 17th century building next to Santa Maria church and it's always worth visiting, while the fascinating Alicante Provincial Archaeological Museum (in the old San Juan de Dios hospital) celebrates the region's diverse aesthetic influences.
Sport
If you're into sport, Alicante doesn't disappoint and it's recommended for golf, water sports and cycling (both amateur and professional). There's a modern sports complex at Torrevieja and popular activities in the area include paddleboarding, snorkelling, scuba diving, horse riding, tennis, hiking and mountain climbing. You can also try sailing , kayaking or fishing at Club Nautico Campello, embrace the passion of the live football crowd at an Elche FC game while you're in town or, if spectating is more your speed, settle down at the El Cid Bar & Restaurant with a refreshing drink and watch major sporting events on big screen TV. As you can see, Alicante is ideal for sports-mad visitors.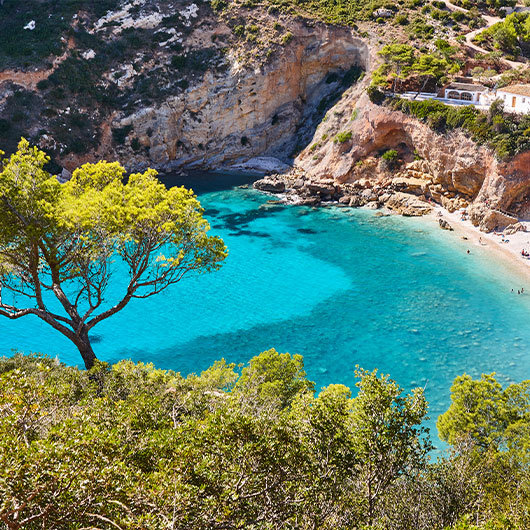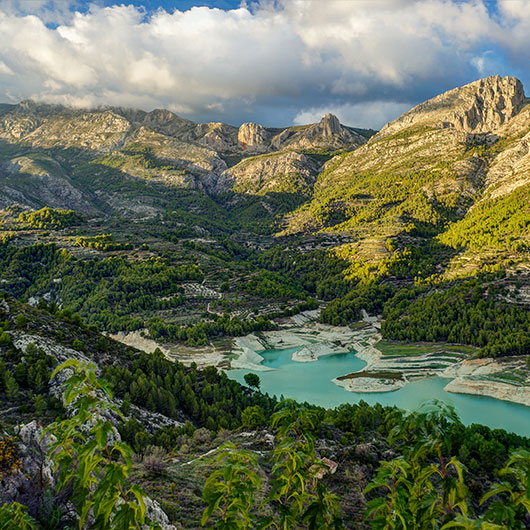 Things To Do in Alicante
Go Medieval at the castle
The Castle of Santa Barbara is a must-see when you visit Alicante. Sitting atop Benacantil mountain, this impressive structure has Moorish origins but was last renovated in the 16th century during the Golden Age. You can reach the castle on foot of via the lift that leaves from Postiguet Beach – try to get up to the battlements early in the morning and you'll see the rising sun lighting up the ancient battlements and bathing the city, Mediterranean and undulating countryside in its gorgeous glow. This is a step back in time that really revives the spirit!
People-watch at Explanada de Espana
This elegant promenade inlaid with marble stretched from Alicante's old town all the way along the seafront to the marina and it's where everyone from local families to loved-up couples stretch their legs and take in the fresh air. This palm-shaded parade is always a pleasant place to watch the world go by ‐ pick up drinks and snacks from stallholders, enjoy the captivating coastal views and chill out after a hot day's sun, sea and socialising.
Become a beach bum
If relaxing on golden sands is your idea of a perfect day, Alicante and its environs definitely deliver. Playa de Postiguet is located right next to the old town, and it's blessed by gentle waves and a castle backdrop, or alternatively, Saladar Beach to the south of the city boasts a 1600m strip of sublime sand. You can also try Playa de la Albufereta on the northern fringes of Alicante, which was formerly the harbour for Lucentum in Roman times. Whether you prefer relaxing with a drink in hand and catching rays or splashing around in the surf, Alicante is awesome for beach bums.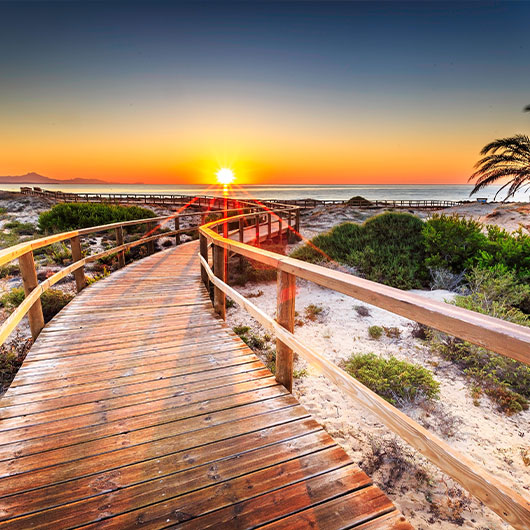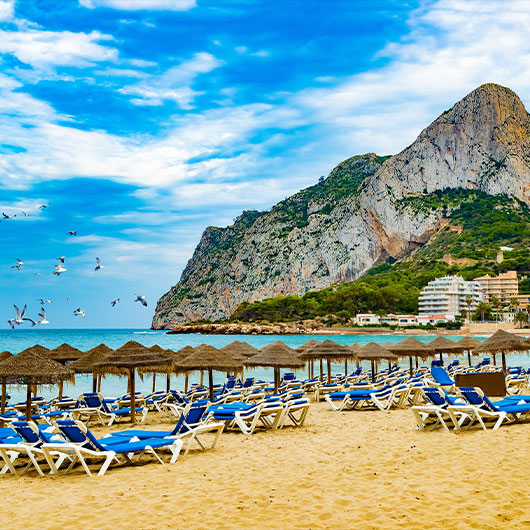 Eating out in Alicante
Terrific tapas
With its ornate décor, striking seafood display cases and cultured vintage wine collection, Manero makes a marvellous impression from the moment you step through the door. Lauded by the Michelin guide for its delicate tapas and exquisite Iberian hams, highlights for foodies include the tuna tataki, ham croquettes and squid with confit onions. Staff are very attentive, and your meal is often complemented by traditional live music.
Haute cuisine
Located on the steps leading up to Santa Barbara Castle, Restaurant La Ereta is a glass-fronted modernist affair that affords stunning cityscape views. This is the place to be if you're a true gourmet and the two tasting menus are perpetually popular ‐ one focuses on high-class Mediterranean favourites and the other is more contemporary. From top-notch tapas to artisan pies, everything is perfectly prepared and artistically presented.
Urban glam
Fancy dining out in a swish environment? El Portal has a plush interior complete with kitsch features like oversized metal stars and unusual light fittings ‐ you know you're in for a fabulous evening from the moment you enter the premises. The food is straightforward yet superb ‐ think classic Kobe beefburgers, steak tartare with smoked sardine and beautiful bread olives. The mixologists prepare amazing cocktails while the resident DJ keeps the party ambience going with subtle and sophisticated tunes.
Transport in Alicante
Airports
You'll find Alicante Airport (ALC) 9km southwest of the city. Also known as Alicante-Elche Airport, it's currently Spain's fifth-largest air hub, serves the Murcia region as well as Valencia and has pride of place as the tourist entry point for the Costa Blanca resorts. ALC is a focus city for Ryanair and Vueling, serving a wide range of international, national and regional destinations. The airport has cafes, bars, duty-free shops, ATMs and a VIP lounge with premium facilities for business passengers.You can easily arrange car hire at Alicante Airport with Enjoy Travel.
Public transport
Alicante Bus Station is located downtown in the harbour area ‐ from here you can catch services across the city and throughout the region. There's also a train station connecting with regional and international destinations and the Alicante Streetcar ‐ an underground narrow gauge railway that whisks you around town and also connects with other towns in the north Costa Blanca area.
Driving
There's a minimum age of 21 to hire a car from most providers in Alicante and some apply a surcharge if you're under 25. To pick up your hire car, be sure to have your passport or another official form of photo ID, as well as a credit card. Kids aged under 12 can't sit in the front seat, while all children under 3 need a child seat. Speed limits in Alicante are 120 km/h on motorways, 100 km/h on local highways, 90 km/h on country roads, 50 km/h on urban roads and 20 km/h in many residential areas.
Top Tips when hiring a car in Alicante
● A big number of users encountered rental cars in Alicante for less than £12 per day.
● Booking your rental car in Alicante in advance even if it's by at least 1 day before your trip ensures you will get the best car hire deals and way below average Alicante car hire prices.
● When talking about Alicante car hire, Alicante Airport is one of those rare exceptions where it's more expensive than non Alicante Airport car hire locations.
● In most destinations car hire companies found in the airport offer cheap car hire options, but in Alicante Airport car rental on average is more expensive compared to any location in the Alicante city centre.
● However, these is a certain level of convenience that comes with renting your Alicante car hire at the airport that can make up for the higher prices, such as the comfort of the car park with all the rental companies being right next to where you land. It's located at the arrivals hall and there are a lot of third party providers there.
● All you'll need with you is a valid driving licence, and your credit or debit card.
● Alicante is port city so once you begin to explore, you should head inland and try to see all the hidden beaches via day trips, drive along the beautiful scenic route and check the Vinalopó river!
● Economy vehicle models in Alicante are overall cheaper than other car in general.
Got a Question? Chat with our UK support team
Online chat help is open 08:30am to 17:00 weekdays. Email: [email protected]
FAQs about car hire in Alicante
Most frequently asked questions about hiring a car in Alicante
Being a port city in a very touristic part of Spain, makes it quite expensive in summer. You'll averagely spend €72 per day.
If you value your comfort and riding along the coast, then renting a car is highly advisable.
Your visit should begin at the Port of Alicante and from there visit the essential places to see in the city. You can't miss Castle of Santa Bárbara, the Santa Cruz neighbourhood and San Juan beach.
Autumn is the best time to visit the east coast of Spain and Alicante. To begin with, between September and October, the weather in Alicante is perfect.
For small cars the cheapest options begin at €12 for a week, which is €2 a day.
The cheapest offers begin at €942, or €30 per day.
The average price of a litre of fuel in Alicante can vary between EUR 1.15 and EUR 1.01.
Explore popular places in Spain