Malaga Car Hire
Find the best deals in Malaga
With a massive choice from the biggest brands, Enjoy the best way to find the best prices for car hire in Malaga.
Huge choice of cars to suit every budget
Save up to 70% compared to buying on the day
10 years experience in car hire
Compare Car Hire in Malaga
With a history of almost 3000 years Malaga is amongst the oldest cities in Europe
Malaga's close proximity to the rest of the Costa Del Sol makes it, especially its airport, an extremely important player in the Spanish tourism industry.
With a population of just over half a million, Malaga is the second largest city in Andalusia, behind Seville.
Pablo Picasso, one of the 20th Century's most famous and revered artists, was born in Malaga.
Guide to Malaga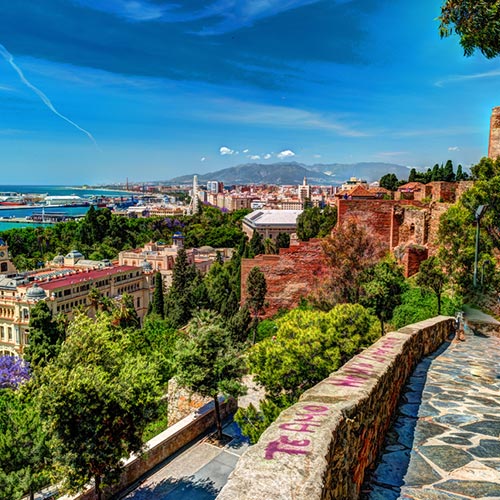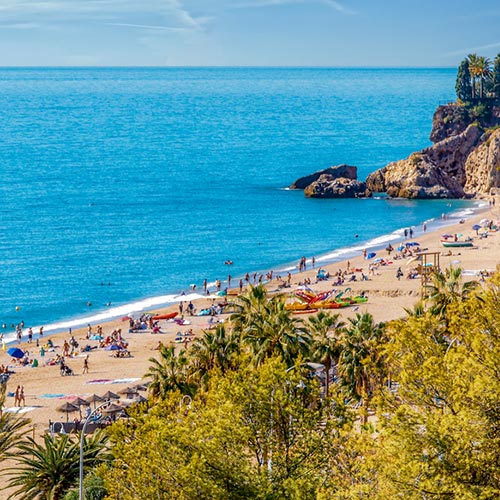 Located in southern Spain and enjoys around 300 days of sunshine throughout the year and is generally has warmer winters than any other European city. This is in part thanks to the Malaga Mountains to the North East of the city which block out much of the cold weather.
A Brief History
With the western Mediterranean Sea on your doorstep you're bound to be tied up in the affairs of this significant historic region and Malaga's history is very much shaped by its location. There is evidence to suggest an ancient Iberian tribe the Bastetani were the first inhabitants of the area now known as Malaga, but it was the Phoenicians who first founded a colony on the site. Throughout its history Malaga has been captured, lost and recaptured by a wide range of empires, from the Roman to the Byzantine.
The Muslim Conquest of Spain in the early eight-century (in which the city was captured) saw Malaga develop into a highly defended city within the new Muslim ruled Iberian Peninsula. By 1026 the city was the capital of an independent Muslim kingdom. This kingdom was conquered by the Nasrid Kingdom of Grenada in 1229. Later when Isabella and Ferdinand took the city in the late fifteenth century, they punished the Muslim population severely with a large proportion sentenced to death or sold as slaves.
Malaga Today
Malaga is Spain's fourth largest economic region with tourism, tech and construction being its major industries. The city is a vibrant place rich with heritage and archaeology. The city hosts a variety of events and festivals throughout the year, including an August Fair which celebrates traditional Spanish food, fashion and dance.
What to see and do in Malaga?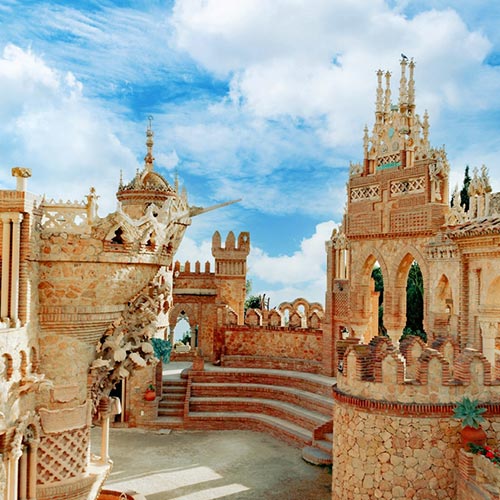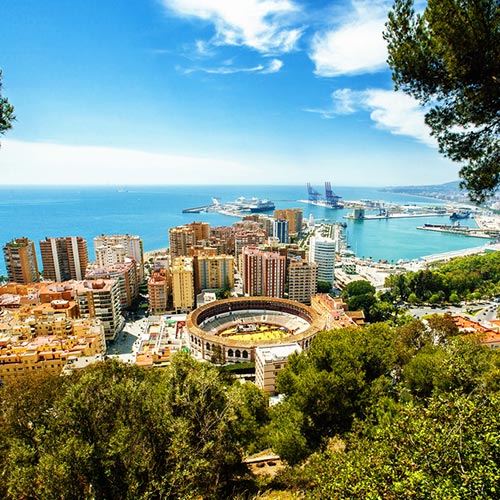 Museums and Galleries
The Picasso Museum
Born in 1881 and going on to dominate the direction of art in the early 20th Century, Pablo Picasso is without a doubt Malaga's most famous export. Opened in 2003 the Malaga Picasso museum features a wide collection of work donated by the Picasso family. Not only does the museum have a permanent collection of works by its namesake but also hosts regular temporary exhibitions of other Spanish and international artists. Opening hours and admission prices vary throughout the year so be sure to visit the official website for the latest information.
Address: Palacio de Buenavista, Calle San Agustín, 8, 29015 Málaga, Spain
Phone: +34 9521 27600
The Pompidou Centre Malaga
In 2015 one of Paris' most famous cultural destinations opened a pop-up outpost gallery in Malaga, which has proven to be a popular destination for tourists and locals alike. With a fantastic permanent collection including works by Frida Kahlo and Francis Bacon, this museum, like it's big brother in Paris is world class. Keep an eye out for special events and activities and look at the upcoming exhibition programme, as well as up to date admission charges and opening hours, on the centre's website.
Address: Pasaje Doctor Carrillo Casaux, s/n, 29016 Málaga, Spain
Phone: +34 9519 26200
Historic Buildings and Archaeology
Alcazaba
Built in the middle of the eleventh century this is one of the most important forts remaining from Moorish Spain. The word Alcazaba comes from the Arabic al-qasbah and translates as citadel. Although a fort it is built in a palatial style so not only is the Alcazaba filled with history, it is also spectacularly beautiful. Overlooking the city and the sea its location was its greatest strength as a fort and the greatest architects of the time provided the strength of its beauty, which can be enjoyed today. In the summer months the Alcazaba is open from 9am to 8pm and entry is reasonably priced, call ahead for current prices.
Address: Calle Alcazabillia, 2, 29012 Málaga, Spain
Phone: +34 6309 32987
Parks and Gardens
The Botanical Garden 'La Concepcion'
This beautiful Botanical Garden is an escape from the everyday into the magical, mysterious world of plants, including a brilliant route named Around the World in 80 Trees. Find tranquillity and peace as you wander the meticulously kept grounds featuring an enormous range of international plants. At the heart of the site is the Historic Garden which has since 1943 been recognised as a garden of 'historical and artistic interest.' The Historical Garden features over 3000 plant species including specimens over 100 years old. Standard tickets cost €5.20 and the garden is open 9.30am to 7.30pm April – Sept, with reduced hours in the winter months. Visit their website for latest opening times.
Address: Camino del Jardin Botanico, 3, 2901 Málaga, Spain
Phone: +34 9519 26179
The English Cemetery
A cemetery may seem an odd suggestion to visit on holiday but for anyone interested in the history of Malaga, architecture and landscaping, it's a very good one. Opened in 1831 this is the oldest Anglican cemetery in Spain. Wander the grounds and admire the wide variety of interesting gravestones all set within beautifully kept and purpose-built botanical gardens. The cemetery is open Monday to Friday 9am – 3pm and Sat/Sun 10.30am – 3pm. General admission is €4 or €3 for concessions.
Address: Funacion Cementerio Ingles de Malaga, Avenue de Pries, 1, 29016 Málaga, Spain
Phone: +34 9522 23552
Where to eat in Malaga?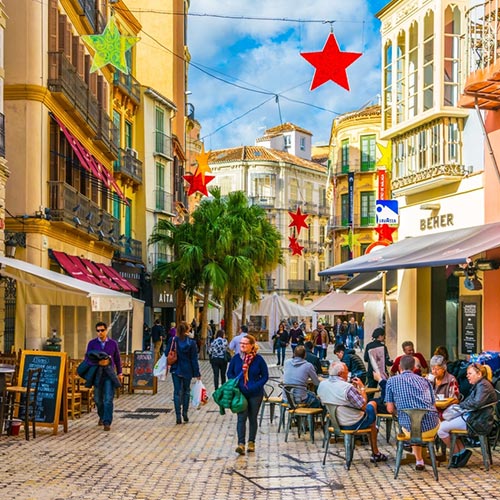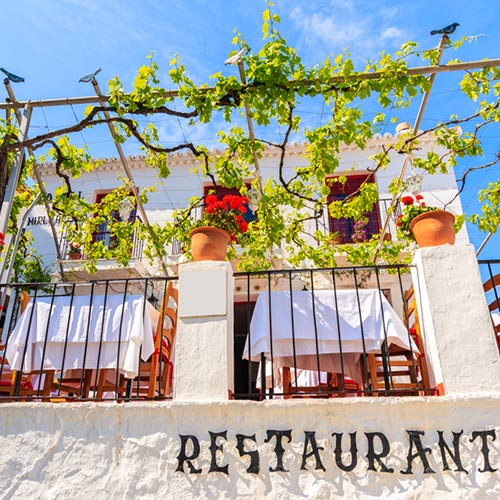 Taberna Uvedoble
For local cuisine with a modern twist look no further than the Taberna Uvedoble. This is a modern eatery offering an excellent selection of traditional Tapas dishes plus a full menu of individual meat and vegetarian meals. There is something delicious on their menu for everyone.
Address: Calle Cister 15, 29015 Málaga, Spain
Phone: +34 9512 48478
Mama Franca
This mid-priced family friendly restaurant serves up arguably the best Italian food in Malaga. Enjoy freshly baked pizza, home-made pasta and a wide selection of Spanish and Italian wines. Only the best ingredients are used to prepare the food here and it shows. This is a popular spot in the coastal area of Malaga so be sure to book a table in advance to avoid disappointment.
Address: Av. Imperio Argentina, 7, 29004 Málaga, Spain
Phone: +34 9511 53913
Príncipe de Asturias Restaurant
Located in the 5* Gran Hotel Miramar this beautifully appointed restaurant offers fine dining in gorgeous surroundings. Whether eating out on the balcony overlooking the sea or inside the main internal dining area you will feel the luxury from the moment you sit down. The food lives up to the setting too, with excellent grilled meat and fish and some spectacular deserts. Open 1pm – 3.30pm and 8pm – 11pm. Book in advance to avoid disappointment.
Address: Paseo de Reding, 22, 29016 Málaga, Spain
Phone: +34 9526 03000
Transport and car hire for Malaga
Malaga Airport
Located just five miles from the city of Malaga, this airport serves most international arrivals in the region. Its proximity to popular tourist destinations in the Costa Del Sol (Coast of the Sun), make Malaga airport Spain's fourth busiest. Although the airport has three terminals only the newest, Terminal 3 is used for departures. Operators here are predominantly budget carriers such as EasyJet and Ryanair with the most popular routes to and from Malaga are London, Manchester.
Car Hire
There are a number of car hire companies based in the airport and in the city.
At the airport, you will find all of the popular well-known brands on-site such as Europcar, Avis, Budget, Hertz, Alamo, Enterprise and Sixt. But to save money it's worth comparing some of the local ones too such as Centauro, RecordGo, OK rent-a-car or Surprice where you will be able to find a Vauxhall Corsa or similar, from around £29.50 per day in spring, £33.90 in summer, and much cheaper from as low as £5 per day in the winter months.
Top Tips when hiring a car in Malaga
● Malaga car hire gives you the comfort and convenience to be able to see the city while also being able to visit all the popular parts of it and the neighbouring regions.
● One of the most popular regions around Malaga is known as Rincon De La Victoria, located about 20 minutes away by car. A hire car would be advisable to reach it easily.
● If you have a hire car it's also advisable to see the picturesque town of Alhaurín de la Torre, located 30 minutes away by car, or Torremolinos, located 23 minutes away.
● Malaga's train station is called Maria Zambrano and is where you can encounter several different car hire companies.
● At Maria Zambrano train station you can find many cheap car hire agencies such as Alamo, Hertz, and SIXT.
● The car hire companies found near the Malaga train station offer many cheap hire car models within walking distance.
● The Malaga city centre is know for hosting many annual festivals that merit your attention for several reasons. First you might wish to participate, but beyond that, it's also great to be aware of them, because if you decide to go for a Malaga car hire, you'll know when and where to avoid heady car traffic.
● During special events, festivals, concerts and commotions, the main parts of the city centre are to be avoided. The most well known are the Three Kings Festival, taking place from January 5th to 6th, and the Malaga Fair, which takes places during the summer months.
● If it's your first time in Malaga, you arrived by plane, and wish to opt for a car hire, then Malaga Airport car hire options are both easily accessible and very economic.
● Malaga Airport car hire brokers have on average much cheaper rental car models. Additionally every car rental company found in the Airport offers special prices to those who pick them up there.
● Thus it's advisable to grab your car keys at one of the many car hire desks in Malaga Airport, both for convenience and to save on extra expenses compared to getting your Málaga car hire in the city centre.
● If you book your cheap car rental car by at least one day in advance, you'll get a better price as well as a wider selection on car models.
Got a Question? Chat with our UK support team
Online chat help is open 08:30am to 17:00 weekdays. Email: [email protected]
FAQs about car hire in Malaga
Most frequently asked questions about hiring a car in Malaga
The city of Malaga is located just five miles from the international airport. Also nearby is Torremolinos and the rest of the Costa Del Sol.
Malaga is birthplace a number of famous faces, including actor Antonio Banderas, the writer and philosopher Maria Zambrano and most famous of all the artist Pablo Picasso, the city even has a museum dedicated to their favourite son.
This is dependent on the time of year and the particular size/make of car you're looking for. In the summer months you will be looking to pay around €10 per day for a small car. In the winter and spring the same car would start from €3-5 per day.
The legal driving age in Spain is 18, however the car hire companies have their own rules, and often add a surcharge for under 21s or under 25s, with some not accepting drivers under 21 at all. Use our search tool to find the right deal and company for your needs.
120 KM per hour is 74.6 miles per hour.
This generally depends on your own preference. Malaga is warm throughout the year, even in winter temperatures stay amongst the warmest in Europe thanks to the mountain range at the north of the city. Malaga and the surrounding areas are heavily dominated by tourism so if you're not tied to school holiday dates you will find it slightly less busy and may even save some money if you visit during term time.
We partner with several local and international hire companies offering an excellent comparison between them. Use our search tool to find the best deal for your dates, read genuine customer reviews and know that you're always covered by our Fair Fuel Policy.
During the current Brexit transition period British drivers are able to drive in any EU country, for stays of up to 12 months, with their British driving license. After January 2021 rules are likely to change and further documentation may be required, keep an eye on this government website for the latest information.
Yes. The drive to Gibraltar from Malaga is just under two hours and takes you westwards along the coast. However, tourists often face problems getting into Gibraltar from Spain, though many manage the trip with no problems, we recommend being prepared for a long wait at the border and if possible, plan on spending a couple of days in Gibraltar rather than making a day trip.
Malaga is one of the cheapest cities in Spain to go on vacation this year according to recent rankings which indicates that the price, leisure options and the climate are the three most determining factors to pick it as your destination.
Renting a car in Malaga can be worth it if you use it to drive around the city and explore the region. It will enhance your overall experience.
Malaga follows the same traffic regulations as the rest of Spain. First of all, you drive on the right and in the roundabouts you give way to vehicles coming from the left.
Traveling to Malaga means seeing the Costa del Sol, the beaches, Marbella, Torremolinos and the historic centre of its capital.
The best months to visit Malaga are March, April, May, June, July, August, September, October and November. On average, the warmest months are July and August. Malaga has dry periods in June, July and August.
For small cars the budget friendly options begin at £20 for a week, which means more or less £2.80 a day.
The cheapest offers allow you to rent a car for a whole month for £243, or £8 per day. As mentioned earlier, this depends on the season you book and the car type.
The average price of a litre of fuel in Malaga can vary between EUR 1.15 and EUR 1.01.
Explore popular places in Spain