Albufeira Car Hire
Find the best deals in Albufeira
With a massive choice from the biggest brands, Enjoy the best way to find the best prices for car hire in Albufeira.
Huge choice of cars to suit every budget
Save up to 70% compared to buying on the day
10 years experience in car hire


Compare car hire in Albufeira
Albufeira is a small city in the popular holiday destination Algarve region of southwestern Portugal. Portugal has a relatively small population (10 million inhabitants) for an area roughly 40% of the size of the UK (which has 65 million residents) and is therefore ideal for uncrowded driving.
It is a highly religious country (as evidenced by the number of churches), but it's still modern, multi-ethnic, and in many ways progressive. Known globally as the home of port wine, it has many other tasty tipples too!
The cost of living is considerably cheaper than that of the UK and that's reflected in the economical deals on car hire available ̶ currently a Fiat 500 or similar (mini) costs just £14.71 for 4 days and the compact Renault Megane is only £23.96 for 4 days. Even a compact elite car such as the Volkswagen Golf is just £17.95 a day (prices here are for booking online). Rent a car with Enjoy to explore Albufeira and the legendary Algarve – but first, here's a bit more about this fascinating city.
Airports and Access: Albufeira is served by Faro Airport (FAO), also known as Algarve Airport, situated just west of the city of Faro. It's the closest airport to Albufeira and the Algarve, became a hub airport in 2010, and is busiest from March – October.
Famous Albufeira: although a small area whose list of famous people is somewhat overshadowed by Portugal's maritime past (think Vasco de Gama, Magellan, Christopher Columbus) the city is still associated with some notable contemporary celebs. For instance, Cliff Richard has been an Algarve super fan for years ̶ he has a house there, previously owned a vineyard, and even has a street named after him (Rua Sir Cliff Richard). The Algarve area is also popular with footballers (many Premiership clubs train in summer camp in the Algarve), and several world-famous footballers over the years (Alan Shearer, Michael Owen, Wayne Rooney, among others) have liked it so much they bought houses there.
Guide to Albufeira
Beaches
You're never far from a beach in Albufeira! Twenty beaches in the area have coveted Blue Flag status, meaning they've fulfilled stringent environmental, safety, and access criteria, and most have cafés, restaurants and bars, lifeguards and more. Praia dos Pescadores (Fisherman's Beach) is located in front of the Old Town and has gorgeous golden sands, Praia do Peneco is on the same stretch but a little busier in terms of bars and sun loungers, and the lovely wide stretch of rugged coastline that's Praia do Inatel beach is located east of the Old Town, to name but a few.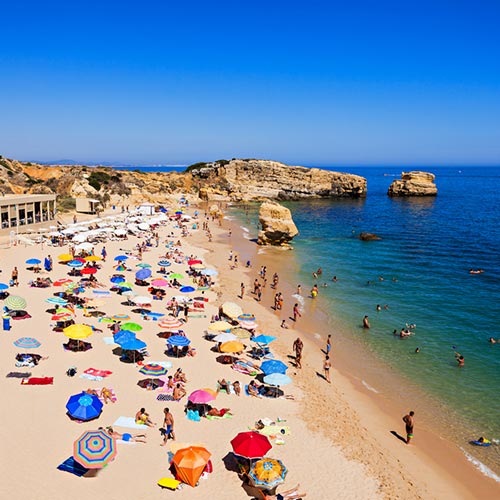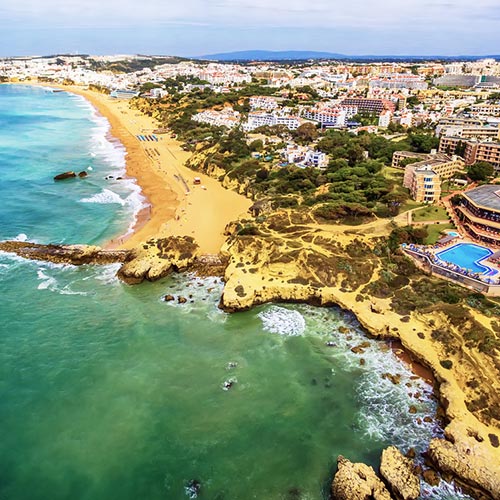 City and Culture
Whether you're sunning yourself on a golden beach or sampling local food and drink, there are plenty of great activities for all the family. And when it comes to absorbing Albufeira's culture, there are enough events in the calendar to ensure there's always a buzz about the place. The tourist areas are divided into two main sections and the first is Areias de São João, known as The Strip and where all the clubs are located, such as Vida, Heaven and Kiss, while Kadoc, known as the Algarve's largest and most lively nightclub, is midway between Albufeira and Vilamoura. However, if you prefer something a little more laid-back and sedate, the charming Old Town is the city's second tourist sector and a terrific place to enjoy a family meal and socialising over a few drinks while enjoying live music.
Sports and Pastimes
The city still has a bullring, with shows on Friday nights, but the bulls are no longer killed and only flags and sticks are used. The Algarve Cup, an annual women's association football tournament and one of the world's most prestigious women's events, has been held here since 1994 and if you're in town during the football season (or there's a friendly match being played) you might like to pop along to the Municipal de Albufeira stadium to watch local legends Imortal Desportivo Clube play.
About Albufeira
Albufeira is a city and municipality in the district of Faro in the Algarve, southern Portugal, located 160 miles (250 km) from the capital Lisbon. The population of Albufeira city is just 14,000 and the municipal area population is only 40,000 people. However, during the summer and Christmas/New Year seasons, the Algarve population swells to 300,000.
The Romans built roads and aqueducts here, and developed agriculture and commerce, but the site was probably occupied from as early as the 5th century BC. The name Albufeira derives from Arabic. A Moorish (Arab) stronghold until the 12th century, it was one of the last cities to be taken by Christian invaders. The Moors introduced new techniques such as the plough and fertilizer, brought new plant species, and introduced dams and field irrigation. The Bridge of Paderne is built over Roman pilings, and the stone structure dates from the 12th century. The Castle of Paderne was first built as a fort by the Romans, and then occupied by Berbers from Libya. More recently, the Lisbon earthquake of 1755 caused massive tsunamis 10 metres (33 feet) high which destroyed most of the town's buildings.
Things to do in and around Albufeira
Albufeira is one of the Algarve's top summer destinations but is still affordable and accessible to all types of visitor. Whether you want to focus on sun, sea and sand or you're a bit of a culture vulture, you'll be completely satisfied.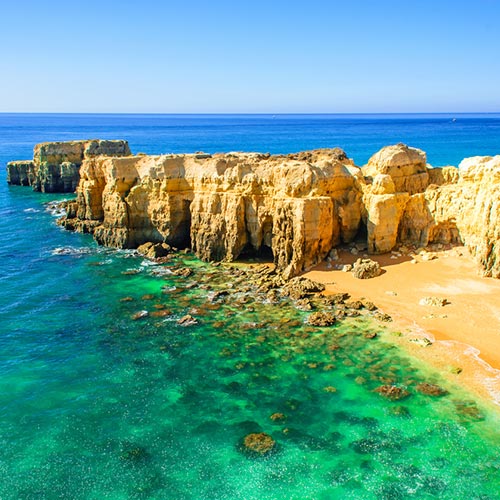 Historical attractions
Located in the Praça República is the Albufeira Archaeological Museum. It costs just €1 to enter, and here you'll find fascinating exhibits divided into Prehistoric, Roman, Islamic and Modern periods. Portugal is rich in history and an afternoon here is the ideal venue to expand your local knowledge (while giving your skin a rest from the sun!).
Watersports
The Albufeira coast is blessed with calm waters, so how about exploring it by kayak? There are so many coves, caves, and rock formations to discover, and you don't need gear as you can hire a kayak and all the gear you need.
The Atlantic waters mixing with the Mediterranean also provide some great snorkelling along the coast around Albufeira. There are fish and crabs a-plenty, and you might even see an octopus! Hire equipment by the day, or head down to Albufeira Marina to haggle with the many well-equipped boat owners and organise a trip.
Party time and family fun
Albufeira is famed for its parties and water, so why not combine both in a boat party? They have bars, DJs, and even BBQs, so if you're travelling solo and looking for mates, or are already with a group then book a trip and don your best party gear.
Alternatively, A day at a waterpark will always be a great day out for the whole family. At Aquashow the water slides are the main attraction (some are really high) but there are also rollercoasters, birds of prey, and even a spa.
Eating out in Albufeira
Albufeira has approximately 700 restaurants and these range from every type of Portuguese cuisine to food from all over the world, including Michelin-starred emporiums. Let's sample a few of Albufeira's best eateries.
Old Town Ambience
First up is the Os Arcos Restaurante. Nestled in the beautiful white-washed buildings of the Old Town, it's well-known for its fresh fish dishes and sumptuous homemade eats. Set in a rustic building, it's popular with tourists but you can always find locals here too ̶ so you know the dining is top-notch.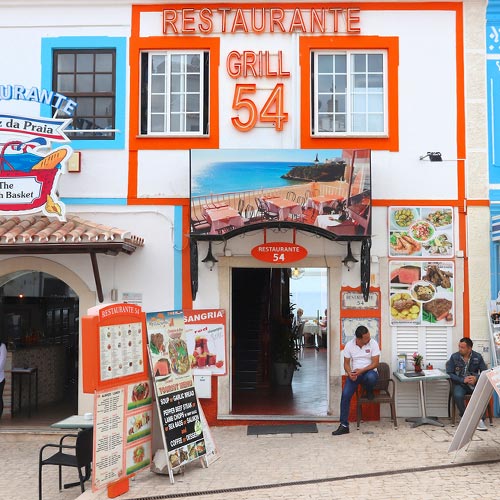 Meanwhile, if you want a breath-taking view with your meal, try the Castelo Do Mar. Another Old Town favourite, it has some of the best views in the area. It overlooks the harbour from its hilltop perch and serves Portuguese cuisine mainly but with some British and European dishes too.
Sublime Seafood
Just west of Albufeira is the Michelin-starred Vila Joya Sea. It looks like a simple beach shack from the outside, but inside it's warmly lit by wicker lamps and gently buffeted by sea breezes.
There's nothing ordinary about the food either ̶ from grilled sea bass to sushi, Head Chef Dieter Koschina prepares dishes that bring foodies from afar.
Don't miss Gigi Praia either ̶ you won't need a car to get there, but you will need to cross one of the longest wooden footbridges in Europe. Locally sourced produce makes up the menu, with signature dishes such as peri-peri prawns or octopus eggs taking pride of place. Gigi himself will come out of the kitchen to greet guests and his amiable interactions have become part of the experience in this hidden Algarve gem.
Grilled Gems
Located on Rua Dunfermline is Uzonj Restaurante-Grill. With consistently excellent reviews from locals and tourists alike, many regular visitors to Albufeira will make a point of returning at least once during every trip. It has great cocktails, excellent food at affordable prices (including combination platters and tourist menu deals), a cosy atmosphere and friendly staff.
Albufeira Transport
Airports
Albufeira city centre is 28 miles (44 km) from Faro Airport (FAO, also called Algarve Airport) so it's reasonably close and the journey takes just over 30 minutes. There are multiple car hire options at the airport provided by our trusted hire partners like Alamo, Avis, Budget, Dollar, Enterprise, Europcar, Hertz, and Sixt, as well as smaller local companies, and pre-booking online almost always provides discounts of 5 – 10%.
Buses and Trains
GIRO is the comprehensive network of local buses operating in Albufeira. These operate between 0700 and 2000 all year, seven days a week, with buses until 2200 in summer. Buses run every 30 minutes on all routes on weekdays and on Saturdays until 1400. On Saturday afternoons, and all day Sundays/holidays, all services are reduced to one per hour. A comprehensive timetable for the Algarve can be found here. Like many trains in Europe those in the Algarve are clean, efficient, and cheap. This Algarve trains timetable might prove useful and it's worth noting that trains do not routinely have announcements, so be careful you don't sleep through your stop!
Driving Tips
You drive on the right-hand side of the road in Albufeira. The speed limits are: 120 km/h (74 mph) on motorways, 90 km/h (55 mph) on non-motorway main roads, and 50 km/h (31 mph) in urban areas. Here are some other key points: Drivers must carry a driving licence, passport (police often stop foreign cars to check ID), insurance documents, MOT certificate if the car is more than three years old, and car hire documents. Speed limits are rigorously enforced, speed traps are common and motoring offences will result in an on-the-spot fine, which must be paid (the police carry mini card machines). Drink-driving is strictly prohibited and anything over 0.05 mg of alcohol in the blood could result in a fine, suspension of licence, imprisonment, or all three. Don't forget that you're not permitted to drive and phone/text here, or to honk your horn at night unless it's an emergency or is vital to make a safe manoeuvre.
Driving Around Albufeira:
There's too much to see around Albufeira to list comprehensively, but here a few of our favourite trips:
Albufeira to Serra da Estrela ̶ the Serra da Estrela are the highest mountains in Portugal, and this is a panoramic route that you'll adore. It's a longer drive from Albufeira (at 5 hours via the A2), but well worth a weekend visit. At almost 2,000 metres (6, 569 feet) the only season that travel is not recommended here is winter, as it's the only region in Portugal that gets snow.
Meanwhile, driving down Portugal's 500 km (310 miles) of Atlantic coast to do some 'beach-hopping' is a must for lovers of sun and sand. Towns with beaches to visit include Aveiro, Ericeira, Figueira da Foz, Nazaré, Peniche, and Lagos.
Additionally, the Castro Marim - Alcoutim route is just 40 km (25 miles), but it really shows off the practically uninhabited, unspoilt areas of the Algarve. The road winds and climbs, with gorges and rivers easily visible from the car, and ends in the pretty village of Alcoutim where you're welcomed by the Guardiana River and ancient fortresses. To get to Alcoutim, get off the IC27 and onto the N124 and N122-1.
Another great drive is Aljezur - Vila do Bispo ̶ this road is quiet (western Algarve is sparsely populated) and many tourists miss the area completely. The landscape is undulating and green, if you branch off toward the coast there are many hidden beaches and the Old Town in Aljezur is definitely worth a visit. Access is via the N120 and N268.
Beyond Vila do Bispo is one of Portugal's least known yet most stunning points, Cape St. Vicente. This is the most westerly point of the country, and at just 90 km (55 miles) from Albufeira it's perfect for day trips. Simply follow the A22 west.
Got a Question? Chat with our UK support team
Online chat help is open 08:30am to 17:00 weekdays. Email: customersupport@enjoycarhire.com
COVID CLEAN & SAFE PLEDGE
FAQs about car hire in Albufeira
Most frequently asked questions about hiring a car in Albufeira
Hiring a mini-size car like a Fiat 500 at Albufeira is from only €14.71 for 4 days and a compact car such as a Renault Megane is €23.96 for 4 days on average.
If you book well in advance you'll find a Fiat500 or similar car from about €5 per day.
No ̶ excess-free packages are standard with most big car hire companies and most packages have road-side assistance included, as well as theft protection and collision damage waiver.
Yes – it's common to add extra drivers as long as they hold a valid license, and an additional daily fee is applied.
Because the area is so accessible by car, and unless you plan on driving in town a lot, a larger car for those slightly longer day trips would be preferable and is certainly affordable.
You should always confirm with your rental company what to do if you have an accident. In the unlikely event you have a serious accident in Albufeira, call 112 immediately for emergency services.
Albufeira is a very expensive city to visit in Portugal. On average you'll spend €256 per day.
Albufeira is a big city and the only way to explore it in its entirety efficiently without emptying your wallet on public transport is to rent a car.
The best way to see Albufeira is to visit The Old Town, the Mirador do Pau da Bandeira and the Beach of the Fishermen, the Beach of the Germans and the Olhos de Água and Falesia Beach.
Albufeira is a coastal destination that people love to visit in summer, so despite being high season, the months of July to September are the best time to visit the city.
Price of fuel in Albufeira is between € 1.25 and €R 1.45 per litre.
Some popular places in Portugal