Faro Car Hire
Find the best deals in Faro
With a massive choice from the biggest brands, Enjoy the best way to find the best prices for car hire in Faro.
Huge choice of cars to suit every budget
Save up to 70% compared to buying on the day
10 years experience in car hire


Compare car hire in Faro
There are dozens of car hire companies in and around Faro airport and some real bargains can be found, especially with our local partners.
Prices start from as low as £2 per day depending on the time of year and type of vehicle. For example, a Peugeot 108 or similar in November time will be around £2.50 per day whereas a Ford Focus in summer might be closer to £30.
With such a wide range of car hire companies in the area it's vital you choose a reputable and reliable provider. We carefully select our local partners and you'll have the chance to see customer ratings for each company when you are making your booking through Enjoy Car Hire.
It's important to have a good idea of what you want from your hire vehicle, particularly in terms of size. Think carefully about how much luggage you'll have and what type of journeys you plan to make.
It's a good idea to book extras in advance so your rental is ready to go the moment you collect it. You can add things like infant and child seats, Sat-Nav when you make your booking through Enjoy Car Hire.
Guide to Faro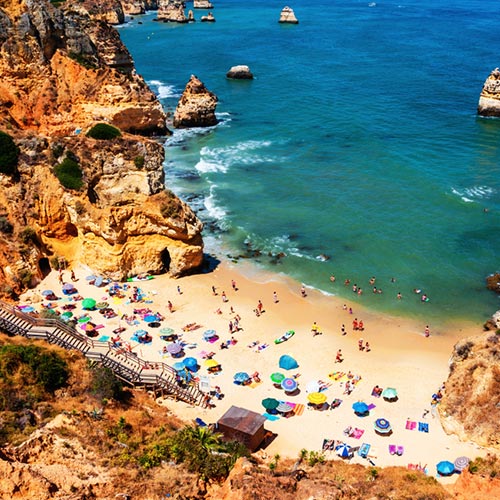 A Potted History
The Phoenicians, Carthaginians and Romans all had settlements in the Algarve region and form part of its rich and varied history. It was from the 8th Century the region began to develop into size and shape we know today. In this period, it was a Moorish kingdom, and formed the Western most point of their Iberian empire. In fact, the word Algarve comes from the Arabic name Al Gharb, meaning 'the West'. Traces of Moorish culture can be seen in the Algarve today, most notably in the architecture such as the flat roofs and tall chimneys.
In the 12th Century, the Christians began to capture parts of the Algarve and expelled the Moors. The region was eventually incorporated into the Kingdom of Portugal and by the 15th century was contributing to the strong seafaring tradition of the nation, including shipbuilding in Lagos. Sagres was the home of Prince Henry the Navigator, a key figure in the early days of the Portuguese Empire and initiator of the age of discoveries.
About the Algarve
The Algarve sits at the southern end of Portugal and is an extremely popular destination for tourists from all corners of Europe and beyond. Whether you're looking for an action-packed adventure holiday, or days of bliss by the pool there is something for you here. With plenty of shops, restaurants and bars, towns such as Albufeira, Faro and Lagos serve as excellent base locations. From one of these you can explore everything the region has to offer.
The sea, and exploration has contributed enormously to the essence and identity of Portugal. The Algarve is no exception, with over 155km of coastline, you will find the spirit of the sea wherever you go in the region. Technically the sea along the Algarve coast is the Atlantic Ocean (the Mediterranean really starts at the Strait of Gibraltar) but the two bodies of water meet and mingle all along the Iberian coast.
Getting to and from Faro
The main airport serving the Algarve is Faro airport (FAO), an international airport and the 2nd largest in Portugal.
Things to do in and around Faro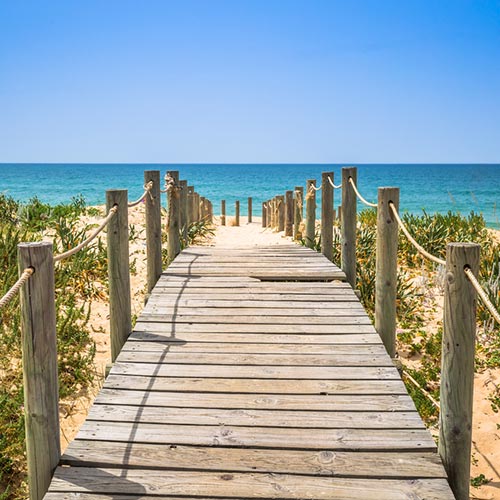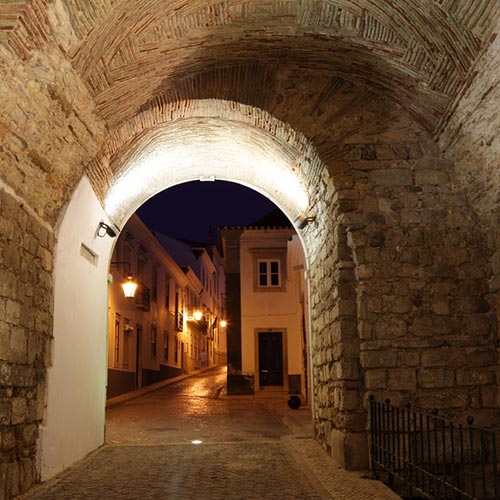 This region of Portugal is synonymous with golfing, there are hundreds of top-courses attracting hundreds of thousands of visitors every year. You may not be Tiger Woods, but it would be a shame to miss out on this fun Algarve past-time. There are some excellent, family-friendly courses for golfers of all skill levels, including Laguna Golf Course, Vilamoura.
The Algarve has become increasingly known for its high-quality wine output. Some of the best Portuguese growing conditions are in this region. British pop-legend Sir Cliff Richard has a vineyard in Guia, which you can visit for tastings. Speaking of wine, let's talk about cork. Almost half of the world's cork is produced in Portugal, travel north to the Evora region for a cork farm tour, a fascinating and unique experience.
Waterparks
For family groups there is no end to the fun on offer. Waterparks including Aqualand and Zoomarine are great for kids and adults alike. Don't restrict yourself to inland water-fun though, get out to sea on one of the many boat trips available throughout the Algarve. From dolphin watching to fishing trips, most harbourfront areas of Algarve towns offer a wealth of affordable options. If you're feeling more adventurous you'll be interested in the many watersport opportunities available, for beginners and the more advanced alike. Check out Algarve Watersport based in Lagos for some great opportunities.
Biodiversity, history and nature
Meanwhile, the biodiversity and terrifically varied terrain continues as you move seaward, passing rich wetlands teeming with seabirds and other unique wildlife – these areas can count themselves amongst Europe's most valuable natural habitats and guided tours will get you up close and personal with some of their most mind-blowing inhabitants.
If you're a history buff, make a beeline for Cidade Velha (Faro's bijou Old Town), which is protected by castellated medieval walls which hide the remains of Roman infrastructure beneath.
Pass through the iconic Arco da Vila and you'll instantly feel the ambience of the city's former grandeur – this 19th Century city gate incorporates Moorish elements which reflect the areas mixture of historical influences. Inside, charming, cobbled streets lined with fragrant citrus trees and the labyrinthine side streets radiate out from Largo da Se, the site of Faro's distinctive cathedral.
There's plenty more to explore here, including the Museu Municipal, which is set in a serene convent, with a nearby panoramic part of the city wall which affords spectacular views of the natural paradise that's the Parque Natural da Ria Formosa.
Speaking of which, if you're a nature lover, you absolutely must take time to explore Ria Formosa, which spans a paradisiacal stretch of coastline from Praia de Faro to Cacela Velha. The range of diverse terrain here is truly dazzling and comprises 18,000 hectares of salt pans, marshland, lagoons, channels and islets, with a pearl string of pristine barrier islands offering protection from the open sea and acting as a natural defensive barrier for this eclectic ecosystem.
If you want to explore Ria Formosa by sea, pleasure vessels depart daily from Faro which take you through the lagoon waters to Deserted Island, where you can treat yourself to a tasty lunch while watching exotic species like flamingo. Alternatively, if you prefer dry land, swap four wheels for two for an afternoon and cycle around the scented pinewoods and serene lakes of Ilha de Faro.
Things to do in Faro City Centre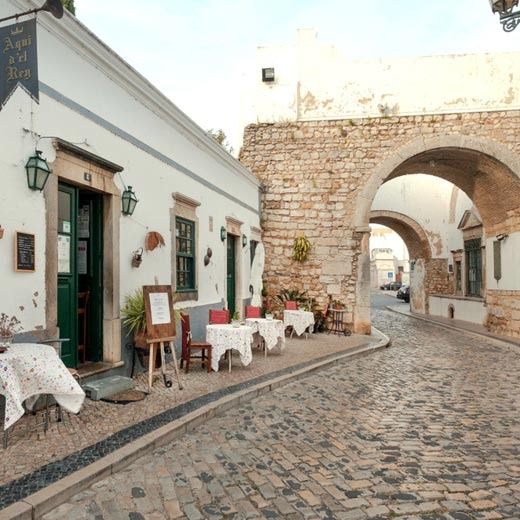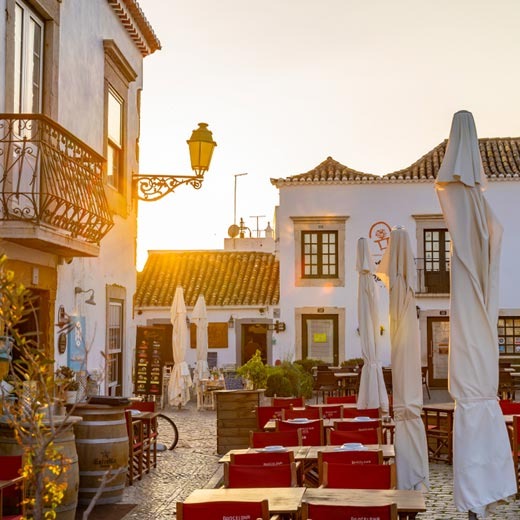 Faro's city centre offers a treat for fans of religious architecture too – in the form of the beautiful 18th century Baroque Carmo Church. This terrific twin-towered structure dominates the heart of the city and it's a beloved local place of worship as well as a tourist magnet. If anything, the interior is even more impressive than the exterior, especially the gorgeous gold altar and if you're not easily scared you can visit the Chapel of Bones, which is decorated with the remains of over 1000 monks' skulls and other body parts.
Looking for some alternative entertainment for kids with a thirst for knowledge? Head to the fascinating Algarve Science Centre, which has truckloads of interactive activities that entertain and educated kids on the marvels of science and nature. Amazing exhibits include an earthquake simulator, interplanetary observatory, touch pool with sensory gallery, and greenhouse with playpark. This is an excursion that stimulates the body and the mind – don't miss it!
If you're a bit of a thrill-seeker, you can also head out of town for the day to Loule, where you can take a tandem paramotor flight that soars high above the Algarve's sun-kissed sands, curvaceous coastline and sparkling waters. This is a real bird's eye view of Portugal that you'll never forget! Alternatively, why not try some exhilarating kitesurfing at the Rio Formosa? After a couple of lessons, you'll be skimming along the lagoon water having the time of your life – just stay out the way of the seabirds and wildlife!
Interested in exploring the remnants of one of the world's great civilisations? In that case, the Milreu Roman Remains will definitely tickle your fancy. You'll see what's left of an expansive country villa and communal baths decorated with fish motifs that are surprisingly well-preserved. The site was later used as a Christian place of worship and there's a cemetery traced back to the Moorish occupation which lasted until around 900 AD.
If you fancy some out of town shopping for designer labels and high street favourites, Forum Algarve on the city's western outskirts is definitely worthy of a day trip. This elegant mall is laid out like an arcade set around a central square and boasts big names like Pull & Bear, and Bershka – as well as a multiscreen cinema which shows most of its movies with English audio. If you want to splash out on gifts and then ease back and relax to an enjoyable movie, this mall makes for a pretty perfect day.
For a day trip with a difference, head 10km outside Faro for some tree bathing in the elegant Palacio de Estoi manor house and surrounding gardens. This lovely Neo-Baroque building is now an exclusive hotel, but you can explore the grounds and first floor for free even if you're not a resident. The plush interior features glittering chandeliers, antique furniture and classic paintings and the manicured lawns, fragrant flowers and noble trees are sublime. When you want to relax in gentle surroundings with someone special, this is a day trip that always delights.
If you love to sample the nightlife, Rua Conselheiro Bivar is the hip strip here and there are plenty of lively and charming venues to keep you refreshed and entertained. Hotspots to look out for in this historic street packed with revellers are Bar Chessenta with its colourful cocktails and excellent live music, Boheme with its extensive local and international craft beer selection, and Aperitivo Bar, which boasts brilliant tapas as well as a wonderful choice of beers, wine, spirits and cocktails. There are many more bars and clubs as you wander along this bustling street – so remember to pace yourself if you want to make it all the way to the other end!
Eating out in Faro
Quinta da Saudade, Guia, Albufeira. It's worth the effort of travelling little outside main-town Albufeira to visit this charmingly authentic restaurant. Serving high quality local and Mediterranean cuisine and wines at medium-range prices. Perfect for adult groups and couples. Address: Vale de Parra, Guia, 8200-423 Phone: +351 968 842 700
La Forchetta, Faro. When looking for somewhere to eat with the kids you won't go far wrong with simple but delicious Italian food. La Forchetta sells a range of pizza and pasta dishes which will go down a treat with the whole family. Address: Largo de São Pedro nº 54 8000-381 Faro Phone: +351 912 980 617
São GabrielIf you want something really special, look no further than São Gabriel. Half way between Faro and Vilamoura this Michelin star awarded restaurant is a treat for the serious foodies out there. Especially recommended is the delicious and not unaffordable Sunday lunch menu. Address: Estrada Vale do Lobo Quinta do Lago 8135 Almancil Phone: +351 289 394 521
Almeda Restaurant and Rooftop is a brief stroll from the Old Town and its rooftop location is truly stunning. Creative chef Rui Sequeira serves bona fide Algarve dishes here, infused with a little innovative spice and flavour that makes your taste buds sit up and take notice. Enjoying an excellent meal with a glass of refreshing local wine here as the sun sinks slowly to the horizon is truly one of life's magical moments. Phone +351 289 824 831.
For a real local secret, Restaurante 2 Irmaos (Two Brothers) is tucked away in a busy square near the commercial centre. This is the city's oldest restaurant, and its first incarnation was as a welder's workshop. From 1925 onwards it was a humble tavern which became famous for serving lip-smacking bar snacks and in the 1960s it bowed to pressure from foodies and opened a proper restaurant. You'll love the traditional terracotta floor tiles and must-try dishes include goose barnacles, specially prepared mackerel and steamed clam. Call +351 289 823 337.
If Two Brothers gives you a taste for more authentic Algarvian tastes, you'll love A Venda, another hidden hotspot that's nestled in an alleyway in the town centre. The traditional, unassuming décor feels more like a private residence than a public venue and the classic cuisine only adds to this quaint impression. This is one of the select places where you can try old fashioned but fantastically tasty dishes like ocean-fresh sardines in sea salt. Call +351 289 825
Terrific seafood is always on the menu at A do Pinto on Travessa Rebelo da Silva, where the octopus is always a favourite, as well as Algarve Cataplana, a sumptuous seafood platter that's big enough to share. Simple seafood washed down with fresh, cold beer has never tasted so spectacular! Call +351 911 944 484.
Fancy some more haute cuisine? Restaurant Casa Velha is situated in the verdant surroundings of the Quinta do Lago golf resort, with stunning lakeside views. You'll adore the complex and captivating French fusion cuisine and extensive wine list. When you want to splash out on a really special meal during your break, this elegant emporium is hard to beat. Call + 351 289 394 983.
Do you think you've encountered just about everything that can be done with the humble hamburger? Faro's Hamburgeria da Baixa will make you think again. Tradition is thrown out of the window with burgers made from awesome alternative ingredients like cod and shrimp as well as the more mainstream beef and chicken. For a cuisine experience that elevates the burger to another dimension of taste, look no further. Call + 351 916 302 633.
Where to stay in Faro
Faro is a small town that many travellers often bypass for other locations around the Algarve where they can play golf or have the choice of amazing hotels. Faro town is however a great place to explore and one night in one of the very few hotels can be a great way to relax.
Hotel Faro: The name says it all, it is right in the centre of the town and linked to the bustling side streets that host numerous bars, clubs and restaurants in the evening. Directly facing the harbour the hotel has a great restaurant that serves local classics and great wine.
Hotel Eva: This hotel is a favourite because of its view of the harbour and the boats that have moored up. With not only a great restaurant overlooking these views it also has a rooftop bar with a swimming pool which makes it very popular with guests in the summertime.
Hotel Ibis: Montenegro area, This one is the budget option, just outside of town and right next to the airport and is used for travellers who may want to fly in late or fly our early. A short drive to the town centre no more than five minutes and close to the big shopping Mall in Faro it is a great cheaper option to stay. The added advantage here is that it has a large swimming pool area out the back where you can quietly relax before exploring further afield.
Roots Hotel: centrally located close to the Carmo Church, this comfy hotel provides balcony suites, there's free Wi-Fi throughout and private parking is also available. Rooms include private bathroom with hairdryer, kitchen with dishwasher, fridge, microwave and stove, and comfy living room with flatscreen satellite TV.
The Central Guesthouse: lives up to its name with a location close to Lethes Theatre and Carmo Church, a short stroll from the city's beating heart and attractions like the Archaeological Museum, Palacete Belmarco, and the Algarve Science Centre.
Aqua Rio Boutique Hotel: is another chic centrally located Faro hotel which offers suave and sophisticated accommodation on the city's No.1 street for retail therapy, Rua de Santo Antonio. You'll feel a real sense of luxury, comfort and sanctuary in its soundproofed, air conditioned, beautifully furnished rooms, while the in-house Costa Algarvia Restaurant serves delicious cuisine crafted from unique local ingredients. Two minutes' walk from the Old Town, this is a great choice for a romantic bolthole.
Hotel Alfonso III: lives up to its regal title with a standard of service, décor and dining that surpass its official star rating. Another top pick in Faro's old town, this highly-rated hotel offers single, economy double, twin, economy single, double and twin room configurations. Step outside the building and into the past, with the winding alleyways and whitewashed churches whisking you back through the centuries to another way of life. If you want accommodation with bags of character, this is it.
Faro Boutique Hotel: is complemented by a more modern décor and it's a stone's throw from the Old Town and 500 metres from the swish Marina. The modern rooms here are light, airy and feature all the mod cons like Wi-Fi, minibar and air conditioning. A healthy breakfast is served daily, but there are also numerous bars and restaurants within walking distance and Faro Beach is a short drive away.
Got a Question? Chat with our UK support team
Online chat help is open 08:30am to 17:00 weekdays. Email: customersupport@enjoycarhire.com
COVID CLEAN & SAFE PLEDGE
FAQs about car hire in Faro
Most frequently asked questions about hiring a car in Faro
In the winter season it can be as cheap as £2.20 per day but in the summer prices start at £6.50 per day.
The speed limit on the motorways is 120 KM/H (74 MPH), 80 KM/H on the main roads, 50 KM/H in built up areas and 25 KM/H on school roads. Always obey local signage.
The legal driving age in Portugal is 18, however the car hire companies have their own rules, and often add a surcharge for under 21s or under 25s.
You can hire a BMW 3 Series from £22.19 per day in Faro.
You can hire a Ford Transit van from £19.17 per day in Faro.
You can a Ford Fiesta or similar from around £3.20 per day.
You can hire a car in Faro for a week with Enjoy from as little as £17.96 in the winter (£2.57 per day).
On average if you're visiting Faro for holidays you'll spend £118 per day based on what other visitors usually spend. In addition, the average hotel rate in Faro is £108 per night.
Faro is a relatively big city so if you're planning to explore it and the surrounding attractions, it is definitely worth renting a car, for your convenience and leisure.
Portugal is known for hectic roads but the motorways are actually quite pleasant to drive in and there's little truth in that rumour. Driving in the city of Faro is certainly more relaxed than the rest of Portugal. Even in peak season you'll have no trouble finding parking stations in the area.
Whether it is by car or food, traveling around Faro is very pleasant and easy. Both the train and the regular bus services facilitate quick and smooth travel around Faro.
You can find economical options for car hire in Faro starting at £11 per day. This heavily depends on the season.
For now any UK license holder can drive in Portugal with it. However, once UK leaves the EU, you might be required to change your license into a Portuguese licence for the duration of your stay.
The best time to visit Faro is without a doubt spring starting in late February. Then early autumn is also a great time to explore Faro.
For small cars the budget friendly options begin at £24 for a week, which means more or less £3 a day.
The cheapest offers allow you to rent a car for a whole month for £122, or £4.22 per day. As mentioned earlier, this depends on the season you book and the car type.
Some popular places in Portugal