Portugal Car Hire
Cheap car hire deals in Portugal
Compare the biggest choice of car hire brands, find the best deal and book online.
Huge choice of cars to suit every budget
Compare over 100 suppliers and thousands of cars
Find exclusive deals only stocked on Enjoy
Compare car hire and driving in Portugal, a few things worth knowing.
Portugal has over 70,000 km (43,495 miles) of road network, ranging from motorways and highways to smaller regional roads. The maximum motorway speed is 120km/h (74.5 MPH), on expressways it's 100km/h (62 MPH). In built up areas the speed limit is 50km/h (31 MPH). Keep in mind there are further restrictions, for example in areas where there are schools the limit drops to 25km/h. It's important to take notice of relevant signage as you drive.
Portugal has some spectacularly scenic roads. In 2015 the N-222 route from Peso de Reguna to Pinhao was voted the world's best road. Even though it is just 27km in length, it offers a superb combination of bends and straights, alongside unparalleled views of the Douro Valley wine region and UNESCO World Heritage site.
Toll roads are the fastest way to get around Portugal. You can save up to an hour on a journey between the capital Lisbon and the popular Algarve town of Albufeira. Portuguese toll roads can be confusing, so it's worth spending a little time researching before you go.
If you're not in a rush, check out some of Portugal's non-toll roads. Meandering along these is a sure-fire way to discover unexpected towns, villages and beautiful scenery. It really is a wonderful way to explore a gentler side of Portuguese life. Make sure you don't get lost though, remember to add a Sat-Nav to your booking.
When it comes to car hire in Portugal, you're going to find all the big and well-known rental car brands like SIXT, Avis, Hertz, Budget, Enterprise, Europcar and Alamo which normally have a desk inside the airport terminal of the main Portuguese airports.
But if you're looking for outstanding value it's worth comparing some of the more local suppliers, who may not have their own website and in some cases where Enjoy have been able to secure a preferential price. Check out our exclusive selection of Portuguese partners like MasterKings, Best Deal, Drive on Holidays, Luz Ocean Drive, AirAuto, OK Rent-a-car, PAA, Drive4fun, Yes car hire and Auto Rent. If you search as soon as you know your travel dates, by booking well in advance at certain times of year you'll pick up a deal for £3 a day or even less.
Guide to Portugal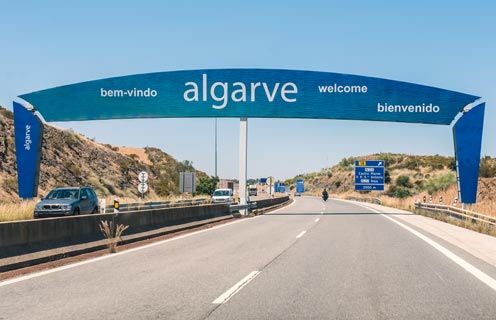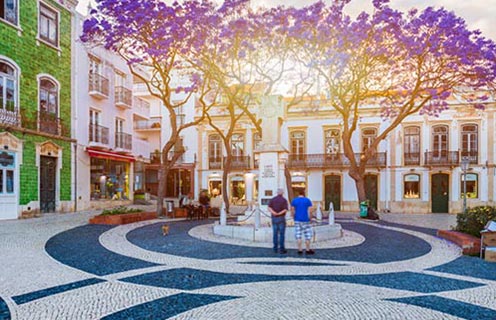 Portugal is in the same UTC/GMT time zone as the United Kingdom. It has a population of 10.31 million and wonderfully diverse and vibrant blend of cities, towns and tiny villages. Portugal has a long history of exploration and was a major colonial power. Links to Africa are evident through much of the nation's culture, nowhere more so than in the food, with spices such as Peri-Peri being a major feature in Portuguese cuisine. Portugal's long and varied history can be seen through its wide range of architecture, from Gothic churches to the Moorish-inspired chimneys and tile-work, still common in the country today.
Portugal's capital, Lisbon, is a beautiful coastal city, unlike anything else in Europe. The city offers everything you might want in a capital; fine food, theatre, museums and nightclubs. It is full of glamour yet manages to simultaneously offer a calm serenity and allow you to truly breathe.
The Algarve is a popular region for holiday makers of all tastes. Whether you're looking for stunning beaches and water-sports or golfing and wine tasting, this region truly has it all. Its location along the southern coast also offers a beautiful route into the Andalucía region of Spain. You can drive from Albufeira to historic Seville in less than two and a half hours.
Art and music have always had a special place in with Portuguese culture. Paula Rego, born in Lisbon, is a world renowned contemporary visual artist, having had solo exhibitions in most major world cities. Portugal's traditional folk music is Fado, and the most famous performer is the 'Queen of Fado' herself, Amalia Rodrigues. However, it is not only homegrown talent the country inspires, many international artists have fallen under the spell of this beautiful country. The Doors song Spanish Caravan recalls travelling between the Portuguese Algarve and Andalucía in Spain. More recently, pop star Madonna took inspiration from Batuque, a Cape Verde music genre, on her Madam X album.
Places to visit in Portugal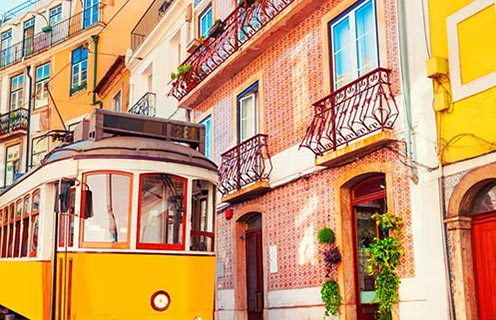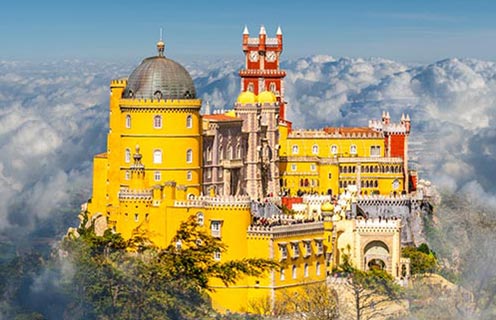 Lisbon is without a doubt the 'world city' of Portugal and an entire holiday could be spent exploring what it has to offer. St Jerome's Monastery is a UNESCO World Heritage Site; built in celebration of Vasco da Gama, an explorer who journeyed to India in 1498. This ornate building offers a glimpse into the 'Age of Discoveries'. Another Lisbon treat is a ride on Tram 28, it's extremely cheap and takes you through some of the most scenic of capital's neighbourhood routes.
There are also a wealth of gems away from the capital. In the popular resorts of the Algarve, alongside the vast array of wine tasting and golfing opportunities there are countless family friendly attractions including Albufeira's Aqualand, open from June-September, children and adults will enjoy hours of wet and wild fun. If travelling with children, take advantage of our additional equipment hire such as infant and child booster seats.
Lucious Portuguese beaches
If the beach (Praia in Portuguese) is more your thing, the Algarve has you covered. For pure beauty the best beach is Praia da Marinha in the Lagoa municipality, rated as one of the top ten European beaches in the Michelin Guide, you'll be surrounded by stunning orange toned cliffs and the majestic blue sea. If you're a water sports fan head over to Arrifana, which offers brilliant surfing opportunities for any skill level.
History & Culture
For historians and cultural explorers, the city of Evora will tick so many boxes. With the remains of a Roman temple, small art galleries and a cathedral within walking distance of each other, you won't wander far without something exciting to discover. For those with a slightly more macabre taste in sightseeing, be sure to visit the Chapel of the Bones, built by Franciscan monks in the 1500s this chapel is decorated with bones and skulls, it has similarities with the catacombs of Paris or Rome, but far less queuing!
If you want to get away from the mainland you won't go far wrong with a trip to the Madeira. Geographically closer to Morocco than Portugal you can have the sense of being in the middle of nowhere without foregoing modern world comforts. There is something here for everyone, whether heading out on a boat trip in search of dolphins or taking a leisurely stroll around the botanical gardens, Madeira is packed with things to do. The island is also a wonderful place to explore the natural world. The north of the island is home to the internationally significant Laurissilva forests, which have existed for 1.8 million years.
Portuguese food & drink
Portugese food is not dissimilar to other Mediterranean cuisine,there is a true passion for cooking and always wish to present you with the most delicious dishes, as well as the fact that it is very seafood driven. The Portugese are reputed to have the best fish in the world and use the traditional fishing method of line fishing and other traditional techniques. However that is not all it has to offer, the Portugese focuses on local produce which includes a wealth of spices, exotic fruit and vegetables grown in the warm climate, as well as a reliance on the divine olive oil. This is not to say that the food will be the same across the whole country, despite not being the largest of states there is a noticeable variety in flavors and techniques as you travel from one region to another.
For example in the capital, Lisbon, the windy cobblestone streets are bustling with corner shops selling bacalhau, the dried and salted cod which you will find hanging on every corner, and many renowned sweet treats, including the bite-size egg custards with powdered sugar, which are an incredibly popular delicacy known as Pastel de Nata.
Naturally, in the Algarve region, the dishes are heavily seafood orientated and its traditional dish is a seafood feast called the Cataplana de marisco, named after the large copper pan its cooked in, which resembles a seafood stew with all the seafood you can possibly imagine.
National delicacies
Sardinhas assadas is another typical food of the country and consists simply of sardines grilled on an open fire and seasoned with a lot of salt. Similarly considered street food, a francesinha is a sandwich which combines several different meats, like ham, sausage and steak, with cheese covered bread accompanied by beer-tomato sauce. Caldo Verde is also a hugely popular kale soup, which looks and sounds slightly unappealing but topped with chorizo it can be delicious. Another slightly unconventional speciality is the Porco preto which is served either as a wafer thin ham or a cutlet and consists of black iberian pigs raised on a diet of acorns.
When it comes to drinking in Portugal, Port wine is the true icon. It is not only a tradition but also a way of life and the unique taste comes from the soil, the labour and the sunshine. The region has been recognized as a World Heritage site by UNESCO.
Transportation and cheap car hire in Portugal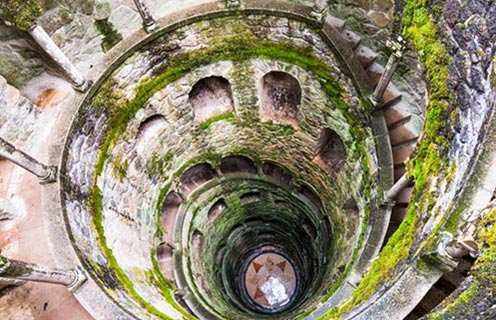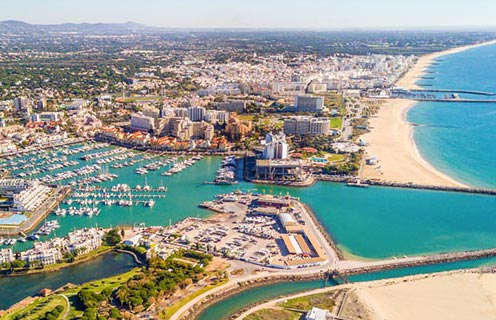 Some Top Tips for Portugal car hire
During the last 12 months, the average price of hiring a car in Portugal according to our own data was £10.84 a day.
The average in July was £13.04 per day and in October £8.08 per day.
The cheapest on record may be hard to believe but we recorded a Renault Twingo being hired for 27 pence per day for 10 days in February, from Porto Airport.
The most popular car was a VW Up, averaging £6.90 per day.
The average price when customers booked on the same day was £13.55/day wheras customers who were able to book a month in advance paid on average £7.77 per day.
The saving on average by booking in advance was a whopping 43%.
Other popular vehicles include a Fiat500, Opel/Vauxhall Corsa and Seat Ibiza.
Popular larger vehicles include a Nissan Qashqai, Opel/Vauxhall Astra Sports Tourer and Jeep Renegade.
Portuguese main airports
The Portuguese mainland is served by three international airports; Lisbon airport (LIS) near the capital, Faro airport (FAO) in the heart of the Algarve and Porto (OPO) in the north. The island of Madeira is served by Funchal airport. The national airline is TAP Portugal though many companies, including several budget carriers, have direct routes to the main airports.
A few handy driving tips for Portuguese roads
When you get to Portugal, hiring a car with EnjoyTravel.com will give you the freedom and flexibility to discover, explore and fall in love with this magical country.
Speed limits
120kph (Motorways)
25 kph (School Roads)
50 kph (Built up Areas)
80 kph (Outside Built up Areas)
Drinking limits
Emergency numbers
112 or 999 (Emergency Services)
192 (police)
Portugal has quite a few toll roads throughout the country which cost on average €0.03/km.
Hiring a car in Portuguese airports
Booking your hire car in advance allows you a greater choice when choosing your vehicle, and allows you to save a lot of money with our online discount. Costs vary according to your choice and the time of year for your booking, with the popular times of spring and summer being more expensive. Depending on your requirements, car hire can be as little as £3 a day in winter. Some of our popular rental suppliers in Portuguese airports include Alamo, Enterprise, Europcar, Keddy, SurPrice, Best Deal, Drive on Holidays, Interrent and MasterKings. Some of our products and prices are unique and you may not find them on other websites at such low prices.
Top Tips when hiring a car in Portugal
● Firstly make sure that if you're going for a hire car in Portugal, to be familiar with the local laws regarding driving and parking. For example you will need to find the blue zone parking. Such spots can be found all over Portuguese cities.
● Portugal car hire is ideal if you plan to visit several places in the country through out your trip. To visit Portugal means to explore Portugal and that can only be done by seeing a big part of the country. So make sure to have a valid driving licence with you.
● If you enjoy driving in the city, then you should a compact car hire and visit Lisbon. Another option would be to drive out of the capital and head to the Atlantic coastline's cities such as Cascais and the famous UNESCO World Heritage Portuguese city, Sintra.
● Keep in mind most car hire companies near or within the Airports on average offer better car hire prices. For the best car hire deals it's recommended Faro Airport car rental companies. Most users have confirmed their car rental experience was significantly better when renting via the Airport car hire companies.
● If your itinerary includes visiting countries around Portugal, so crossing the Portuguese border in your car hire, you are required to let the car hire company know by sending in a request. However keep in mind there will be additional fees to take your car hire out of the country. The European countries you can go to include Spain, France and Germany.
● Most people find Portugal car hire offers for £21 or less per day.
● If you book your car rental at least 1 day or more before your trip you are guaranteed to get a a below-average price and a much better car hire deal.
● A compact rental car and van hire are overall more popular in Portugal and often cheaper than other car types.
Got a Question? Chat with our UK support team
Online chat help is open 08:30am to 17:00 weekdays. Email: [email protected]
FAQs about car hire in Portugal
Most frequently asked questions about hiring a car in Portugal
This is dependent on the time of year. At the height of summer, you will be looking to pay around €16.00 (€13.67) per day for a small car. In the winter the same car would start from £3.00 (€3.35) per day.
In the winter when booking in advance you maybe able to find a small car from as low as €1.00 (85p) per day.
The speed limit on the motorways is 120 KM/H (74 MPH), 80 KM/H on the main roads, 50 KM/H in built up areas and 25 KM/H on school roads.
The legal driving age in Portugal is 18, however the car hire companies have their own rules, and often add a surcharge for under 21s or under 25s.
You can hire a BMW X1 from around € 22.
You can hire a Ford Transit van from €19.17 per day.
In general Portugal is not very expensive. An average day should be £91 a day in the big cities. This price does not include accommodation (between £63 and £136 per room per night) or special activities.
Renting a car in any big city of Portugal such as Lisbon or Porto is really worth it, especially if your idea is to explore other places and make an itinerary by car through Portugal. Your trip to Portugal will be cheaper than you imagined and you will be able to make the most of your trip.
Portugal is known for hectic roads but the motorways are actually quite pleasant to drive in and there's little truth in that rumour. Driving in the cities is certainly more relaxed than the rest of Portugal. Even in peak season you'll have no trouble finding parking stations.
The best way is to tour the beautiful Portugal from North to South, knowing its most fascinating corners.
The best time to visit Portugal is certainly spring starting in late February. Then early autumn is also a great time to explore Portugal.
For small cars the budget friendly options begin at £24 for a week, which means more or less £3.40 a day.
The cheapest offers allow you to rent a car for a whole month for £140, or £4.60 per day. As mentioned earlier, this depends on the season you book and the car type.
The average price of a litre of fuel in Portugal can vary between EUR 1.45 and EUR 1.25.
Goldcar, SurPrice, Budget, Hertz, Dollar and Ocean Drive yop up the cheapest suppliers.
Some popular places in Portugal