Lisbon Car Hire
Find the best deals in Lisbon
With a massive choice from the biggest brands, Enjoy the best way to find the best prices for car hire in Lisbon.
Huge choice of cars to suit every budget
Save up to 70% compared to buying on the day
10 years experience in car hire
Compare car hire in Lisbon
Lisbon is the capital city of Portugal, and it is a vibrant and exciting place to visit all year round. At the World Travel Awards in 2018, Lisbon was declared to be both the World's Leading City Destination and the World's Leading City Break Destination.
With a winning blend of history and modern attractions designed to have something on offer for everyone that visits, it should be no surprise that Lisbon is increasingly becoming one of Europe's most popular tourist destinations. Portugal itself attracts almost 25 million visitors annually, and its capital city is a key draw for international passengers.
Humberto Delgado Airport, more frequently known as Lisbon Airport or Portela Airport, currently has two runways, and it is one of the biggest airports throughout Southern. It is the principle airport for international travellers getting to Portugal. Located about seven kilometres North-East of Lisbon, there are multiple routes getting to or from the airport via the city centre. The Aerobus shuttle service is a regular link with two routes on offer, and leaving on average every twenty minutes between 8am and 11pm. The Metro is a quick and cheap way to get to the airport, and alternatives include local buses, a taxi, or a chauffeured airport transport service.
The Airport is one of Europe's biggest and busiest, in the top twenty when it comes to volume of passengers – in 2018, Lisbon Airport served over 29 million passengers. As well as being Portugal's major airport, it is a key European hub for transport to both Brazil, South America, and Africa.
Guide to Lisbon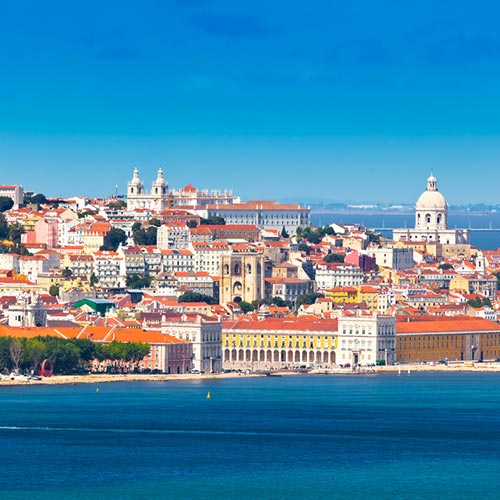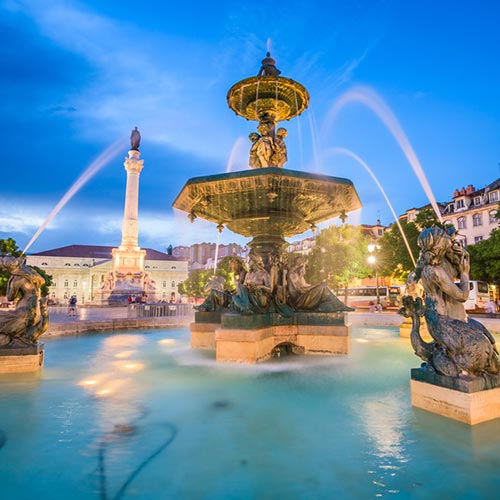 To get you started while you are in Lisbon, the Lisboa Card offers free access to dozens of attractions across the city, as well as free travel for between one and three days. If you don't know where to start with taking in the sights of this gorgeous city, why not try one of the various tours on offer to get an informed look at the best of Portugal's capital. The Walking Tour of Belem offers a great taste of history, starting at the statue in Afonso de Albuquerque Park and enjoying stops like the delights of Belém Bakery. The Lisbon Hills Tramcar Tour gives you a journey across some gorgeous sights of the historic quarter with the opportunity for it to flexibly suit your schedule – while your ticket is valid, hop on and off at any stop to spend more time in the areas you are interested in.
The Oceanário de Lisboa aquarium is one of the most popular in the entire world, and the second largest in Europe. It has stimulating events and exhibitions, guided tours, and over 15,000 creatures from almost 500 different species, the perfect trip for families and animal lovers. It is also a key spot for fans of brilliant architecture, with the building itself incredibly eye-catching and ostensibly floating in the ocean. Portas do Sol is a rooftop café and cocktail bar with a gorgeous view over the Tagus River and Alfama rooftops. For a similar experience of the natural side of Portugal's capital, Monsanto Forest Park is three times bigger than Central Park in New York City, and hosts a wealth of outdoor activities like hiking alongside cultural events throughout the year. For an impressive Lisbon viewpoint, Panorâmico de Monsanto is a cult-favourite and abandoned restaurant, a great attraction for photographers in particular.
Things to do in and around Lisbon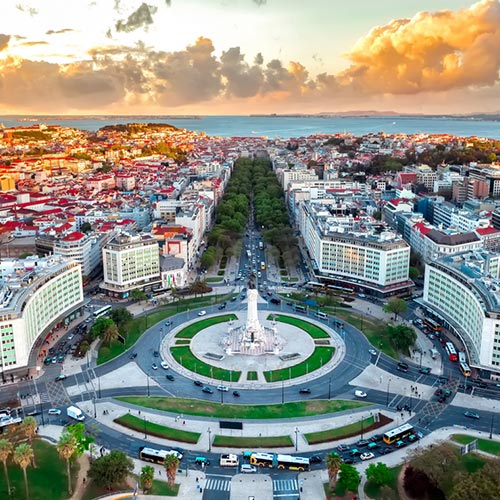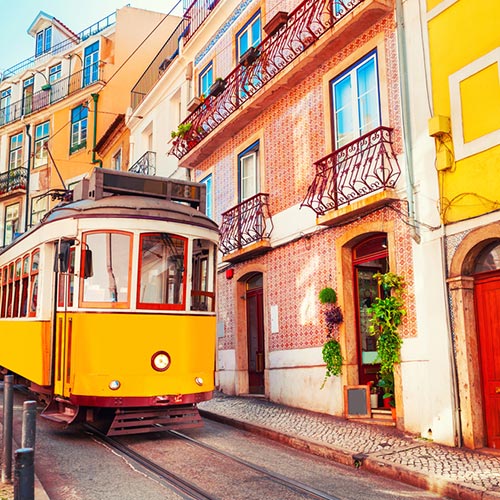 Lisbon culture
Steeped in a rich history and culture, there are plenty of places in Lisbon to appreciate it. The Jerónimos Monastery is a breathtaking monastery in Belém, near the Tagus River. It is a World Heritage Site and a gorgeous work of architecture that took a hundred years to build in the stunning Gothic style. Another beautiful building is the Arco da Rua Augusta, found on the main commercial street of Baixa, pedestrianised so you can take your time exploring and taking in the view of this triumphant archway. The National Tile Museum has an extensive collection of Portuguese tiles, allowing you to wander through the history of this local artistic form. The National Coach Museum has a similarly impressive collection of its own, with ornate horse-drawn carriages ranging from the seventeenth to the nineteenth century in origin. A number of the carriages belonged to rather important people, including that of Pope Clement XI and Phillip II of Spain. As our final example of the beauty and history of Lisbon and Portugal, the National Palace of Ajuda is one not to be missed. With a view over the historic quarter of Lisbon, it houses luxury furnishings that make you feel like a royal yourself, and is still frequently used for official ceremonies.
Shopping in Lisbon
Shopping is a staple of many weekend breaks and longer holidays, and Lisbon gives a number of places to get some classic retail therapy, often in interesting forms. Feira da Ladra is a shopping marketplace that is comparable to Portobello Market in London, or El Rastro in Madrid, a collection of affordable flea markets with centuries of history. A gorgeous historical building, Embaixada is a fascinating conceptstore offering a unique shopping experience. There are multiple labels on offer in the mansion, and regular exhibitions. Continuing the trend of Portuguese retail variety, LX Factory boasts a wealth of concerts, cafes, exhibitions, markets and parties to make it a shopping city by itself with plenty to do and see. Cortiço and Netos is the place to go for a souvenir Portuguese tile, an aesthetically pleasing way of bringing home a piece of this gorgeous country and city.
Largo do Intendente is the city centre square that buzzes with life when night falls, and it is where you can find Casa Independente. During the day you can get delicious food, but it is most exciting at night, where musicians and DJs play until the early hours in the spacious 'Tiger Room'. It might be in a strange location, but heading to the top of the multi-storey car park by the Bairro Alto will bring you to Park, a rooftop bar with a stunning view and refreshing drinks. Enjoy a warm evening in style and watch the sunset. No night out is complete without tasty cocktails, and Red Frog is the perfect place to find them. With the excitement of a speakeasy, find the door with the red frog on Rua do Saltre and ring the bell to be let in to this basement bar. Their menu is always changing, but rest assured you will always get a creative and delicious drink – see what the barman fancies making on the night.
Rich in history
If walls could talk, Sao Jorge Castle would have many stories to tell. It was a Muslim fortification until the arrival of the Christian Crusaders in mid 12th century. It was hard fought for and captured after three months of siege by Afonso Henriques, the first king of Portugal. The fort developed into a castle in years to come, housing a Royal palace, bishops, nobles and court. It welcomed Vasco da Gama after discovering the sea route to India. When Royal palace moved, the castle housed military barracks and later prison. The castle was classified as a National Monument in 1910 and it underwent two restorations, the last in 1990.
St. George's castle lies on the highest hill in Lisbon and it offers a lovely view of the city. You can catch a glimpse of marine life in Ocenario Lisbon. It's a lovely place for kids too. As is Lisbon zoo which houses around 2000 animals and a dolphins show as well. There are many interesting historic structures in Lisbon, but one of the most formidable is eleven miles long Vasco da Gama bridge.
Sandy beaches
The area around Lisbon has plenty of beaches to offer. One of the cleanest is Meco. Situated 40 miles from the city, situated in Serra da Arrabida Natural park, but easily accessible with car rental Lisbon. Be advised nudists are flocking it, but there are family sections as well. Praia de Andrada is one of the most beautiful beaches in Europe. It's also somewhat secluded and very much nature lover's beach. And how about Guincho. Known for strong winds, thus, perfect for surfers.
Car rental in Lisbon can work out cheaper than public transport, plus cheap car hire in Lisbon makes your life easier so you can enjoy a stress-free holiday.
A lovely climate
Lisbon boasts springtime temperatures in the winter and cool summers with a fresh breeze blowing from the Atlantic. Costa de Lisboa is situated on the south-west coast and the capital of Portugal since its conquest from the Moors in 1147.
Eating out in Lisbon
A marketplace is always a great opportunity to try a variety of delicious and authentic local cuisines, and it is no different at Time Out Market Lisboa. It is the first food and cultural market in the world, created by the Time Out Lisbon editors back in 2014 and hosted in a gorgeous historic market hall. Some of the best restaurants and bars are now under one roof, so going to this market will get you the best of everything.
Gambrinus boasts a tasty seafood menu and a luxury feel that will make visiting this restaurant a wonderfully indulgent evening. Decorated in a traditional homage to Portuguese art, there is also a mix of period furniture and pieces from the India Company. Don't be put off by any dishes that sound unfamiliar, as friendly staff are on hand to explain it all so that you can make the best choice.
A hidden gem of Lisbon city centre, Zé da Mouraria offers brilliant local cuisine so that you can get a real taste of Portugal. Although it only offers lunches, this is still a popular place to eat and you cannot make reservations, so make sure you get there in good time to get a coveted spot at one of their tables.
Nicolau Lisboa is a bright and Instagram-able café found with multiple locations throughout the city, so if you are willing to wander around you'll be sure to find some space. With salads, burgers, lunch-time power bowls and tacos, there is something tasty for everyone and all at great affordable prices.
Many claim that Ground Burger has the best burgers of Lisbon, and you can find out for yourself either by heading to the Time Out Market Lisboa, or the flagship restaurant in the city centre. Open from midday to midnight every day, it's the perfect spot for lunch, dinner, or a late night bite after heading to some of Lisbon's best bars and clubs. Pair your choice with a refreshing craft beer to get the full experience.
The best beaches near Lisbon
Fancy escaping the capital for a day beside the seaside? Take a look at the following beautiful beaches near Lisbon, then get your swimming costumes and towels ready, fuel up (or charge) your vehicle and get ready to hit the road for awesome adventures!
Praia de Carcavelos
Undoubtedly the favourite beach for Lisbon residents, Praia de Carcavelos is located at the Tagus estuary, 25 minutes west of the capital. Highly-rated by serious surfers and laid-back pleasure seekers, it's a great place to hang out and catch some rays.
You can hire bikes, scooters and paddleboards along the seafront and there are plenty of family-friendly amenities like showers and toilets, as well as a great choice of cafes and restaurants catering for all tastes.
Praia de Santo Amaro de Oeiras
A sublime sandy beach around 20 minutes' drive from Lisbon, Oeiras is a great choice for a hassle-free day of sun, sea and sand. Stretching westward from Sao Joao das Maias fort to Ribeira da Largo stream, at 720m long, it's small but perfectly formed.
Well sheltered and with no strong currents, it's a reasonably safe space for families and you can grab refreshments at the popular O Amarelo bar or simply bring a picnic of your own.
Praia de Caxias
Caxias is a cute coastal town just 5km from Lisbon's iconic Belem tower and its lovely beach blesses both sides of the Sao Bruno fort. With warm water, soft sands and rugged rocks, it's a pretty spot that's great if you have kids in tow.
There are a few fab eateries to choose from, but El Train Carruagem is always fun – it's housed in a specially renovated railway carriage!
Praia do Guincho
Situated around 35 minutes' drive from Lisbon, on the Sintra coast in the scenic Cascais region, Praia do Guincho is one of Portugal's most stunning unspoilt beaches.
Its vast arena of white sands is complemented by shapeshifting quicksilver dunes, but the strong currents in the water here make it unsuitable for families with young children. If you want to windsurf or kiteboard, it's ideal – but wrap up because it can feel chilly all year round.
Praia do Tamariz
If you're a Bond fan, you might recognise Praia do Tamariz from the 1969 George Lazenby vehicle On Her Majesty's Secret Service. Located in Estoril, 25km west of Lisbon, this is a glam location with luxuriant white sand and high-end hotels nearby.
With white sands, crashing waves and laid-back beach bars, it's one of the best places in Europe to relax and watch the world go by.
As you can see, if you love the beach, you'll be living your best life in Lisbon.
The best day trips within an hour from Lisbon
When you're ready to strike out from the city, there are several delightful day trip destinations in easy reach of Lisbon – we've collated some standout examples for your delectation.
Pena Palace & Park
Nestled just 45 minutes away from Lisbon in the Sintra Hills, Pena Palace is a fairy-tale edifice perched on a dramatic, rocky ledge – with a history that's just as colourful as its walls.
A former 16th century monastery, it was bought and transformed by King Ferdinand II in the 19th century and gained UNESCO World Heritage status in 1995. Take your time to explore the palace, its stunning surrounding park and the panoramic views before driving home at your leisure.
Costa da Caparica
Around 25 minutes southwest of Lisbon, Costa da Caparica is a favourite weekend destination for Lisbon families, and it's peppered with pretty beaches and dramatic dunes on the way to Fonte da Telha.
The iconic Cristo Rei monument is also located in this region – near the famous Ponte de Abril suspension bridge. For a manageable road trip that combines R&R with sightseeing, this is hard to surpass and you can even squeeze the main attractions into a half day trip.
National Palace of Queluz
Just 14km northwest of Lisbon, this gorgeous palace was built between 1747 and 1794 for King Pedro and Queen Maria I. If historical architecture sets your pulse racing, this road trip destination has your name on it.
Designed by the masterful Mateus Vicente, Palacio Nacional de Queluz is a perfect example of classic Portuguese architecture and landscape gardening, and the interior is even more elaborate than the exterior. Don't miss the magnificent mirrored throne room and the stately Salo do Embaixadores – the grandeur of this building is still breath-taking.
Sesimbra
50 minutes south of Lisbon, Sesimbra is situated in the Extramadura region, and a trip here means you'll have to traverse Vasco da Gama bridge, the longest in Europe.
This picture-perfect fishing village has a charming beach where you can take a breezy stroll, a central church which has been painstakingly restored to its former glory, and a hilltop castle that's the jewel in the crown. So this road trip takes in an engineering marvel, coastal charms and military history – who could ask for more?
Mafra
45 minutes northwest of Lisbon, Mafra is a must for history buffs. The highlight is the Palace of Mafra – an absolutely ginormous stately home which is the largest Baroque palace constructed in the 18th century. This is actually a sprawling complex which contains a grand monastery, a beautiful Basilica and a library with over 36,000 rare books.
Stroll out to the rear of the palace and you can chill out in the verdant Jardim do Cerco gardens and a neighbouring nature park created from former royal hunting grounds. Stop in the town centre before your journey home to enjoy a relaxed lunch in one of the many excellent eateries.
It's evident that Lisbon is a great springboard for discovering Portugal's scenic, cultural and historical delights. There aren't too many capitals worldwide which have neighbouring attractions quite as rich and diverse – hiring a car in Lisbon is your first move for a trip to remember.
Lisbon Transport
Car Hire in Lisbon Portela Airport
Lisbon Airport offers numerous popular car hire agencies, ensuring that there are a variety of cars on offer so that you can find exactly what you need. You can find your rental car waiting for you just outside of the terminal when you book in advance. The car hire agencies on offer are; Avis, Budget, Europcar, Goldcar, Guerin, Alamo, Enterprise, National, Hertz, Thrifty, Dollar, Firefly, and Sixt. All of these companies can be found before security in the terminal.
Lisbon train stations
Santa Apolónia train station
Rossio railway station
Station do Oriente
Cais do Sodré train station
Got a Question? Chat with our UK support team
Online chat help is open 08:30am to 17:00 weekdays. Email: [email protected]
FAQs about car hire in Lisbon
Most frequently asked questions about hiring a car in Lisbon
The average price of car hire in Lisbon is around £12 per day in the summer and from £3 per day in the winter for a small car (Fiat500, VW Up, Toyota Aygo or similar). Depending on your requirements and the time of your booking but you can find real cheap deals on economy cars starting from £3 per day.
SurPrice and Klass Wagon frequently offer the cheapest prices, from £3.60 per day in winter for a Volkswagen Up or similar and it is one of the numerous agencies available at Lisbon Portela Airport, conveniently located for you to start driving around this great city.
The average price sold on Enjoy at Lisbon airport is £12.57 per day, whereas the cheapest was as little as £1 per day, but this is rare.
The average price sold on Enjoy in the city centre of Lisbon is £14.03 per day whereas the cheapest was under £1 per day, but such cheap price isn't common.
The most popular car on Enjoy is a Fiat500 with an average price of £9.27 per day.
The average price of a Nissan Qashqai in Lisbon is £16 per day but if you get lucky it could be from £3 per day. Such low price however is rare, and more likely to be found in the winter.
In Lisbon, the car hire agencies booked most frequently are Enterprise and Alamo, both of which can be found at Lisbon Portela Airport.
The legal driving age in Lisbon is the same as mainland Portugal which is 18, however the car hire companies have their own rules, and often add a surcharge for under 21s or under 25s.
You can find Klass Wagon, Carwiz, Goldacr, Right Cars, Firefly, Luso, EPI, Europcar, Alamo, Enterprise, MasterKings, Avis, Budget, Hertz, Centauro and Sixt.
Lisbon Airport is 5.5 km from the town centre and you can drive it in roughly 15 minutes.
The population of Lisbon is almost 3 million
Lisbon is the capital city of Portugal, located on the western coast.
Some popular places in Portugal