Nottingham Car Hire
Find the best deals in Nottingham
With a massive choice from the biggest brands, Enjoy the best way to find the best prices for car hire in Nottingham.
Huge choice of cars to suit every budget
Save up to 70% compared to buying on the day
10 years experience in car hire
Compare Car Hire in Nottingham
Nottingham is located in England's East Midlands region, 72km northeast of Birmingham and 206km north of London. With a population of around 330,000 in the city limits and over 919,000 in its functional urban area, it's the second-largest urban area in the Midlands and has the 7th-largest metropolitan economy in the UK.
Home of the legendary outlaw Robin Hood and the Raleigh bicycle manufacturer, it's also one of only a handful of UNESCO Cities of Literature in the world, thanks to close links with figures like D.H. Lawrence and Lord Byron as well as its lively contemporary writing scene. It's a great sporting city which hosts international cricket and tennis, but it's most closely associated with football teams Nottingham Forest and Notts County and was named Britain's first City of Football. There are three universities and countless cafes, shops and entertainment venues ‐ whether you're here for business or pleasure, Nottingham is always a vibrant place to visit.
Currently in Nottingham you can hire an economy-sized vehicle like a Vauxhall Corsa for just £20.99 a day, a compact Ford Focus for £22.61 a day and a roomy intermediate car like a Nissan Qashqai ‐ ideal for trips out of town ‐ costs only £31.75 a day. Hire a car with Enjoy and embrace the freedom of the road in and around this brilliant British city, but first, here's some not-to-be-missed information on Nottingham.
About Nottingham: This friendly and inclusive city is packed with nightlife, sport, culture and creativity and with a student population Of over 60,000 Nottingham is one of the youngest populations of any city in Britain. Its lively bars, pubs, and night clubs have earned it multiple Purple Flag awards for being one of Britain's best nights out, there's more sport than you can shake a cricket bat at, and the shopping opportunities are endless. This is also one of Britain's live music capitals, home of the 10,000-seater Rock City arena as well as iconic dance venue Stealth and the annual download festival at Donington Park, a short hop from the city and a must for punk and metal fans.
Nottingham began as a Saxon village in the 6th century, originally known as 'Snotta Inga Ham' which basically means 'the village belonging to Snotta'. We know Snotta was a man, but other details are sketchy ‐ presumably he was a person of some importance! The city's strategic position at a crossing point on the Trent River meant it was coveted by many settlers, most notably the Danes, who took control in the 9th century AD and constructed various fortifications, only for the Anglo Saxons to recapture it in the next century. By the time of the Norman Conquest, Nottingham was a busy town with its own wooden castle and by the 13th and 14th centuries, mediaeval Nottingham had really found its feet and had a charter, mayor, stone castle, a bustling weekly market and an annual fair. The city hosted many diverse religious groups and trades by this point and the legend of Robin Hood was born in this colourful cultural milieu.
Nottingham was occupied by the Parliamentarians during the English Civil War, but by the end of the 17th century and into the 18th it was thriving, with a new theatre, street lighting and various other civil amenities. Further improvements followed during the Victorian era, including public parks, the first public library (opened in 1868) and its two football clubs Nottingham Forest and Notts County FC, both founded in the 1860s. Lace-making, hosiery and bike manufacture dominated the industrial scene, full city status was granted in 1897 and an electric tram system was introduced between 1901 and 1936. Developments between 1948 and through the 1960s included the Playhouse Theatre, Victoria Bus Station and the Clifton Bridge. Nottingham was recently named one of Britain's best places to live in a Sunday Times poll, with the newspaper describing it as 'fun, funky and affordable'.
Airports and access: East Midlands Airport (EMA) is closest to Nottingham at just under 12 miles away, but Birmingham (BHX) is only 42 miles away and Manchester airport (MAN) is still within easy driving distance, at 55 miles away. It's easy to reach Nottingham from a range of domestic UK and international locations, hop in your hire car on arrival and hit the road for your business or pleasure trip.
Driving around Nottingham: the city is a great launchpad for driving trips around Nottinghamshire, the East Midlands and further afield. Here are just a few of our favourites:
The town of Ashbourne in the Derbyshire Dales it's just 20 miles west of Nottingham City centre along the A52 and you can be there in under an hour. Attractions include the stunning Sandy Brook Country Park, which has well-appointed lodges and an indoor pool, the lovely Lighthouse restaurant, nearby attractions like the Dovedale and Tissington Trail, and picture postcard villages like Flash and Brailsford.
Derby is even closer (just 31 miles along the same A52) and it's a fab place for foodies, with fine French dining at Pierre Bistro, Thai tapas at Finale and spicy Caribbean fare at Turtle Bay. Derby also boasts a cathedral and many interesting museums, while motor sports fans may want to stop at Donington Collections on the outskirts of the city to see the world's largest collection of Grand Prix cars.
Leicester is just 29 miles south of Nottingham via the A606 and A46 and you can be there in under 45 minutes in light traffic. This buzzing multicultural city offers some of Britain's best Indian food, the King Richard III visitor centre and his resting place at Leicester cathedral, while the National Space Centre is simply out of this world!
Famous Nottingham: apart from Robin Hood and his merry men, other famous sons and daughters of Nottingham include Game of Thrones actress Bella Ramsey, iconic designer Paul Smith, chart topping musician Jake Bugg, BAFTA-winning actress Vicky McClure, film maker Shane Meadows, Jason Williamson of cult band Sleaford Mods, England and Nottinghamshire bowler Stuart Broad, cellist Sheku Kanneh-Mason, politician Ken Clarke, radio DJ Mistajam and former world super middleweight boxing champion Carl Froch.
Guide to Nottingham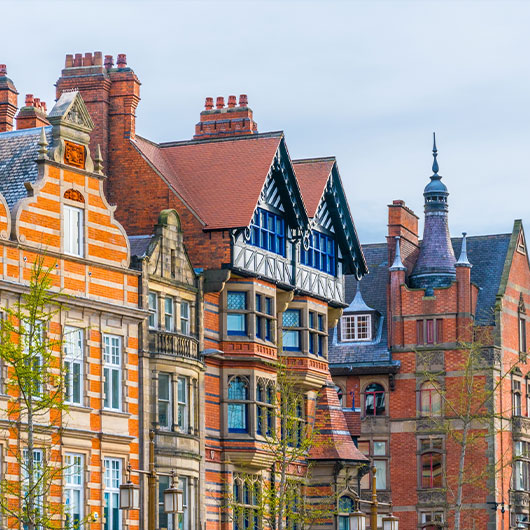 A bustling university town with a proud history and a cool, creative vibe, Nottingham is a multicultural city that's a national hub for sports. You'll also find historical attractions, museums, galleries, shopping, restaurants and pubs aplenty ‐ it's the perfect place to spend a few days recharging your batteries.
Literature
Nottingham was named a UNESCO city of literature in 2015, joining other global title holders like Dublin, Melbourne and Edinburgh. Its literary luminaries include Lord Byron, Alan Sillitoe, D.H. Lawrence, Shreya Sen-Handley, Paula Rawsthorne, Allison Moore, Megan Taylor and John Harvey. Furthermore, the University of Nottingham and Nottingham Trent University attract thousands of students from around the world with their renowned literature courses and the city also has a robust network of libraries, the most famous of which of which might be the 200-year-old Bromley House library. The annual Nottingham European Arts Theatre festival attracts 55,000 visitors each year, there's a writer's studio which supports emerging wordsmiths, and Nottingham's writing scene also covers video games, film scripts, plays and comics.
Sports
Nottingham has also been dubbed the home of English sport and many famous sportsmen and women either hail from here, trained here or became famous through their city connections. These include iconic figure skaters Torvill and Dean, legendary Nottingham Forest football manager Brian Clough, Olympic canoe slalom champion Etienne Stott, cricket legends Wilfred Flowers, Derek Randall and Harold Larwood, and swimmers Rebecca Adlington and Tom Blower. Meanwhile, Notts County FC (founded in 1862) is the world's oldest professional football club and Nottingham Forest has won one League title, two FA Cups, two European Cups and one UEFA Super Cup. You can also watch top-tier cricket at the famous Trent Bridge ground or horse racing at Nottingham racecourse.
Music
Nottingham has a lively music scene which covers every type of genre from rock to pop and hip-hop to grime. Famous artists from the city include Natalie Duncan, Liam Bailey, Sleaford Mods, Young T and Bugsey. While you're in town you can catch headline and up and coming acts at trendy venues like the Bodega, Rock City, Metronome and Nottingham contemporary. Meanwhile, if you're a vinyl fan you'll love digging in the crates for rare grooves at the only Rough Trade record store outside of New York and London.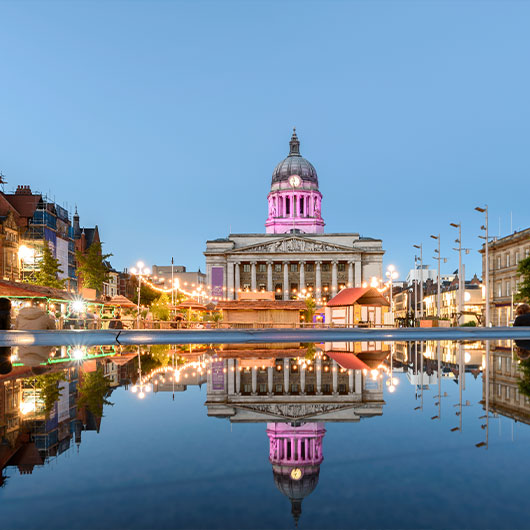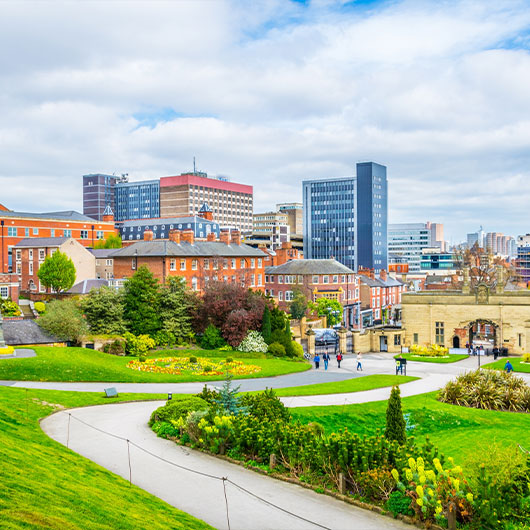 What to do in Nottingham
Whether you're a culture vulture, history buff or party animal, you'll never run out of things to do in Nottingham. Simultaneously laid-back and sophisticated, this is an inclusive and welcoming city that you'll definitely want to visit time and time again.
Creative Quarter
Located in Nottingham's Hockley and Lace Market area, the city's creative quarter is peppered with trendy bars, chic restaurants, boho shops and kitsch retailers, so it's a hotspot for a buzzing weekend break or lively soiree. Gamer geeks absolutely adore the National Videogame Arcade and the Debbie Bryan Studio is the perfect place to pick up authentic Nottingham lace, but the Creative Quarter really comes alive at night, when you'll find live music, hip craft beer pubs and uber-cool underground cocktail bars.
Historical highlights
No visit to Nottingham is complete without a trip to Sherwood Forest, legendary home of Robin Hood. It's 21 miles north of the city centre via the A614 and you can be there in around 45 minutes, depending on traffic. It's a beautiful spot at any time of year, but if you're a fan of the famous outlaw and have your kids in tow, visiting during the annual Robin Hood Festival in August is a must ̶ you'll see wandering minstrels, jousters, jesters and fire eaters, all dressed up in authentic medieval garb. Alternatively, City of Caves is a subterranean labyrinth of over 500 sandstone caves secreted under Nottingham's city streets and when you visit you'll see the ruins of the Drury Hill Victorian slums, Britain's only medieval underground tannery and an Anderson air raid shelter which protected thousands of citizens during the dark days of WWII.
Nottingham nightlife
Nottingham's permeated with pubs, bars and clubs to suit all tastes, so you'll definitely have a legendary night out here. The Hockley Arts Club has a gorgeous retro interior and a superb cocktail menu, Tilt in Pelham Street offers unusual cocktails and live Blues music, and Coco Bar is a magnet for rum lovers ‐ there are 120 varieties on offer and it's open until 4am!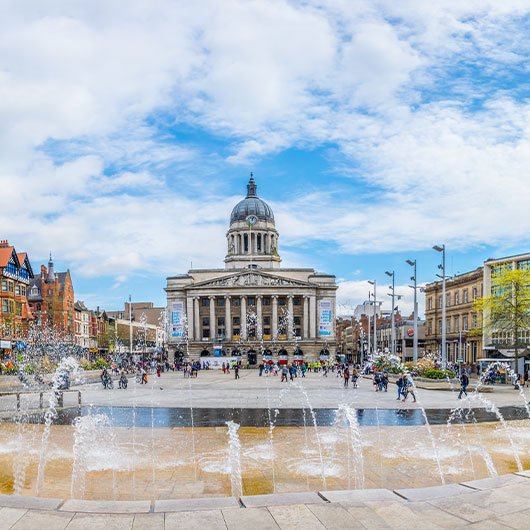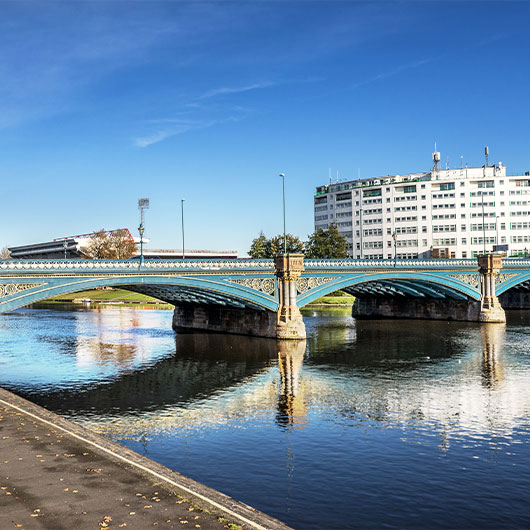 Eating out in Nottingham
With everything from fine dining to street food and international cuisine, Nottingham never disappoints foodies and there's something to delight every palate.
Tapas to die for
Nestled beneath the old law courts in High Pavement, Iberico World Tapas is an atmospheric eatery that flips the script on Spanish Tapas by blending tastes from around the world with traditional ingredients and it's been awarded the Michelin Bib Gourmand several successive times. Try the outstanding onglet beef steak, but the spicy miso black cod is sublime too!
Brilliant burgers
Annie's Burger Shack in Broadway is an authentic American diner that serves mountainous US-style breakfasts and signature succulent burgers with all the trimmings (available in vegan and vegetarian versions as well as traditional juicy beef patties). For a fun family meal that's fantastic value for money, Annie's takes some beating.
Gourmet coffee
If you're a serious caffeine fanatic, you'll be in seventh heaven in Speciality Coffee Shop on Friar Lane. There are artisan coffees and teas aplenty, but the food is fab too ‐ pop in for brunch and sample the wonderful wild mushrooms with poached egg on a peppered brioche.
Transport in Nottingham
Airports
East Midlands Airport (EMA) is the closest to Nottingham, it's just under 12 miles from the city centre and processes four million passengers annually. Enjoy partners with several trusted international and local car hire operators here, including Alamo, Enterprise, Europcar and Green Motion Car and Van Rental.
Buses, trains and trams
Nottingham's Robin Hood Network public transport system is fairly efficient and connects all of the city's commercial, retail and entertainment areas. This is an integrated multi-operator transport system which is convenient to use and also committed to reducing its carbon footprint ‐ as many vehicles as possible are presently being switched to electric and biogas. The trams are particularly handy for hopping between popular destinations like Royal Centre, Old Market Square and The University of Nottingham.
Driving tips
You should always drive on the left side of the road in Nottingham. The speed limits here are 70 mph (120 km/h) for motorways, 60 mph (100 km/h) for non-motorway main roads and 30 mph (50 km/h) or 20 mph (40 km/h) if you're in busy urban areas or close to schools. Here are some other useful notes:
You should always carry a valid driving licence, insurance documents, MOT certificate and road tax certificate (or car hire documents and driving licence when you're renting a car).
Don't drink drive or use a hand-held mobile while driving.
Top Tips when hiring a car in Nottingham
● If you're arriving in Nottingham by landing into East Midlands Airport (EMA), you'll want to look into the car hire deals offered by the car hire companies in the Airport locations.
● The car hire locations in the airport are known to offer the best car hire deals and are also the most convenient as you ca pick up your vehicles as soon as you land, and then begin your trip by exploring the city.
● Most car hire companies in the airport have very accessible and convenient locations for pickup and drop off. Another advantage of the airport agencies is that they offer 24-hr service.
● If instead you decide to rent from the centre, the lace market car park and train station have a lot of options.
● Once you have your hire car, you should explore and visit the Trent Bridge Cricket Ground, Sherwood Forest, Nottingham Mabel Street, the Nottingham Art Gallery and of course Chatsworth House.
● A Nottingham car hire will allow you see all of the above and more conveniently and is highly recommended, as some of the locations are remote.
● After you get your Nottingham car hire there are a lot of car parks to leave your park or pick it up from. You should inform yourself while booking.
● A great number of users encountered rental cars in Nottingham for less than £32 per day.
● Booking your rental car in Nottingham in advance, even if it's by at least 1 day before your trip ensures you'll get below average car hire prices.
● The most popular and cheap car hire options and car types in Nottingham are mini rental cars. In this case mini cars are also economy cars.
Got a Question? Chat with our UK support team
Online chat help is open 08:30am to 17:00 weekdays. Email: [email protected]
FAQs about car hire in Nottingham
Most frequently asked questions about hiring a car in Nottingham
An economy-sized car like a Vauxhall Corsa costs from £10.15 a day in Nottingham, while a sleek Mercedes C-Class costs from £32.24 a day.
The minimum age for hiring a car in the UK is 21, and you must have held your licence for over a year.
Not usually. Excess-free packages are standard with most reliable car hire companies and packages typically include road-side assistance, theft protection and a collision damage waiver.
Yes – it's not unusual to add extra drivers as long as they hold a valid license  ̶  an additional daily fee is paid.
This depends on your itinerary and the requirements of your group, but a roomy and reliable Volkswagen Sharan seats seven comfortably, so it's ideal for longer road trips with large travel parties.
Always inform your rental firm if you have an accident. In the unlikely event you have a serious accident in Nottingham, please call 999 immediately for emergency services.
Nottingham is very inexpensive compared to other big UK cities. During your trip you'll spend approximately £69 per day.
Yes, moving around Nottingham will be a seamless experience if you have a car to get you to all the places you want to see.
The best time to visit Nottingham is in spring.
For the most economy cars you'll spend £93 for a week, or £13 per day.
Rates for an inexpensive car at Nottingham for a month start at £617, or £20 per day.
The cost ranges between £1.19 and £1.02 for a litre of fuel in Nottingham.
Explore more popular places in the UK