Turkey Car Hire
Find the best deals in Turkey
With a massive choice from the biggest brands, Enjoy the best way to find the best prices for car hire in Turkey.
Huge choice of cars to suit every budget
Save up to 70% compared to buying on the day
10 years experience in car hire
Compare Car Hire in Turkey
Turkey has unfortunately had a rocky time lately which has impacted their tourism heavily. The truth of the matter is that all the main tourist resorts are as safe as anywhere else to visit. Whilst the decline in tourism is bad news for the Turks it's great news for travellers because there are some real bargains to be found.
Turkey has some incredible sights and hiring a car will enable you to take them all in with ease. From breath takingly beautiful waterfalls to historic Greek and Roman ruins Turkey has something for everyone.
To really make the most out of your road-trip round Turkey make sure you plan ahead, there is so much to see being organised is key. If you're travelling over the summer then we highly recommend a car with air conditioning as it gets very hot. You'll also need to hire car seats (unless you bring your own) for any children under 36kg.
To rent a car in Turkey you must be at least 21 years old and have held your license for a year. Some cars will have a young driver premium for anyone under 25 and have a maximum driver age of 70. It's worth double checking the requirements on your chosen car to avoid disappointment on arrival
You are not allowed to use your phone while driving however you can use a hands-free set.
By law you must carry two warning triangles and a first aid kit in your car, check that these are present when you sign for your car.
Children under twelve are not allowed in the front passenger seat.
The speed limits on Turkish roads are 31mph (50kph) in built up areas, 56mph (90kph) and 74mph (120kph) on the motorway. The use of speed cameras is commonplace to make sure you stick to the speed limits.
You must always carry your license and rental documents with you in the car, if you are stopped and can't present them then there is a hefty fine to pay.
There is no metered parking in Turkey. Parking officials monitor the streets and collect fees for on-street parking. Most cities have garages and public parking lots.
Guide to Turkey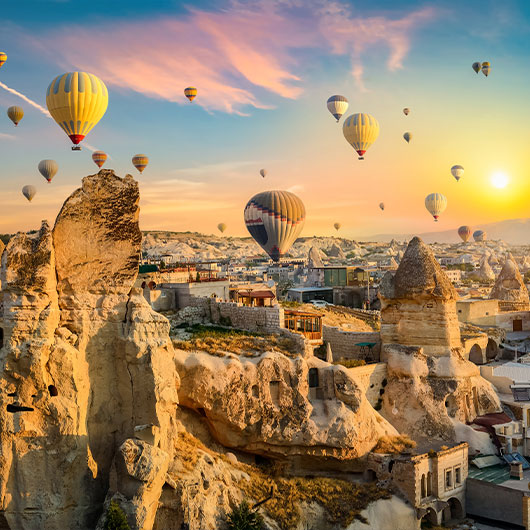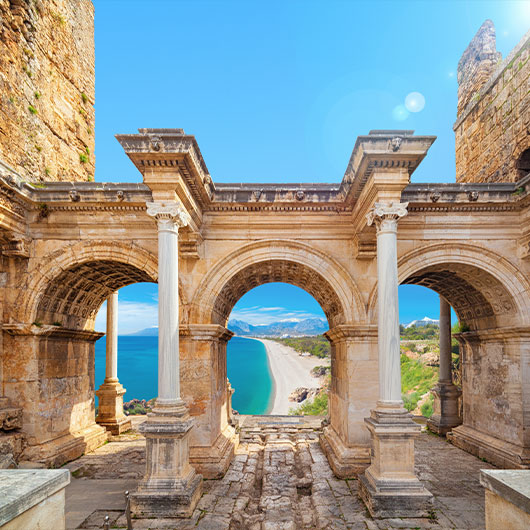 The main airport in Turkey airport is known as Atatürk International Airport. It serves the areas of Istanbul in Turkey it lies 24 km west of the city centre and was opened back in 1924. Turkish is the main language of the country, but you will find that most people in the tourist areas will speak English to a high level. The main currency used is the Turkish Lira however US dollars and Euros are widely accepted too.
At one point or another Turkey has been under various rules including the Roman, Ottoman and Byzantine empires so its no surprise that Turkey has a rich cultural heritage. From the ancient port city of Ephesus to the soaring Byzantine dome of Aya Sofya in Istanbul, Turkey has more than its fair share of world-famous ruins and monuments. Whatever it is you're looking for Turkey has it in abundance. From the incredible beaches to hilltop ruins there is something around every corner that will captivate you and keep you coming back time and time again.
Although capital status eludes it Istanbul is very much the beating heart of Turkey. Bustling bazaars, buzzing nightclubs and ultra-modern hammams sit comfortably alongside Roman aqueducts, Byzantine churches and Ottoman palaces and mosques. Istanbul really is a place like no other. For those looking for a more laid-back pace of life the beaches of Olu Deniz and Izmir are a sun worshipers paradise. The capital city is Ankara and although not as popular with tourists as some of the other cities its well worth a visit if for no other reason than to gain insight into a different side of Turkish culture.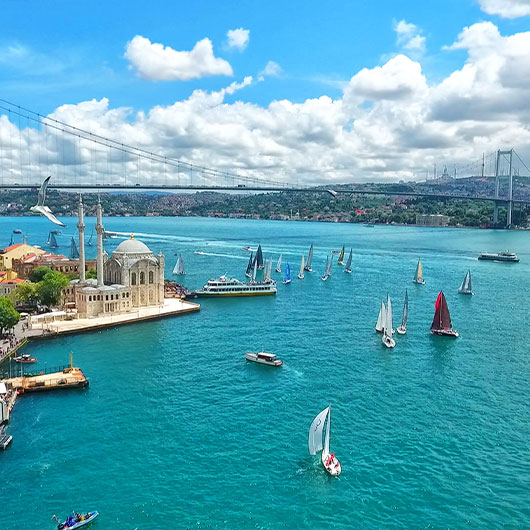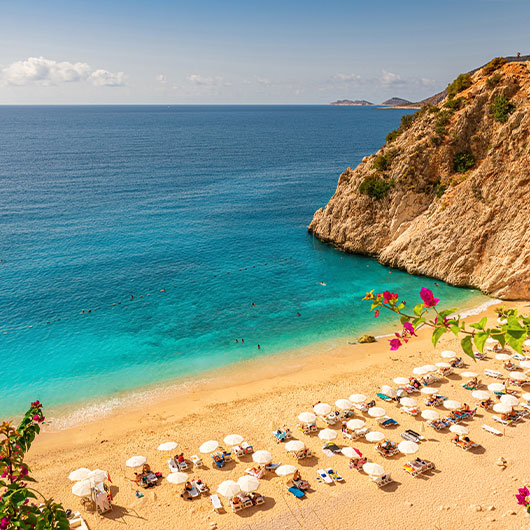 Things to do in Turkey
You might run out of sun cream in the sizzling summer in Turkey, but you'll never run out of things to do in this diverse nation. To whet your appetite, we've whipped together a few tantalising Turkish delights. Dive in!
Explore lunar limestone foundations
If you really want to feel like you're walking on the moon, explore the otherworldly limestone rock formations at Goreme National Park. Located in the Central Anatolia plateau, this amazing UNESCO World Heritage Site even features churches and subterranean cities carved completely out of rock. Tourists usually take in this area in two ways – seeing it from the sky in a hot air balloon, and then taking a guided tour into the cavernous, rocky depths. If you're looking for a travel hotspot that's truly unique, you've found it!
Take a (really) old-school Turkish bath
At Istanbul's Hamberlitas Hamami, you can enjoy a cathartic Turkish bath with a difference – it's a historic bathhouse that was designed by Mimar Sinan way back in 1584. Luckily, they have changed the towels since then and unwinding in these salubrious surroundings is simply a wonderful way to boost your health and embrace history ‐ your skin will feel fabulously refreshed once you shower off and slip back into your clothes.
Treat yourself to fish and meze
Between exploring ancient sites, trekking along trails and steaming yourself in saunas, you'll certainly build up an appetite here. But fortunately it's easy to find excellent restaurants where you can indulge in a raki balik evening. At this type of gorgeous gathering, you'll snack on mouth-watering fish served with a selection of meze ‐ a plethora of tapas-style dishes featuring delicious vegetables, seafood, herbs and spices. Wash it all down with a few glasses of local tipple raki and you'll be ready to carry on the party late into the evening ‐ don't drive the next day though!
Get in a whirl with Dervish dancers
You've probably heard the expression 'whirling Dervish' but did you know that it actually refers to a sacred ceremonial dance that's at the heart of the Sufi faith? The serene songs are dedicated to God and the practice was started by Sufi saint Rumi in the 13th century. As you listen to the soulful music, enjoy the graceful moves and vibe to accompanying poetry, you'll instantly be transported to another dimension – it's an experience you'll remember for a lifetime and if you commit the moves to memory, perhaps you can try them when you return home. What a party piece!
Hike the Lycian Way
Feeling energetic? Why not stretch your muscles and explore the Turquoise Coast on foot, joining a superb section of the Lycian Way ‐ a vast footpath that stretches for 540km between Fethiye and Antalya? There are several camping spots as well as small B&B style hotels along the way, and highlights include the impressive rock tombs at Myra, the lovely remote Kabak Valley, the burning rock at Cirali and the Olympos ruins. When you want to get your pulse racing and soak up some top-rated scenery, look no further.
Take a gullet cruise
A gullet is a traditional Turkish yacht and taking a cruise aboard one of these vibrant vessels is the best way to explore the nation's southwest coast between Bodrum and Antalya. You can sunbathe and shoot the breeze on deck, take a dip in the wonderful waters, dine on sea-fresh fish and find your land legs for stop-offs at lovely locations like Kas, Knidos and Kalekoy. After a few dreamy days and nights on the waves, you'll unwind all the way.
As you can see, you won't be stuck for excursions during your Turkish trip ‐ enjoy!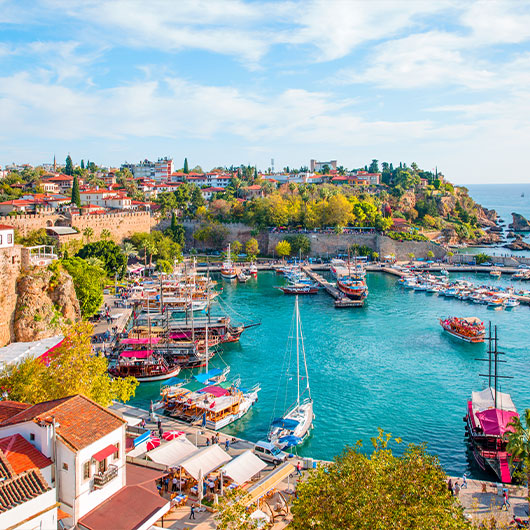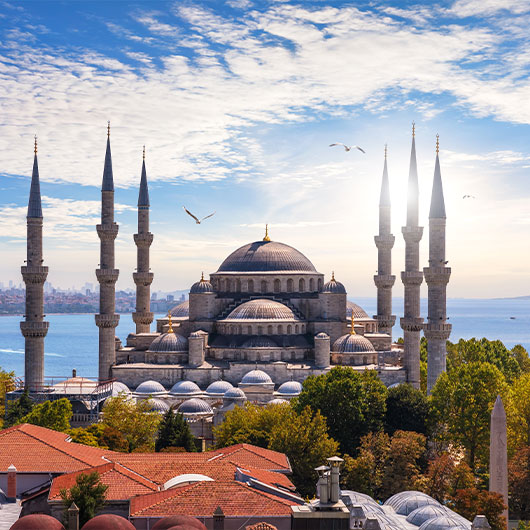 What to visit in Turkey?
No trip to Turkey would be compete without a visit to Istanbul, there is so much to see here that you'll need more than a few days to take it all in. One of the main highlights for us is the Grand Bazaar. Over 500 years old but still one of the largest covered bazaars in the world. Its 60 streets contain no less than 5000 shops, 60 restaurants, 18 fountains, 12 mosques, and even a school. The bazaar is very famous for its carpets, leather, ceramics, souvenirs and jewellery, you'll need to get your haggling head on to get the best deals here. Other highlights of city include the Blue Mosque, Basilica Cistern and Topkapi Palace.
If you're headed to the coast then you'll be hard pressed to match the beaches at Olu Deniz. It's known for the blue lagoon of Ölüdeniz Tabiat Parkı and the wide, white Belcekız Beach. The Lycian Way is a long-distance marked footpath starting in Ölüdeniz and winding its way to Geyikbayırı almost 540km away. To the south there is Butterfly Valley a beautiful nature reserve with a secluded bay.
Bodrum, Gumbet and Bitez are side by side so if you want to combine life on the beach with the allure of street after street of market stalls and shops then head to the South-West of Turkey. Gumbet is the lively more commercial and typical holiday resort with clubs, bars , hotels , restaurants while the quieter (but just as beautiful) Bitez offers a more laid back beach life. Bodrum is a working city not just a tourist destination so offers a real feel of Turkish life as well as the usual tourist spots.
Ephesus is the best-preserved Roman city in the Mediterranean region, and one of Turkey's top sights. Excavations here have revealed grand monuments of the Roman Imperial period including the Library of Celsus and the Great Theatre. It really is one of the best sites to gain an insight into the Roman era outside of Italy.
Pumakkale means "cotton castle" in Turkish and one look at the stepped travertine pools and you'll understand why. It's also the site of the incredibly well-preserved ruins of the Greek-Roman city of Hierapolis. You can bathe, as the Romans once did, in a picturesque pool filled with warm, mineral rich waters and swim amongst submerged Roman columns. With its unique blend of natural and man-made pools Pumakkale attracts over 2 million tourists a year making it the single most visited attraction in Turkey.
Although Turkey is famed for its history it has its eyes very much fixed forward when it comes to preservation and no better example of this can be found than Turtle beach. Just south of the town of Dalyan you'll find Turtle beach where over half the worlds population of green sea turtle come to nest every year. There are also several turtle hospitals and rehabilitation centres that you can visit.
No matter where you stay in Turkey one thing you can be assured of is a warm welcome and some delicious food. From charcoal smoked kebaps to pide made in tiny little shops on almost every corner food in Turkey is a way of life. They are also big fans of sticky sweets so make sure you try out some baklava.
Transport in Turkey
Getting around Turkey by car is first choice for many travellers ‐ and quite right too ‐ but there are several modes of transport to choose from if you fancy letting a professional take over the driving duties for a day or so. Take a look at some of our top picks:
Airports
There are several international airports in Turkey and it's always convenient to pick up your hire car at one of the major air hubs. Istanbul New Airport (IST) has been the major international hub since 2019 and it has an enviable strategic location for travellers from Europe, Africa and Asia. Other busy airports include Antalya (AYT), Ankara Esenboga (ESB), and Izmir Adnan Menderes Airport (ADB). Whichever Turkish hub you're flying into, talk to us about your best car hire choices.
Car hire in all the international airports of Turkey is easy, the three main airports are Istanbul Attaturk, Dalaman and Antalya. Avis, Budget, Hertz and Europcar are found in all the large airports and will usually have an office at your resort. There are several smaller local firms offering cheap deals however be careful to do your research properly as they may not operate to the same standards as the larger international firms. Turkish drivers are not renowned for obeying the rules of the road and the use of the horn is epidemic, if you are a nervous driver avoid driving in rush hour or at night as street lighting is patchy at best outside of the town centres.
Getting to and From Turkey
There are numerous airports serving Turkey which are easily reached from most European airports. Internal flights are also relatively inexpensive so if you don't fancy the ten-hour drive from Istanbul to Antalya then you get hop on a plane for around £20. If you'd rather travel by train the connection between Turkey and European countries is provided by Bosphorus Express and runs daily. There are direct sleeper trains from Greece, Bulgaria and Romania into Istanbul run by the Turkish State Railways. You can also travel from London or Paris to Istanbul by train.
Public transit
The public transport provision in Turkey is fairly comprehensive and there are links to all but the most remote spots. As well as flights, you can catch city and long-distance buses, minibuses and ferries, while the rail system has benefitted from significant investment in recent years, with rapid services linking Sivas, Konya and Istanbul with capital Ankara. You don't need to book ahead to access public transport here, although you're better to be an early bird if you plan on getting anywhere during public holidays. Another iconic Turkish mode of transport is the dolmus ‐ a minibus that drives along set routes picking up and dropping off passengers taxi-style. You'll pay a flat rate so it's great value for making your way from one side of a city to the other.
Driving in Turkey
For many travellers who prize independence and the privacy of their own bubble, driving in Turkey is undoubtedly the best choice. You drive on the right and overtake on the left here, but overtaking isn't permitted when there's a road sign indicating it's prohibited, as well as at level crossings, intersections, bends, and at bridges and tunnels. At intersections, give priority to vehicles coming from the right, vehicles driving on a main road and vehicles already driving on roundabouts. Don't toot your horn unless you've got good reason and if you're towing a caravan, the drink drive limit is 0% - take note! Speed limits are 50km/h in built-up areas, 90km/h on open roads and 120km/h on motorways.
Top Tips when hiring a car in Turkey
● Many people prefer to not go for a Turkey car hire while visiting the big cities such as Istanbul, but it can be ideal to go for a cheap car hire while traveling around other areas of the country that are more remote and not as easily accessible.
● Such locations can normally only be visited via guided tours or painfully slow and often very expensive public transport.
● Some of the most popular road trip routes through Turkey include but as not limited to the Aegean Coast, Cappadocia, and the scenic drive from Istanbul to the magnificent ancient city of Ephesus.
● Most users found car rental companies in the Airports in Turkey to offer better car hire deals. Other popular car hire locations such as those found in the major cities offer reliable booking process but you may end up paying more. Car rental companies in Turkey's large cities are also more spread out. The rental agencies found in the Airport such as Istanbul Ataturk Airport are more consolidated and more easily found and accessed.
● Booking your rental car in Turkey in advance, even if it's by 1 day before your trip, will make a big difference in both the different car hire options and the prices you'll get. It's been noted that best car hire deals on average are found via the rental car companies in the Airports.
● A car hire company offering premium car rental options in Turkey is on average cheaper than other car types and models.
● If you're picky about your rental cars or you're traveling with family and want to make sure you get exactly what is most suitable for your needs, then you should search via the booking engine in advance, sort by most popular car hire and find what other people in your category pick most.
● Last but not least make sure you have a valid driving licence with you. An international driving permit works but is not required if you're only visiting for up to 3 months.
Got a Question? Chat with our UK support team
Online chat help is open 08:30am to 17:00 weekdays. Email: [email protected]
FAQs about car hire in Turkey
Most frequently asked questions about hiring a car in Turkey
Most of the popular companies are available for you to book in many of Turkeys airports, such as Avis, Budget, Europcar, Hertz, National and Sixt. There are also lots of smaller local companies offering cheap deals.
Rates vary on average from £8-£35 a day depending on the season and the type of car you want to hire. Book well in advance to secure a good deal and opt for smaller more compact car to keep costs down.
You will drive on the right-hand side of the road in Turkey and overtake on the left.
Turkey has a modern motorway system which has recently been converted to a High-Speed Toll System called HGS. All rental cars are fitted with an electronic device which will automatically pay the toll and you will be charged by the rental company when you return the car.
Turkey has invested a lot of money in its road networks in recent years so driving conditions around the main towns and cities are great. If you're planning on going off the beaten path be a little more careful especially at night. Some of the mountain roads don't have safety barriers and are unlit which makes traversing them a little more challenging.
Turkey is a budget friendly destination in the sense that it's not very expensive at all. Within the budget to travel to Turkey, the highest expense will be the international flight.
Yes, it is one of the best ways to move around this vast country and it's quite cheap to rent one.
You drive on the right and overtake on the left. Wearing a seat belt is mandatory. Driving under the influence of alcohol is prohibited (and penalised). Children under 12 years old must go in the back seat of the car, sitting in a special seat for their weight and height.
Eastern and the summer months between June and September are the best for a trip. Along the Black Sea coast, the best months are the relatively less rainy months between April and September.
For small cars the budget friendly options begin at £48 for a week, which means more or less £7 a day.
The cheapest offers allow you to rent a car for a whole month for £302, or £10 per day. As mentioned earlier, this depends on the season you book and the car type.
The average price of a litre of fuel can vary between TRY 17.28 and TRY 7.04.
Explore popular places in Turkey