Top 10 Atlanta road trips:
A city with walkable neighborhoods, award-winning restaurants, historical charm, and subtropical, sunny weather, Atlanta does not disappoint. However, there will definitely come a time when you want to get away from the city. Well, you're in luck because there are so many great local destinations that are only a short drive away, from breathtaking journeys into the mountains to classic city breaks. It is the ideal starting place for long and short road journeys across the Cotton States. Read on to discover 10 awesome road trips that you can take from Atlanta!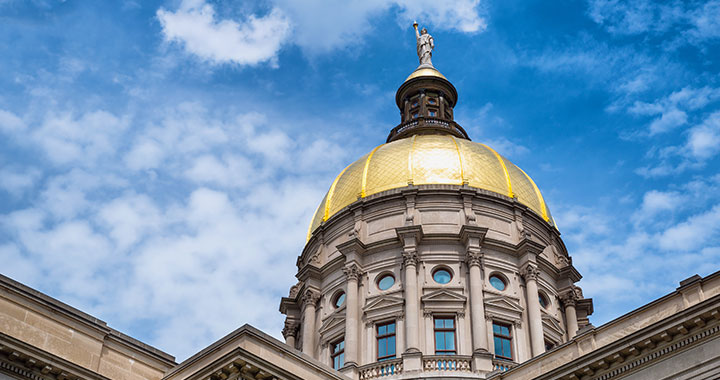 ---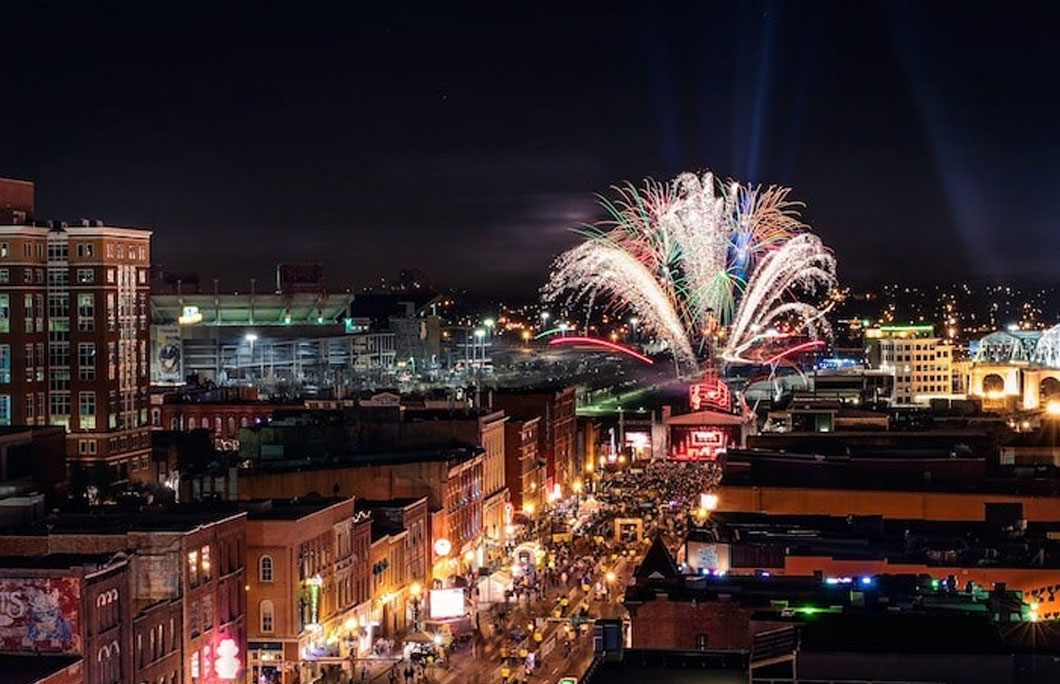 1. Nashville, Tennessee
Known as the Music City, Nashville boasts a thriving live music industry and has been the abode of some of the greatest musicians of the 20th century. Take in a live show and learn about the city's rich musical history at attractions like The Musicians Hall of Fame and The National Museum of African American Music. Don't forget to visit the city's numerous parks and museums while you're here. Located in Nashville's Centennial Park is a scale replica of the Parthenon in Athens, Greece. The museum features both contemporary and historic American art. While in Nashville, be sure to sample some Tennessee whiskey, eat at Slim & Husky's, or stop by Biscuit Love, two Nashville landmarks worth visiting while on a weekend break.
Getting there: Nashville is located 250 miles from Atlanta, meaning you're looking at a comfortable 4-hour drive to get there.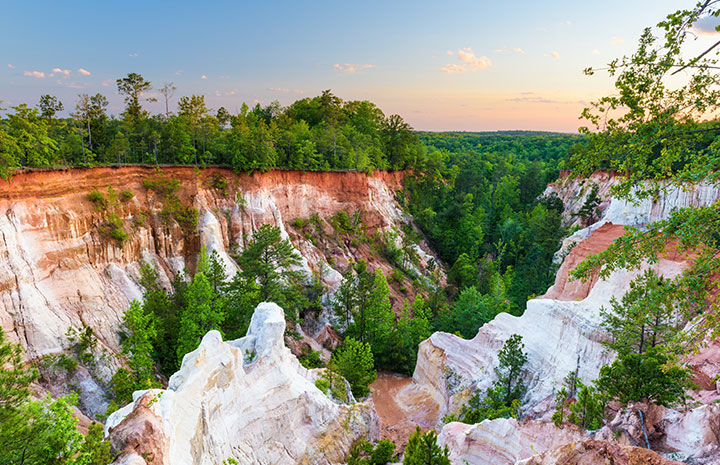 2. Providence Canyon State Park
The town of Lumpkin, Georgia may not be well-known to you. You may credit Providence Canyon State Park, sometimes known as "The Little Grand Canyon," for bringing attention to the area. More than 1,000 acres of steep, rocky canyons, as well as natural blooms and plants, await you. This state park not only offers breathtaking views but also serves as a lesson on the environment. Farming techniques that destroyed topsoil and created gullies eventually resulted in the 150-foot-deep canyons that tourists can see today. This park is a great way to get away from the hustle and bustle of the big city while also getting to know one of Georgia's most impressive natural wonders.
Getting there: A scenic 2 hour 15 minute drive from Atlanta, Providence Canyon State Park sits 148 miles from the City in a Forest.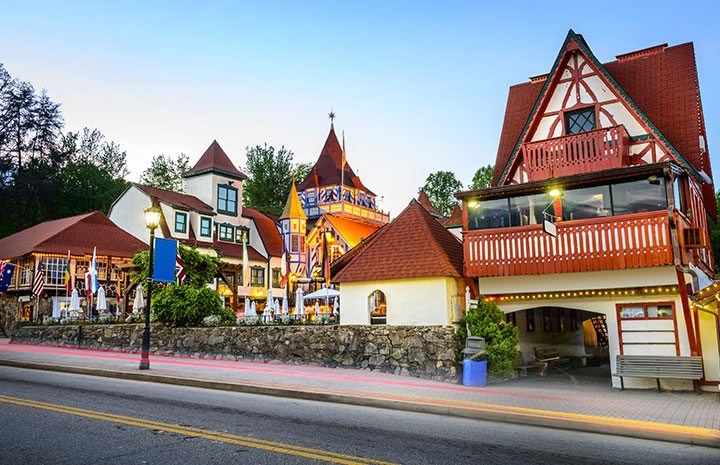 3. Helen, Georgia
A Bavarian alpine village inspired the design of Helen, a mountain town in northeastern a href="https://www.enjoytravel.com/us/car-rental/usa/georgia">Georgia. Tubing down the Chattahoochee River is a popular activity here, especially in the spring and summer months (May to September). However, no matter what time of year you come, you'll never be short of fun outdoor activities. Examples of beautiful hiking paths around Helen include the Raven Cliff Falls Trail and the Dukes Creek Falls Trail. Attending the town's Oktoberfest event is also a fantastic fall activity in Georgia! When September comes around, people dress up in lederhosen and dirndls, dance the polka, and feast on authentic German cuisine and beverages. With so much to see and do, Helen is hands down one of the best road trip destinations from Atlanta.
Getting there: Helen is just 1 hour 40 minutes (approximately 87 miles) from Atlanta. It's the perfect place for a day trip during fall.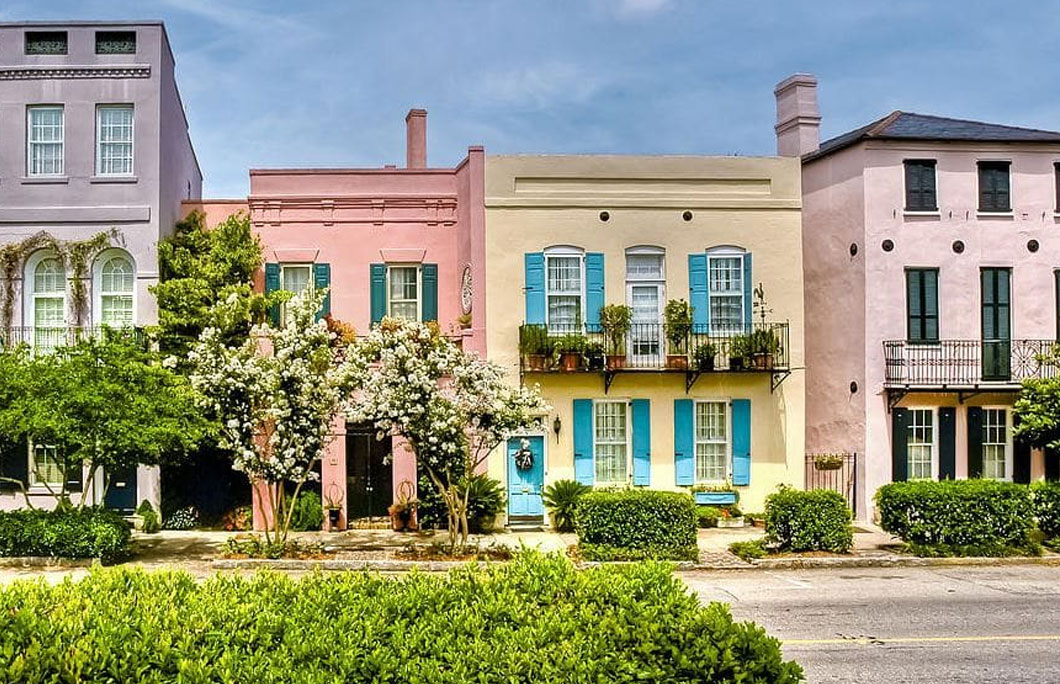 4. Charleston, South Carolina
This quaint small community in South Carolina Lowcountry was formerly one of the original 13 colonies, giving it a fascinating historical backdrop. As one of the places where the Civil War got its start, Charleston has a lot of historical clout. Visit the Old Slave Mart Museum to learn about the region's sordid history of slavery. Alternatively, go even further back in time at the Charleston Museum, which has objects from pre-colonial periods when Native Americans inhabited the region, as well as natural history items like fossils and specimens. Charleston is also a foodie's dream, with both dingy pubs and five-star restaurants everywhere.
Getting there: Charleston is located around 300 miles from Atlanta, so it's a 5 hour drive via the I-20 E and I-26 E.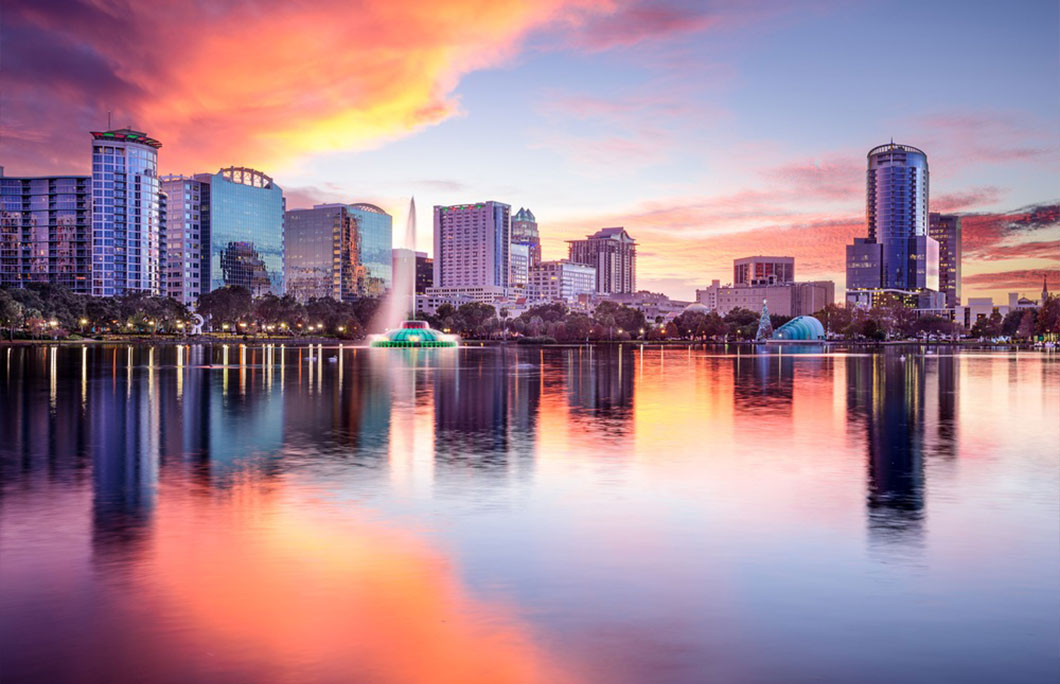 5. Orlando, Florida
Theme parks have been a major draw for visitors to Orlando in recent years, thanks in part to the fact that 5 of the world's 10 most popular theme parks are located there: Disney World, Universal Studios Florida, and SeaWorld Orlando. But millions of people visit this sunny Floridian city for other reasons too. It boasts beautiful landscapes, a large number of natural reserves, parks and open spaces, and miles and miles of the Atlantic coast. Its nightlife is off the charts and you can choose from a wide range of accommodations, from sprawling resorts on hundreds of acres to boutique hotels. If you've never been, you certainly must go at least once.
Getting there: You can drive the 438 miles from downtown Atlanta to the Orlando coast in roughly 6 hours, during which you will get well acquainted with the I-75.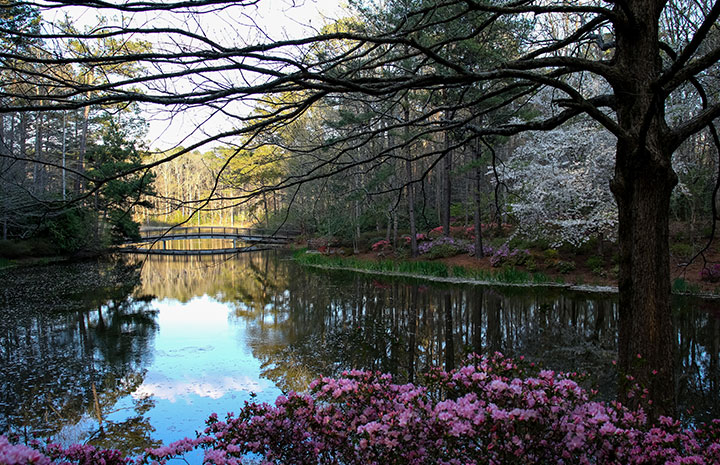 6. Callaway Gardens
Callaway Gardens is a sprawling 6,500-acre property with a diverse collection of floral displays, woodlands, attractions, and even two golf courses. The Overlook Azalea Garden, which features a variety of azalea blossoms, is the gardens' major draw. In Georgia, azaleas of all hues bloom in abundance across the state, and the park has a big collection of these colorful flowers growing in a park setting where you may rest on a seat in the shade and relax. A stroll around this 40-acre park, home to more than 3,000 azalea varieties, is the perfect springtime activity. Cecil B. Day Butterfly Center is also worth swinging by as it is home to more than 2,000 butterflies.
Getting there: Callaway Gardens is just an hour and a half away from Atlanta by car, so you can easily cover the 80 miles and back in a single day!
---

---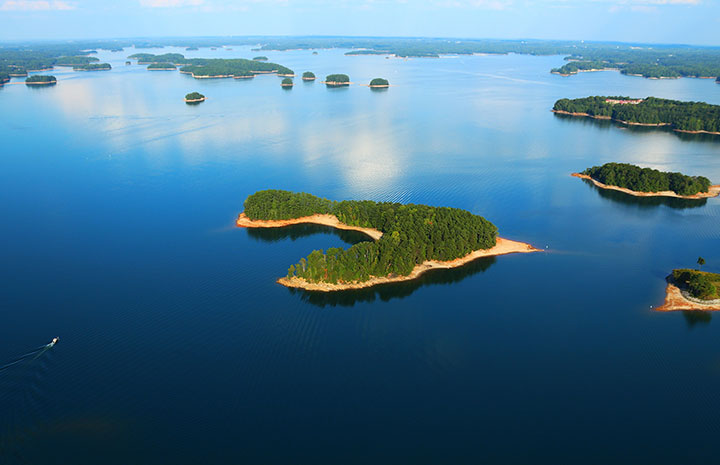 7. Lake Lanier
Reservoirs may be found all throughout the country, but this one is unlike any other because of the spectacular scenery and rocky shoreline that is punctuated by small, picturesque islands. The best way to enjoy the lake is to rent kayaks or canoes throughout the summer. You may also play golf, beach volleyball, or even get a massage at the popular resort complex of Lanier Islands. It's worth it to go to Margaritaville, which is a water park with water slides, a wave pool, and a sandy beach, which is fantastic for the whole family. Every Christmas season, Atlantans go to Lake Lanier to see the Margaritaville Lakeside Lights Spectacular, an interactive Christmas light display.
Getting there: Situated just 49 miles from Atlanta, Lake Lanier is just an hour's drive away!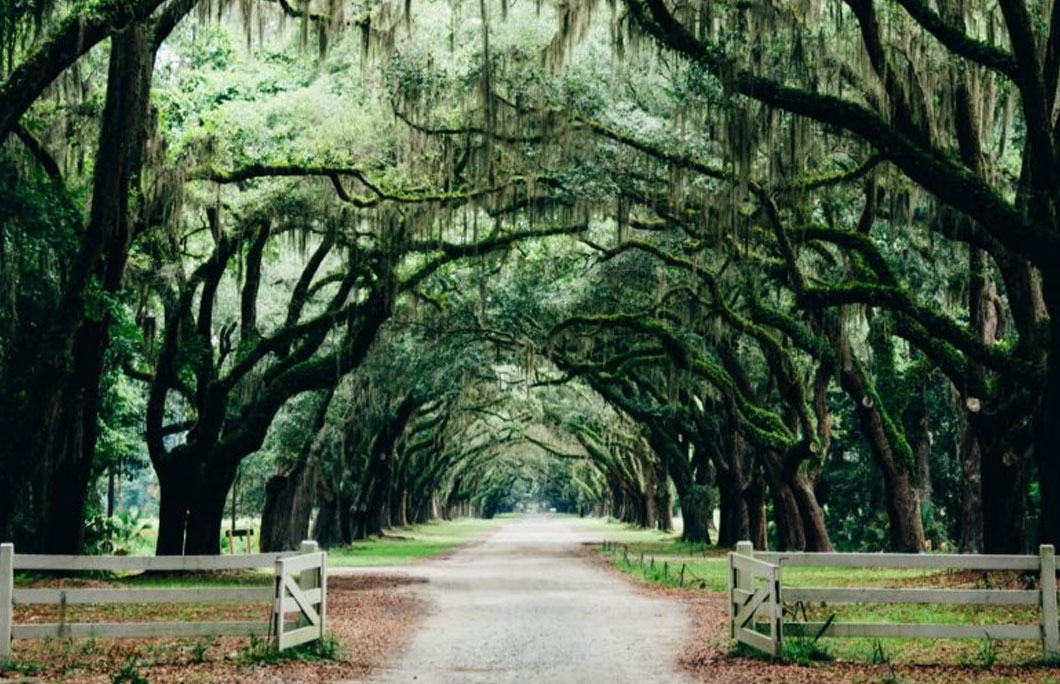 8. Savannah, Georgia
Savannah, Georgia, is a perfect romantic weekend destination from Atlanta. Georgia's oldest city, Savannah is a historical treasure trove with stunning architecture and a distinctly Southern flavor. A ghost tour is the finest way to see the historic district–and the most fun! Start by exploring the ruins of Savannah's earliest buildings. The Wormsloe Historic Site is located just outside of town, and as you arrive, you'll see the famous road with the Live Oak tunnel in the background. As well as some of the greatest golf in the Lowcountry, Savannah is home to beautiful beaches and a wealth of water-based adventures. In addition, with all that water comes an abundance of delectable fresh fish that must be consumed.
Getting there: It's a 4-hour drive from Atlanta to Savannah, as you'll have nearly 250 miles to cover.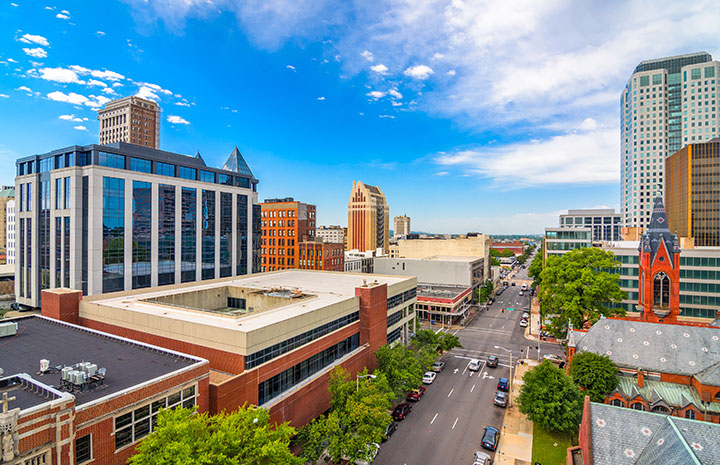 9. Birmingham, Alabama
Birmingham, the state's largest city, has a long civil rights legacy and has recently seen a cultural renaissance. Start your visit at the recently reopened Birmingham's Civil Rights Institute, where you can learn about the revolutionary 1960s Civil Rights Movement and its leader, Dr. Martin Luther King. For those interested in learning more about art and science, there are museums dedicated to each, as well as botanical gardens, an excellent zoo and lots of unspoiled wilderness to be found outside of the city. In between all of this, make time to sample the city's excellent craft brews and indulge in the epic late-night pub crawls too.
Getting there: Birmingham, Alabama is just a 2 hour 15 minute drive from Atlanta city center, making it ideal for a weekend getaway or even a day trip if you're pressed for time.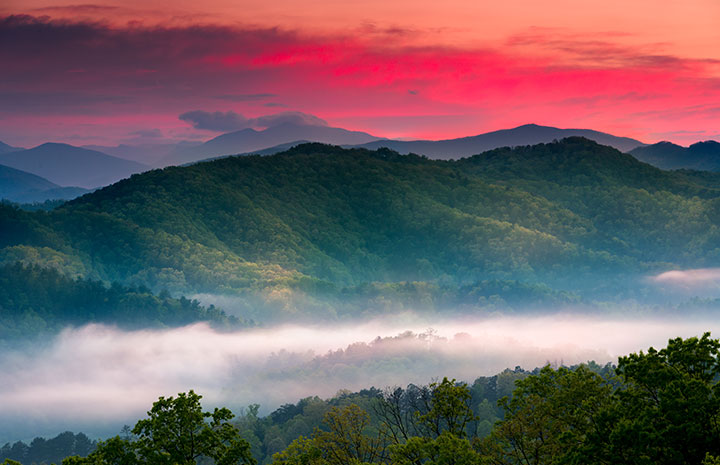 10. Great Smoky Mountains National Park
A combination of the Nantahala National Forest and Chattahoochee National Forest, the Great Smoky Mountains National Park is a massive wildlife reserve that will transport you far from Atlanta. Locals call the mountains the Smokies because of the fog that often forms in the valleys, giving them a faint blue-smoke appearance. Spend some time hiking around Fontana Lake's pathways for a relaxing stroll through the lush forest with glimpses of the lake in the distance. The 70-mile Appalachian Trail, which begins at Fontana Dam and ends at the Tennessee-North Carolina line, is a good choice for those seeking a greater challenge. Summer and autumn are the best months to explore this majestic national park.
Getting there: From Atlanta, the Great Smoky Mountains are 200 miles away. Although you'll need to drive 4 and a half hours to get here, you'll be so glad you did.