The 50 Most Romantic Restaurants In The World
With Valentine's Day just around the corner, many people are on the hunt for the perfect place to dine with our partner. Maybe you're looking for a traditional quiet candle-lit table for two with champagne, or perhaps you want something more luxurious? Whatever it is, you'll find the perfect date night spot with our list of the most romantic restaurants in the world.
Take your pick from private tables in Thailand's jungle canopies, Versaille-esque dining in Paris and Vacone's famous "Solo per Due" on this list of the world's 50 most romantic restaurants. Here are our favourites…
The Most Romantic Restaurants In The World, How do these rankings work?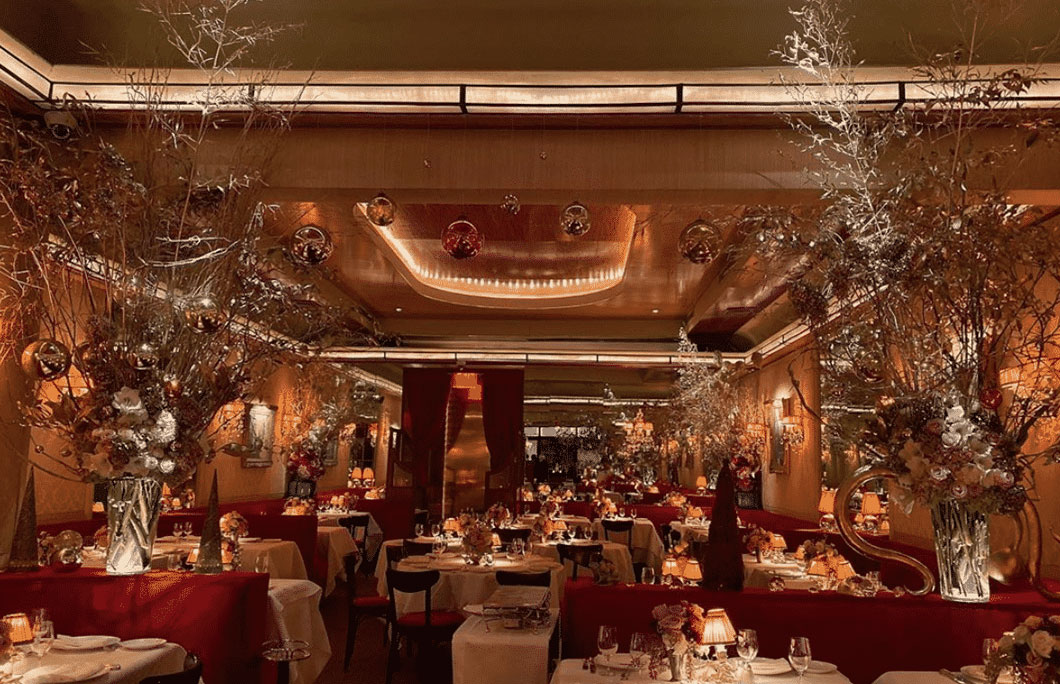 50. La Grenouille – NYC
Uptown Manhattan is home to one of the world's most romantic restaurants, La Grenouille. This award-winning French restaurant is luxurious, elegant, and one of NYC's most beautiful places to dine. Along with elaborate flower arrangements, the world-class service sets the scene for a special evening.
---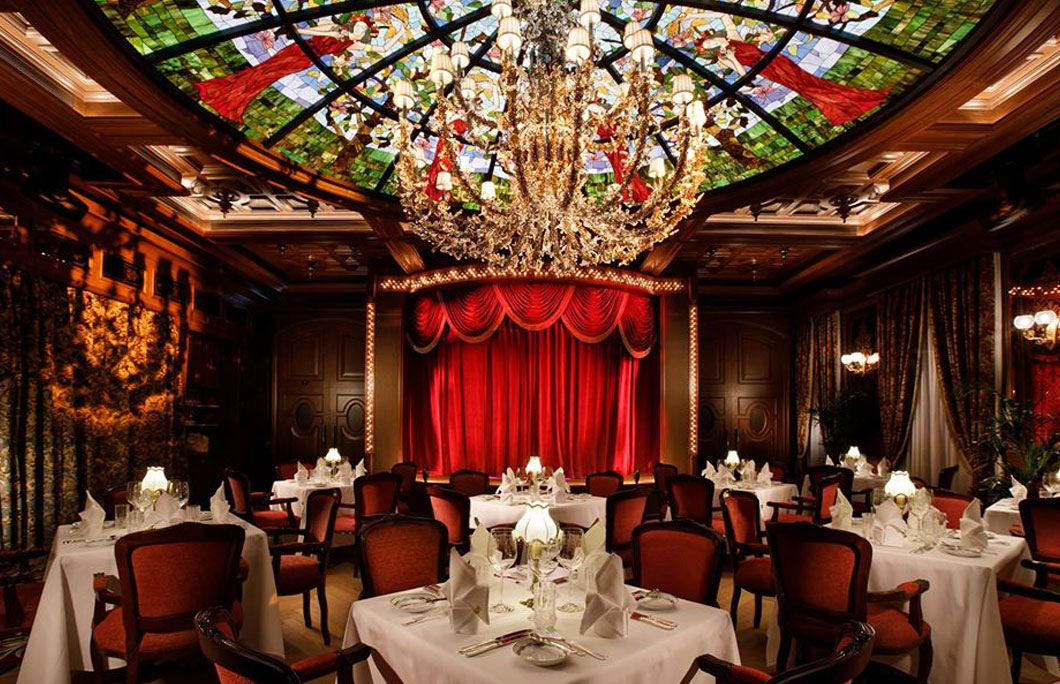 49. JUNON – Wan Chai, Hong Kong
Fine dining meets bistro in the beautifully ornate JUNON. Enjoy a feast with the love of your life under their gorgeous stained glass ceiling while clinking your glasses. While JUNON has a fine dining menu and is known for its class and elegance, it also has a warm and casual atmosphere making it a nice choice for an easygoing date.
---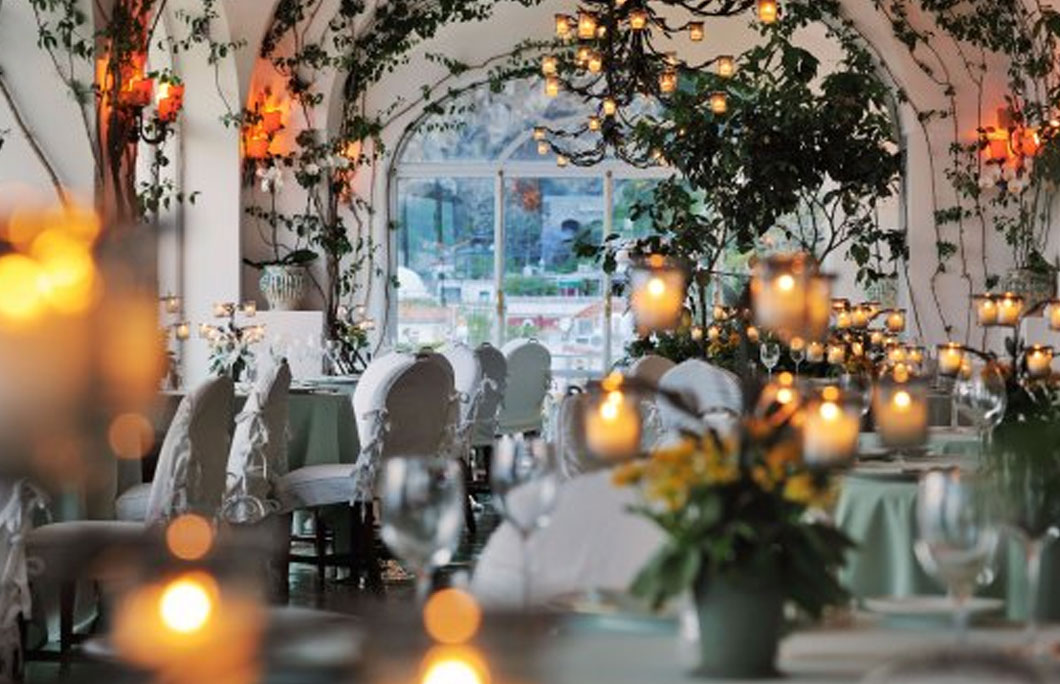 48. Ristorante La Sponda – Positano, Italy
I think we can all agree that nobody knows food quite like Italy. In charming Positano, inside the Sirenuse Hotel, is life-changing Ristorante La Sponda. Over 400 candles fill the restaurant, and the greener simply takes over. Indulge in the culinary delights of the Amalfi Coast and Naples while taking in the picturesque view of Positano.
---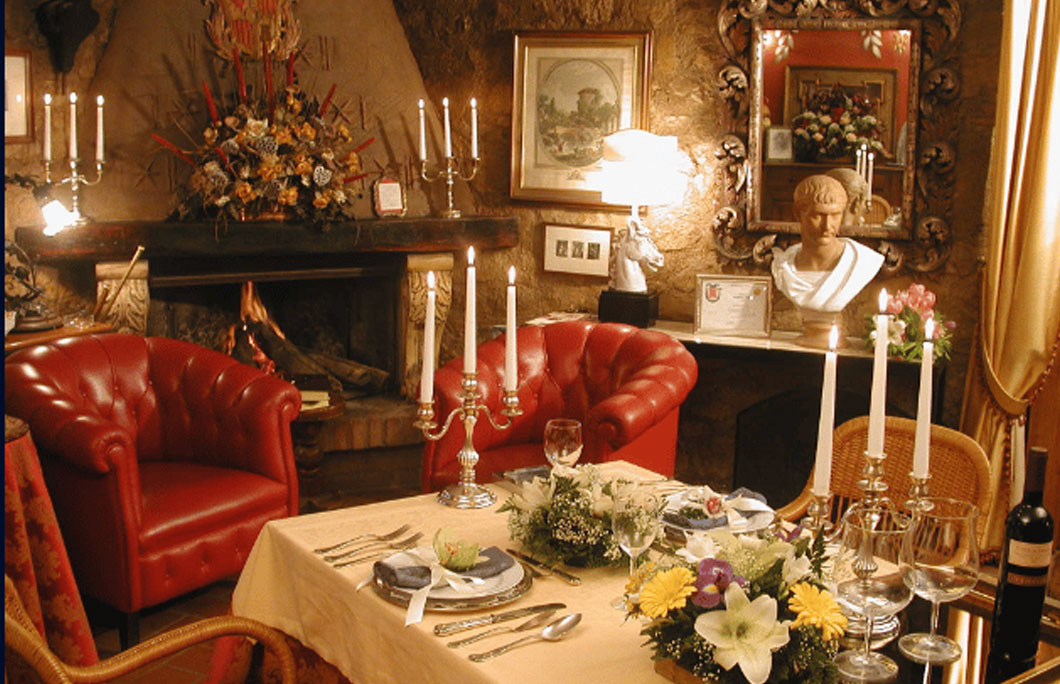 47. Solo per Due – Vacone, Italy
Solo per Due, or 'Just for Two' is the epitome of romance. Set on the grounds of an ancient Roman villa in Vacone, this space is made up of only one room with a table set for two. That's right; hence the name, this entire restaurant serves only two people at a time. Solo per Due is the definition of intimate dining.
---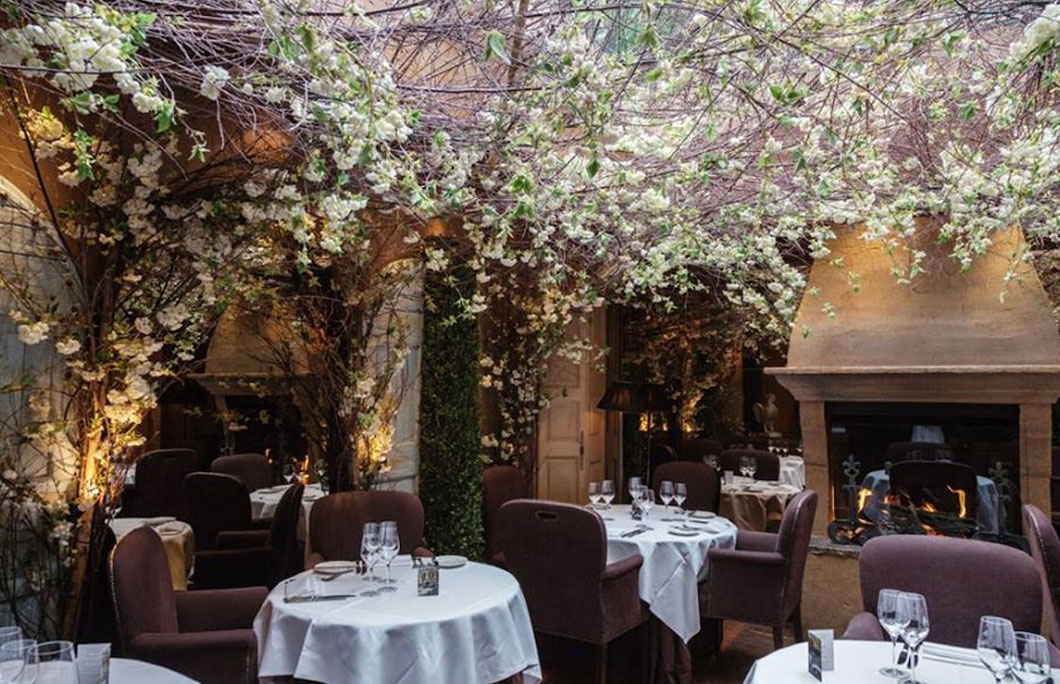 46. Clos Maggiore – London
While London is filled with French restaurants, Clos Maggiore is a step above the rest. Stepping into Clos Maggiore is stepping into another world of romance, excellent cuisine and atmosphere. The blanket of flowers hanging from the ceiling is sure to charm you and your special someone. Not to mention, they're known around town as having one of the most extensive wine lists with over 2,500 labels.
---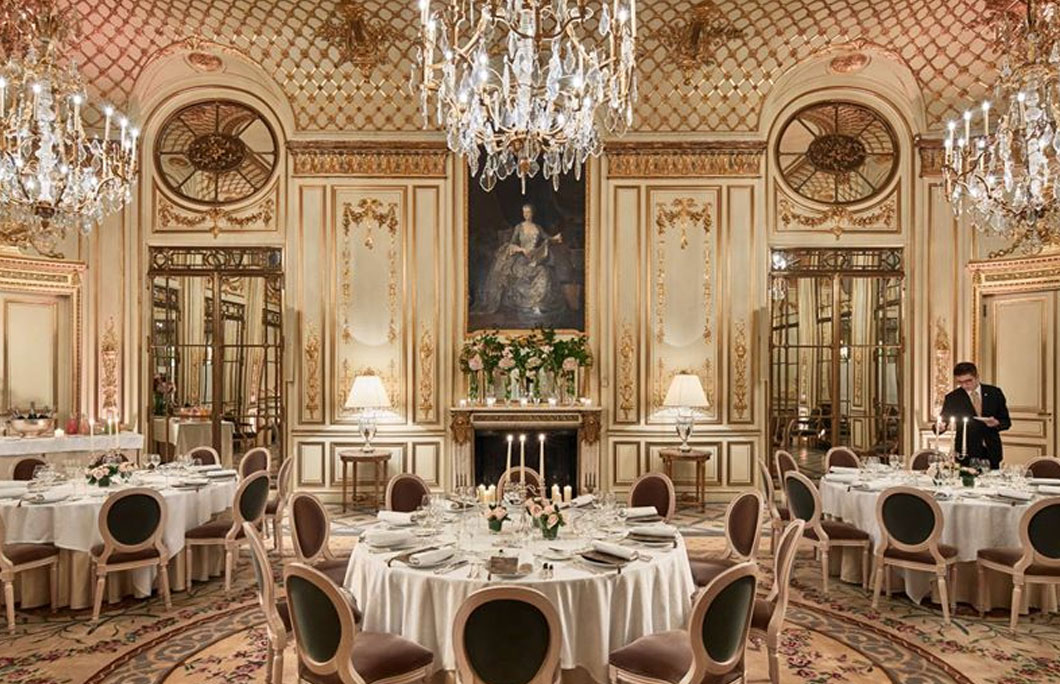 45. Restaurant le Meurice Alain Ducasse – Paris, France
You'll find our next choice just a hop away from the world-famous Louvre. There's no place more romantic in The City of Love than Restaurant le Meurice Alain Ducasse. Crystal chandeliers, white marble, two Michelin stars and elaborate frescoes set the scene for a perfect night at this Parisian favourite. After all, it's modelled after Versaille's very own Salon de la Paris.
---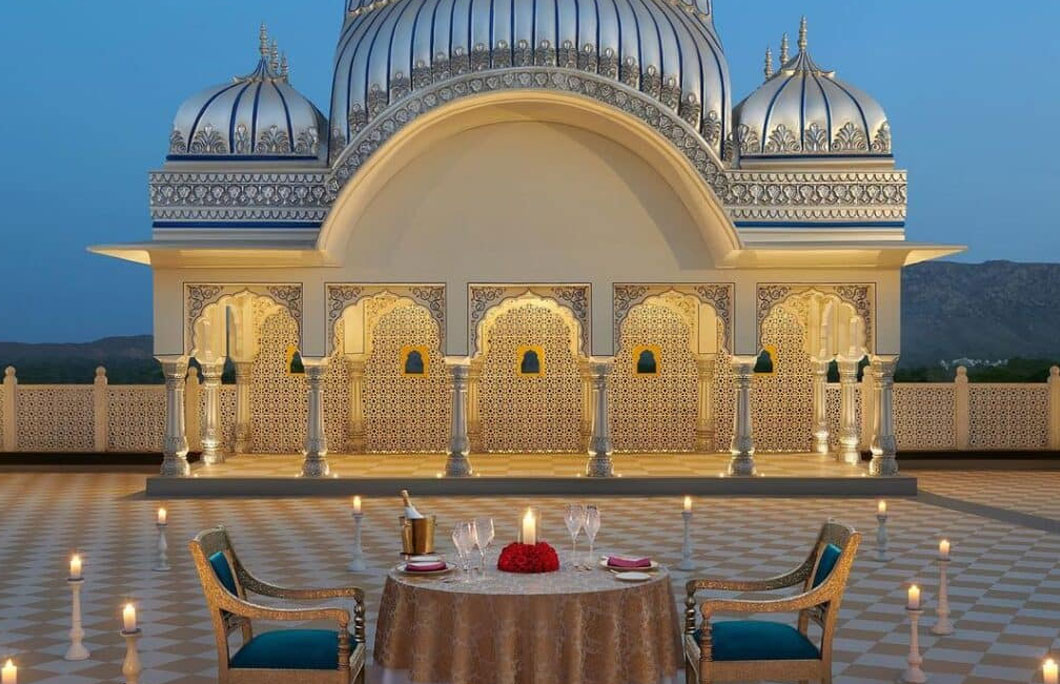 44. Sheesh Mahal – Udaipur, India
Located in The Leela Palace in Udaipur, India, Sheesh Majal is a fine-dining gem. Open seasonally from October 1 to March 31, it is the most exclusive restaurant in the area. Dine on incredible Indian food under an open sky while overlooking the city and taking in the atmosphere.
---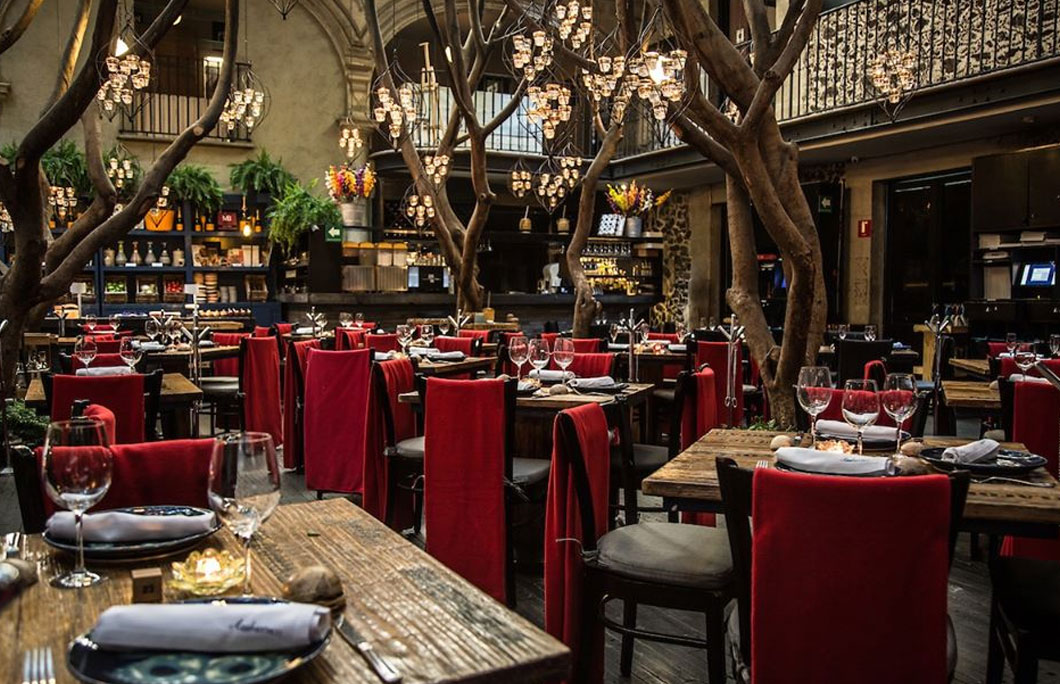 43. Azul Historico – Mexico City, Mexico
Run by prized Mexican chef, Ricardo Muñoz Zurita, Azul Historico is guaranteed to impress. Set in the upscale shopping area of the city, it's the perfect spot to enjoy a romantic dinner before a night on the town. Take your pick from one of the many regional dishes made with tradition and love for flavour.
---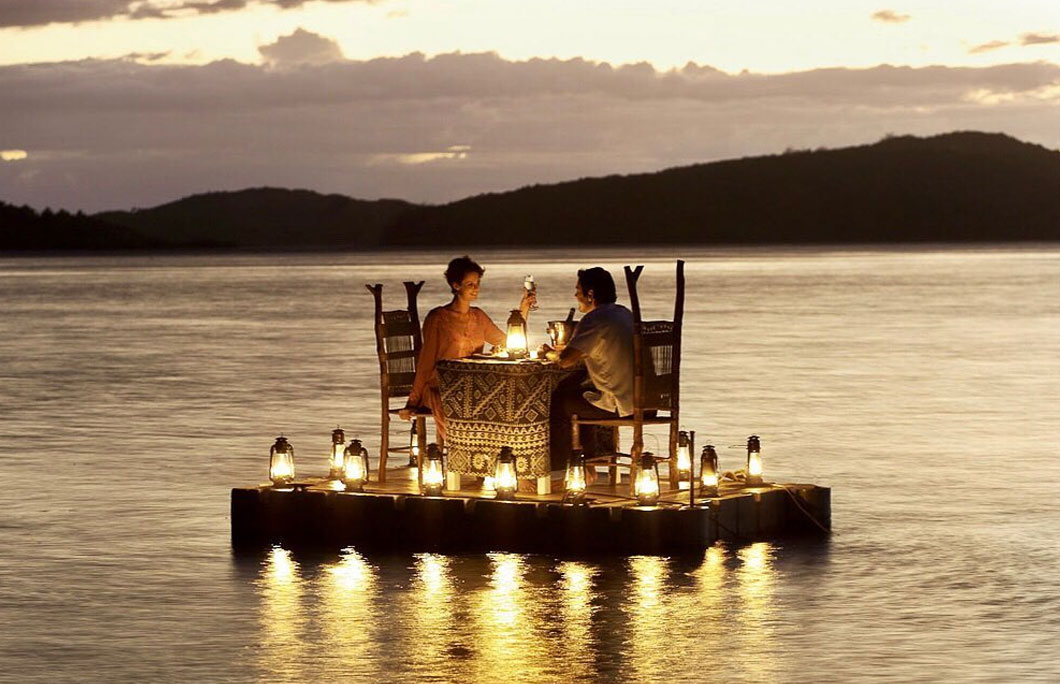 42. Turtle Island – Fiji
500 acres of powder-white beaches and crystal blue coastlines make up this luxury resort private island. At Turtle Island, they offer some of the world's most intimate and upscale dining. Take your pick from a candle-lit dinner under the moonlight, a sunset dinner just for two or a floating table on the water. That's right, you and your special someone can dine right on the water. In other words, book your table now!
---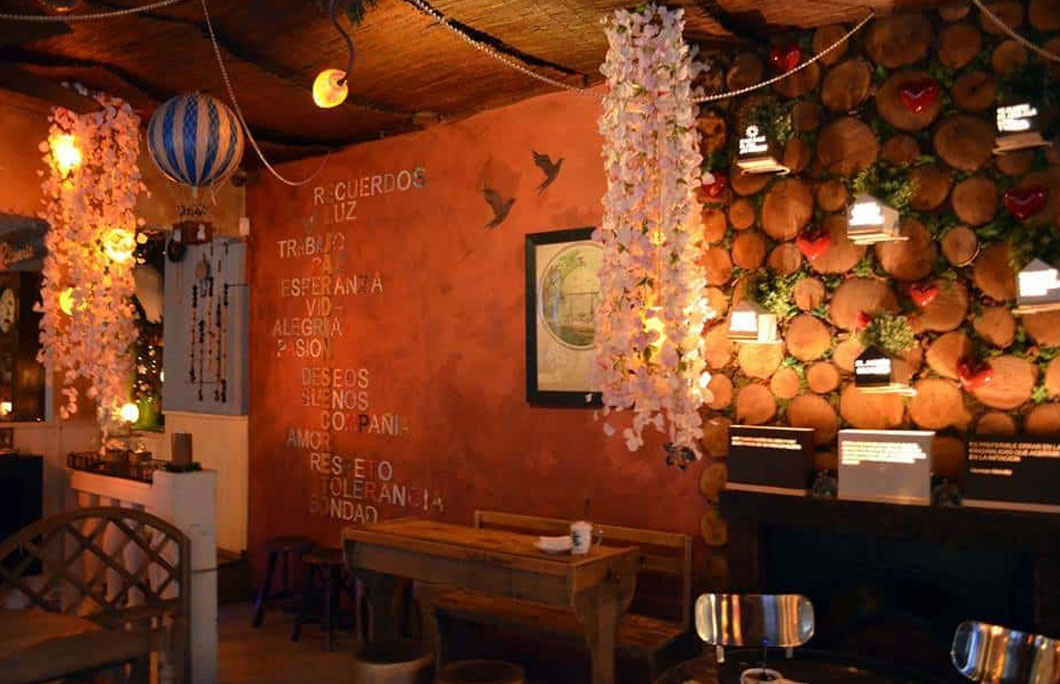 41. El Jardin Secreto – Madrid
'The Secret Garden' is a quirky, adorable Mediterranean joint in Madrid is perfect for a memorable evening. The interesting decor of hot hair balloons, flowers and string lights with warm abience are what makes El Jardin Secreto unique.
---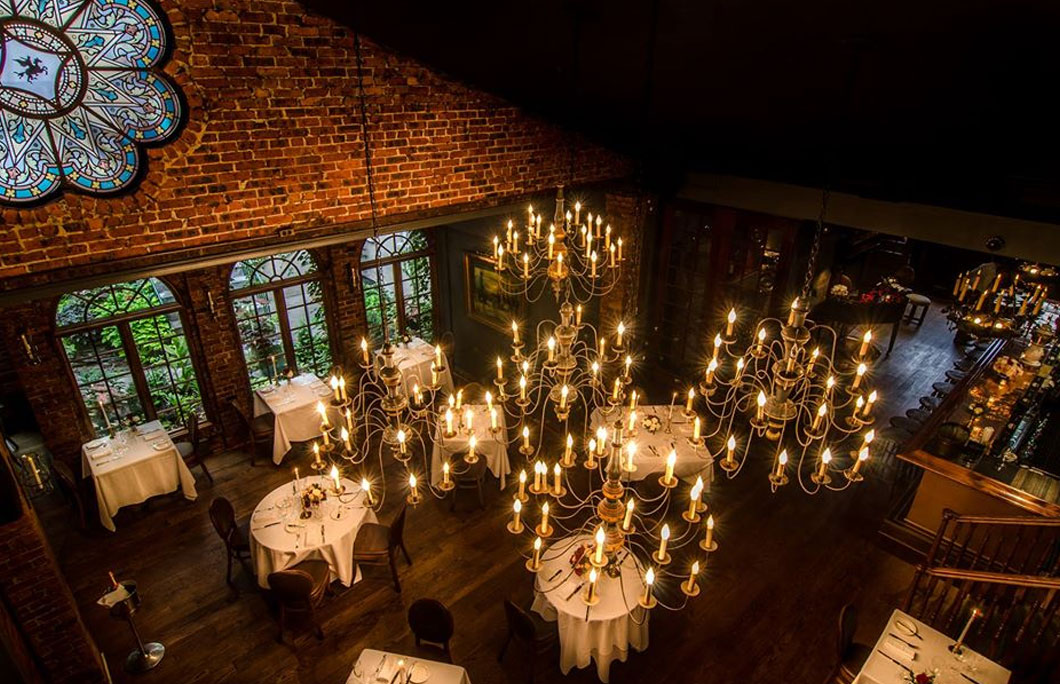 40. One If By Land, Two If By Sea – NYC
This Greenwich favourite belongs on everyone's romantic bucket list. Long hailed as one of the best restaurants in NYC, One If By Land, Two If By Sea is quickly becoming one of the most romantic spots in all of the USA with it's historic setting and famous service.
---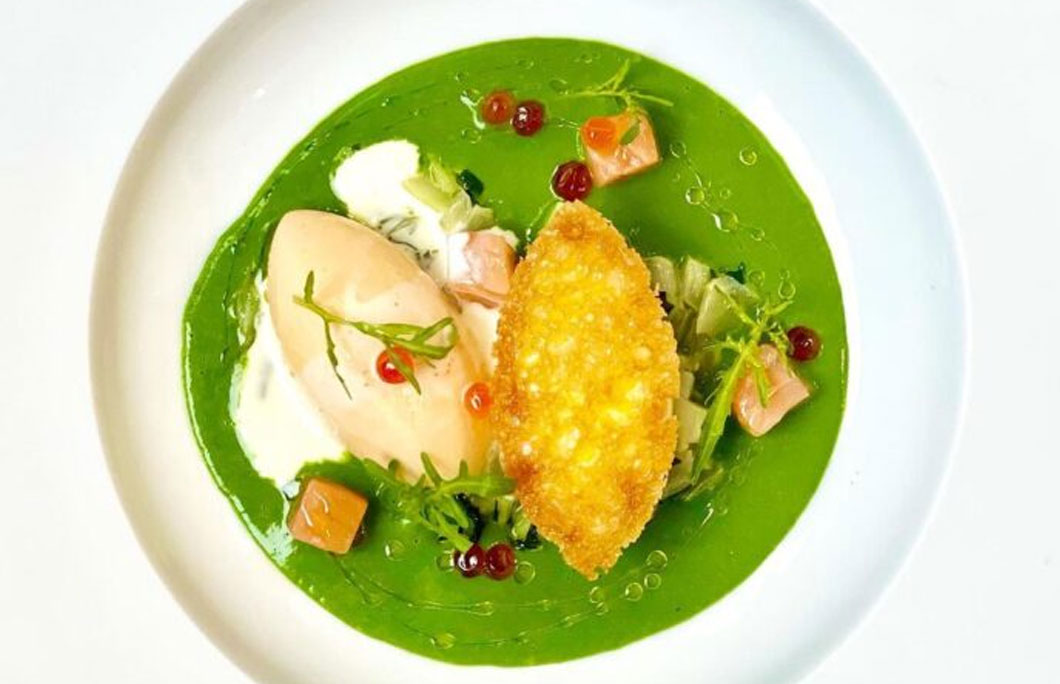 39. La Tour D'Argent – Paris, France
Royal blue carpets with gold accents, crystal chandeliers and massive candelabras make La Tour D'Argent look like it belongs in a palace. 'The Silver Tower' in English, is located on Quai de la Tournelle just off the dreamy River Seine. After one meal here you'll agree it's one of the most romantic restaurants in the world.
---
38. Nümans – Kaunas, Lithuania
Michelin starred Nordic cuisine is the speciality at this stylish restaurant. Minimalist Scandinavian decor with generous greenery turns your attention to where it matters, the food. Considering that this restaurant is fine-dining, the portions are hefty. The staff are knowledgable, polite and attentive, to ensure a perfect evening with your partner.
---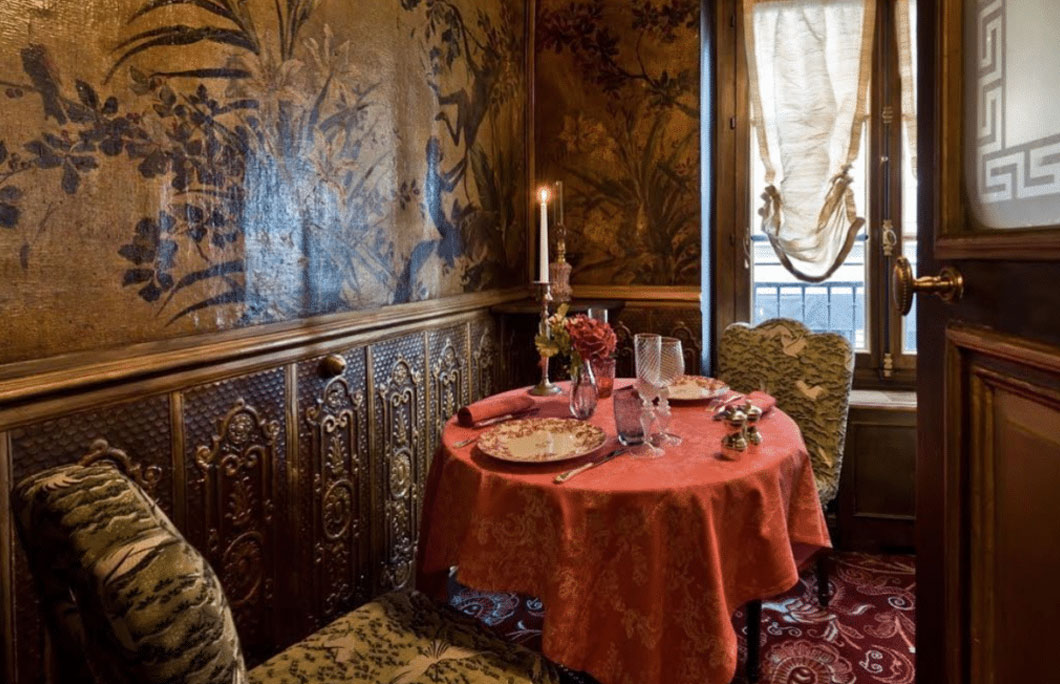 37. Lapérouse – Paris, France
Want to drink and dine like Hemingway? Then head to one of his regular Paris spots, Lapérouse. Established in 1766, this house of delicious dining is a Paris legend. Fans of the movie,Midnight in Paris will enjoy this restaurant as it was featured in the film. Sink into plush booths and feast on some of the best food in the city.
---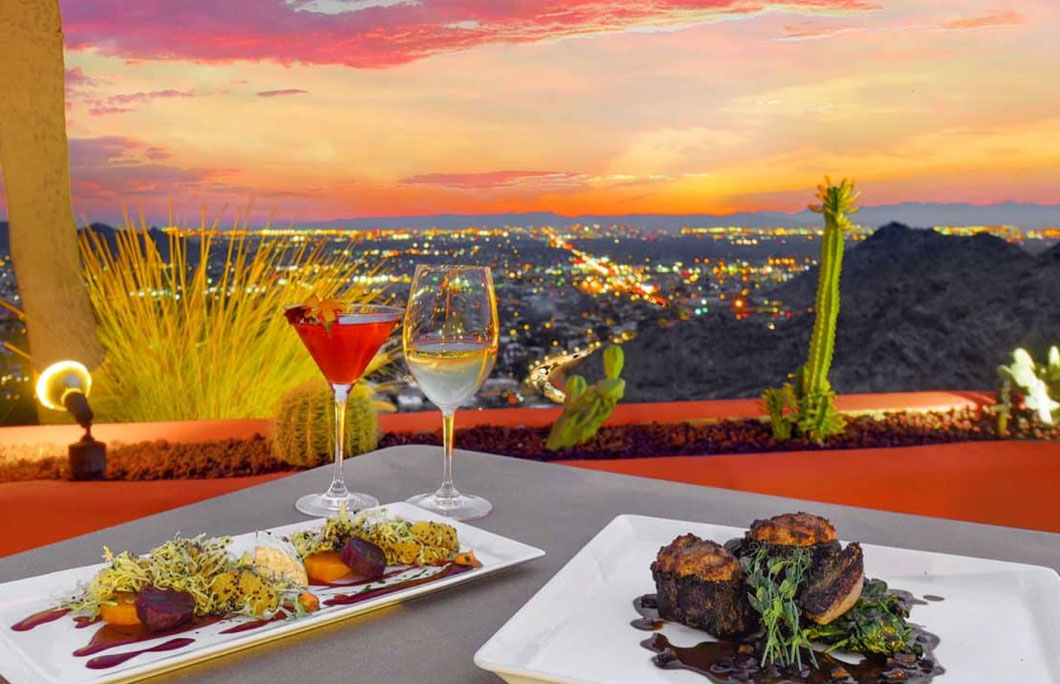 36. Different Pointe of View – Pheonix, Arizona
Head to Pheonix's Different Pointe of View for a magical evening of fine American cuisine. Perched 1,800 feet over the Valley of the Sun, the views here are simply unforgettable. With this in mind, come at dusk to take in the sunset and watch the desert sky fill with stars. You'll fall in love all over again…
---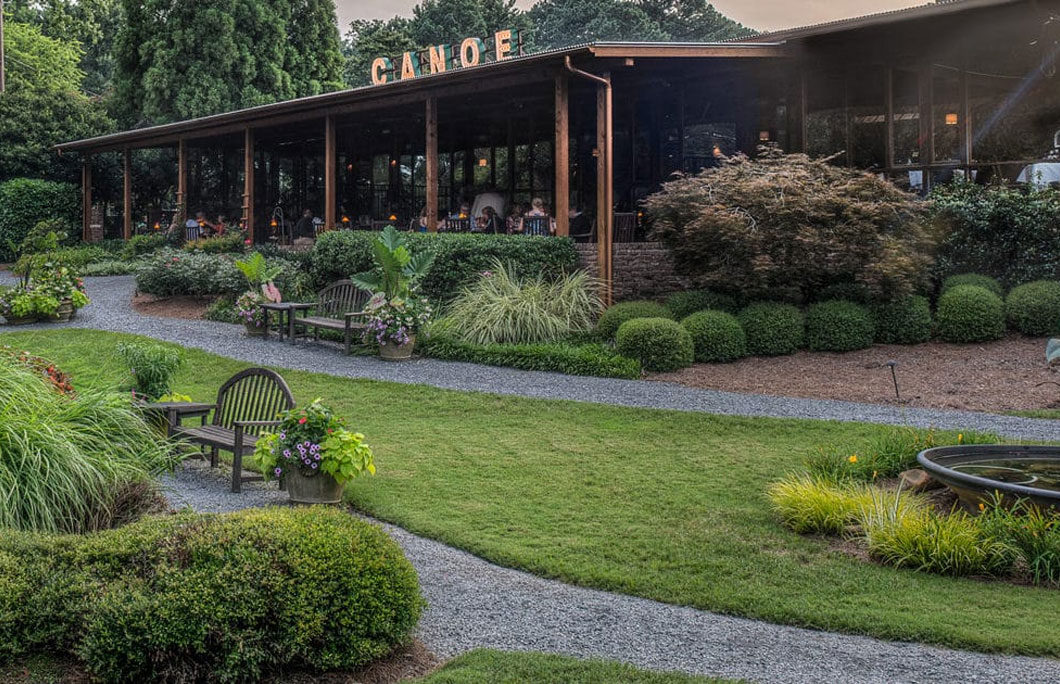 35. Canoe – Atlanta, Georgia
Right off the Chattahoochee River where Buckhead meets Vinings, you'll find Canoe. This beautiful Southern-style restaurant delivers world-class food while retaining Southern hospitality and flavour. Be prepared to have the night of your life at Canoe. Oh, and please – don't leave without indulging in their famous dessert menu.
---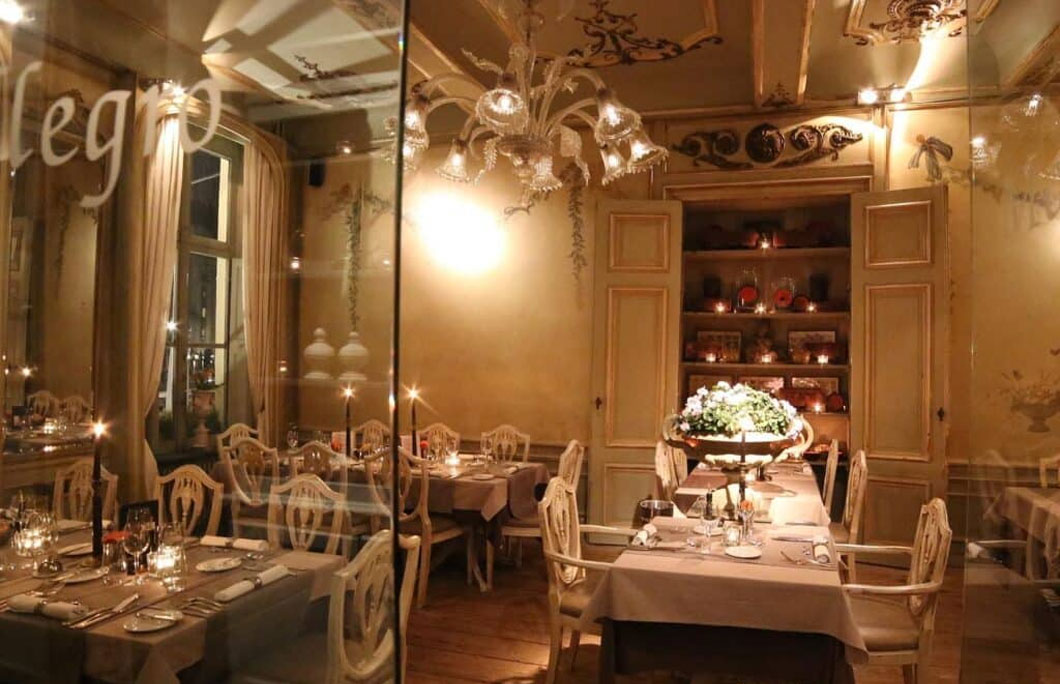 34. Allegro Moderato – Ghent, Belgium
This traditional French restaurant is set in an 18th-century building and comes with all the charm you'd expect. Dramatic chandeliers, baroque fireplaces and trinkets galore give Allegro Moderato a cosy yet sophisticated vibe. This Ghent favourite also offers views of the cities spires and an airy terrace making it the perfect choice for a special night.
---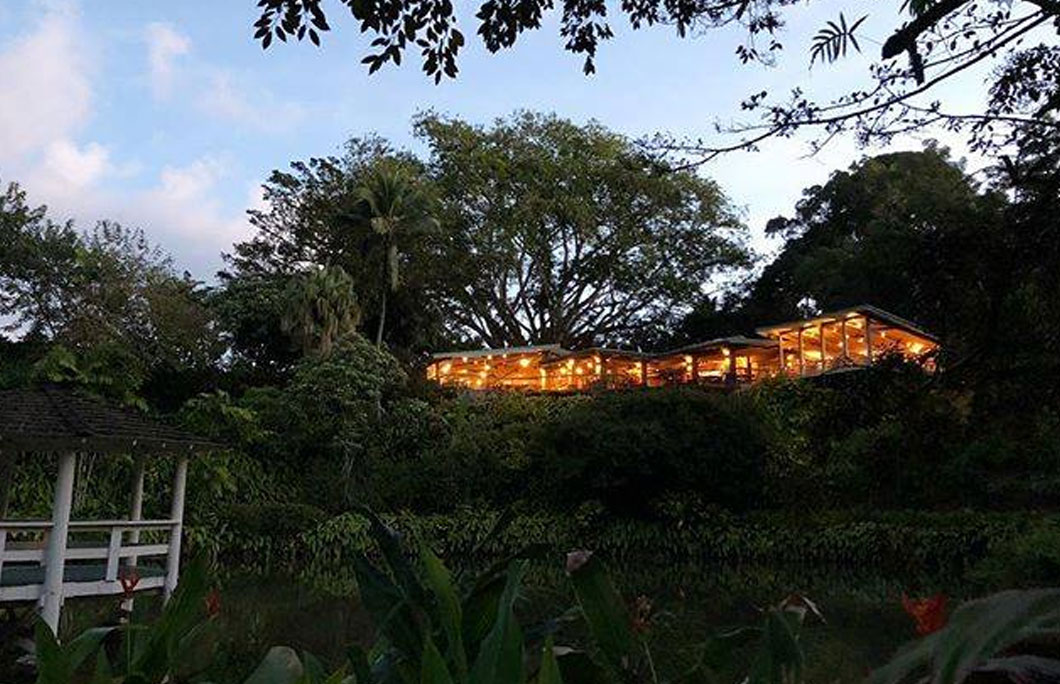 33. Haleiwa Joe's – Kaneohe, Hawaii
At Haleiwa Joe's, they bring the Aloha spirit to the dinner table. Nestled in Kaneohe's lush valley with perfect views of the surrounding ocean, Haleiwa Joe's has an ideal location. Its pretty location is combined with the fact that it serves up some of the most fantastic food in all of the Pacific. In a nutshell it's a perfect choice for couples.
---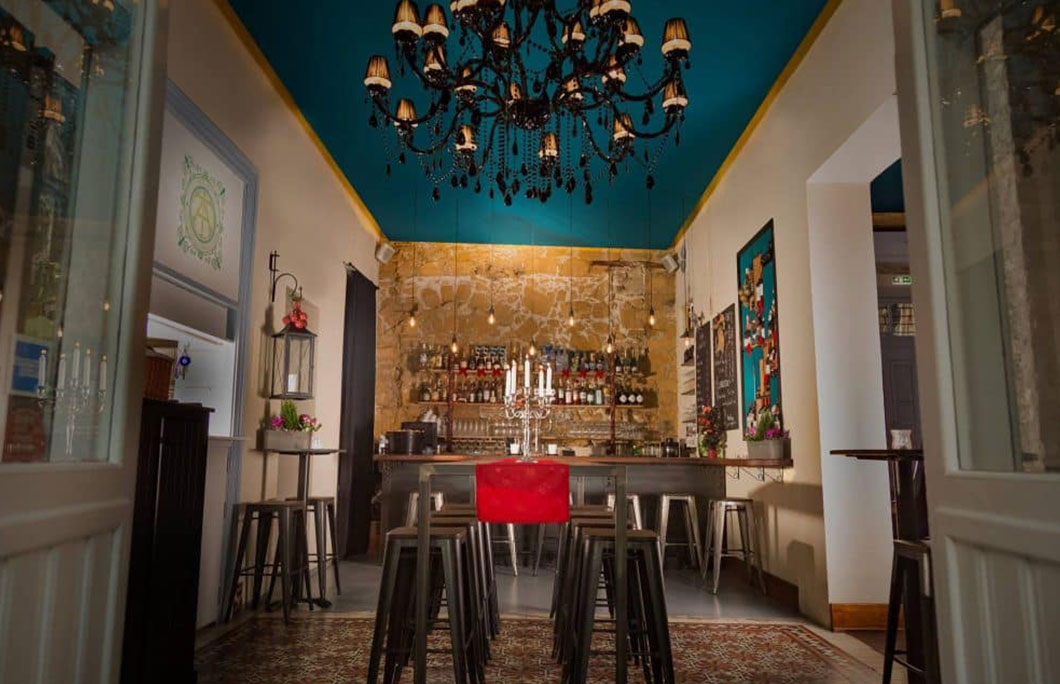 32. Atelier – Nicosia, Cyprus
In the heart of historic Nicosia, you'll find Atelier. Gourmet food, French flavour, historical setting and attentive service come together to make Atelier one of the world's most romantic restaurants. You can't go wrong with their French classics such as foie gras and beef tartare over candlelight and a nice bottle of red.
---
31. Club del Doge – Venice, Italy
Does it get more idyllic and dreamy than Venetian canals? Located on the Grand Canal, you'll find our next pick. Club del Doge's luxurious terrace dining spot is something out of a movie. Dine on gourmet Venetian cuisine and take the flavours of the world-famous chef, Daniele Turco. Venice is a prime honeymoon spot, and this restaurant lives up to the city's romantic reputation.
---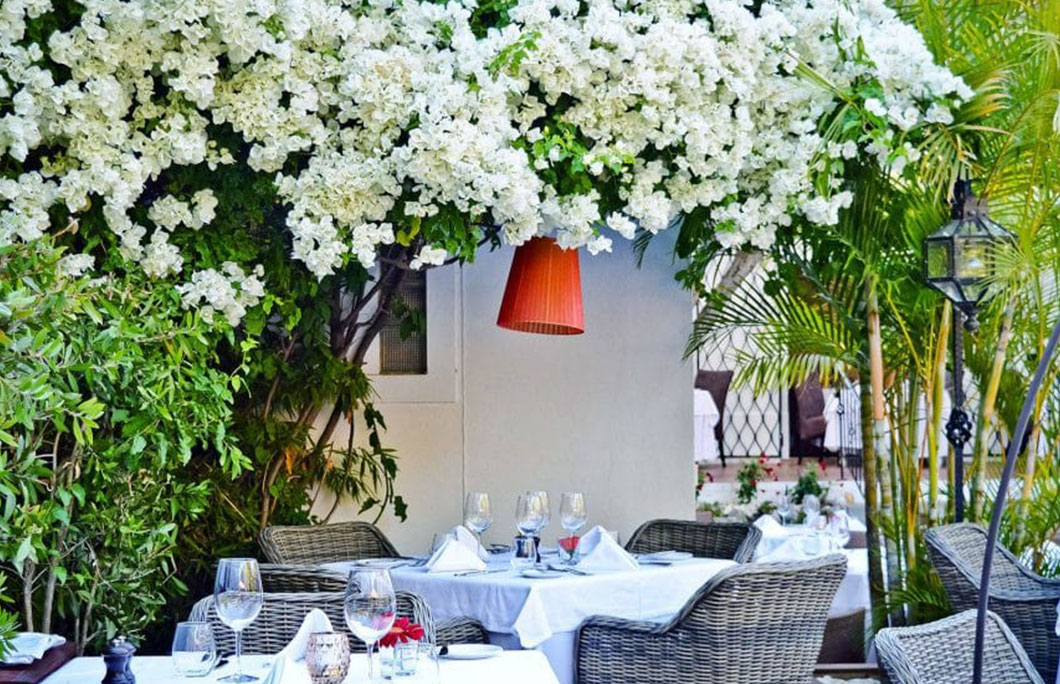 30. Gourmet Restaurant – Ferrarias, Portugal
Near famous couple's resorts, Vale de Lobo and Quinta do Lago, Gourmet Natural is ideally located for lovers. With a focus on natural dining, they boast several organic meats and bring a holistic approach to their menu. This, combined with the airy terrace and Mediterranean ambience, make it a perfect choice for couples.
---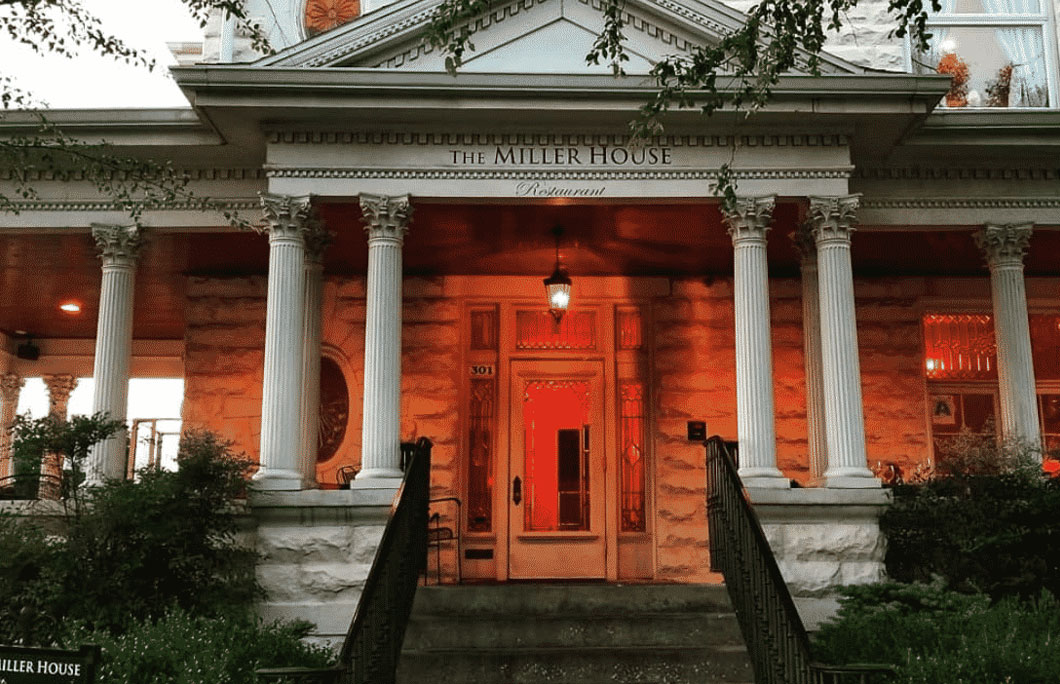 29. The Miller House – Owensboro, Kentucky
Upscale meets Southern flare in this Kentucky favourite. This iconic Victorian-style home is perfect for a romantic evening with a special someone. Take in the historic appeal of this unique restaurant while enjoying Southern classics like fried green tomatoes and bourbon.
---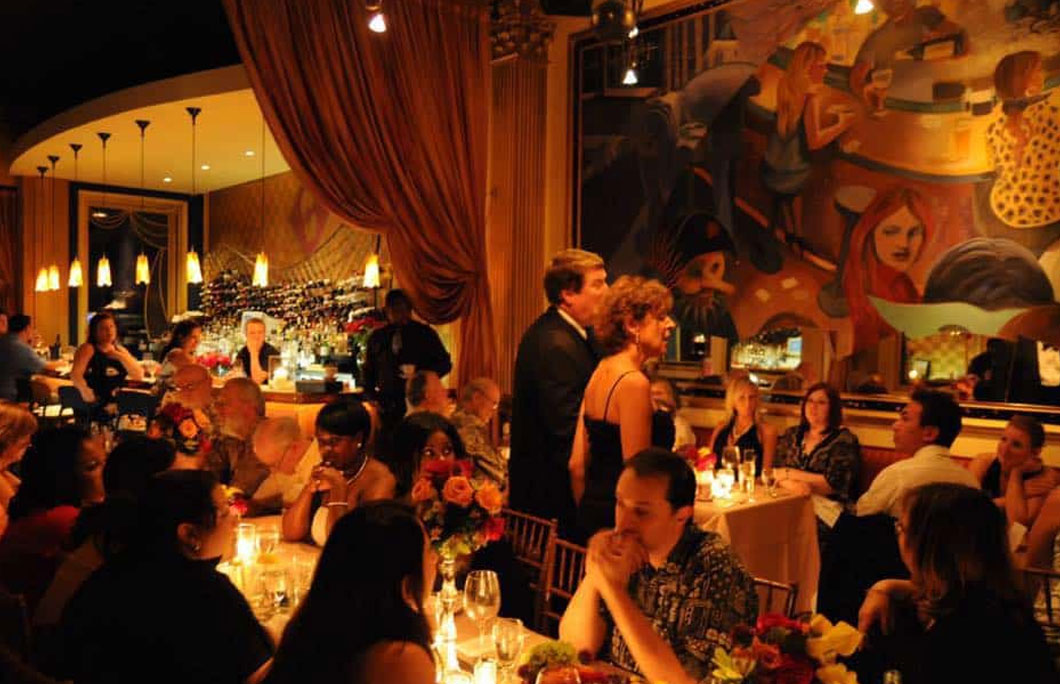 28. Sotto Sopra – Baltimore, Maryland
Live opera singers, delectable wine selections and oversized art pieces make Sotto Sopra feel like you're in Florence. Enjoy a candle-lit dinner while being serenaded by one of their many talented singers in the heart of Maryland. It's one of our favourite places in the US for a romantic meal.
---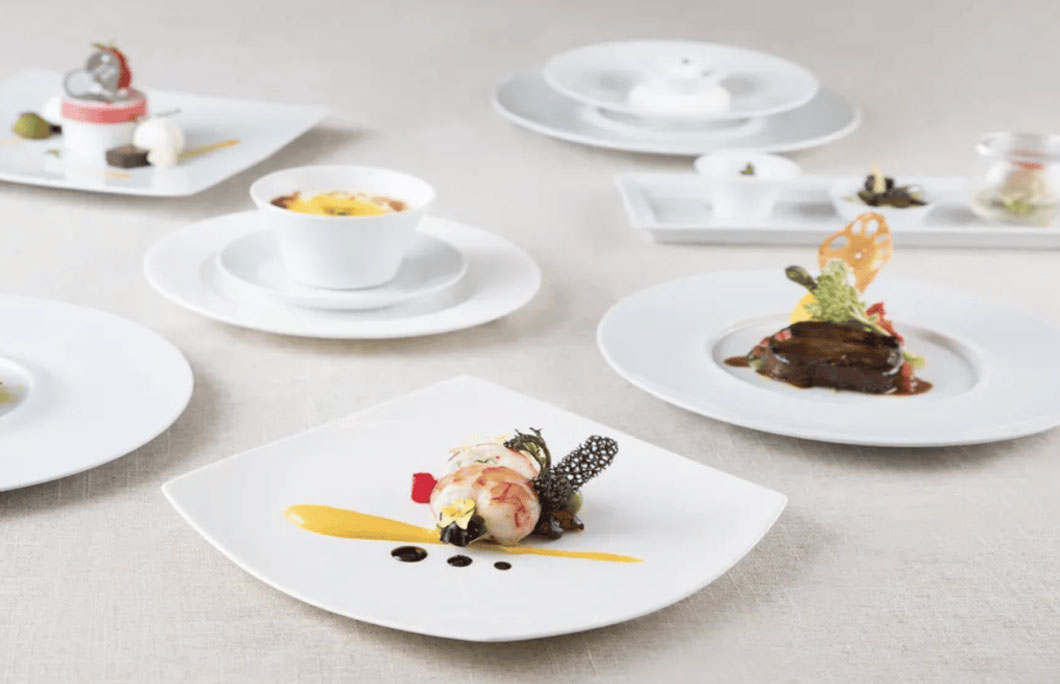 27. Walking On The Cloud – Seoul, South Korea
This restaurant is perfect for those who love a view. Located inside Seoul's 63 building, Walking On The Cloud offers stunning views over the bustling city. Their candle-lit tables and generous pours of wine make this restaurant feel like you really are 'walking on the cloud'. Arrive for sunset, and spend the night feasting on world-class cuisine.
---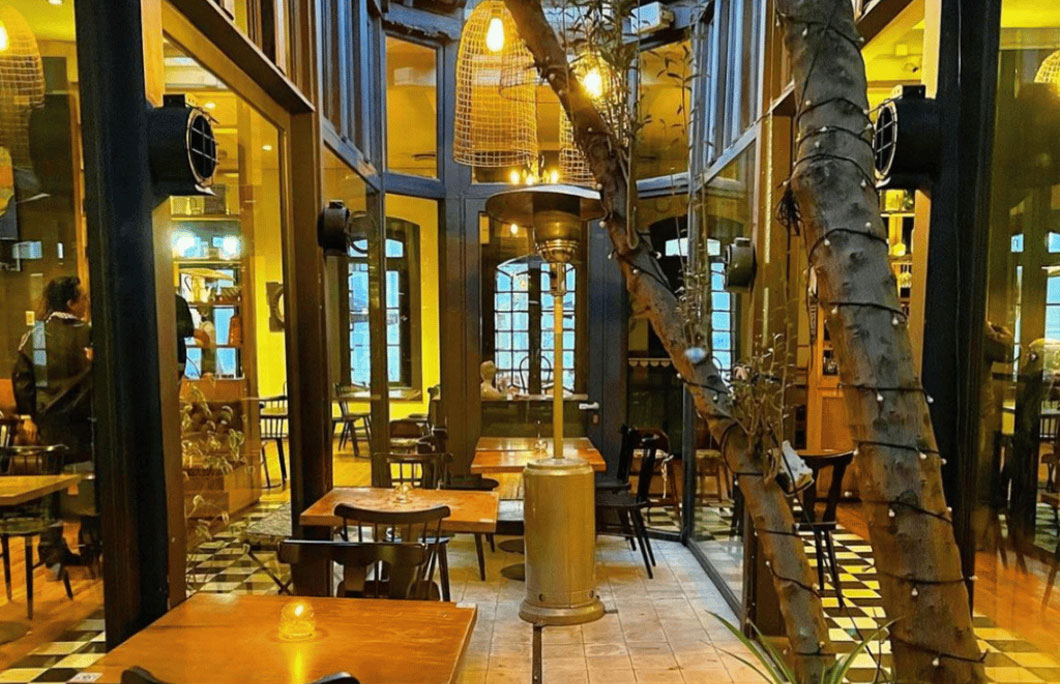 26. Casaluz – Santiago, Chile
Candle-lit tables, an overgrown garden, string lights and lanterns hanging overhead are just some of the things we love here. This restaurant is the perfect setting for a romantic meal for a big occasion or just because with your special someone. Chat the night away under the glowing lanterns on the breezy patio in this dreamy fairyland.
---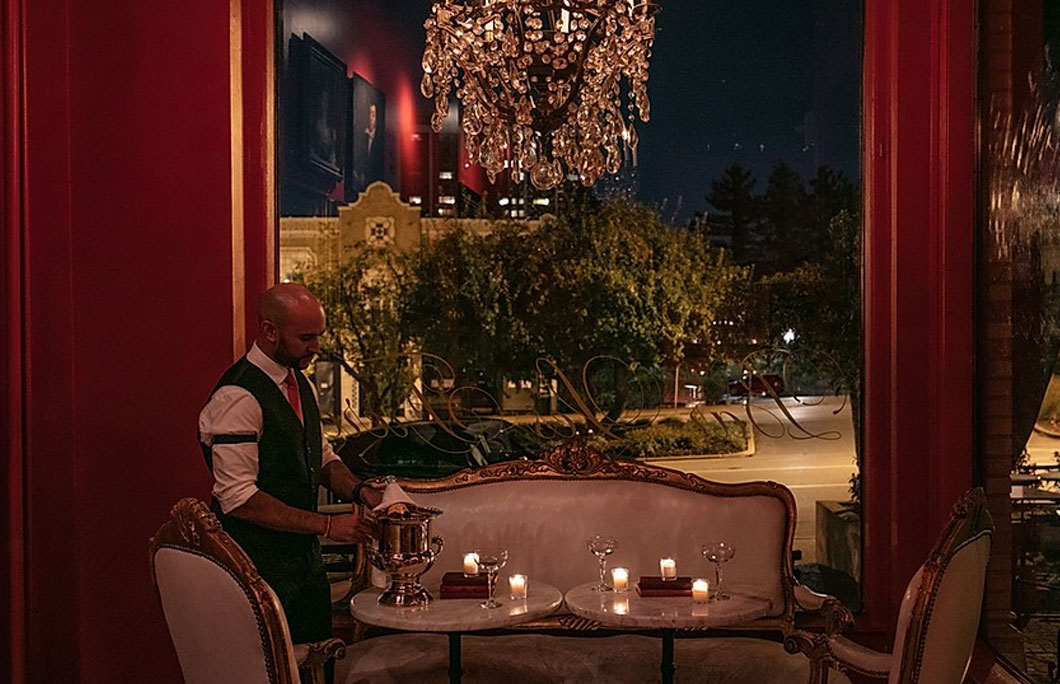 25. Bar Les Frères – Clayton, Missouri
Warm lighting, antique style decor and chic furniture make Missouri's Bar Les Frères feel like floating on the Seine. Cute, quaint and undeniably French, this bistro is perfect – whether you're dating or have been married for decades.
---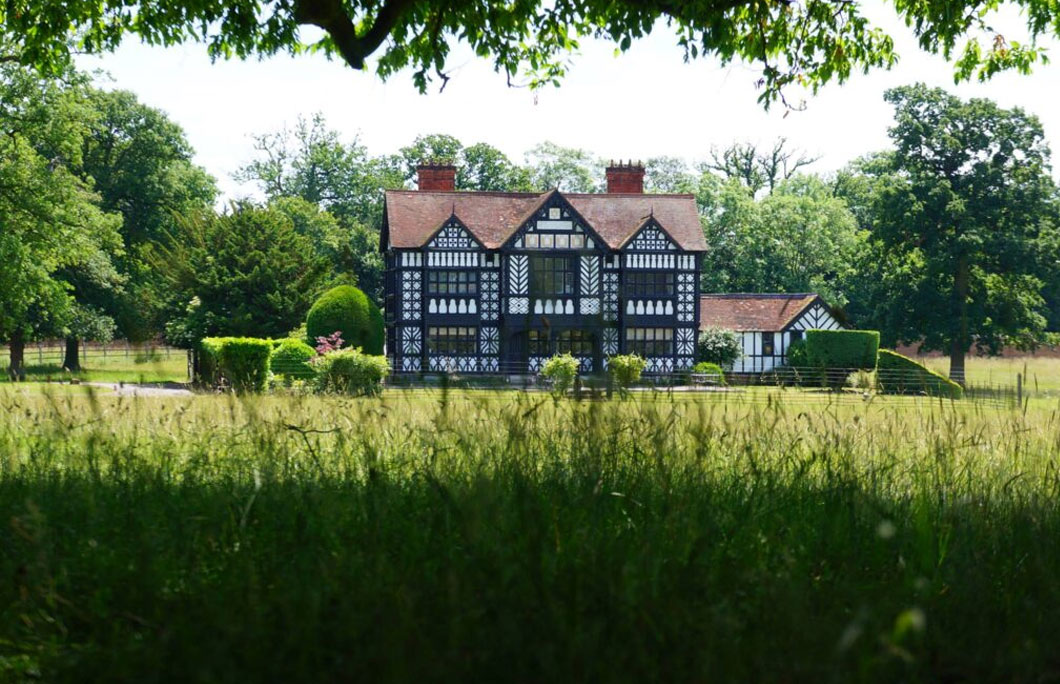 24. Paris House – Woburn, England
Located in the Duke of Bedford's Estate in Woburn, Paris House is the very epitome of sophistication and elegance. It's known for its Victorian Tudor-style and super cute vibes. This mansion turned restaurant serves classic British cuisine complete with a Michelin star. A match made in heaven.
---
23. Sugar Hill Inn – Sugar Hill, New Hampshire
It's no surprise that one of America's most romantic hotels is also home to one of the world's most romantic restaurants. Charm your sweetheart with a four-course candle-lit meal at this cosy inn. Afterwards, enjoy glasses of wine next to the burning fireplace while you talk the night away. Ideal date night? We sure think so.
---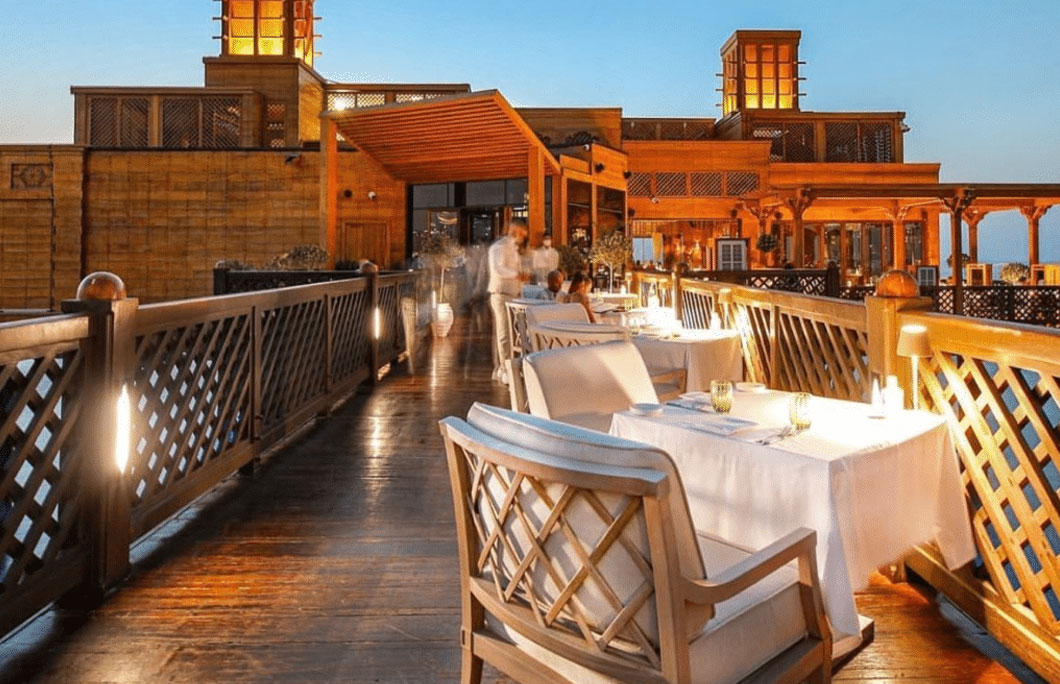 22. Pierchic – Dubai, United Arab Emirates
If there's one thing Dubai does right, it's luxury. So you can't miss the chance to dine on the world-famous menu at Pierchic while enjoying a gorgeous view of Burj Al Arab and the Arabian Gulf. This city has romantic, exciting date night written all over it. You'll see it with your own eyes at this spot on our list of the most romantic restaurants in the world.
---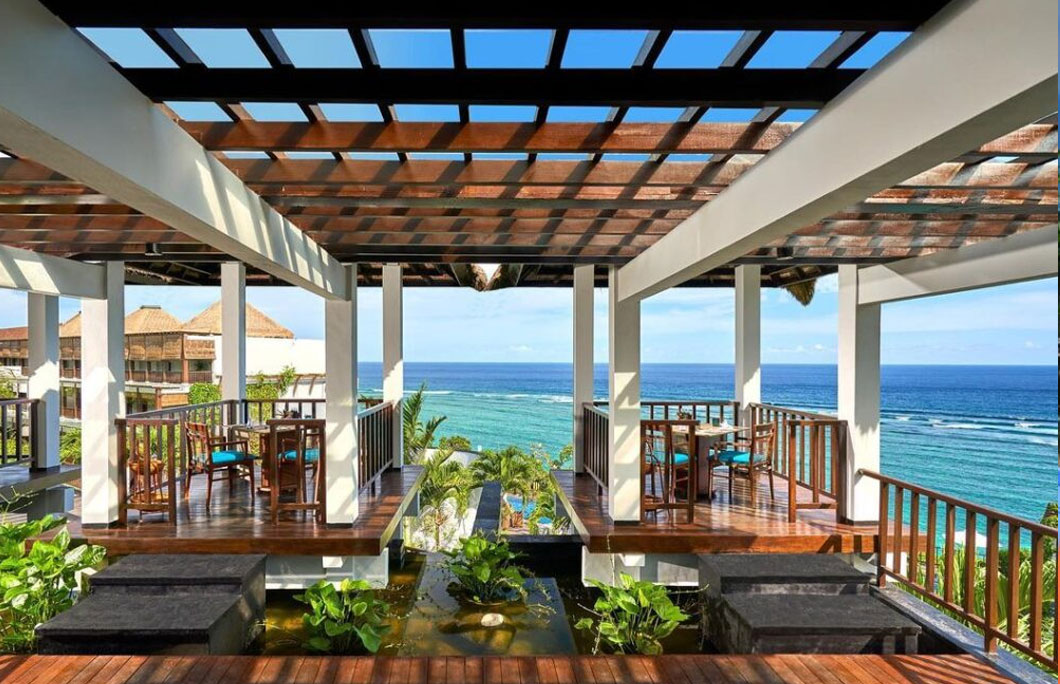 21. Samabe Bali – Bali, Indonesia
Come to Bali (of course!) to find Indonesia's most romantic and picture-perfect restaurant. Twinkling candles and lanterns dot the cosy cave that looks out to the peaceful sea offering an unforgettable view. Couples will enjoy their many four-course options with their handcrafted cocktails and delicious seafood choices.
---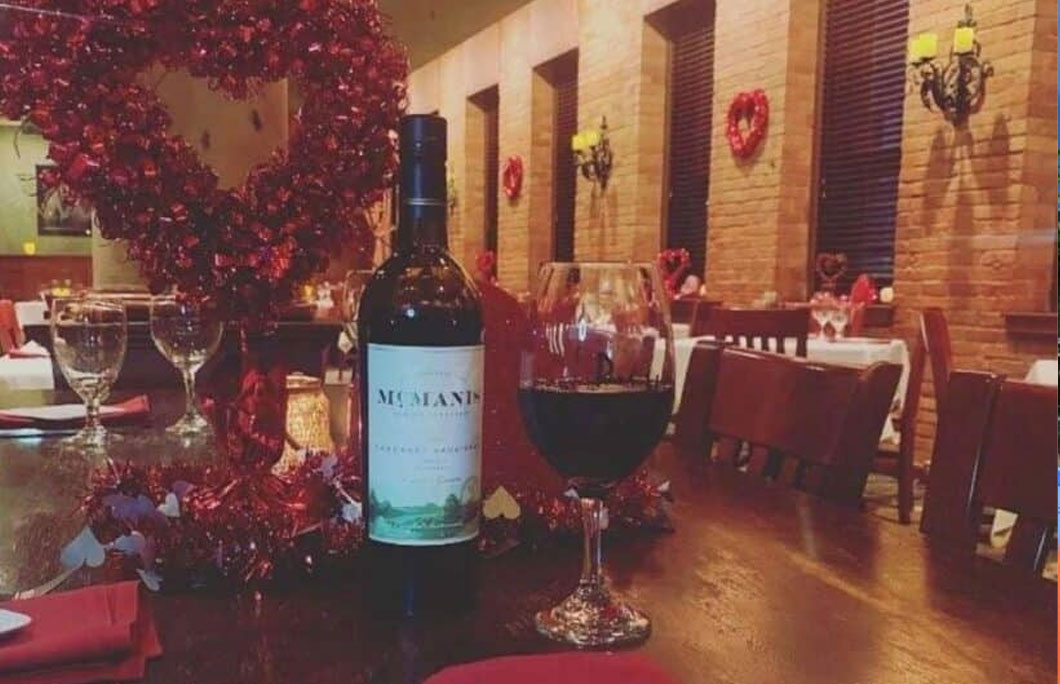 20. Pane Vino On The River – Rochester, New York
It's no secret that New York is home to some of the world's best restaurants. While most head for NYC, you'll be missing out if you don't make time for Rochester. Set along the stunning Genesee River, Pane Vino offers romantic tables for two with a beautiful view. Trust us, for date night you can't go wrong with their small-town charm and wine list.
Pro tip: ask for the table in the back with the curtains.
---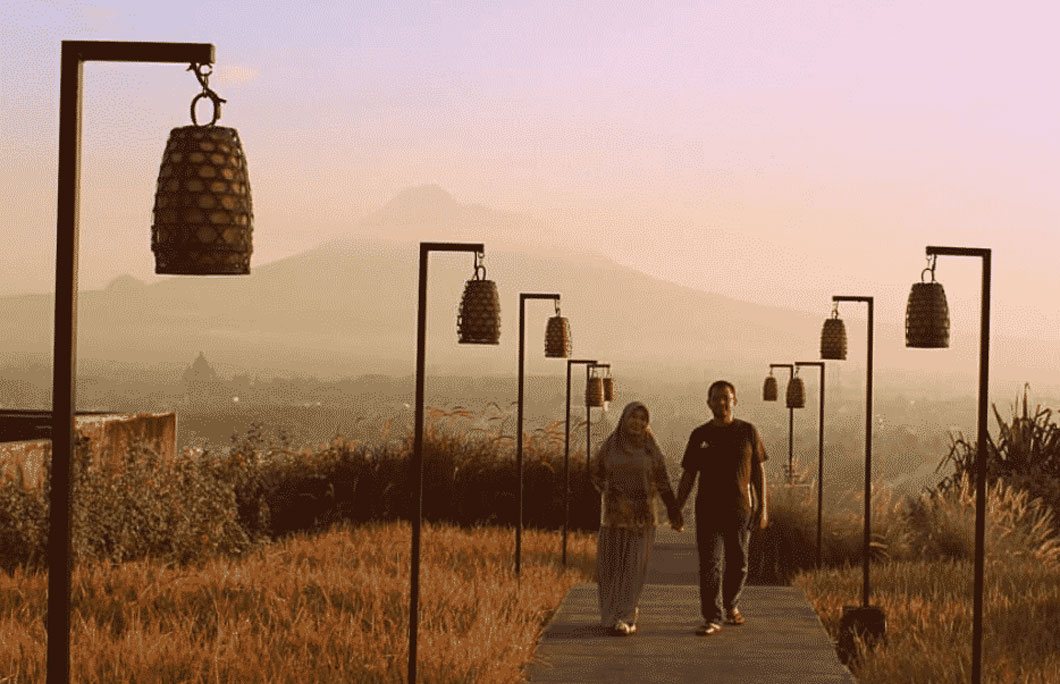 19. Abhayagiri Restaraunt – Yogyakarta, Indonesia
Rice terraces, village views and cotton candy skies bring this scenic restaurant to life at dinner time. Locate in Sumberwatu Heritage, Abhayagiri is one of the world's most dreamy places to dine. Along with delicious food you'll also have a mesmerising view of Mount Merapi and Prambanan Temple.
---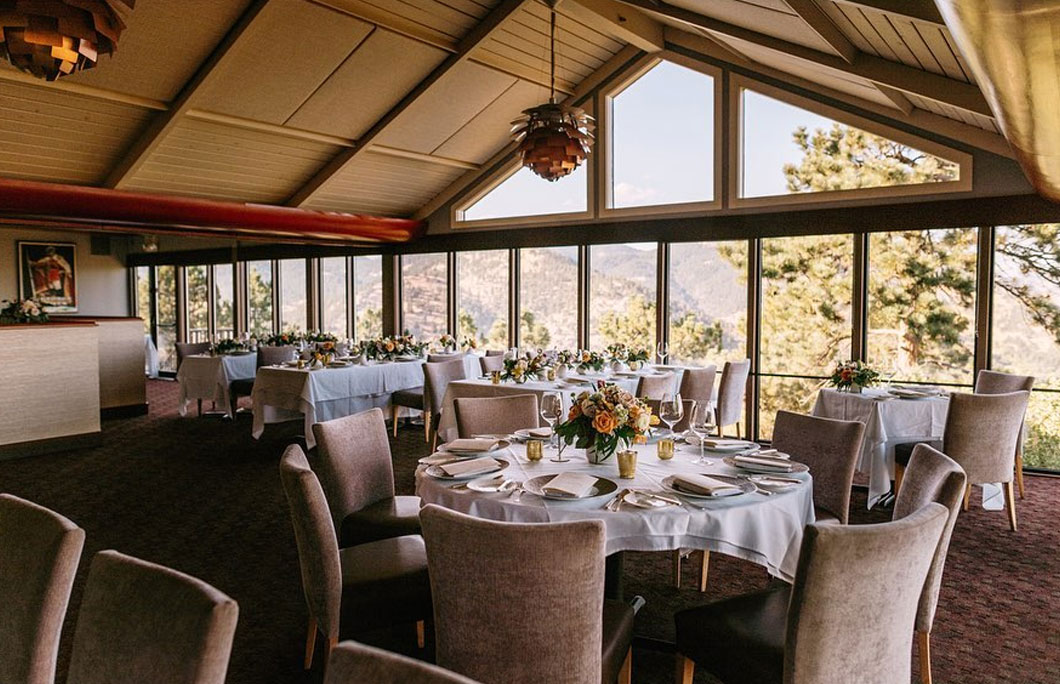 18. Flagstaff House – Boulder, Colorado
Perched atop Flagstaff Mountain in Boulder Colorado is Flagstaff House. Floor to ceiling windows and beautiful views of Boulder aren't the only reason it's one of the most romantic restaurants in the world. Although, y'know, they do help. The restaurant also has an award-winning 15,000 count wine collection and is entirely family-run.
---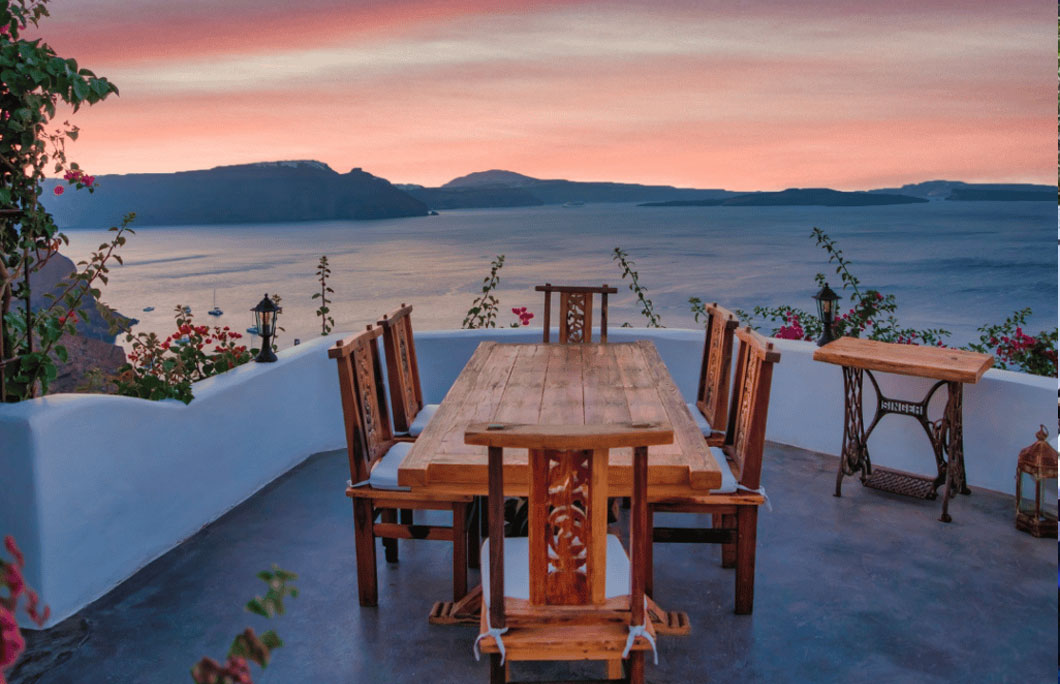 17. Lycabettus Restaraunt – Santorini, Greece
Few places wow like Santorini. Cobalt blue seas and porcelain white Cycladic villages take over the scenery drawing millions of tourists per year. Which brings us to this clifftop restaurant in Oia. The massive cliff edge terrace with stunning vistas is perhaps the least interesting thing it offers. In short, Lycabettus is the definition of fine Greek dining.
---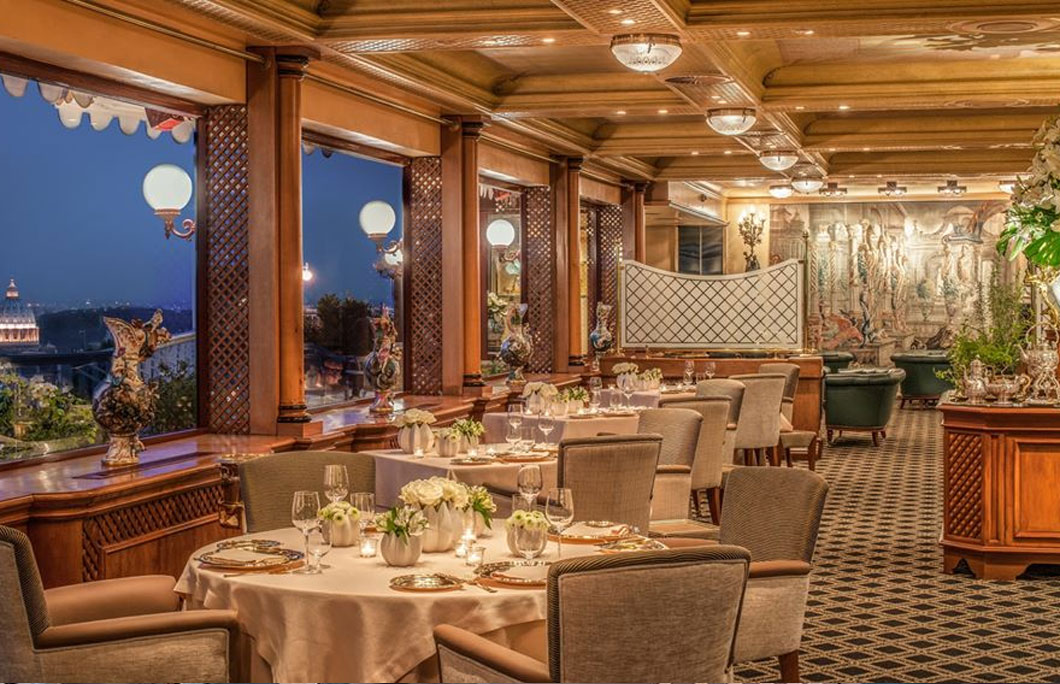 16. La Pergola- Rome, Italy
La Pergola is home to not one, not two, but three Michelin stars, making it one of the world's best restaurants. And we're calling it: it's also one of the most romantic restaurants in the world, too. Breathtaking views over the Eternal City, ornate decor and a host of Mediterranean and Italian dishes make it an excellent choice for a romantic evening.
---
15. The Little Door – Los Angeles, California
The Little Door brings a little bit of Paris to West-Hollywood with French fusion cuisine. It's full of character, charming decor and a cosy-place-to-ourselves feel, making it intimate and a perfect choice for your special someone. The food is just as impressive. The kitchen blends French and Moroccan dishes for a unique and delicious menu with an impressive wine list.
---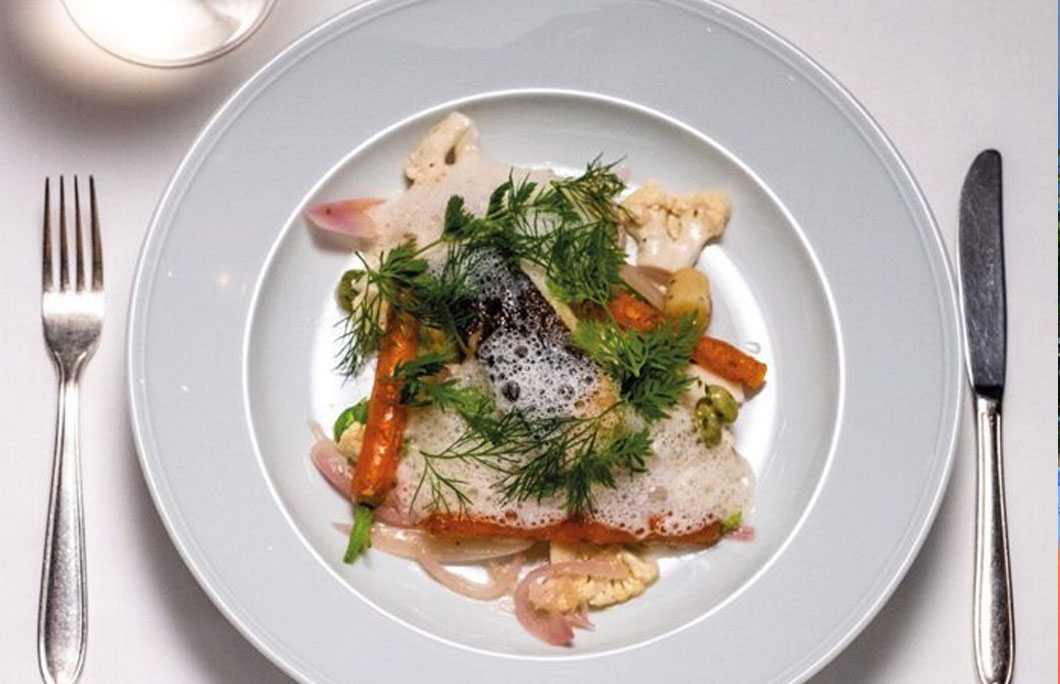 14. Fem Små Hus – Stockholm, Sweden
Classic Swedish home dishes are what Fem Små Hus does best. In the heart of Gamla Stan, the restaurant is made up of nine cellar vaults making for the ultimate cosy experience. Undoubtedly one of the world's most romantic dinner choices. Slip away from the city and settle yourself here for an unforgettable evening.
---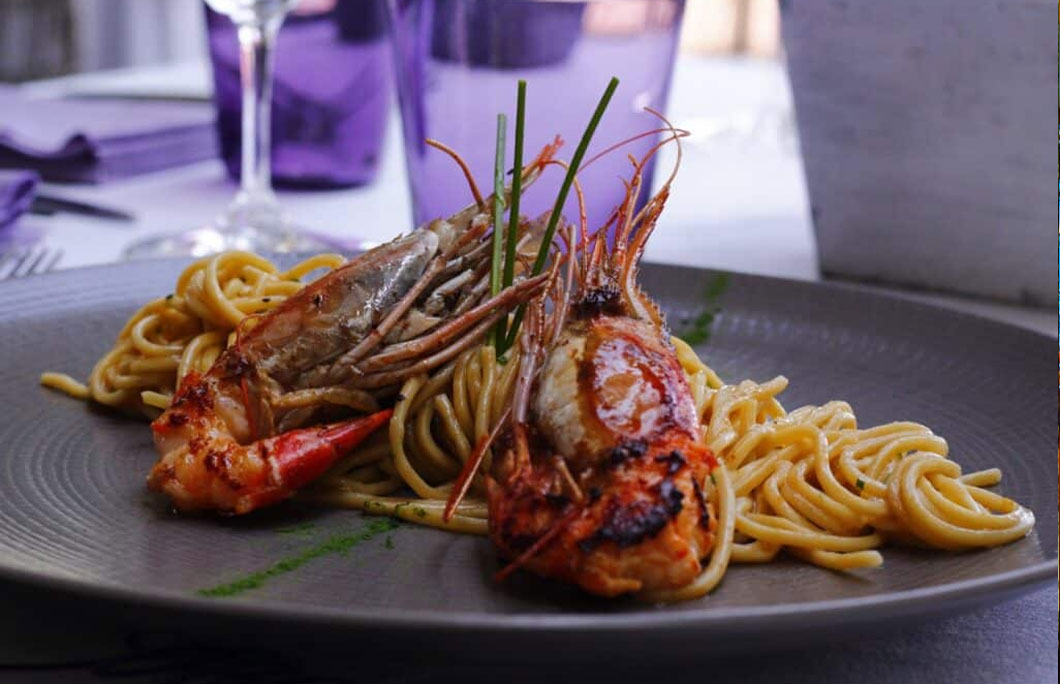 13. Cantinetta del Becco – Mexico City, Mexico
Toast to your love with a robust Italian wine over artisan pasta in the heart of Mexico. Enjoy their extensive wine list with 750 labels and signature dishes, like spaghetti alla chitarra. You're guaranteed a memorable dinner in one of the world's most romantic restaurants here.
---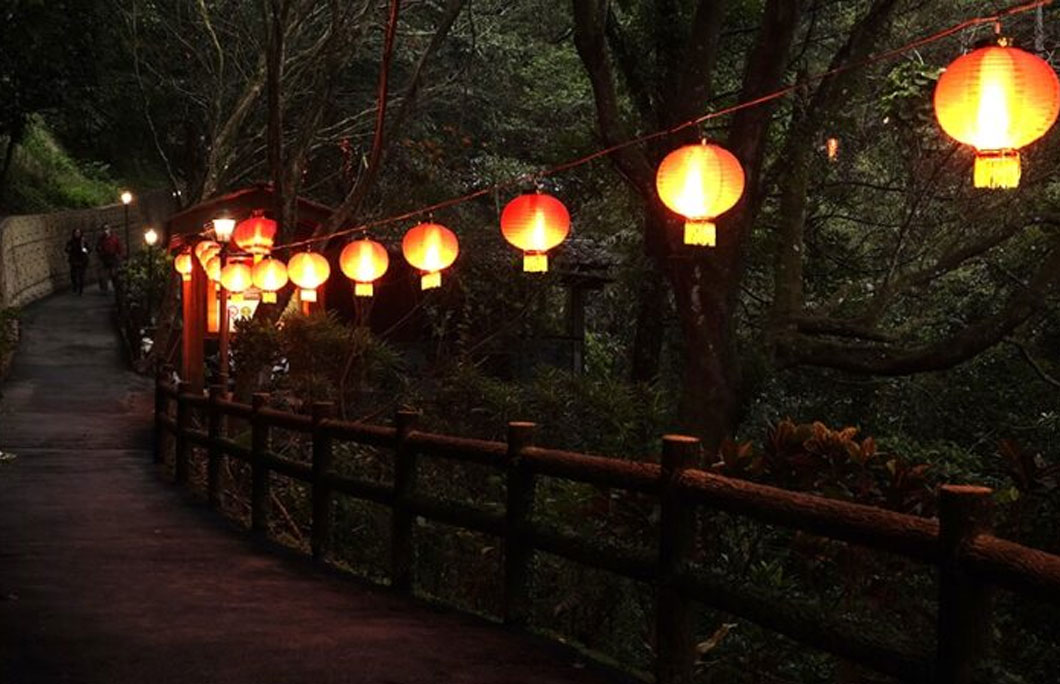 12. Yao-Yue Teahouse – Taipei, Taiwan
Yao-Yue Teahouse, or 'Moon Inviting Teahouse' in English, it Taiwan's second oldest and most romantic teahouse. Lush mountainside views, delicious local foods and ancient teas make it an oasis for couples. When it comes to the menu, there's plenty of choice. You'll enjoy all sorts of tasty dim sum, flavourful teas and stunning views at Yao-Yue Teahouse.
---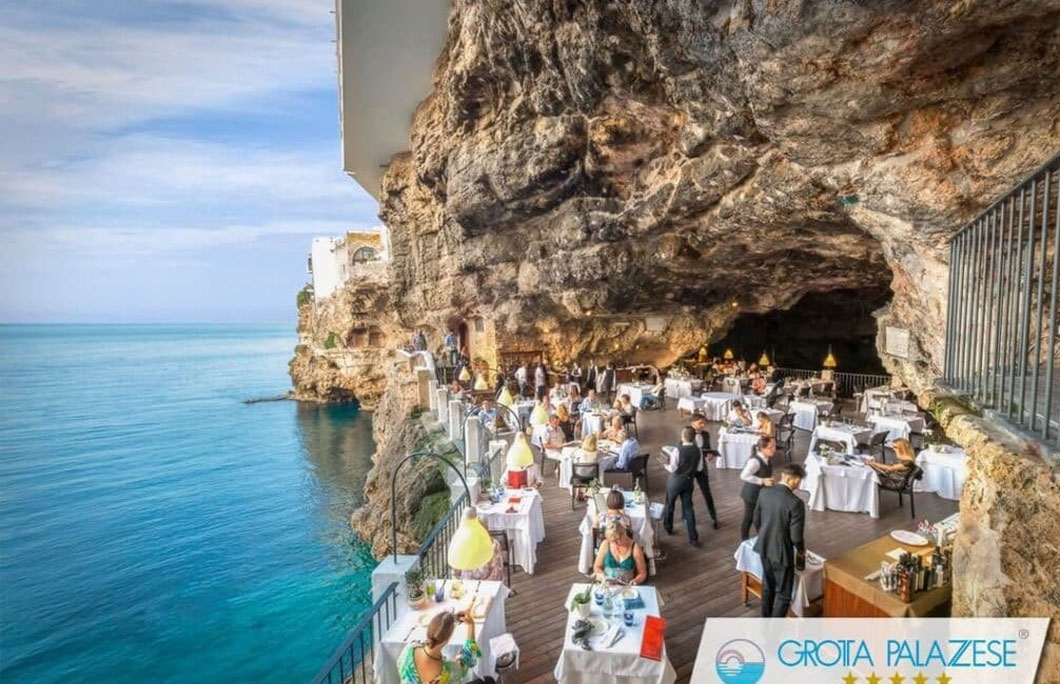 11. Grotta Palazzese – Puglia, Italy
Take your pick of a sunset meal with soft rays filling the cave or a candle and moonlit dinner after dark. this is easily one of the world's most romantic cave dining spots located just off Puglia's dramatic coastline. Firstly, start your magical evening with their four, five or six-course award-winning menus. Finish off your meal with one of their award-winning desserts.
---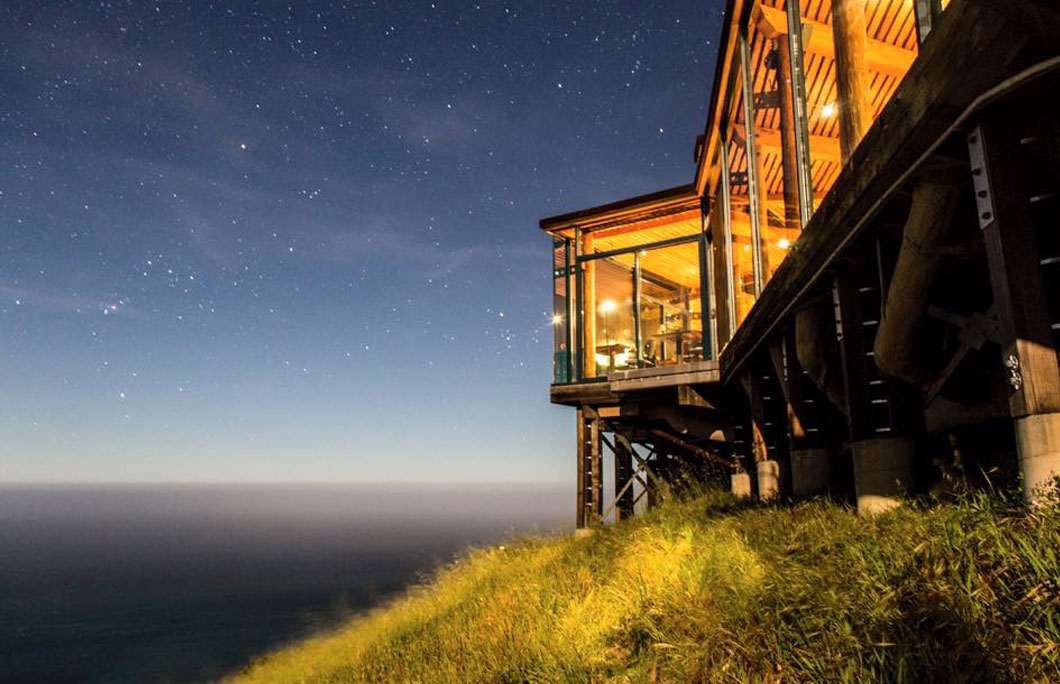 10. Sierra Mar at Post Ranch Inn – Big Sur, California
Contemporary architecture and fine dining come together in this dreamy award-winning cliff-side restaurant. An award-winning wine cellar, jaw-dropping sea views and innovative dishes such as Black River Oscietra caviar make it an obvious choice for lovebirds.
---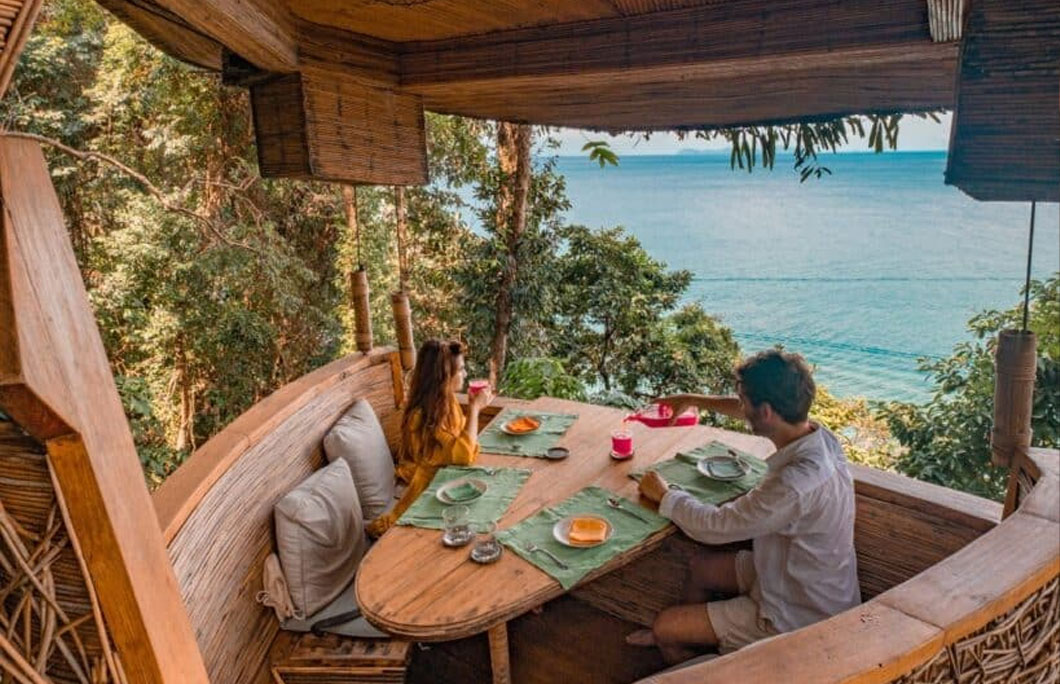 9. Treepod Dining at Soneva Kiri – Koh Kood, Thailand
Number nine on our most romantic restaurants in the world list is right where the rainforest meets the ocean. This unique treetop dining spot is the lovechild of nature and dining. Enjoy your meal in their 'treepod' amongst mother nature in the canopy of the jungle. Start by taking a seat at the table before being hoisted up into the trees for the meal of your life.
---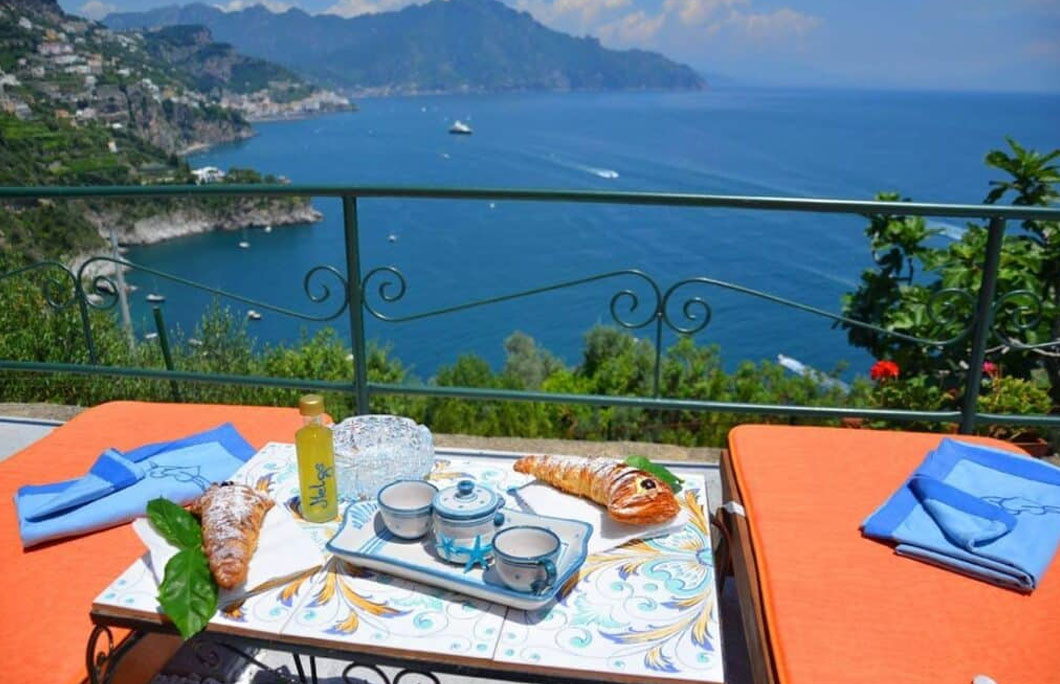 8. Ristorante Il Refettorio-Conca dei Marini, Italy
Set in what used to be a 17th-century convent, is now the Amalfi Coast's most loved restaurant. It's loved for their terraced gardens, sprawling patios and uninterrupted views of the sky and sea, making it the perfect place for date night. Be sure to ask for the sommelier for an expert recommended wine-pairing. To go alongside that delicious wine, ask about their speciality desserts.
---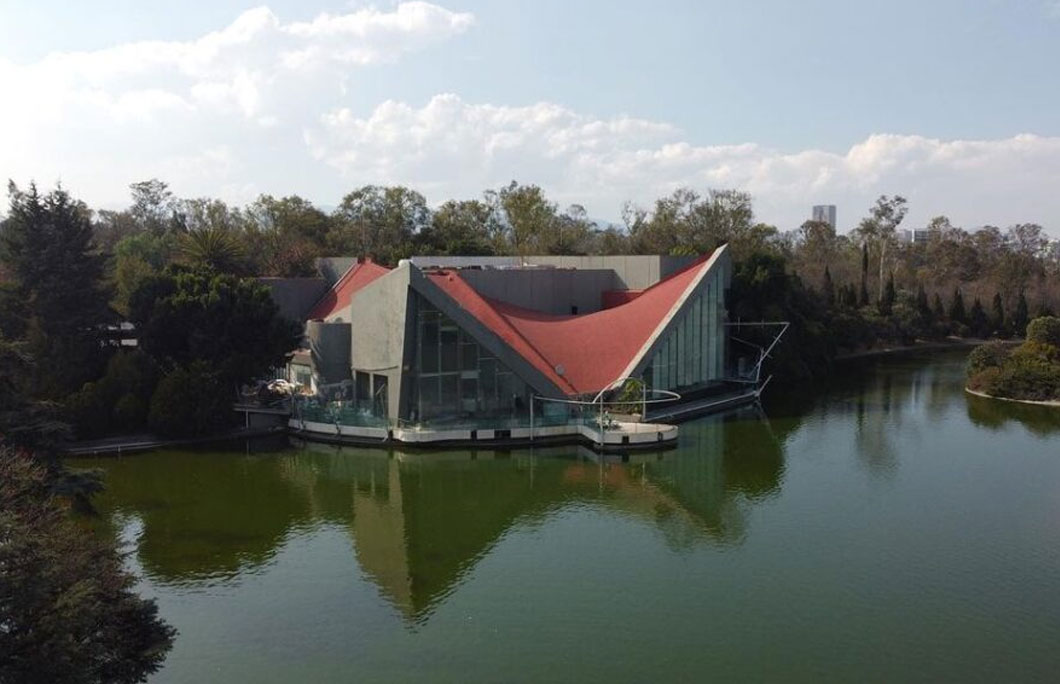 7. El Lago – Mexico City, Mexico
Smack dab in the middle of the Chapultepec forest, you'll find beloved El Lago. Indulge in contemporary Mexican dishes like chicharron lasagna alongside the glowing fountain and soaring views of the woods. Get some dishes to share and just soak up all that romance in the room.
---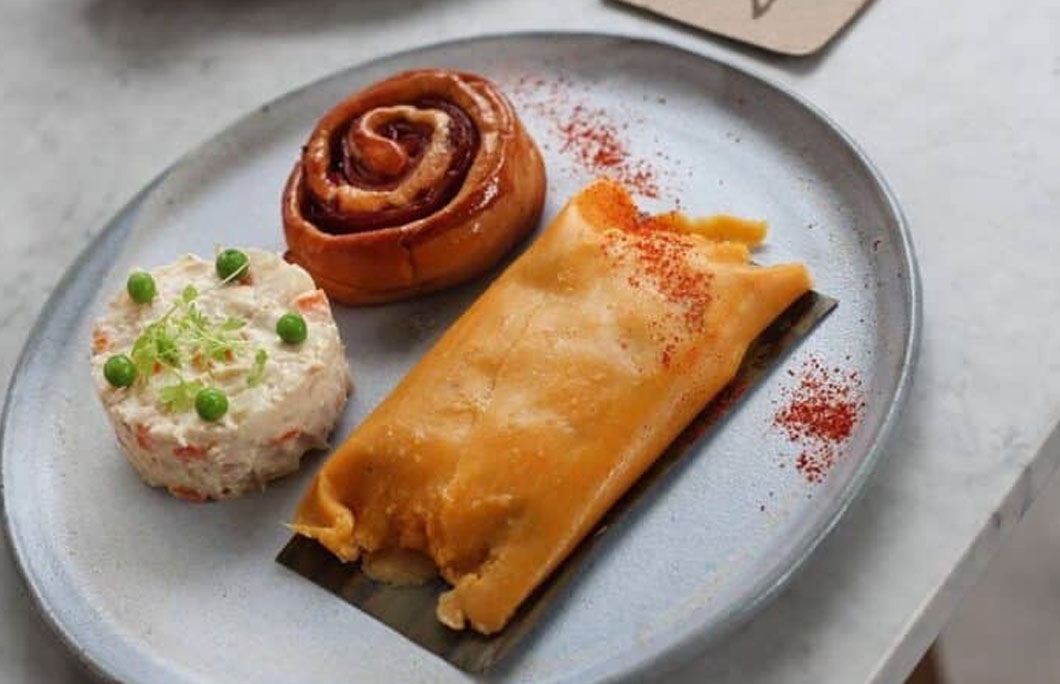 6. Moreno Restaurante – Caracas, Venezuela
Few places combine Spanish sophistication with Latin cuisine as well as Moreno Restaurante in Caracas. Enjoy a romantic evening with one of their many delicious Venezuelan dishes under the grand ceiling and sparkling chandeliers. Not only can you expect great food and luxury vibes. the service is top class.
---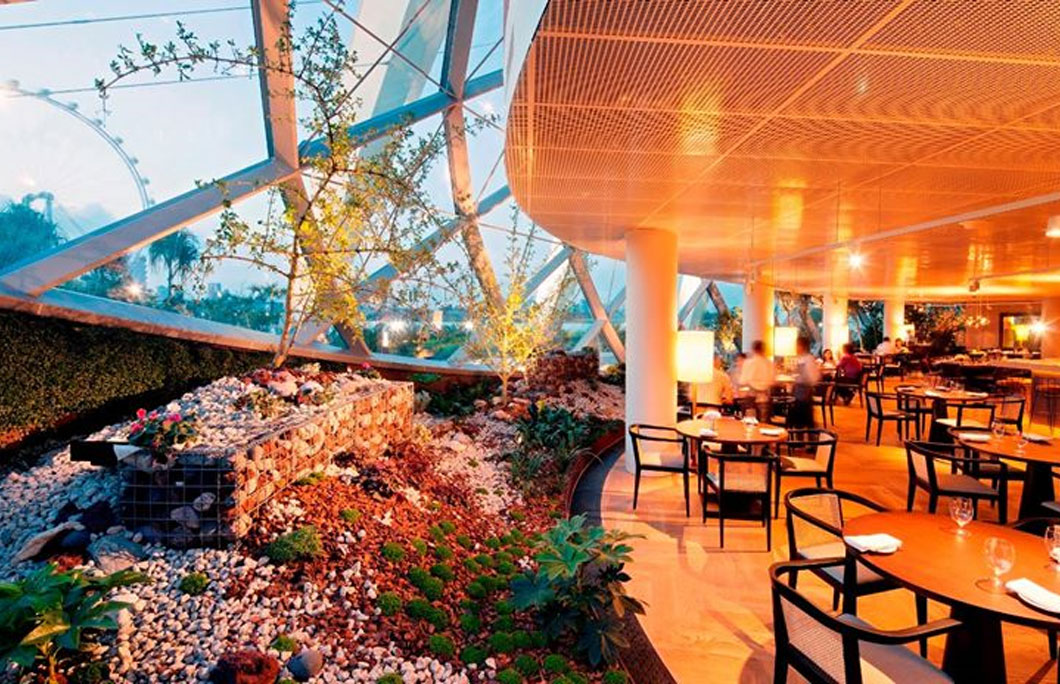 5. Pollen – Singapore
Surrounded entirely by flowers of every colour, this restaurant is fittingly named Pollen. Sweep your special someone off their feet with a walk through Gardens By The Bay before the dinner of a lifetime with a loved one. Romantic vibes? Tick. Great food? Tick. Love in the air?… Tick, tick, tick…
---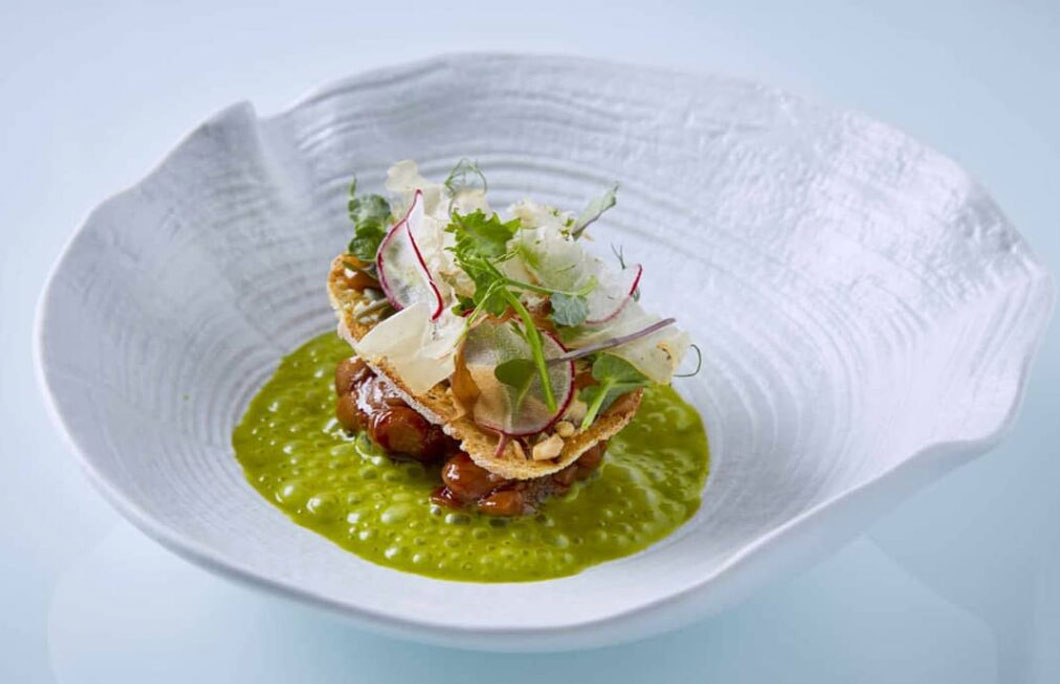 4. Restaurant Alcron – Prague, Czech Republic
Set in the Alcron Hotel, this Prague favourite mixes early 1900's class with creative cooking and a warm and welcoming atmosphere. You'll find award-winning Czech cuisine with world-class hospitality making it one of the world's culinary gems. In other words, add Alcron to your romance bucket list!
---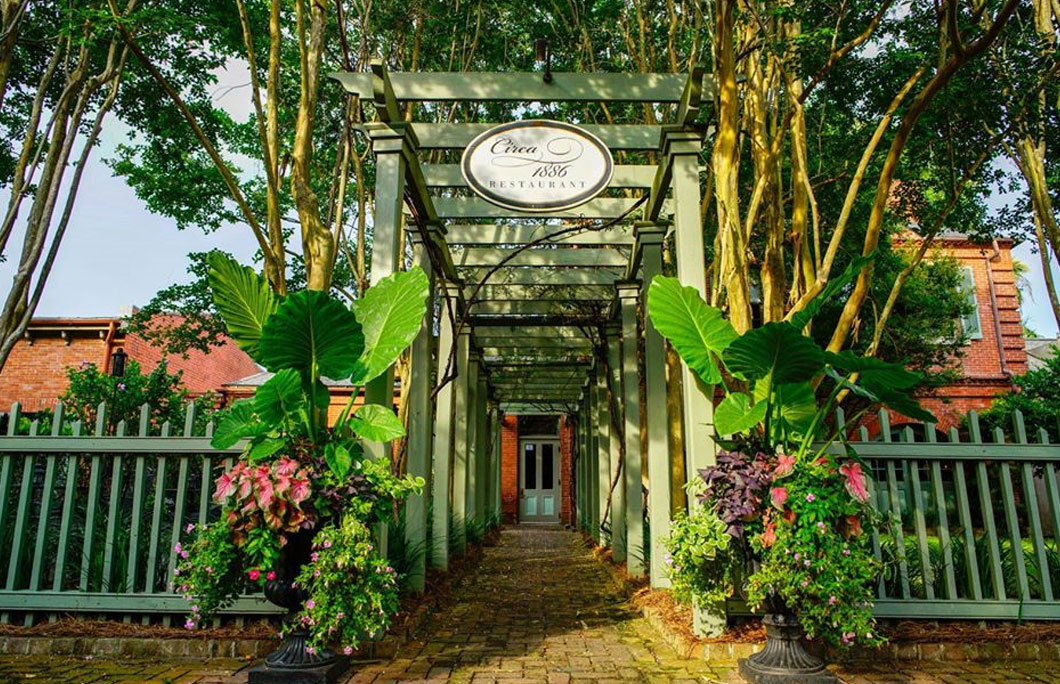 3. Circa 1886 – Charleston, South Carolina
Set in the historic and oh-so-romantic Wentworth Mansion, is Circa 1886. Built in the old carriage space, they leave nothing to chance with romance with private candle-lit tables, vibrant local dishes, luxe service and impressive wine lists. One of the most romantic restaurants in the world? No doubt about it.
---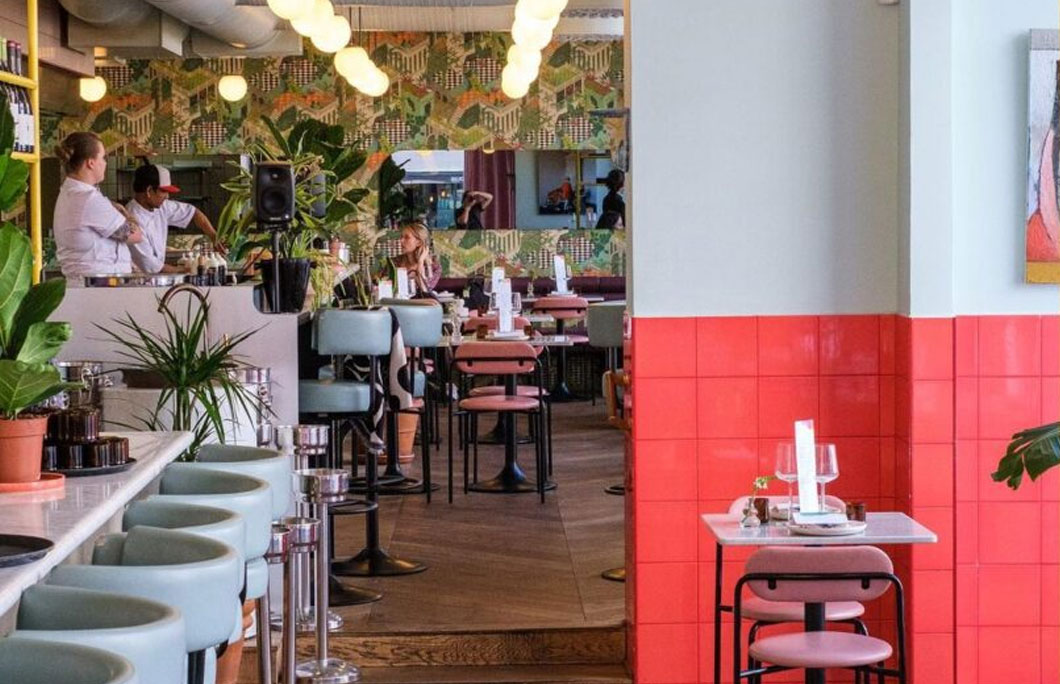 2. Yes Yes Yes – Helsinki, Finland
This vegetarian eatery is perfect for vegetarians and meat-eaters alike! The cotton candy interior and neon-lit heart set the scene for a cute and casual romantic night with your S/O. Undoubtedly, it's sweet, it's quirky, it's tasty, and it's a no-brainer for one of the world's most romantic date spots.
---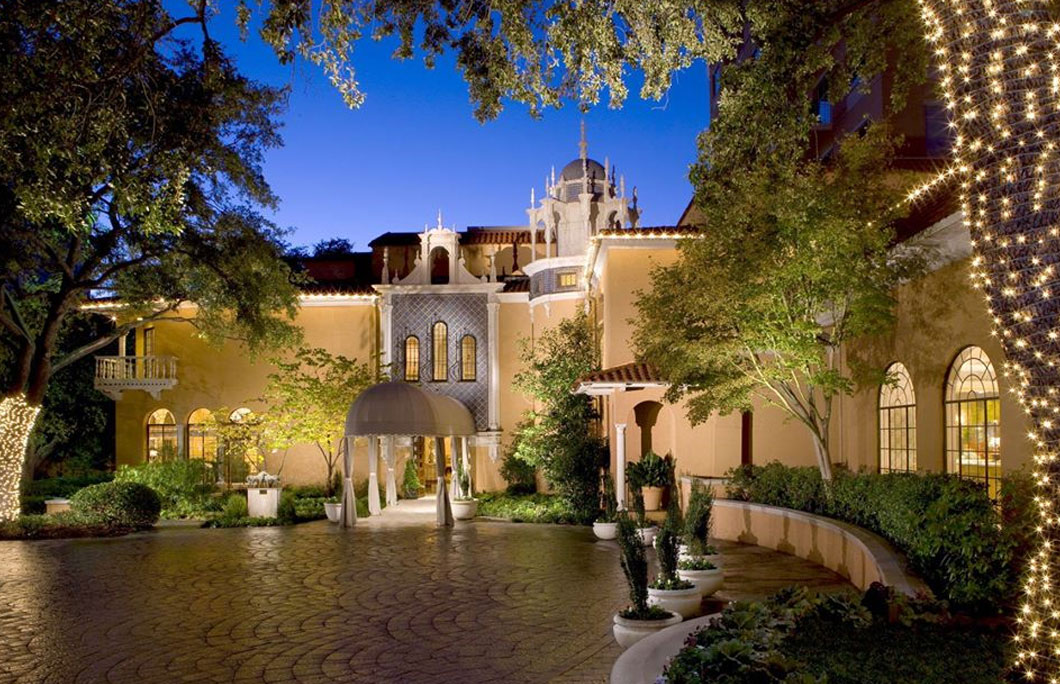 1. The Rosewood Mansion
They say everything is bigger in Texas, right? If that's the case, The Mansion does romance bigger than anyone. Home to famous Turtle Creek, this swanky new American meets French dining is just what you need to set the mood for a perfect date. Enjoy the soft piano music over world-class French dishes and wine.
---