The 7 Best Diving Destinations in Mexico
Beautiful beaches, tacos and tequila, mariachis, and ancient civilisations are some of the things Mexico is best known for. But did you know that this Latin American country is also a goldmine for divers looking to find rare species underwater? With six natural UNESCO World Heritage Sites and a strategic location for marine activity, here's our pick of the 7 best diving destinations in Mexico.
Best Diving Destinations in Mexico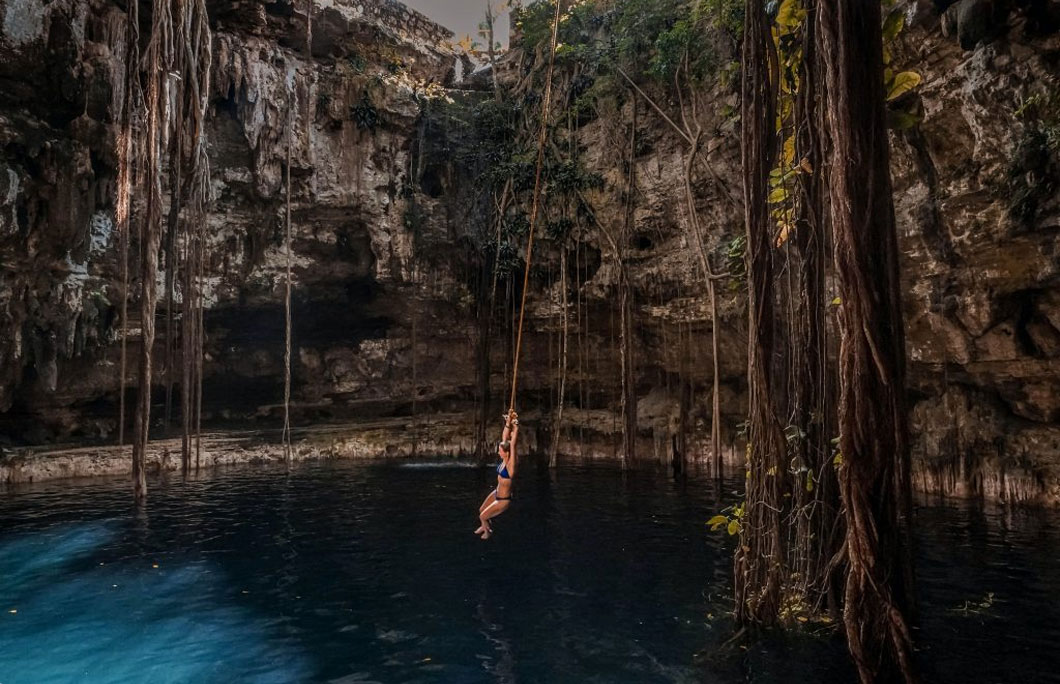 1. Cenotes
You may already be familiar with these natural wonders if you've been planning your trip to Riviera Maya, but do you know just how unique they are? Cenotes are deep water cavern-like sinkholes, with a surface opening created by natural collapse. They are filled only with rainwater and underground rivers, so their constant water temperature makes diving here possible all year long.
Unlike the rest of the dive sites on this list, Cenotes are not go-to locations when searching for fauna diversity. Instead, you will find geological formations worthy of bringing your GoPro for this one-of-a-kind experience. Still waters, prehistoric fossils, and almost holy-looking lighting shooting in from above might make you feel like time has stopped while you explore these sites.
---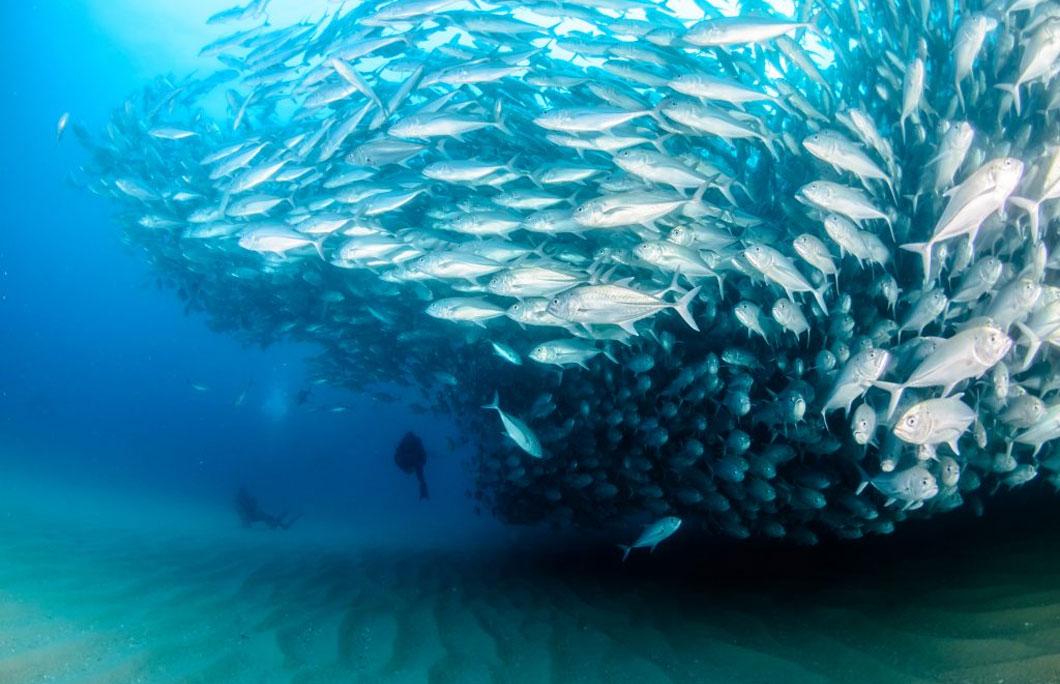 2. Cabo Pulmo National Park
Described by Dr. Sylvia Earle as a conservation model to the world, Cabo Pulmo became a UNESCO World Heritage Site in 2005 due to an amazing turnaround from the neglect and pollution that the area was under before the 1980s. The local community, seeing their loss, forced government action that has now achieved the largest increase in biomass known in any protected area in the world.
Home to over 6,000 marine species and one of the only three living coral reefs in North America, Cabo Pulmo is an incredible diving destination that hosts both large fish and macro life for those seeking to make it a photography adventure.
The best season to visit is August to November. This is when the waters are warmer and large schools of Groupers join Jackfish tornados for mesmerising underwater moments. Turtle and Shark sightings are also common, and you might catch Mobula Rays roaming those areas as well.
---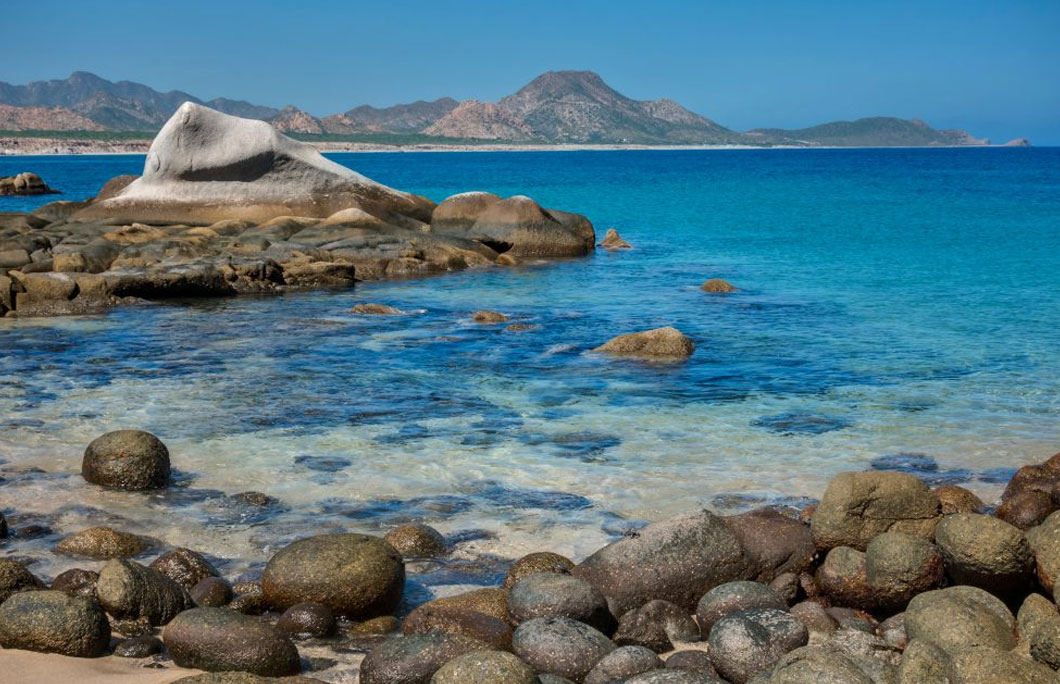 3. Cabo San Lucas UNESCO Marine Park
Located where the Pacific Ocean meets the Sea of Cortez, Cabo San Lucas was named "The World's Aquarium" by none other than Jacques Cousteau.
Eels, Nudibranchs, Stingrays, schools of Grunts and Jackfish, Seahorses, Lobsters, Angelfish, and Sea Lions are some of the regularly spotted species inhabiting these extraordinary waters. During the late autumn and spring seasons, Cabo San Lucas becomes the courting and breeding ground for Mobula Rays, a spectacle of flipping and splashing that has not been witnessed anywhere else in the world.
Cabo, as it's popularly known, is also special for its sand falls. This is a tectonic phenomenon only present in a handful of places on the planet. Sand falls literally look like underwater cascades, so you might feel like you're living in a Stranger Things episode while diving here. As cool as it gets, right?
Adventurous diver tip: if you're a big pelagic fan, you might not want to miss out on Gordo Banks. Just outside Los Cabos, this dive site is famous for its schools of Hammerhead Sharks. You can also expect the occasional sightings of the area's big guys: Mako Sharks, Tuna, Manta Rays, and even Whales.
---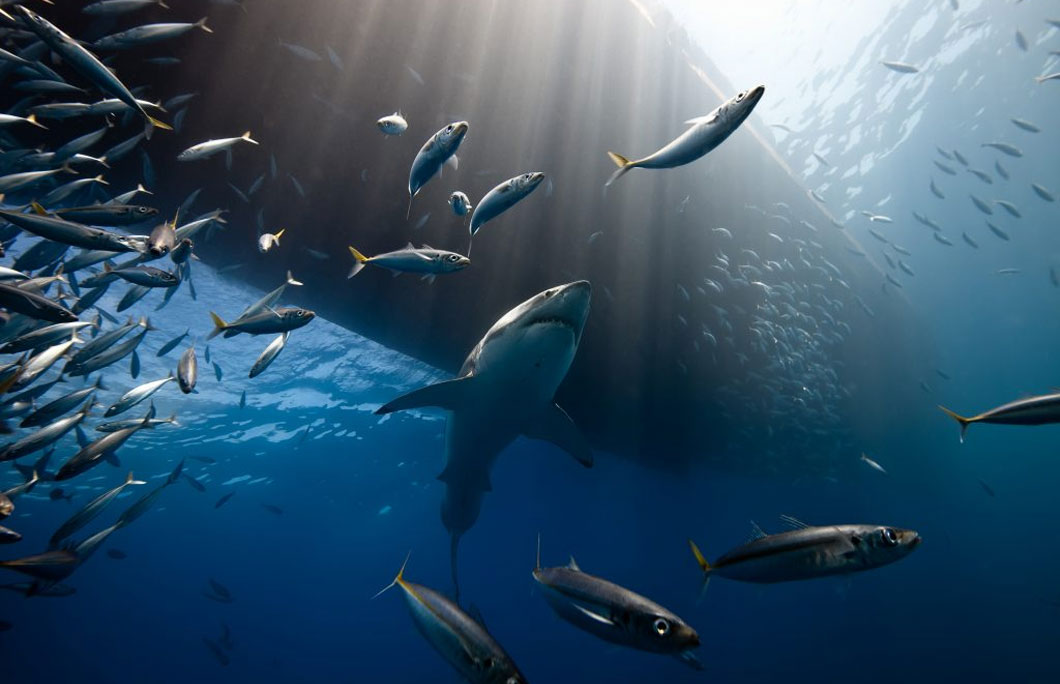 4. Isla Guadalupe
Isla Guadalupe is a small volcanic island situated 240km off the coast of Baja California. It's also one of the only four places on the planet where Great White Sharks can be (safely!) seen by humans.
Famous for being the top destination for Great White encounters, with visibility often going up to 45 meters. This cage diving experience is a must for true Shark lovers who want to finally meet up close with one of the ocean's top predators.
This remote location is only accessible via liveaboard and for three months a year (August to October). The good news?  You don't need to be a scuba diver to see these bad boys, so it can easily turn into a family trip while on holidays!
---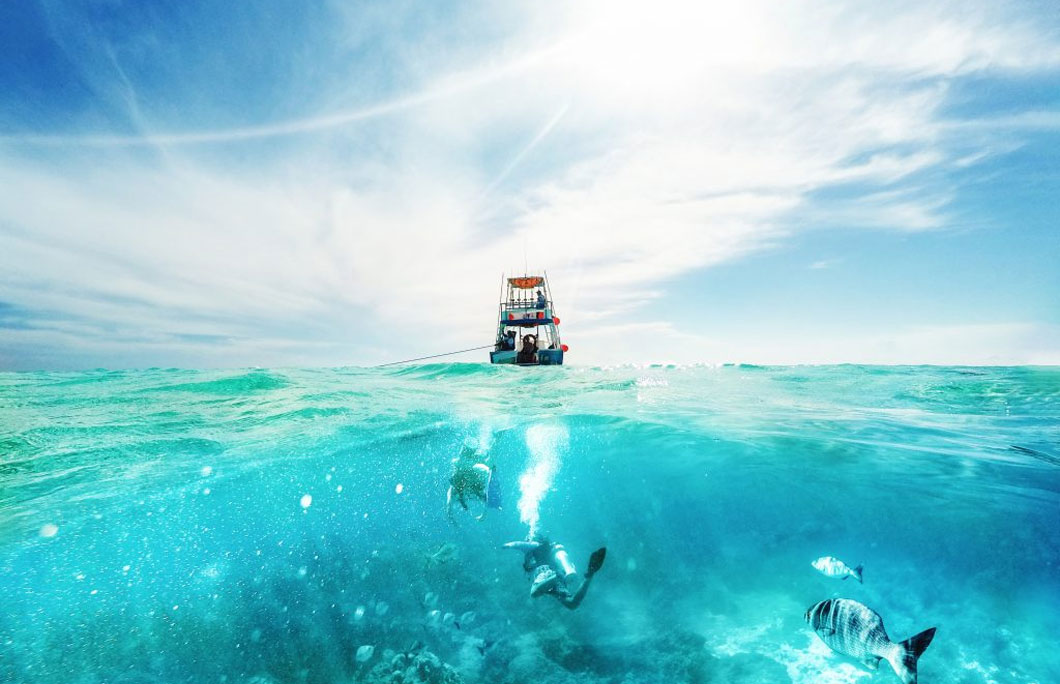 5. Cozumel
Cozumel is one of the all-time classics when it comes to diving in Mexico. With easy access from Playa del Carmen, it's a very laid-back destination where you can enjoy resting at beautiful beach resorts in between dives.
What made Cozumel so popular is still very much alive to this day. Beautiful corals and a variety of species give life to its wonderful marine ecosystem, and they can be enjoyed by divers of all levels.
Drift dives, wall dives and reef dives will keep you entertained during the whole trip, with Eagle Rays, Nurse Sharks and lots of tropical fish making an appearance in your underwater photos. Beware though: divers have reported feeling like they're in a National Geographic film.
The best time to visit? All year round! Cozumel's water temperature and visibility maintain great conditions throughout the year, so it's an easy destination for impromptu getaways.
---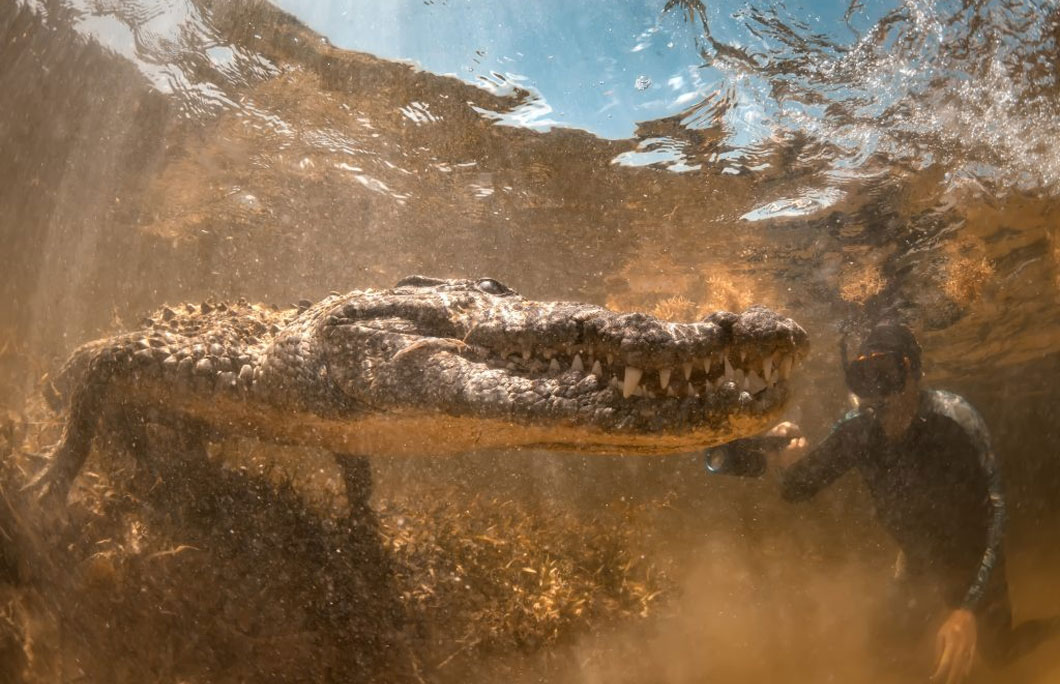 6. Banco Chinchorro
One of the best places to dive in the whole Northern Hemisphere is this Biosphere Reserve. Banco Chinchorro is the biggest atoll in Mexico, and it's actually home to numerous dive sites. Its west side is suitable for all levels, with colorful reefs protected from the open ocean. Its east side is packed with over 200 wreck sites, some of which are inaccessible even for seasoned divers due to heavy surf conditions.
With year-long great diving possibilities, you can visit Banco Chinchorro to encounter Hawksbill, Green and Loggerhead Turtles, Barracudas, Eagle Rays, Nurse Sharks, Reef Sharks, Green Morey Eels, Jackfish, Blue and Midnight Parrotfish, and different species of Groupers.
Life is plentiful in this unspoiled reserve, and shipwrecks are home to numerous smaller species and gorgeous setups. Yet one of its main attractions continues to be swimming with Crocodiles! Although this isn't precisely diving, people visit Banco Chinchorro as one of the few places in the world to encounter the American Crocodile. So, if you're the fearless kind, don't miss out on an experience to remember…
---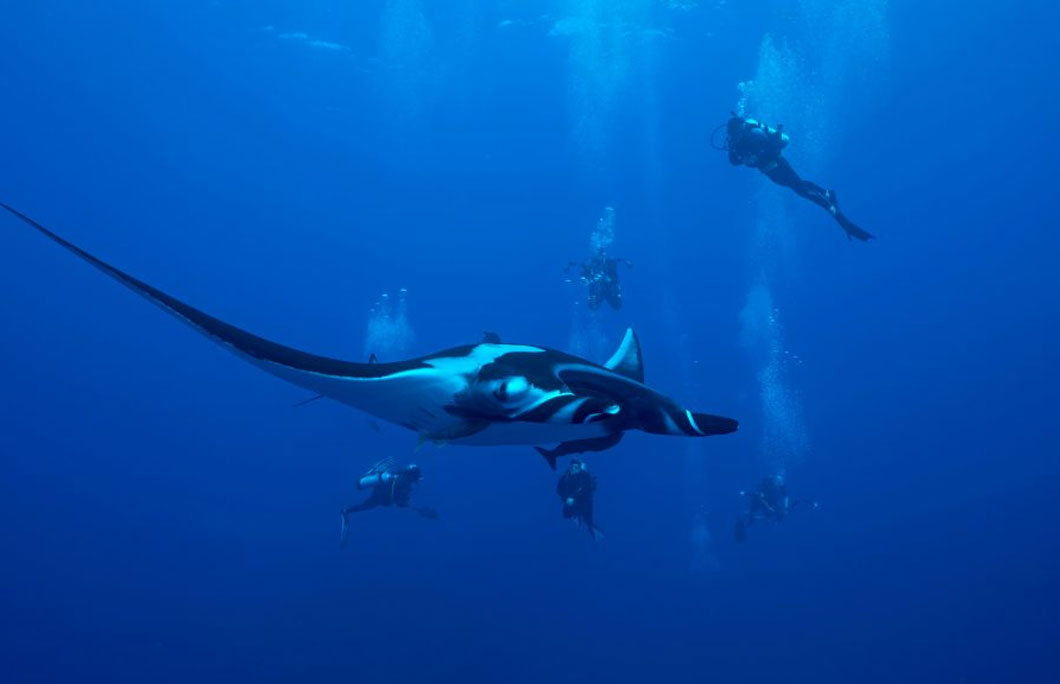 7. Socorro Island & the Revillagigedos
A pelagic lover's paradise, Socorro Island is a hub for marine life in the Pacific Ocean. Offshore and protected from human life (only accessible via liveaboard), it attracts some of the most sought-after animals in the diving world, including the Humpback Whale.
Bottlenose Dolphins are friendly enough to approach divers, and Sharks from seven different species populate these waters, including the biggest fish in the sea. The Whale Shark. Hammerheads, Whitetips, Silvertips and Galapagos Sharks regularly join Manta Rays and large schools of fish. It makes diving in Socorro simply unforgettable.
But what makes Socorro truly unique is being the breeding ground for Humpback Whales. Thousands of them make their journey through these waters from January to April. So it give divers a great chance to see them thrive underwater. Don't miss the opportunity to swim with these majestic mammals!
---