10 Best Road Trips in Colorado
Trail Ridge Road
Million Dollar Highway
Independence Pass
Peak to Peak Highway
Santa Fe Trail
Highway of Legends
Mount Evans Scenic Byway
South Rim Road
Cache la Poudre-North Scenic Byway
Trail of the Ancients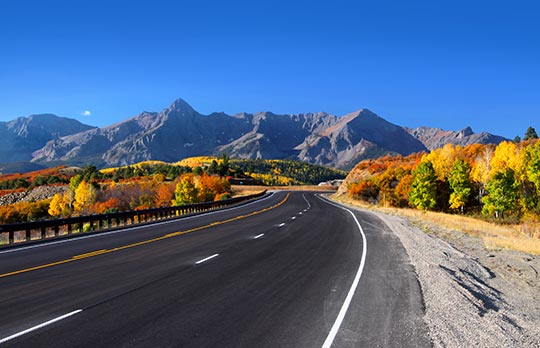 10 best scenic drives in Colorado
So you're getting behind the wheel for a Colorado road trip holiday? Congrats on your great taste. The Centennial State (so called because it joined the Union 100 years after its inception) hosts the lion's share of the Southern Rocky Mountains, extends to the western limits of the Great Plains and includes the northeast sector of the Colorado Plateau. In other words, there's more scenery than you can shake a Satnav at. If you love the great outdoors, majestic mountains, skiing down pristine powder slopes and relaxing in cosmopolitan towns and cities, this state has your name written all over it. With over 300 days of sunshine a year, you can top up your vitamin D too – always a bonus!
Colorado boasts the highest concentration of Rocky Mountain peaks above 14,000 feet, so naturally it's a global magnet for climbers, skiers, boarders, and mountain bikers. But if you prefer your leisure slightly more relaxed, there are hiking trails aplenty where you can gaze in wonder at snow-capped mountaintops and wonderful fauna and flora. Meanwhile, at the other end of the scenic spectrum, Southern Colorado and the Southern Plateau feature dazzling canyons and deserts, packed with the distinctive mesas, rock stacks and rushing rivers which the Ancient Puebloan people called their own for thousands of years.
Aspen is famous worldwide for its high-end apres-ski and first-class runs, while culture vultures will find plenty to peck on in cities like Denver and Boulder. With arts galleries, museums, and fine dining on the menu, it's easy to flutter around as a social butterfly in this superb state.
Wherever you're based, Colorado is built for exploring – hire a car here, hit the road and you'll soon see why it's many Americans' favourite staycation destination.
Top tips on driving in Colorado
Your 10 best Colorado road trips are just around the corner. But first, let's pause briefly for some useful driving tips – this might be a very useful stitch in time!
If you encounter a cone zone in Colorado, be especially cautious as fines for most infractions in work zones are automatically doubled in this state. Be aware that normal speed limits might be reduced and traffic lanes changed. Slow down, don't tailgate, keep a safe distance between your vehicle and construction crews and equipment, heed signage and obey the directions of flaggers.
There are minimum as well as maximum speed limits in Colorado, so if you see traffic building up behind you, pull over to let other drivers pass. Further, if you're on a steep single lane road, the vehicle driving downhill must give way to the one coming uphill. Seatbelts are mandatory for the driver and all passengers, whilst children aged 4 to 6 must use booster seats.
It's not legal to drive wearing headphones in Colorado, so if music is your thing you'll have to listen to it the old-school way through your speakers.
Last but not least, plan all of your road trips carefully, check weather and road conditions and build in plenty of time to stop to refuel your car and recharge your own batteries. Resting for half an hour or so can really help you feel refreshed once you hit the road again.
Now let's get moving with these epic Colorado road trips!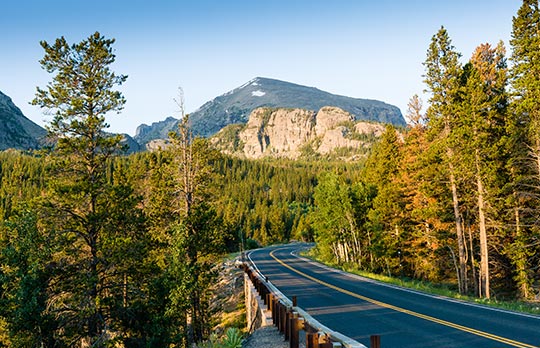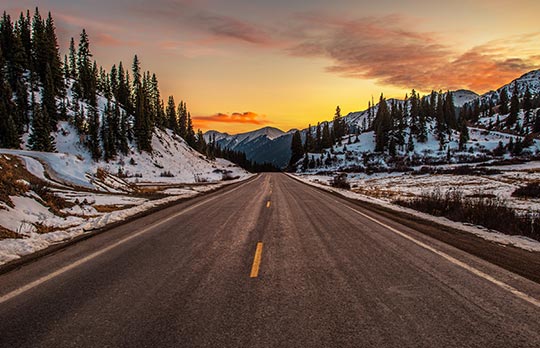 Trail Ridge Road
This 48-mile stretch of US Highway 34 starts in Estes Park and ends in Grand Lake – via the Rocky Mountain National Park. As you might imagine, it's one of the most popular road trips in the entire state and has been a magnet for locals and visitors alike since it opened in 1932. You'll reach dizzying heights of over 12,000 feet and there's something spectacular around every corner – but keep your eyes on the road and build in plenty of time for scenic rest stops that are peppered along the way.
Million Dollar Highway
Is this 25-mile portion of US Route 550 as richly rewarding as its name promises? You bet it is. This elevated drive between Silverton and Ouray features eye-popping scenery as well as a tricky 12-mile section between Uncompahgre Gorge and the Red Mountain Pass summit that requires total concentration. The Million Dollar Highway affords amazing views but should only be tackled by confident and capable drivers – and never in poor weather conditions!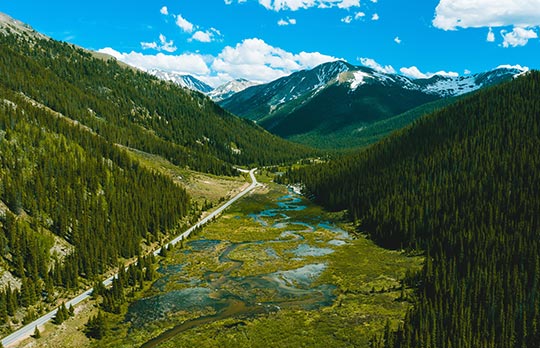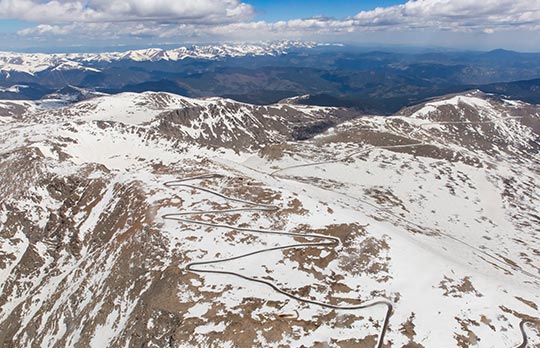 Independence Pass
This 44km route takes you through jaw-dropping scenery between your launchpad in the Twin Lakes heritage community and your final destination in Aspen. One of the most beautiful sections of the Rockies Scenic Byway, you'll pass rugged snowy ridges and dramatic peaks as you reach a high point of 12,100 feet, with your wheels practically touching the Continental Divide. Highlights include the serene Twin Lakes Reservoir, Mount Ebert and Independence itself – a charming ghost town which transports you back to the area's boom town pioneer mining era.
Peak to Peak Highway
Looking for a road trip close to Denver that features picture postcard scenery and a slice of cinema history? You've found it. The Peak to Peak Highway starts in gambling haven Blackhawk, then takes you north to boho Nederland, and ends at The Stanley Hotel, the famous establishment in the horror classic 'The Shining'. Along the way, you'll drink in the outstanding views of Longs Peak and pass through abandoned mining regions with ramshackle buildings.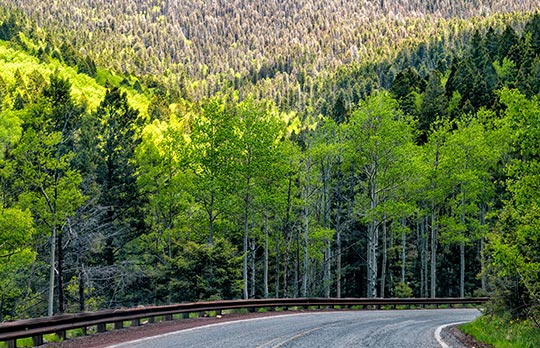 Santa Fe Trail
Starting at Bent's Old Fort historic site, this route takes you to Trinidad (not the one in the Caribbean!) via quaint farms and golden fields, wide-open prairies and tumbledown railroad yards. This was the first highway in the Old West and extended from Missouri to New Mexico. Bent's Old Fort sits on the Arkansas River and was a trading hub where Native Americans, Mexicans and Americans met, while unique Trinidad is magically housed around a chimney mesa.
Highway of Legends
Whoever named the Highway of Legends wasn't in the false advertising business, that's for sure. This 132km ride starts in our old favourite Trinidad and ends in Walsenburg. Along the way, you'll spend a couple of hours in the company of some of southeast Colorado's most gorgeous scenery. From the coal ovens of Cokedale to the Spanish Peak views at Cuchara and the church spires of La Veta, it's simply wonderful.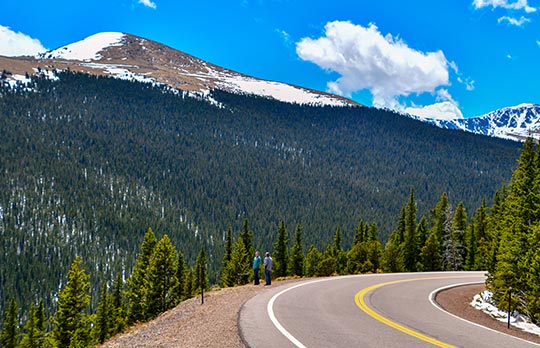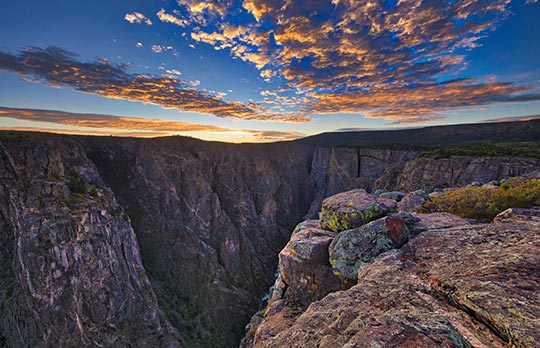 Mount Evans Scenic Byway
For a jaunt through Jefferson County in your jalopy, it doesn't get better than Mount Evans Scenic Byway. Starting in Idaho Springs, you'll wind your wagon all the way up to the 14,264 Mount Evans Summit, via several viewpoints offering vistas of Echo Lake, Colorado's Front Range and The Rockies. This is the highest paved roadway in the whole of North America – take your time, drive safely and catch the moments.
South Rim Road
Black Canyon of the Gunnison National Park is a bit of a hidden gem in this landscape and South Rim Road lets you see the best of it from the comfort of your vehicle. The start of the route is 15 miles from Montrose and the route only extends for 8 miles. But don't let the brevity fool you – you'll lose all sense of time and the outside world as you pass through the mesmerising painted walls and ragged ravines of Black Canyon.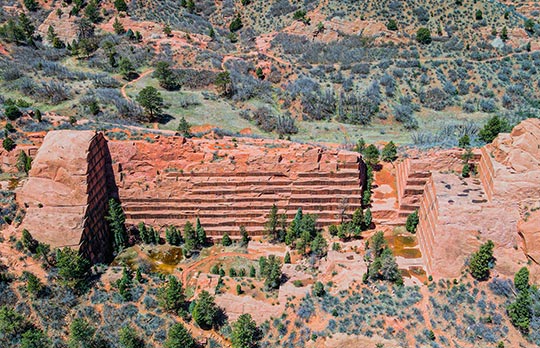 Cache la Poudre-North Scenic Byway
The Poudre is the only officially nationally designated Wild and Scenic River in the US, and it cascades its way through Poudre Canyon, west of Fort Collins. The road passes through pine and mahogany stands via weird rock formations and arresting cliffs, where you should look out for deer and bighorn sheep wandering out in front of you! And if you like whitewater rafting, welcome home.
Trail of the Ancients
Starting your engine at Mesa Verde National Park and drawing your brakes 182km away at Ute Mountain Tribal Park, this inspirational route teaches you all about the ways of life of the traditional guardians of this land (Ancient Puebloans, Navajo, Apache and Ute). 100 miles long, it features canyons, plains and mountains, with cliff dwellings, petroglyphs and other archaeological treasures that date as far back as 400AD.
And voila – a rollercoaster ride through Colorado's 10 best road trips. Hire a car from Enjoy Tavel and get ready to elevate your vacay experience.