7 Mind-Blowing Airbnbs For The Ultimate Arkansas Staycation
With so much stunning scenery and slick cities like Little Rock, it's never a bad time for an Arkansas staycation. The state has lots to do and see, as well as some world-class restaurants.
These locations are all high-end Airbnbs which are ideal for large groups, families or a couple's getaway. The best part is that once you divide the cost of the house between a group, it works out as a super affordable alternative to hotels and resorts.
All you have to do now is round up some friends and get ready to enjoy the ultimate Arkansas staycation in one of these beautiful Airbnbs…
Mind-Blowing Airbnbs For The Ultimate Arkansas Staycation, How do these rankings work?
1. Cave in the Ozark Mountains – Parthenon
Stay inside a cave with its very own waterfall in the living room! Located on 256 pristine and remote acres in the Ozark Mountains. Natural cave walls with cool cave features are showcased wherever possible, including in the showers and bedrooms! Since it is a cave drips can happen, there's a geothermal unit that maintains the cool temp of 65.
The cave includes a honeymoon suite, gourmet kitchen, big screen TV with satellite, WIFI, firepit, grill, and patio area. Sleeps up to 12 guests and the average nightly cost is $1200. Each bedroom is unique and most feature the natural cave walls on one side, especially in the cool shower and bathrooms
---
2. The Hobbit House – Rogers
Whether you're a fan of Lord of the Rings or not, you cannot deny how cool and unique this place is! Featuring a giant hobbit door you'll feel like you're on a movie set. This 6 Bedroom home is perfect for those that prefer to live a more sustainable lifestyle.
There are two fully stocked kitchens (one in the "straw house" and one in the "tire house"). One kitchen table seats 14, while the other smaller kitchen seats 6. The "game room" connects the two homes and features tons of board games, books, a ping pong table, and cornhole. This property can accommodate up to 16 guests and the nightly cost is $738.
---
3. Waterfront Villa – Hot Springs
The perfect staycation for family and friends to experience pure luxury at this lakefront villa; complete with all you need—and more—for a five-star getaway! With an on-site pool, private dock, 3 balconies with riverfront views, 1 covered patios also with riverfront views, gas grill, front yard fountain, and direct access to the Ouachita River.
No detail has been spared inside the nearly 10,000-square-foot home – from the home theater, private boat dock, and high-end art inside, to the river-facing decks, and private pool found right outside. This stunning villa sleeps 14 guests and will set you back $1,143 per night.
---
4. Marlin Houzz – Hot Springs
This Spectacular Mediterranean style home has 7 bedrooms and 7 full baths, situated directly on Lake Hamilton. Every room has a view of the lake! Professionally decorated and not to mention a stunning original art collection, elevator, and private dock!
After an activity-packed day on the lake or exploring the surrounding area, relax in the infinity pool or cook up a feast on their Double Wolf Ovens and Wolf grill. This property can sleep 16+ guests and the average nightly cost is $1150.
---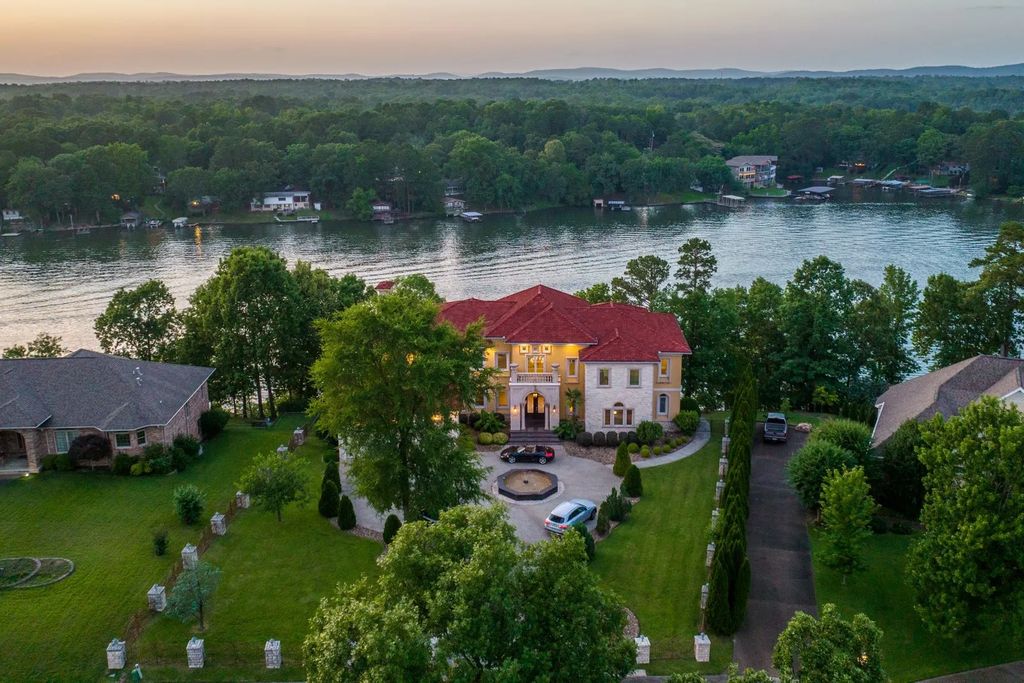 5. Mediterranean Estate – Hot Springs
This lake retreat occupies its' own point on the beautiful Lake Hamilton. With over 7,000 square feet and 586 feet of lakefront, this home is perfect for a large group of family or friends. The bar area off the downstairs hallway is the perfect place to enjoy an afternoon cocktail with friends and family.
With 4 spacious bedrooms and a master bath that rivals any spa. From the Brazilian marble floors to the walk-in shower and steam room its the perfect spot to unwind. The gourmet outdoor kitchen surrounding the pool makes this home ideal for summertime entertaining. This home sleeps up to 8 guests and will set you back $998 per night.
---
6. The Gray Place – Fayetteville
Located within walking distance of the historic Wilson Park and Dickson St makes this a great place to stay when visiting Fayetteville. This home has everything from floor to ceiling windows, to a large fenced-in backyard, and your own garage with private entrance.
The back patio has a gas grill, gas fireplace, and modern outdoor patio furniture, making it the perfect spot to sit back with a glass of wine. This modern house is ideal for couples, families, cyclists, Hog fans, Bikes Blues and BBQ visitors looking for the perfect Fayetteville home base! The home sleeps 8 guests and the nightly rate is $1178.
---
7. Main Channel Lake House – Hot Springs
This is the perfect escape for those that enjoy all water activities, this home comes with a private dock, so you can enjoy a day of fishing or just exploring what the area has to offer. Every part of this house has something to offer with 9 Flat-screen TVs, Indoor/Outdoor stereo systems, 2,500 sq ft of covered deck, a Shuffleboard table and a wine room. There's so much to do!
It comfortably sleeps 16 & includes a front yard with 3 car garage and a large backyard. Perfect for a large group of friends or family. The nightly price for this property is $1057.
Planning on spending some time in the state? You should check out the best road trips in Arkansas here.
---