The 50 Most Romantic Hotels In The World 2022
With Valentine's Day just a whisper away, now's the perfect time to check into a hotel that knows how to spoil you. Nothing screams romance like being whisked away, whether it's a coral-fringed beach or a rambling castle. From once-in-a-lifetime safaris to breathtaking city boltholes, we've voted for the best hotels that go the extra mile for couples. Think champagne breakfasts, private islands and Michelin starred dining. After a year trapped indoors, why not up the romance ante at one of the 50 most romantic hotels in the world?
Most Romantic Hotels in the World 2022, How do these rankings work?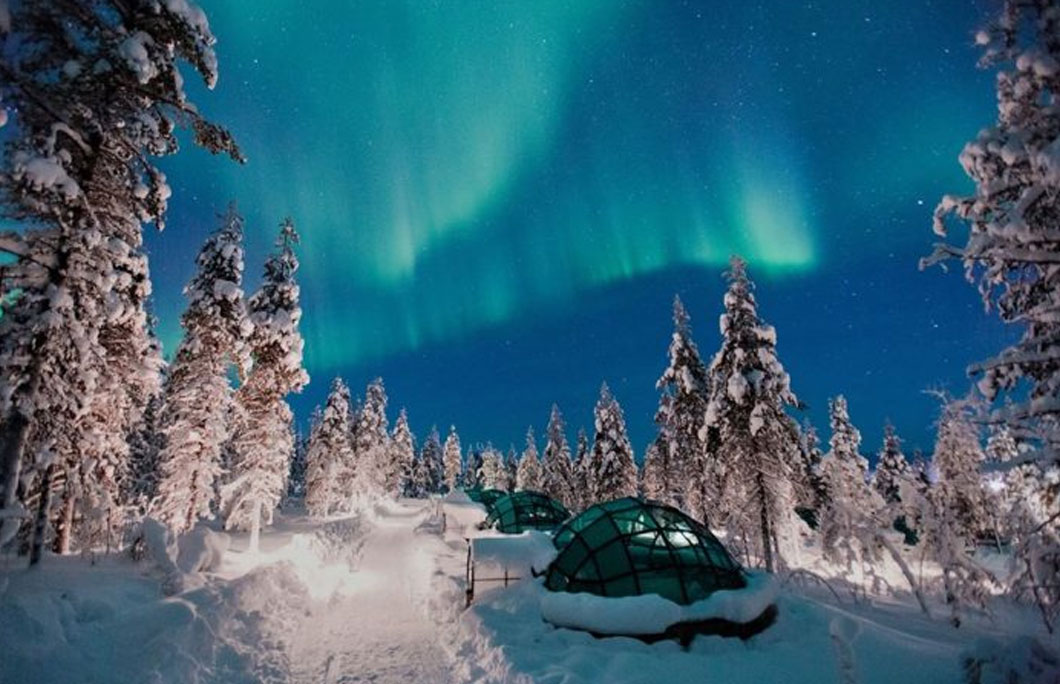 50. Kakslauttanen – Saariselkä, Finland
Kakslauttanen in Saariselkä, Finland takes winter romance to an entirely new level. Sweep your lover away to the Finnish Lapland for an unforgettable trip. At Kakslauttanen you will sleep peacefully under the stars and maybe even the Northern Lights depending on the year.
Make all of your Arctic dreams come true in this amazing lovers accommodation.
---
---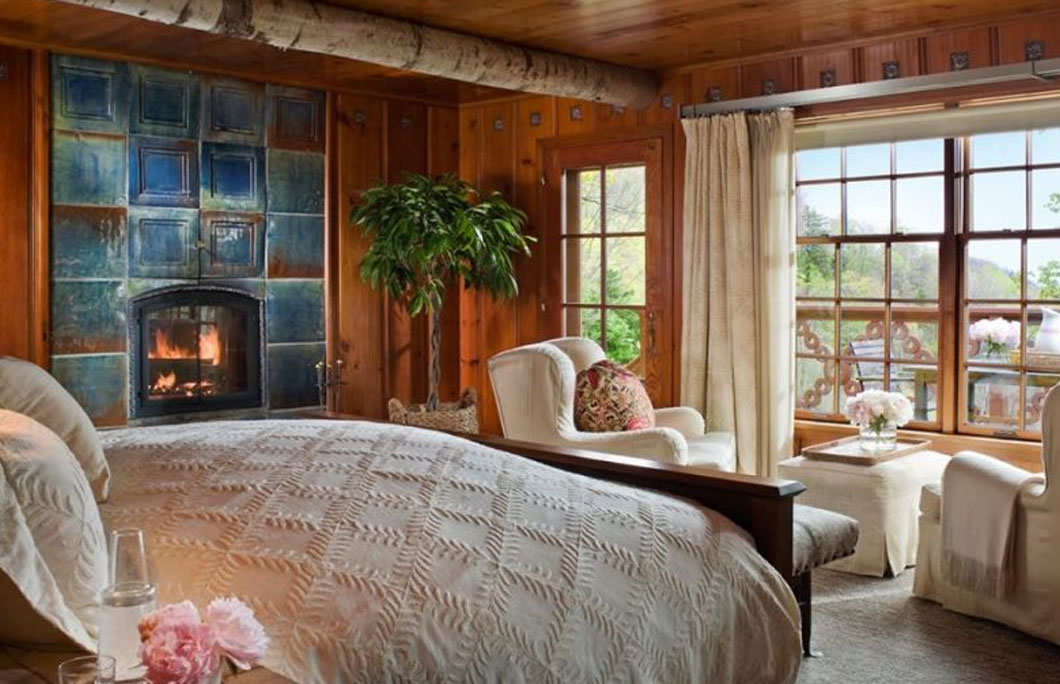 49. Twin Farms – Barnard, Vermont, USA
Tucked away on 300 acres of romantic woodland countryside, you'll find Twin Farms. It's set in a farmhouse dating back to 1795 with Tuscan, Moroccan and Japanese decor, bringing charm and exotic style straight to you.
Nestled into secluded wilderness and surrounded by breathtaking landscapes, it is the perfect choice for a romantic getaway.
---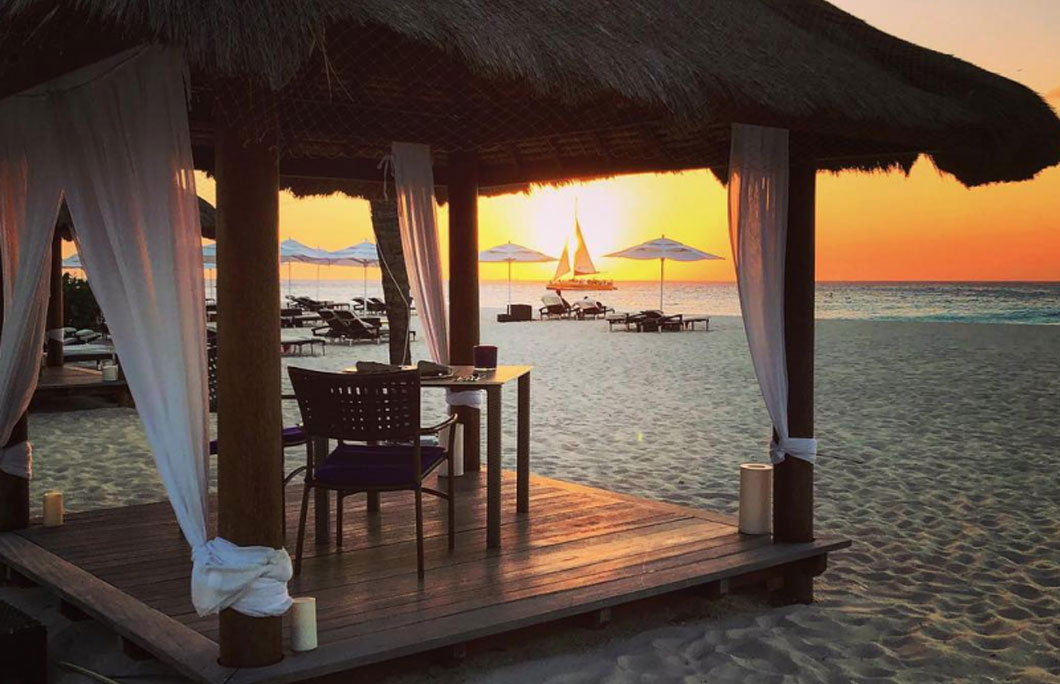 48. Bucuti & Tara Beach Resort Aruba — Palm Eagle Beach, Aruba
A peaceful eco-friendly resort, Bucuti is located on one of the Caribbean's top 10 Dream Beaches of the World.
Watch a movie under the stars on the beach, enjoy a couples massage or have a starlit romantic dinner on the beach. Whatever you need, the resort's 'Romance Concierge' will look after it. Soaking up the sun here is something you'll never forget.
As romantic hotels go this is as pretty as it gets.
Bucuti & Tara Beach Resort Aruba
---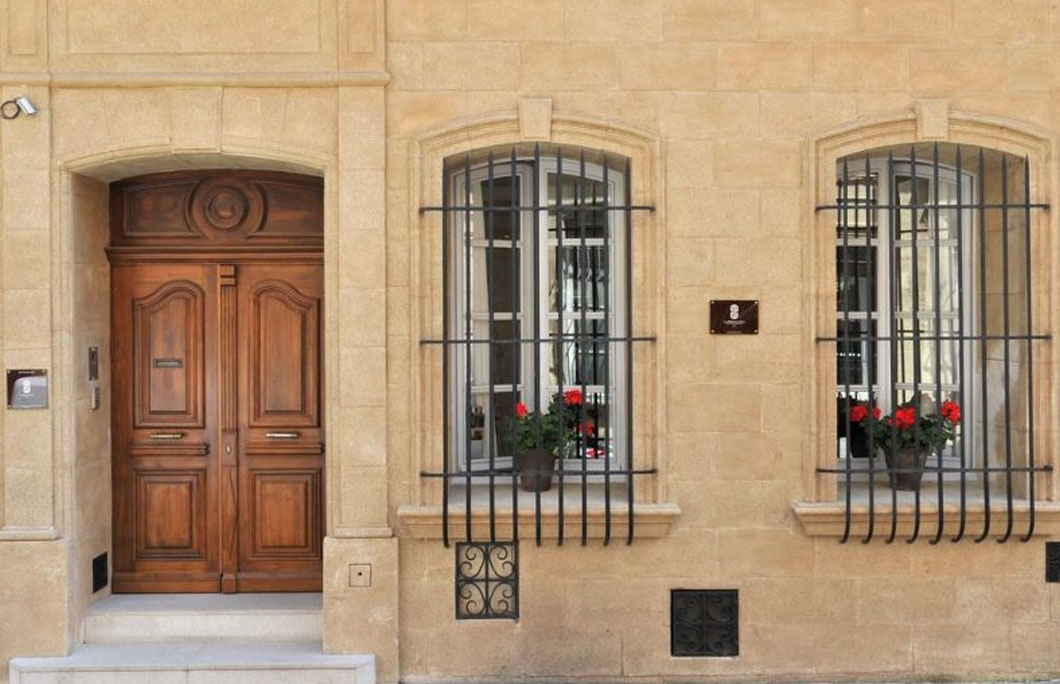 47. La Maison d'Aix – Aix-en-Provence, France
This 18th-century mansion is in one of the most elegant cities in France, with the beautiful squares of Aix just minutes away. There's a 24-hour spa and hammam with heated pool to relax in. By far one of the world's most romantic hotels.
Rooms have 300 year old teak parquet floors and contemporary furniture. Book the 'Love Suite' if you're feeling extra romantic.
Maison d'Aix Hotel
---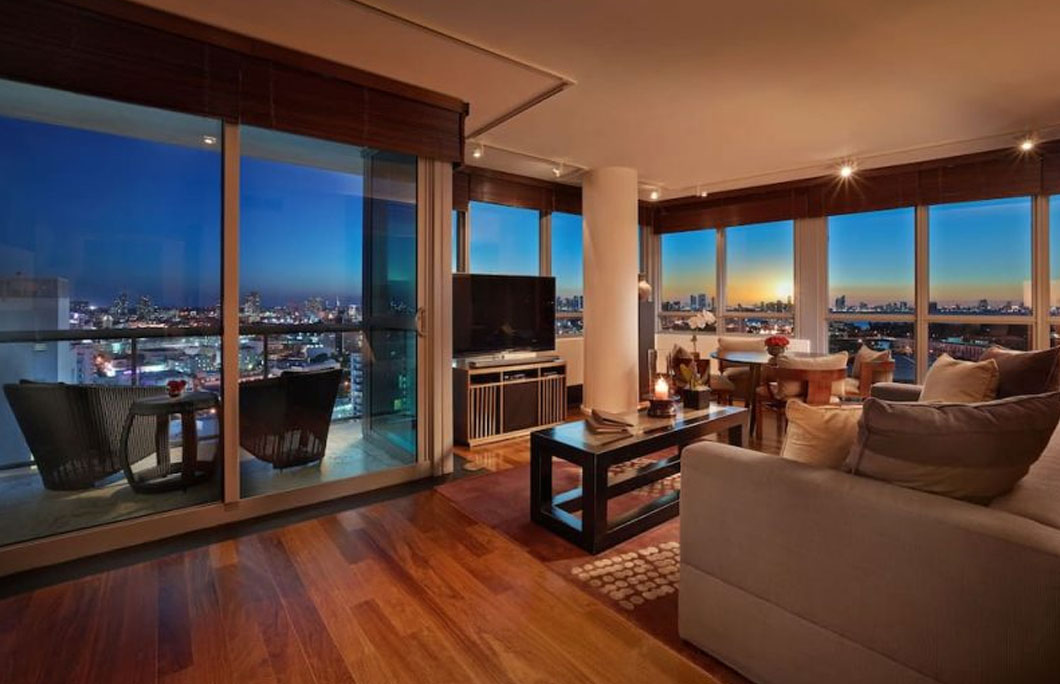 46. The Setai – Miami, United States
Set on South Beach, this sultry luxury hotel seamlessly blends old and new.
There are three heated pools, one of which boasts a 90-foot bar. Guests can choose to stay in the Ocean View suites offering glittering ocean views or the Art Deco suites, which feature original Asian-inspired artworks and authentic artefacts.
---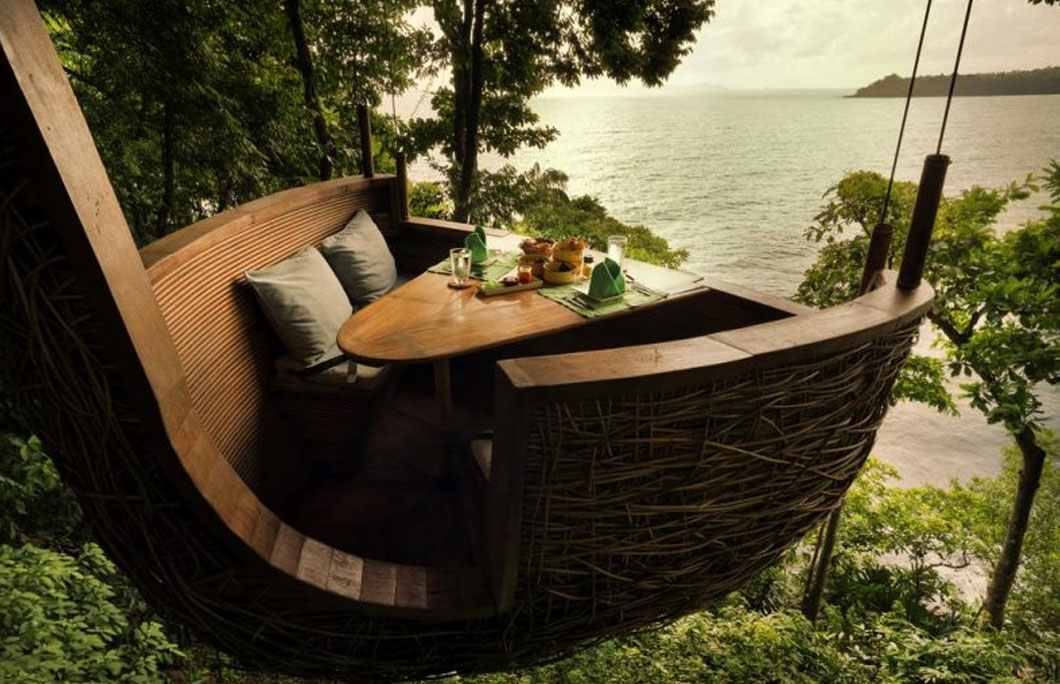 45. Soneva Kiri – Koh Kood, Thailand
Nestled between the ocean and the jungle, this eco-friendly resort is on a little-known island, making it the perfect intimate romantic escape. As soon you touch down at Soneva Kiri, your own Barefoot Butler will be at your beck and call.
You'll stay in one of 36 private villas, each with its own private pool. Larger villas include their own treehouse, waterslide, and spa treatment areas. Romantic experiences. at the resort include stargazing at the hotel's observatory and treepod dining in the rainforest canopy.
---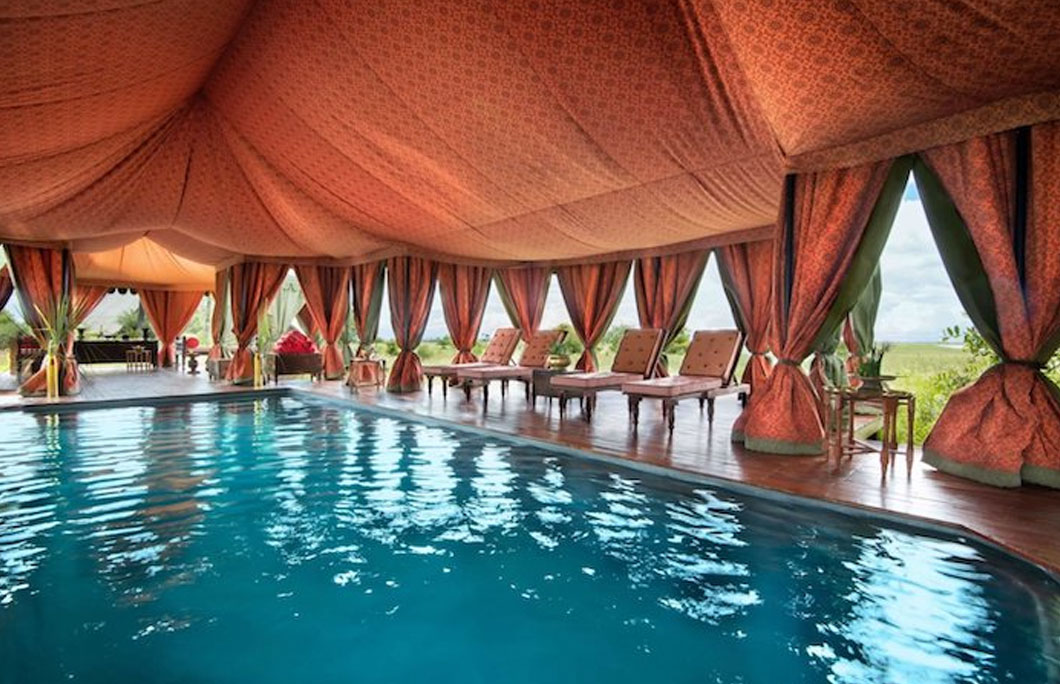 44. Jack's Camp – Botswana
We thought Jack's Camp couldn't get any better, but then it underwent major renovation works and re-opened in 2021 – and we were proven very, very wrong. Set in a one million-acre private wildlife reserve, the camp features Bedouin-style tents with four-poster beds, as well as a jaw-dropping swimming pool beneath one of the tenths. No two days here are ever the same either; you'll explore Botswana's Makgadikgadi Salt Pans, walk with San Bushmen and spend time with wild meerkats.
---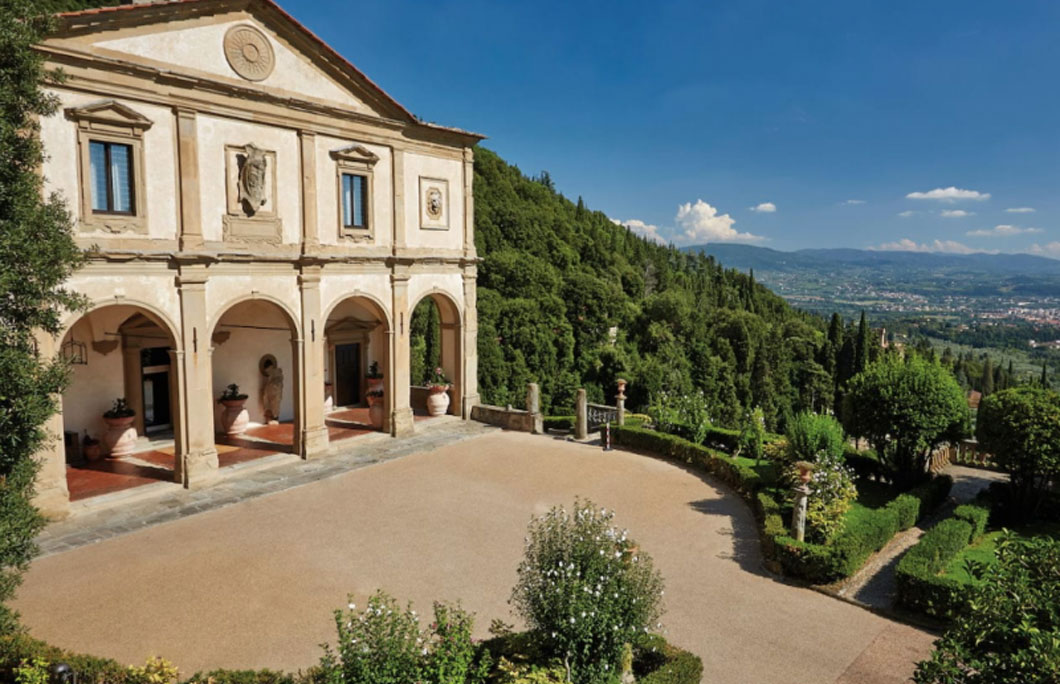 43. Belmond Castello di Casole – Casole d'Elsa, Italy
Belmond Castello di Casole is an ancient castle hotel, surrounded by rolling hills and sprawling vineyards.
The 41-suite hotel was built on the ruins of a 10th-century castle and has an epic-size pool with one of the best views in Tuscany, as well as an indulgent spa. Guests can go truffle hunting and horseback riding, and basically just bask in the Italian glory.
The 41-suite romantic hotel
---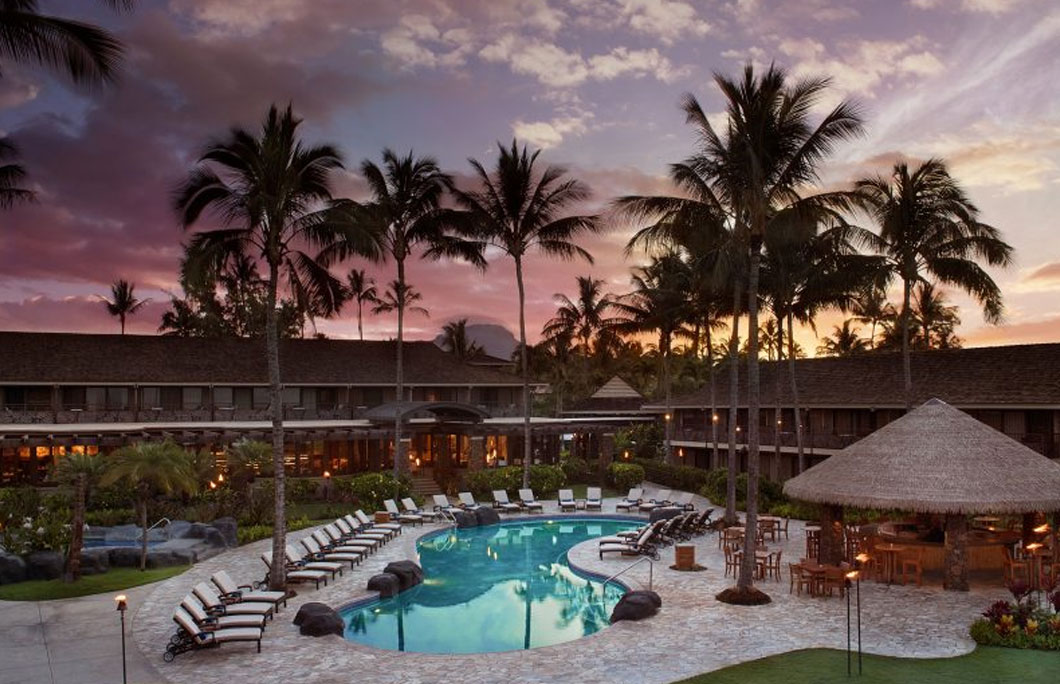 42. Koa Kea Hotel & Resort – Kaua'i, Hawaii
This intimate and romantic 12-room resort has the island's closest guestrooms to the water, so you can step right into the crystal clear ocean.
The resort also has a serene saltwater pool area, oceanfront spa cabanas and heaps of exciting watersport activities. Couples on their honeymoon or babymoon will love it here.
Koa Kea Hotel & Resort
---
---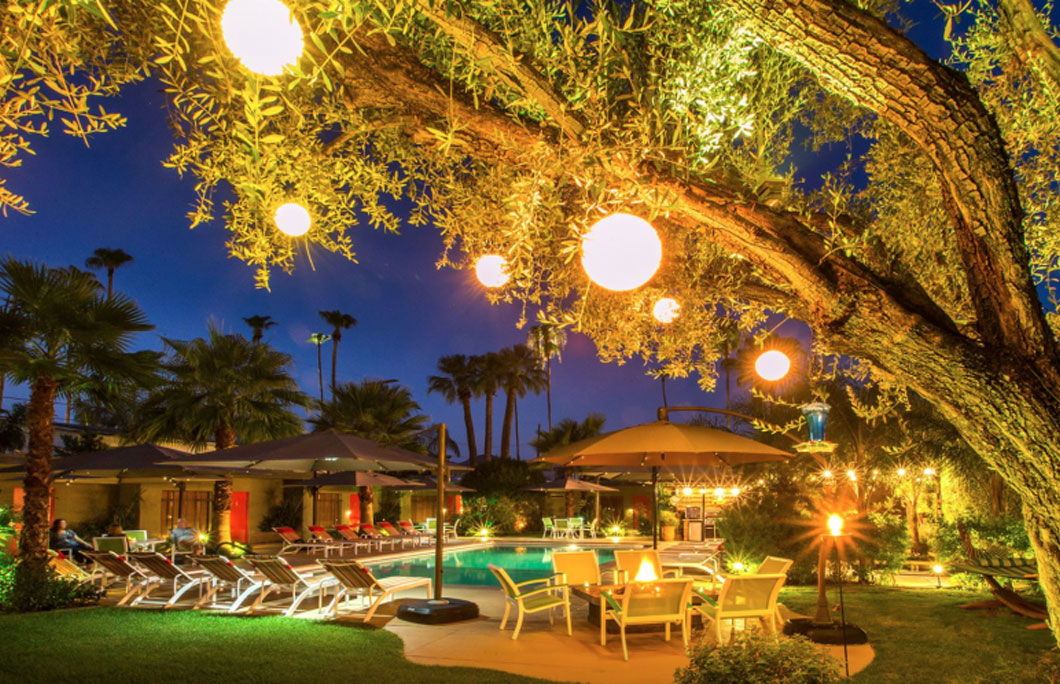 41. Desert Riviera Hotel – Palm Springs, California USA
A low-key adults only resort with cosy fire pits, surrounded by hummingbirds and gorgeous San Jacinto Mountain views. Sounds like the ideal romantic getaway? It is.
At Desert Riviera Hotel you can bake pizzas in an outdoor oven or just soak in the whirlpool tub beside the fairylit pool.
---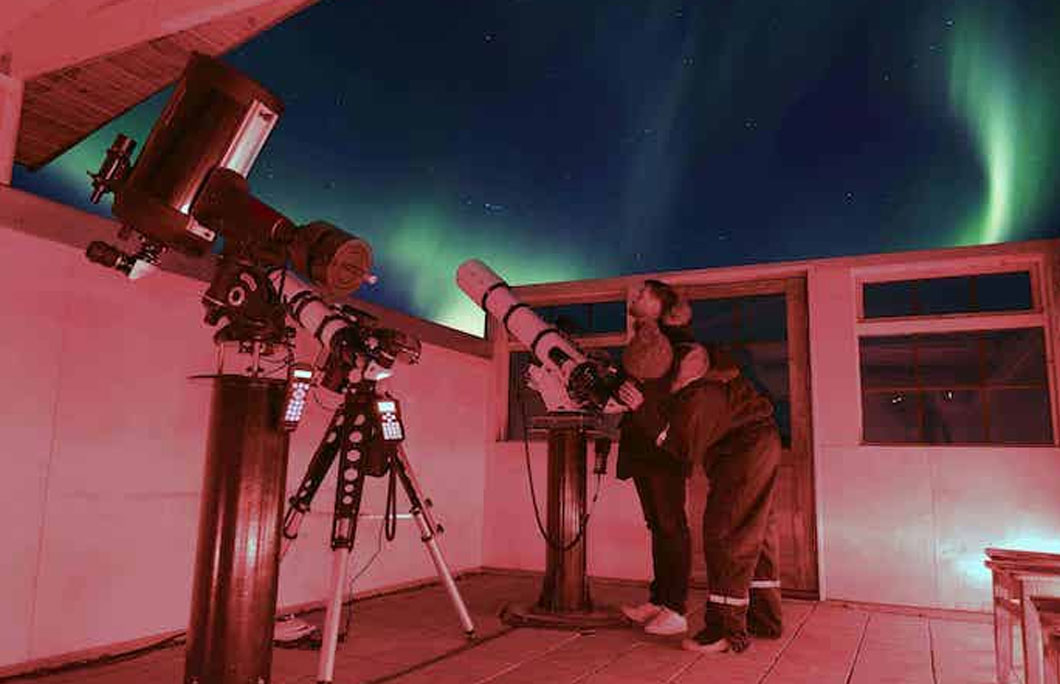 40. Hotel Ranga – Iceland
Watch the northern lights dance above you from the comfort of a bubbling hot tub at Hotel Ranga. Set far from the bright city lights, the hotel even offers an aurora wake up service. There's a wide range of rooms and suites to choose from but for a real slice of luxury, opt for one of the Master Suites which feature balconies overlooking the Rangá River, soaking tubs with room for two and king-size beds.
---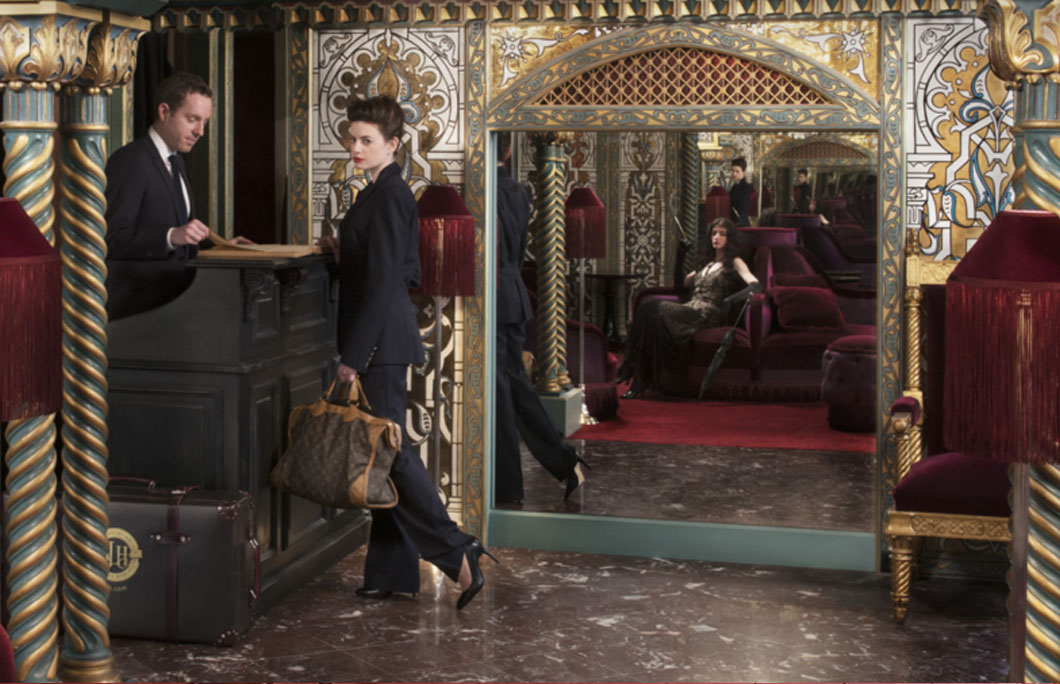 39. Maison Souquet – Paris, France
This boutique townhouse hotel in the trendy Pigalle district is inspired by the Parisian brothels from the Belle Époque period. Rooms have luxurious French-style decor and all have private access to the pool and spa.
Sip cocktails in the lounge, stroll around the winter garden or indulge in an afternoon of pampering at the spa – ideal for escaping the bustle of the city.
---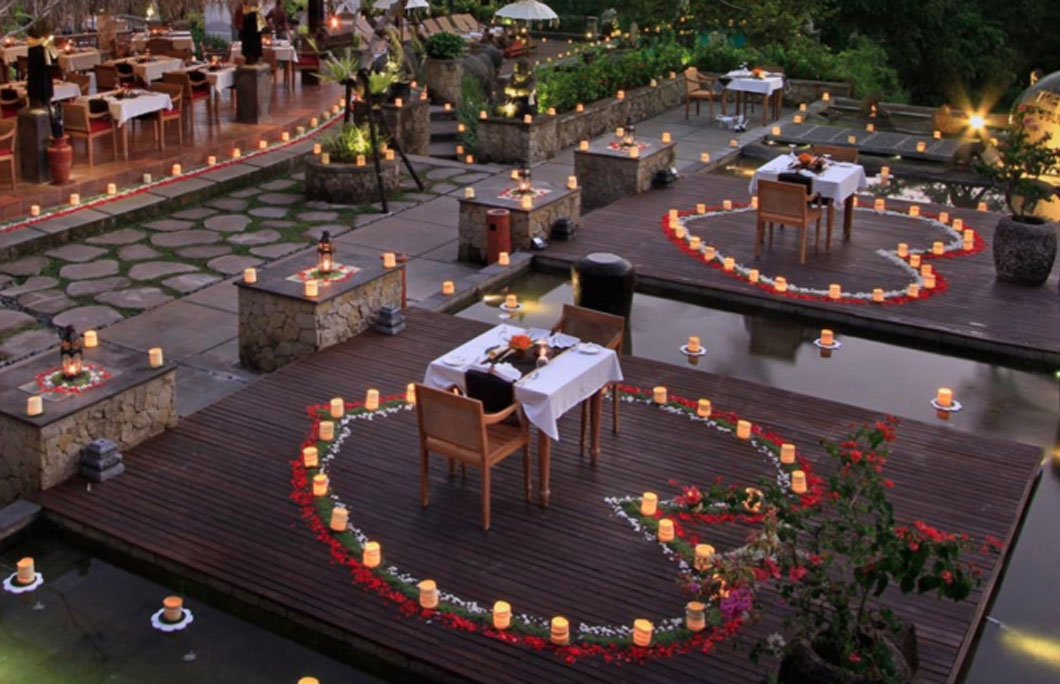 38. The Kayon Resort – Ubud, Indonesia
A luxury adults-only retreat in Bali, this was designed especially for honeymooners and romantics. The Kayon Jungle Resort features a three-level swimming pool which was inspired by the famous Tegalalang Rice Terrace.
Royal Villas overlook the lush green jungle and have their own private pool with jacuzzi. You'll be treated to Champagne on arrival, and the resort also has a private cinema.
---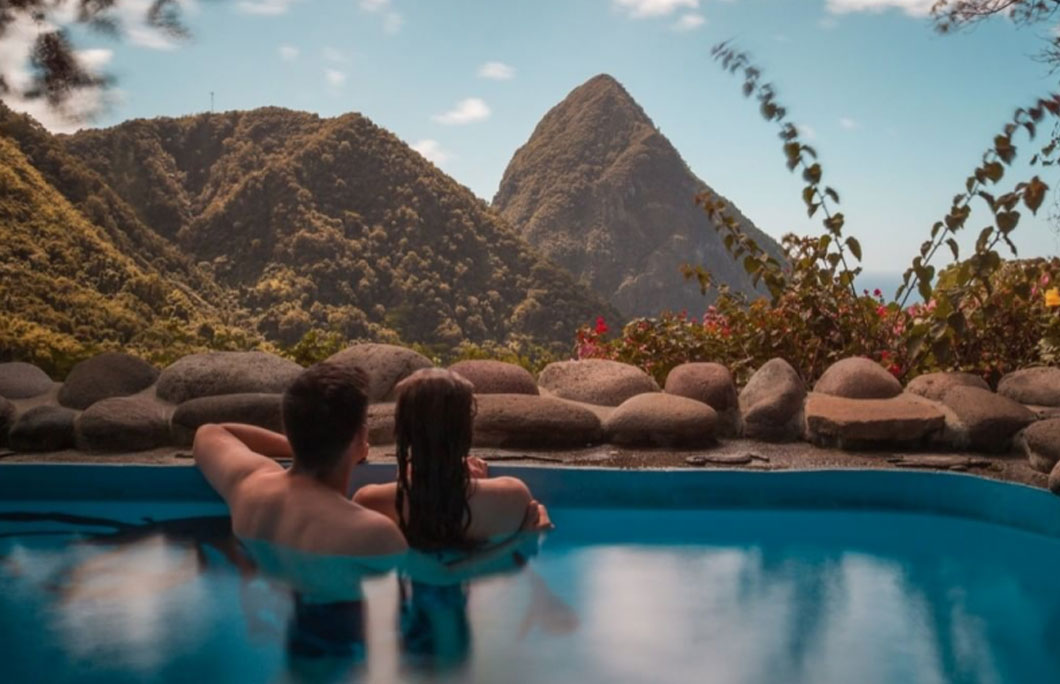 37. Ladera Resort – Soufrière, St. Lucia
Once part of the Rabot Estate, one of Soufrière's most famous cocoa plantations, Ladera Resort stands today as one of St. Lucia's most unique and luxurious resorts.
Suites have panoramic views of the Pitons and Caribbean Sea, with a private heated pool and romantic wooden swing.
---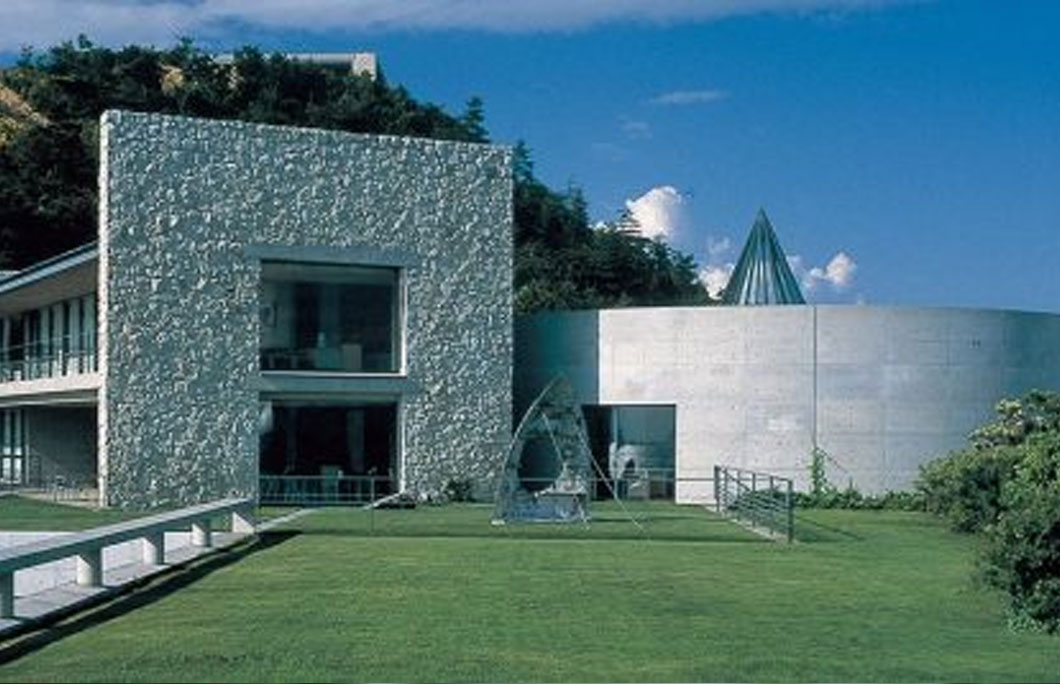 36. Benesse House – Naoshima, Japan
This art museum slash hotel is the perfect choice for lovebirds looking to escape. At Benesse House, they perfectly combine nature, modern architecture and art to create a memorable and unique experience. It is the perfect place to not only take in the beautiful sea views but also roam art collections with your sweetheart.
---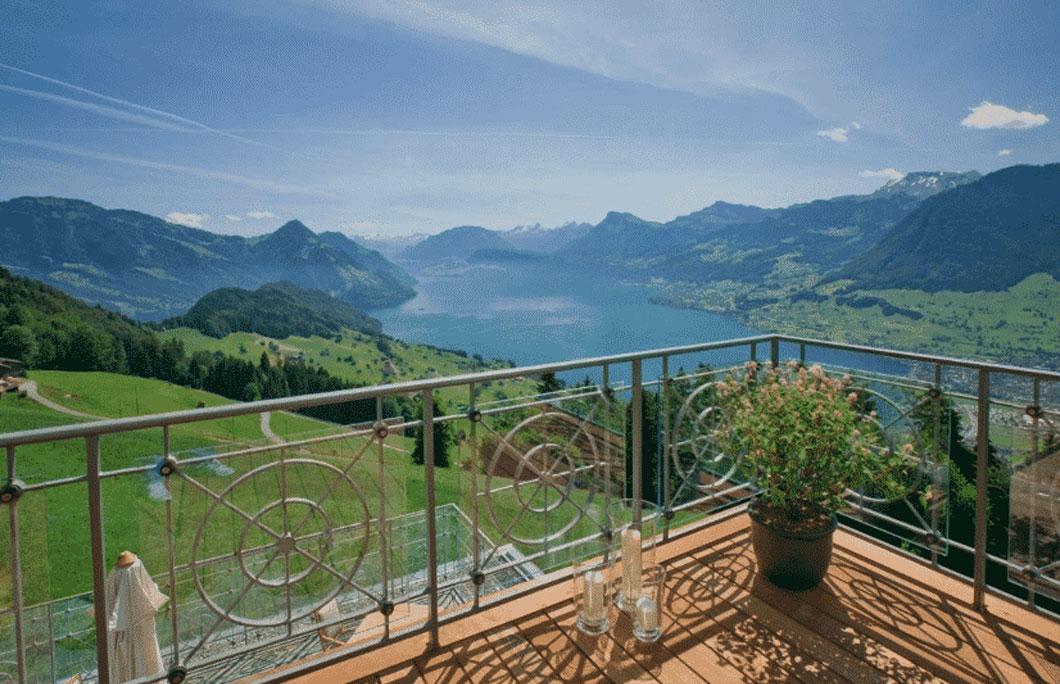 35. Hotel Villa Honegg – Honegg, Switzerland
This five-star hotel is in the heart of Switzerland, right on top of Bürgenstock mountain. With Lake Lucerne below and surrounding mountains, you'll have a stunning view everywhere you turn.
All rooms come with a balcony view of the lake or alps, and there's even a private cinema. Perfect for a cosy date night after exploring the area.
---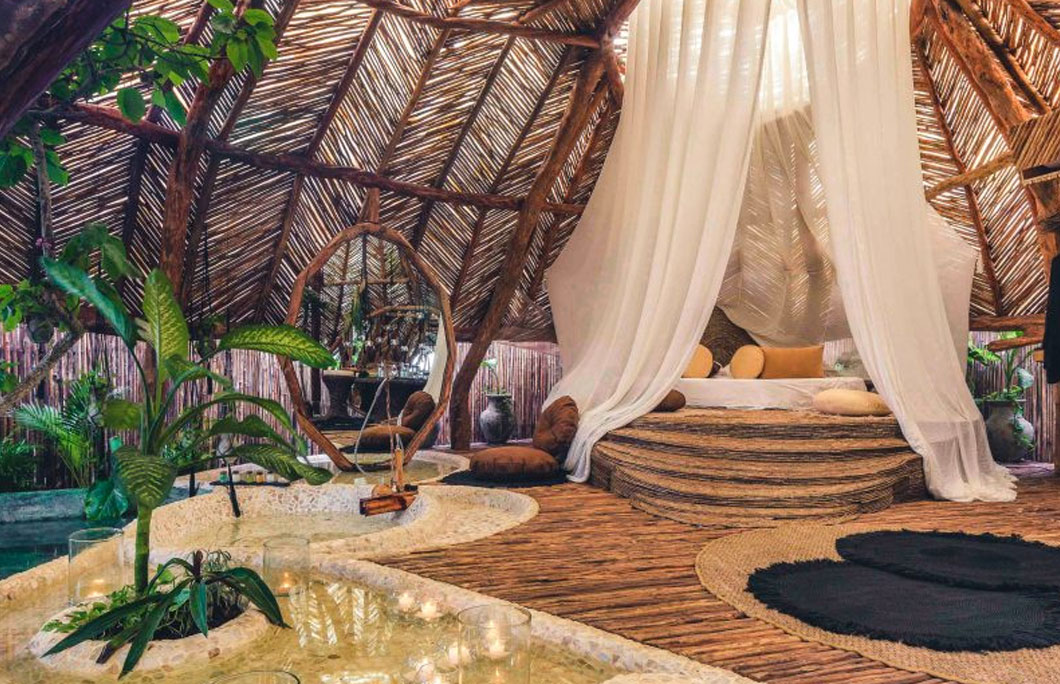 34. Azulik – Tulum, Mexico
An eco-villa resort surrounded by the turquoise waters of Tulum beach, with incredible sunset views of the beach and jungle from its treetop restaurant, Koh. The hotel's villas are built from natural materials, and are lit by candles for extra romance.
Azulik villas also come with a Mayan mosaic bathtub, which is filled with cenote's water; considered sacred water in Mayan culture.
---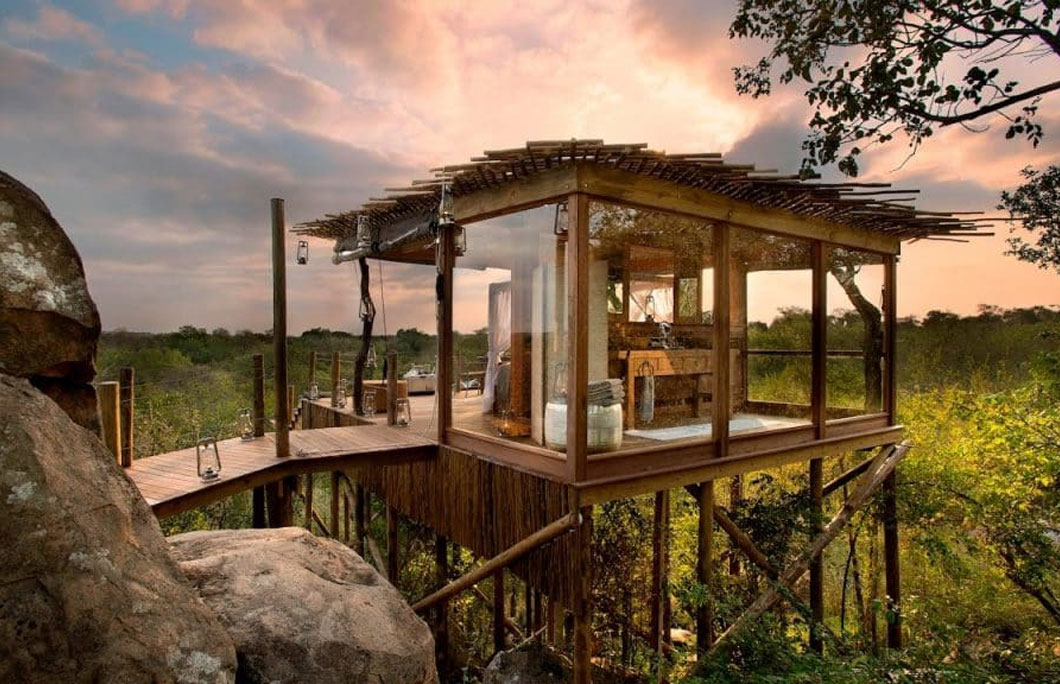 33. Lion Sands Ivory Lodge – Mpumalanga, South Africa
Ivory Lodge thinks of everything – from your champagne of choice in the maxibar to unique dining under the stars. Guests staying at Ivory Lodge can also spend a night or two in a luxury treehouse.
The Kingston Treehouse is built on boulders, across a small drawbridge, with lanterns to light the way. The pictures speak for themselves…
---
---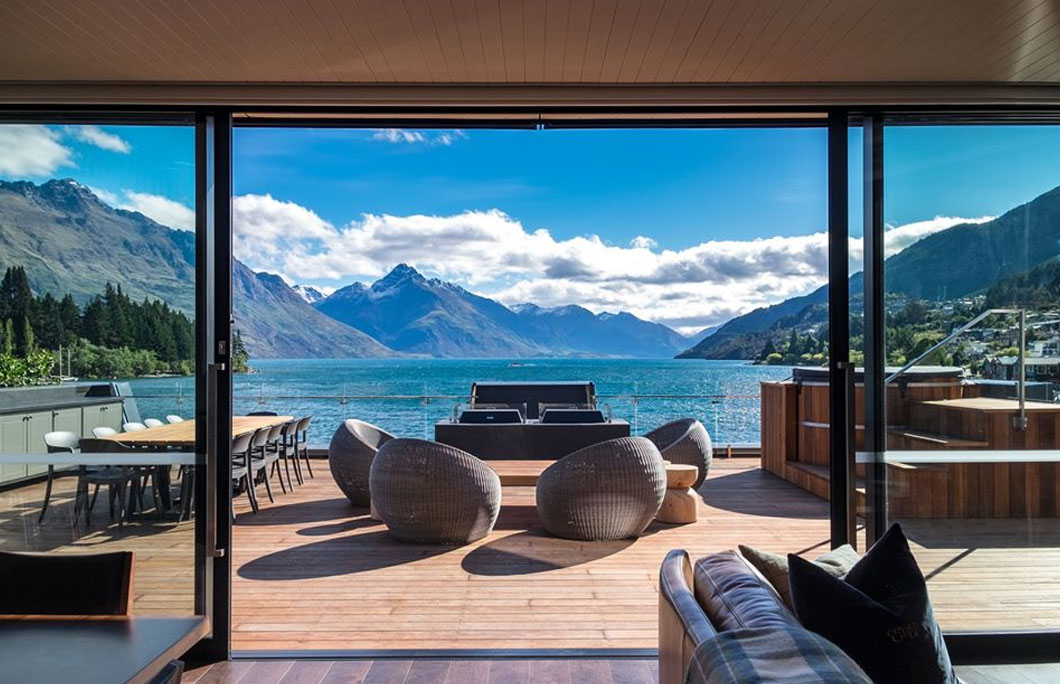 32. Eichardt's Private Hotel – Queenstown, New Zealand
Slip away to Eichardt's for out-of-this-world shoreside romance. This hotel gives a front-row seat to the stunning landscape of Lake Wakatipu int the heart of the South Island. Enjoy a lazy afternoon in their gardens and then head out for a vineyard tour.
---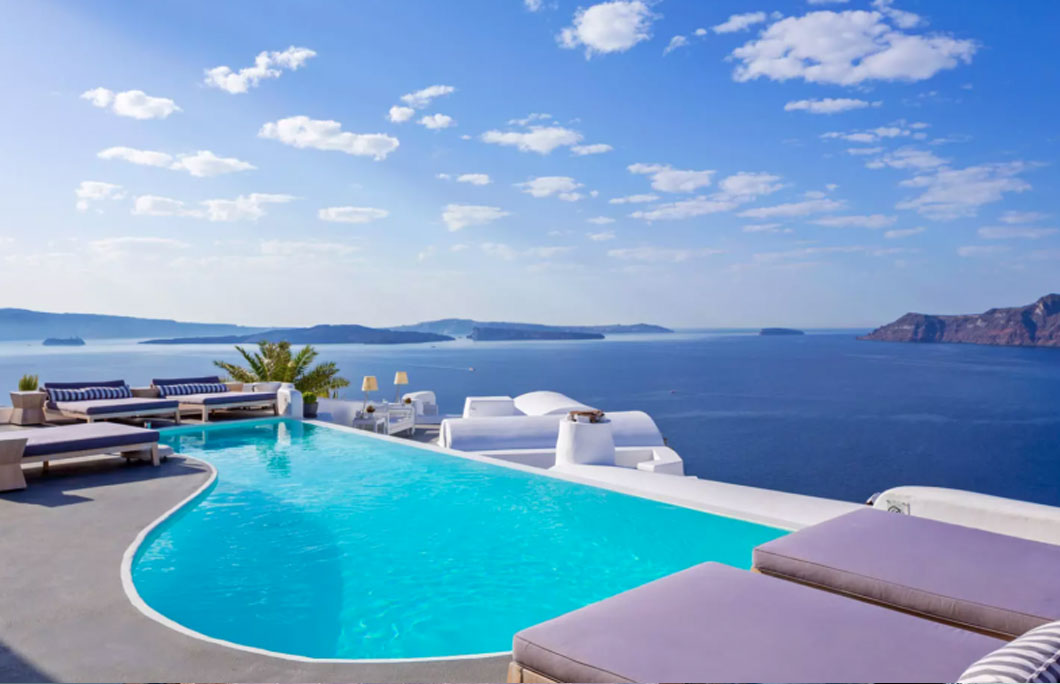 31. Katikies Hotel – Santorini, Greece
Katikies luxury hotel in Oia Santorini makes the list for its warm service and incredible views of the sublime Santorini sunsets.
The white washed suites have views of the Aegean Sea, which can be seen from the large terrace with an open-air dining area and two-person Jacuzzi. Master Suites have an open air plunge pool that's pure perfection.
---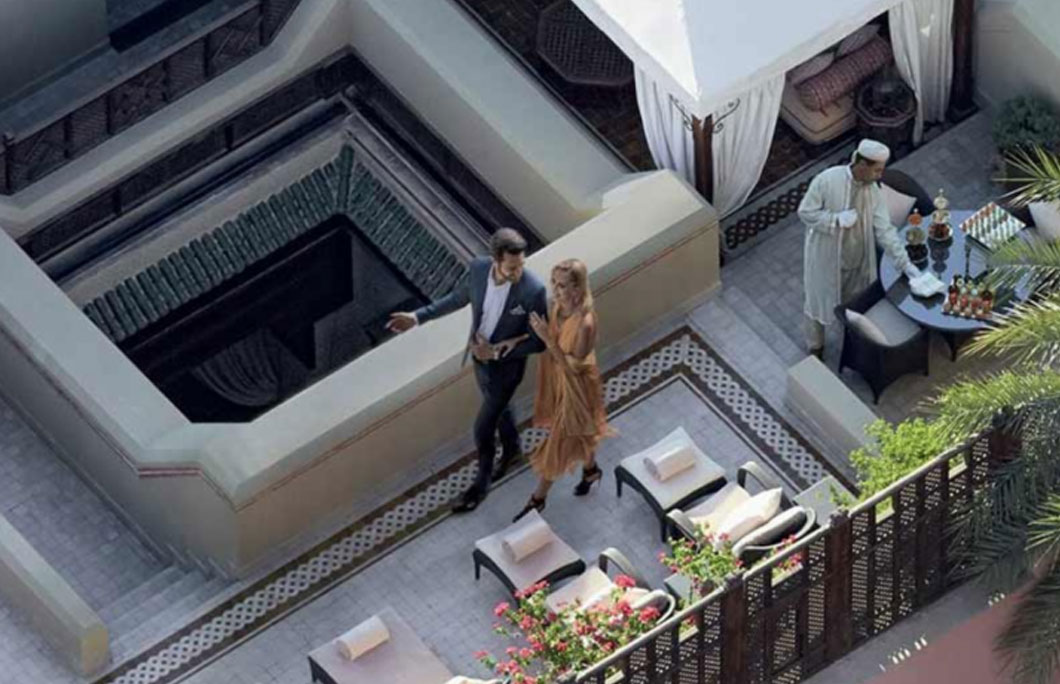 30. The Royal Mansour – Marrakech, Morocco
Just a few steps away from the famous Jemaa El Fna square is the heart of the Marrakesh Palace, with the unique concept of a medina within a medina. The hotel has its own maze of restaurants and courtyards with pools.
Riads have their own Moroccan lounges, bars and library, and staff can bring delicious food to rooms via private underground tunnels.
---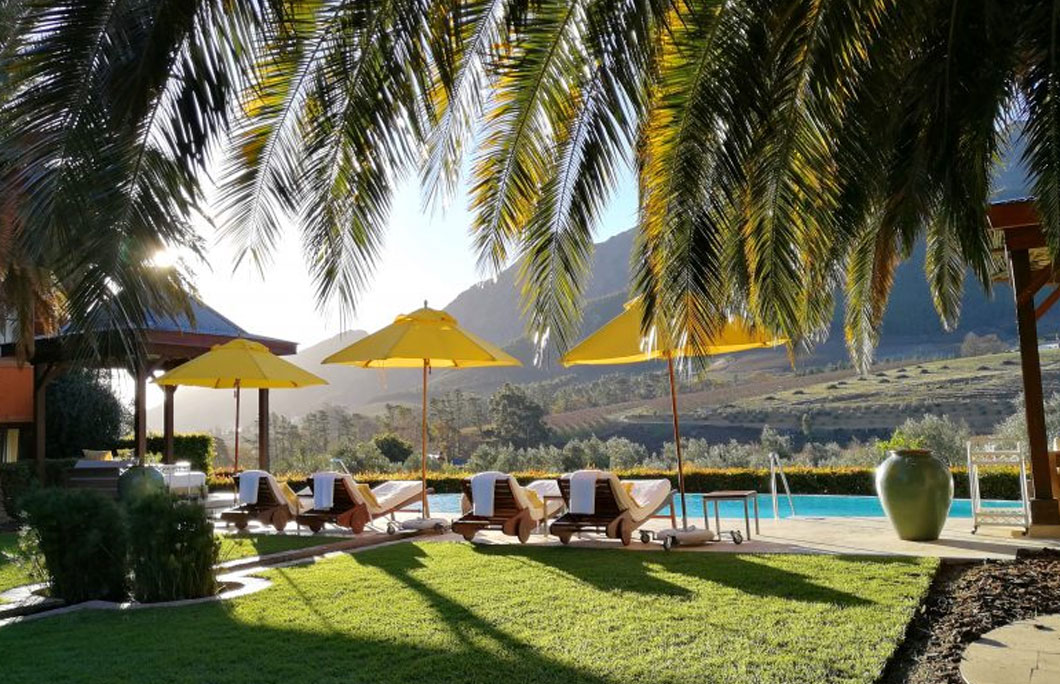 29. La Residence – Franschhoek, South Africa
Located in the beautiful Franschhoek Valley on a private 30 acre estate, La Residence is surrounded by Cabernet Sauvignon and Shiraz vineyards, olive groves and plum orchards. One of the world's most romantic hotels.
A romantic and indulgent paradise that's filled with rich fabrics, wonderful artwork and antique furniture. Guests dine either in their suite or the central Terrace Room, beside a fire or the stunning double rim-flow pool.
---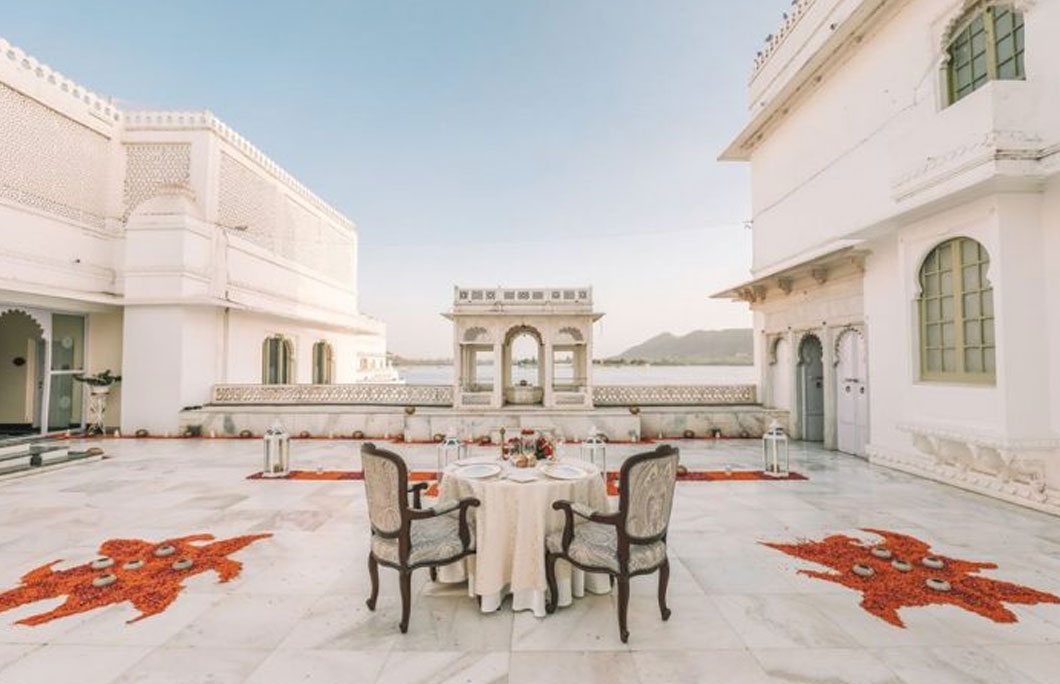 28. Taj Lake Palace – Udaipur, India
Housed in an 18th-century marble palace, Taj Lake Palace is the epitome of opulence and luxury. Enjoy a romantic dinner for two at either of their three upscale restaurants after lounging by their beautiful pool. All things considered, Taj Lake Palace is truly fit for royalty.
---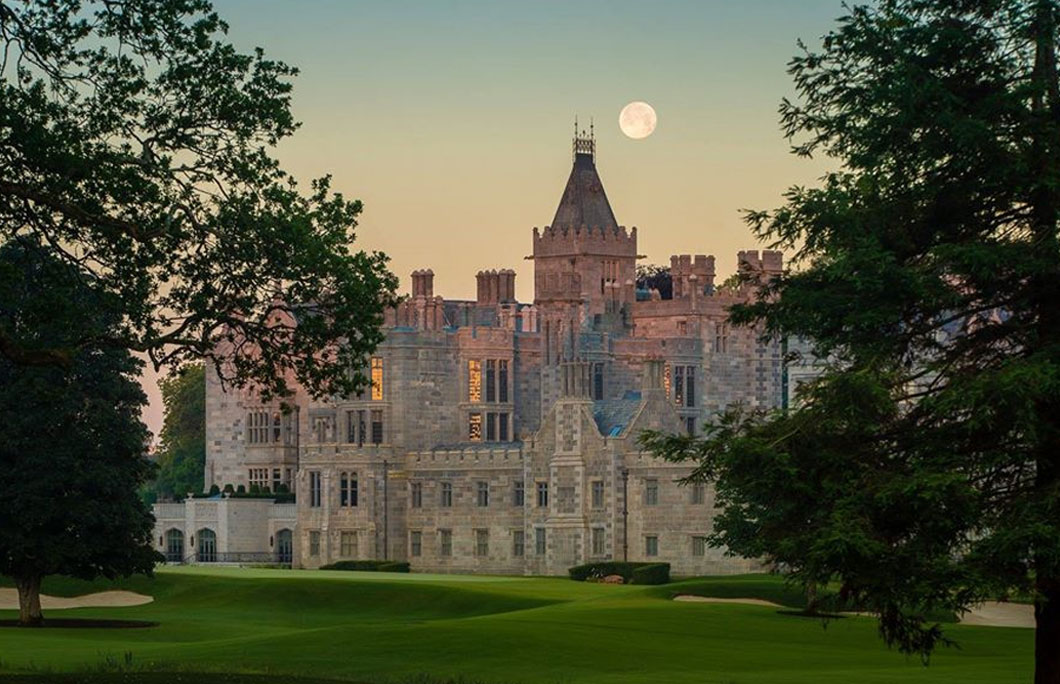 27. Adare Manor – Co. Limerick, Ireland
Splurge on one of the world's most romantic hotels at Co. Limerick's Adare Manor. This 5-star hotel set on an 840-acre estate brings gourmet food, warm hospitality and grandeur to a new height. Clink your glasses over a candlelit five-course meal in The Oak Room, enjoy delicious Irish whiskey with one of their many tasting options in addition to relaxing together in one of their spacious suites.
---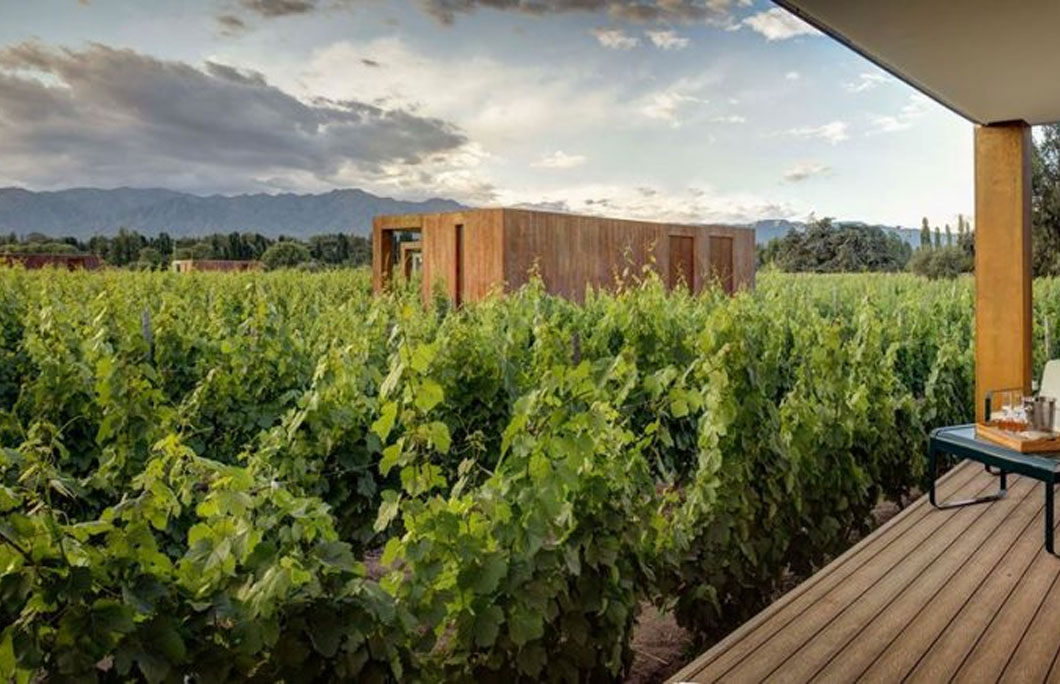 26. Entre Cielos – Mendoza, Argentina
In the heart of one of the world's wine capitals, you'll find Entre Cielos. Considered the best Malbec region, Entre Cielos brings the very best of relaxation and wine right to you. In essence, this luxury boutique hotel is perfect for a couples getaway.
---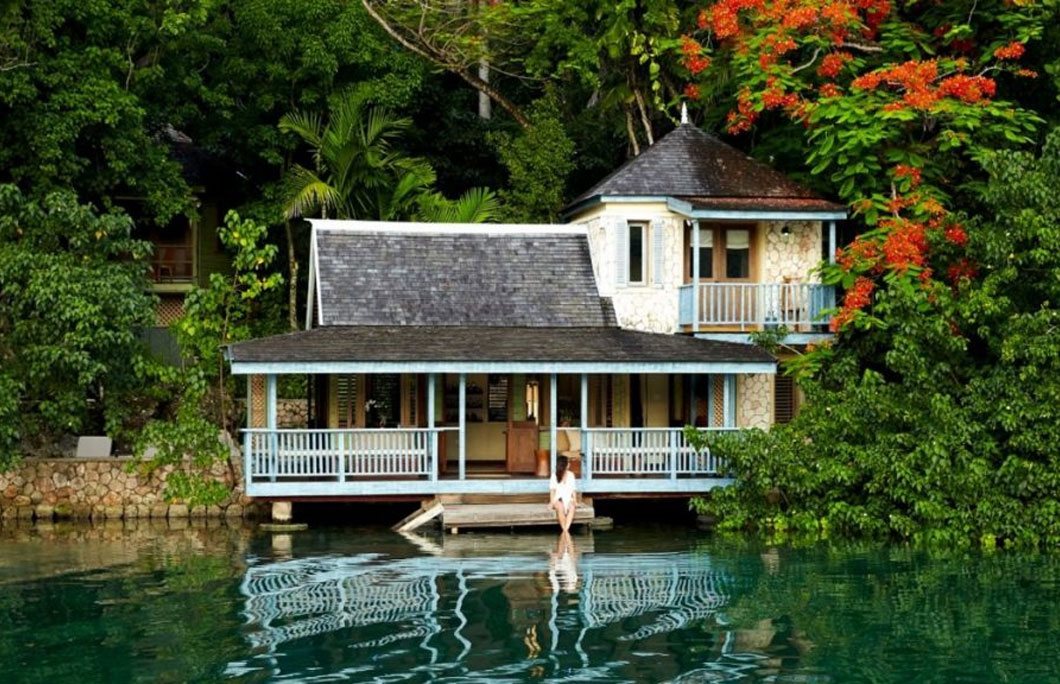 25.Golden Eye – Jamaica
Once the home of famous author Ian Fleming, the creator of James Bond (he wrote all 14 James Bond novels here), GoldenEye is now one of the best hotels in Jamaica. The accommodation here is a collection of private villas and cottages, as well as beach huts, each set within the resort's private beaches and tropical gardens.
While the private villas are priced only for the very rich and famous, the beach huts offer the same excellent facilities at a more affordable price.
---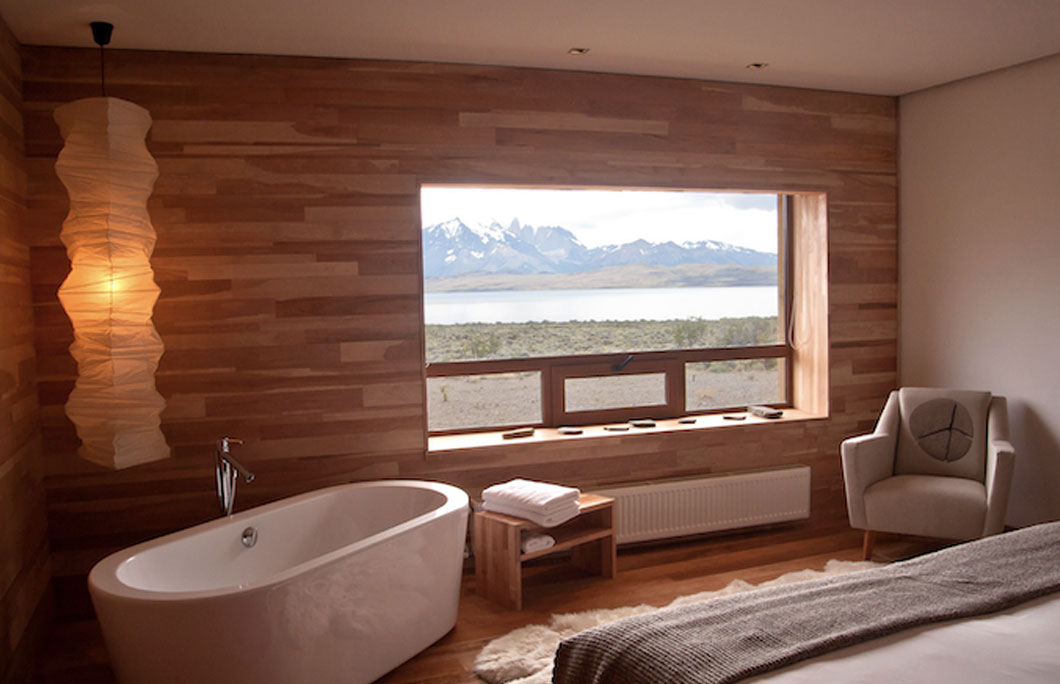 24. Tierra Patagonia Hotel & Spa – Chile
Every detail at the Tierra Patagonia Hotel and Spa aims to please. Perched on the edge of Torres del Paine National Park in Chilean Patagonia, you could be fooled into thinking it's just you and your amore left on the planet. The 40-room hotel and spa is decked out with floor-to-ceiling windows with jaw-dropping views overlooking the park. After days spent hiking and horseback riding, you can come home to a deep-soak bathtub and crisp linen sheets too.
---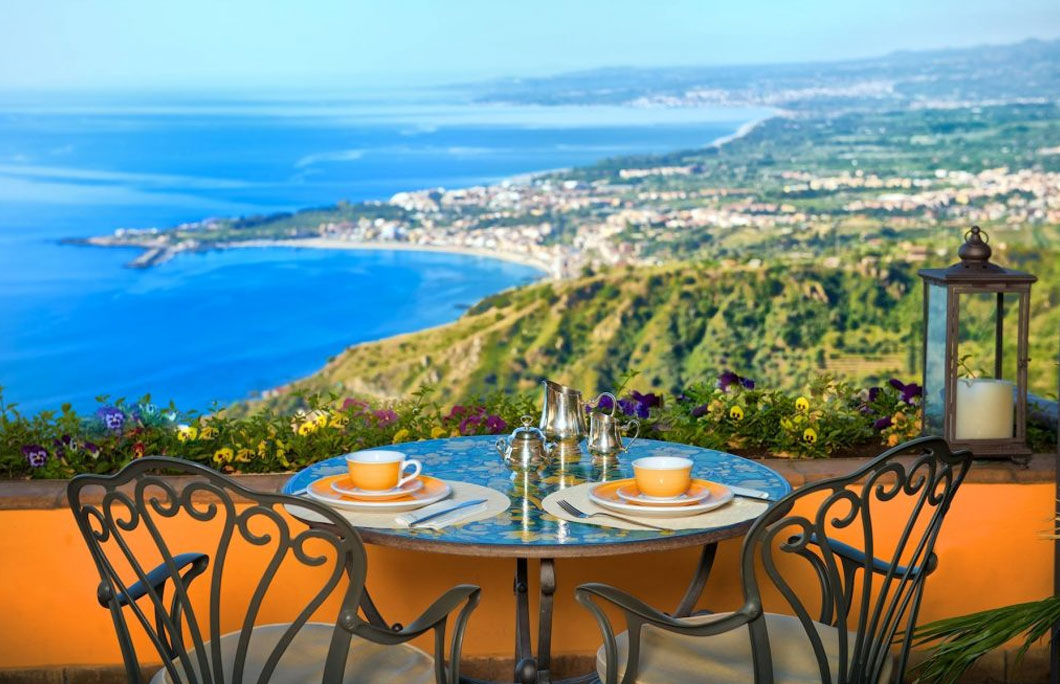 23. Hotel Villa Ducale – Taormina, Italy
Set high above a little village in Sicily, life in Hotel Villa Ducale revolves around its stunning terrace and fresh Italian produce.
Enjoy views of the Straits of Messina and Mount Etna from your bedroom. Stroll around the scenic gardens and clink glasses to say 'salute' as the sun goes down and candlelit tables pop up for dinner.
---
---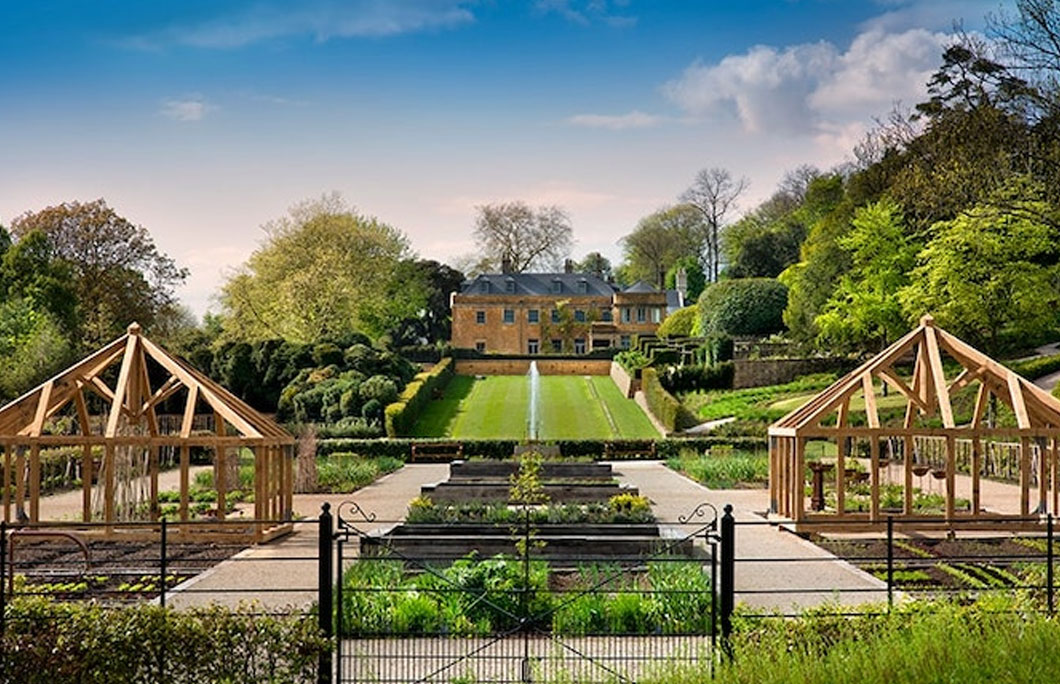 22. The Newt in Somerset – UK
When it comes to glitzy hotels, London usually gets all the attention but not any more. Less than a couple hours from London, The Newt is housed in a sprawling Georgian house set amongst orchards, lakes and woodlands. All 23 rooms are tastefully kitted out with huge comfy beds to sink into after leisurely days of walking and talking and there's also spa with an indoor-outdoor pool, sauna and medieval herb garden. Best of all is the restaurant, where award-winning chef Ben Champkin invites guests to feast on the estate's vegetables, cuts from the salt room and fine wines from the cellar.
---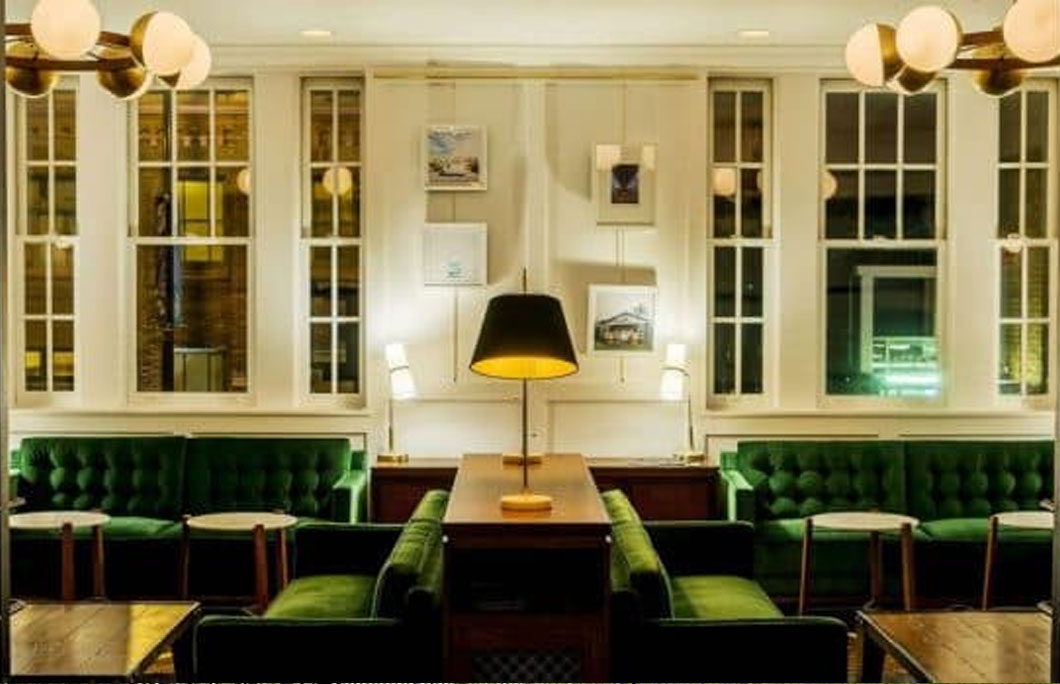 21. ACME Hotel Company – Chicago, USA
If you want a romantic hotel that breaks away from the norm, the ACME is a shining example of hip hotel design. For instance, rooms come with guitars (and headphones), DIY cocktail kits and are as high-tech as can be – just ask your own Alexa Amazon Echo. There's a great cocktail bar, restaurant and bakery within the hotel, as well as the iconic 'Bunny Slope', an Apré-ski style private hot tub bar.
---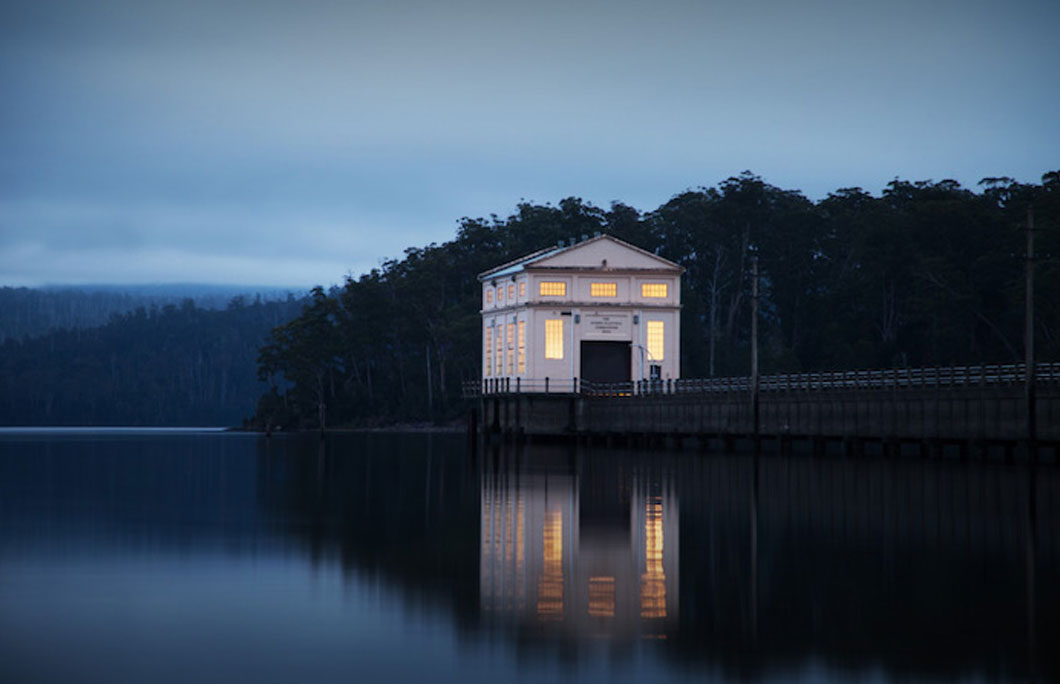 20.Pumphouse Point at Lake St. Claire – Tasmania
For cool-climate luxury, there's the Pumphouse Point. Tasmania is hardly short on scenic spots, but the forest-fringed Lake St. Claire is probably its most romantic. Nestled in the snow-capped peaks, the Pumphouse Point offers luxury accommodation set in a 1940a hydroelectric pumphouse – suspended over the lake. As if that isn't enough, you'll find a larder packed full of local produce and wines too.
---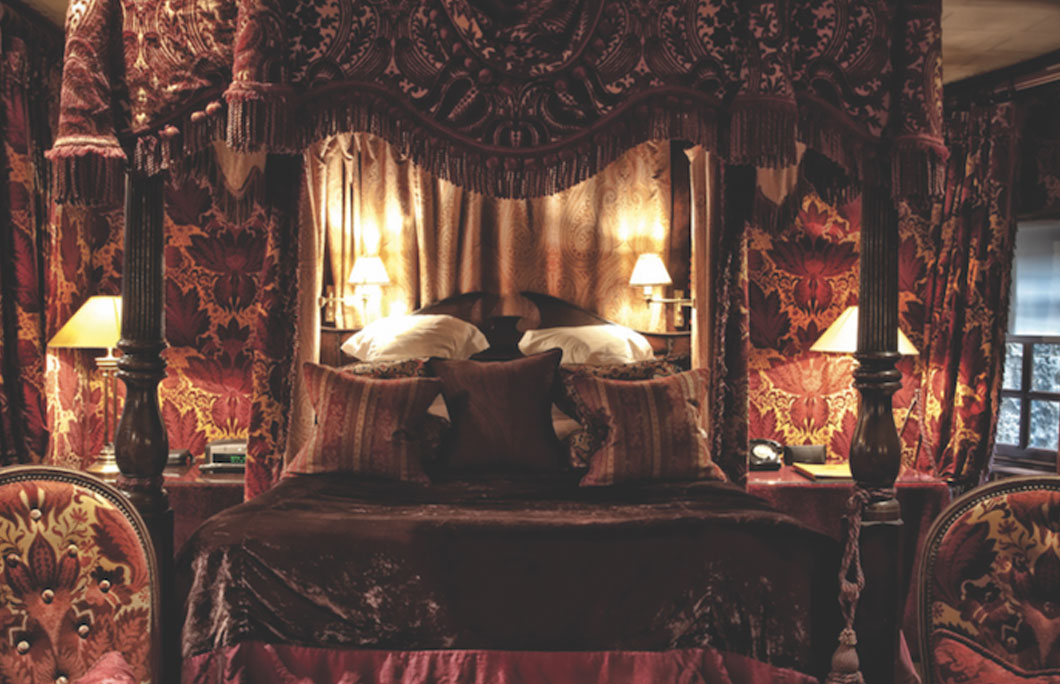 19. The Witchery – Edinburgh
Sure, palm-fringed beaches and bathwater-warm sea is magical, but for some, there's nothing more romantic than a roaring fire, wild hills and ancient castles. Enter, The Witchery. This intimate hotel is located right on the Royal Mile, moments from the castle gates. Inside it's all wood panelling, velvety furnishing and lots of soft (flattering) candlelight. It's the perfect bolthole for the most romantic minds. The library even has a secret bookcase and the rates include a bottle of champagne.
---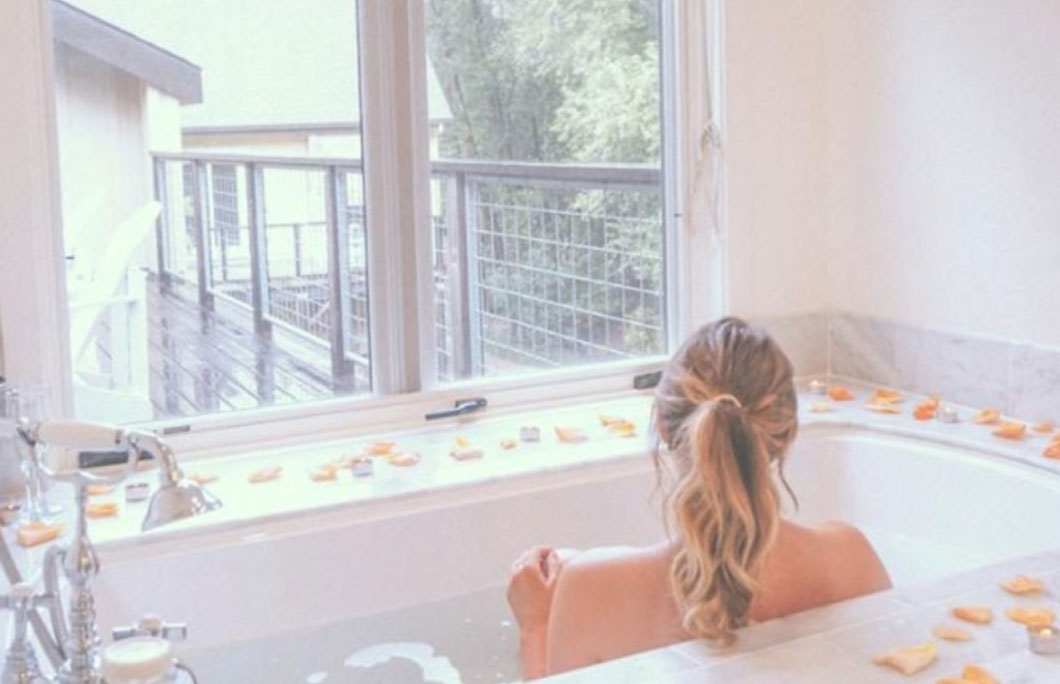 18. Farmhouse Inn Forestville – California, USA
Settled on six rural acres in California Wine Country, Farmhouse Inn is a retreat in Sonoma County, with a Michelin-starred restaurant. Cosy rooms feature Sonoma-made, organic Sumbody bath and beauty products, and a nightly turndown service with homemade cookies and milk.
The inn grounds also include a luxury spa, signature pool area with hot tub, outdoor fire pits for smores, and beautiful gardens.
---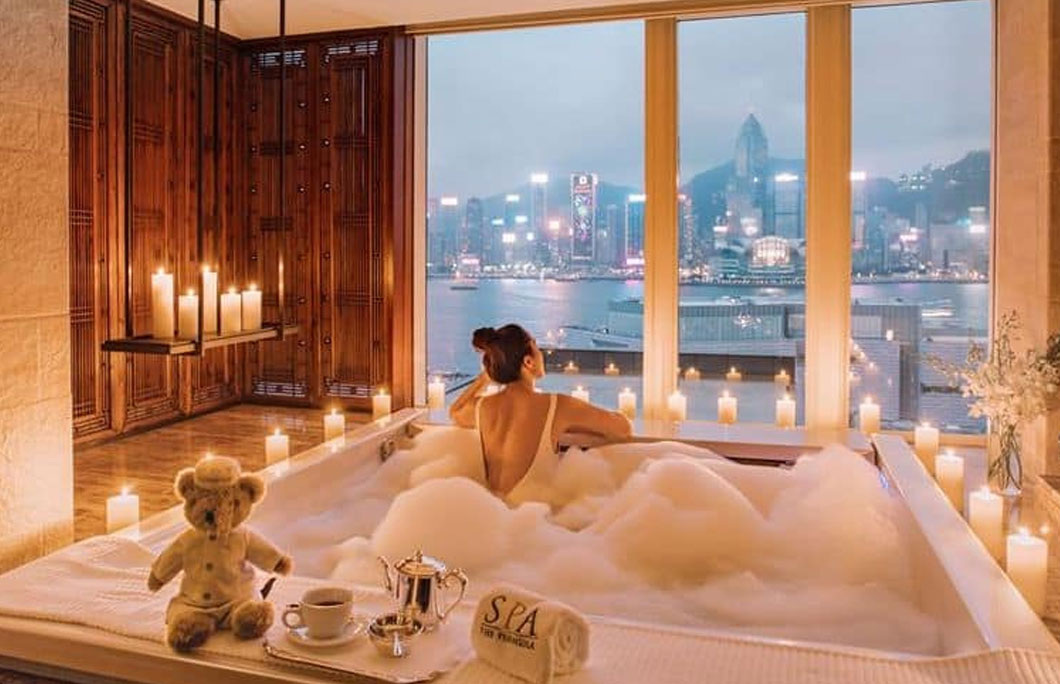 17. The Peninsula – Hong Kong
Colonial style luxury and oriental elegance marry to create the perfect stay at Hong Kong's The Peninsula. For instance, take your pick from any of their seven restaurants for a romantic dinner for two. Sleep in one of their many lavish suites with the crackling fireplace in the background. Moreover, some even include chauffeur-driven Rolls-Royce around town.
---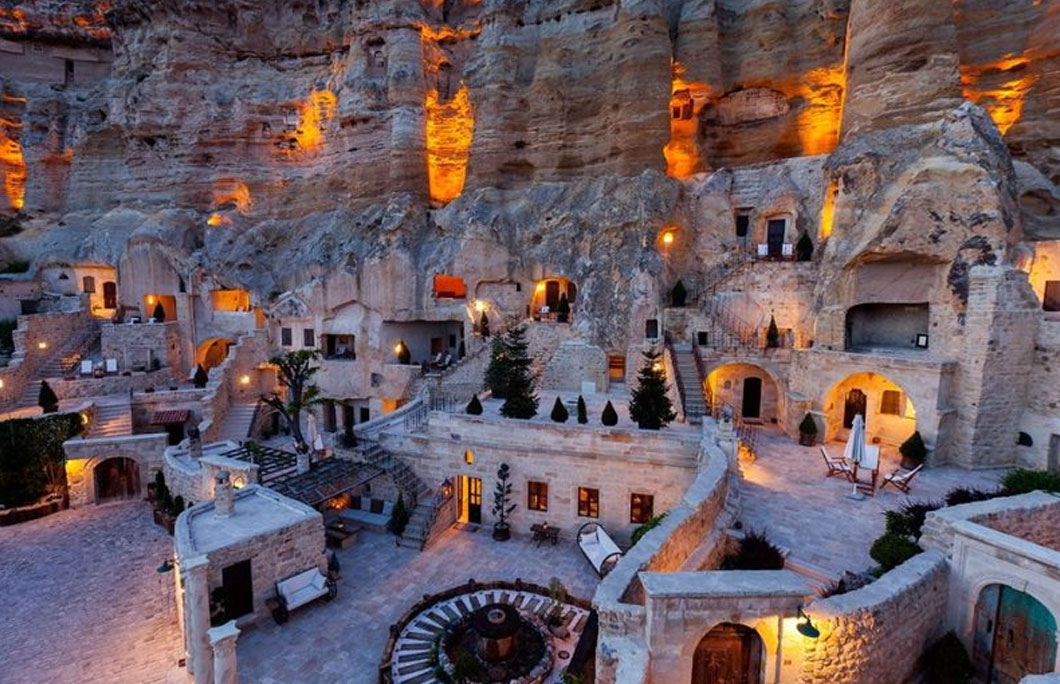 16. Yunak Evleri – Urgup, Turkey
Nothing compares to the Cappadocia landscape in Turkey. Fairy chimneys, cave homes and ancient villages seem to transcend time here. Yunak Evleri is the perfect choice for couples looking to experience this otherworldly region. Additionally, portions of the hotel date back to the 5th century making it ideal for history buffs, too.
---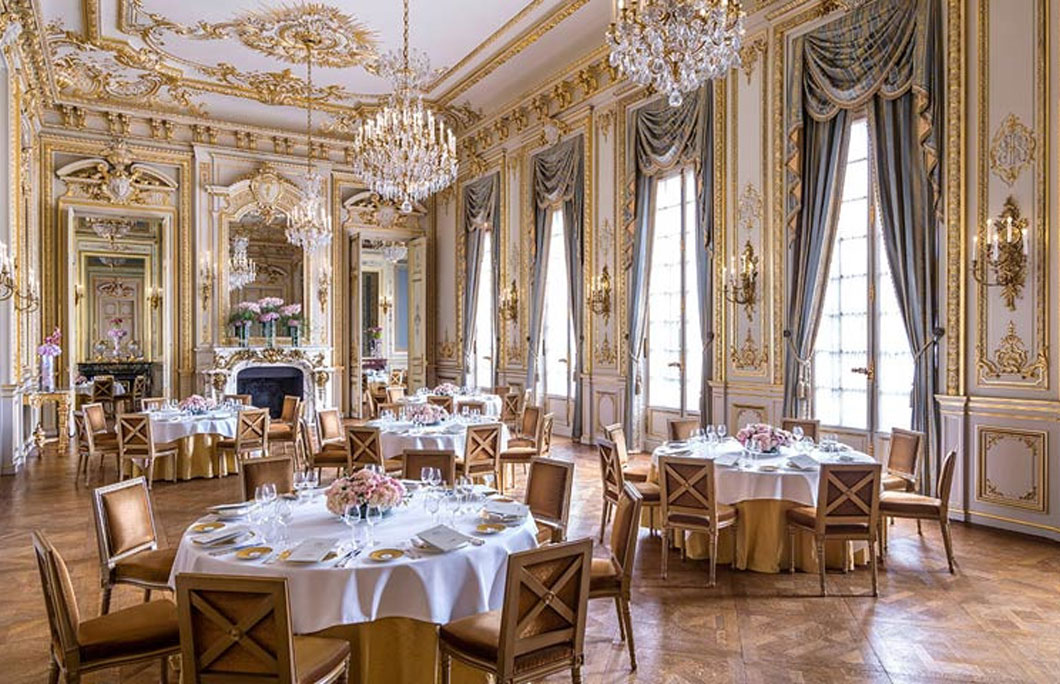 15. Shangri-La Hotel – Paris, France
One of the most exclusive hotels in Paris, Shangri-La has beautiful views of the Eiffel Tower and the River Seine. Rooms are decorated in both European Empire and Asian aesthetics and are effortlessly stylish. The hotel's largest suite is actually located in the former private residence of Prince Roland Bonaparte.
Additionally, the fashion designers on Avenue Montaigne and Avenue George V are just around the corner.
---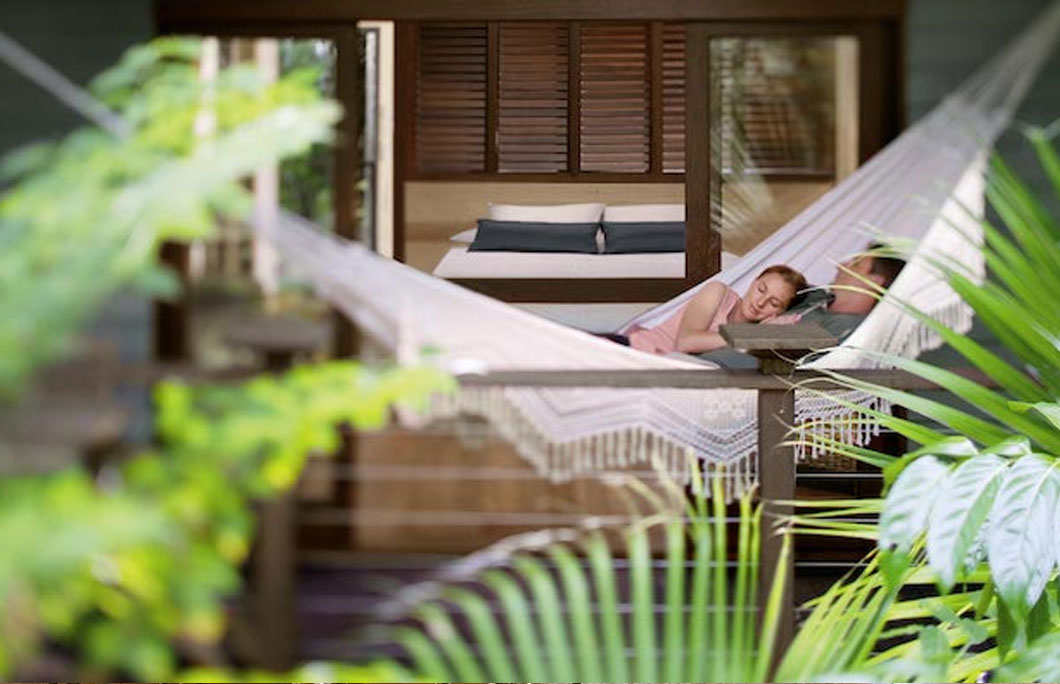 14. Silky Oaks Lodge & Healing Waters Spa – Australia
Located in the largest rainforest in Australia, Silky Oaks Lodge & Healing Waters Spa sits high in the treetops hovering over the Mossman River. There are 40 luxury treehouses to choose from, each stylishly furnished and offering sweeping views of the river or rainforest. The hotel has been billed as one of Australia's best luxury hotels too. Gaze into each other's eyes over contemporary Australian and Asian-inspired dinners or indulge in one of the many spa treatments on offer in the Healing Waters Spa.
---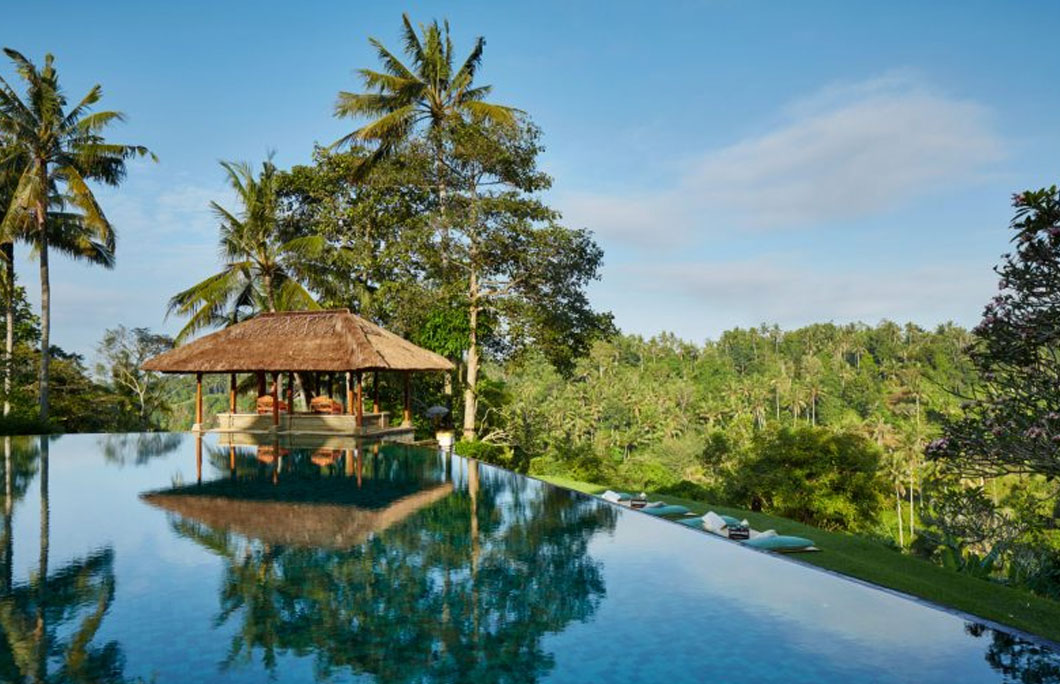 13. Amandari – Bali, Indonesia
Designed after a traditional Balinese village, the views are spectacular here, with villas looking down the valley and over the rice paddies.
Villa suites are luxurious and have their own private infinity pools and sunken outdoor marble bathtubs. With the scent of Frangipani hanging in the air, this is a real sanctuary. We have a feeling you'll barely leave the resort…
---
---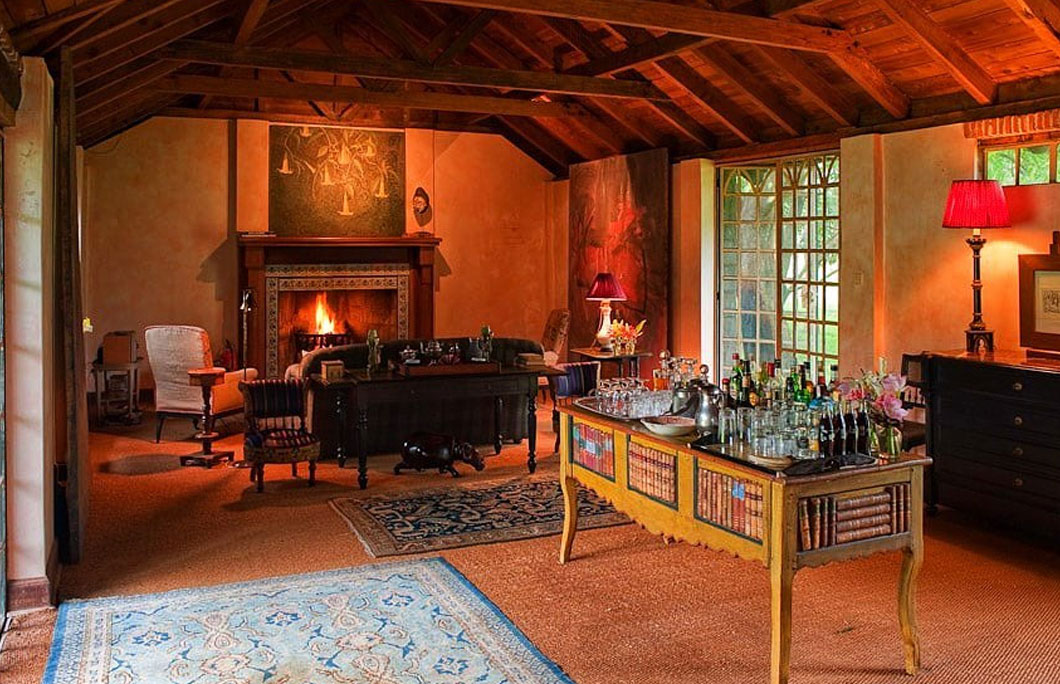 12. Hippo Point House – Great Rift Valley, Kenya
Experience the raw beauty of Kenya in this Elizabethian style mansion. Not only can you enjoy meals made with locally sourced foods you can also embark on a wildlife adventure with the surrounding hippos, giraffes, zebras and more. In the mornings you can wake up to the sounds of passing buffalo and a gorgeous Kenyan sunrise. What's not to love?
---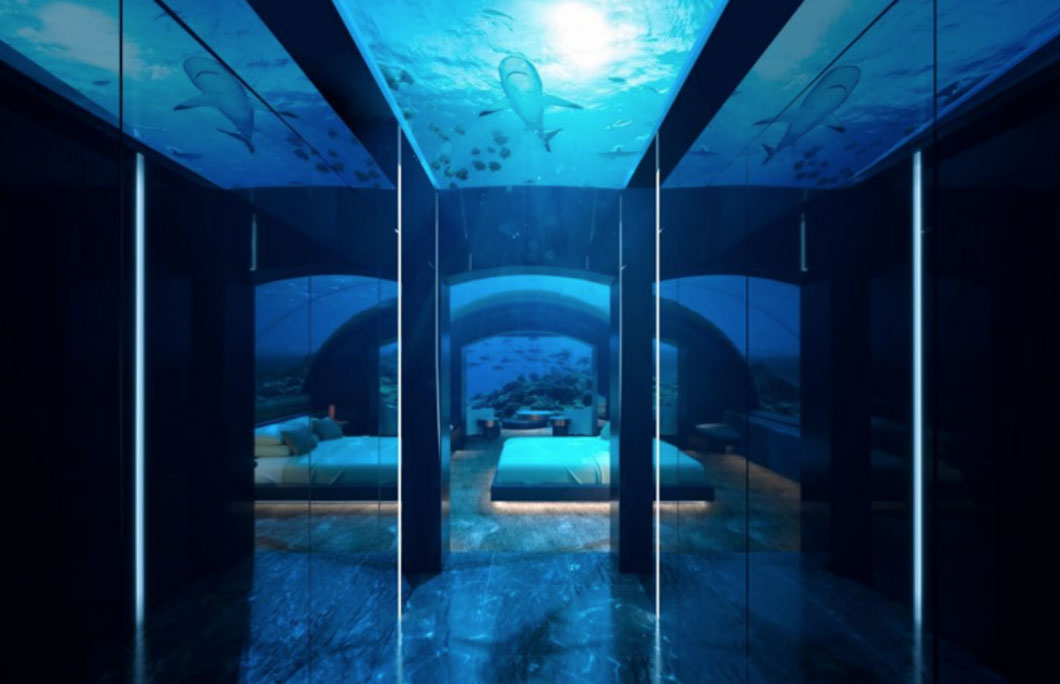 11. Conrad Maldives – Rangali Island, Maldives
The world's first underwater hotel recently opened in the Maldives, and it's an absolute beauty. You can wake up to tropical fish swimming above your bed in a two-story villa set more than 16 feet below the Indian Ocean.
THE MURAKA at Conrad Maldives Rangali Island is in a class of its own. The unique three bedroom villa spreads over two levels – one above water, and one below. The hotel also has other over-water suites and a spa with a glass bottom floor.
---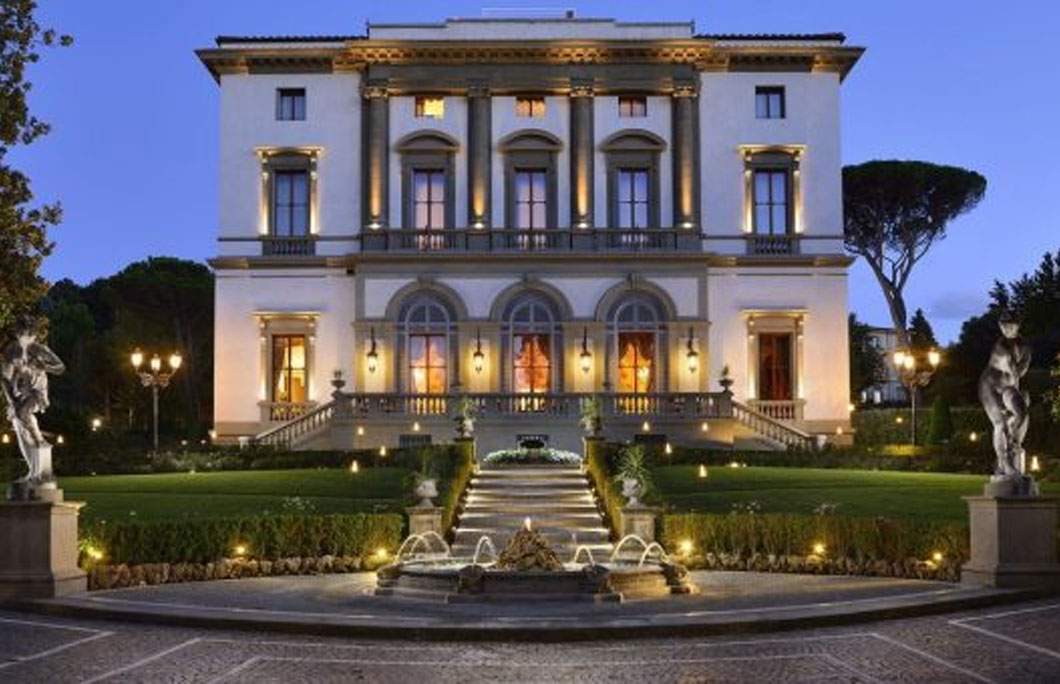 10. Villa Cora – Florence, Italy
This 19th-century villa was built by a Baron as a love letter to his wife, so it follows that it would be ultra romantic. It features a beautiful outdoor heated pool and rich silk fabrics, as well as antiques in the bedrooms.
In the main villa, there are 29 suites and rooms divided into 4 floors, each with its own style. The second is dedicated to the ex-empress Eugenia widow of Napoleon III and to the roses that were her favourite flower.
---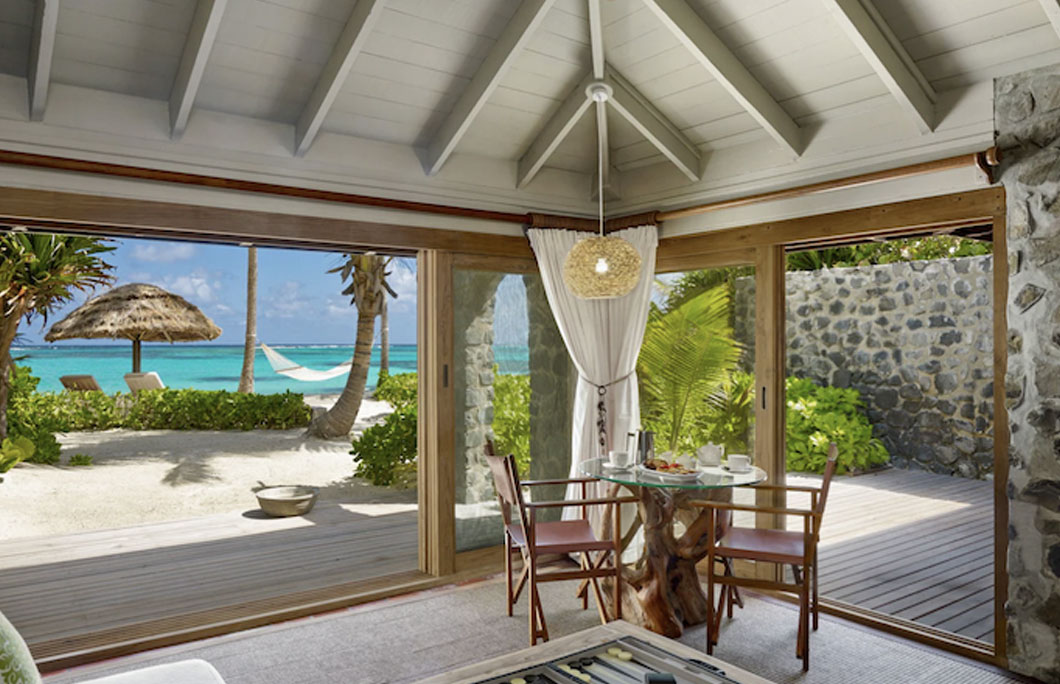 9. Petit St. Vincent – Grenadines
The words 'all-inclusive' aren't usually associated with romance, but a stay at this secluded private island resort will relieve any misgivings. The 115-acre island is home to just 22 cobbled cottages, some high on the hill or bluff and some leading directly to one of the most private beaches in the Grenadines. Raise your yellow flag and your own butler will come running too. The hotel even offers a dedicated 'romance package', which includes champagne on arrival, complimentary massage treatments and a day sail to the Tobago Cays Marine Reserve.
---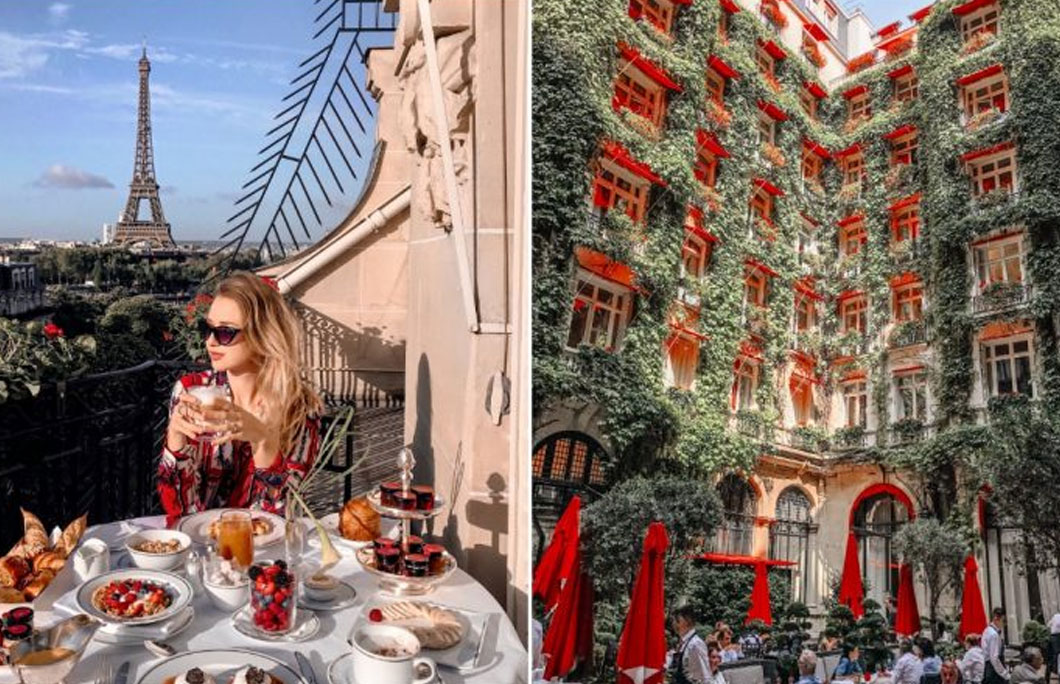 8. Plaza Athénée – Paris, France
It isn't hard to find romance in the City of Love, but there are a few hotels that are in themselves worthy of a trip.
With a view of the Eiffel Tower at one end, and the Champs-Elysées at the other, this is no ordinary hotel. Additionally, over 1,900 red geraniums adorn the hotel façade, creating a fairytale setting for romantic moments.
---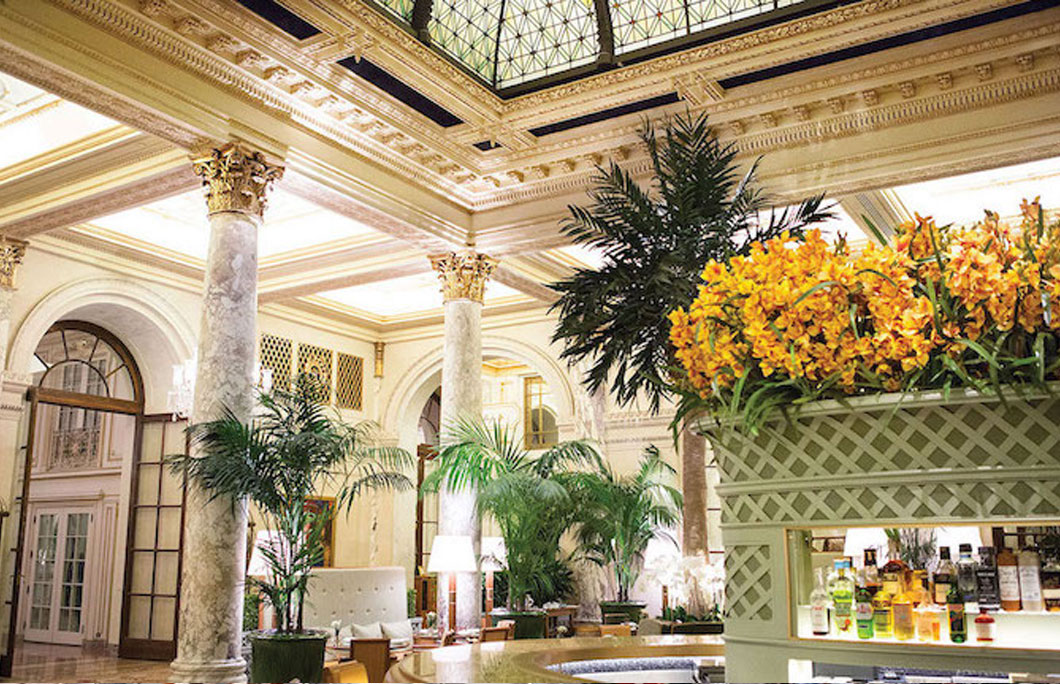 7. The Plaza – New York, United States
For gilded glamour, it's hard to outshine The Plaza. If you're after unashamed opulence, check yourselves into the Fitzgerald Suite King, which was designed by Oscar-winning Catherine Martin. Incidentally, she also designed the costumes and sets for The Great Gatsby. A wide range of soul-soothing spa treatments is available at the Guerlain spa too.
---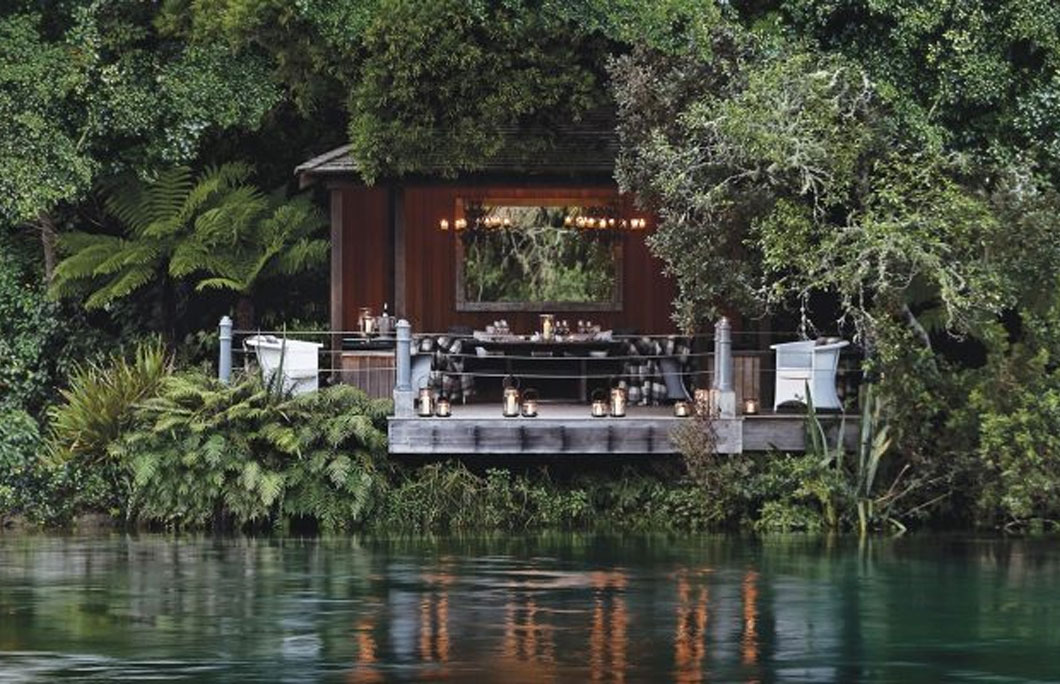 6. Huka Lodge – Taupo, New Zealand
Huka Lodge lies on the banks of Waikato River, nearby the famous Huka Falls and has been attracting guests from around the world since starting as a simple fishing lodge in the 1920s.
There's 25 charming suites, all with river views. Huka Lodge also goes out of its way to create special memories for couples. For example, you'll find 20 tables for two, bathed in candlelight, beside the river and under the stars over the summer evenings, or in the wine cellar.
---
5. Fairmont Banff Springs – Canada
Canada's 'Castle in the Rockies' is iconic for good reason. Located right in the heart of Banff National Park – possibly one of the world's most dramatically romantic landscapes – it's provided legendary hospitality to guests for more than 130 years. The hotel also features a luxurious spa with multiple pools, three bars and a world-class golf course. Plus, if those views don't warrant a marriage proposal, we don't know what will.
---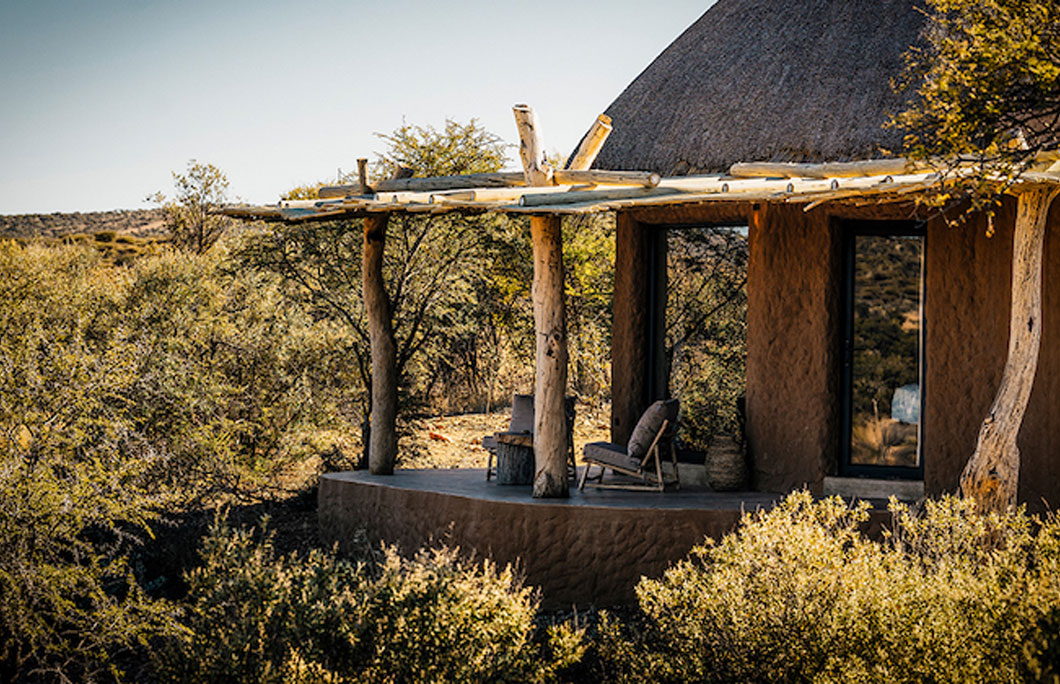 4. Omaanda – Namibia
Possibly one of Namibia's most beautiful hotels, Omaanda is set on a private reserve just 30 minutes from the Namibian capital. It's exquisitely luxurious, from its shimmering infinity pool overlooking the savannah to the 10 re-imagined 'huts' featuring a private terrace. Sit back on martinis as the sun comes down and you'll get a private viewing of baboons and other exciting wildlife. A crackling fire will help add a little extra spark too.
---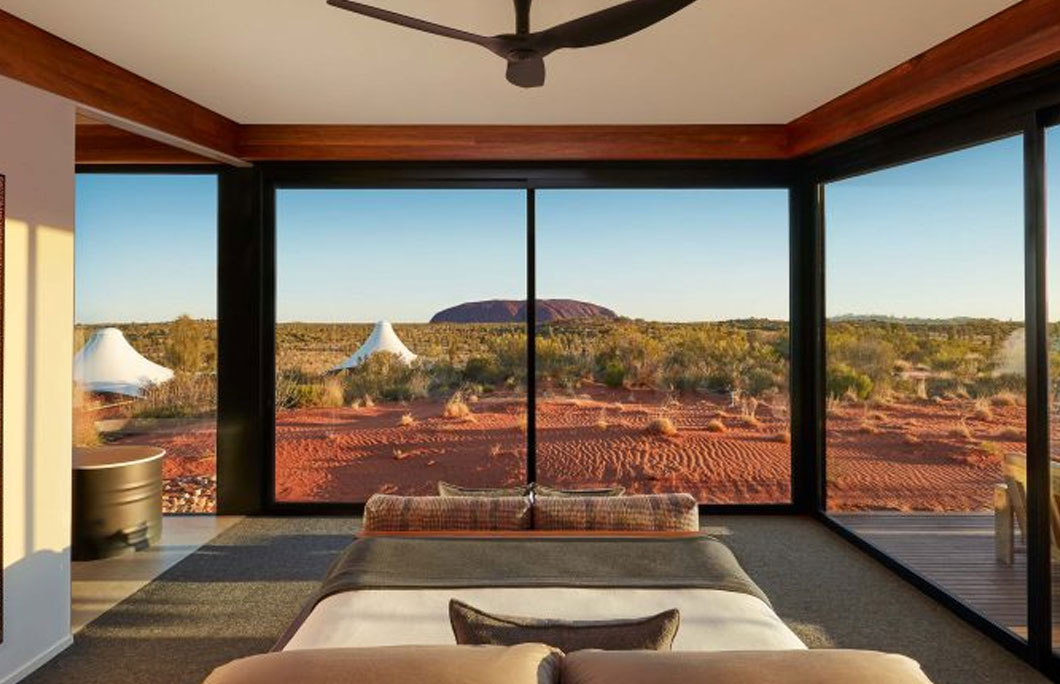 3. Longitude 131º – Uluru, Australia
Just outside the UNESCO World Heritage Uluṟu-Kata Tjuṯa National Park is Longitude 131º. Sixteen tented pavilions make up this luxury resort and provide unmatched views of the surrounding sacred dunes. Wake up with your sweetheart to a beautiful Australian sunrise on this magical site. When it comes to the most romantic hotels in the world, this is pretty tough to beat…
---
2. Shinta Mani Wild – Cambodia
Combining world-class design, sparkling service and the chance to get involved with the hotel's radical role in local conservation, this jungle side retreat also gives couples the chance to make a real difference on their romantic minibreak. There are 15 private tents to choose from, each with breathtaking views along the riverbank. Did we mention the sunset martinis too?
---
---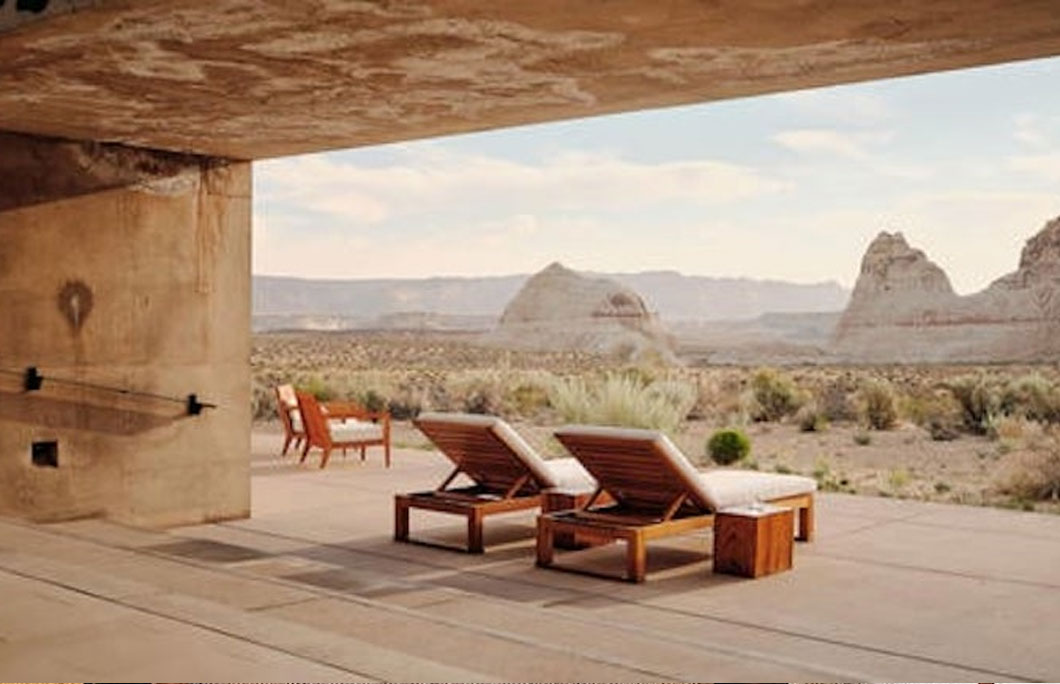 1. Amangiri: Canyon Point – Utah, United States
Set in America's most dramatic desert, stays at the Amangiri is an otherworldly experience. Wake up to views over the desert and start the day by sinking deep into bubbles in the huge bathtubs. For the ultimate seductive stay, book into the 3,472 sq. ft. Amangiri Suite which features a lap pool complete with a sky terrace and day bed. When you're not out exploring, there are complimentary yoga and hiking sessions and fine dining under the stars. Need we say more?
---