Cannot decide whether to choose Aruba Vs Barbados?
So you've narrowed down your long-awaited Caribbean escape to Barbados and Aruba? Bravo. These are two of the Caribbean's most show-stopping islands, offering up all the rum cocktails, turquoise waters and white sandy beaches of your fantasies. But which to choose? Our handy guide to Barbados and Aruba might just help.
Aruba Vs Barbados: How to Choose Between the Two
Overview – is Aruba Or Barbados better?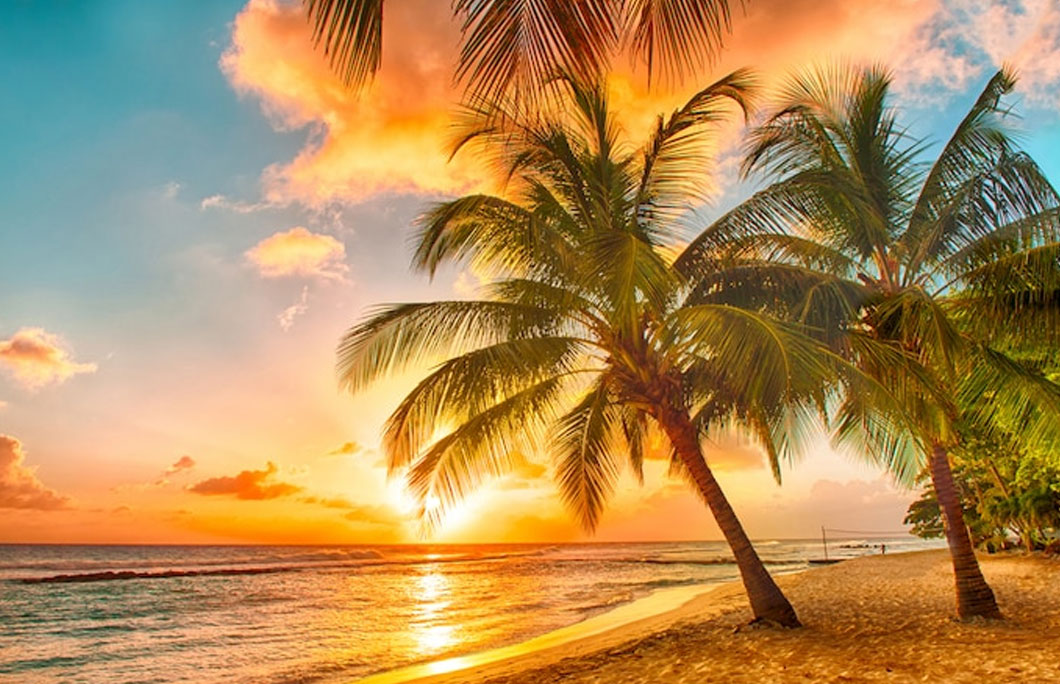 Floating some 18 miles off the coast of Venezuela, Aruba is part of a trio of islands known as the ABCs – Aruba, Bonaire and Curacao. These islands, combined with Holland, make up the Kingdom of the Netherlands. The island's Dutch Caribbean identity is striking, but there's a strong American presence here too. Come winter, tourists keen to escape winter in the United States head here in droves. As such, it's one of the most touristed islands in the Caribbean. Don't let that detract from its many draws though – white sands, luxurious resorts and bath-warm waters await.
Of all the Caribbean islands, Barbados is probably one of the best-known and best-loved amongst sunseekers. Like Aruba, it boasts year-round sunshine, palm-fringed white sand beaches and luxurious hotels. But it's also almost 2.5 times larger than Aruba, which means bigger cities too. It was part of the British Empire until 1966, which has left its mark in the shape of its UNESCO-listed capital city Bridgetown. Beyond the capital and its blockbuster beaches, Barbados lives up to all the Caribbean stereotypes while retaining a personality of its own.
---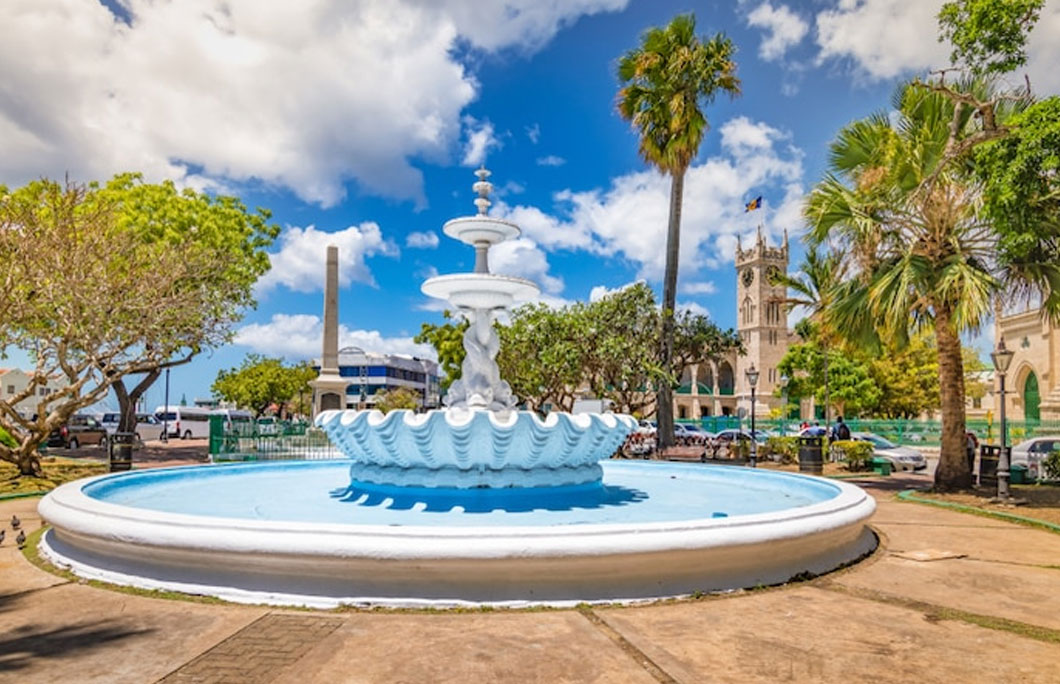 Beautiful Bridgetown
Aruba
Aruba is brimming with natural wonders, and we're not just talking about beaches. Adventure enthusiasts can explore the rolling white sand dunes on the northern shores, climb the windswept steps to the peak of Hooiberg hill or dive down to the Antilla, the largest shipwreck dive in the Caribbean.
While Aruba doesn't have much in the way of traditional cities, Oranjestad is a picturesque place to spend a day or too. The colourful and slightly chaotic capital is home to a whole string of luxury retails, boutiques and jewellery stores, as well as restored landmarks like Fort Zoutman, built in 1798 to protect the city from pirates. The city is also home to The Cas di Cultura, Aruba's national theatre.
Just past Palm Beach is the charming coastal town of San Nicolas, known as "Sunrise City". It's brimming with galleries and colourful street art.
Barbados
Beyond brilliant beaches, Barbados is best-known for its colourful capital, Bridgetown. Now a Unesco World Heritage Site, it's brimming with sights, postcard-perfect buildings, brilliant shopping and buzzing nightlife.
Barbados might not have soaring peaks and tropical rainforests, but it does have wild and breathtaking vegetation. The best way to explore it is on a three-hour hike through its interior, led by local organisations for free at 06:00 and 15:30. It's excellent twitching territory too, home to over 270 bird species.
The island is also the Caribbean capital of cricket, and you'll find people playing it everywhere – on the beach, cricket fields and even on the street. There are a staggering 160 cricket clubs on an island, the most famous of which is Kensington Oval. The domestic season begins in May and ends in December, while the international season begins in March and ends in June.
---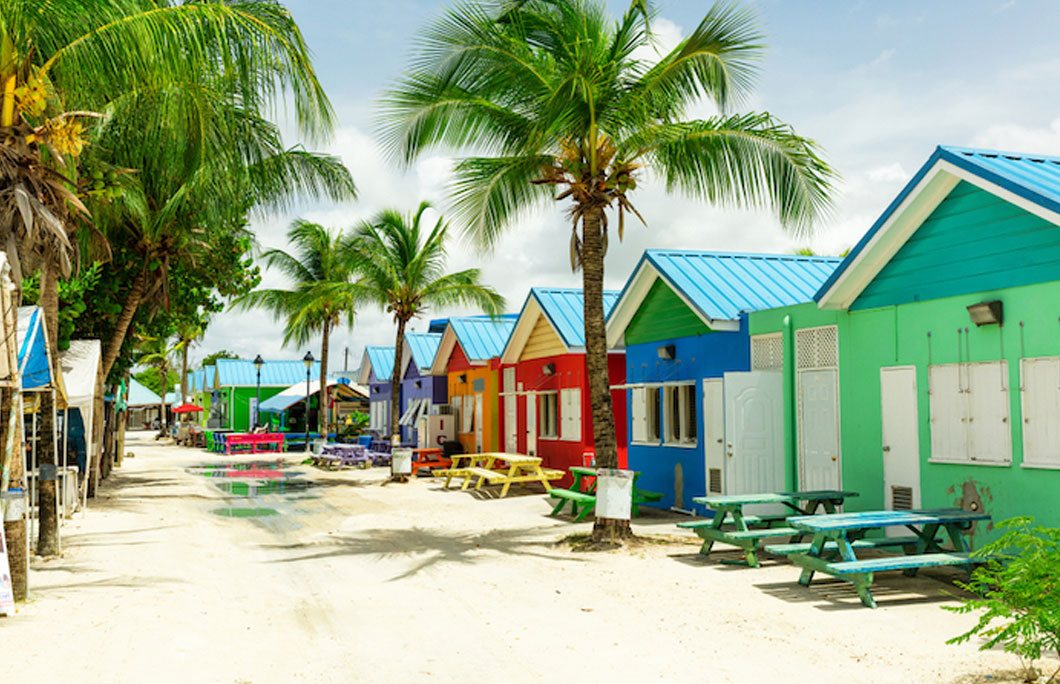 Oistin in Barbados
Aruba
While Aruba has historically been challenged by its small, arid landscapes, the island boasts a burgeoning culinary scene. From floating brunches to chef's tables, there's more to the island than cheese casseroles and goat stews (though these come highly recommended too.) For instance, Taste My Aruba serves up whatever the local fishermen have been able to catch that morning, herbs from the chef's garden and homemade everything else. There's a strong American influence on cuisine in Aruba too, with many of the restaurants around Palm Beach and Oranjestad serving US favourites like Buffalo Wings and Tex-Mex.
Barbados
Eating out in Barbados can be very expensive, and food costs can exceed those of accommodation. However, there are lots of inexpensive cafes, kiosks and restaurants to enjoy too, providing you know where to look. Restaurants like Sand Dunes Bar and Animal Flower Cave as are popular with both locals and tourists. You'll find dozens of kiosks and shacks, like Cuz's Fish Shack serving up grilled fish and meats, and local spealties like macaroni pie too. For the biggest bash in Barbados, head to Oistins on a Friday night. Dozens descend on the tiny village for their legendary fish fry, which combines fresh fish, cold beer and banging tunes.
---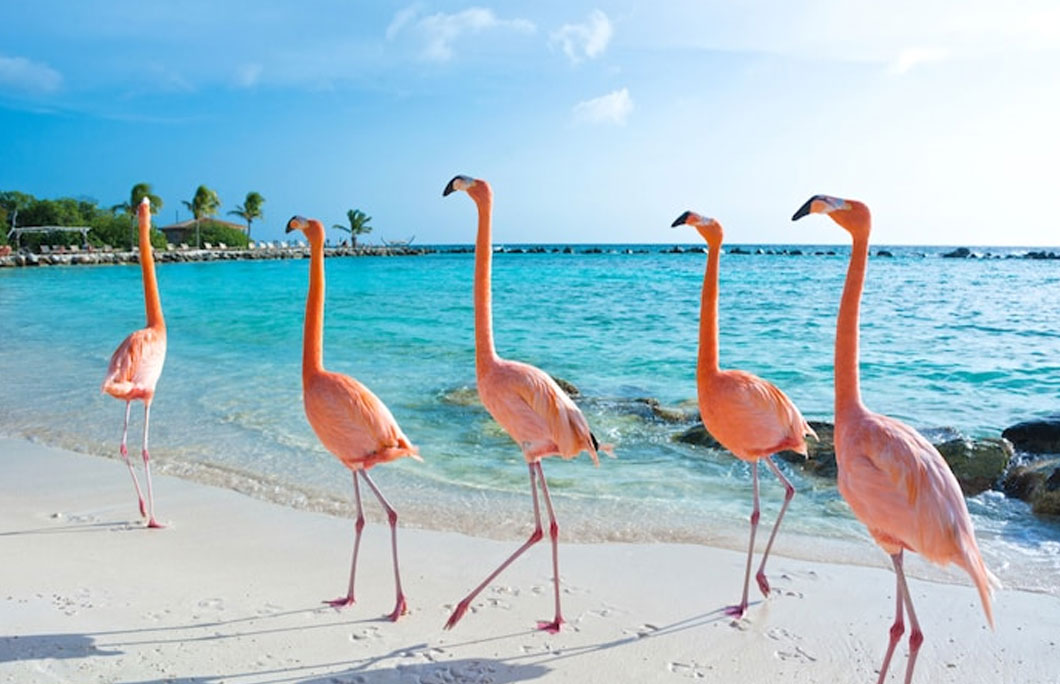 Flamingo Beach in Aruba
Aruba
It's the beaches that really steal the show in Aruba. The island's sweeping 11 km coastline is packed with beautiful blonde beaches, including a handful that regularly ranks as some of the best in the world. All of the beaches in Aruba are public too. You'll find the best beaches squeezed between Palm Beach and Eagle Beach on the west coast. The latter is also a turtle nesting beach. Another much-photographed Aruban beach, Flamingo Beach, is home to a colony of famous flamingos that strut around the beaches and pose for photos with tourists.
Those who venture away from the blockbuster beach resorts are in for a treat too. The most secluded beaches bookend the island at its most extreme ends. As well as deserted beaches and wildlife-rich waters, these beaches are perfect for hiking and horseback riding. Keen snorkelers and divers should check out these seven incredible snorkelling spots too.
Barbados
Barbados boasts more than 92 km of sandy beaches, which explains why it's such a popular fly-and-flop destination. You'll find some of the biggest beach resorts on the western coast, where the water is famously calm and clear. Known as the Platinum Coast, it's home to show-stealing beaches like St James and St Peter.
The island is renowned for its gently lapping waters, less so for big swell. But surfers-in-the-know hotfoot to the east coast of the island, which tells a totally different story. The shores here are more rugged and unspoiled, backed by big waves from the Atlantic Ocean. Bathsheba is a particularly popular surf spot and home to Barbados' most famous wave, Soup Bowl. The Barbados National Surf Championship takes place here every November.
---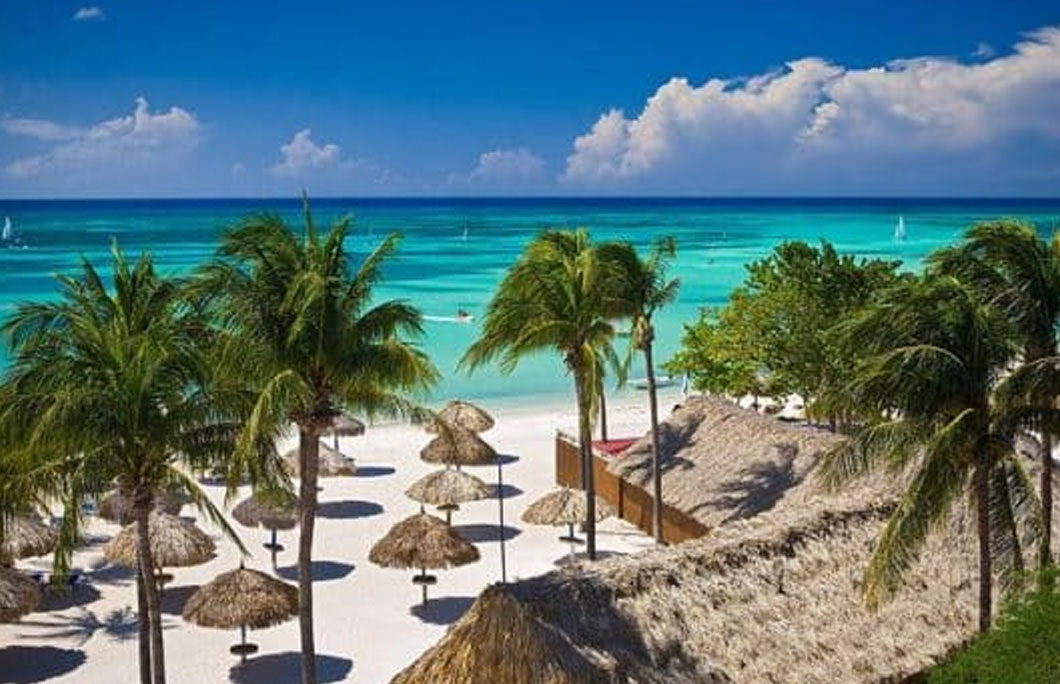 An idyllic hotel room in Aruba
Aruba
The most popular time to visit Aruba is between December and April, so it's worth booking your hotel in advance to avoid disappointment. Palm Beach is the most popular area to stay in Aruba. This is where you'll find most of the high-rise hotels and beachfront resorts, along with casinos, restaurants and shops. Most package holidays offer accommodation in the area too. Those looking to explore the island beyond the beaches and push their budget further should look to Downtown Oranjestad, where you'll find a range of hotels, B&Bs and apartments at pocket-friendly prices. Monserat, located inland from Palm Beach, is another good budget alternative. The residential areas of Noord offer some affordable apartments and vacation rentals too.
Check out the latest hotel deals in Aruba here.
Barbados
Most of the best hotels in Barbados sit along the western coast. It's where you'll find the ritziest resorts, but there are low-ley and pocket-friendly rooms here too. A new generation of eco-friendly hotels, like ECO Lifestyle + Lodge, offers a more affordable (and guilt-free) night's sleep. As a general rule of thumb, the further you are from the beach the less money you'll need to spend. If you're travelling with deeper pockets, Sandy Lane and Saint Peter's Bay are renowned.
Check out the latest hotel deals in Barbados here.
---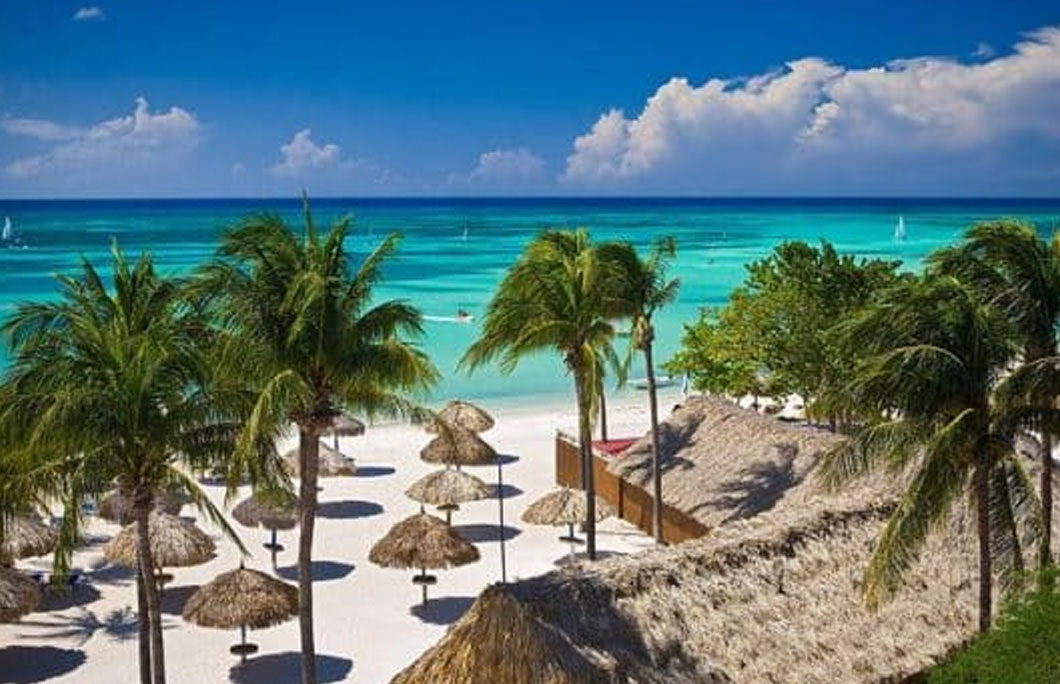 Aruba
Like most of the Southern Caribbean, Aruba has a hot tropical climate with little variation. The wettest month of the year is November, though the average rainfall is just 25mm over two days. Showers are often heavy, but short, throughout the year. The hottest month of the year is September, with average temperature highs of 33 C, while January is the coolest month with average temperature highs of 30 C. The most popular (and expensive) time to visit Aruba is between December and March.
Barbados
The climate in Barbados varies a little more than in Aruba. The wet season runs from July until December, with brief (albeit strong) showers and temperatures ranging from 24 C – 29 C. The dry season runs from January to early June. Visitors can expect around 14 hours of daily sunshine, with minimal rain. It's popular during this period too though, which ramps up the prices.
---