Top 10 Road Trips from Delaware
Wilmington DE to Philadelphia PA.
Newark DE to Baltimore MD.
New Castle DE to New York NY.
Glasgow DE to Atlantic City NJ.
Middletown DE to Lancaster PA.
North Star DE to Martinsburg WV.
Laurel DE to Deal Island MD.
Talleyville DE to Lebanon PA.
Bethany Beach DE to Ocean City MD.
Wynnewood DE to King of Prussia PA.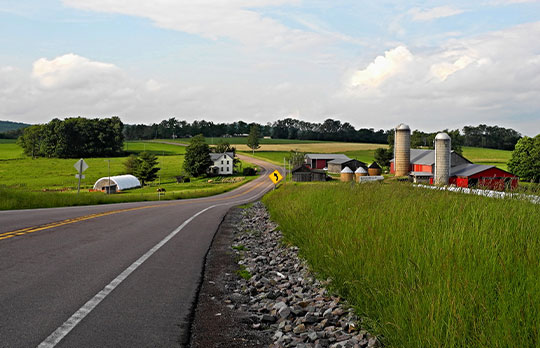 Top 10 scenic trips from Delaware
Delaware is just 96 miles long and 35 miles wide ‐ making it the second-smallest state in the US. But (as you'll know if you're local or discover when visiting), it punches above its weight with scenery ‐ there's everything from lush countryside and charming traditional villages to powder sand beaches and historic towns.
Established in 1631, the state was originally part of its neighbor Pennsylvania (Philly is a short hop away) ‐ it separated in 1776 and in 1787 became the first original former colony to accept the US constitution and become a state (hence its 'First State' nickname). Relaxed business laws have made it a magnet for many multinational entities, as well as titans of industry like the famous Du Pont clan.
You'll find plenty of metropolitan attractions in Delaware's largest city Wilmington, while state capital Dover is packed with history and Newark is renowned for gorgeous green spaces. Awesome outdoor attractions include spotting magnificent migratory birds at Prime Hook National Wildlife Refuge and scenic hiking trails at Abbot's Mill Nature Center and Cape Henlopen State Park. And as well as Pennsylvania, the state also borders Maryland, New Jersey, with Virginia and New York in close proximity too ‐ making it a great base for road-trips far and wide. Hire a car in Delaware and the Mid-Atlantic region is your oyster!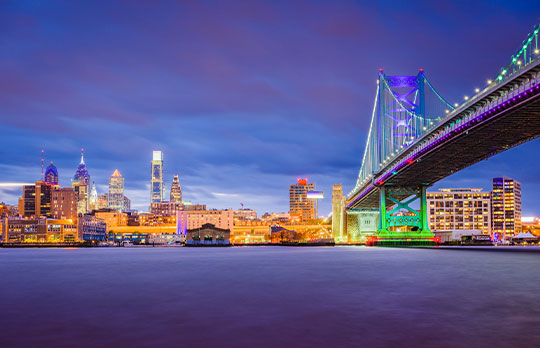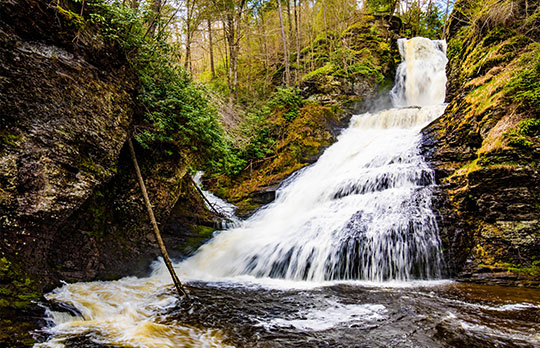 Top tips on driving in Delaware
Let's take a quick look at some Delaware driving tips before we get on to your scenic road trips.
Drink driving isn't tolerated in the state and there's a zero tolerance policy for drivers under 21 years of age.
Road traffic signs here should look familiar ‐ warning signs comprise black symbols on a bright yellow background, guide signs are green and rectangular with white writing, motorist service signs (for lodgings, food or gas) are white lettering on a blue background and recreation signs are white writing against a brown background.
Using your mobile while driving is prohibited and the speed limit is 20mph in school zones, 25mph in business districts, 25mph in residential districts, 50mph on two-lane roads, 55mph on divided roads and those with 4 or more lanes, 55mph on controlled access highways and 65mph on Route 1 and Interstate 495.
Now let's get rolling with those road trips.
Wilmington DE to Philadelphia PA
How does a short hop from wonderful Wilmington, Delaware to Philadelphia, Pennsylvania sound? The City of Brotherly Love is only 40 minutes away via the I-95 N and it's always a great day trip destination. If you're fighting fit, the first thing to do in Philly is run up the 72 steps at the Museum of Art and snap a selfie at the Rocky statue. Then stuff yourself with a signature Philly cheesesteak at Pat's King of Steaks and stroll around Independence Hall, where the US Constitution was created.
Newark DE to Baltimore MD
Need a change of scenery from Newark? A one hour 10 minute road trip southwest along the I-95 S takes you out of Delaware and into Baltimore, Maryland, where awesome adventures await. Cool things to do in Charm City include museum-hopping and fine dining at the buzzing Inner Harbor, getting rowdy in pirate hotspot Fells Point, and feeding your brain at the Reginald F. Lewis Museum of African-American History & Culture.
New Castle DE to New York City NY
Ready to escape New Castle for a bite of the Big Apple? New York City is two hours and 15 minutes along the NJ Turnpike and I-95 N, but it feels like a whole new world. Once you reach NYC, you can marvel at masterpieces from the likes of Matisse at MoMA, pamper yourself with wellness treatments at spa QC NY on Governor's Island, or chill out with cocktails and company at Fraunces Tavern Piano Bar.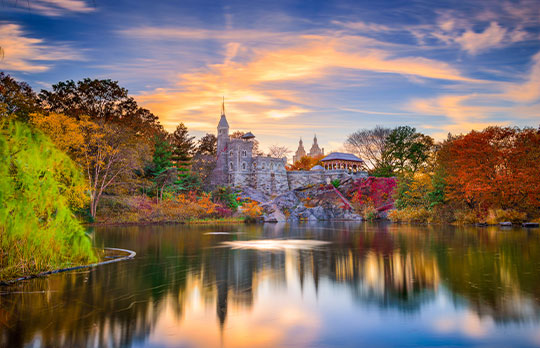 Glasgow DE to Atlantic City NJ
How does kissing goodbye to Glasgow for a weekend strutting the boardwalk at Atlantic City sound? New Jersey's iconic leisure destination is just one hour 35 minutes away via I-295 N and Atlantic City Expressway ‐ ideal for letting your hair down for a couple of days. As well as casinos, the boardwalk has piers offering arts and culture as well as thrilling rides, there's amazing Italian cuisine at Chef Vola's, and the clean beach and crashing waves are always conducive to cathartic strolls.
Middletown DE to Lancaster PA
Middletown has its charms, but an interstate trip to Philadelphia might be just what you need to spice up your life. Roll along PA-272 N and in around one hour and a half you'll be in the heart of Pennsylvania Dutch Country. While you're here, why not try milking a cow on an authentic Amish farm, challenging friends to a go-kart race at Carlisle Sport Emporium, or sharpening your combat knowledge at the American Military Edged Weapon Museum? If you've got a designated driver, sample some of the awesome ales at Black Forest Brewery too!
North Star DE to Martinsburg WV
The route along I-95 S from North Star, Delaware to Martinsburg, West Virginia takes two hours 40 minutes ‐ so you'll want to build in an overnight stay to make the most of it. Martinsburg is based in West Virginia's beautiful Berkeley County and it's always a treat to visit. Treat yourself to delicious treats at Defluri's Fine Chocolates or hand-blown glass at Virginia Glass Outlet or find out how The Apollo Civic Theatre and Wonderment Puppet Theater put the art in Martinsburg. If you prefer the great outdoors, try mountain biking at Sleep Creek or golf at The Woods Resort.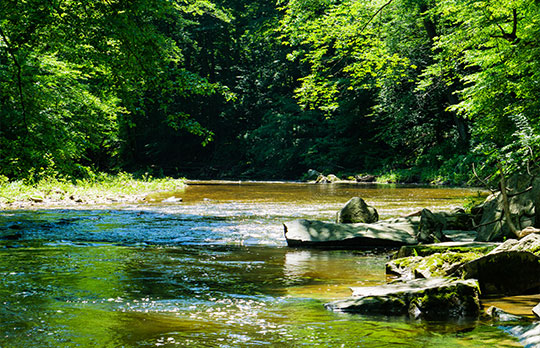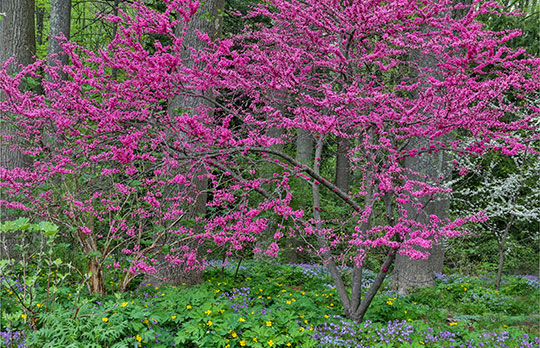 Laurel DE to Deal Island MD
Tired of resting in your Laurel abode? Hit the road to Maryland's Deal island Historic District ‐ it's only 55 minutes away via US-13 S and MD363/W. Visiting this small, enterprising fishing community is a real treat ‐ you'll see plenty of Chesapeake Bay skipjacks and workboats busy catching rockfish, oysters and crabs and you should spend a comfy night at America's Best Value Inn-Princess Anne. Don't miss Arby's Dockside Bar & Grill ‐ so tasty.
Talleyville DE to Lebanon PA
Searching for a doable day trip from Talleyville? Trundle along the I-76 W for an hour and a half to Lebanon in Pennsylvania and you'll be pleasantly surprised. There's plenty to do in the Lebanon Valley, including picnics at Mt Gretna Beach & Lake, coffee and crepes at the Ancestor Coffeehouse, adrenaline-fueled fun at Paramount Sports and shopping for folk art at The Tweed Weasel boutique. If you like produce fresh from the fields, you'll also love the regular Lebanon Farmers Market.
Bethany Beach DE to Ocean City MD
Based in Bethany Beach and looking for a super-quick interstate trip to an alternative coastal destination? Maryland's magnificent Ocean City is only 30 minutes' drive via DE-1 and MD528 S but there's so much to do that you'll want to stay for more than a day. Popular activities at OCMD include game fishing (this is the worldwide white marlin capital), golf at one of the 17 championship courses (including the flagship Eagle's Landing), the fascinating Harriet Tubman Underground Railway Visitor Center, and spectacular NASA Wallops Flight Centre on Wallops Island. Last but not least, you've got 10 miles of pristine beach to explore ‐ no false advertising here!
Wynnewood DE to King of Prussia PA
The drive from Wynnewood to Pennsylvania's King of Prussia takes just 40 minutes via I-476 N, so it's perfect for a morning or afternoon away. There's lots to do at your picturesque destination, including Valley Forge Historical Park (site of George Washington and the Continental Army's famous camp in 1777-78, and the American Treasure Tour ‐ a collection of classic Americana including retro muscle cars and kitsch advertising hoardings. If you need some retail therapy, King of Prussia Mall boasts 450 stores and restaurants (with designer labels like Jimmy Choo) and you can try your luck at the card tables or roulette wheels in Valley Forge Casino Resort.