50 Best Rooftop Bars in the USA
From sky-high hotel bars to restaurants that offer views for days, the United States is scattered with stunning rooftop bars. Whatever you fancy, this country has it all! Here are the 50 best rooftop bars in the USA for all your day-drinking, sunset-seeking or 'party the night away' needs this summer.
how do these rankings work? - Click here to find out about Big7Travel's ranking system.
Here are the 50 of the Best Rooftop Bars in the USA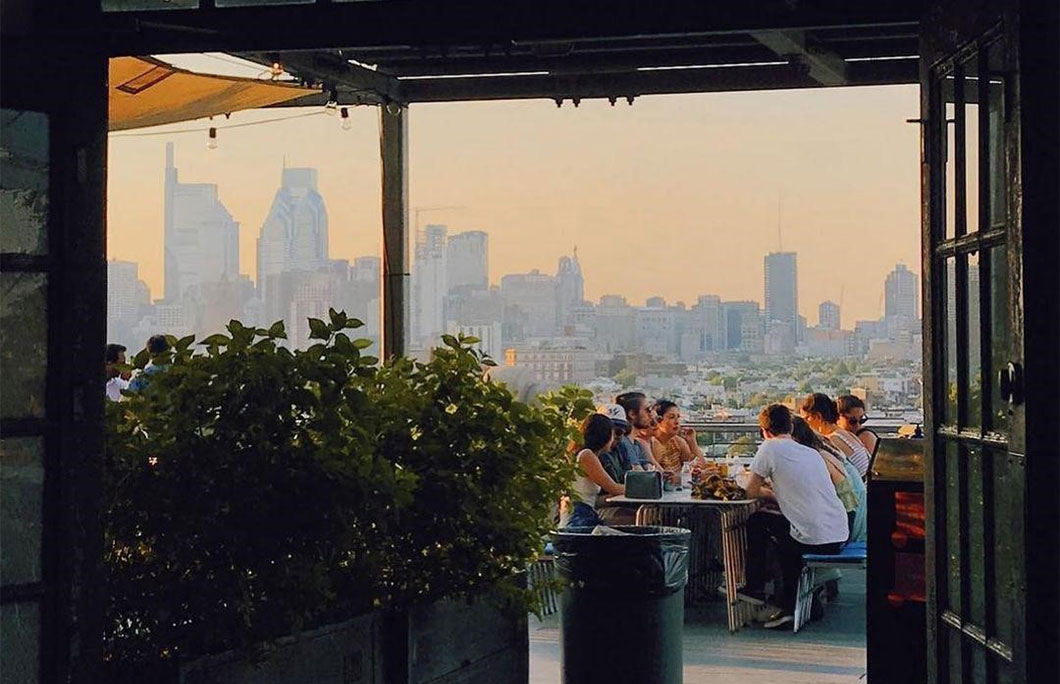 50. Bok Bar – Philadelphia, Pennsylvania
This lovely, laid-back rooftop bar boasts the best views in the city. Unlike most rooftop spots, it's not perched on top of a swish hotel or re-vamped parking lot, but a former high school in Southeast Philly. The drinks menu is smaller than most (a blessing for indecisive souls) and features a couple of cocktails, wines, beers and less typical non-alcoholic drinks like kombucha. There's usually a pop-up kitchen here too. This month, Everybody Eats, a collaborative team of Black chefs dedicated to fighting food insecurity and embracing diversity, are serving up wings, fries, burgers and cheesesteaks.
---
49. Paramour – San Antonio, Texas
For the best views over the San Antonio skyline, hotfoot to Paramour. Located in the Museum District, the rooftop is open all day long, though most people arrive in time for sunset and stay 'til late. There are 20 signature cocktail creations on offer, as well as craft beers, fine wines, spirits and small plates. Popular events include the Drag Brunch and "Hardboys". We'll leave it to you to work out what the latter entails.
---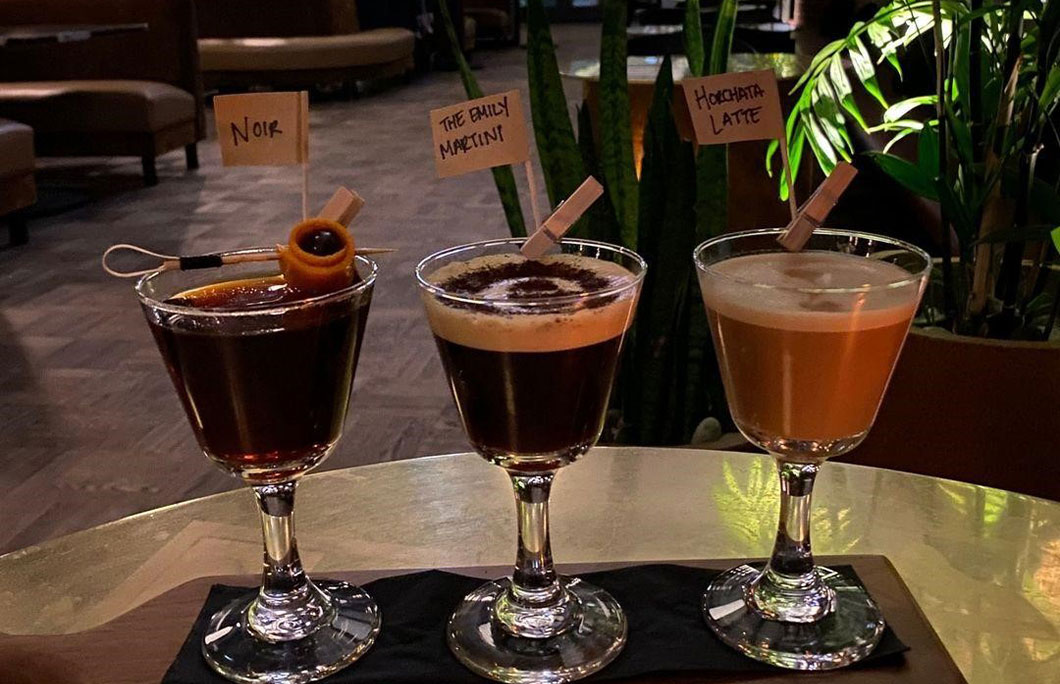 48. Selva – Chicago, Illinois
Selva, Chicago's newest rooftop offering, is located on the seventh floor of The Emily Hotel in Fulton Market. It's inspired by the energy of Mexico by night, which means you can guarantee a good time. Drinks pack a punch too; the bar follows the Mexican saying "Para todo mal mezcal, y para todo bien también" ("mezcal in the bad times and mezcal in the good times"). As well as tequilas and mezcal, there are other artisanal Mexican spirits like charanga, which complement the Mexican-inspired bites perfectly.
---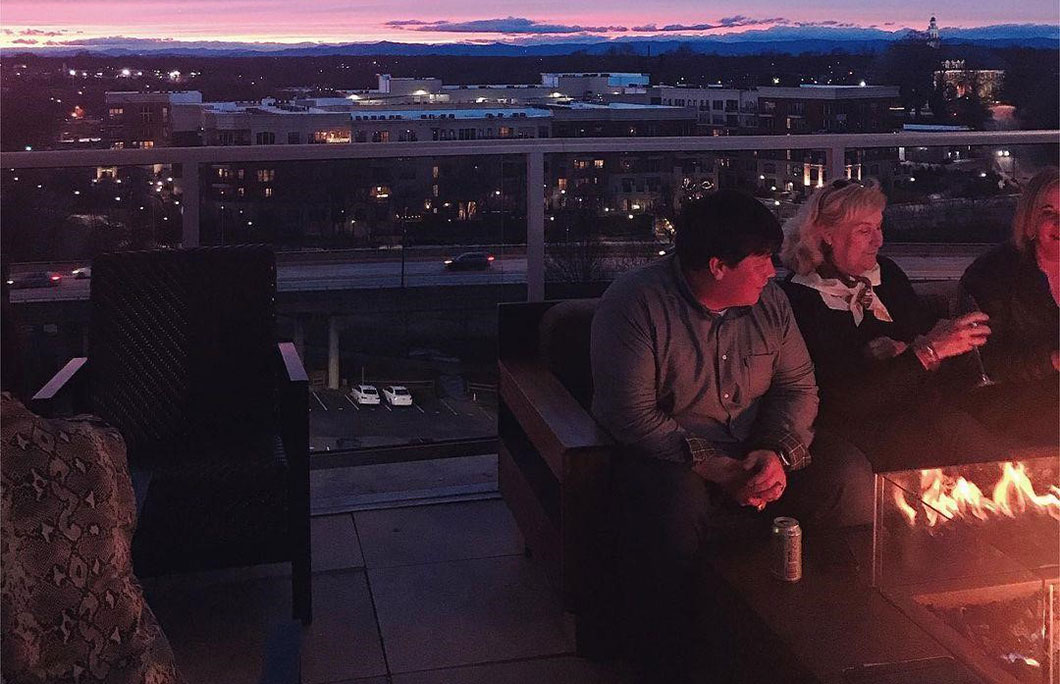 47. UP on the Roof - Greenville, South Carolina
For a small(ish) city, Greenville boasts an awful lot of rooftop bars. But, none can compete with Up on the Roof for views and booze. Located south of the Reedy River, the bar overlooks downtown Greenville, the river and out to the Blue Ridge Mountains. Patrons can sink back into huge comfy chairs, catch a game on the huge TV screens and keep toasty around the firepit tables when the sun goes down. Go for bottomless brunch, with $25 bottomless mimosas – and linger long into the evening.
---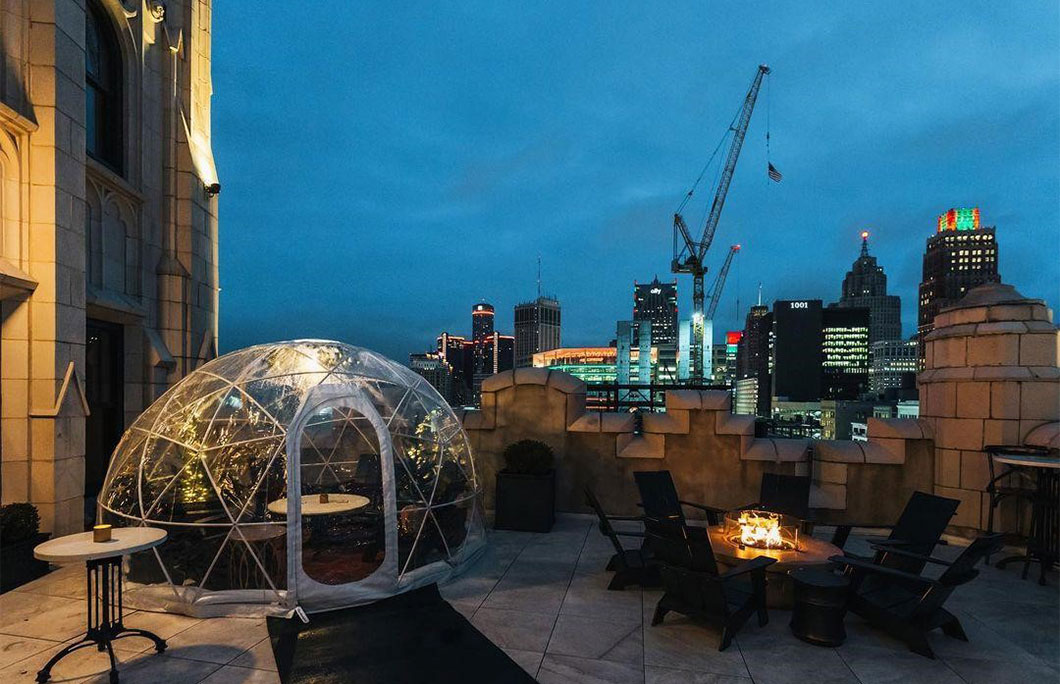 46. Monarch Club – Detroit, Michigan
You'd be forgiven for thinking Detroit's rooftop bar should be non-existent, given its famously frosty winters – but it's thriving. The Monarch Club offers the best of old-school charm and a modern menu. Set in a restored neo-gothic Metropolitan, the terrace offers incredible views over downtown Detroit. In the winter, the floors make way for rooftop igloos, so you can enjoy views all year round. Be your best Mad Men-self and order an Old-fashioned.
---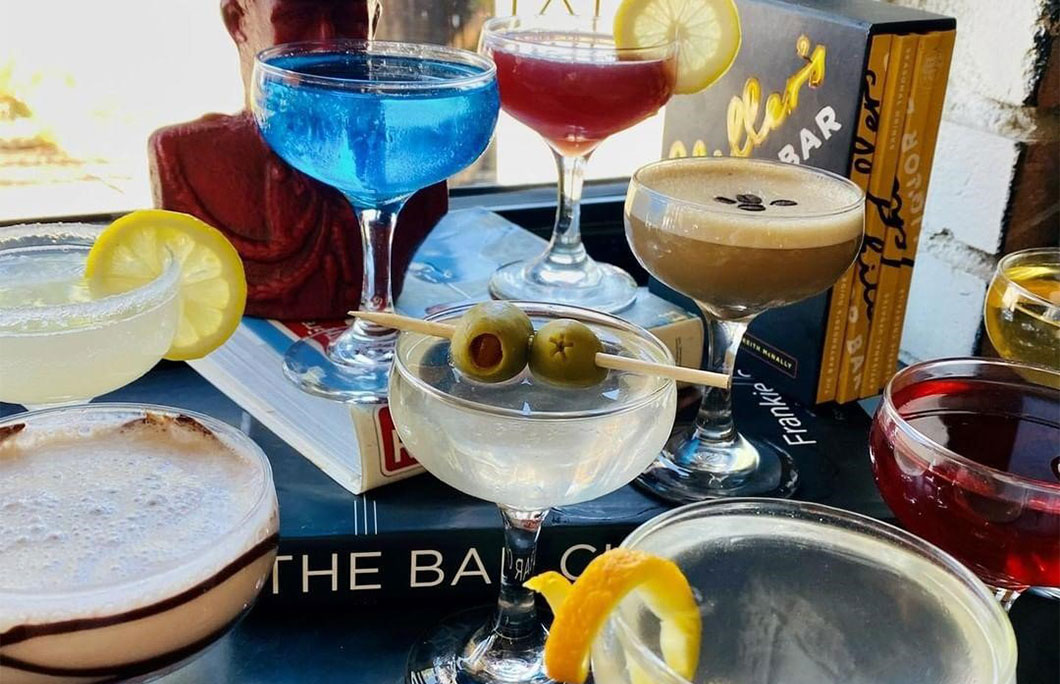 45. Harlow XMX – Dallas, Texas
Dallas' rooftop bar scene is buzzing, but Harlowe MXM is something special. Boasting three different experiences in three distinct areas, the decor here is full-throttle industrial chic. Between its exposed beams and decking, there are communal tables, comfy sofas and a sweeping bar serving up delicious cocktails, beers and wines with sweeping views of the city skyline. There's a dizzying calendar of music events to enjoy too.
---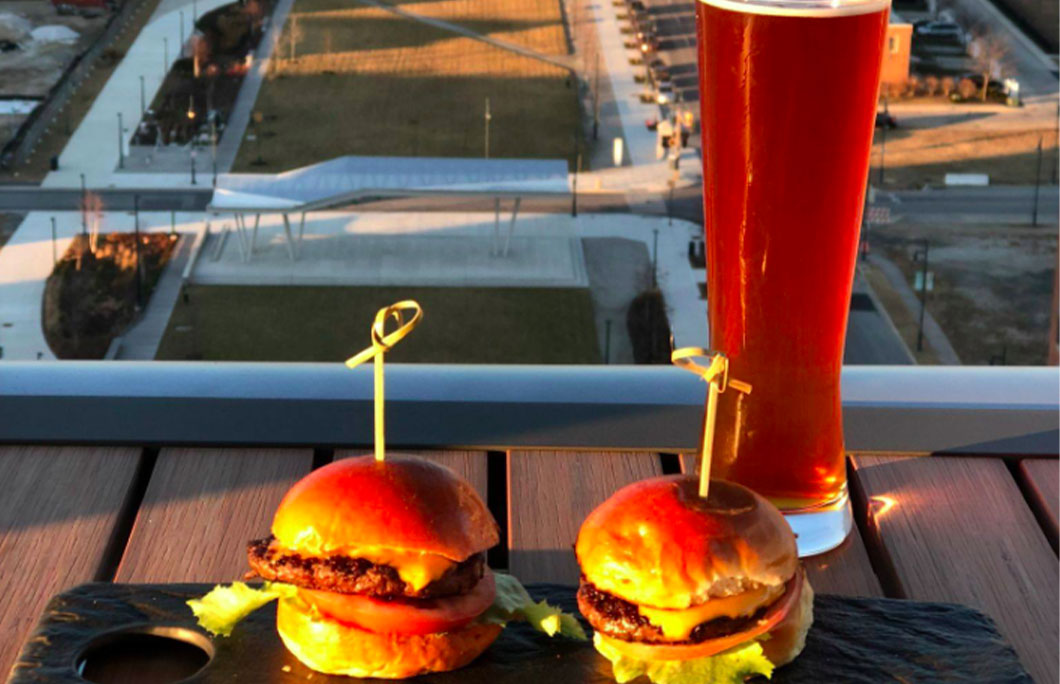 44. 16 on the Park – Baltimore, Maryland
Baltimore might not have a soaring skyline, but it is one of the most recognizable. 16 on the Park is an excellent spot to soak it all in. Located in the Johns Hopkins Medical Campus, the rooftop bar offers sweeping views of vibrant East Baltimore. Settle down with a signature cocktail and enjoy the sunset.
---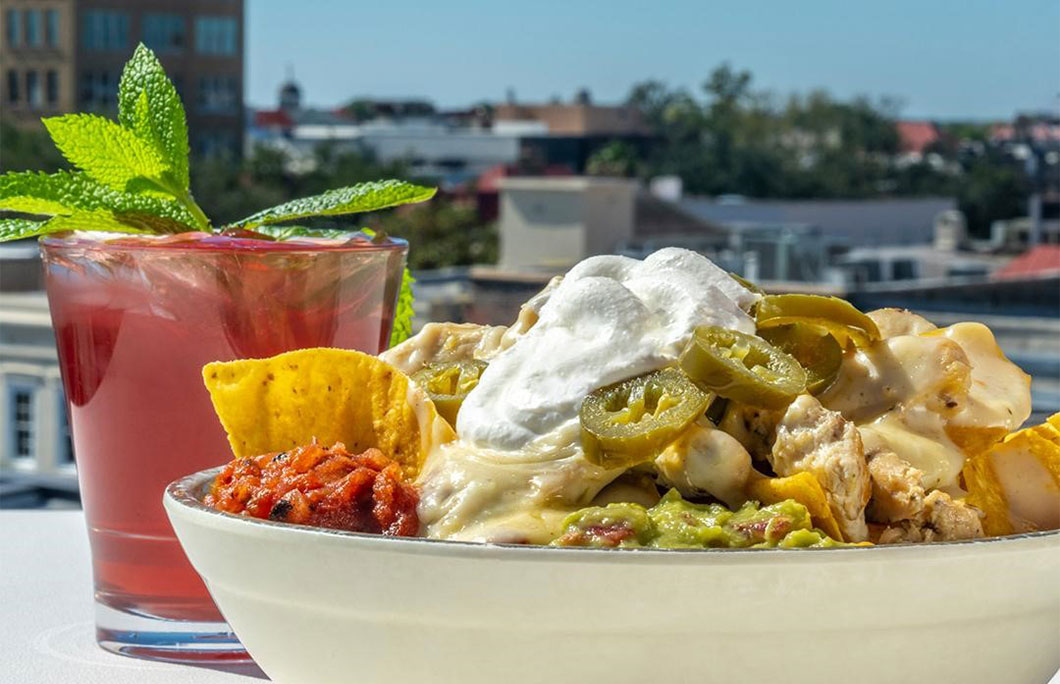 43. The Rooftop at The Vendue - Charleston, South Carolina
This Rooftop is situated atop The Vendue Hotel, offering panoramic views of downtown Charleston, the historic district, and the Charleston Harbour. You'll be ogling the picturesque backdrop whilst enjoying the spacious outdoor terrace.
The Vendue is known for its art-centric approach, and The Rooftop is no exception. The rooftop bar showcases rotating art installations, adding an extra layer of visual interest and cultural immersion to the experience. Their menu focuses on Southern-inspired cuisine and handcrafted cocktails, where you can tuck into a variety of appetizers, small plates, and entrees featuring locally sourced ingredients.
---
42. 8UP – Louisville, Kentucky
Possibly one of the most Instagrammable spots in the city, 8Up is a real local institution. Set eight stories above downtown Louisville, this open-air rooftop bar serves some of the best views in the city. The terrace is big but cosy, with comfy lounge-style seating and firepits for cooler evenings. The menu features a good range of small plates and larger sharing dishes, as well as classic cocktails, wines, beers and a staggering selection of bourbons.
---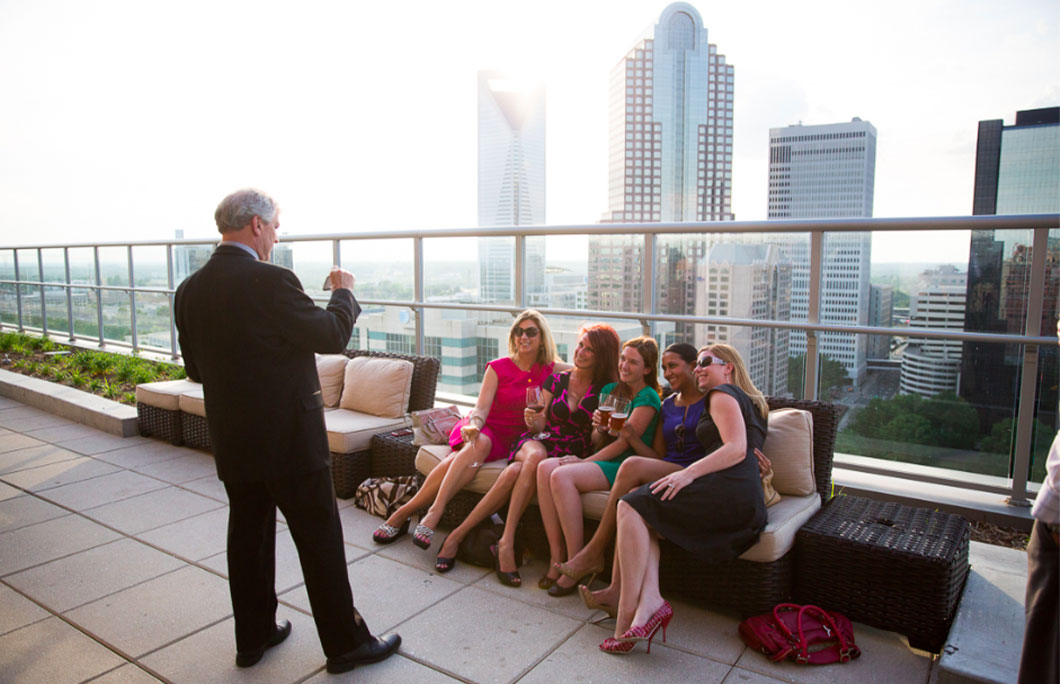 41. Fahrenheit – Charlotte, North Carolina
North Carolina's largest city just keeps on getting bigger – and taller. There are now dozens of rooftop bars scattered across the city, but Fahrenheit is the highest. Soaring 21 stories above Second Ward, you're guaranteed an excellent view wherever you sit. It's part of the Hyatt Place and you'll need to don business-casual attire to get in, so avoid those sneakers and baseball caps. Outside on the terrace, there are big comfy lounge chairs, large dining tables and fire pits to keep you cosy as the sun goes down. There's an extensive drinks list featuring craft ales, fine wines and an eclectic range of cocktails. Come with an empty stomach too – you won't want to miss out on Chef Rocco Whalen's creations.
---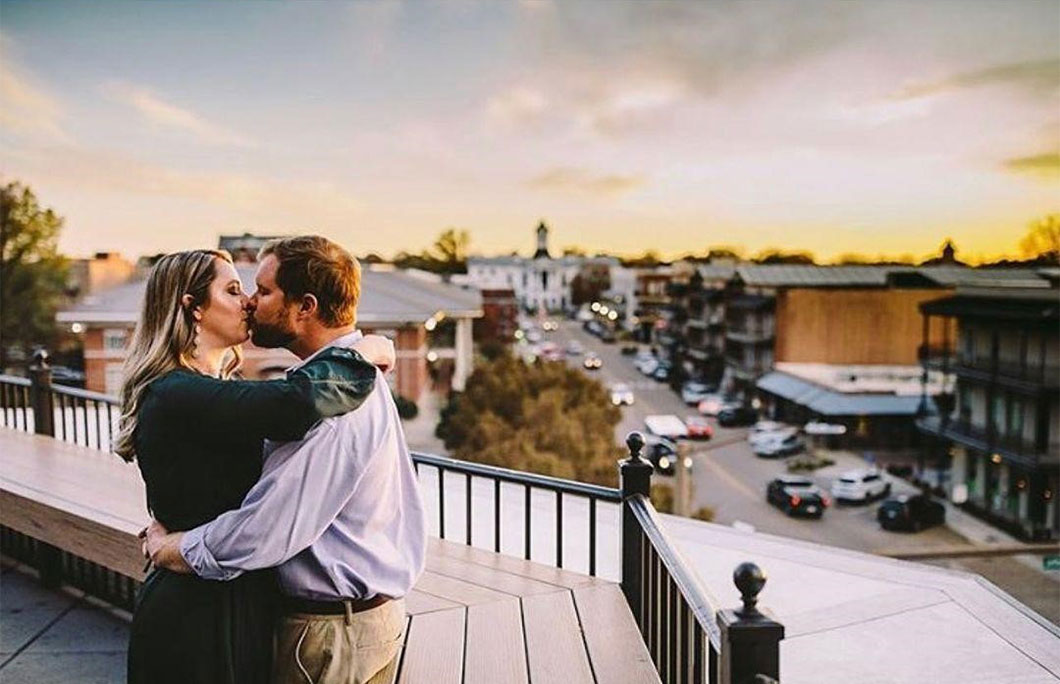 40. The Coop at Graduate – Oxford, Mississippi
This charming fourth-floor rooftop bar and restaurant serves up Southern fare with flair, alongside blockbuster views of the historic downtown square. Its eclectic interiors, which nod to its academic associations, also feature fun cheeky chicken coop motifs. It shouldn't work, but it does. Crowd-pleasing Coop cocktails include the "Shimmering Martini" and the "Mississippi Mule", expertly made by knowledgeable bartenders and often served with the sounds of a live blues session.
---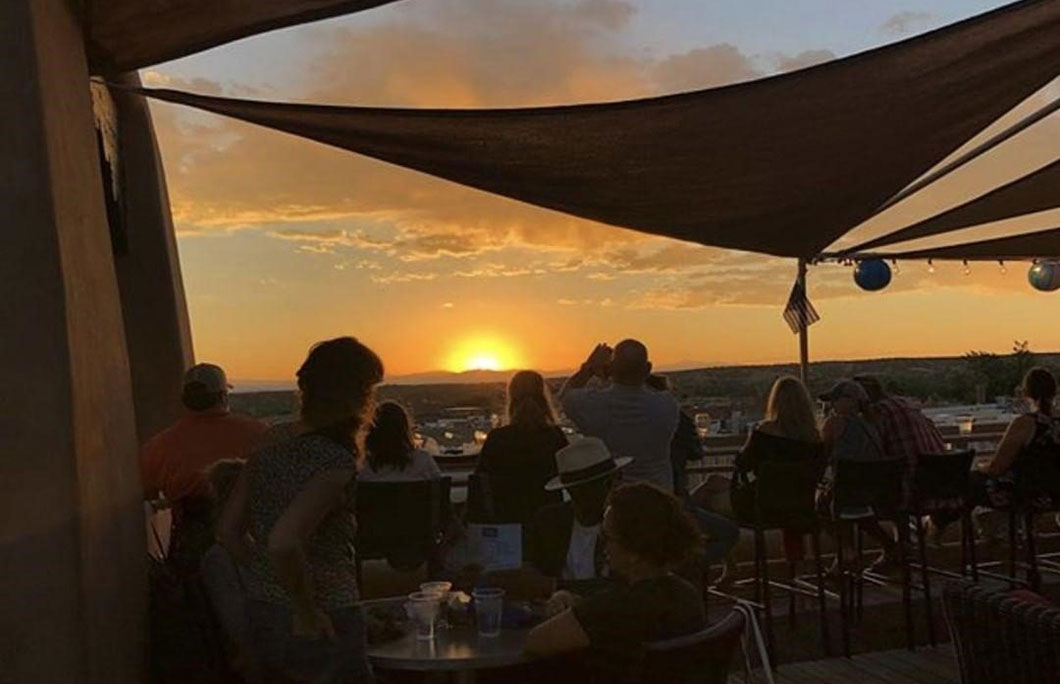 39. Bell Tower Bar – Santa Fe, New Mexico
Santa Fe is an old city, but it has a young soul. Nowhere is this more apparent than in the Bell Tower Bar on a Friday night. Perched on top of the historic La Fonda Hotel, the beloved Bell Tower Bar offers one of the best views of those patented New Mexican sunsets, free-flowing margaritas and live country and folk music. The food is every bit as good as the views, with a menu featuring crowd-pleases like Southwest sliders, jicama slaw and green chilli.
---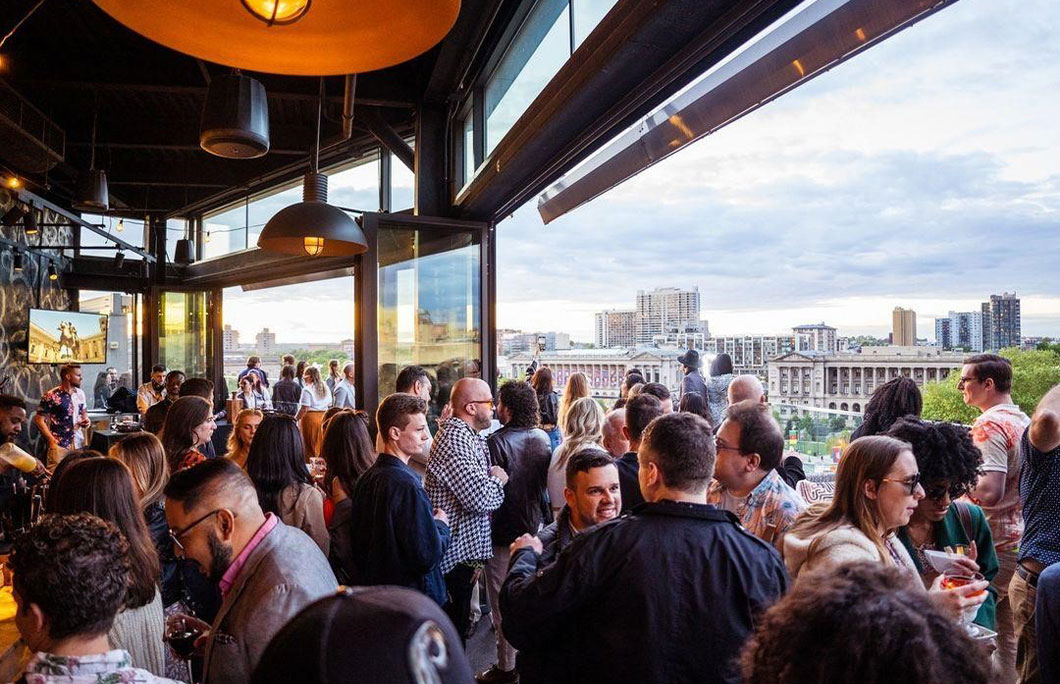 38. Assembly – Philadelphia, Pennsylvania
Assembly is Philly's favourite rooftop bar for good reason. First, there's the fact that you can enjoy sunset views all year round –even in the chilliest winters – thanks to its firepit pods and extendable rooftop. Then there's the sparkling service and the food is top-notch too. And, while at nine stories high it's not going to set any records for height, it might just do for those cocktails. As well as the classics, you'll find flamboyant creations like the 'Bittersweet Poetry', made with coconut-washed Aperol, Kinsey Rye, Cocchi Americano and Dry Vermouth. Grab a margarita flatbread and polish it off with their 'old Cuban' cocktail.
---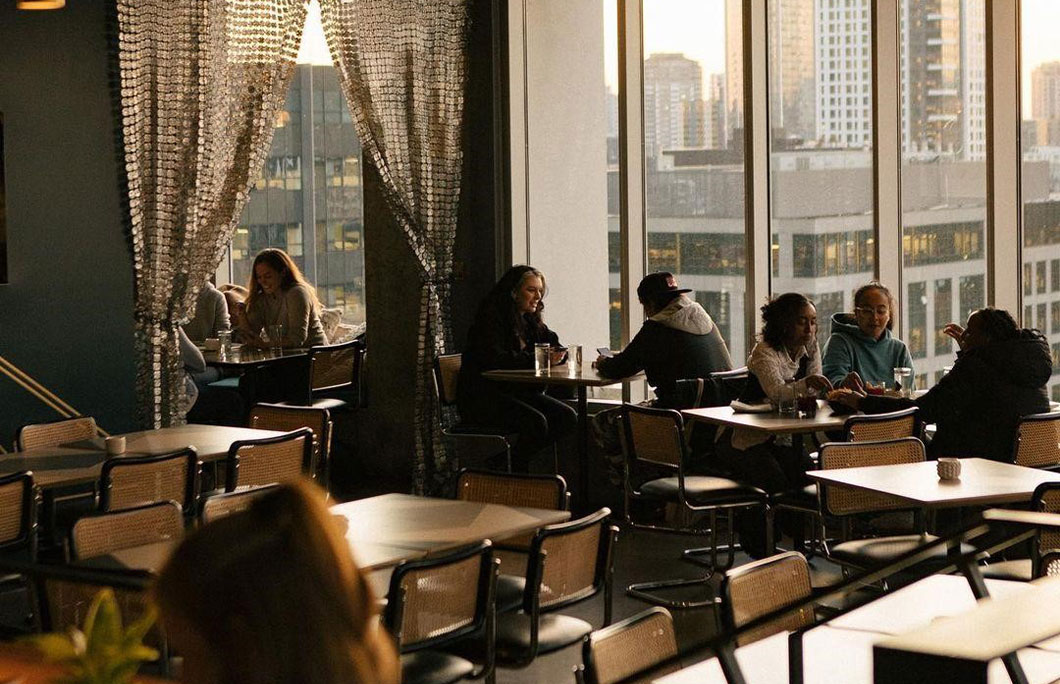 37. M Bar – Seattle, Washington
Perched on the 14th floor, M Bar offers sparkling views over the whole of Seattle, right out to the Olympic Mountain Range. At 2,800 square ft., it's also the largest rooftop in the city. And yet, it's incredibly cosy too, with firepit lounge areas and blankets for after sundown.
As well as craft cocktails, visitors can enjoy some of the best food in the city. Jason Stratton, one of the city's most famous chefs, serves up Middle Eastern meets Mediterranean dishes, like bay shrimp ceviche and chicken shawarma. Heaven.
---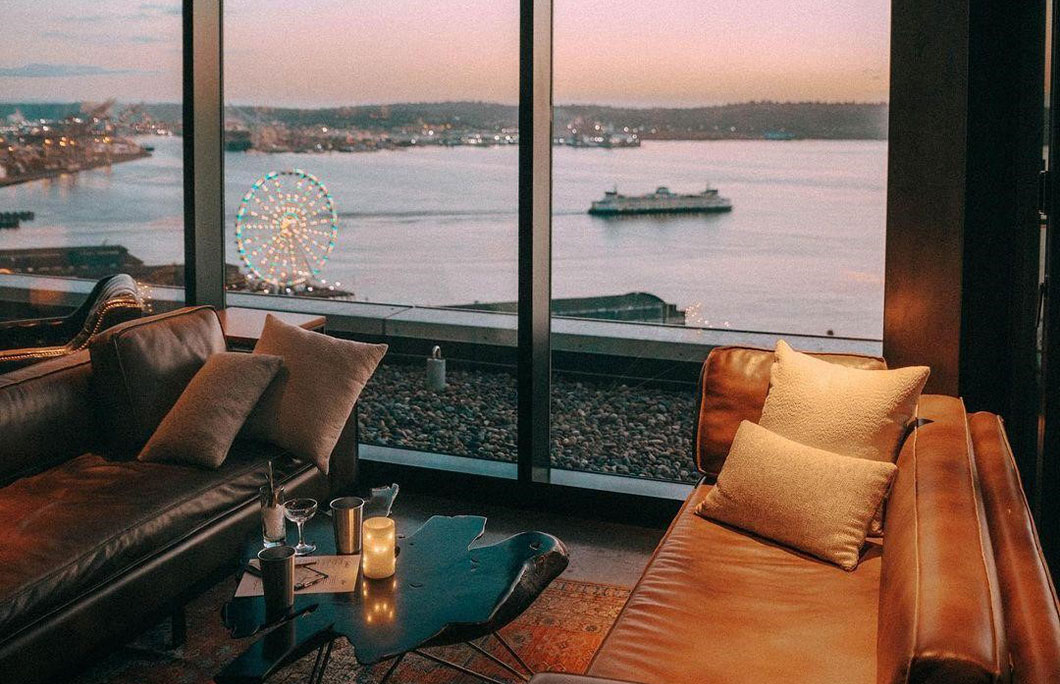 36. The Nest at Thompson Seattle - Seattle, Washington
You'll be in awe by this rooftop's stunning panoramic views of downtown Seattle, Elliott Bay, and the surrounding cityscape. The Nest offers a unique vantage point to admire the beauty of the city, as well as a chic ambience with a modern design.
The rooftop bar includes an outdoor terrace area where you can unwind sipping on their wide selection of craft cocktails, beers, wines, and other beverages. The bar focuses on innovative mixology, providing unique and flavourful drink options.
---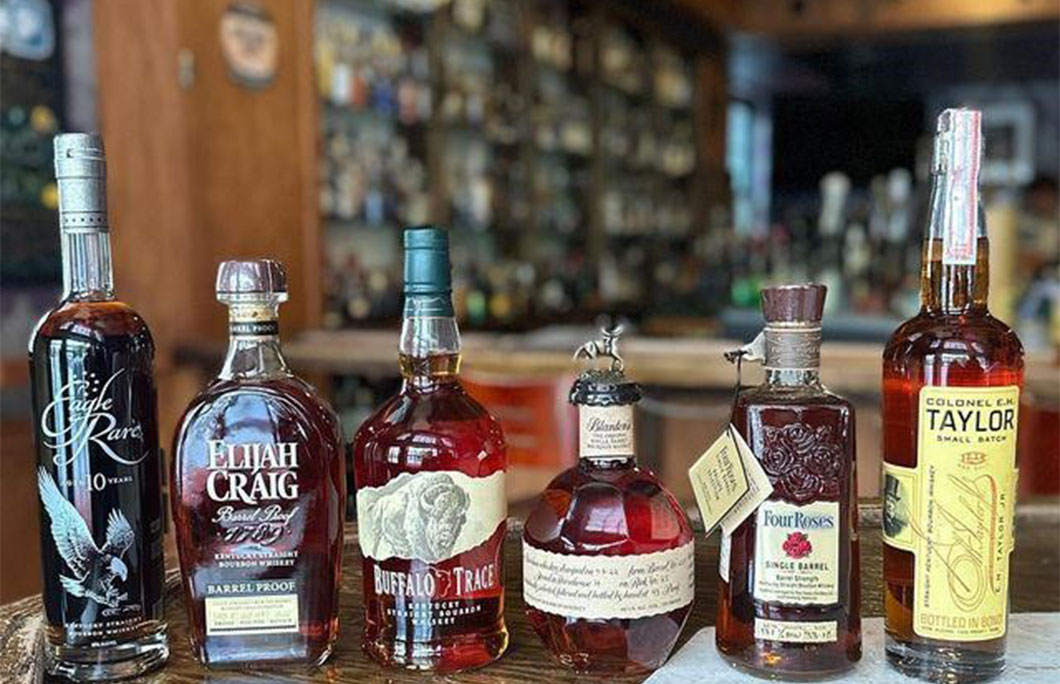 35. Belle's Cocktail House – Lexington, Kentucky
It may not be the biggest rooftop bar on the block, but it does the best bourbon with birdseye views. What could be more fitting for a state that produces more than 95% of the world's bourbon? It's named after Belle Brezing, the madame who ran a high-class Victorian brothel and provided the inspiration for Belle Watling in Gone with the Wind. Bourbon comes in many forms here – straight, added to a creative cocktail and even served as a slushy.
---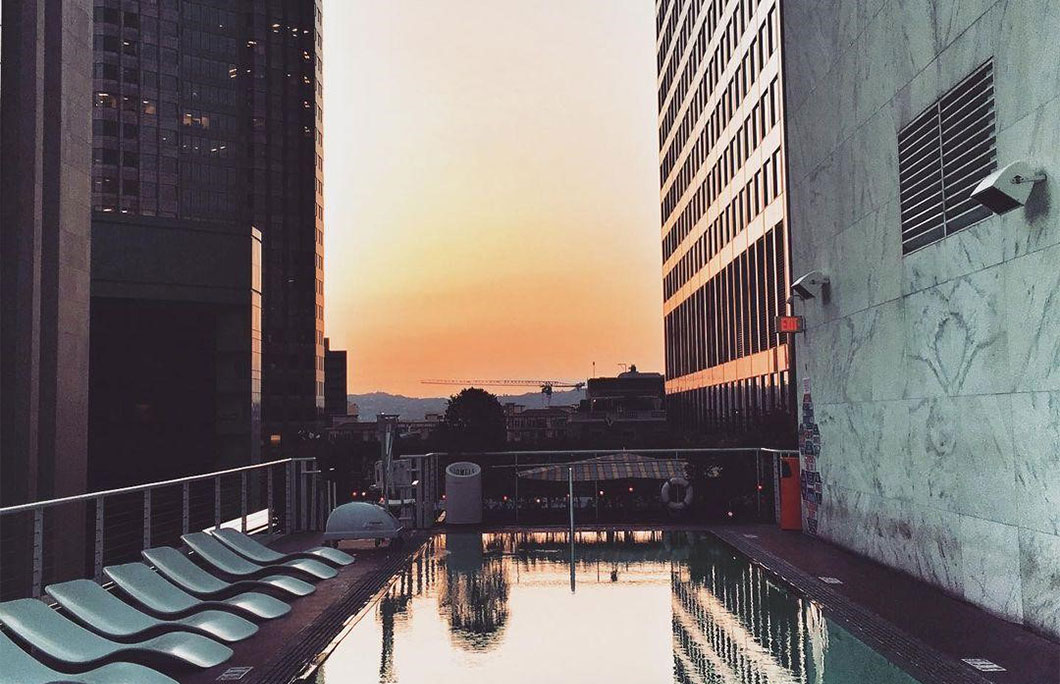 34. The Rooftop at The Standard - Los Angeles
This Rooftop offers a stunning 360-degree view of downtown Los Angeles, with the mountains as a mighty backdrop. Not to worry about the chilly LA nights, as you'll be kept cosy and warm by the large and lovely heated swimming pool, fireplaces and vibrant atmosphere.
The party vibe is high with different live acts and DJs, and sometimes pool parties. If you'd like a bit more tranquillity, then visit during the day or early evening and enjoy some of the classic cocktails or bar bites, and most importantly, the view.
---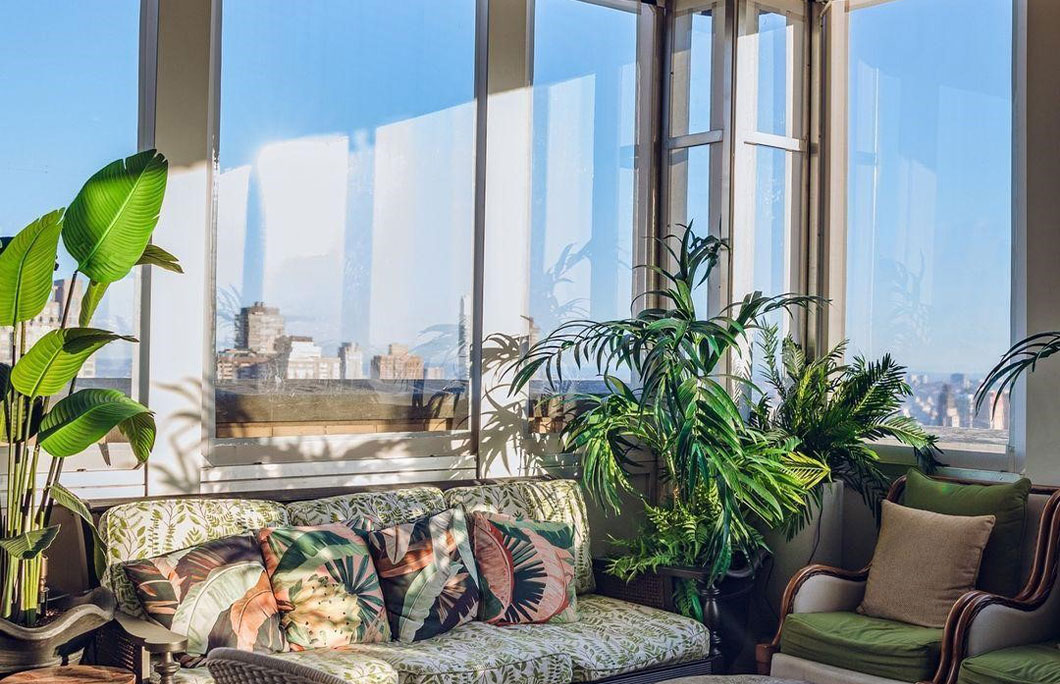 33. Darling – New York City
Darling might be a newcomer on the block (it only opened in March 2022), but its swoon-worthy views have already gained its cult status. Perched atop the 47-story-tall Park Lane New York hotel at 36 Central Park South, it's the only rooftop bar of its kind to call Billionaire's Row it's home. You'll pay a premium for the postcode with cocktails priced upwards of $25 but you can't put a price on those views.
---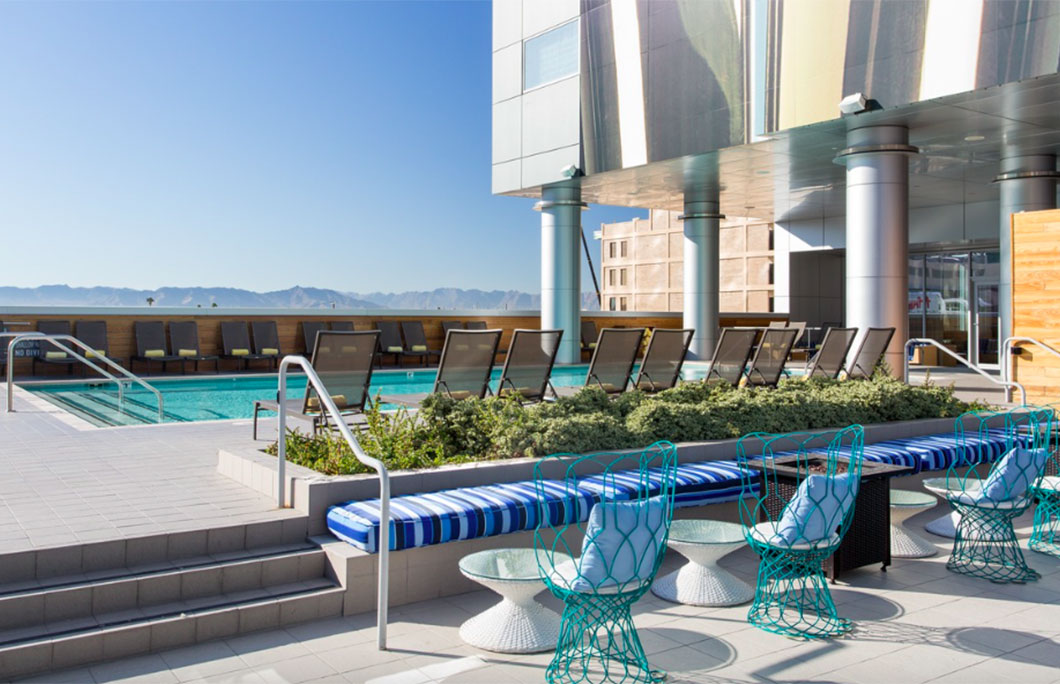 32. Lustre Rooftop Bar at the Hotel Palomar – Phoenix, Arizona
This modern and stylish bar is situated on the third floor of the Hotel Palomar in downtown Phoenix. It offers a vibrant and lively atmosphere with panoramic views of the city skyline and surrounding mountains. You'll be able to unwind and laugh all your worries away in no time in this chic and social setting.
---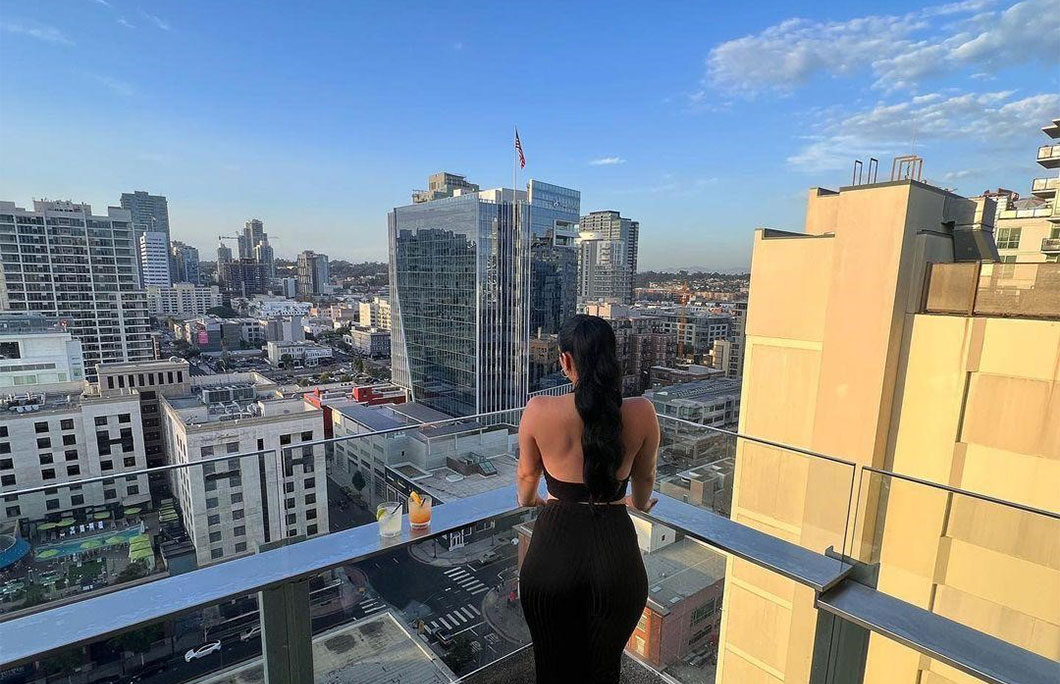 31. Altitude - San Diego, California
At 22 floors high, Altitude is right at the tip-top of San Diego's skyline. Not only are the views the best in the city but its location, right next to Petco Park, means you can catch a free ball game if you time your visit right. Head there on a weekday for 'Sunset Hour', when the cocktails will set you back just $7. While you're at it, pick up a plate of Buffalo Chicken Wings and order them dripping in a blue cheese dressing. You can guarantee a lively atmosphere too, with help from DJ set backdrops at least three times a week.
---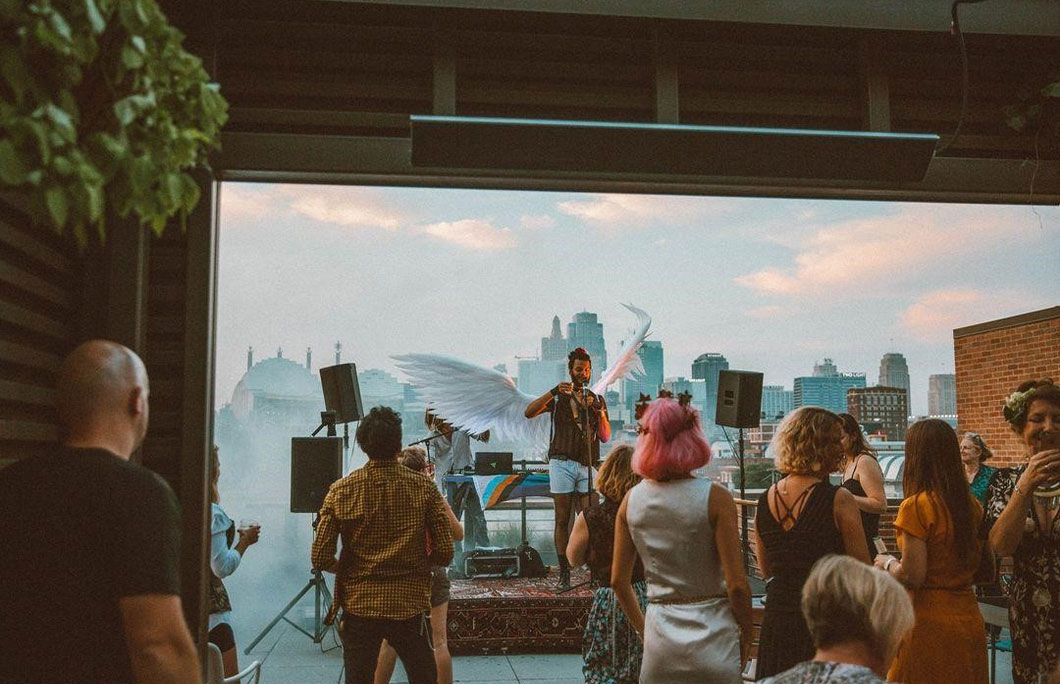 30. Percheron at Crossroads Hotel – Kansas City, Missouri
Kansas City's first rooftop bar is a belter. Built-in a former PBR bottling plant, it serves up the best sunset in the city with 360-degree views of the city skyline. The terrace is decked out with comfy sofas, large communal tables and patio games – built for long-haul drinking sessions. Unsurprisingly, you'll find ice-cold PBR beers here, as well as craft cocktails and a good wine list. On Sunday afternoons there are DJ sessions too.
---
29. P6 – Austin, Texas
A design-focused hotel deserves an aesthetically pleasing rooftop bar, and P6 is just that. Set on the top floor of a parking garage at The Line Hotel, P6 is all pastel pink canopies, granite and rattan, with a stylish soundtrack to match. It's romantic and intimate and its views of Lady Bird Lake are unbeatable. The cocktail, wine and beer list is extensive but saves plenty of room for a few of the small plates, which include wagyu beef carpaccio and saffron pappardelle with shrimp butter.
---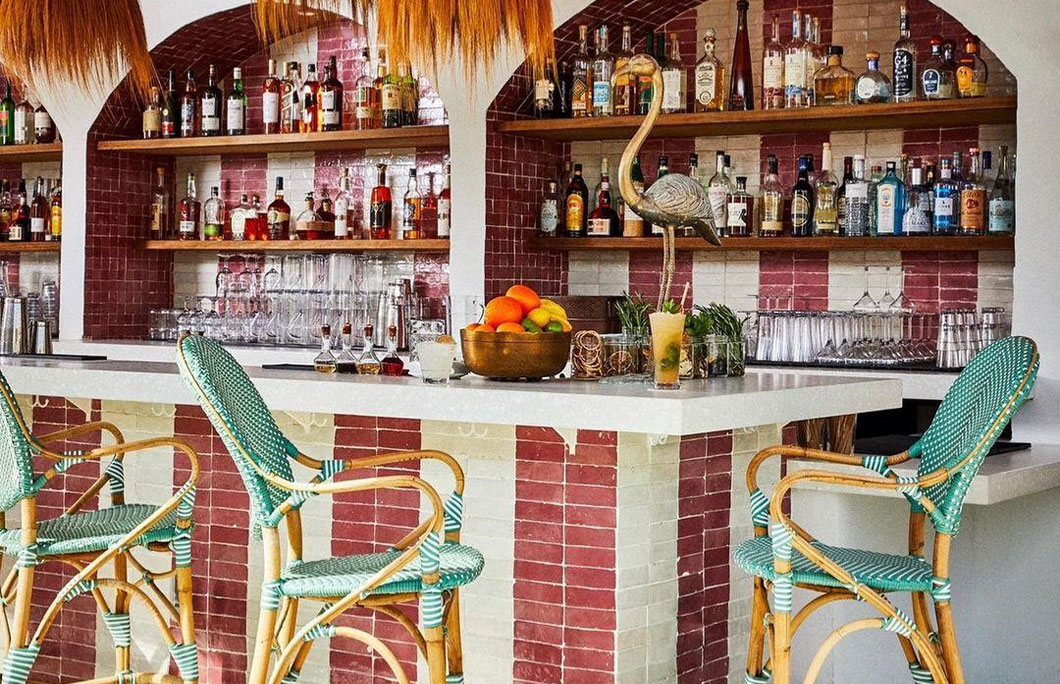 28. The Roof at Esme – Miami, Florida
Are there fancier rooftop bars in Miami? Undoubtedly. But the Roof at Esme is arguably one of the sexiest. It's been a five-year wait for Esme Hotel, Miami Beach's newly minted skyscraper, but it was worth it. The open-air deck, which is open to everyone, is the perfect spot for lazy afternoons in the sunshine. There's an excellent range of clever cocktails and sangria, most served by the jug too. Happy days.
---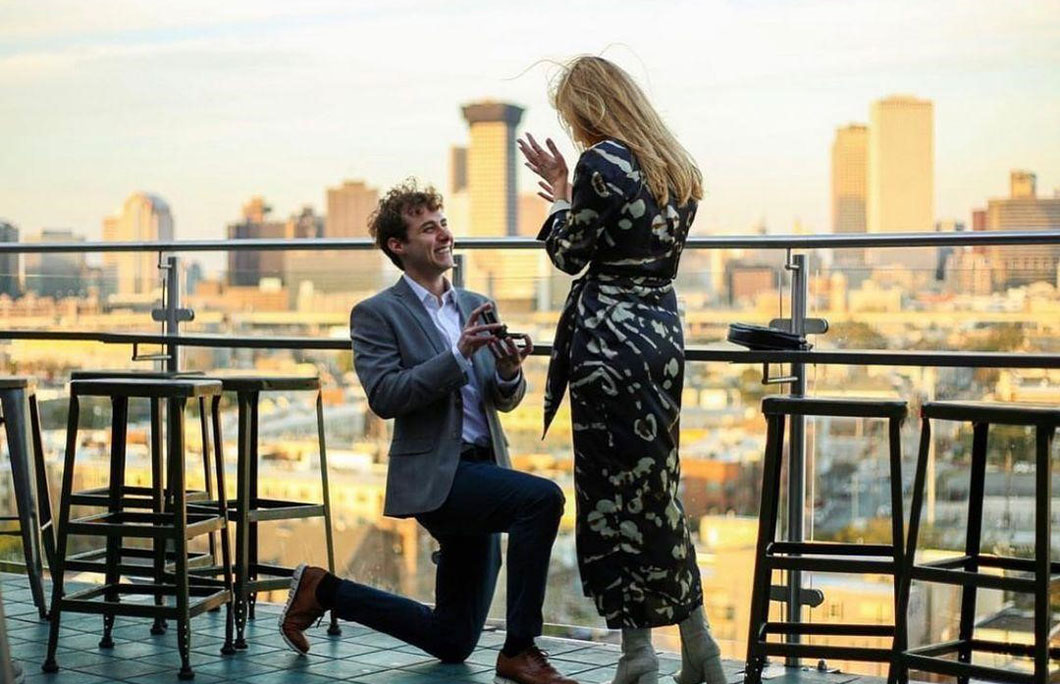 27. Hot Tin – New Orleans, Louisiana
Of all the rooftop bars in New Orleans, of which there are many, Hot Tin stands out as one of the best spots to soak in the city skyline. Occupying the 11th floor of the Pontchartrain Hotel, the bar serves up all the speakeasy vibes with its interiors inspired by a 1940s artist's loft. Enjoy creative and well-crafted cocktails, as well as champagne beers and wines, as the sun goes down. It's surprisingly affordable too, despite its stellar location.
---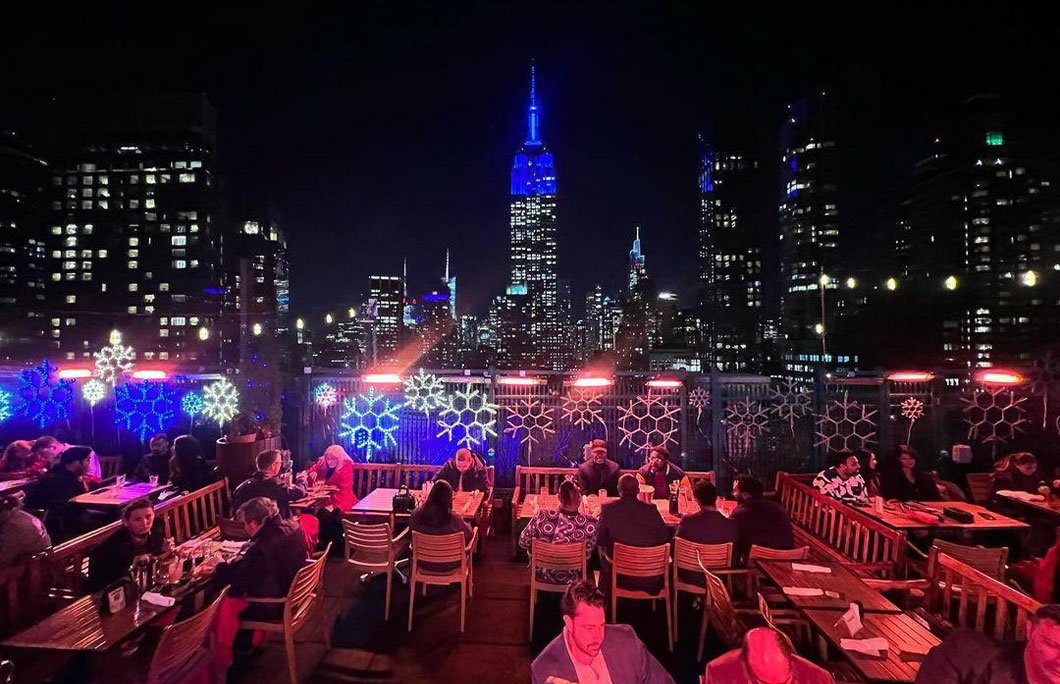 26. 230 Fifth Rooftop Bar - New York City
Situated on the 20th floor of a building at 230 Fifth Avenue, this rooftop boasts stunning views of the New York City skyline, including a close-up view of the Empire State Building. The expansive rooftop terrace provides a great vantage point to take in the cityscape.
The venue has a rooftop garden area with lush greenery, adding to the ambience and creating a refreshing atmosphere. It's a great escape from the busy city life of New York and 230 Fifth does a great job of taking you into a different world from its urban surroundings.
---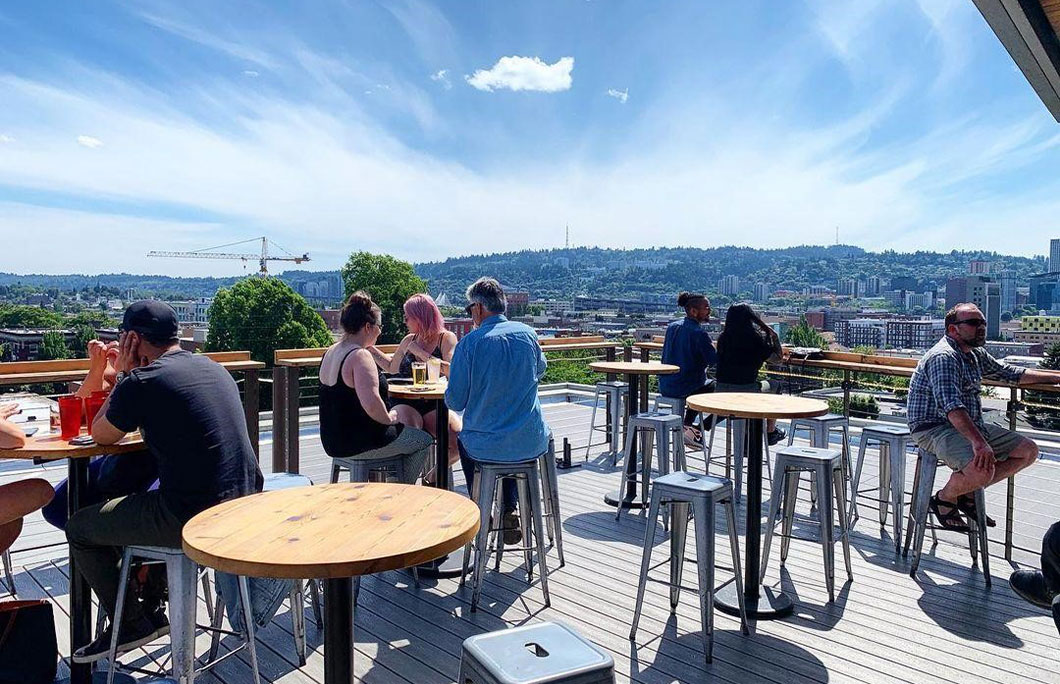 25. Roof Deck at Revolution Hall – Portland, Oregon
Rooftops might not immediately spring to mind when you think of Portland, but after one trip to Roof Deck, the two will be synonymous. Located in inner southeast Portland, the Roof deck is set atop the popular concert venue, Revolution Hall. As well as killer cocktails and flame-licked barbecued treats, the rooftop serves up impressive 360-degree views over downtown and Mount Tabor.
---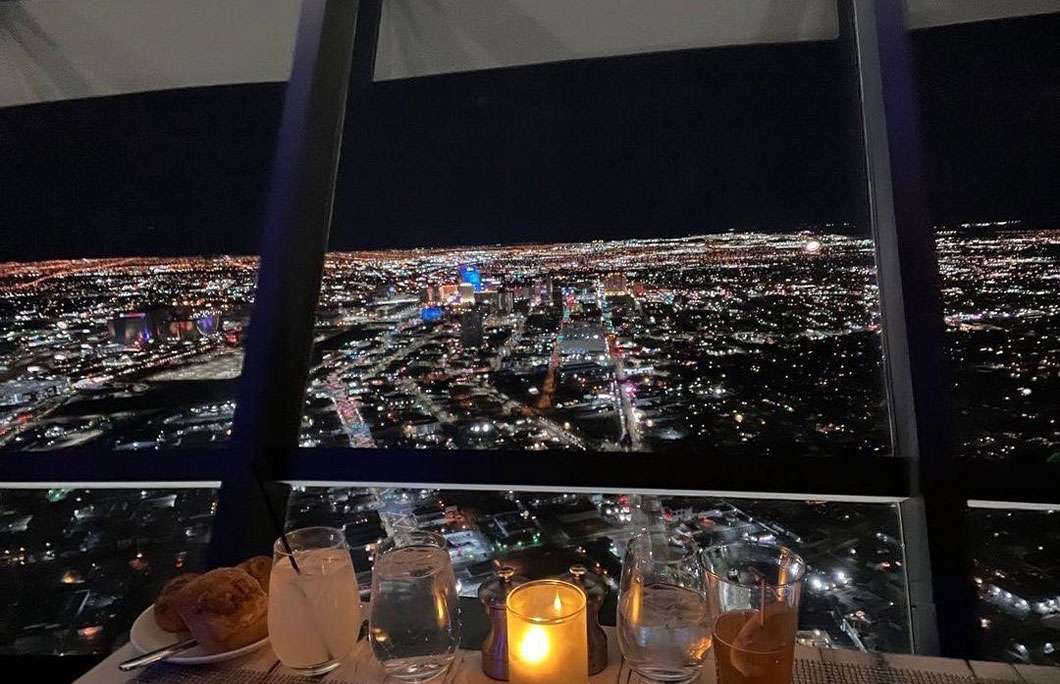 24. The Stratosphere - Las Vegas
The Stratosphere rooftop bar in Las Vegas is known as "Top of the World." Located at the top of the iconic Stratosphere Tower, 800 feet above the ground, it offers breathtaking views of the Las Vegas Strip and the surrounding city. The floor-to-ceiling windows offer a stunning vantage point to enjoy the city lights.
Top of the World is not just a rooftop bar, but a revolving restaurant as well. The entire restaurant slowly rotates 360 degrees, giving guests an ever-changing view as they dine. The rotation takes approximately 80 minutes, allowing you to enjoy different perspectives of Las Vegas during your meal.
---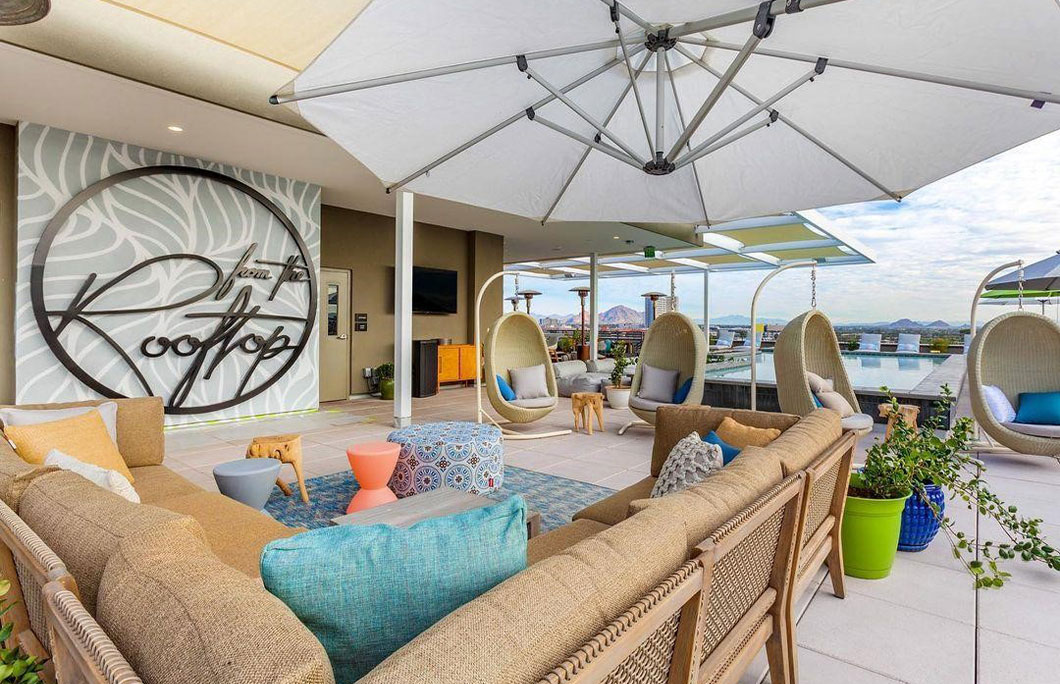 23. From the Rooftop – Phoenix, Arizona
From the Rooftop is one of the newest additions to Phoenix's rooftop scene, set seven floors above the Roosevelt Row Arts District. Offering 260-degree views of downtown Phoenix, it's the perfect spot to kick back with an inventive cocktail, or a light bite under the Arizonan sun. There's often live music, DJs, and art events here too.
---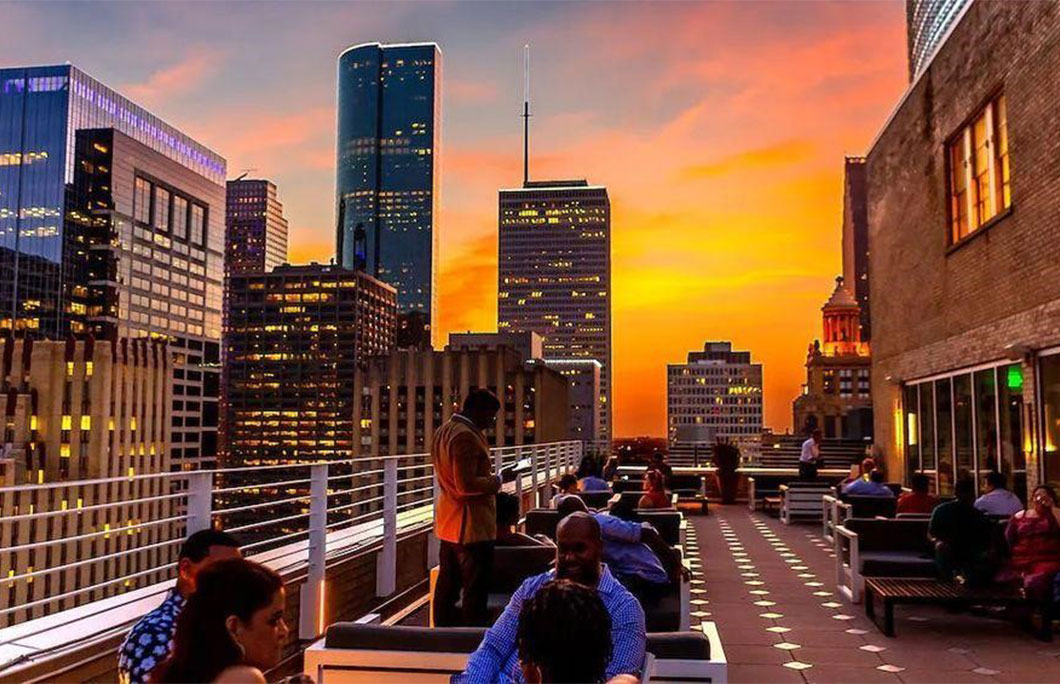 22. Z on 23 Rooftop – Houston, Texas
The fourth-largest city in the United States is bursting with lofty locations for sky-high drinking, but Z on 23 fulfils the rooftop bar brief with style. There are 23 floors between the bar and Walker Street sidewalk, so it's certainly not vertigo-friendly, but it is the best place to enjoy 360-degree views of the city. Outside, there's comfy lounge seating and candlelit tables, while inside it's all colourful murals and plush cocktail chairs.
There's an extensive selection of cocktails, craft beers and fine wines to choose from too. They also serve light bites outdoors, like crab ravigote and crispy tempura shrimp.
---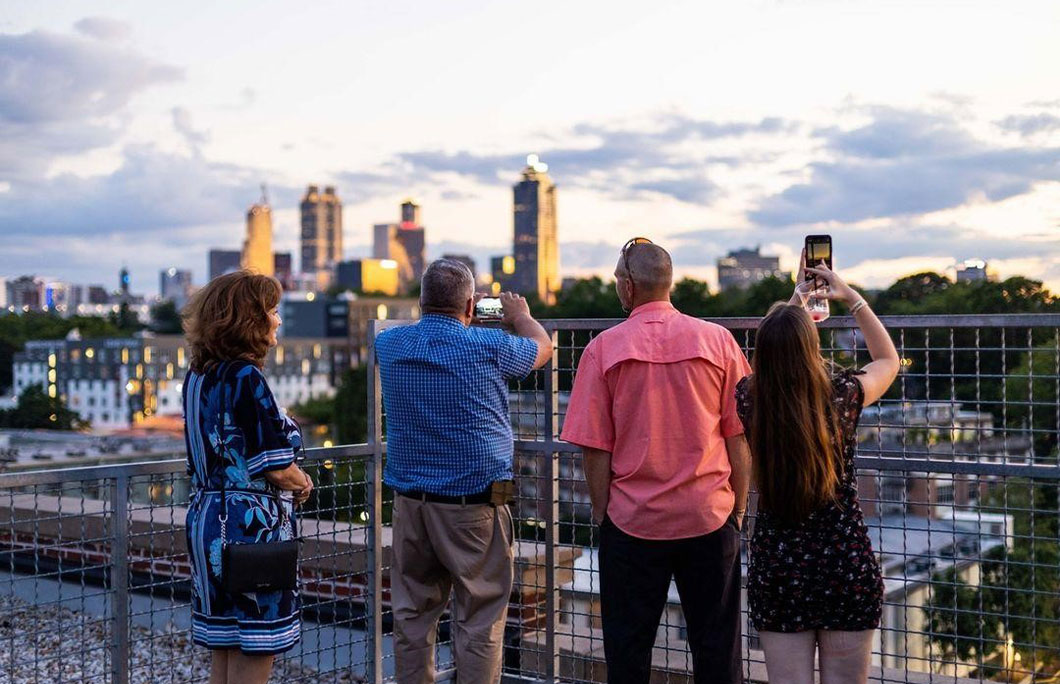 21. 9 Mile Station – Atlanta, Georgia
When friends ask us where to take cocktail-loving out-of-towners, we pack them off to 9 Mile Station. Set in Ponce City Market, formerly home to Sears, Roebuck & Co., this multi-level venue boasts the liveliest rooftop scene in the city. To get to the top floor, you'll need to hop on a guide-operated freight elevator. Upstairs, you'll find craft beers, a lengthy wine list and creative cocktails. They're good at food here too, with an elevated menu of European-inspired American dishes like pimento cheeseburgers and molasses baked beans. And when you're tired of the views, the drinks and the food, you can challenge a friend to a round of mini-golf.
---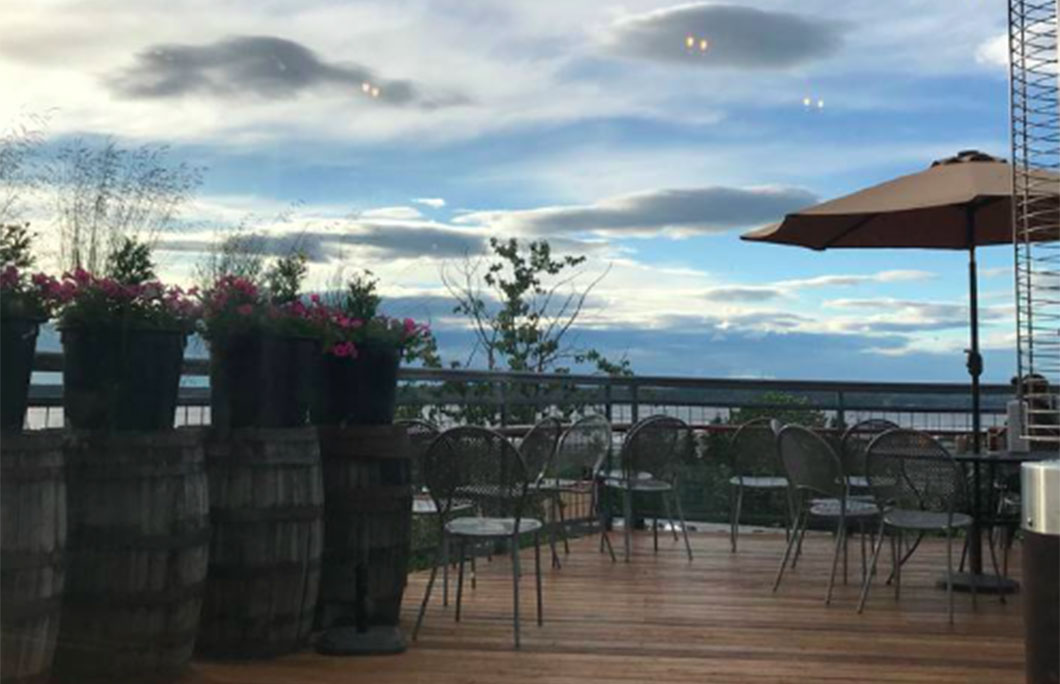 20. 49th State Brewing - Anchorage, Alaska
This vertigo-friendly rooftop bar offers sweeping views of Cook Inlet and the Alaska Range from its two panoramic decks. Unlike most rooftop spots, the real hero of 49th State Brewing is its brilliant beers. There are at least 16 on tap, ranging from classic lagers and pale ales to spicy sours and IPAs. The food menu is just as exciting, with inventive dishes like yak quesadilla and crab-stuffed jalapeños. There's often live music here too.
---
19. Westlight – New York City
In a city that has more rooftop bars than rainy days, picking the best was always going to be controversial. But with those views of the East River, it's hard to dispute Westlight's claim. It's sixteen stories higher than any nearby rooftop bar and features a wraparound terrace encased with plexiglass, viewfinders and comfy lounge chairs. The food is fantastically fresh, with a menu created by Chef Andrew Carmellini. Wash it down with a classic cocktail, or a special vintage from the lengthy wine list.
---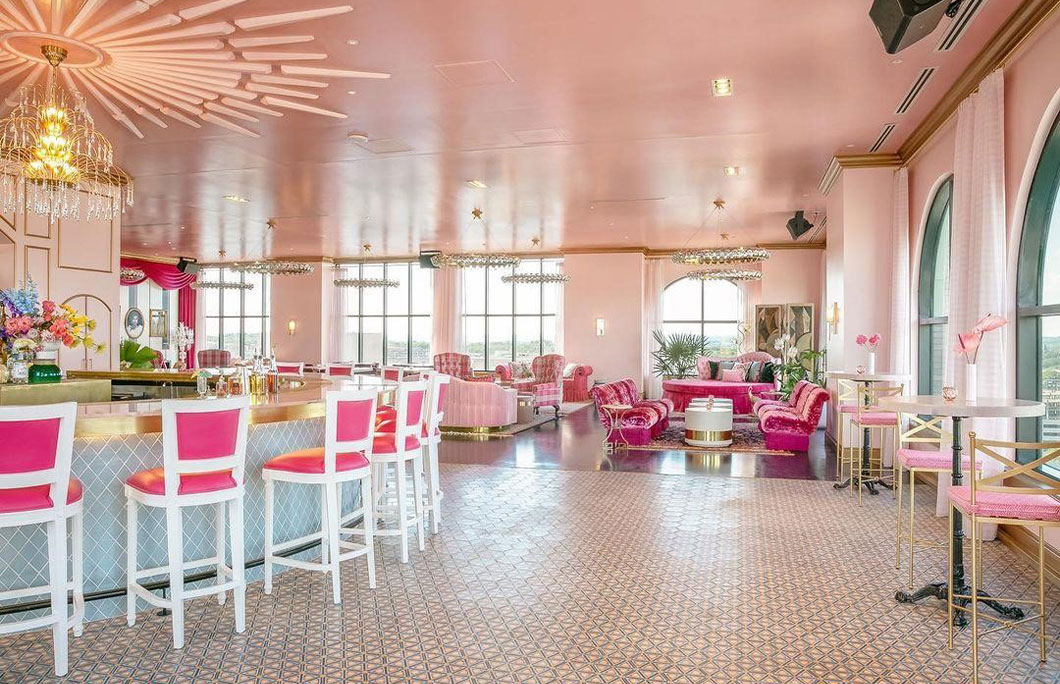 18. White Limozeen – Nashville, Tennessee
This pink paradise proves that the best things in life come in very large packages. Perched atop the Graduate Hotel, this over-the-top rooftop experience is a homage to the iconic country singer, Dolly Parton. In true Dolly spirit, the bar is decked out in varying shades of pink, with crushed-velvet seating, gilded accents and fringing – everywhere. Outside, patrons can laze around the pool sipping themed cocktails, like the magenta-hued Queen of Rodeo. Don't leave without a snap next to the enormous pink chicken-wire bust of the queen herself.
---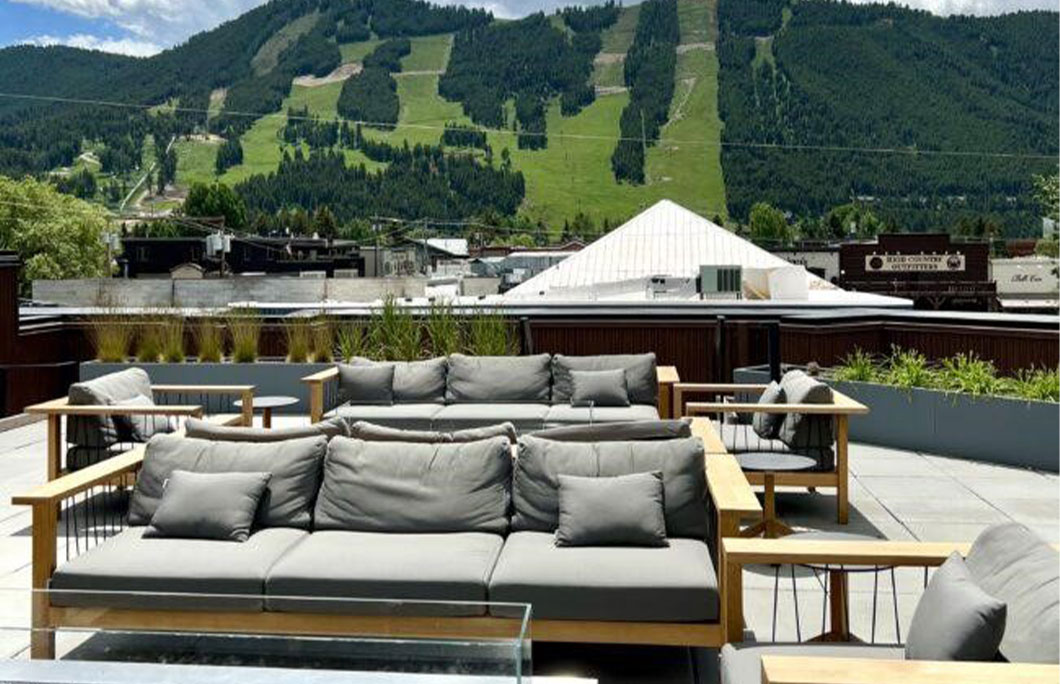 17. The Cloudveil – Jackson Hole, Wyoming
This newly-opened rooftop bar might not break any records for heights, but it certainly serves up the best sunset in town. Located in the historic Town Square at The Cloudveil Hotel, the spacious rooftop offers sparkling views of the soaring Snow King Mountain. At night, firepits keep guests toasty as they sip on cognac cocktails. The nightly rotating menu features a selection of sandwiches, pizzas and tacos from the chefs at The Bistro downstairs.
---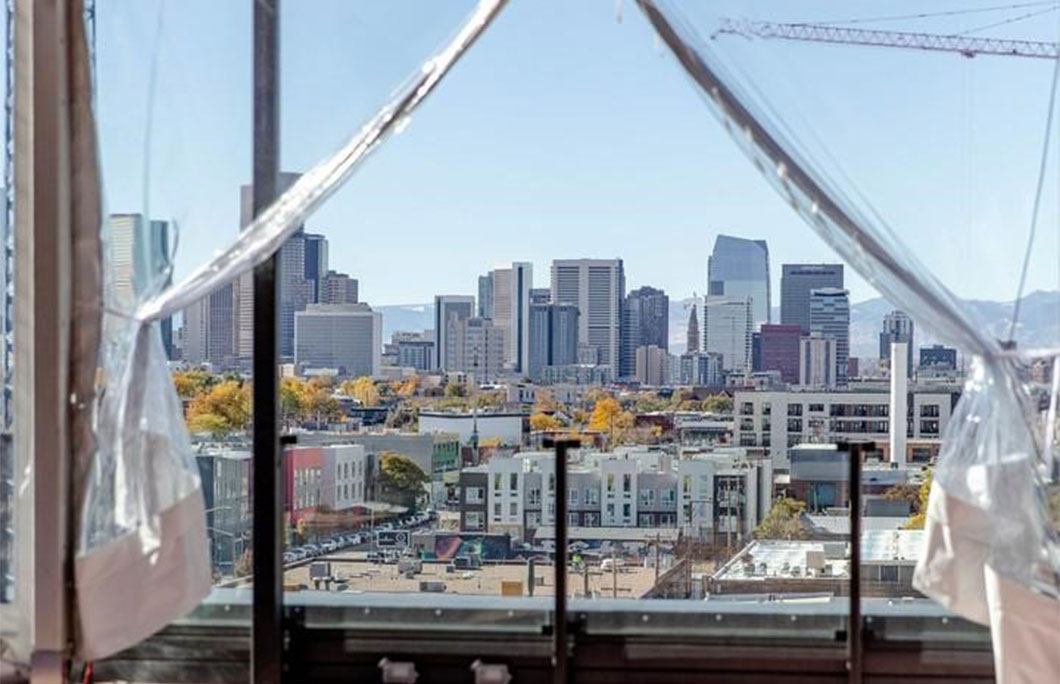 16. Red Barber – Denver, Colorado
There's been much talk about Denver's hottest new bar opening, and we're pleased to report that none of it is hot air. This really is the city's coolest rooftop bar. Set above the Catbird Hotel in RiNo Art District, the 3,300-sq. foot space is one of the city's biggest rooftop patios. There are firepits, life-sized yard games and an amphitheatre seating for live music, as well as Thursday night trivia and happy hours – all with the promise of an epic city skyline selfie.
---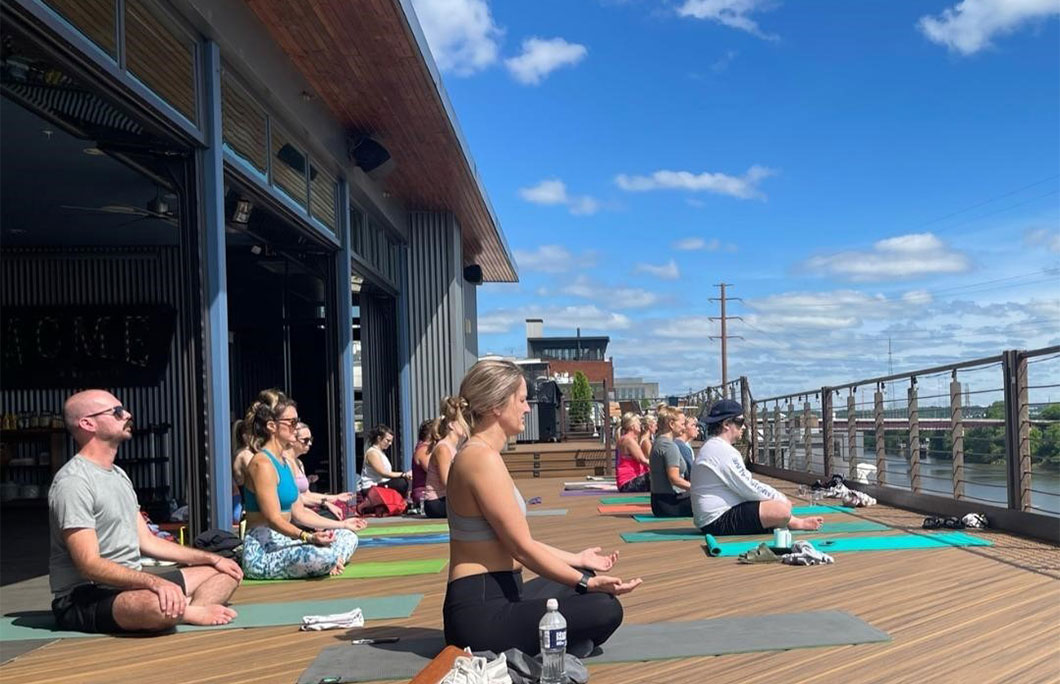 15. Acme Feed & Seed | Nashville, TN
Situated slap-bang in the heart of the honky-tonk scene in Nashville's Lower Broadway, Acme Feed & Seed offers up to 22,000 sq. ft (2043 sq. m) of cocktail, culinary and entertainment space. The rooftop bar offers 360 views across town, with sweeping views of Broadway, the Cumberland River, Nissan Stadium and Riverfront Park. Living up to its moniker of 'Music City', you'll find live music on the roof daily. Come hungry and order their famous hot chicken. You won't regret it.
---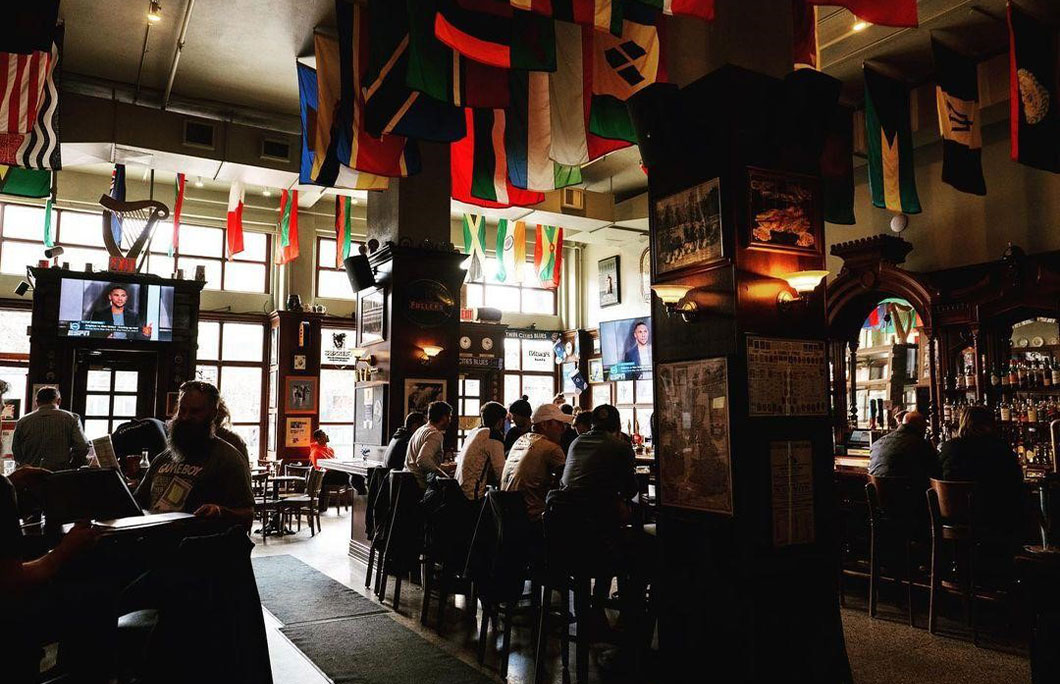 14. Brit's Pub | Minneapolis, MN
If you're a Brit abroad and feeling slightly homesick, then head over to Brit's Pub to feel right at home! This rooftop bar aims to capture the essence of a traditional British pub, with an interior that features dark wood accents, cosy seating areas, and a bar stocked with a wide selection of beers, ales, and spirits. The staff strive to create a warm and friendly environment reminiscent of a classic British watering hole.
One of the main attractions is its expansive rooftop lawn, which is also equipped with several bowling greens, allowing patrons to enjoy this traditional British sport.
Now a pub can't really be British without the classic British dishes can it? This is why you'll be served classic British foods such as fish and chips, bangers and mash, and shepherd's pie.
---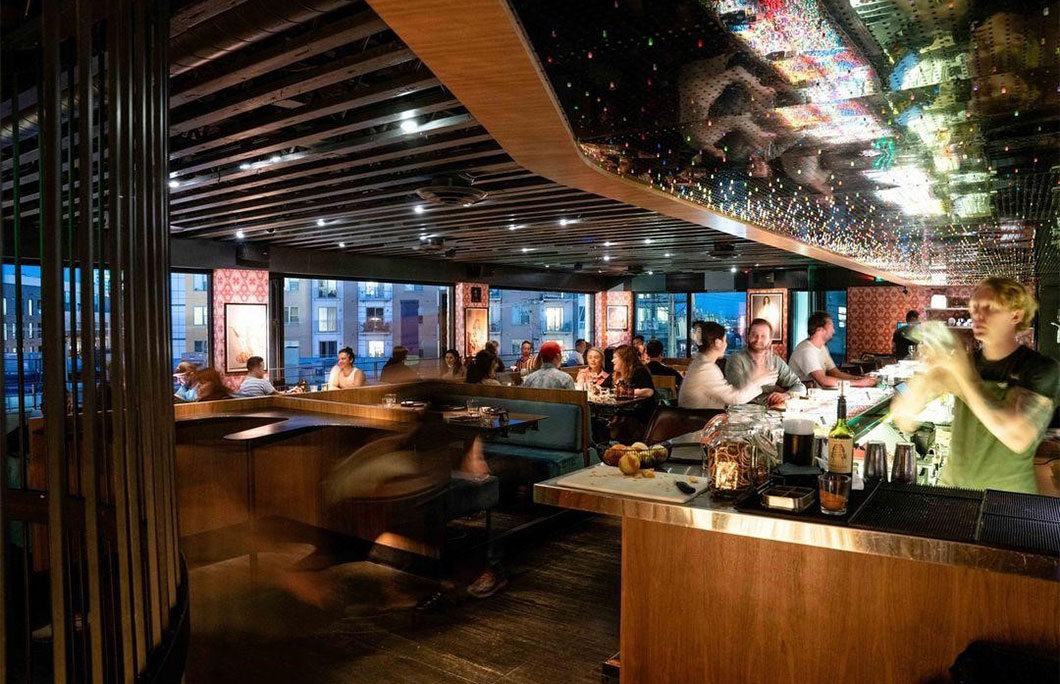 13. Linger | Denver, CO
You can spot Linger while strolling down Denver's 16th Street, which connects the LoHi neighbourhood and downtown Denver. The bar is situated in the former Olinger Mortuary and the original illuminated sign remains. The 'O' part of the sign stays dim at night to reveal the watering hole's name, enticing you to stay awhile. The roof is home to a 1975 RV (or Bar-V, as it's known), where you can sink your teeth into frozen mai tais and global street food like Mongolian BBQ duck buns, Wagyu sliders and falafel lettuce wraps.
---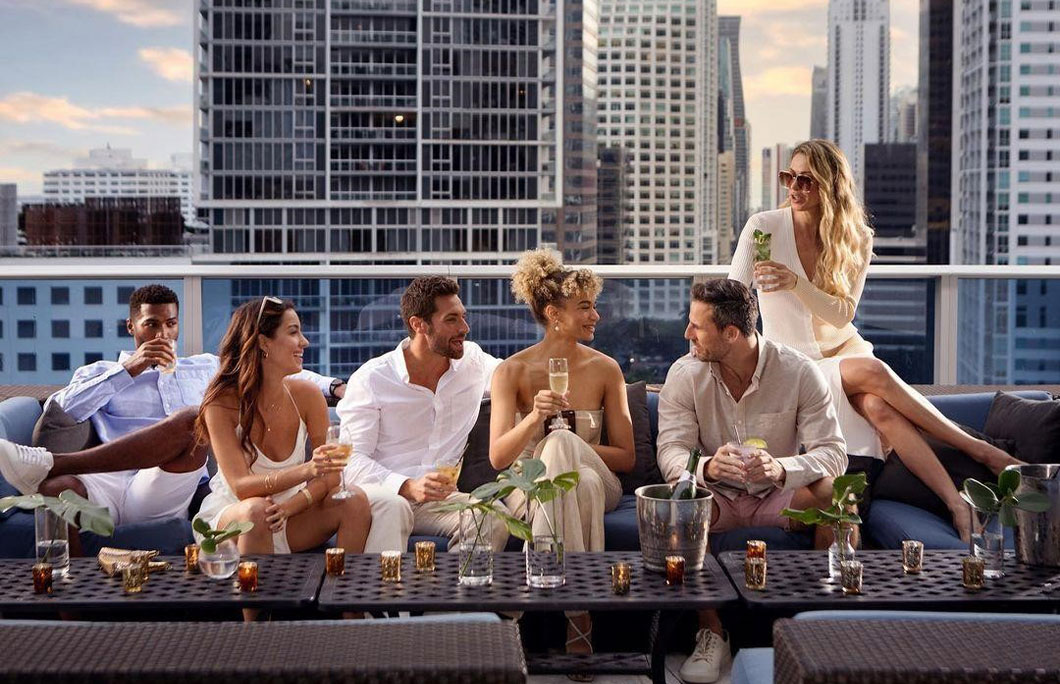 12. Area 31 | Miami, FL
It would be a crime to not experience this rooftop during your visit to Miami. Good food, good wine, great vibes and a drop-dead gorgeous view - Area 31 has it all. The Miami skyline is literally laid out in front of you from the 16th floor of the Epic Hotel, and if you think it can't get any better, then just wait till you see that they serve Executive Chef Alex Olivier's innovative seafood sourced from the waters you can gaze out upon. The menu often differs, but expect fresh ceviche, tartars and crudos among the range of sustainable seafood dishes available.
---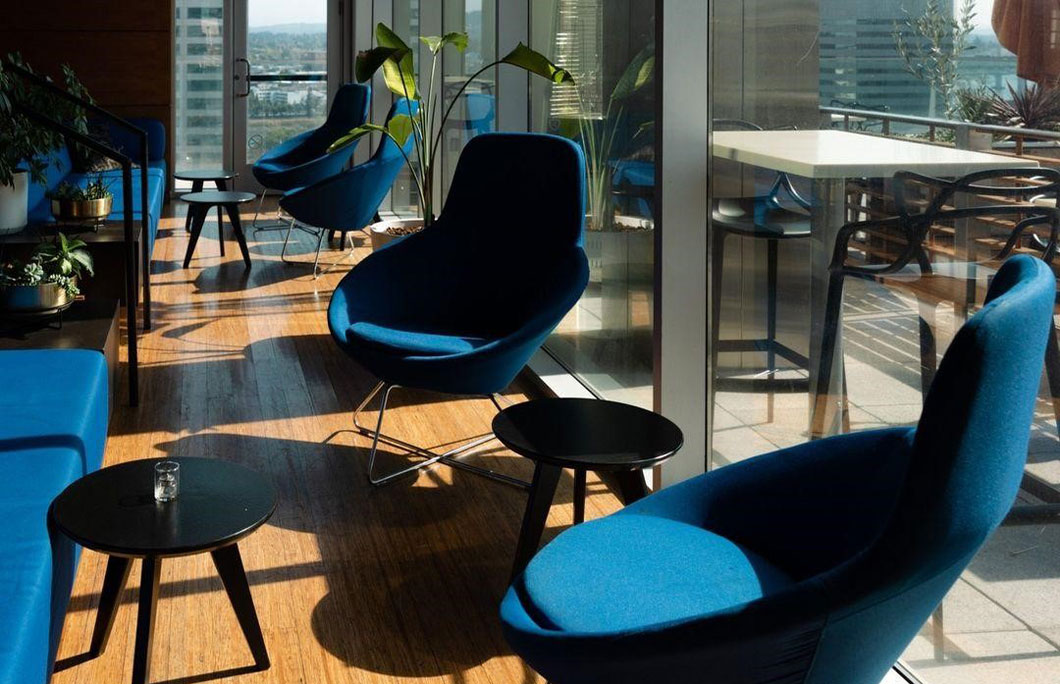 11. Departure - Portland, OR
You're in for a treat with this 15th-floor restaurant and lounge. Though the rooftop is mostly enclosed, there is a balcony from where you can soak in the breathtaking views of Portland. This sleek restaurant offers bites by 'Top Chef' finalist Gregory Gourdet and quirky cocktails like the Stumptown Express, Buffalo Trace bourbon, Stumptown cold-brew coffee, ginger liqueur, honey, bitters and more. Tuck into some of the eatery's Asian and vegetarian specialties during happy hour where you can choose from options such as crispy squid with miso, or vegetable udon noodles with spinach.
---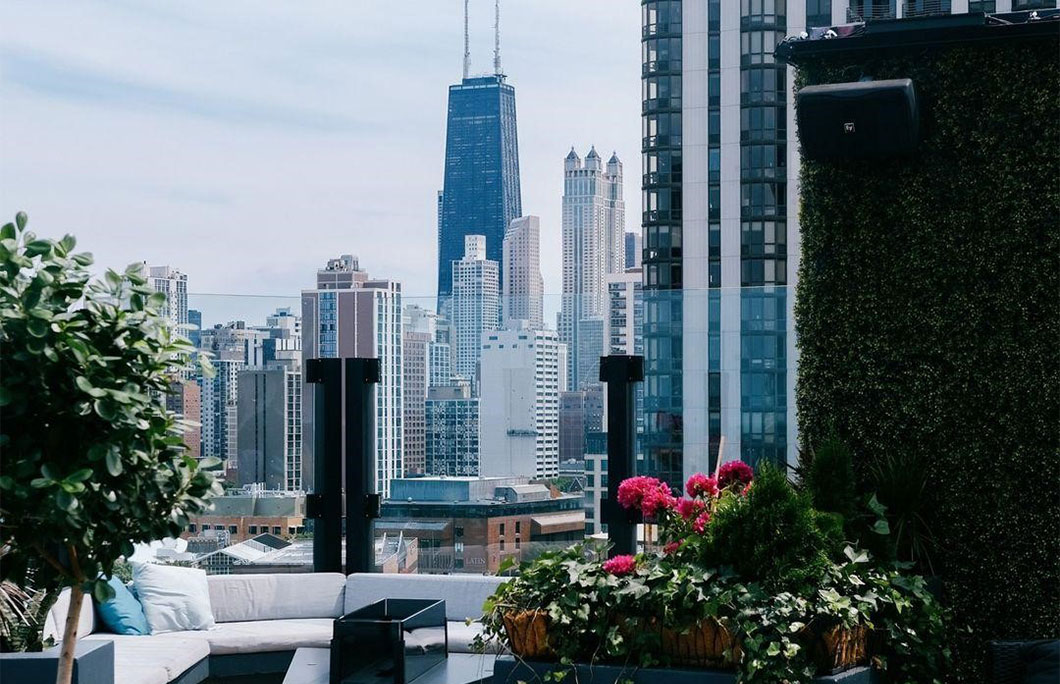 10. The J. Parker - Chicago, Il
Kickstarting off the top 10 we have a bar that hosts mesmerising views of the City of Chicago. If you haven't crossed the J. Parker off your Chicago bucket list, grab a glass of sparkling rosé and get to work. This year-round rooftop bar is a must for entertaining out-of-towners. Make sure you arrive early on beautiful summer days and wait for a seat to open. We promise it's worth the wait!
---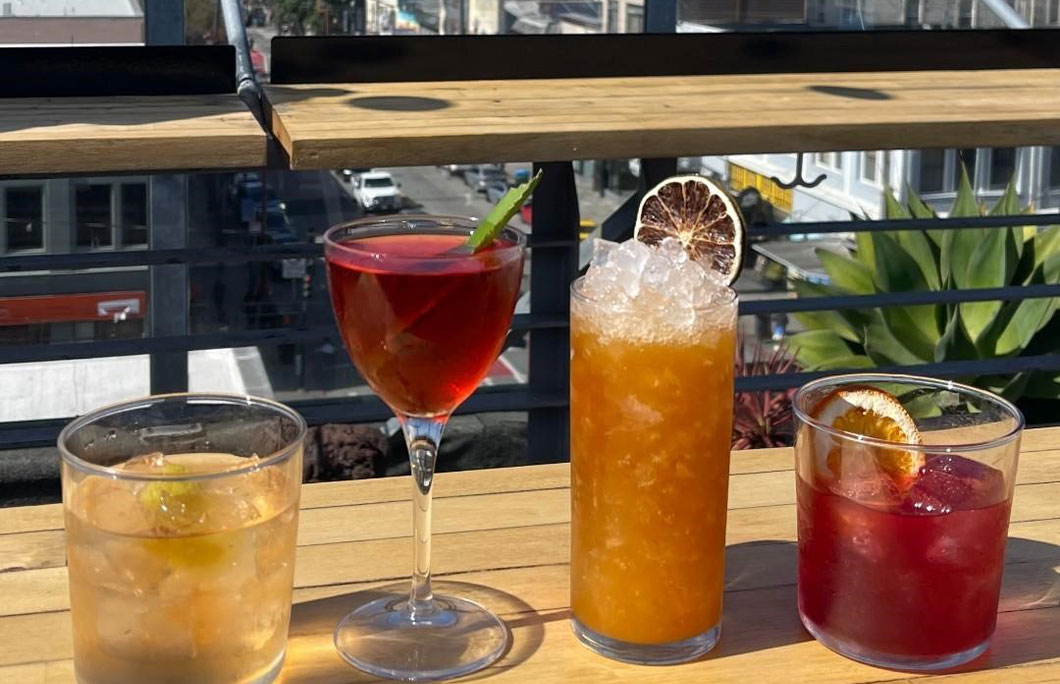 9. El Techo de Lolinda - San Francisco, CA
Thanks to its unpredictable weather, San Franciso doesn't usually get a look in when it comes to rooftop bars. But we couldn't ignore the city's beloved El Techno. Popular year-round thanks to its retractable roof and heaters, you can enjoy city views while tucking into Latin American street food and cocktail pitchers, like the 'Tres Amigos', made with sangria, grappa, lager and Mi Campo Blanco. There's a rooftop brunch at the weekend too.
---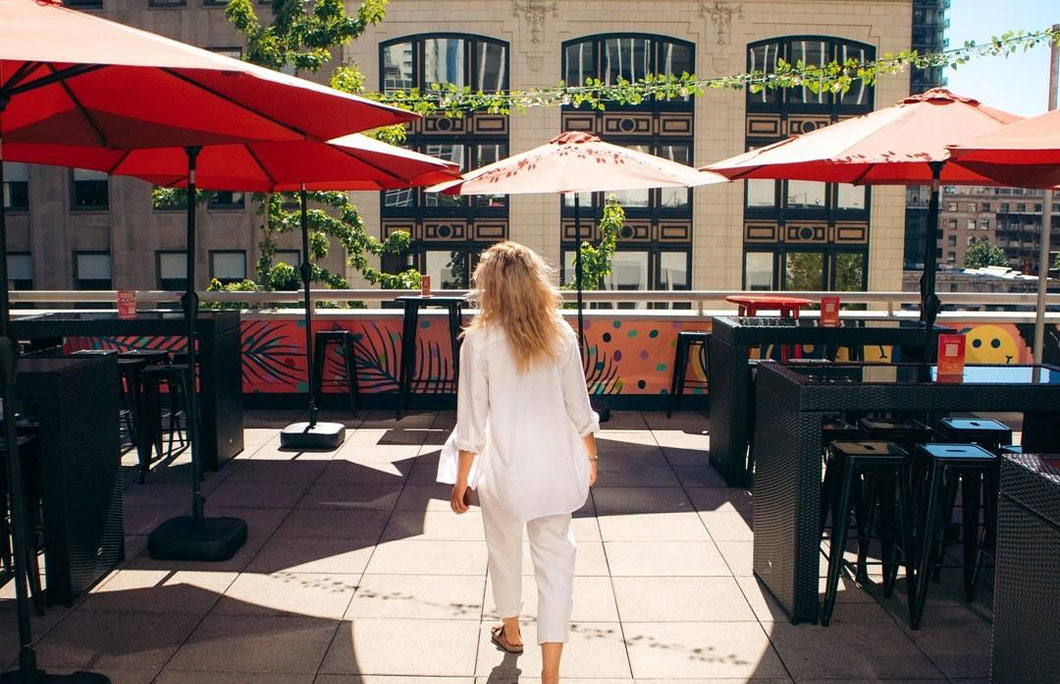 8. Frolik Kitchen & Cocktails - Seattle, WA
For those looking for a little extra alongside a good drink, then Frolik offers date-night–worthy diversions like shuffleboard and Ping-Pong - all whilst soaking in a stunning view. It's located off the fifth floor of downtown Seattle's Motif Hotel, and this sleek bar also features an expansive cocktail list. Don't worry about the Pacific Northwest chill, as there are several heat sources to get you warm and cosy in no time, including a very unique-looking tabletop fireplace.
---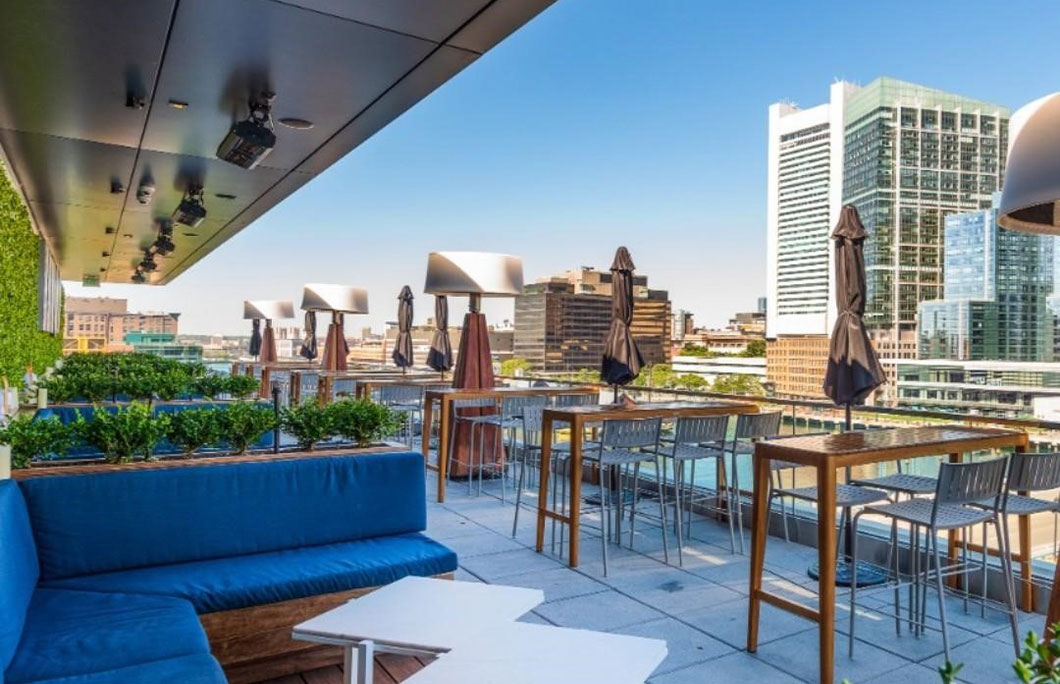 7. Lookout Rooftop Bar – Boston, Massachusetts
Perched on top of the Envoy Hotel, Lookout is one of the best rooftop bars in Boston for its sweeping harbour views. It's the perfect destination for any occasion – afternoon brunches, romantic sunset date nights, casual catch-ups – which means it's popular too. You'll be able to spot the queue before you see the front door.
During the winter, they set up snuggly igloos to keep it cosy, while in the summer you can enjoy the sun-filled patio. Kick back, deep dive into the wine list and enjoy the trendy tunes.
---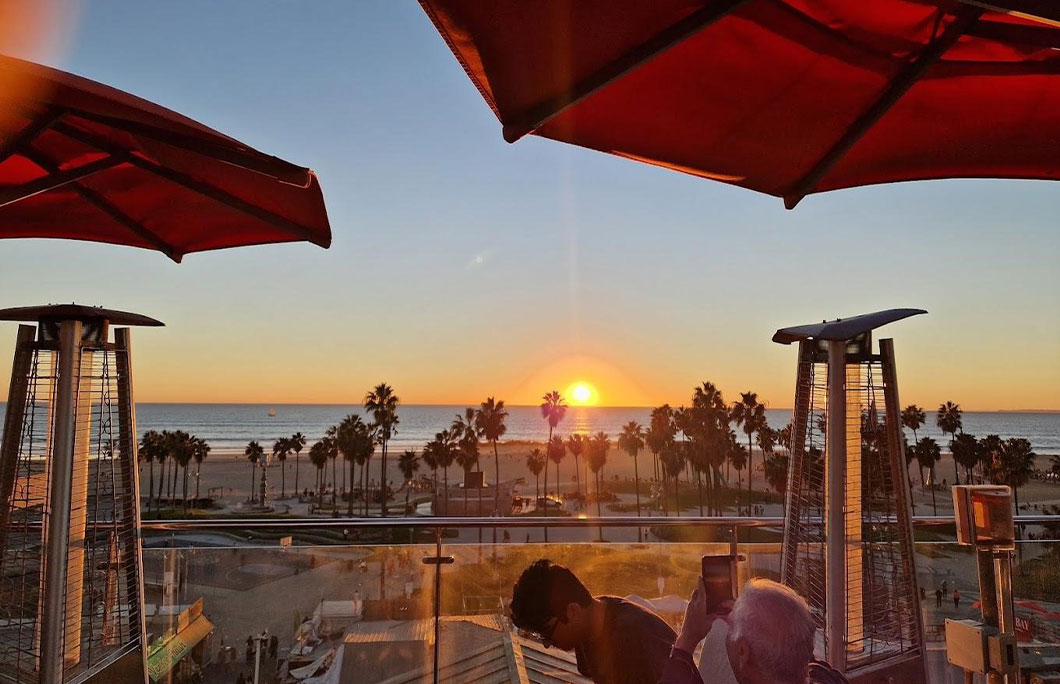 6. High Rooftop Bar - Los Angeles, California
The only rooftop bar in Venice Beach that offers superb views over Muscle Beach, the Venice Beach Boardwalk and the Pacific Ocean. The 100% open-air space is decorated in sea blue, with decking and bright orange umbrellas to echo the views. Cocktails are inspired by the setting too; the current menu is a salute to The Doors, with names like 'Light My Fire' and 'People Are Strange'. They're good at food here too, with brunch and bubbles at the weekend and classic 'Venice Way Pizza'.
---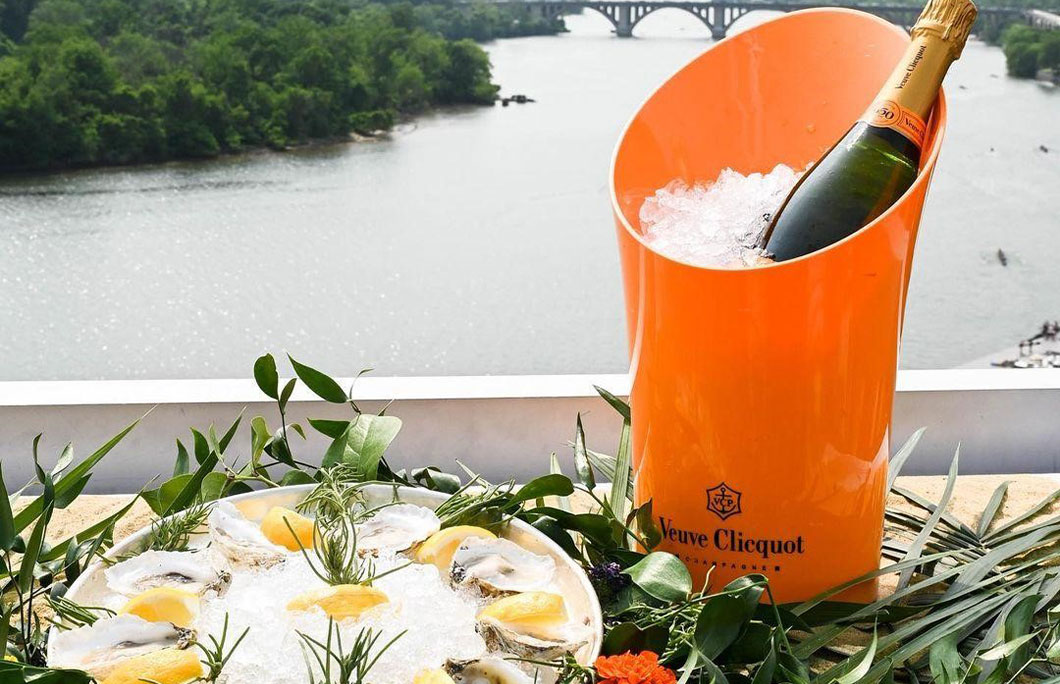 5. Top of the Gate- Washington, DC
After a whopping $ 200 million renovation, the historic and notorious Watergate Hotel is now home to one of the most dazzling cocktail spots in the city. Relax in this sprawling rooftop bar and lounge as you sip on a Celebration, Avion Silver tequila, grenadine spice mix, or sparkling rosé. Take in the sunset with their panoramic view of the city's biggest attractions, including the Pentagon, Potomac River, and Washington Monument.
---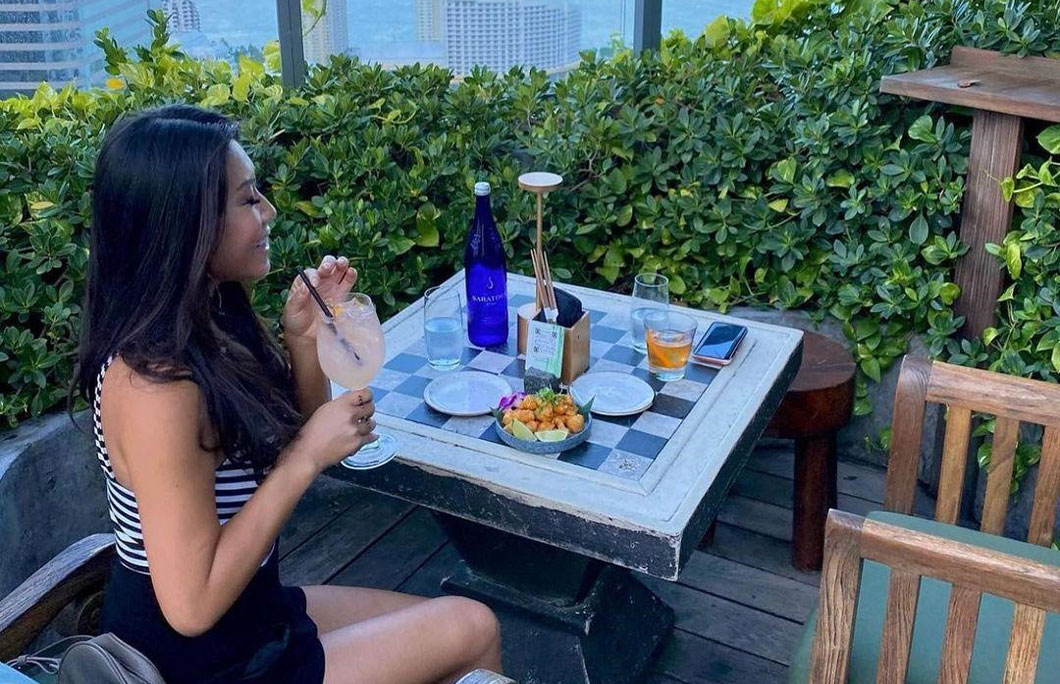 4. Sugar - Miami, Florida
You'll shoot up past 40 floors before your lift finally reaches the ultra-trendy rooftop lounge at the East Hotel. Sugar has quickly become one of the most popular bars in Brickell due to its 360-degree views of the city and surrounding waterways as well as offering you a place that feels more like a secluded, storybook garden than a bar. Spoil yourself with Asian-themed cocktails like the Sweet Life (a sugary cocktail blended with Thai iced tea, lemon and whiskey).
---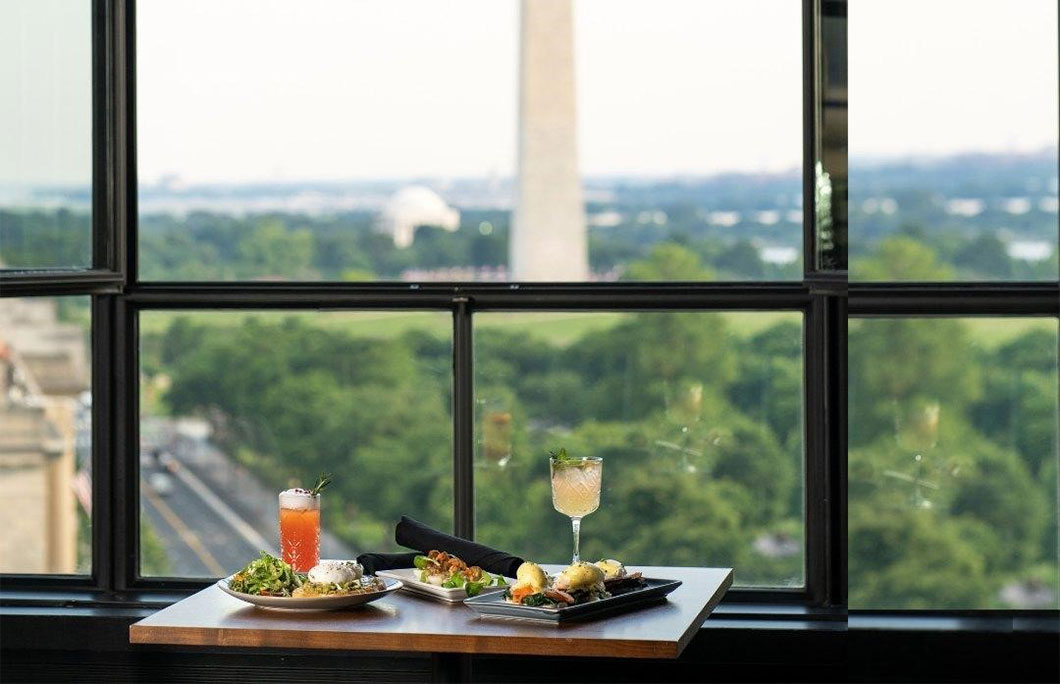 3. Vue - Washington, DC
In addition to jaw-dropping views of the Treasury, the Washington Monument and the National Mall, eagle-eyed visitors will spot secret services on the rooftop of the White House—it's practically across the street from Vue (formally POV)—as well as political and Hollywood celebs in nearby booths. The best part is, is that the stadium-style seating will provide you with uninterrupted views. You can choose between a weekend brunch or after-work cocktails, but be sure to try the Royal Tea Punch and Tidal Basin Paloma. You won't be able to get in without a booking, so make sure you reserve yourself a seat beforehand!
---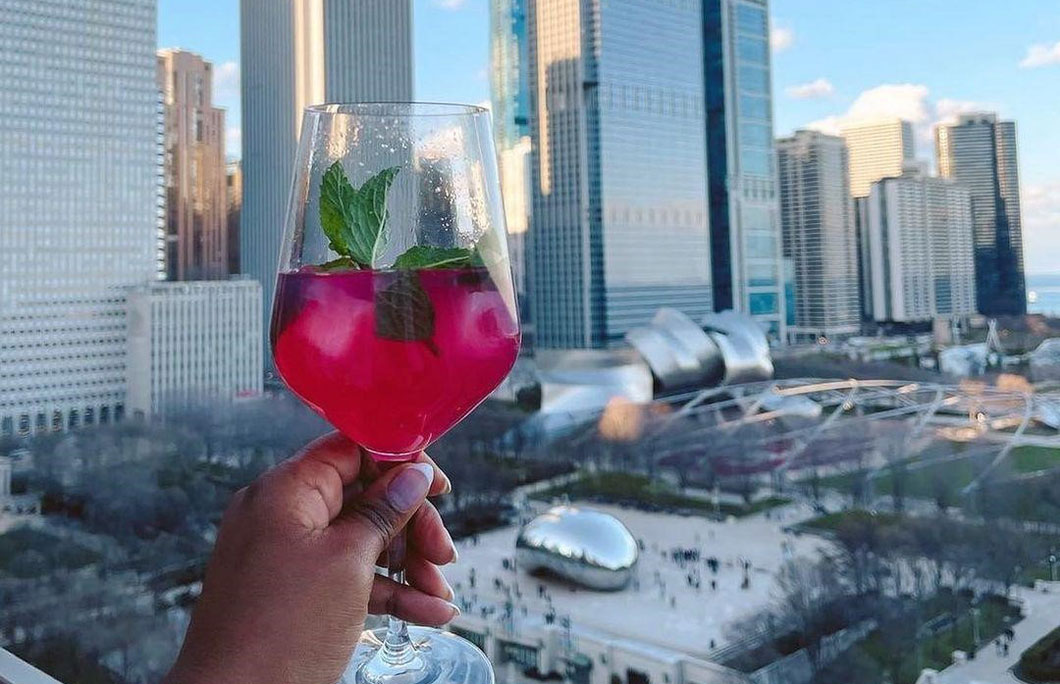 2. Cindy's - Chicago, IL
Snapping at the heel of the number one position is a bar that sits atop the stunning Chicago Athletic Association Hotel in the Loop. Cindy's boasts some of the most exquisite views of the city, and you'll feel relaxed in its welcoming vibe and atmosphere. Though the cocktails are the main draw of this beautiful rooftop terrace, guests can nosh on small bites like spiced pepitas and cheese and charcuterie boards, piled high with local selections, preserves and grilled bread.
---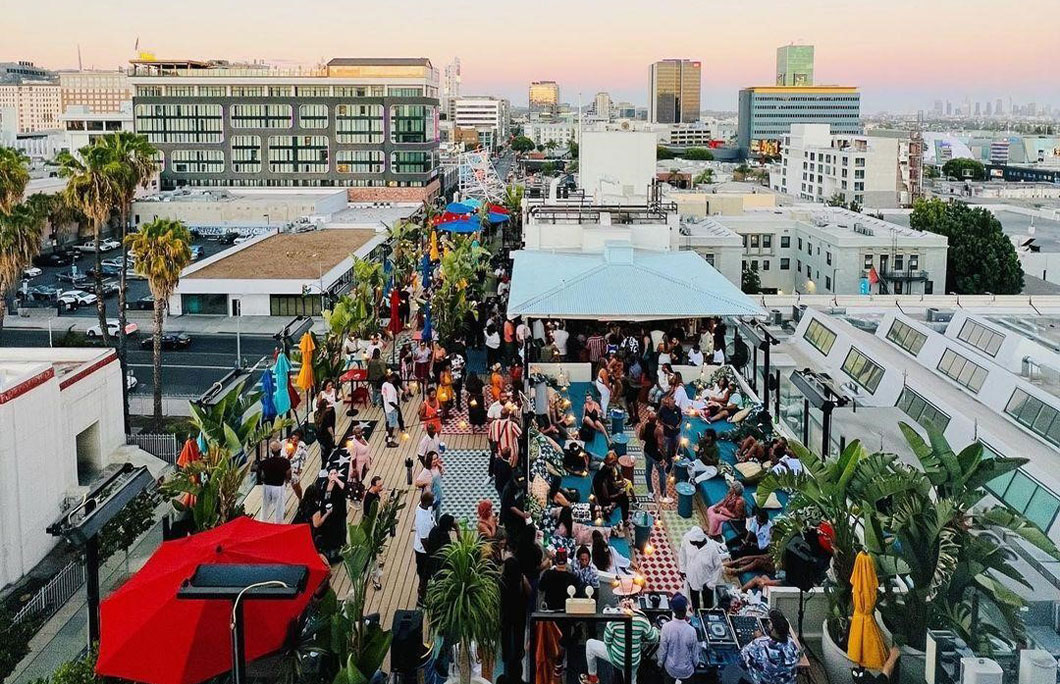 1. Mama Shelter | Los Angeles, CA
Mama Shelter has very deservedly bagged the top position as you'll be ready to move in once you set foot on their rooftop. The bright space is splattered with multi-coloured sofas and chairs seductively calling you to just sink yourself in. Cocktails veer from the Mediterranean with a full Moscow mule bar, though you can also find multiple sangrias. On warm nights, you can dance under the stars while DJs spin a wide range of music, or take in a classic movie on their outdoor screen. Now if that isn't enticing already, they also have a foosball table, a yoga area and sweeping views of Hollywood. Like we said—you won't want to leave!
---