Orlando Car Rental
Find the best deals in Orlando
With a massive choice from the biggest brands, you can compare sedans, convertibles, sports cars, SUVs, mini-vans, coupes, hatchbacks and more.
Massive choice of cars to suit every budget
Huge choice of over 100 suppliers
Online reservations for the biggest discounts
Compare Car Rental in Orlando
Orlando's popularity is in large part thanks to famous tourist attractions such as Walt Disney World Resort and Universal Orlando Resort, both of which receive a massive number of visitors from around the world, being located there. In 2015, 66 million people visited Orlando, which was more than any other destination in the world.
Orlando is a fun starting point to discover the rest of Florida, so this is a great place to start a road trip from. You'll have a blast driving to the many attractions here, as well as discovering the Florida Keys and exploring the Everglades. With Enjoy Travel, you can book Orlando car rental from as little as $11.29 USD per day.
Guide to Orlando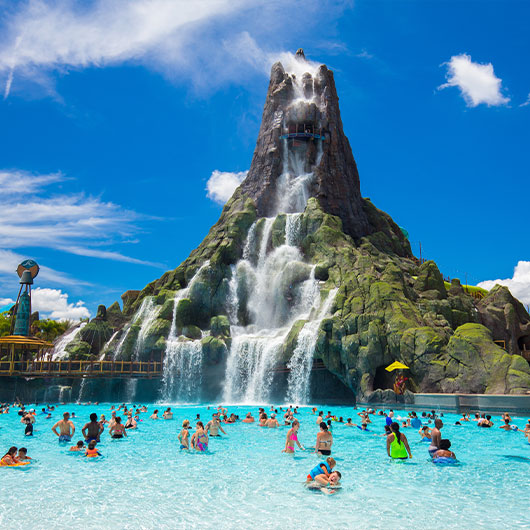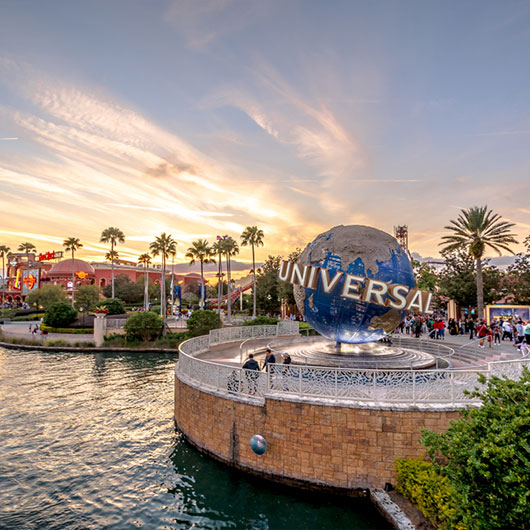 Climate
Orlando experiences a sub-tropical climate, which makes the city hot and humid but afternoon thunderstorms provide a little relief, especially during the summer months.
History
There is still speculation on how Orlando received its name, but it was initially named Jernigan after one of the first permanent settlers, Aaron Jernigan. Many people believe that the name was derived from the character "Orlando" in the Shakespearean play "As you like it". A fun fact about Orlando is that it is known as the abode of more than 100 lakes. In fact, there is one located in downtown Orlando; Lake Eola is a giant sinkhole that is 80 feet at its deepest point.
Culture
This Floridian city has a significant West Indian population and is known as the most tolerant city in the Southeast due to a large LGBTQ community. English comes first among the most spoken languages, followed by Spanish, Haitian Creole, French, Portuguese and Arabic.
Things to do in Orlando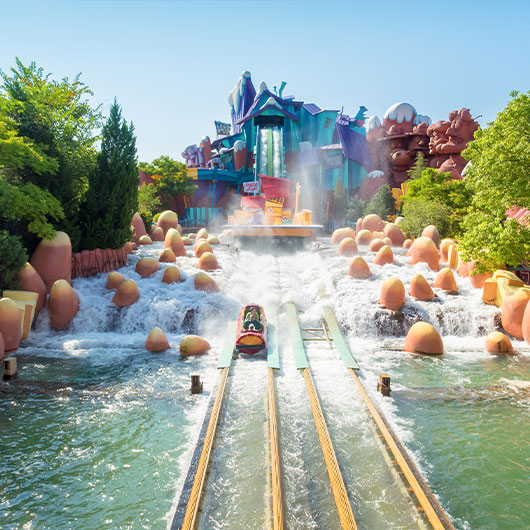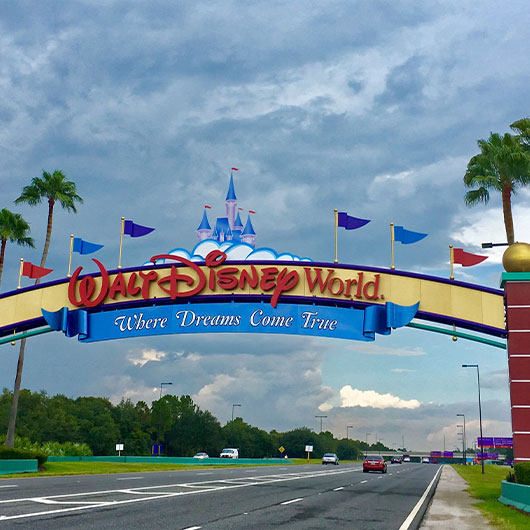 Spend a day (or more!) at Walt Disney World Resort
Naturally, Walt Disney World Resort tops the list for the cultural and economic significance it holds to the city of Orlando. One of the largest employers in the United States, the resort is composed of four theme parks. Magic Kingdom has attractions such as the Cinderella Castle, Pirates of the Caribbean, and Magic Carpets of Aladdin, which proves to be extremely popular with kids and adults alike. Animal Kingdom is a theme park exhibiting several species of live animals, many of them which have been taught to do circus tricks. EPCOT showcases science, technology and arts, and finally, the Hollywood Studios include attractions such as Hollywood Boulevard, Echo Lake, and the stupendously popular Star Wars universe. Whether you want to visit the wildlife, rub elbows with Marvel superheroes or go for hair-raising show rides, Walt Disney World's got you covered.
See the city from a birds eye view
ICON Orlando is a 400-feet tall observation wheel that provides 360-degree views over the city. It was initially known as Orlando but got rebranded as the 'Coca-Cola Orlando Eye' after being sponsored by Coca Cola, before being renamed again as ICON Orlando in 2018. The wheel consists of 30 air-conditioned capsules, each of which can carry 15 passengers. The capsules are built and operated in the best possible way to give you a smooth experience of being 400 ft above ground. Right next door is SeaLife Aquarium, Madame Tussauds and the adrenaline-inducing Orlando Starflyer. Make a day trip out of all these attractions on a warm and sunny Florida day.
Pay a visit to the Kennedy Space Center
If your interest lies in sci-fi movies and you love everything about space, then the Kennedy Space Center is a must-visit. The visitor complex offers an exhibition of high-tech special effects to simulate the experience of an astronaut in space. Other than the astronaut training adventures, there are space shuttle launching pads, theatres and bus tours that take you around the spaceport. Visitors of all ages come here to marvel at the giants of space travel, learn about the legendary people who have travelled to space, and of course, the history of the famous 'Space Race' between the USA and USSR that put Neil Armstrong on the moon.
See world-class artworks
There is something for the art lovers as well. The Orlando Museum of Art, founded in 1924, is a non-profit organization that started as a small center in the early 1920s with some artists who jointly decided to display their artwork together. Later in the 1950s, a fund was raised, and a new facility building was completed in 1960. The museum showcases 2,400 objects of Ancient American and African art, 18th-century American art, and contemporary art. You will find a section that highlights some paintings of the famous Belgian painter Louis Dewis. Orlando Museum of Art was given the title of "Major Cultural Institution" in 1985 by the State of Florida for the role it plays in the preservation of the history and culture of Florida.
Have a family day out at Bok Tower Gardens
It's easy to get caught up in amusement parks and thrill rides in Florida, the Theme Park Capital of the World. However, you may sometimes need a break from all the crowds. If that happens, worry not, just make your way to Bok Tower Gardens, a 250-acre splendidly landscaped garden just an hour's drive from Walt Disney World. Not only is it a welcome oasis of green in the middle of the bludgeoning metropolis, but it is also a National History Landmark for the role it plays in protecting rare and endangered species of plants. The gardens are especially known to be a good place for restful reflection, and the echoing bells of the Singing Tower provide just the atmosphere for it. Kids will love the Hammock Hollow Garden, which includes fun interactive activities such as a giant sandbox, arts and crafts materials, and wooden toys. They're bound to work up an appetite after playing in the sand pit so the Blue Palmetto Café is conveniently located nearby to put all grumbling tummies to rest. It is $12 for adults and $3 for kids under 12.
Eating out in Orlando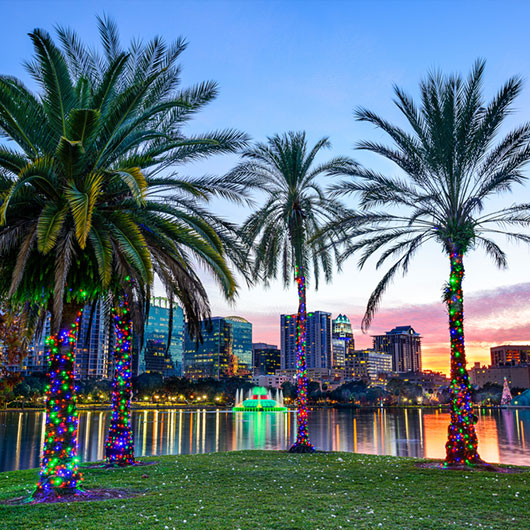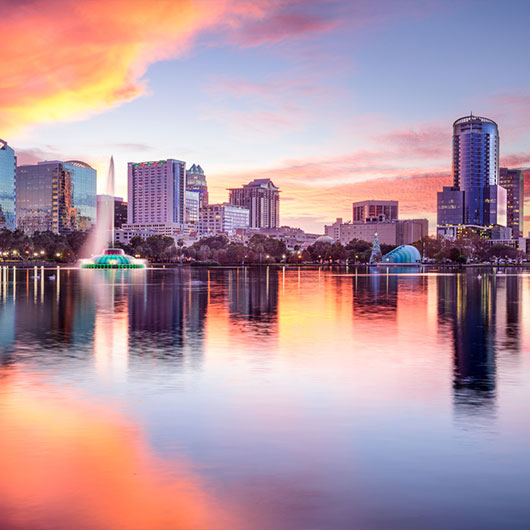 Kadence
Kadence provides a thoughtfully curated and extensive selection of food that focuses on authentic multi-course tasting. The Chirashi bowl and bluefin tuna belly with Siberian sturgeon roe are some of the most popular dishes here. Kadence is owned by three chefs trained in cooking Japanese dishes, French fare and pastry making. They started a sushi joint in 2014 and, two years later, began Kadence. The restaurant prepares the dining room for the guests to enjoy an intimate experience of soup, sushi and desserts. If you plan on getting a drink, they have an impressive range of sake, beer and tea options. Unlike most Japanese fine-dining restaurants, they also have a breakfast spread. We highly recommend booking an Omakase, which roughly translates to "I'll leave it up to [the chef]", in advance for delightfully surprising dishes.
Hunger Street Tacos
Given the heavy Latin American influence on Floridian cuisine, it would be a sacrilege to miss out on tacos while here. Get a taste of high-quality Mexican street food in a gorgeous setting inspired by "Lapiztola", a Spanish word that means "my pencil is my weapon". The murals highlight important political and social justice issues in Mexico and around the world, but especially that of indigenous rights. The folks over at Hunger Street arguably have the very best tacos in the city, followed by the other Mexican items such as quesadillas, tamales, and salads.
Domu
Situated in the Audubon Park District of Orlando, Domu is a restaurant formed by chef Sean "Sonny" Nguyen. Domu, meaning "a dream come true", is an idea of chef Sean brought to life where he offers home-style noodles with a creative flair along with seasonal cocktails. The authentic Japanese cuisine combined with the modern culinary techniques of the chef is sure to tickle your taste buds. With three locations and customizable dishes, Domu caters for different dietary preferences. Happy hour starts at 5 pm and lasts until 6:30 pm, where you can enjoy your dinner at almost half of the regular price along with your favorite drinks or cocktails.
Transport in Orlando
Airports in Orlando
Orlando International Airport is a major airport 6 miles southeast of Downtown Orlando. The tenth busiest airport in the United States, it serves 135 domestic and international destinations. Major carriers include American Airlines, Frontier Airlines, JetBlue, Southwest Airlines, and Spirit Airlines. There are several ways to get from the airport to downtown, including Lynx Buses which take about 40 minutes, airport shuttles, taxis that'll take about 25 minutes, and trains from the Amtrak station located close to the airport.
Orlando public transportation
Within the city, Lymmo is a free public transit option that operates on four routes that cover the main entertainment and commercial areas. To get between cities, SunRail is a weekday commuter rail service that serves Central Florida, and it has four stations in Orlando. Other popular modes of transport are walking and biking on dedicated lanes.
Driving in Orlando
Many people also opt to rent cars to have the flexibility and convenience to travel to lesser-visited places. For instance, reaching Bok Tower Gardens from Walt Disney World solely via public transport would take around 6 hours, but the same trip would take under an hour with a car.
Got a Question? Chat with our US support team
Our online chat is available 8:30am to 5:00pm weekdays. Email: [email protected]
FAQs about car rental in Orlando
Most frequently asked questions about renting a car in Orlando
When booking in advance with Enjoy Travel, your Orlando car rental can have average prices of $37.48 USD.
Car rental prices in Orlando start at just $11.29 USD.
The minimum age to rent a car in Orlando (and all of Florida) is 21 years of age.
If an accident occurs within the municipality then it must be reported to the local police. If an accident occurs on the highway then report it to the county sheriff or the Florida Highway Patrol.
Yes, it is generally fine to add additional drivers to your car rental agreement in Orlando. Check in advance with your rental company.
A Nissan Pathfinder is the most popular car to rent in Orlando. It has lots of room, so it is the perfect car for families to enjoy a comfortable ride.
Explore popular places in the USA