Top 10 Road Trips from Missouri
Branson MO to Jasper AR.
Poplar Bluff MO to Jackson MS.
St Louis MO to Bloomington IL.
Columbia MO to Louisville KY.
Jefferson City MO to Litchfield IL.
Kansas City MO to Emporia KS.
Springfield MO to Bartlesville OK.
Rockport MO to Vermillion SD.
Kennett MO to Birmingham AL.
Trenton MO to Tecumseh NE.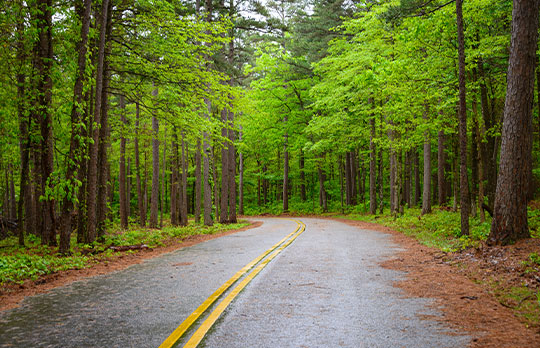 Top 10 scenic drives in Missouri
Magical Missouri ‐ from stunning scenery to dynamic history, the Show Me State has a lot to offer. Kansas City and St Louis are both fascinating cities with their own distinctive charms, and although this is the most populous of the Plains states, it also has more lush forest territory than any other, so there's lots of varied terrain to explore. For instance, the undulating Ozark Mountains are a world of their own, where labyrinthine valleys split verdant peaks and roads wind round endless miles of waterways snaking off from the Lake of the Ozarks.
If you're a beer lover, Missouri's ale industry covers everything from craft beer microbreweries producing small batch special brews to giants like Anheuser-Busch churning out countless barrels of Budweiser, the first US beer sold coast-to-coast. And if you want to swap four wheels for two (or strap on your hiking boots), the Katy Trail is a scenic 240-mile pathway intersecting the entire state. If you're traveling with kids in town meanwhile, Worlds of Fun amusement park is always a hit, and the Amish Community of Jamesport provides a unique peak into a unique culture.
Foodies are always satisfied in Missouri too ‐ apart from the connoisseur beer scene, this is a soul food capital. There's lots to choose from, but the blackberry fried chicken and blackpea salad at Honey Chile Please in Waynesville is highly-rated, as is the fried catfish at Sweetie Pie's in St Louis (as seen on TV!).
Iconic Route 66 also runs right through the heart of Missouri, and it's bordered by great states like Illinois, Tennessee, Kentucky and more. So it's the ideal place to hire a car and explore.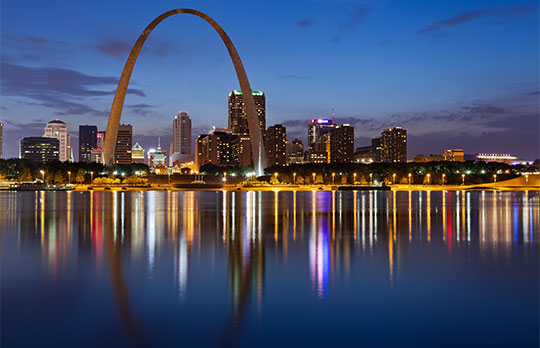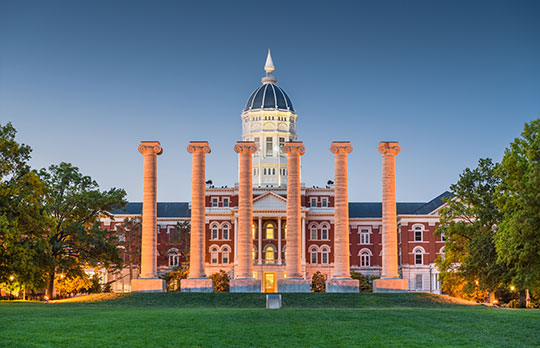 Top tips on driving in Missouri
We'll get right on to your scenic road trips from Missouri, but here are a few useful driving tips first.
As you would expect, you should always wear a seatbelt in this state and never drink and drive. Always slow down when approaching construction zones, leave adequate room between your vehicle and the one in front, and take turns to merge in busy areas.
Speed limits in Missouri are 60mph on interstate freeways, highways, and expressways in urban areas, 65mph on rural expressways and 70mph on rural interstates and freeways.
Now buckle up for your road trips!
Branson MO to Jasper AR
Let's start your sojourns out of Missouri with a short skip to Arkansas. Jasper is just one hour away via US-65 S and AR-7 S ‐ and it's a great day trip destination. If you fancy a scenic loop to get a feel for the place, Arkansas Grand Canyon is stunning ‐ a massive valley southeast of the city that skirts AR 7. Meanwhile Emma's Museum of Junk is a must-see alternative attraction, with everything including the kitchen sink on display. The Newton County Famers Market sells fresh local fare, and you can even sleep in the great outdoors at Erbie Recreation Area.
Poplar Bluff MO to Jackson TN
How does a drive south east from Poplar Bluff into Mississippi sound? Jackson is around two and a half hours away via US-412 E and it's always a rewarding city to spend time in. The Museum of Natural Science at LeFleur's Bluff State Park brings the Mississippi region's natural history alive through exciting interactive exhibits, and 'The Swamp' greenhouse even has alligators and turtles! Also, Jackson Zoological Park boasts over 200 animal species, including chimps, monkeys and tigers.
St Louis MO to Bloomington IL
Illinois is always an interesting state for a getaway and if you're based in St Louis, Bloomington is just two and a half hours away via I-55 N. The David Davis Mansion is a must-see for history fans ‐ Davis was US Supreme Court Justice from 1862 to 1877 and a mentor to Abraham Lincoln. And Miller Park Zoo has some really unusual animals, such as red pandas, Galapagos tortoises and wallabies. Meanwhile, the Children's Discovery Museum is a hit with any kid with a thirst for knowledge ‐ located near Bloomington-Normal Station, its various zones introduce tomorrow's leaders to engineering, agriculture, and art.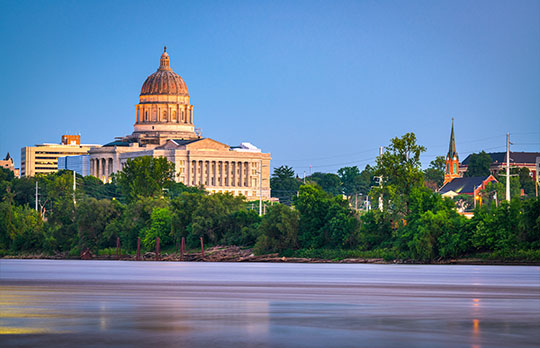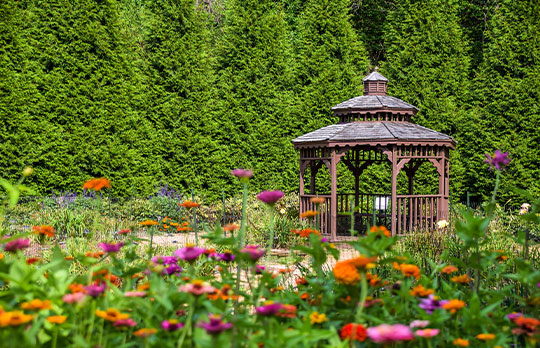 Colombia MO to Louisville KY
Everyone loves a weekend in Kentucky. And if you're based in Colombia, legendary Louisville is around six hours away via I-70 E and I-64 E. There's so much to do in this city that you'll never be bored ‐ the Kentucky Derby Museum is marvelous, and if you're feeling adventurous, the Louisville Mega Cavern boasts the only underground zip line course on the planet. If you're a boxing fan, don't miss The Muhammad Ali Center ‐ an engaging mega-complex dedicated to the career and legacy of 'The Greatest'.
Jefferson City MO to Litchfield IL
Ready for another inspirational Illinois road trip destination? Litchfield is around three hours from Jefferson City via I-70 E and the route takes you past St Peters and Lake St Louis. Lots of cultural delights are waiting in Litchfield, like the Neoclassical Carnegie Library Building, Route 66 Welcome Center, and Sky View Drive-In. It's also outstanding for great outdoors activities like horse-riding, boating, and camping at picturesque Lake Lou Yaeger ‐ treat yourself to a relaxing night under the stars and some cozy campfire tales.
Kansas City MO to Emporia KS
Emporia Kansas is one hour and 40 minutes away from Kansas City, via I-35 S. And it's well worth the gas (or electric) spend. Cool things to do here include admiring the awesome architecture in Downtown Emporia Historic District, strolling the gorgeous green Emporia State University campus, and heading for a hike in the scenic Flint Hills. The Granada Theater is another great place to hang out ‐ this handsome Spanish Revival building hosts top live music acts, dance groups and comedians.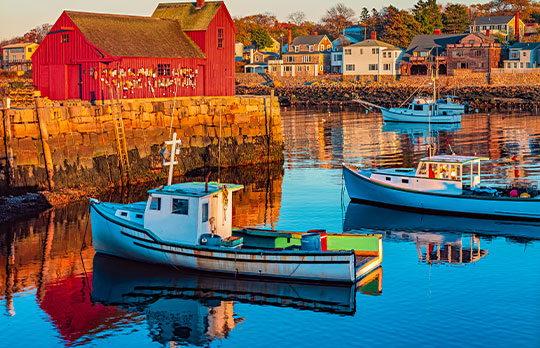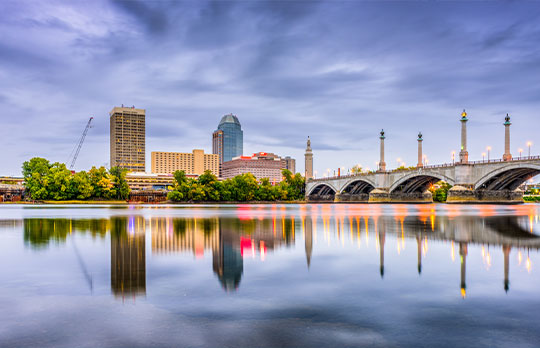 Springfield MO to Bartlesville OK
Does heading west from Springfield into Oklahoma float your boat? Bartlesville is two hours and 50 minutes away via I-44 and US-60 W ‐ you should definitely stay overnight to make the most of this delightful destination. Named after the first Caney River settler, Jacob Bartles, Bartlesville is home to the huge Phillips Petroleum Company, as museums, nature reserves and a lively arts scene. Woolaroc Museum and Wildlife Preserve has buffalo, bison and longhorn cattle, and Price Tower is the only Frank Lloyd Wright skyscraper ever completed. Other attractions include the Kiddie Park fairground, Frontier Swimming Pool, and Eastland Shopping Center.
Rockport MO to Vermillion SD
Based in Rockport and yearning for a South Dakota road trip? Vermillion is three hours away via I-29 N and it's just as vibrant as it sounds. Set on the banks of the Missouri River, this oft-overlooked town is home to the National Music Museum, the magical Spirit Mound Historic Prairie, and lip-smacking Mr Smith's Café and Bakery. If you're full of beans, you can hike the scenic Vermillion River Trail, and the Valiant Vineyards Winery and Distillery is South Dakota's oldest ‐ enjoy a few glasses of the good stuff and stay overnight at the onsite bed and breakfast.
Kennet MO to Birmingham AL
Need to escape Kennet for a weekend? Birmingham, Alabama is around five hours away via I-22, but you can stop off at Jackson or Booneville on the way, and it's well worth the extra effort. Once you get to Birmingham, a tour of the Sixteenth Street Baptist Church and Birmingham Civil Rights District is a fantastic first activity, while the Birmingham Museum of Art has 20,000 works from around the world. If you love cars meanwhile, you'll be in seventh heaven at the Barber Vintage Motorsports Museum.
Trenton MO to Tecumseh NE
Does a trip from Trenton to Nebraska tickle your fancy? Tecumseh is two hours and 50 minutes away via I-29 N and it might become your next favorite staycation destination. There's a lush city park where you can stroll or play tennis, an aquatic center where you can splash around 'til your heart's content, and a lovely 9-hole golf course just out of town. If you're adventurous, head out to Indian Cave State Park and enjoy 3000 acres of wilderness, camping and hiking.