25 Best Rooftop Bars in the US
From sky-high hotel bars to speakeasy-style hideaways, the United States is brimming with brilliant rooftop bars. Looking for booze with some serious views? Here are the 25 best rooftop bars in the US for all your day-drinking, sunset-seeking needs this summer.
Best Rooftop Bars in the US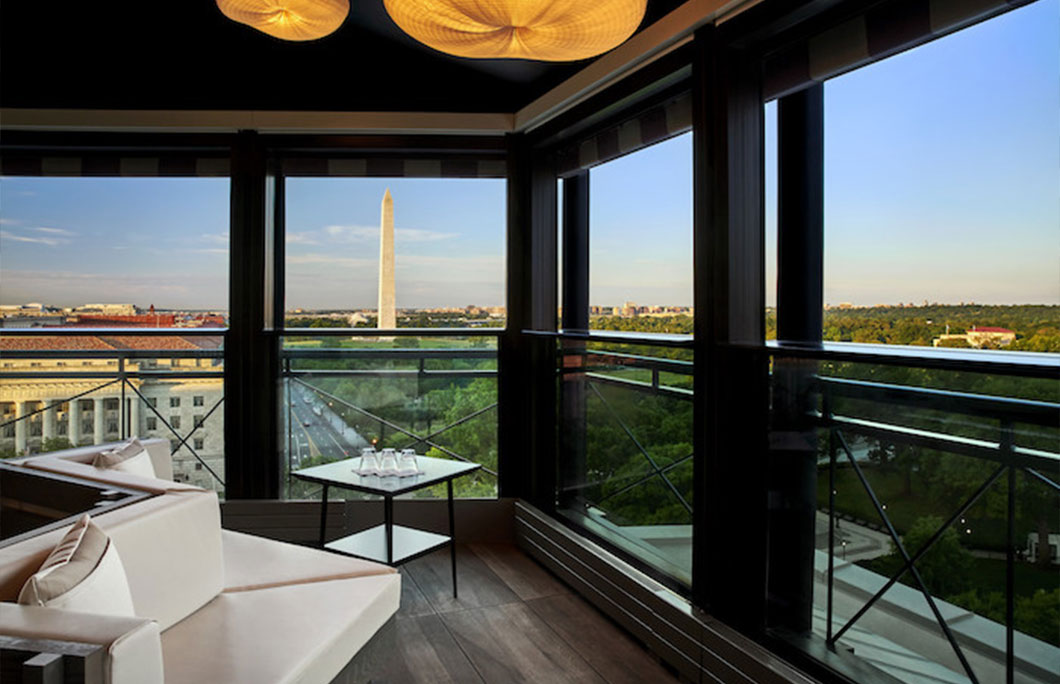 1. POV Rooftop Bar & Restaurant (Washington D.C.)
Washington can claim at least a dozen brilliant rooftop bars, but POV offers the most coveted views of the city. Set on the 10th floor of the swish W Washington Hotel, the bar overlooks Washington Monument and the White House. You can either lounge outdoors under the covered awning or take in the cityscape from inside, thanks to crystal clear floor-to-ceiling windows.
There's an extensive wine list with craft cocktails and beers too, as well as a kitchen menu serving up seafood and burgers. The decor is stylish and sophisticated, so you'll want to make sure your clothes match.
Check out the best rooftop bars in Washington here
---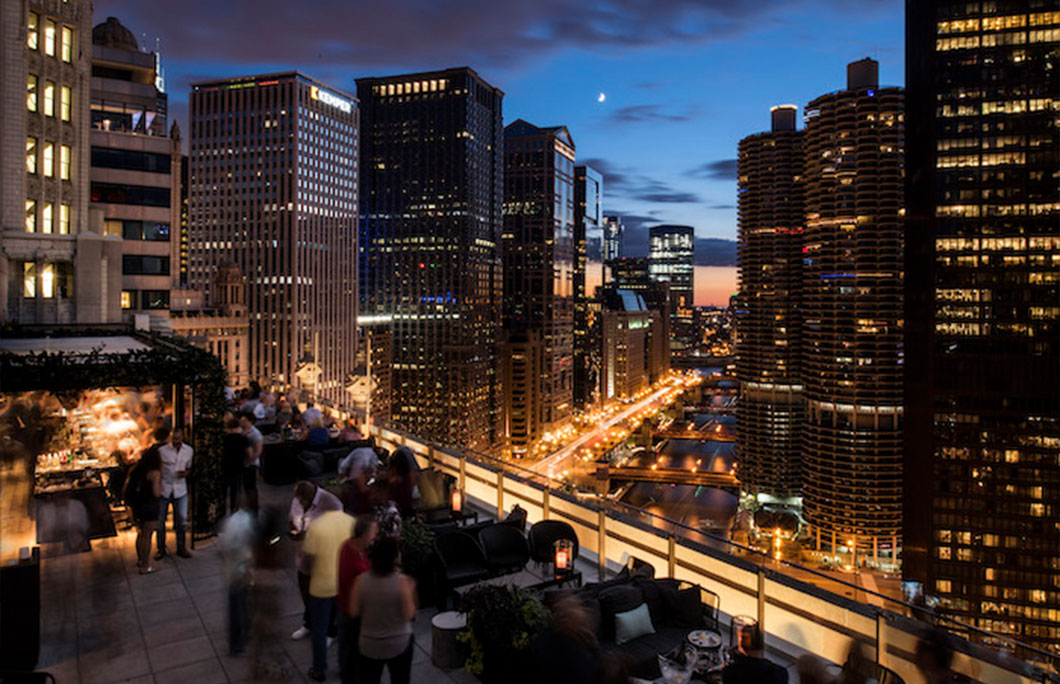 2. London House Bar (Chicago, Illinois)
In a city full of skyscrapers, there's plenty of sky-high bars but London House is at the top of them all. Located on the 22nd floor of the iconic London House Hotel, guests can enjoy sparkling views of the Chicago River, Lake Michigan and the Magnificent Mile. Combine that with killer drinks and a friendly atmosphere, and it isn't hard to see why it's one of the most popular spots in town. So popular, in fact, that you'll need a reservation to secure a spot here.
Check out the best rooftop bars in Chicago here
---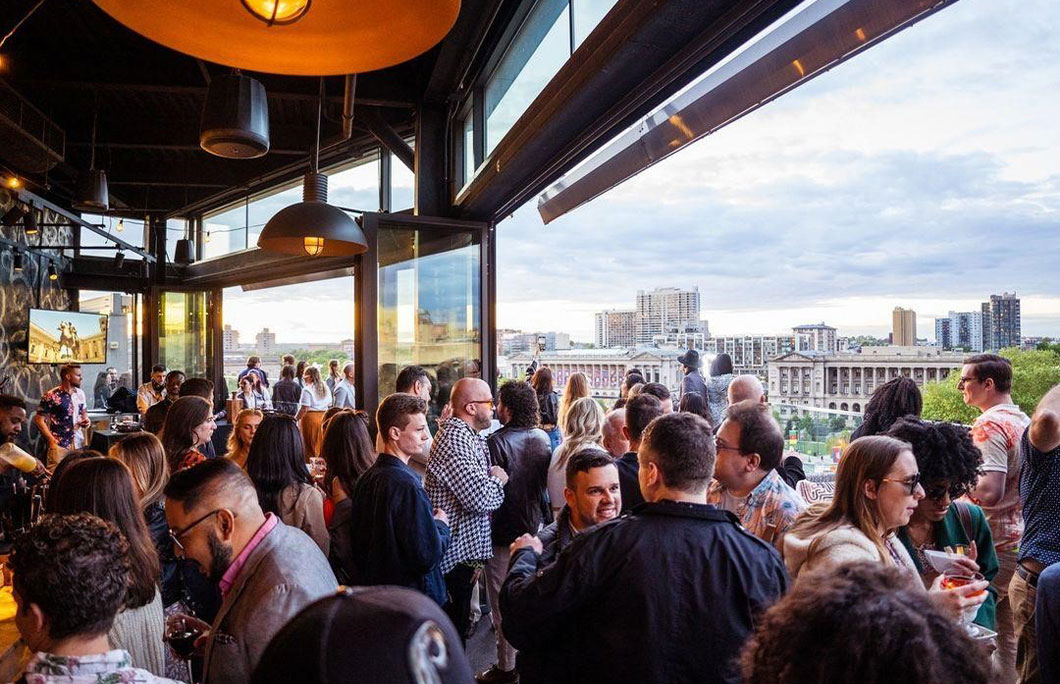 3. Assembly (Philadelphia, Pennsylvania )
Assembly is Philly's favourite rooftop bar for good reason. First, there's the fact that you can enjoy sunset views all year round –even in the chilliest winters – thanks to its firepit pods and extendable rooftop. Then there's the sparkling service. The food is top-notch too, with crowdpleasers including beef barbacoa tacos and chilled shrimp.
At nine stories high it's not going to set any records for height, but it might just do for those cocktails. As well as the classics, you'll find flamboyant creations like the 'Bittersweet Poetry', made with coconut-washed Aperol, Kinsey Rye, Cocchi Americano and Dry Vermouth. Grab a margarita flatbread and polish it off with their 'old Cuban' cocktail.
Check out the best rooftop bars in Philadelphia here
---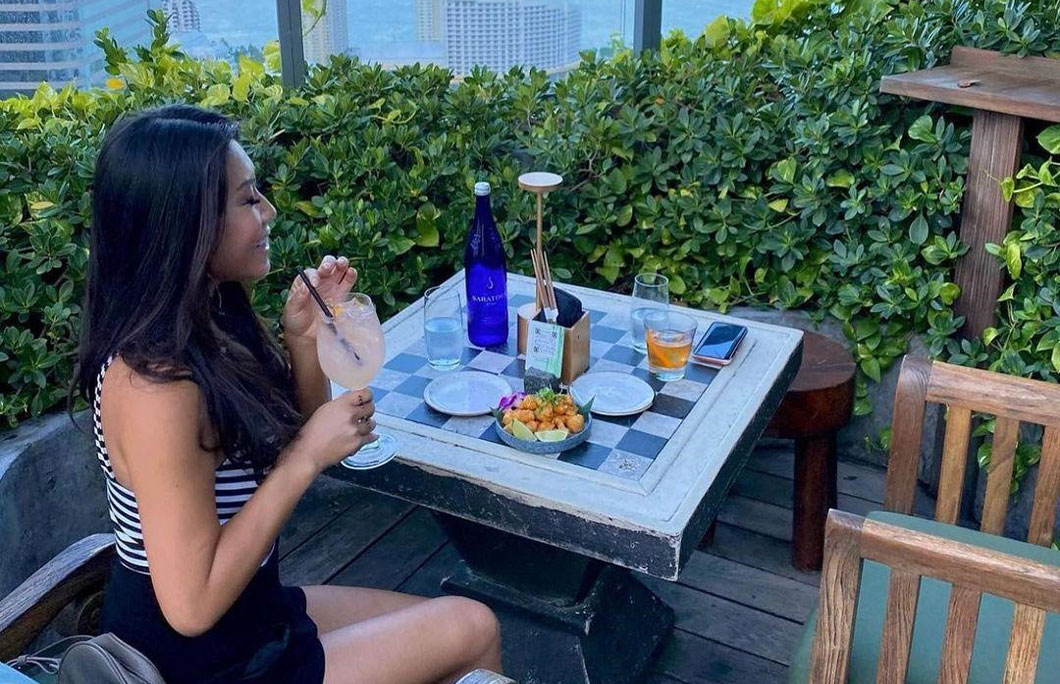 4. Sugar (Miami, Florida)
Sugar is exactly the sort of bar you'd expect to find on top of an achingly hip hotel. Set on the 40th floor of EAST Miami Hotel, the bar is in the midst of thick ferns and bamboos in an Asian-inspired garden. The sunset views over Biscayne Bay are a big draw, but it's the brilliantly made cocktails that really get the crowds going. Inspired by Asian flavours, you'll find cocktails made with Japanese liquors and surprise ingredients, like Thai Chilli. We recommend 'The One in a Melon', made with gin and watermelon puree.
Check out the best rooftop bars in Miami here
---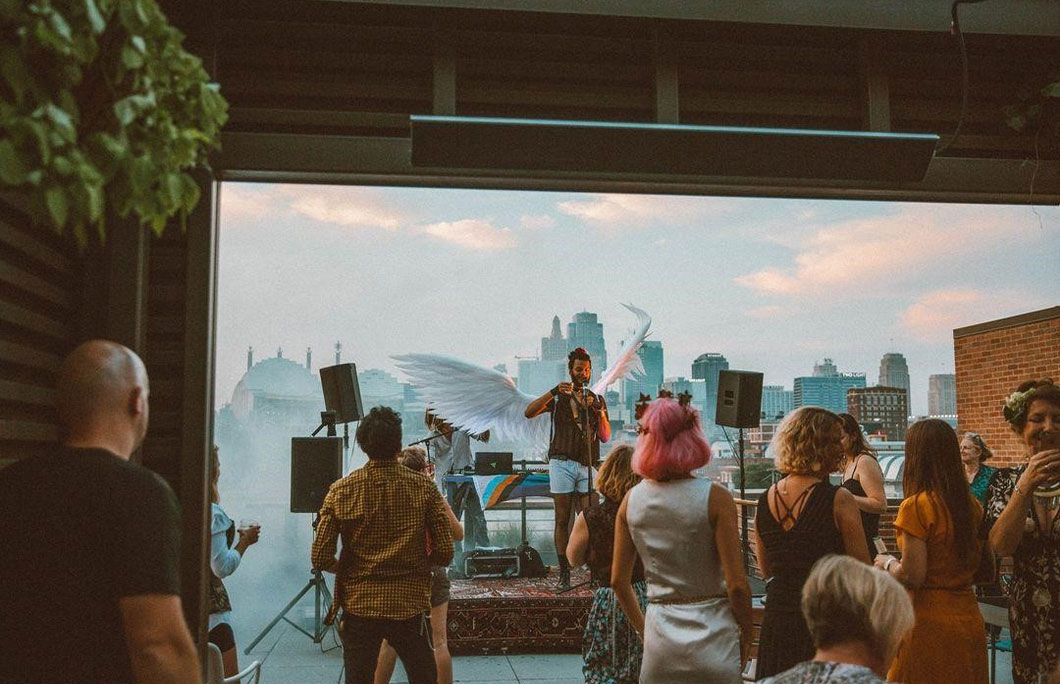 5. Percheron at Crossroads Hotel (Kansas City, Missouri)
Kansas City's first rooftop bar is a belter. Built in a former PBR bottling plant, it serves up the best sunset in the city with 360-degree views of the city skyline. The terrace is decked out with comfy sofas, large communal tables and patio games – built for long-haul drinking sessions. Unsurprisingly, you'll find ice-cold PBR beers here, as well as craft cocktails and a good wine list. On Sunday afternoons there are DJ sessions too.
Check out the best rooftop bars in Kansas City here
---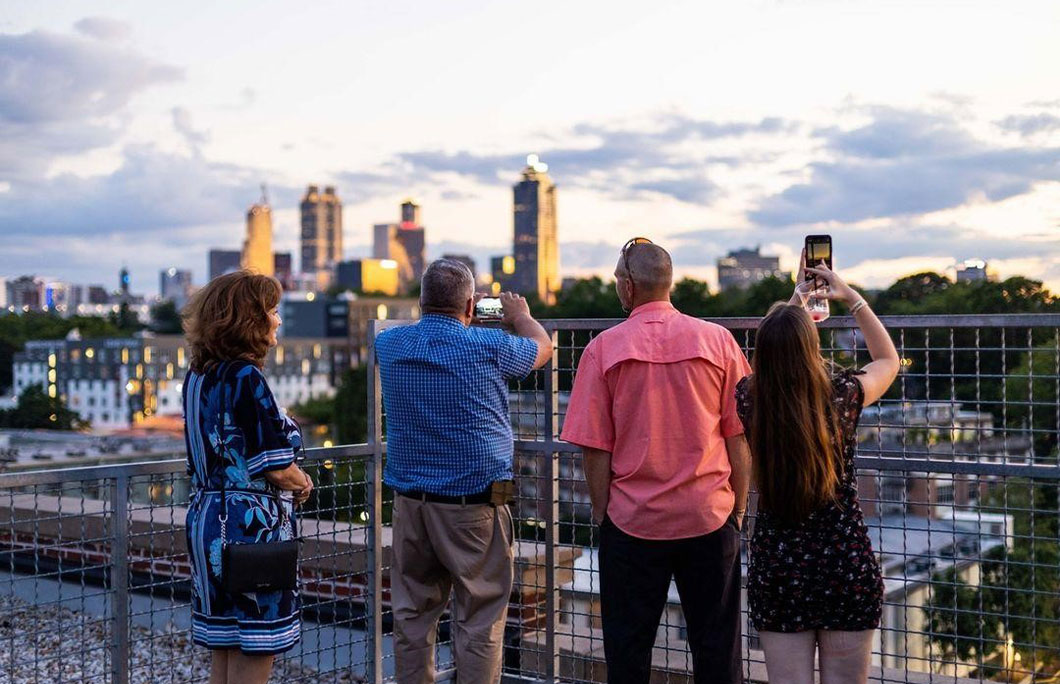 6. 9 Mile Station (Atlanta, Georgia)
Boasting the liveliest rooftop scene in the city, 9 Mile Station is located at Ponce City Market, formerly home to Sears, Roebuck & Co. As well as the bar, there's an amusement park, beer garden with deck chairs and three-storey slides. The adventures begin at ground level though; to get to the top you need to hop on a tour guide-operated freight elevator.
Upstairs you'll find craft beers, a lengthy wine list and creative cocktails. They're good at food here too, with an elevated menu of European-inspired American dishes like pimento cheeseburgers and molasses baked beans. And when you're tired of the views, the drinks and the food, you can challenge a friend to a round of mini-golf too.
Check out the best rooftop bars in Atlanta here
---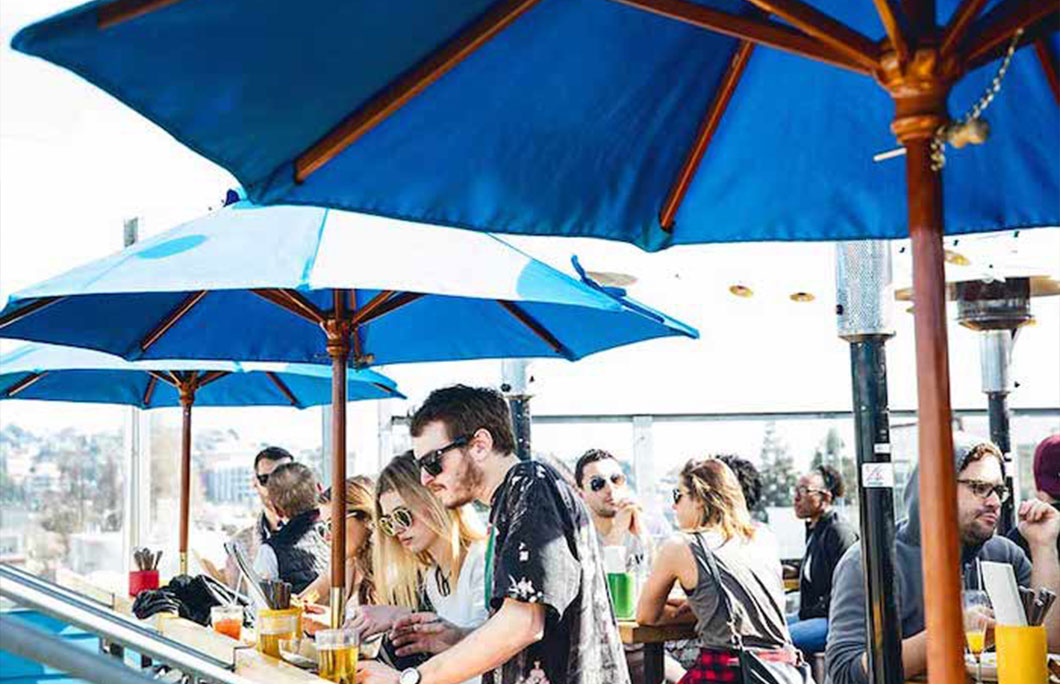 7. El Techo (San Francisco, California)
Thanks to its unpredictable weather, San Franciso doesn't usually get a look in when it comes to rooftop bars. But we couldn't ignore the city's beloved El Techno. Popular year-round, thanks to its retractable roof and heaters, you can enjoy city views while tucking into Latin American street food. There's a rooftop brunch at the weekend too. The cocktails are delicious and come in pitchers too, with concoctions like the 'Tres Amigos', made with sangria, grappa, lager and Mi Campo Blanco. Need we say more?
Check out the best rooftop bars in San Francisco here
---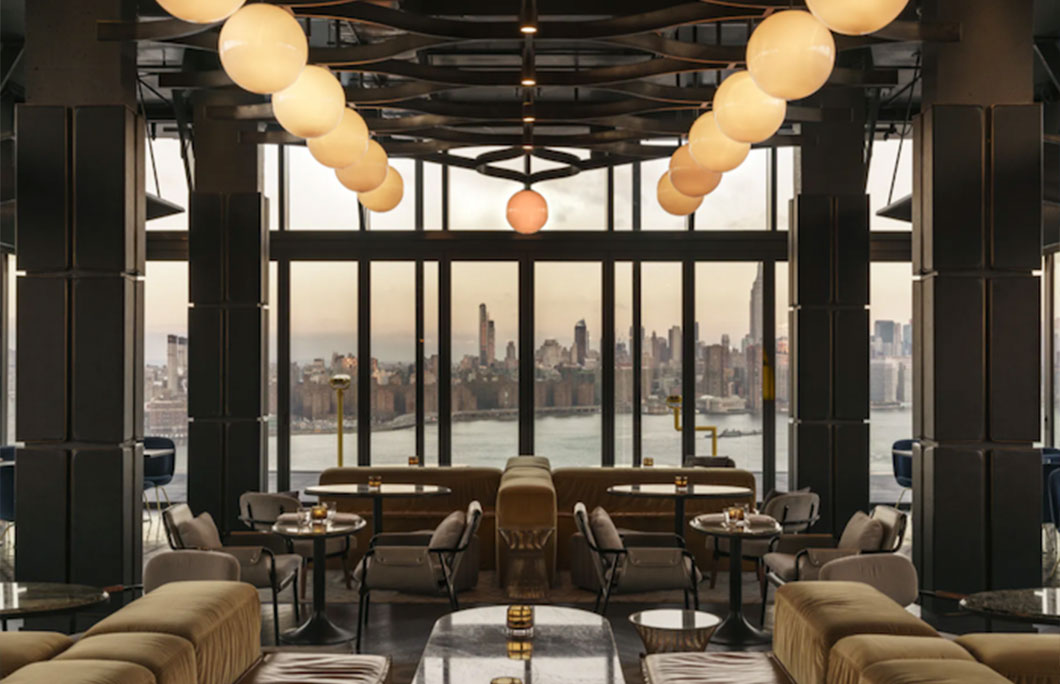 8. Westlight (Brooklyn, New York)
Brooklyn boasts the best views of Manhattan – and nowhere has finer vistas than Westlight. The sleek, window-lined bar is set on the 22nd floor of The William Vale in Williamsburg, with views over New York's iconic skyline. The food is fantastically fresh, with a menu created by Chef Andrew Carmellini. Wash it down with a classic cocktail, or a special vintage from the lengthy wine list.
Check out the best rooftop bars in Brooklyn here
---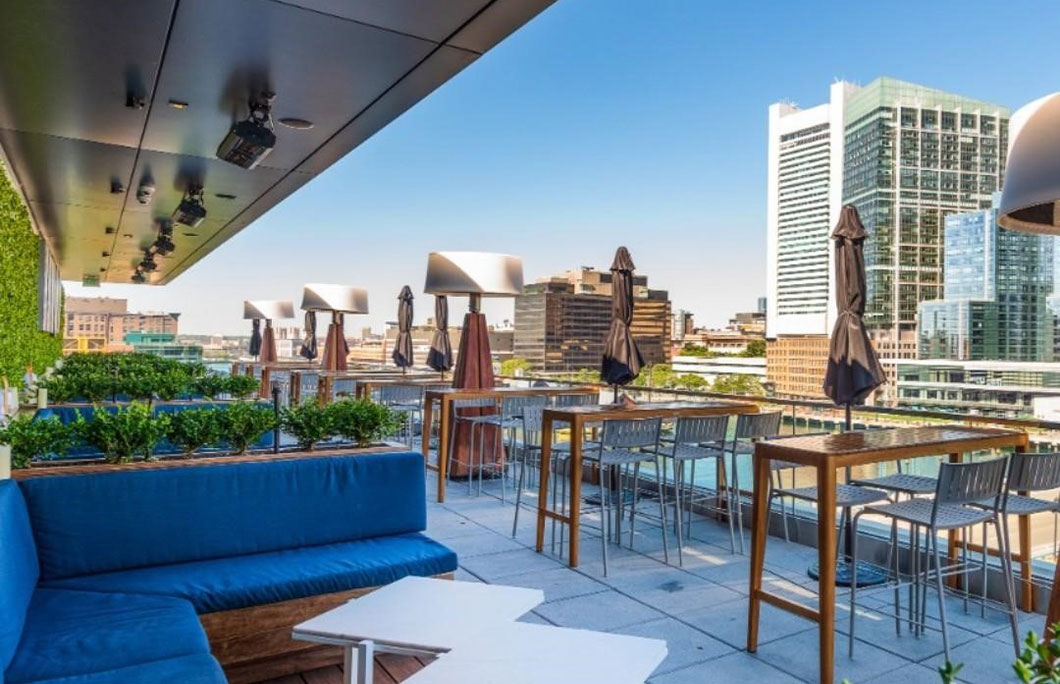 9. Lookout Rooftop Bar (Boston, Massachusetts)
Perched on top of the Envoy Hotel, Lookout is one of the best rooftop bars in Boston for its sweeping harbour views. It's the perfect destination for any occasion – afternoon brunches, romantic sunset date nights, casual catch-ups – which means it's popular too. You'll be able to spot the queue before you see the front door.
During the winter, they set up snuggly igloos to keep it cosy, while in the summer you can enjoy the sun-filled patio. Kick back, deep dive into the wine list and enjoy the trendy tunes.
Check out the best rooftop bars in Boston here
---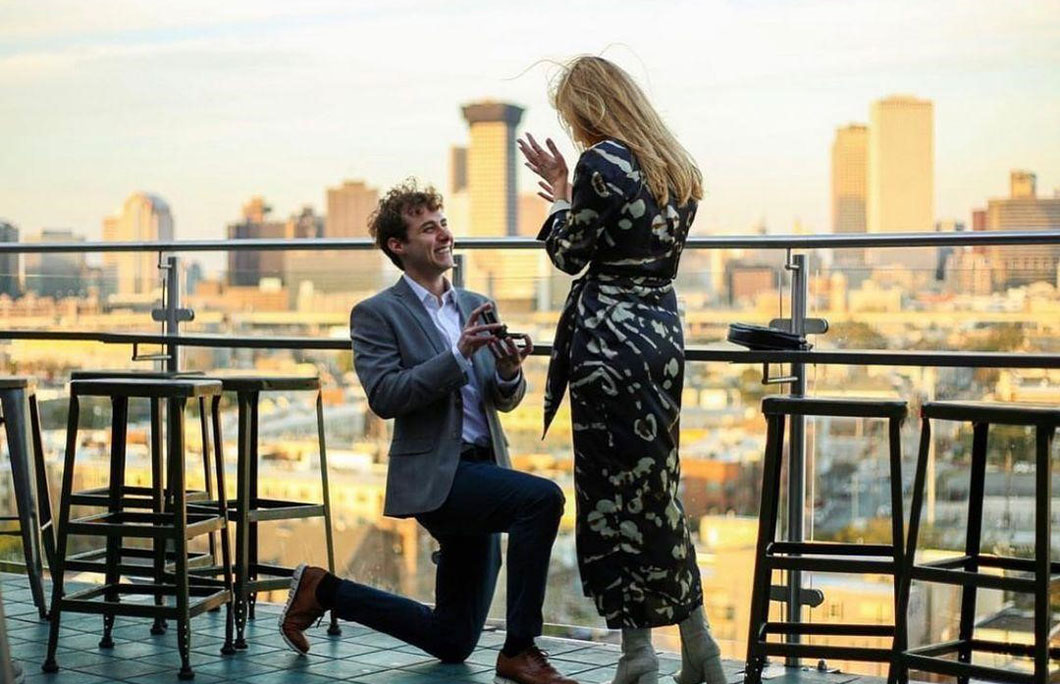 10. Hot Tin (New Orleans, Louisiana)
Of all the rooftop terraces in New Orleans – and let us remind you, there are many – Hot Tin stands out as one of the best. Occupying the 11th floor of the restored Pontchartrain Hotel, the bar offers unobstructed views of downtown New Orleans. Interiors are inspired by a 1940s artist's loft, serving up sophisticated speakeasy vibes.
There's an extensive drinks list, with creative and well-crafted cocktails, and it's reasonably priced too. Sit back under the blazing Louisiana sunshine, sip on your favourite cocktail and fix your eyes on that spectacular city skyline.
Check out the best rooftop bars in New Orleans here
---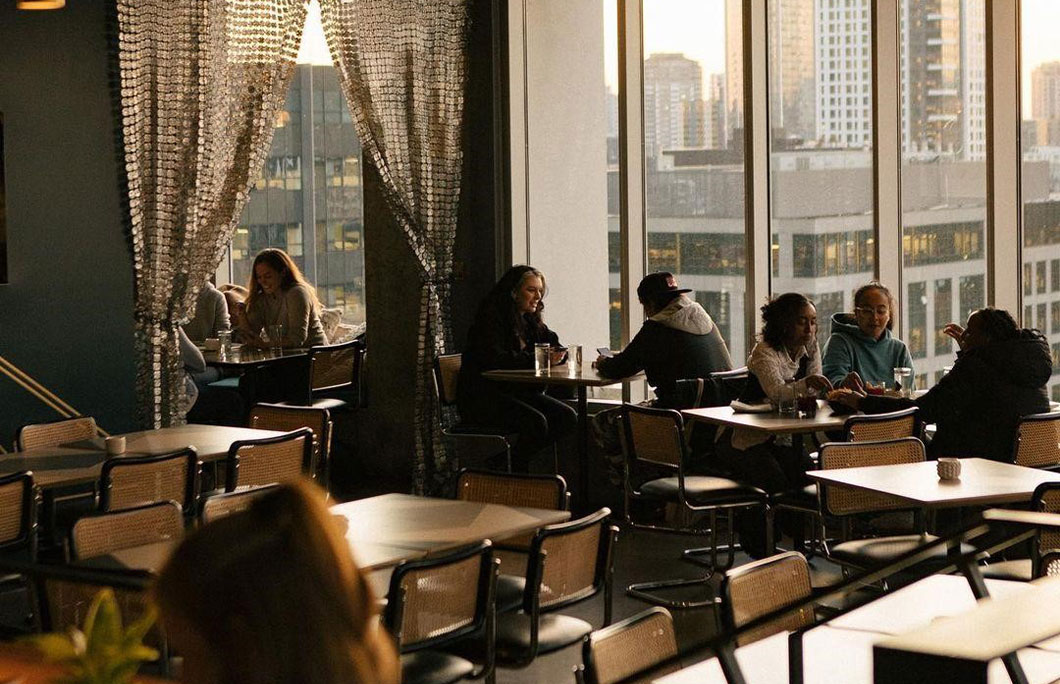 11. M Bar (Seattle, Washington)
Perched on the 14th floor, M Bar offers sparkling views over the whole of Seattle, right out to the Olympic Mountain Range. At 2,800 square ft., it's also the largest rooftop in the city. And yet, it's incredibly cosy too, with firepit lounge areas and blankets for after sundown.
As well as craft cocktails, visitors can enjoy some of the best food in the city. Chef Jason Stratton, one of the city's most famous chefs, serves up Middle Eastern meets Mediterranean dishes, like bay shrimp ceviche and chicken shawarma. Heaven.
Check out the best rooftop bars in Seattle here
---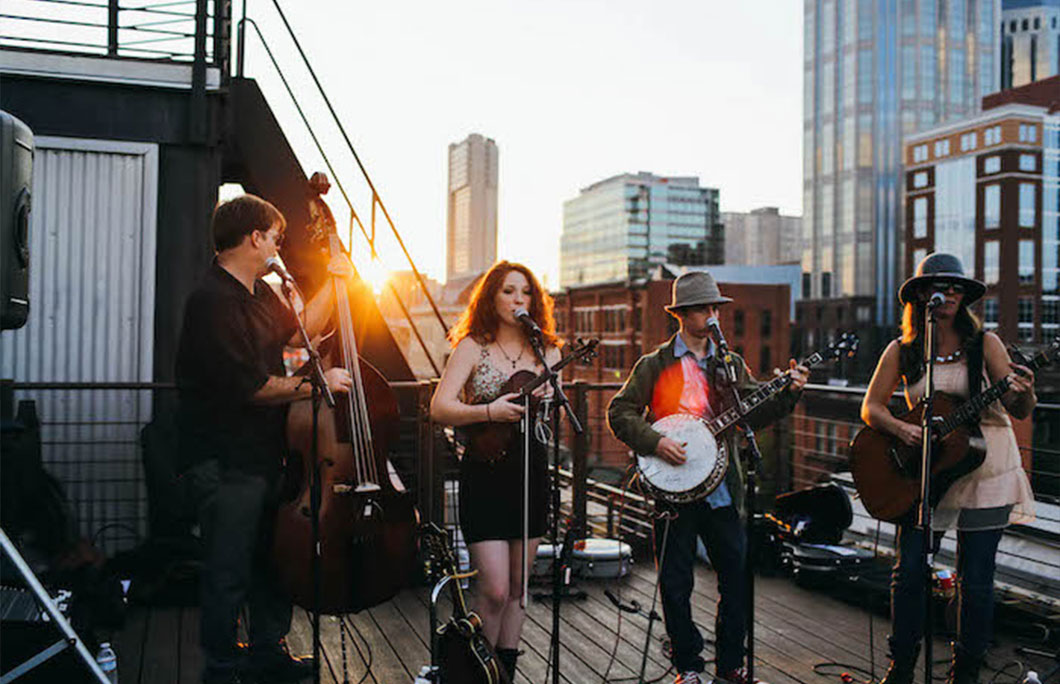 12. Acme Feed & Seed (Nashville, Tennessee)
Acme Feed & Seed is slap-bang in the heart of the honky-tonk scene in Nashville's Lower Broadway. Sure, we know big isn't always better, but it definitely is here. With 22,000 sq. ft (2043 sq. m) of cocktail, culinary and entertainment space, you could spend the whole day here. The rooftop bar offers 360-views across town, where you can spot landmarks like the Music City Center. Living up to its moniker of 'Music City', you'll find live music on the roof daily. And don't even get us started on their famous hot chicken.
Check out the best rooftop bars in Nashville here
---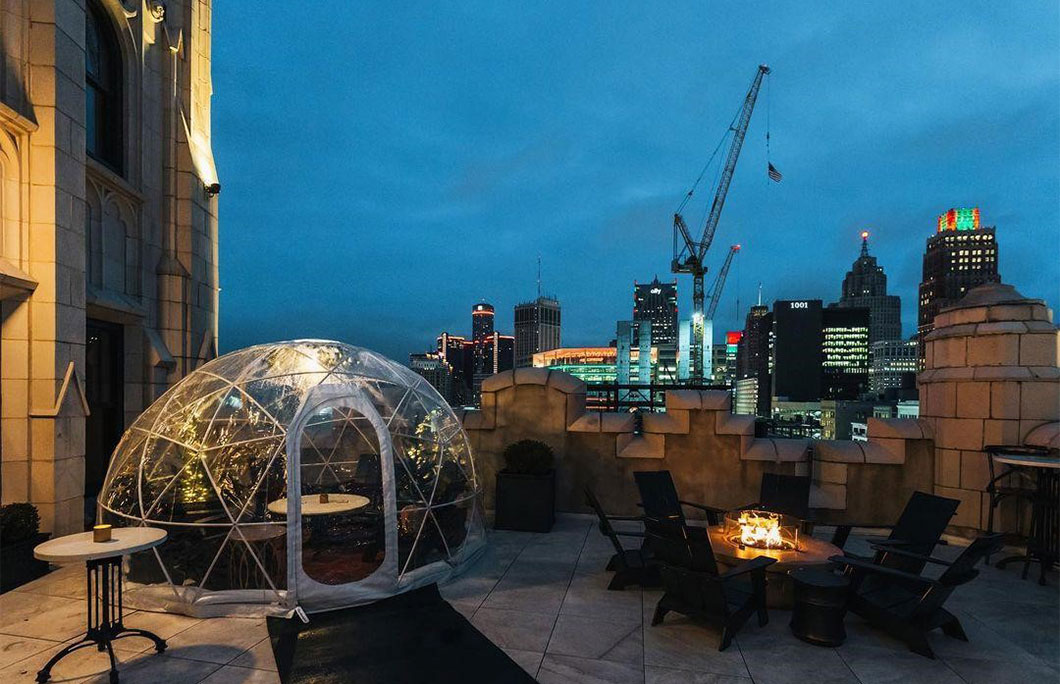 13. Monarch Club (Detroit, Michigan)
You'd be forgiven for thinking Detroit's rooftop bar should be non-existent, given its famously frosty winters – but it's thriving. The Monarch Club offers the best of old-school charm and a modern menu. Set in a restored neo-gothic Metropolitan, the terrace offers incredible views over downtown Detroit. In the winter, the floors make way for rooftop igloos, so you can enjoy views all year-round. Be your best Mad Men-self and order an Old-fashioned.
Check out the best bars in Detroit here
---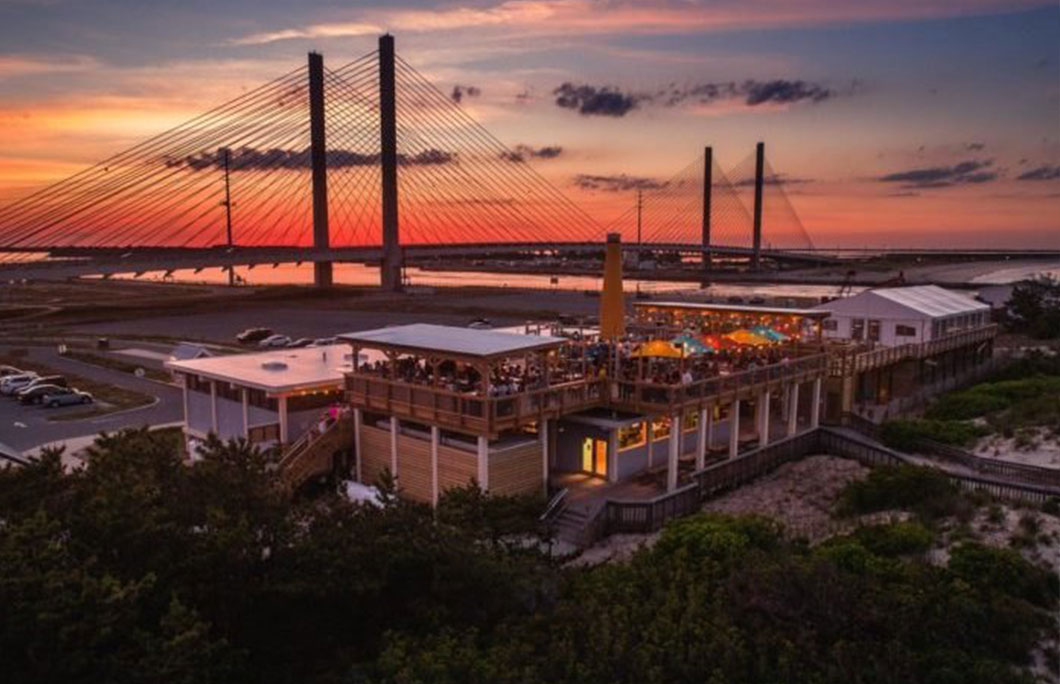 14. Big Chill Beach Club (Bethany Beach, Delaware)
Proving it's not all about height when it comes to the best rooftop bars, the Big Chill Beach Club offers panoramic views of the Atlantic Ocean, Indian River Outlet and Indian River Bay from its two-storey bar. It's about as close to the sea as you can get without getting sandy too. There's a Mexican-inspired menu serving up tasty tacos, salads and burgers to tuck into, as well as an extensive drinks list. And, when the sun gets too much, you can retreat to a shady spot in a private cabana tent.
Check out the best rooftop bars in Austin here
---
15. P6 (Austin, Texas)
A design-focused hotel deserves a design-focused rooftop bar, and P6 is just that. Set on the top floor of a parking garage at The Line Hotel, P6 is all pastel pink canopies, granite and rattan, with a stylish soundtrack to match. It's romantic, intimate and its views of Lady Bird Lake are unbeatable. The cocktail, wine and beer list is extensive but save plenty of room for a few of the small plates, which include wagyu beef carpaccio and saffron pappardelle with shrimp butter.
Check out the best rooftop bars in Austin here
---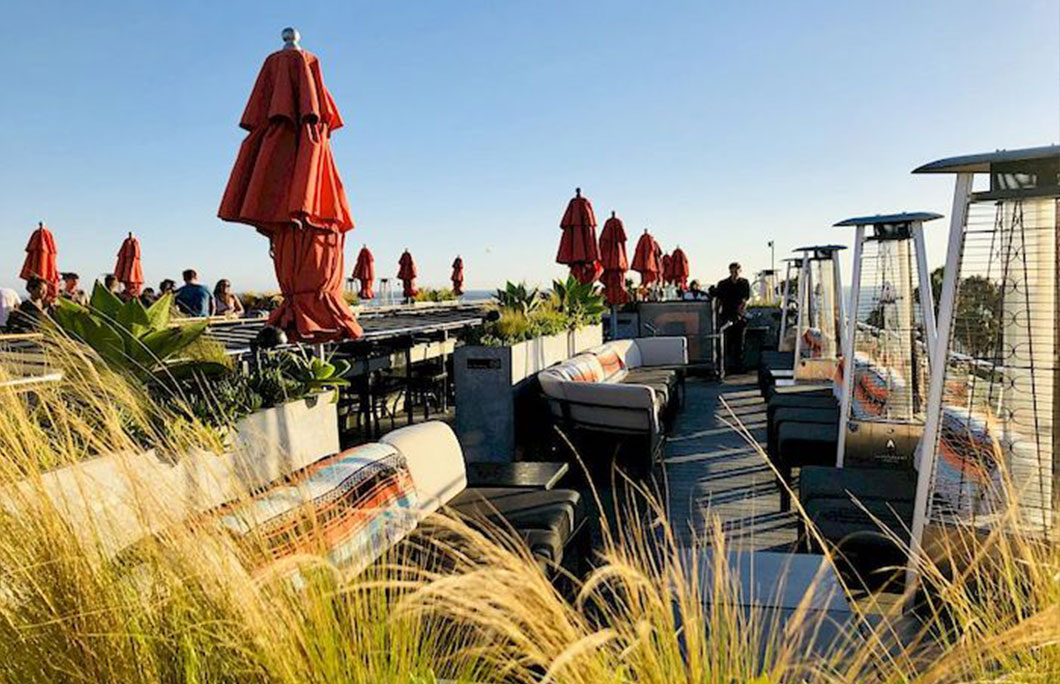 16. High Rooftop Bar (Venice Beach, Los Angeles)
The only rooftop bar in Venice Beach offers superb views over Muscle Beach, the Venice Beach Boardwalk and out to the Pacific Ocean. The 100% open-air space is decorated in sea blue, with decking and bright orange umbrellas to echo the views. Cocktails are inspired by the setting too; the current menu is a salute to The Doors, with names like 'Light My Fire' and 'People Are Strange'. They're good at food here too, with brunch and bubbles at the weekend and classic 'Venice Way Pizza'.
Check out the best rooftop bars in Los Angeles here
---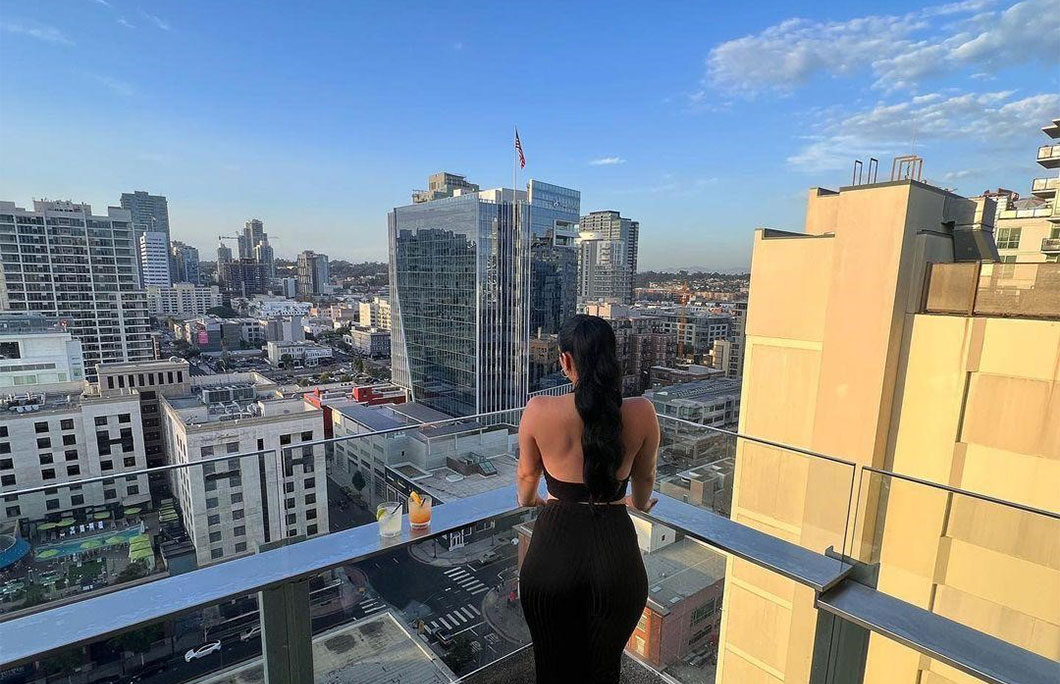 17. Altitude (San Diego, California)
At 22 floors high, Altitude is at the tippy-top of San Diego's skyline. Not only are the views the best in the city but its location, right next to Petco Park, means you can catch a free ball game if you time it right. Head there on a weekday for 'Sunset Hour', when the cocktails will set you back just $7. While you're at it, pick up a plate of Buffalo Chicken Wings and order them dripping in a blue cheese dressing. You can guarantee a lively atmosphere too, helped by the DJ set backdrops at least three times a week.
Check out the best rooftop bars in San Diego here
---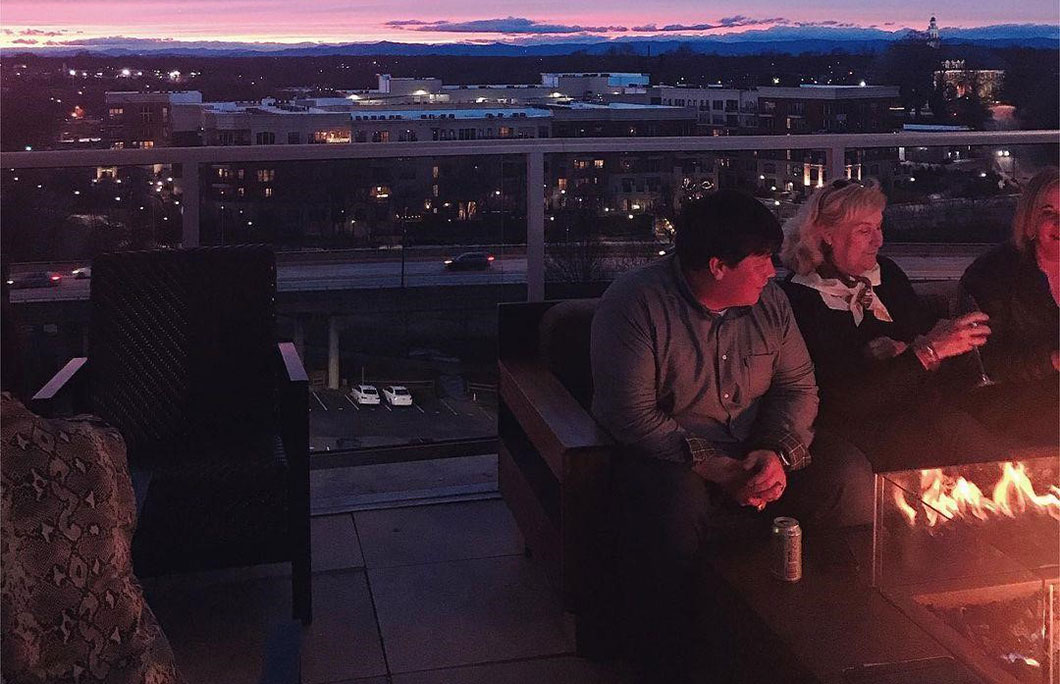 18. Up on the Roof (Greenville, South Carolina)
For a small(ish) city, Greenville boasts an awful lot of rooftop bars. But, none can compete with Up on the Roof for views and booze. Located south of the Reedy River, the bar overlooks downtown Greenville, the river and out to the Blue Ridge Mountains.
It's a chill-out suntrap in the heart of town, where you can sink back into huge comfy chairs, catch a game on the huge TV screens and keep toasty around the firepit tables when the sun goes down. Go for bottomless brunch, with $25 bottomless mimosas – and linger long into the evening.
---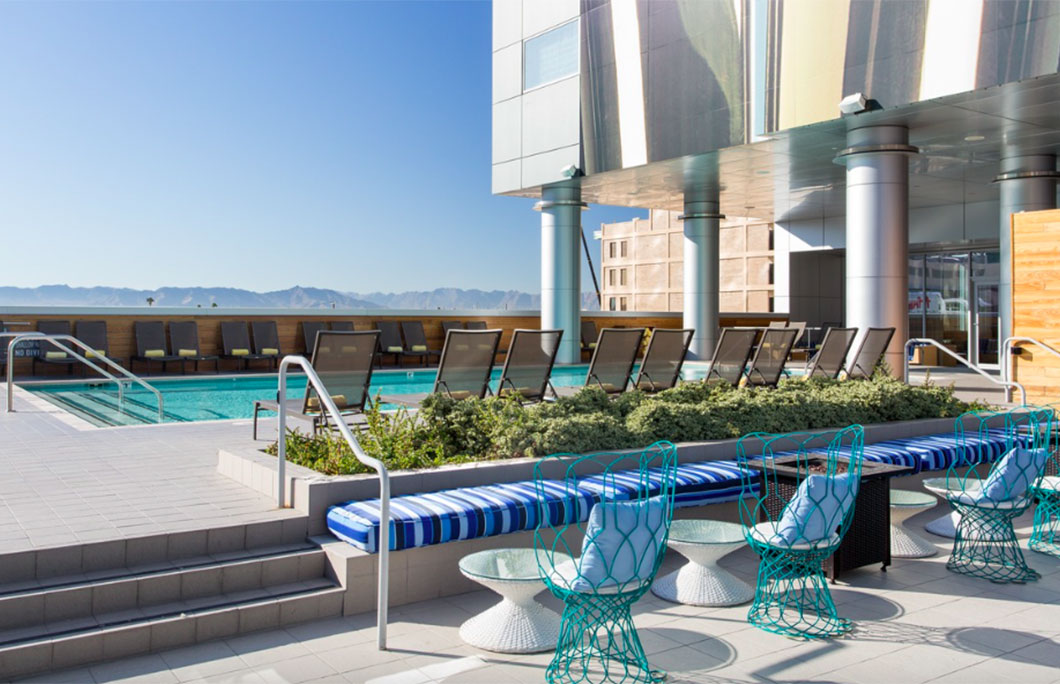 19. Lustre Rooftop Bar at the Hotel Palomar (Phoenix, Arizona)
---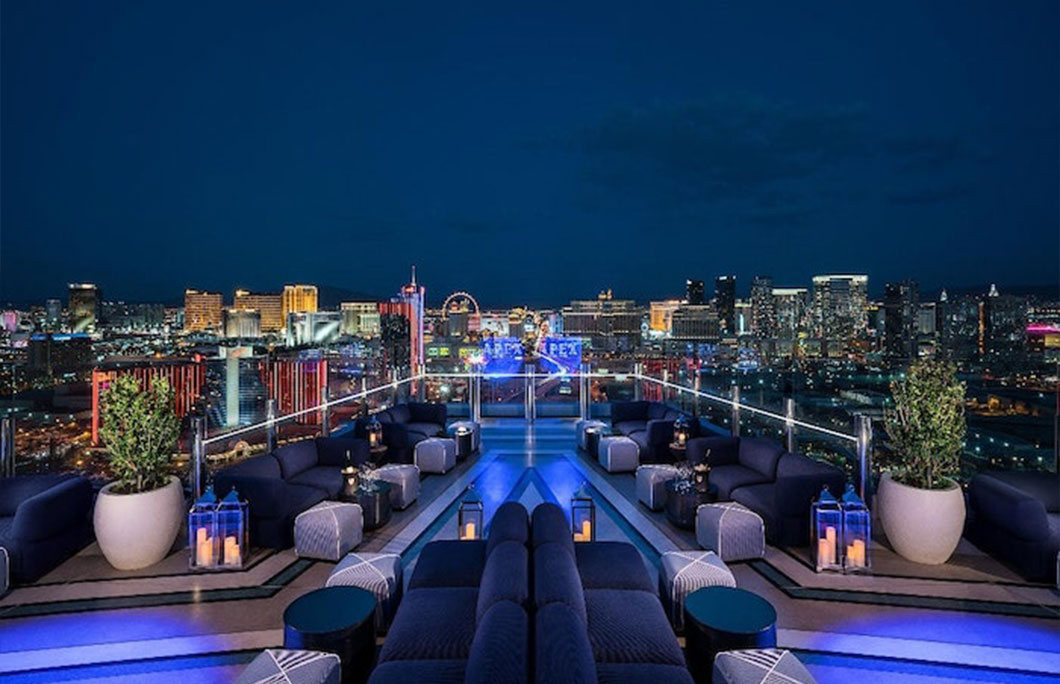 20. Apex Social Club (Las Vegas, Nevada)
At 55-storeys high, this upscale nightclub and rooftop bar is one of the highest bars in Vegas. The 8,000 sq.ft. venue is home to incredible top-of-the-world views over Vegas, sweeping across the entire city skyline and out to the desert. Inside the decor is ultra-glam, with a graphite and sapphire bar, a sculpture garden and pricy artwork.
Check out the best rooftop bars in Las Vegas here
---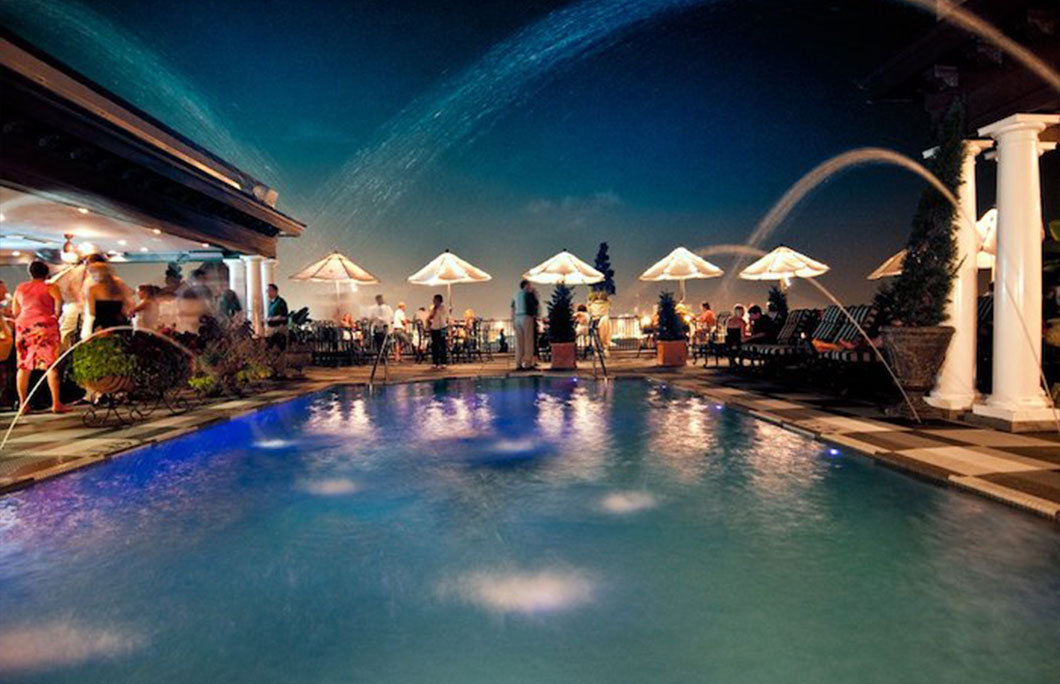 21. Market Pavillion Pool & Bar (Charleston, South Carolina)
Located on the top floor of the city's iconic Market Pavilion Hotel, this rooftop offers old-world aesthetics, smooth service and an extensive drinks list. They've even perfected the 'nitroni', a nitrogen-infused martini. You can see all of Charleston's most famous landmarks from the rooftop, including the Arthur Ravenel Jr. Bridge and Charleston City Market. And when the weather gets too sticky, you can pop into the pool for a dip too.
Check out the best bars in Charleston here
---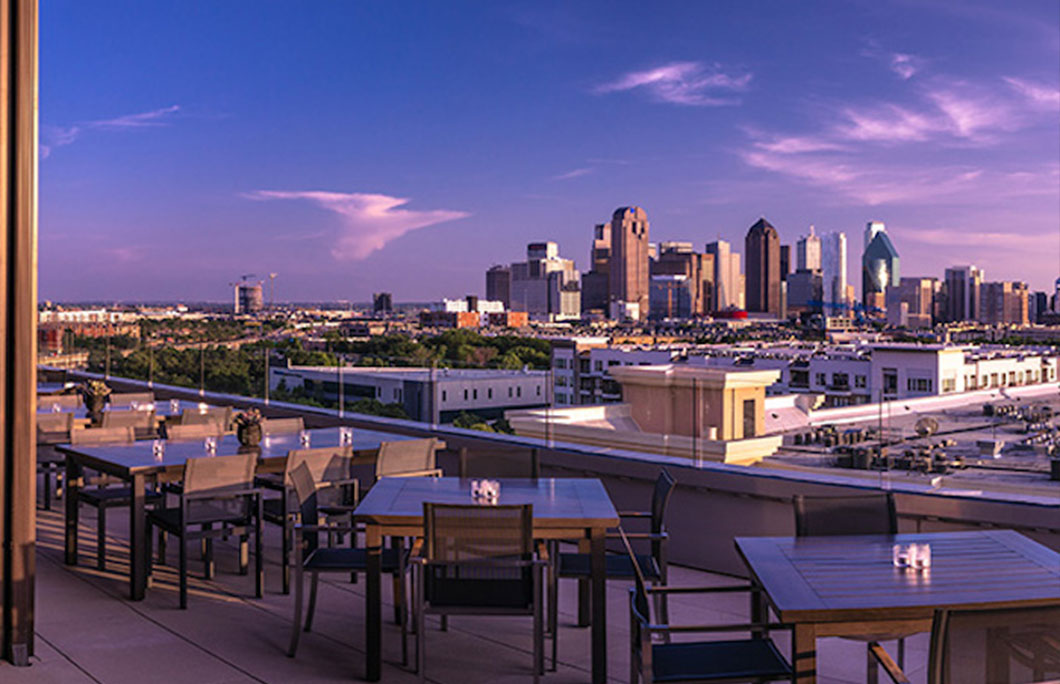 22. Upside West Village (Dallas, Texas)
Rooftop bars might not spring to mind when you think of Dallas but once you've visited Upside, they'll become synonymous. Located on the 8th floor of the Hilton Canopy Hotel, Upside West Village is right in the thick of the action, a short stroll from Downtown. The cocktails are pure creative genius, with signature creations like the 'Bridgette Bardot', made with gin and rhubarb liquor and the 'Betty Page', made with rye whiskey, cognac, sweet vermouth, green chartreuse and Benedictine. The sundown views over the city skyline are a winner too.
---
23. Belle's Cocktail House (Lexington, Kentucky)
It may not be the biggest rooftop bar on the block, but it does the best bourbon with birdseye views. What could be more fitting for a state that produces more than 95% of the world's bourbon? It's named after Belle Brezing, the madame who ran a high-class Victorian brothel and provided the inspiration for Belle Watling in Gone with the Wind. Bourbon comes in many forms here – straight, added to a creative cocktail and even served as a slushy.
Check out the best bars in Lexington here
---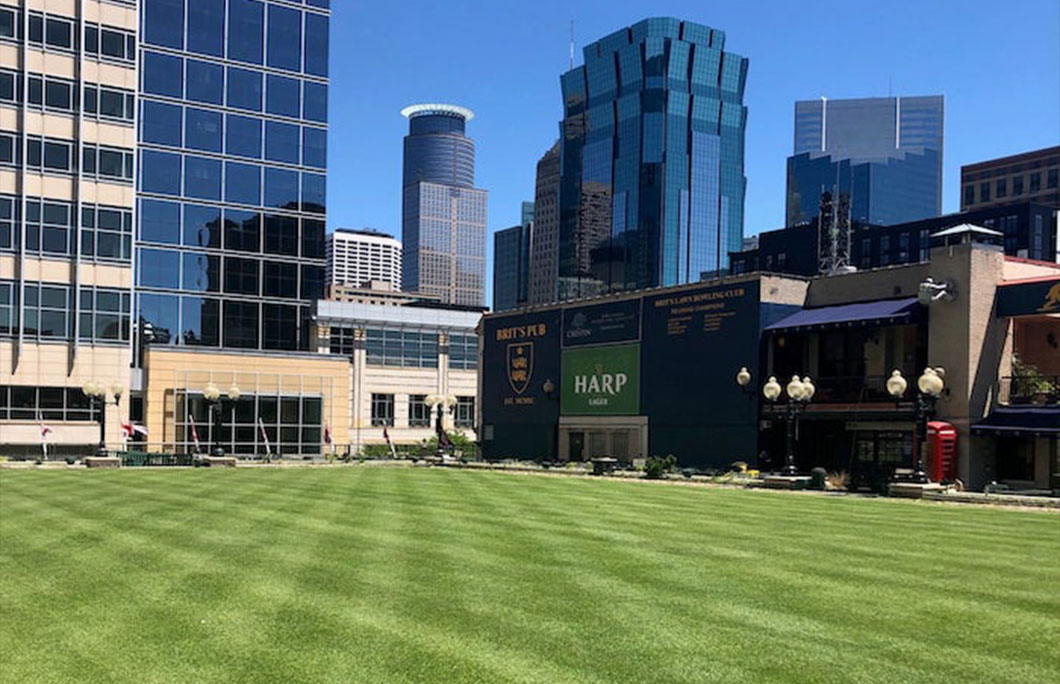 24. Brit's (Minneapolis, Minnesota)
It's rare to find a really good rooftop bar where you can simultaneously drink good beer and watch good sport. Brit's is one of the best. By rooftop standards, it's relatively modest at just two storeys high, but you don't visit Brit's for the views. It's decorated by and for Anglophiles, complete with red phone booths, British beer and the occasional pub quiz too. But best of all is the huge green lawn, built for lawn bowling. Come summer the sun-filled lawn is buzzing, especially if there's a big game on.
Check out the best bars in Austin here
---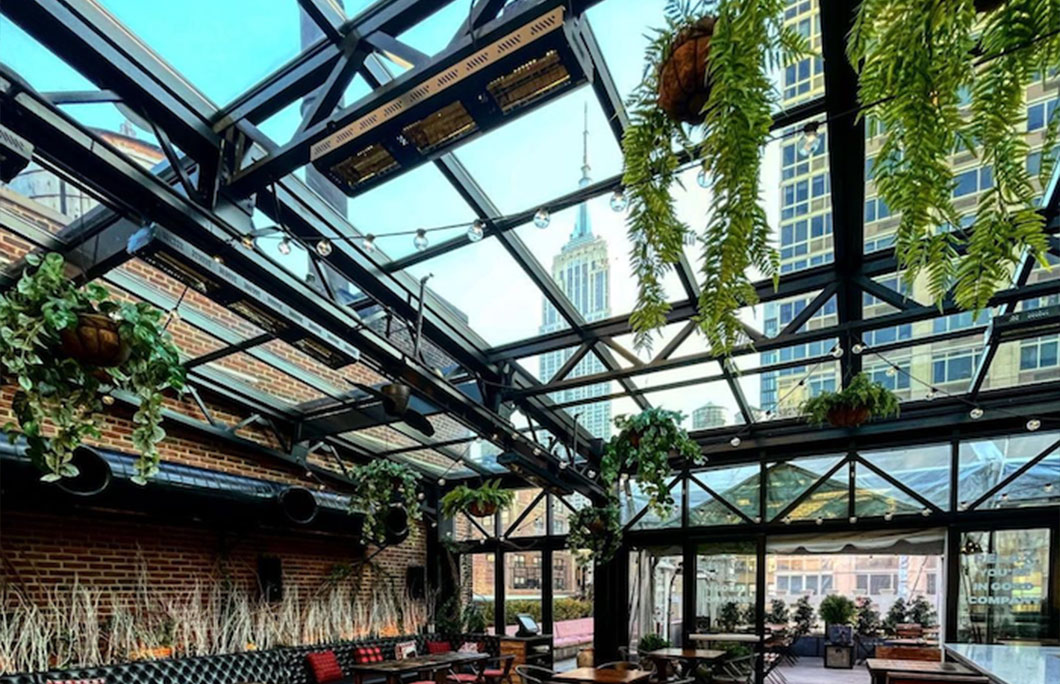 25. Refinery Rooftop (Manhattan, New York)
In a city that has more rooftop bars than rainy days, picking the best was always going to be controversial. But with the Empire State Building looming and unobscured views of the Manhattan skyline, it's hard to dispute Refinery Rooftop's longstanding title as the Best Rooftop Bar in the USA from USA Today. Open from lunch til' late, we recommend saving space for the flatbreads, tacos and signature wings. Order a margarita or mezcal old fashioned and take to the fairy-lit terrace for a sundowner with a view.
Check out the best rooftop bars in New York here
---