Top 10 Road Trips from Arkansas
Smackover AR to Shreveport LA
Texarkana AR to Dallas TX.
Fort Smith AR to Oklahoma City OK.
Jonesboro AR to Fourche Lake MO.
Pocahontas AR to St Louis MO.
Bentonville AR to Tulsa OK.
Little Rock AR to Indianola MS.
Bella Vista AR to Wichita KS.
Eureka Springs AR to Branson MO.
De Queen AR to Hugo OK.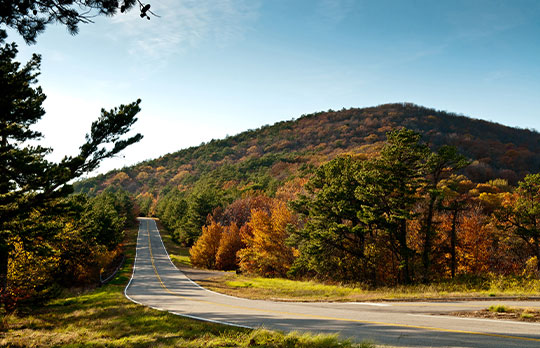 Top 10 scenic trips from Arkansas
Famous for the heady highlands that divide the Deep South and Midwest and the rich cultural history of the Mississippi Delta, the sublime scenery in Arkansas includes the Ozark and Ouachita Mountains, thick forests, white water rapids and a slew of state parks packed with lush meadows and dramatic panoramic outcrops.
You'll find lots of diverse communities here and each one has its own distinct charm. For example, former frontier town Fort Smith oozes Wild West history, Bentonville is the HQ of retail giant Wal-Mart, and spa towns Eureka Springs and Hot Springs are always cathartic destinations for chilling out and enjoying the healing properties of the waters and fresh air. State capital Little Rock sits in the center and it boasts bustling downtown nightlife, great restaurants, and gorgeous golf courses. It's also the stomping ground of former president Bill Clinton and home of the Clinton Presidential Library.
Located close to Mississippi, Louisiana, Missouri, Alabama, Kentucky and Oklahoma, Arkansas is also an excellent base for brilliant road trips ‐ hire a car here from Enjoy Travel and treat yourself to a regional tour.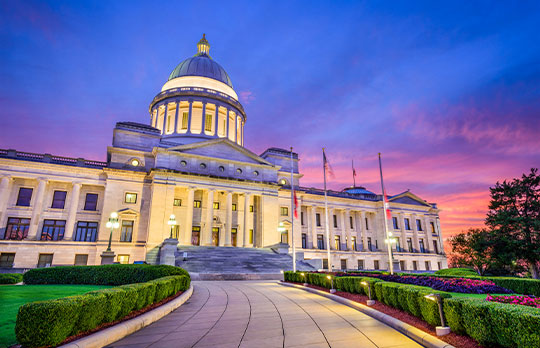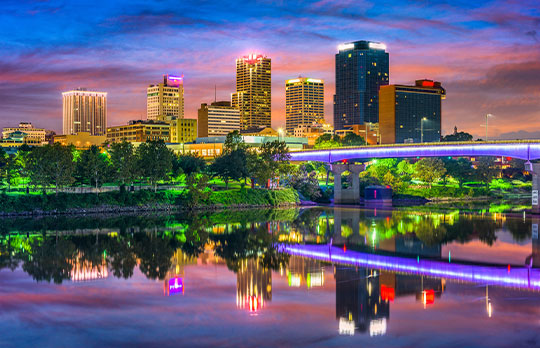 Top tips on driving in Arkansas
We'll get on to your top 10 road trips from Arkansas in a tick, but let's take in some driving tips first.
Kids 6 and under must be secured in and age and weight-appropriate safety restraint and drivers and front seat passengers are always required to buckle up too.
Drivers should always give way to pedestrians, even if the pedestrian is crossing illegally, and you're not allowed to text while driving.
If you're driving on a multilane highway and encounter a stopped police or emergency service vehicle, you should move to the lane that's furthest away.
Speed limits in Arkansas are 30mph in urban areas, 55mph on two-lane state and federal highways, and 45mph on two lane country roads. On suburban freeways, the limit is 65mph and on rural freeways, it's 75mph.
Let's get revved up for your scenic road trips!
Smackover AR to Shreveport LA
The city of Smackover Arkansas has its charms ‐ from the Arkansas Museum of Natural Resources to nearby Crossland Zoo. But if you want to escape for a road trip, the delights of Shreveport, Louisiana are just two hours away via the I-20 W. Culture vultures love The Agora Borealis (a gorgeous art gallery and market in a downtown historic building) and the Art Deco Shreveport Municipal Auditorium (where Elvis and Aretha Franklin played), but the Asian Gardens are lovely too. Dine at iconic Herby K's and try the signature Shrimp Buster po'boy ‐ heaven on a dish.
Texarkana AR to Dallas TX
Want to hightail it out of Texarkana for a weekend in the big smoke? Dallas, Texas is under three hours away via I-30 W and it's the ideal road trip destination. If you're into history, Dealey Plaza is still charged with the emotion of the 1963 JFK assassination, and the city also boasts the biggest urban arts district in the US, including the Winspear Opera House and Perot Museum of Nature and Science. If panoramic views are your thing, take a trip up to the GeO-Deck of Reunion tower for breath-taking cityscapes.
Fort Smith AR to Oklahoma City OK
How does a weekend away from Fort Smith in an exciting destination sound? If you're nodding your head, Oklahoma City might be the tonic you need. Three hours west of Fort Smith along I-40 W, OKC offers fun for all the family ‐ you'll enjoy strolling around or catching a concert at Scissortail Park, watching Oklahoma Thunder shoot some hoops at the Paycom Center or immersing yourself in the 80s Mix-Tape experience at Factory Obscura artist collective. Another popular attraction is Conestoga Wagons & Teepees at Orr Family Farm ‐ you can camp under the stars and experience an Old West evening.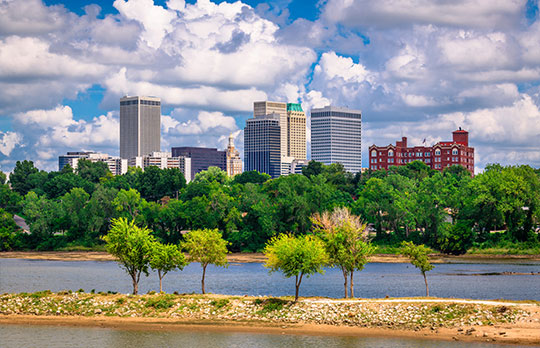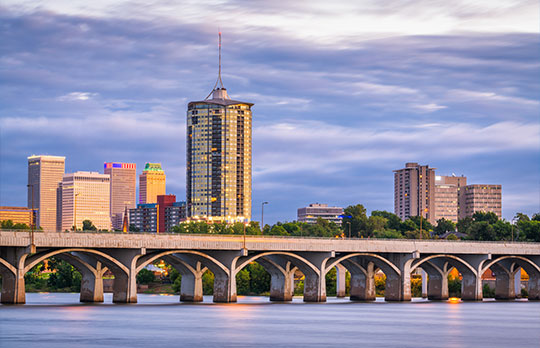 Jonesboro AR to Fourche Lake MO
Based in Jonesboro and yearning for a scenic road trip to a laid-back destination blessed with bags of natural beauty? Fourche Lake Missouri is just one and a half hours away via US-67 N and has everything you need to go off grid for an afternoon. There's a lovely wooden dock where you can fish or sunbathe, picnic tables for an outdoor feast and a handy vault toilet. If you want to stay overnight, there are 6 formal sites with fire rings and this 49-acre lake is renowned for bass, panfish and catfish. It's also located in the Mark Twain National Forest, so there are plenty of soothing walks on your doorstep.
Pocahontas AR to St Louis MO
Need a break from Pocahontas but not sure where to set your SatNav for? St Louis is just 3 hours 15 minutes north via US-67 N and there's plenty to see and do. For starters, if you want to get a bird's eye view of the city, take a ride to the top of the 630-ft Gateway Arch and take in the stunning cityscape, then treat yourself to a ballgame at Busch Stadium, where 11-time world champs St Louis Cardinals take on all-comers. If you want a family attraction, St Louis Union Station houses the St Louis Aquarium (with 13,000 animals) a train park, mirror maze and 18-hole mini golf course.
Bentonville AR to Tulsa OK
With its vibrant downtown and Ozarks scenery, Bentonville is a brilliant Arkansas base. But a change is as good as a holiday, so why not head along US-412 W for a couple of hours to sample the attractions in Oklahoma's Tulsa? Music fans love visiting the Woodie Guthrie Center to learn more about the folksy This Land is Your Land singer and checking out the Jazz Hall of Fame at The Union Station. Meanwhile, if visual art floats your boat, wander around the palatial Philbrook Museum of Art and take in the Native American masterpieces.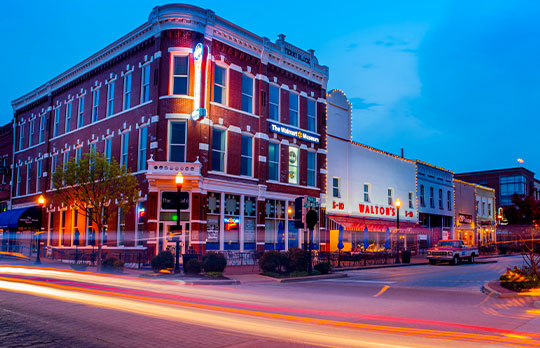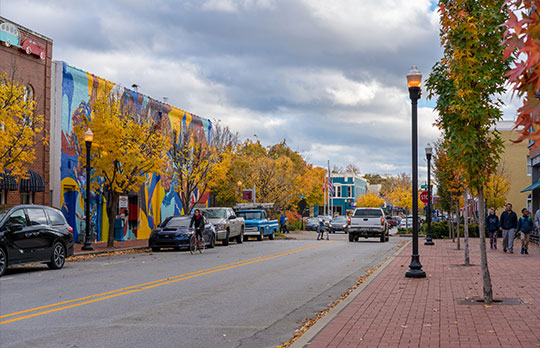 Little Rock AR to Indianola MS
The trip down I-530 S and US-65 S from Little Rock to Indianola Mississippi takes around three hours, so you'll probably want to build in an overnight stay to make the most of it. If you're a fan of the Delta Blues, make a beeline for the B.B. King Museum and Delta Interpretive Center and Club Ebony live music venue, while if you're partial to pecans, you'll be nuts about the sumptuous snacks on offer at the Indianola Pecan House. Comfortable accommodation choices include Hampton Inn American Best Value Inn and Super 8 by Wyndham.
Bella Vista AR to Wichita KS
Planning a weekend break from Bella Vista? Wichita Kansas is around 4 hours drive along US-400 W, but it's well worth the effort. Families love going wild at Sedgwick County Zoo (7th-largest in the US) and the humane-certified Tanganyika Wildlife Park, and the fun continues at the Rock River Rapids waterpark and Splash Aqua Park. You'll notice lots of pretty public art in the form of colorful murals and decorated alleyway doors as you wander around, and the Wichita Art Museum houses outstanding works by the likes of Edward Hopper, Mary Cassatt, and Winslow Homer.
Eureka Springs AR to Branson MO
Branson Missouri is only one hour from Arkansas' Eureka Springs (via State Hwy 86 E) ‐ it's a doable daytrip with much to recommend it. Attractions in Branson include 1880s-themed experience Silver Dollar City, with its wild rides and cool craft exhibits, zip lines and arial obstacles at Shepherd of the Hills Adventure Park or witness mind-blowing horsemanship at Dolly Parton's Stampede Dinner Attraction. Another tourist hotspot is the Titanic Museum Attraction, which faithfully recreates the beautiful interior of the ill-fated ship.
De Queen AR to Hugo OK
Hugo Lake is around one hour and 20 minutes from De Queen (via US-70) and it's an interesting trip for a getaway. Thanks to its history as a railroad hub at the turn of the 20th century, Hugo was once a magnet for gunfighters and dance hall girls, and the Mount Olivet cemetery is the final resting place for many rodeo legends. Don't miss the Endangered Ark Foundation ‐ it's home to America's second-largest herd of Asian elephants and you can learn all about the hard work involved in the foundation's wildlife preservation work.