The 50 Best Burgers In The United States
In the mood for a juicy, delicious burger? You certainly will be after reading this, that's for sure. From tiny burger bars to hugely popular burger restaurants with a cult following, our pick of the best burgers in the United States for 2021 make for plenty of must-eats. We've selected the best of the best using our ranking system, which takes into account editorial experience, critic reviews, customer feedback, location and accessibility, presentation, value for money and atmosphere. You'll likely recognise some old-time favourites here, but there are dozens of newbies to rave about too. From Alabama to Wyoming, here's where you'll find the best burgers in the United States.
Best Burgers in United States 2021, How do these rankings work?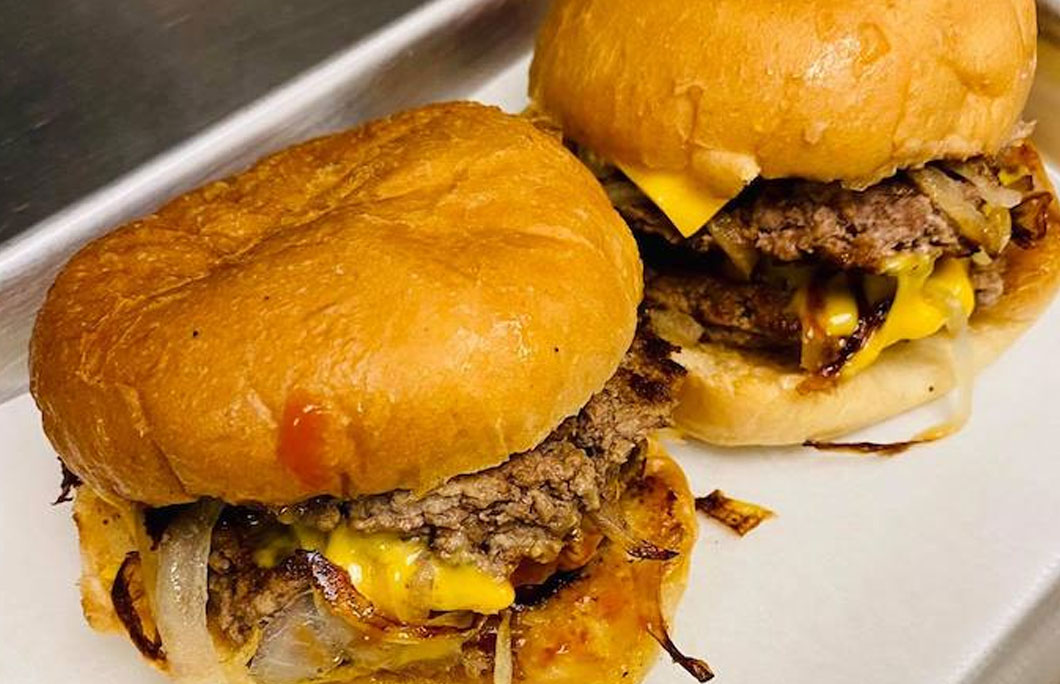 50. Motz's Burgers – Detroit, Michigan
Motz's history dates back to 1929 and, while they've had a few name changes sicne then, their original sliders are just as good as ever. The key to their success, in their own words, is that they "focus on family, quality products and friendly service". It's the perfect bite.
---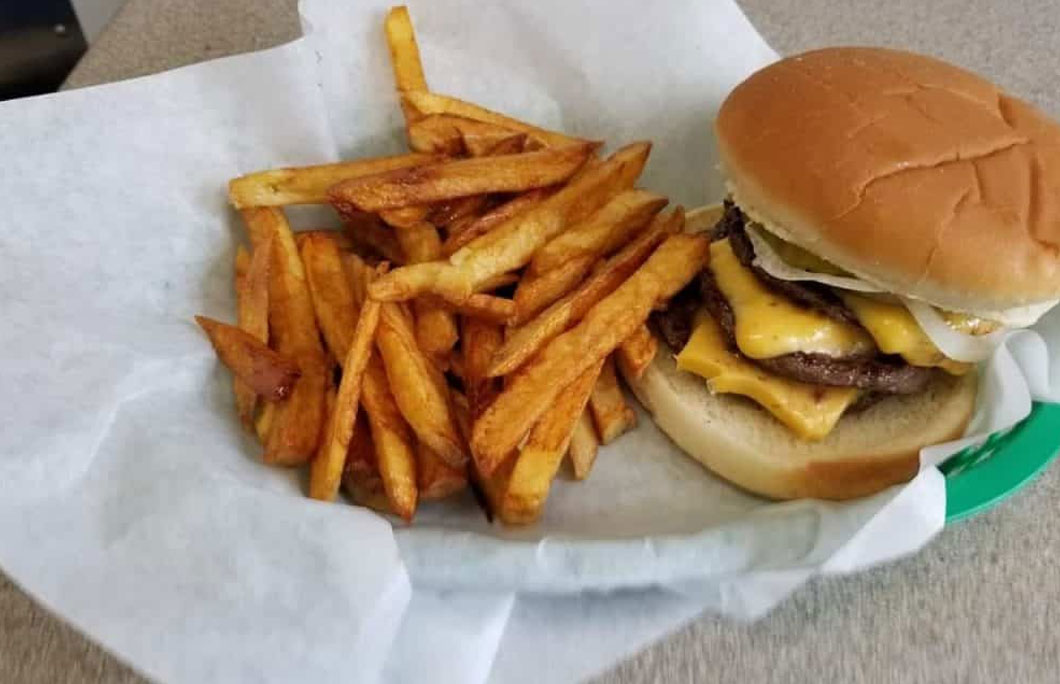 49. Grub's Drive-In – Rock Springs, Wyoming
Grub's diner is a local institution, as well as one of the best burgers in the United States. Opened in 1946, it's been serving its famous Shamrock Burger (a no-frills burger with cheese, mustard, pickles and onions) to hungry, happy burger-lovers for nearly 60 years. Be sure to order the "fry sauce" – french fries served with brown gravy – and one of their minty Shamrock shakes.
---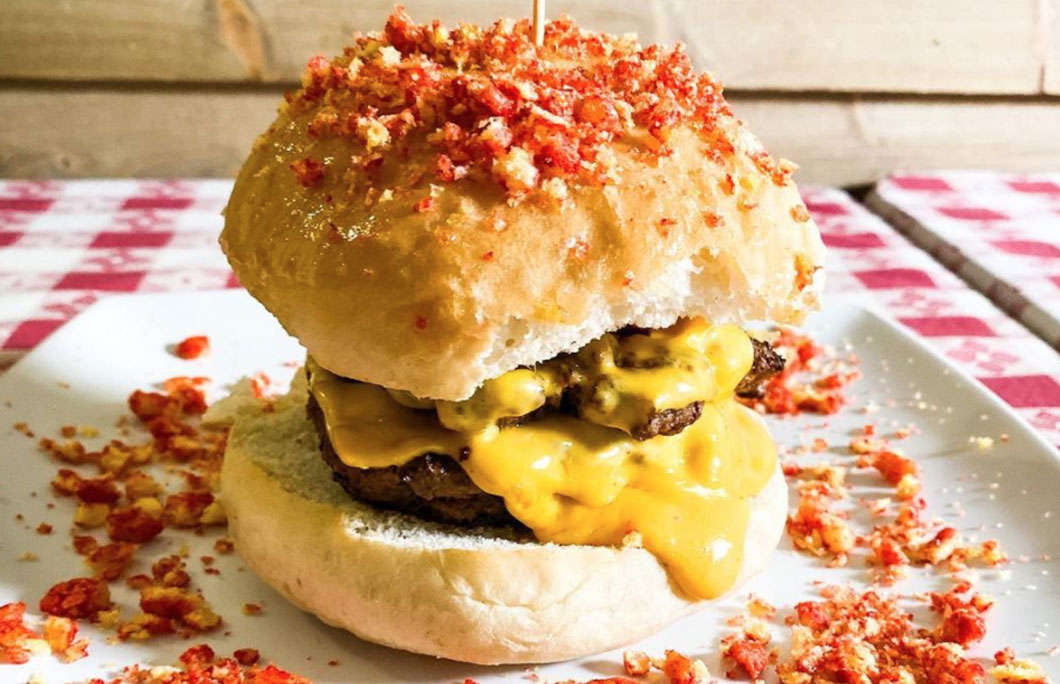 48. JAG Burger Beer Bowery – Fairmont, West Virginia
This is a small 32 seater spot focuses on two of the best things in life: beer and burgers. They have a wonderful selection of both.
What makes their burgers taste so good is their focus on fresh produce. Everything is made from scratch and you can really taste the difference. Wash it down with one of those lovely craft beers and you will be in absolute heaven.
Check out the best burgers in West Virginia here
---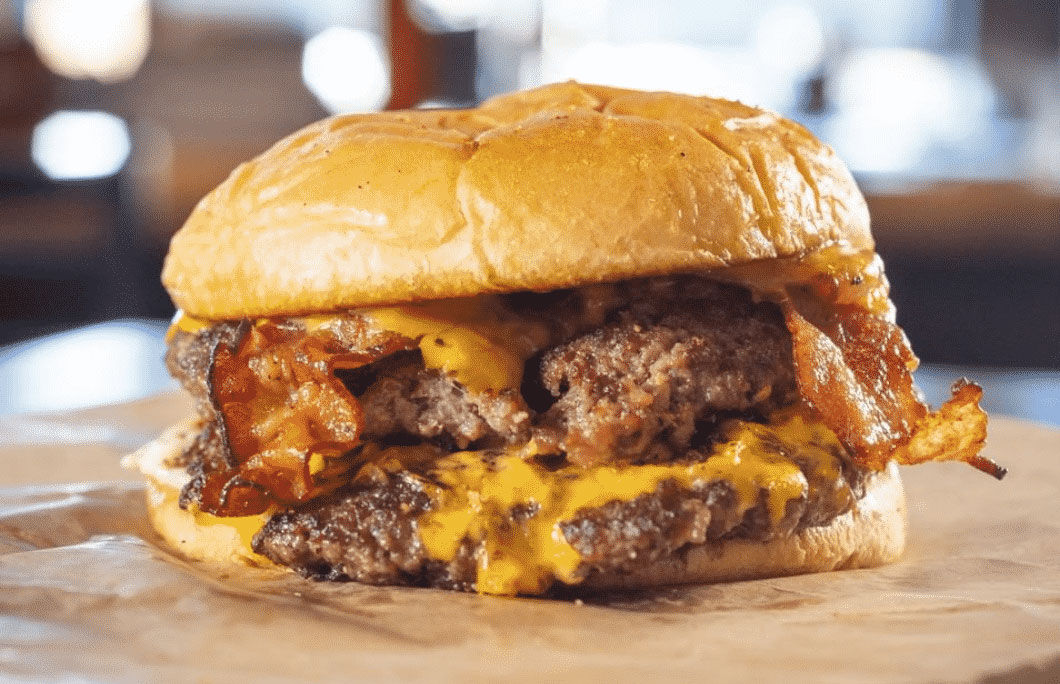 47. Smitty's Garage Burgers & Beer – Fayetteville, Arkansas
Smitty's Garage is famous for its juicy, delicious burgers. The joint has a very diverse menu which offers things like Avocado Chicken Salad and the Turkey Burger. If you're ever in Fayetteville, and are looking for some mean burgers, then you might wanna try their Bacon Avocado Ranch.
Check out the best burgers in Arkansas here
---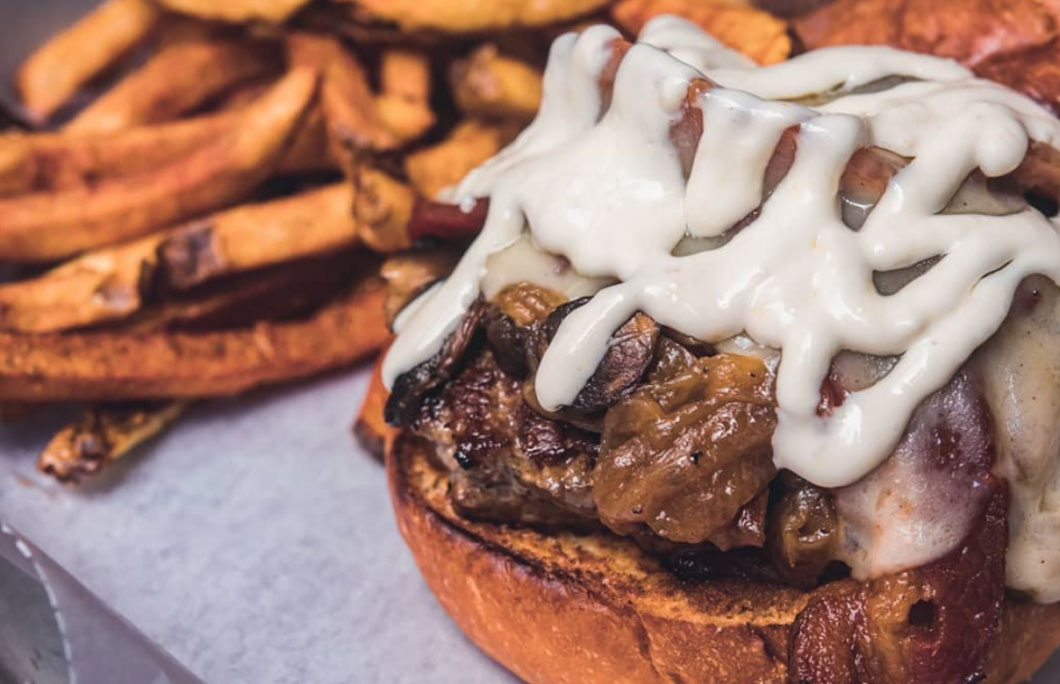 46. Big Gun Bar and Burger – Charleston, South Carolina
The best place to dedicated some quality time to delicious burgers. The Big Gun Bar and Burger joint also has a killer little bar, complete with karaoke. Oh, and watch out for their half price burgers from Monday – Friday between 4pm-6pm. What's not to love about this place? Its Towering Inferno burger is famous for its size and spiciness.
Check out the best burgers in South Carolina here
---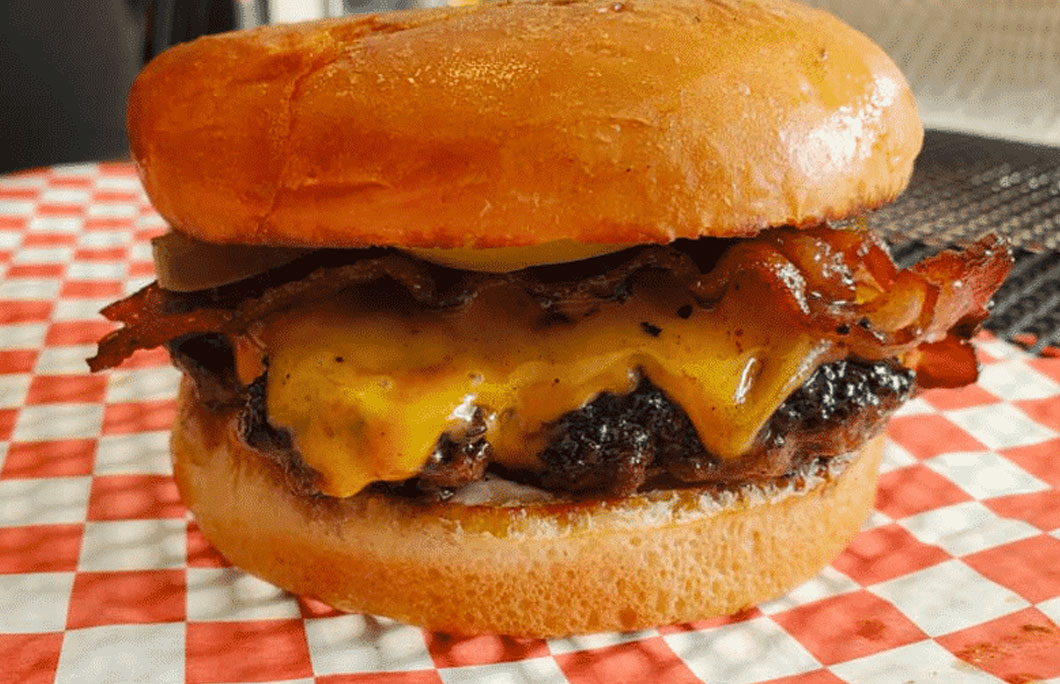 45. Bard's Burgers & Chilli – Covington, Kentucky
This popular fast food joint in Covington is famous for its Cincinnati-style chili and hefty burgers. While you could stick to a classic cheeseburger here, it would be a sin not to try the delicious Chili-Cheese burger. The tender, perfectly seared beef patties are smothered with melted cheese and flavoursome chili in a soft toasted bun.
Check out the best burgers in Kentucky here
---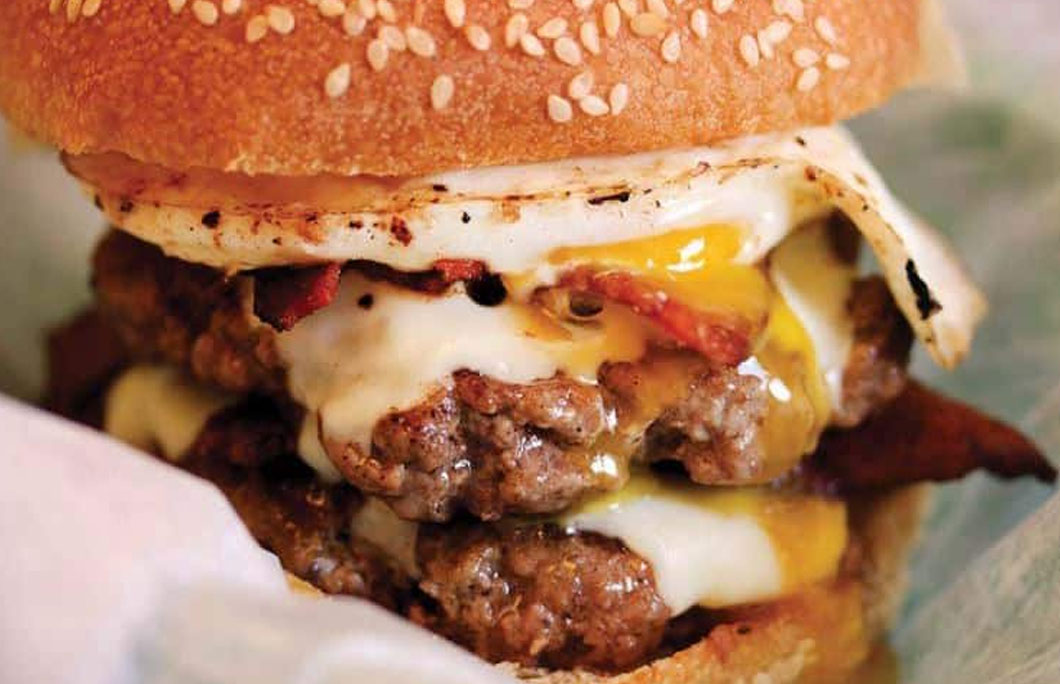 44. GoldBurgers – Newington, Connecticut
It doesn't get more American than this. GoldBurgers is famous in Newington for incredibly juicy double-stackers, served with jalapenos and a secret special sauce. For veggies, the scratch veggie burger (made with blended chick peas and black beans) is a worthy alternative to Goldburgers' cult classics too.
Check out the best burgers in Connecticut here
---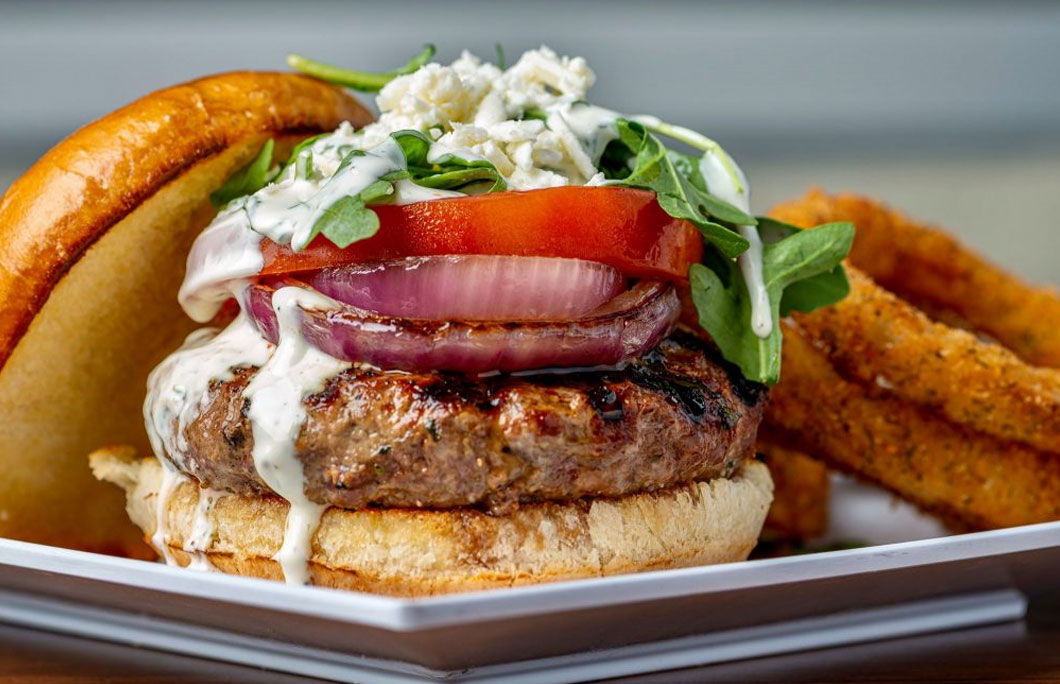 43. Joe's Farm Grill – Gilbert, Arizona
They harvest fruit, vegetables, and herbs from their farm at Agritopia, then look to local farmers in other parts of Arizona. It's all about local here and you can taste it in every single bite. Burgers are made using only local, all-natural beef and cooked pink, for juicy patties that are full of flavour.
Check out the best burgers in Arizona here
---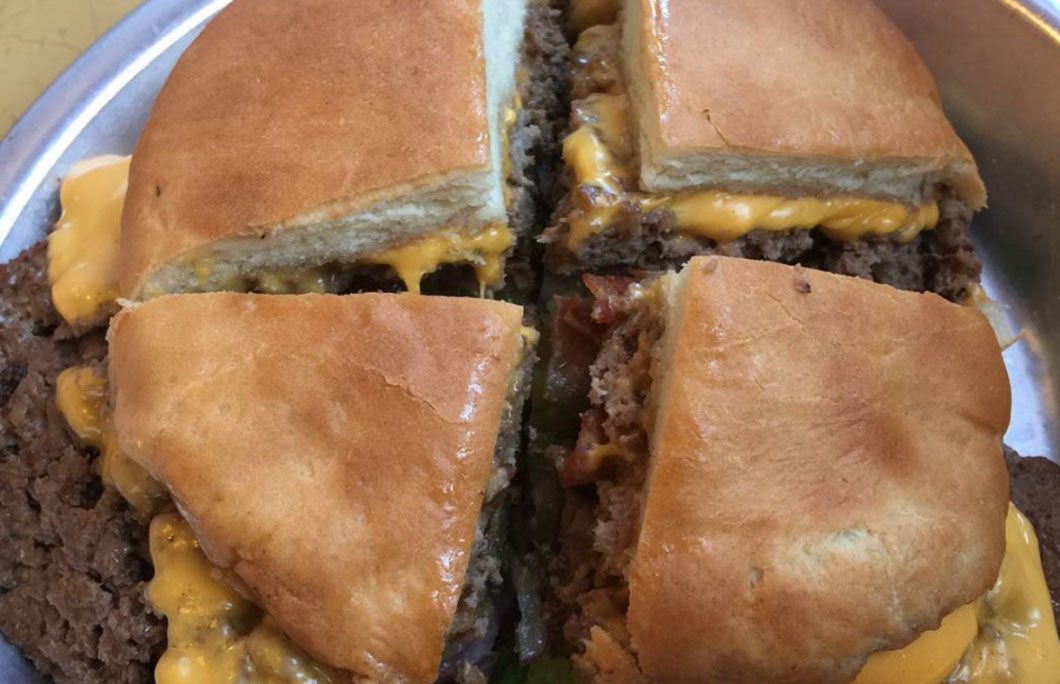 42. Meers Store and Restaurant – Meers, Oklahoma
This renowned family-run restaurant is famous for its 7 inch burgers. The hefty 16 oz. burger is a challenge – even for the hungriest folk – but it's one we'll happily take on. The restaurant has a warm and friendly atmosphere with great service too. What more could you possibly ask for?
Check out the best burgers in Oklahoma here
---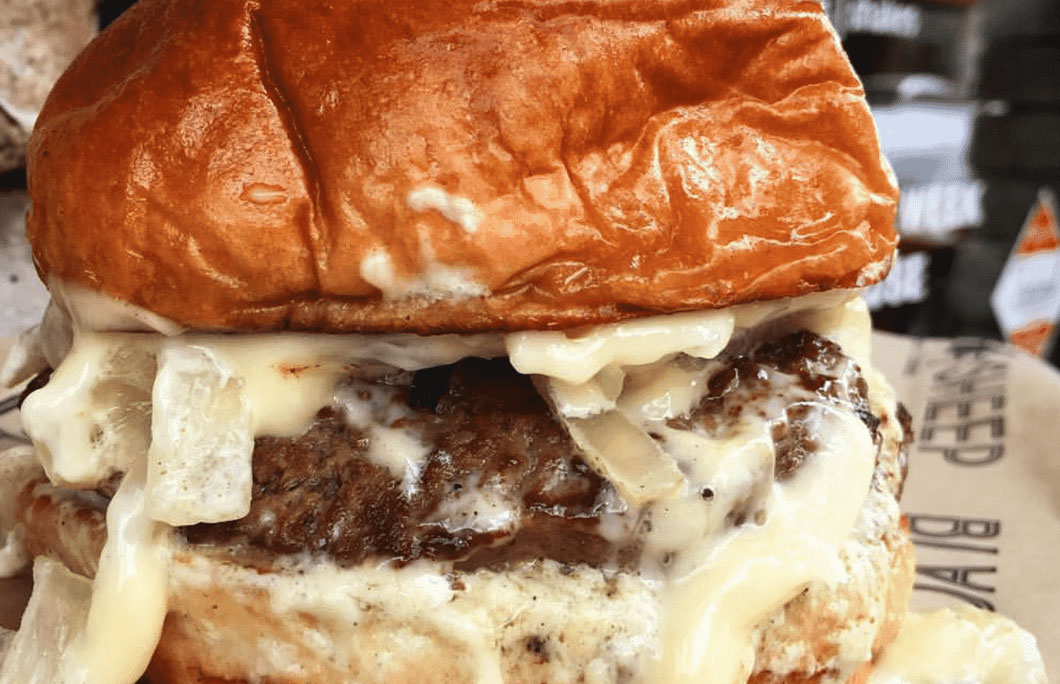 41. Black Sheep Burgers and Shakes – Springfield, Missouri
Burgers, shakes and rock & roll – the restaurant specialises in satisfying every burger lover. They make the patties extra crispy and cook it with their special sauce to bring you a mouth watering meal. The Cowboy Carl burger is topped with slow cooked smoked brisket, sharp white cheddar, candied bacon – yum.
Check out the best burgers in Missouri here
---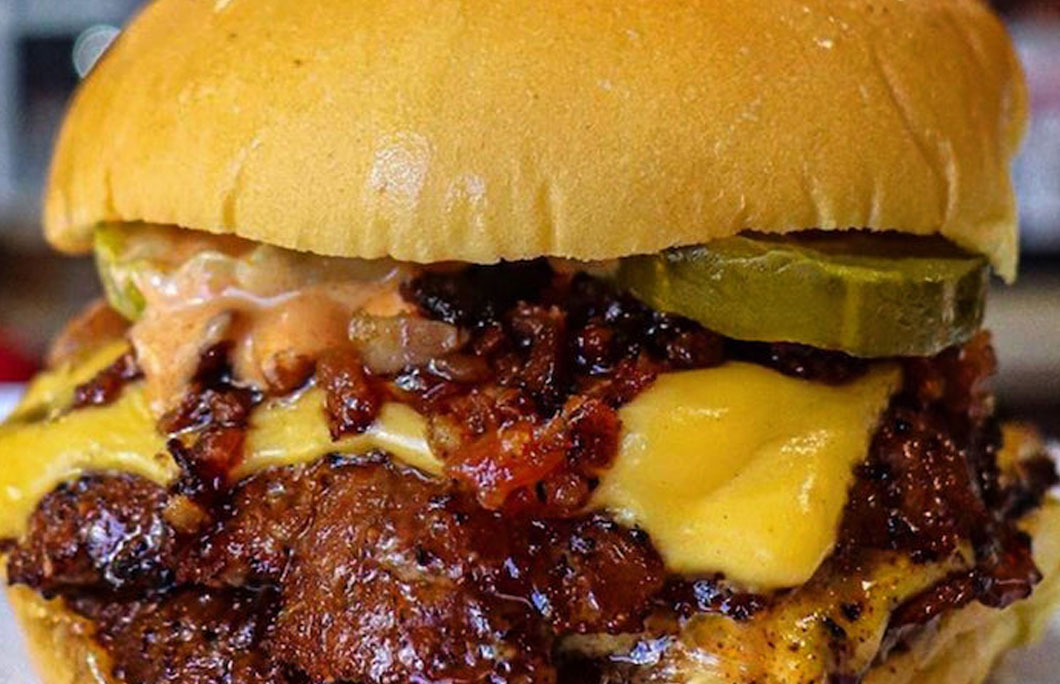 40. NFA Burgers – Dunwoody, Atlanta
NFA Burgers started life as a pop up in several different locations but it now has a permanent home inside the Chevron. There's no need to dilly dally over choice – the menu is short, simple and superb. Each patty is topped with olive pickles, American cheese, French's mustard and sassy sauce, crmmed into a Martin's Potato Roll. Heaven in a mouthful.
---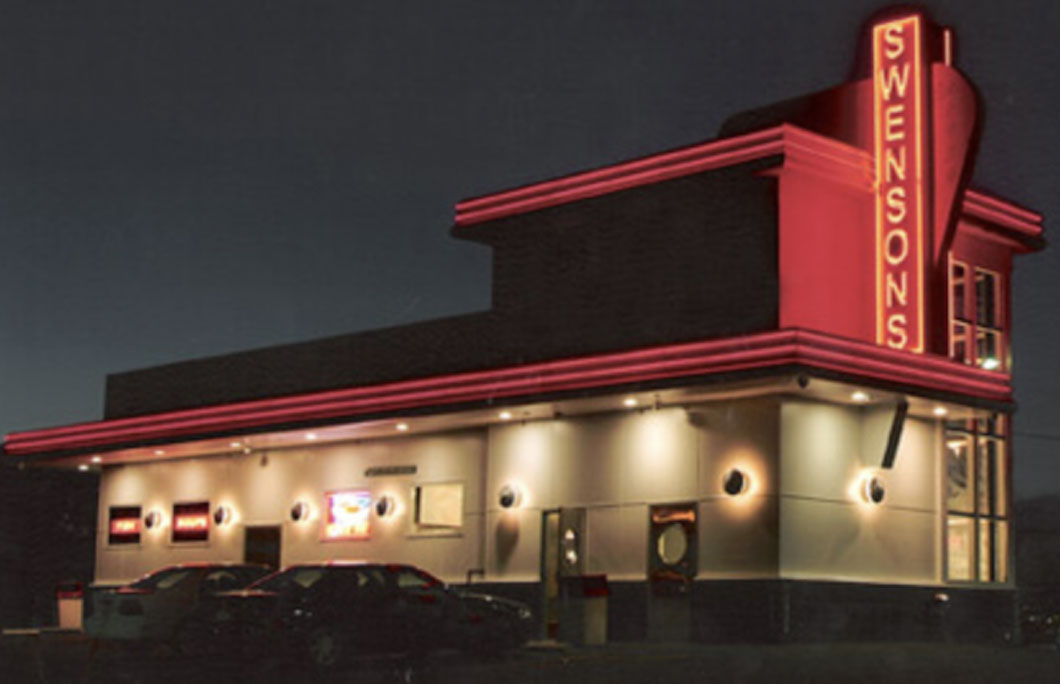 39. Swenson's Drive-In – Akron, Ohio
This beloved burger chain has been cheering up hungry punters with tasty burgers since the Great Depression. It's best-known for the 'Galley Boy', a double cheeseburger made with two special sauces on a toasted bun, topped with a green olive. Sounds like it shouldn't work but it really, really does.
---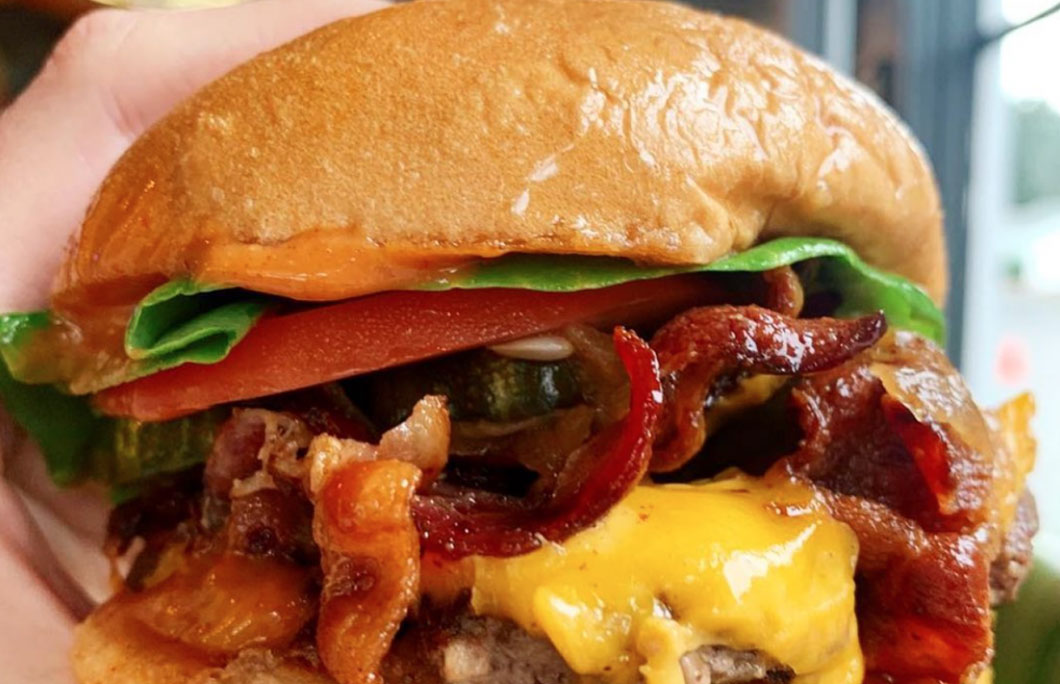 38. Chedda Burger – Salt Lake City, Utah
Chedda Burger joint knows how to make seriously amazing burgers. What started off as a popular food truck has now grown into a permanent home with a loyal fanbase. What makes these some of the best burgers in the United States? Think: local ingredients and toppings such as truffle cheese and their famous side of handrolled "Chedda Tots".
Check out the best burgers in Utah here
---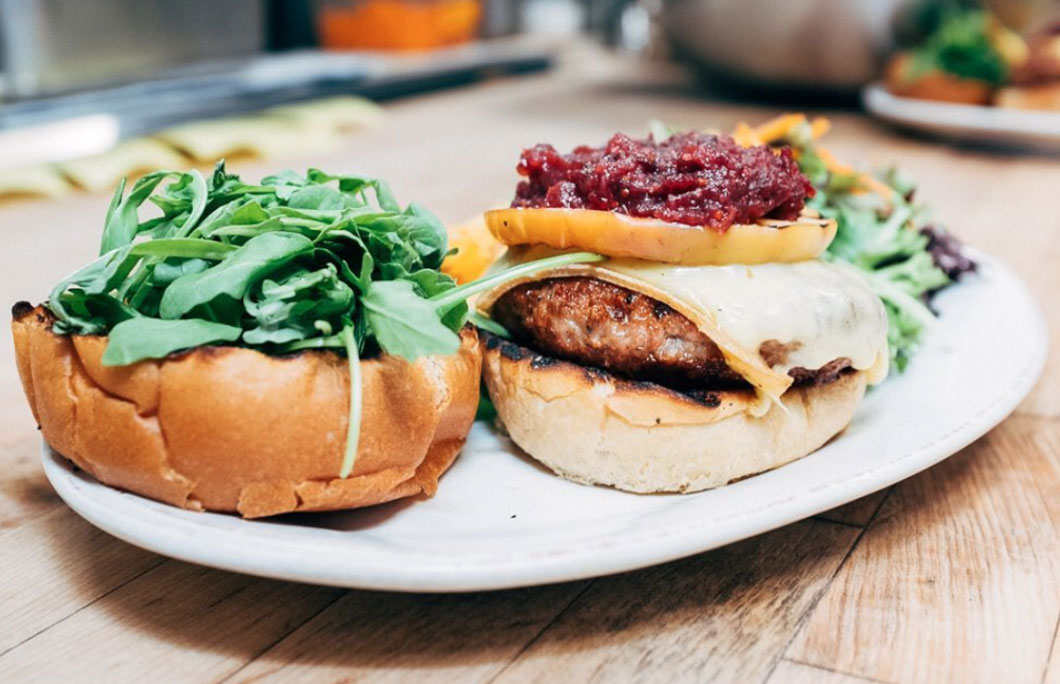 37. The Farmhouse Tap & Grill – Burlington, Vermont
The Farmhouse Tap & Grill is legendary in Vermont for producing the best burgers in the state. There's six tempting burgers to choose from, with farm-beef, turkey and veggie options. But hey, we suggest you go all out with the Baller Burger. It's an indulgent beast of LaPlatte beef, with foie gras terrine, black truffle aioli, Spring Brook Farm raclette, coleslaw, and arugula.
Check out the best burgers in Vermont here
---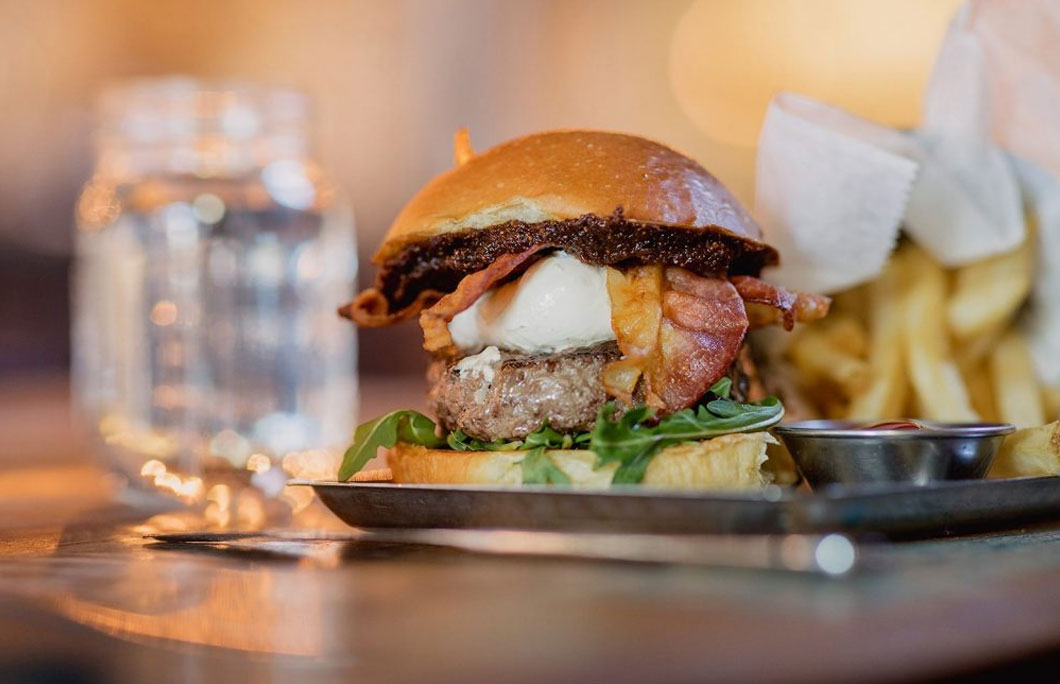 36. A&B Burgers – Boston, Massachusetts
This family-owned burger joint has elevated itself from a neighbourhood burger bar to an innovative restaurant with plenty more on the menu than burgers. But with organic beef from local farms, you won't want to miss out on these. Their burgers include toppings such as bourbon mustard sauce, maple rubbed bacon, cheddar cheese, and pickled jalapeño, or creamy burrata and fig jam.
Check out the best burgers in Massachusetts here
---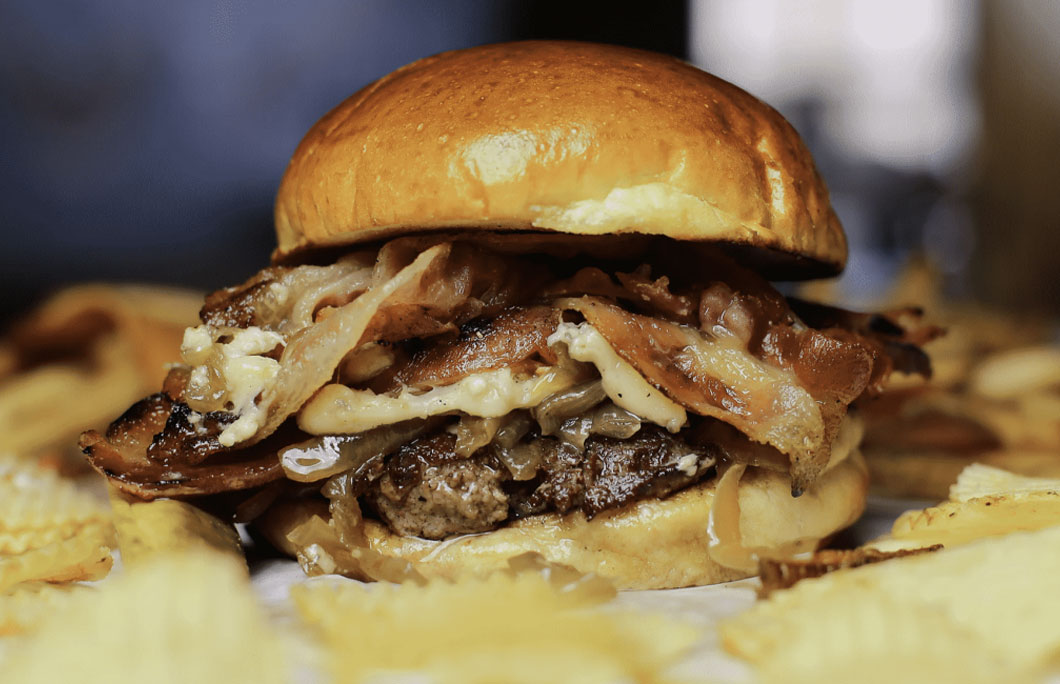 35. Fat Dan's Chicago-Style Deli – Indianapolis, Indiana
Fat Dan's Chicago-Style Deli is a bustling heaven of burger-bombs — with options like the super-spicy "Ghost," the Double-Brother Fat Burger, or the Fat Havana, with smoked pork and smoked maple ham. Drooling yet?
Check out the best burgers in Indiana here
---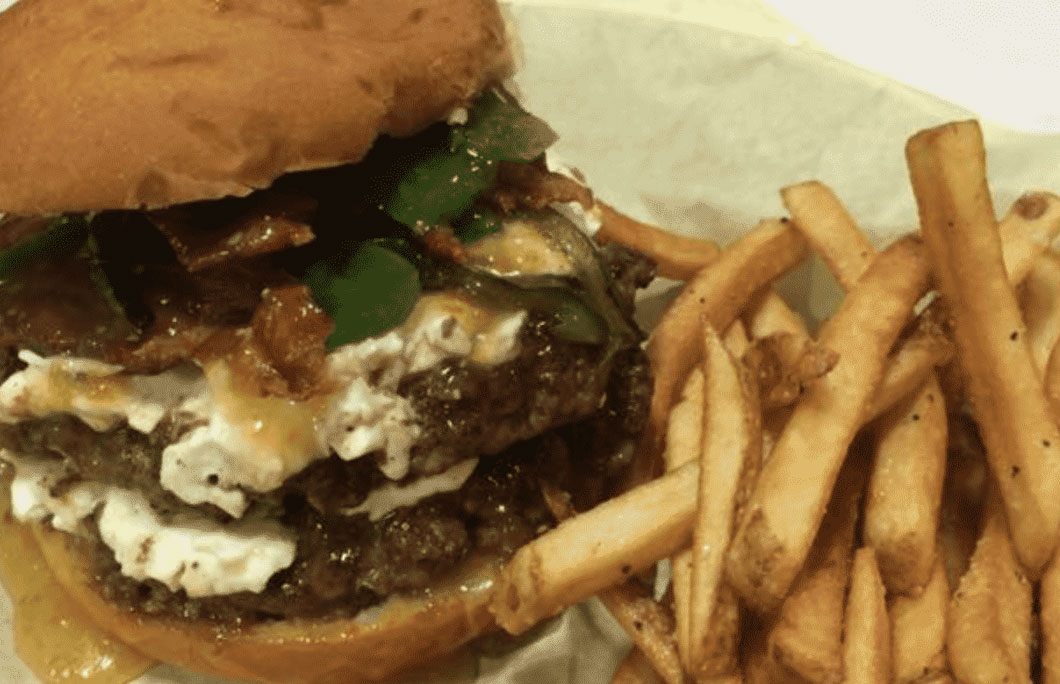 34. Black Hills Burger and Bun Co. – Custer, South Dakota
The key to Black Hills Burger and Bun Co's great burgers is that they grind and shape the meat daily on the premises. Along with baking their own buns, this is fresh as a burger is ever going to taste.
They always have special burgers on the menu, with a choice of buffalo or beef patties. A truly great burger experience.
---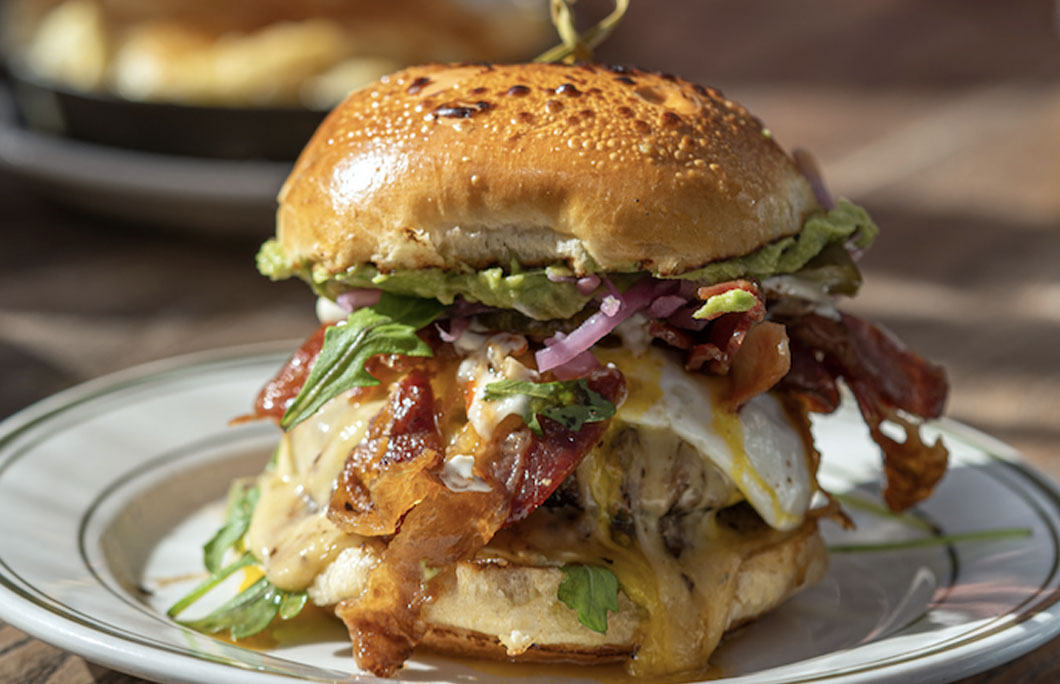 33. Duke's Burger – Washington D.C.
Duke's Burger nearly-always ranks on lists of the nation's best burgers for very good reason. The East London-inspired gastropub serves up perfect burgers. The trademarked 'Proper Burger' is its most popular, featuring gouda, pickles, charred onions, sweet chilli sauce, arugula, garlic aioli all stuffed inside a brioche bun. Guaranteed to brighten up your day.
---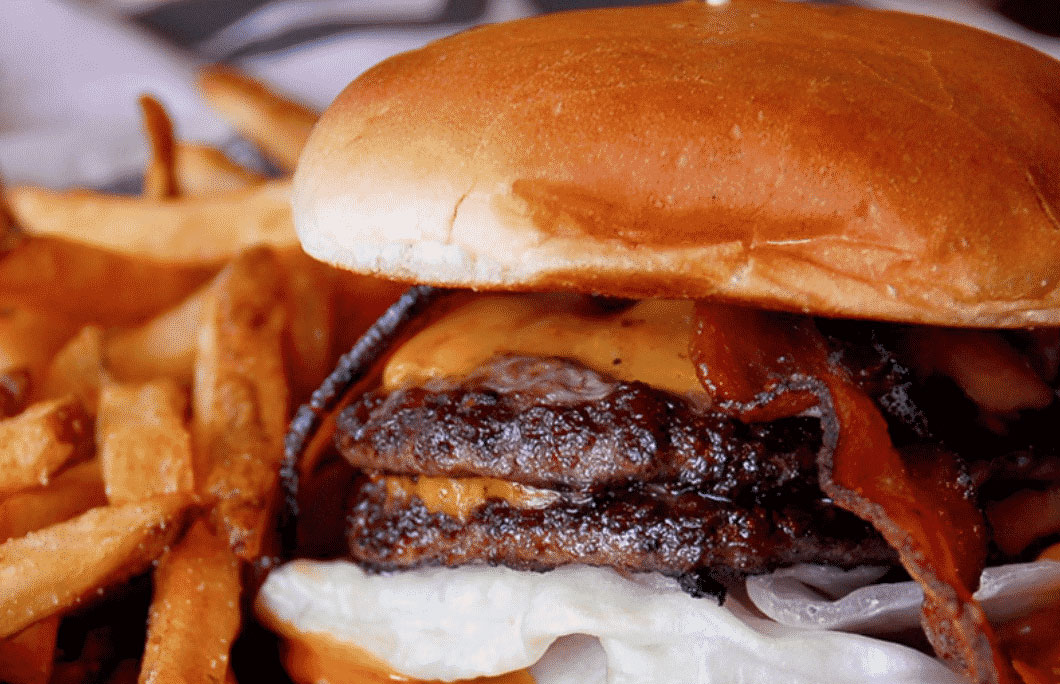 32. Burger Warfare – Greensboro, North Carolina
This restaurant joint has vowed to conquer the burger revolution. It offers delicious double-decker, vegan and chicken stacker burgers. The restaurant also has a gluten-free menu, so all diets are catered for. Expect super flavorful, over-the-top burgers that will convert you into a lifetime fan.
Check out the best burgers in North Carolina here
---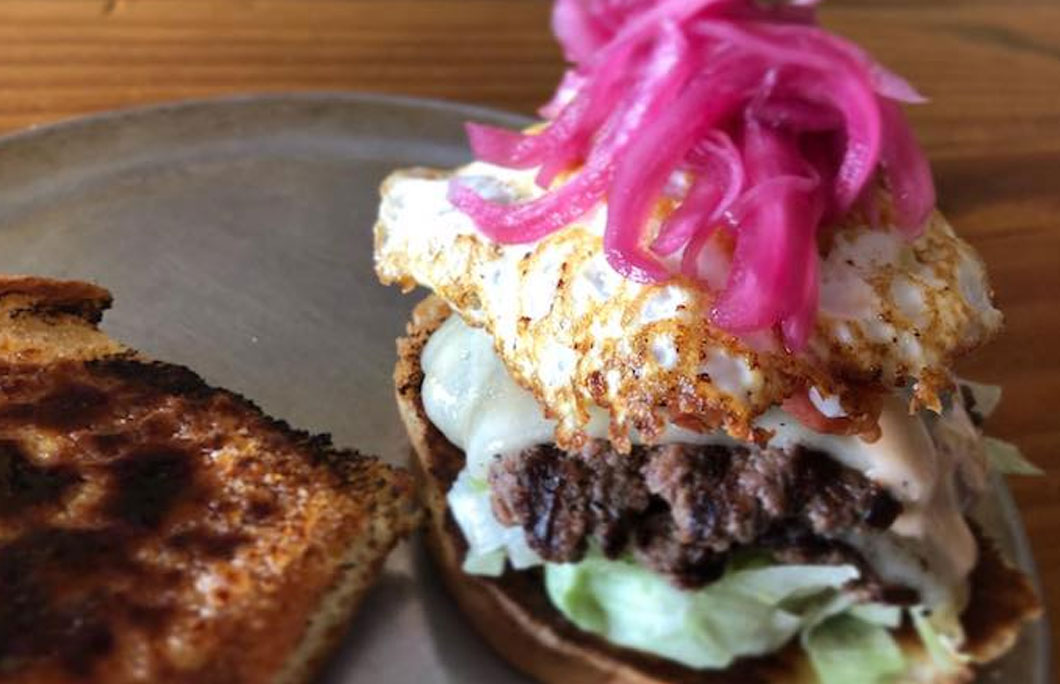 31. Paradise Valley Burger Company — Phoenix, Arizona
Paradise Valley Burger Company has featured on countless TV shows thanks to its big, bold burger flavours. It's the home of the 'Brulee Burger', which includes surprise combos like 1000 island in a burnt sugar bun, and the 'Country Fried Burger', made with a jalepeno and thyme reduction. There are rotating specials too.
---
30. Ariete – Miami, Florida
There's a lot to love about this Miami institution. Instagrammable decor, superb service, upmarket items like fancy foie gras. But it's those burgers we keep dreaming about. The signature chug burger (a sort of elevated Big Mac with a double batty, American cheese, bread-and–butter pickles and a secret sauce) is nothing short of perfection. The chef only prepares a dozen of these bad boys each night though, so make sure you get there early.
---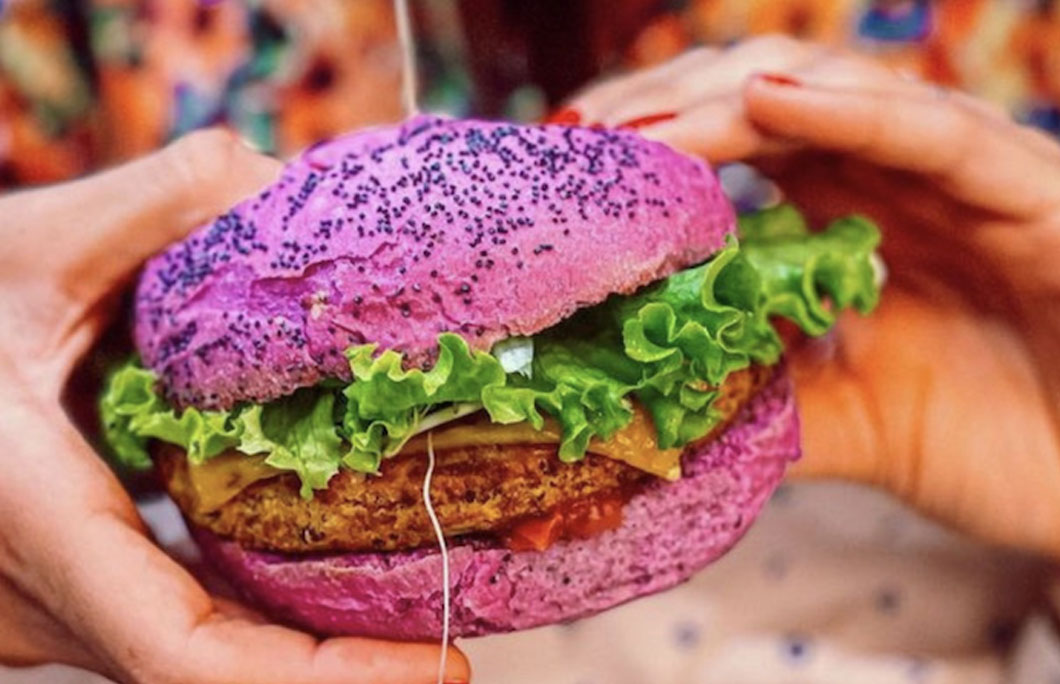 29. Flower Burger – Los Angeles, California
Patty purists might turn their noses up, but there's a lot of love for this new plant-based burger spot. The built for Instagram brand, founded in Italy, opened its doors in West Hollywood at the end of 2021 and it's already a big hit. The team serve up tasty vegan patties made from ingredients like mushroom, red bean, chickpeas and seitan, bookended by rainbow coloured buns.
---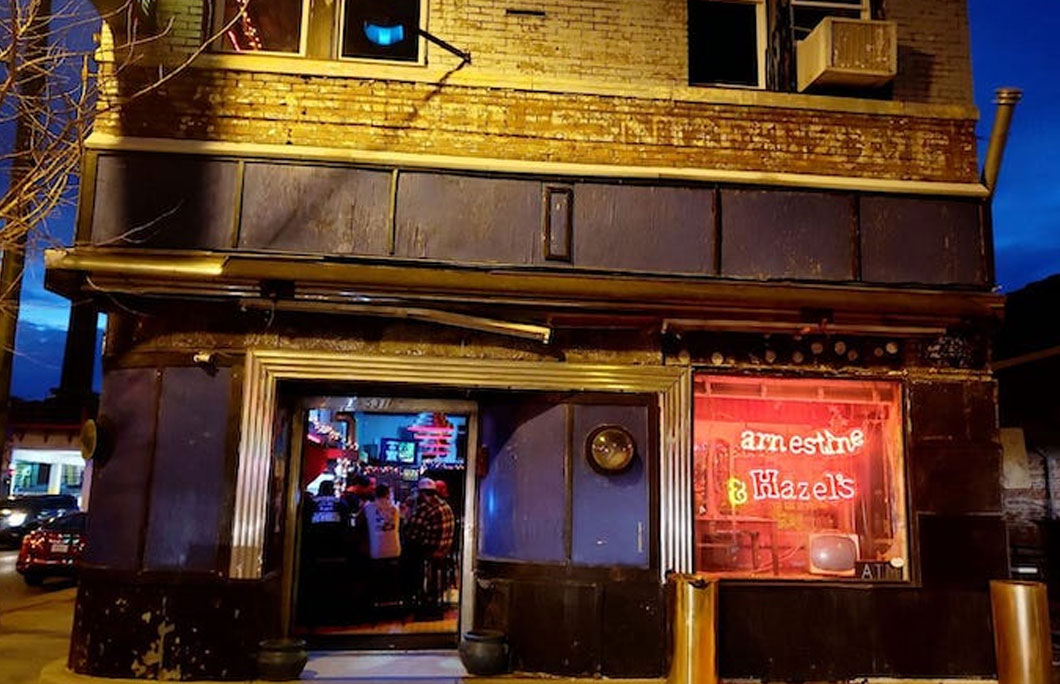 28. Earnestine & Hazel's – Memphis, Tennessee
America's 'Greatest Burger Dive Bar' doesn't really need an introduction, nor does its famous 'Soul Burger', but we'll give it a go. They stuff a beautiful bun with a juicy patty, onions, cheese, pickle and 'soul sauce', you eat it, then you try and order another one as fast as you can. There's ghosts, good stories and great beers too.
---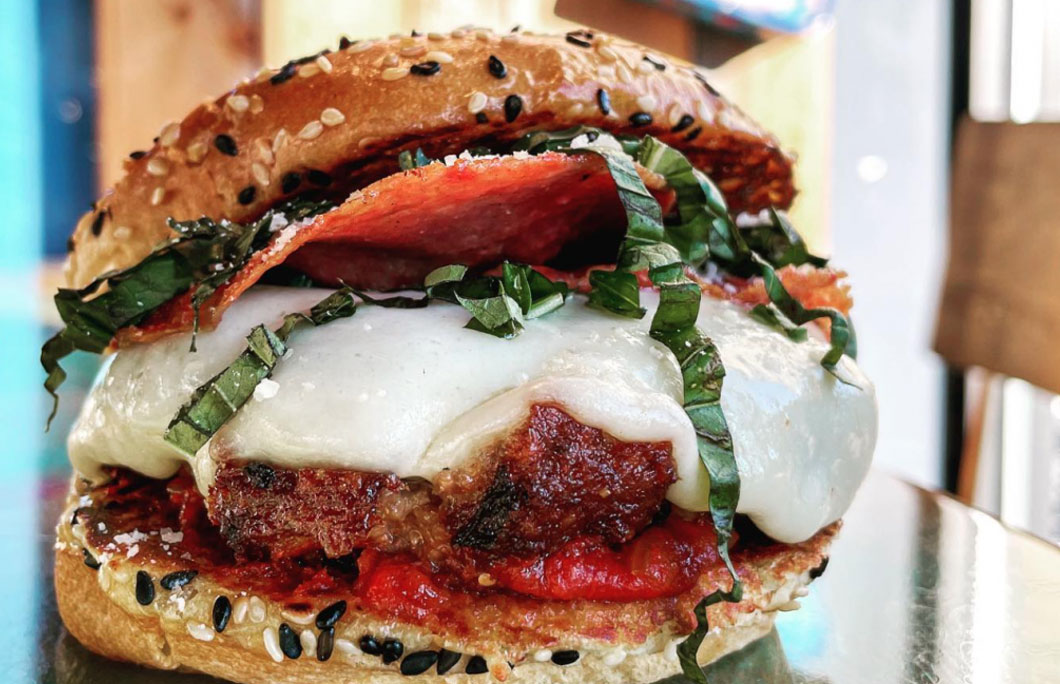 27. Hop + Grind – Durham, New Hampshire
These guys don't have restaurants, they have food experiences. They push the limits in fast-food cuisine and offer one of the best burgers in New Hampshire. If you're into trying new tastes, then you should try their Bomb Diggity burger. It's a beef patty blended with American and cheddar cheese, topped with salami and mushrooms.
Check out the best burgers in New Hampshire here
---
26. Smashed – New York
Smash burgers were NYC's hottest food trend in 2021 and, a year later, it's clear they're here to stay. At Smashed, a new Lower East Side burger joint opened last year, they specialise in these made-to-order smash burgers. Choose from beef or vegan, single, double or tripple patty, and enjoy. The Classic comes with American cheese, griddled onions, pickles and – of course – that special Smash Sauce.
---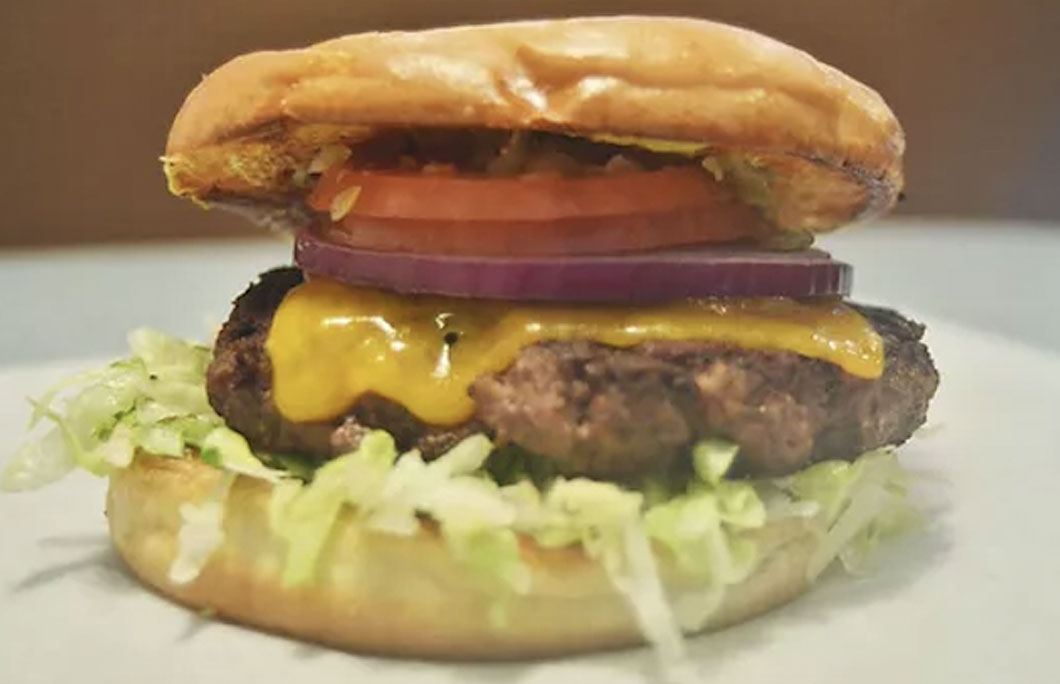 25. Maple and Motor – Dallas, Texas
There are only two burger options on the menu at Maple and Motor, but it's practically impossible to be disappointed by either. The half-pound American beef burger is dress in tradtional Texas fashion, with mustard, lettuce, red onion and pickle, while the cheeseburger features all the same with a hunk of American, cheddar or pepper jack. Both are dished up on a hot toasted grill-shined bun, hot off the griddle.
---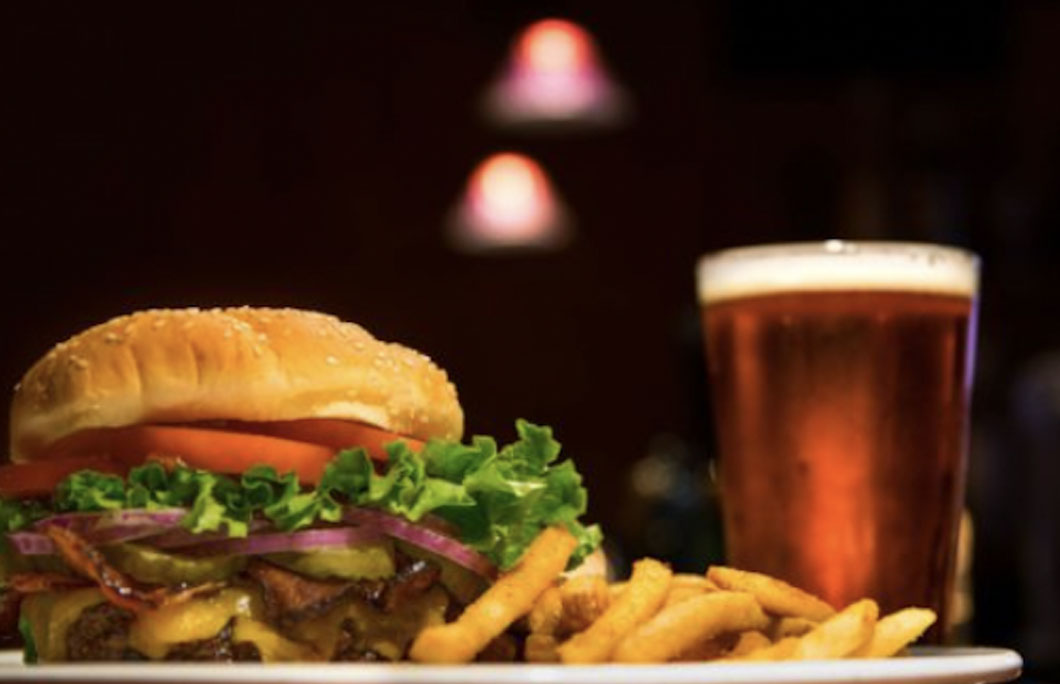 24. Louie M's Burger Lust – Omaha, Nebraska
Louie M's is a South Omaha tradition. There's at least a dozen different options too, at least one for every month. If it looks familiar, you might have seen it in the 1995 Shannen Doherty and Ed Asner movie, Gone in the Night.
---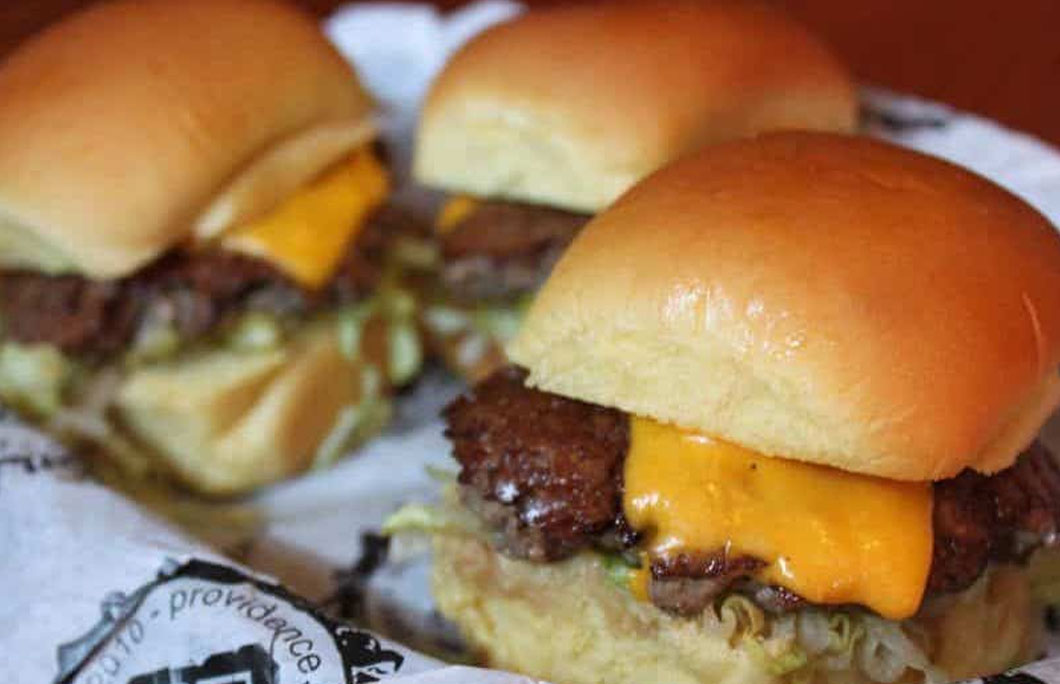 23.Harry's Bar & Burger – Providence, Rhode Island
These 100% pure Hereford beef burgers come in pairs, with each patty pressed with onions, and served on a toasted Martin's potato roll. Don't miss the classic cheese and hickory smoked bacon burger. Customers rave about the crunchy onion strips too.
Check out the best burgers in Rhode Island here
---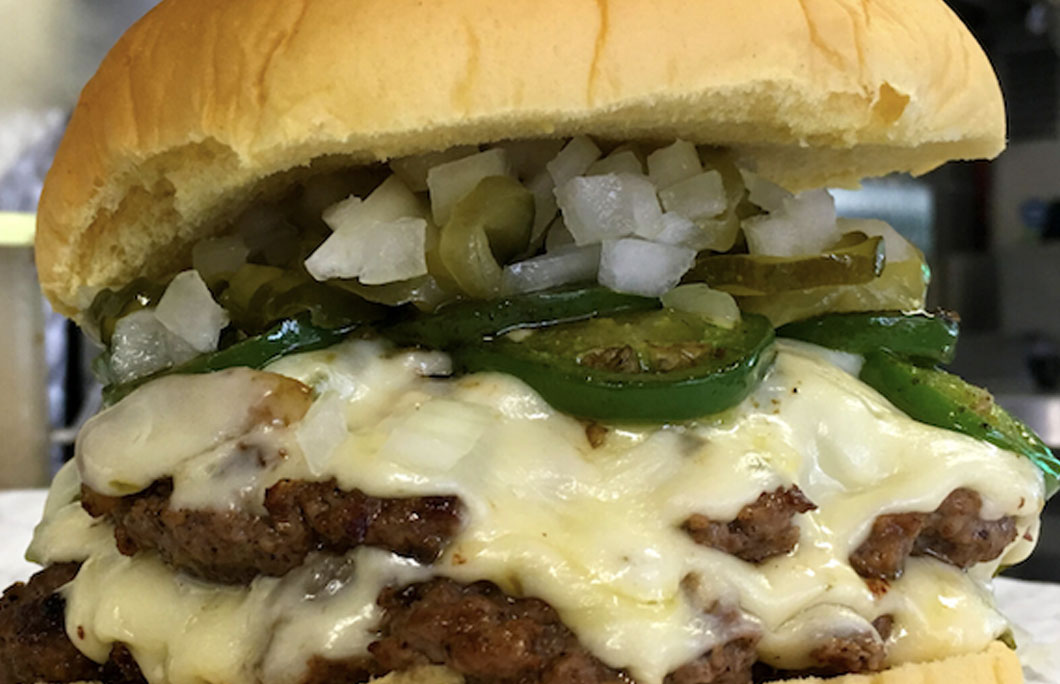 22. JewBoy Burgers – Austin, Texas
US-Mexico border culture meets a reform Jewish upbringing at JewBoy Burgers. There are burritos, latkes and lots of other fried treats but the burgers are best. Try the namesake bun, made with 1/3 lb freshly ground beef smashed over sautéed onions on a wicked hot flat top grill. They flip it twice, top it with cheese and then steam it to melty perfection.
---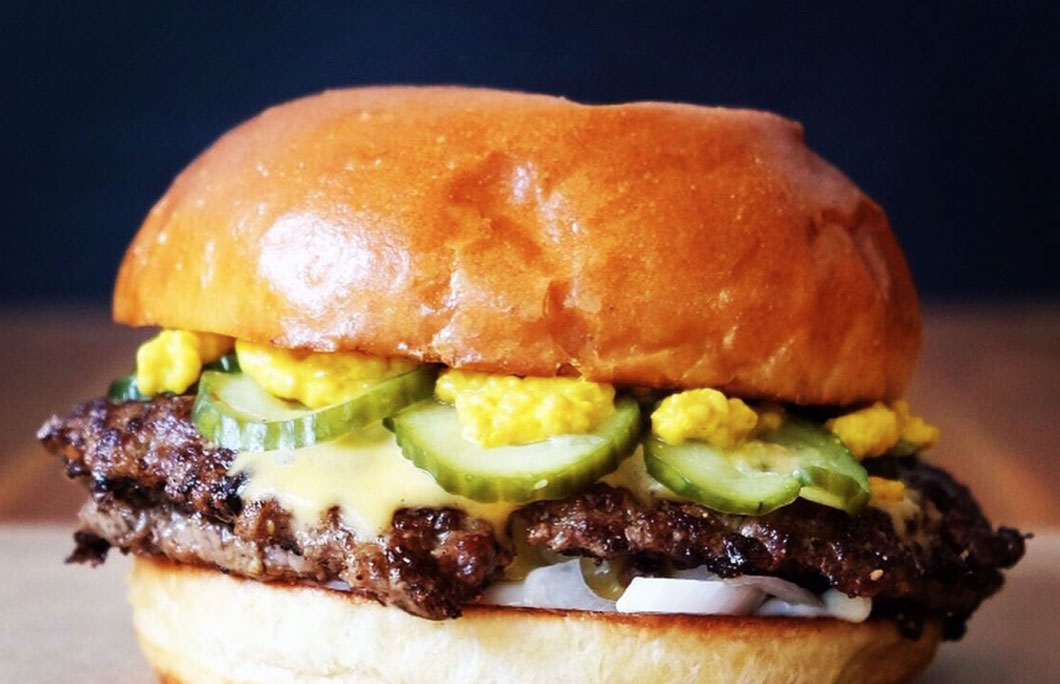 21. Mean Sandwich – Seattle, Washington
This 'barebones' joint really does know how to make a mean sandwich, which is why we've included it in our top 50 favourites for the second year running. The D.A.M burger is their famous, must-eat burger: two smashed 1/4lb 100% Dry Aged Meat patties, two pieces of USA cheese, onion, mayo, shop-made pickles and their own shop-made yellow mustard.
Check out the best burgers in Washington here
---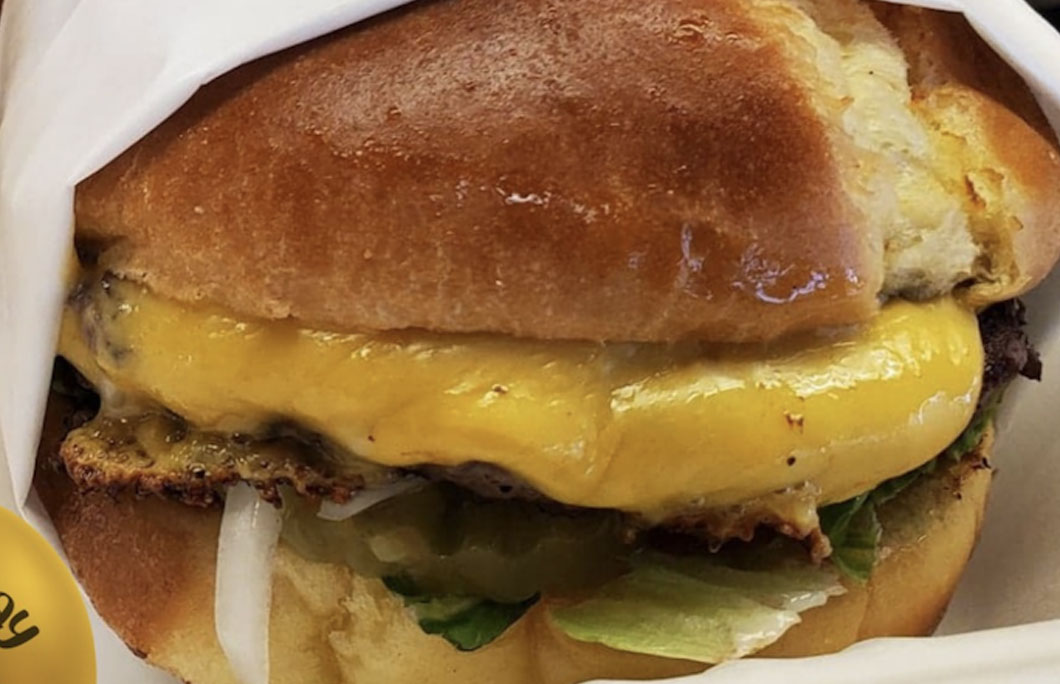 20. Do-B's – Emporia, Kansas
Lucky, lucky Emporia. This unassuming burger joint serves up some of the most succuluent, well-seasoned burgers in the state, served with shaved onions, crispy letttuc and a tomato. You'll want to order the onion rings too. If you think your tastebuds can handle it, try the 'Carolina Reaper Burger Challenge', a burger that contains the hottest pepper in the world.
---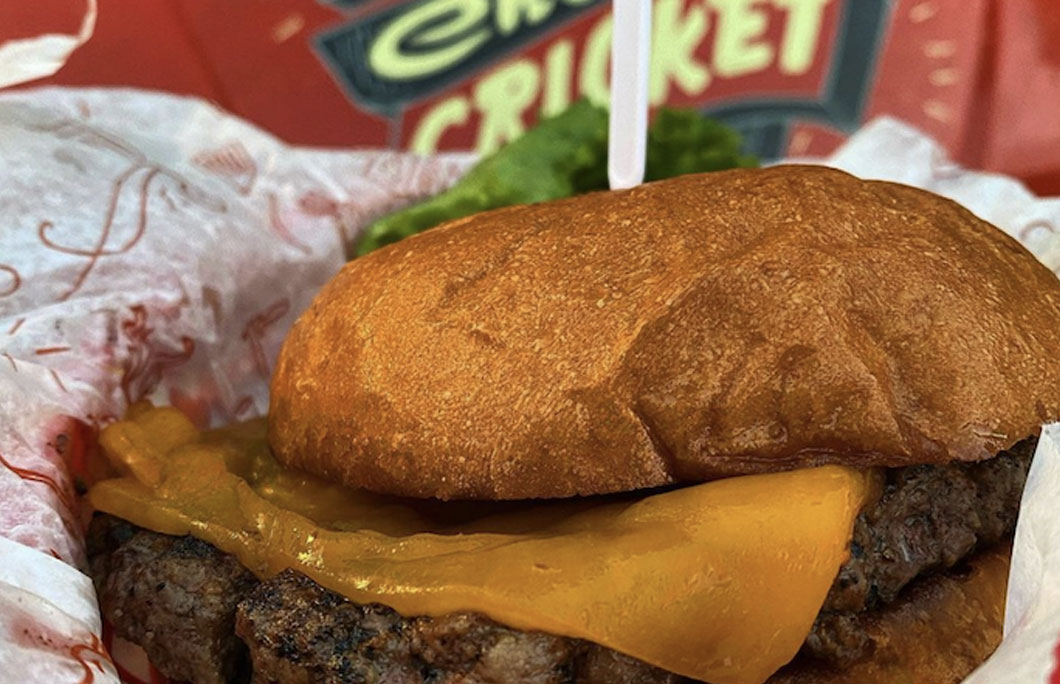 19. The Cherry Cricket – Denver, Colorado
The Cherry Cricket has been slinging burgers, brews and great vibes since 1945. It reopened after a fire in 2017 but little has changed inside everyone's favourite burger joint, least of all those tasty burgers. There's a juicy 1/2 pound beef burger, 1/3 bison burger and an increasingly popular 'impossible vegetarian burger', topped with classic and created sauces like peanut butter and bacon jalepeno.
---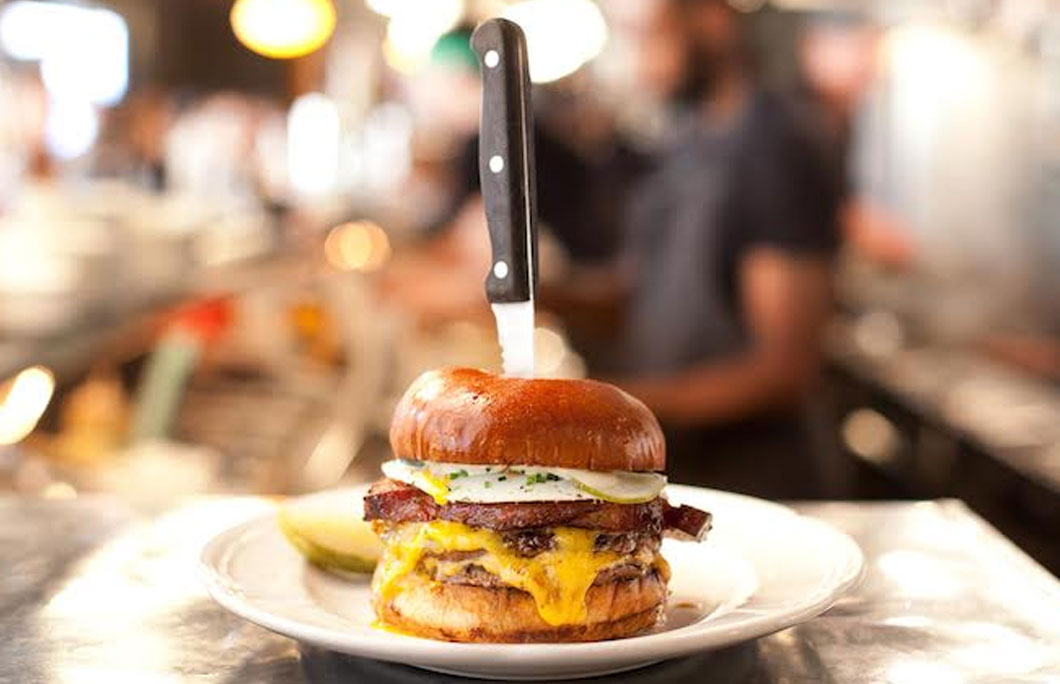 18. Au Cheval – Chicago, Illinois
This upscale American diner consistently ranks as one of the best burgers in the United States. Why? Think towering patties smothered in cheese, topped with crispy bacon, a fried egg and possibly even a hash brown. We'll say no more.
---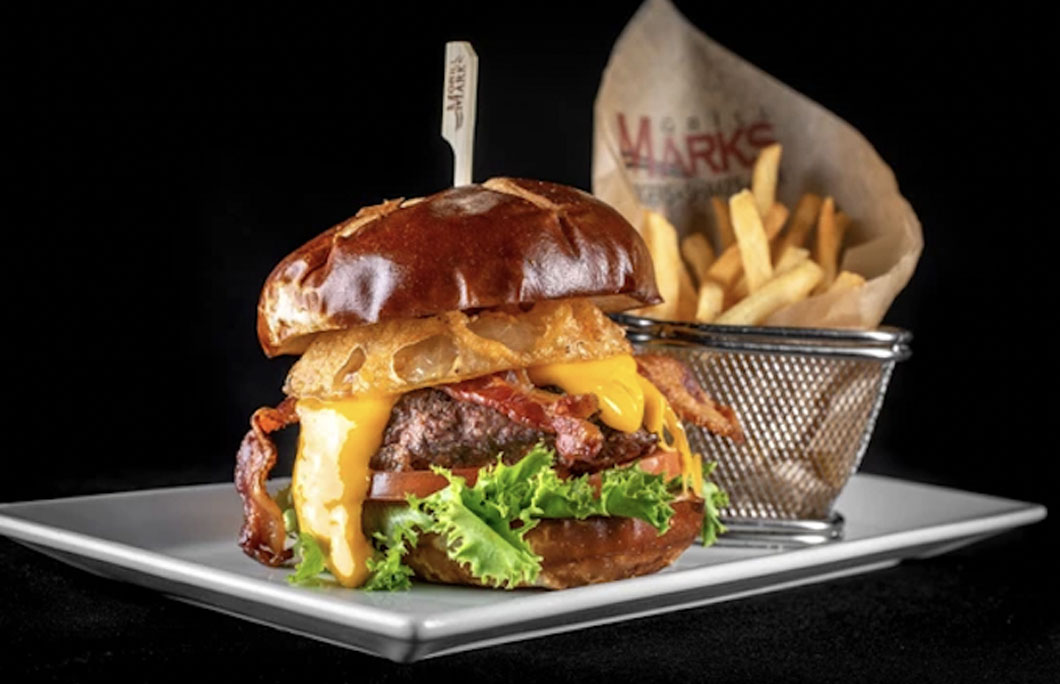 17. Grill Marks – Greenville, South Carolina
For the juciest, meatiest patties in Greenville, hotfoot to Grill Marks. Unlike bog-standard burger joints, this creative burger restaurant uses 100% certified Angus Beef, locally-baked brioche buns and a wide variety of gourmet cheeses and toppings. Combine it with a gourmet milk shake or homemade ice cream for the ultimate treat. There are now three Grill Marks locations dotted around the city too. One for breakfast, lunch and dinner?
---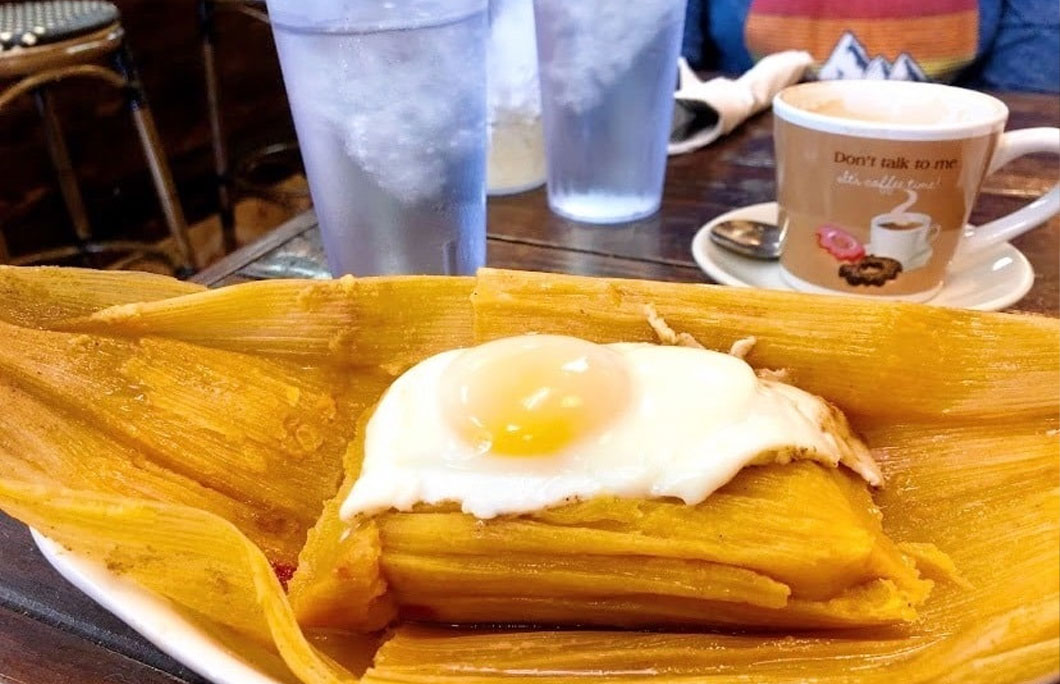 16. El Mago de las Fritas – Miami, Florida
Opened in 1984, El Mago de las Fritas is a little different to your average burger joint. Rather than your usual patty-brioche combo, they specialise in 'frita' or Cuban hamburgers here. They're made from a blend of beef and pork, seasoned with spices, topped with onions and crispy potatoes between a soft cuban roll for the perfect crunchy bit, every time.
---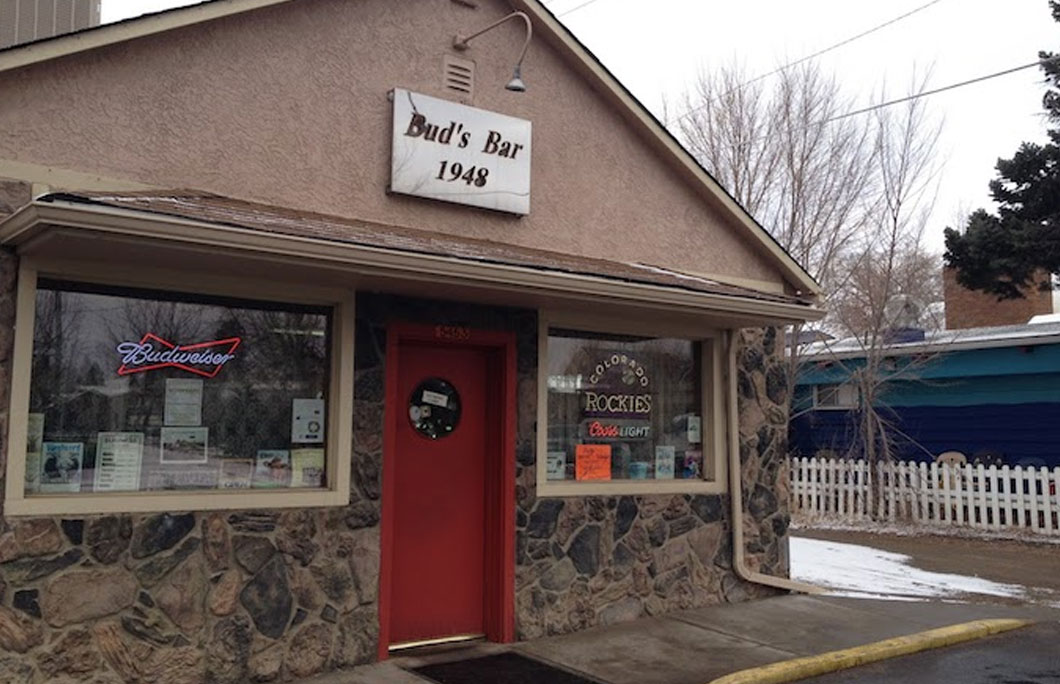 15. Bud's Bar – Sedalia, Colorado
Some say time stands still at this 73-year old burger joint. We really wish it did, because then we'd never have to experience that sad last bite of their delicious burgers. Located a short drive from Denver's suburbs, it's a bit of a schlep to get here but that's all part of its charmed. Burgers are pressed, grilled, topped with American cheese and served with a basket of Lays (no fries here). Bring cash.
---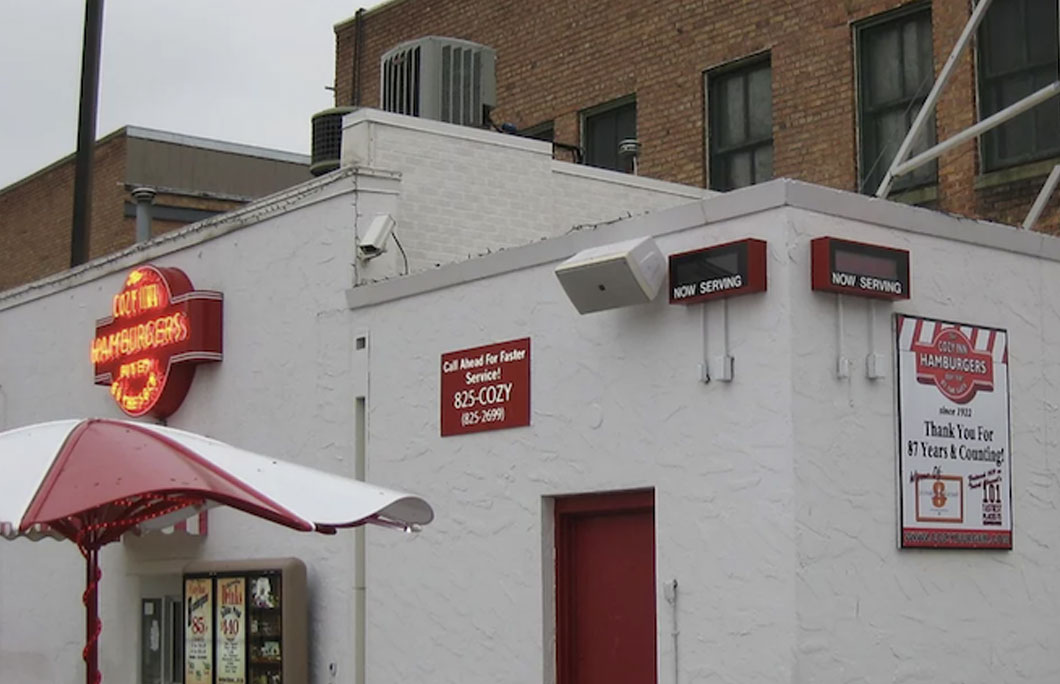 14. The Cozy Inn – Salina, Kansas
When the Cozy Inn was founded in 1922, burgers cost just 5 cents. A century later, they're still one of the state's best bargain burgers at just $1.39 – and they're lip-smackingly good too. Burgers come with onions and you can add pickles. Pair it with Strawberry Crush for the ultimate winning combo. A small town gem.
---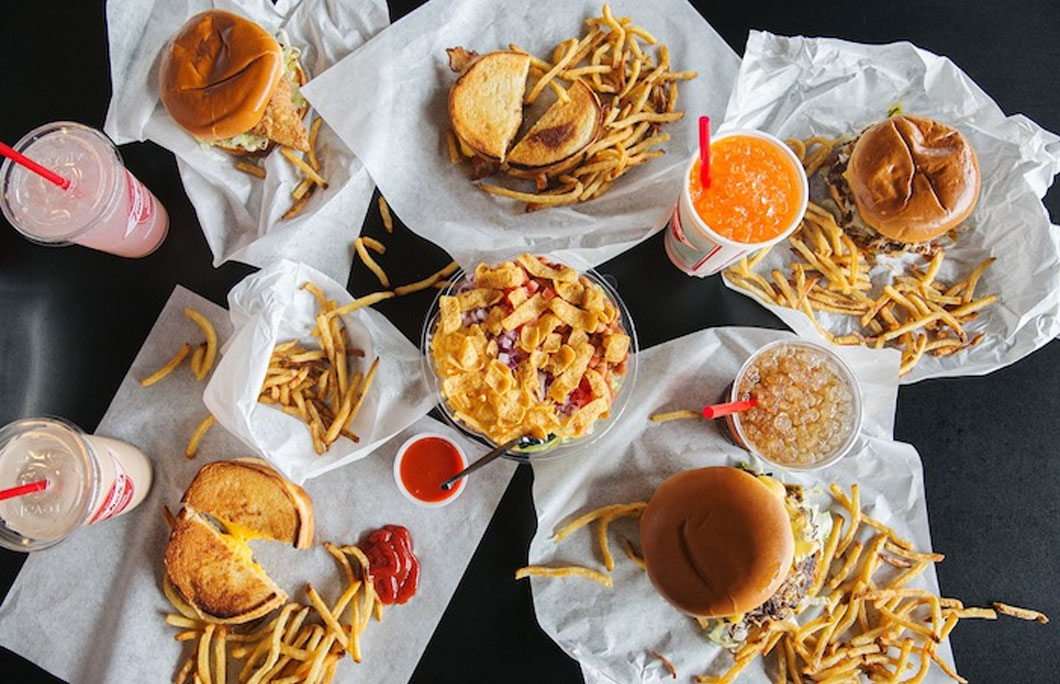 13. Tucker's Onion Burgers – Oklahoma City, Oklahoma
Tucker's Onion Burgers specialise in, you've got it, onion burgers. Back when meat was scarce during the 1920s, savvy burger lovers in Oklahoma started padding the patty out with onions. Tucker's has elevated the cult classic, with perfectly caramelized, crispy-on-the-edges onions and juicy premium ground beef, all served with hand cut fries and creamy old fashioned milkshakes.
---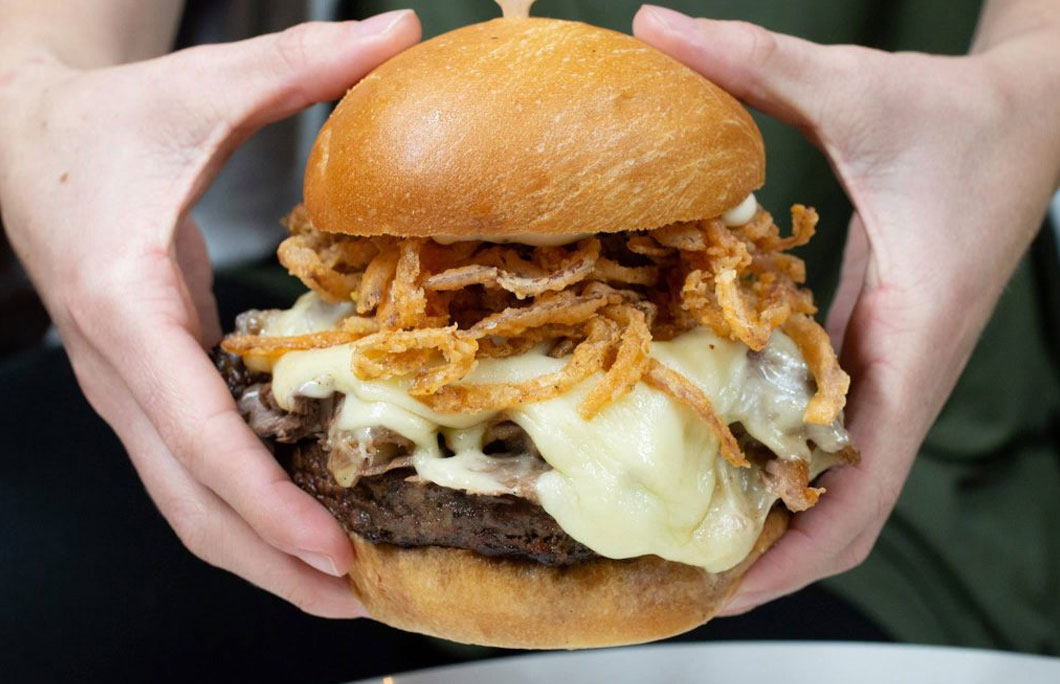 12. Holsteins Burgers – Las Vegas, Nevada
Located on the second level of The Cospolitan of las Vegas' Boulevard Tower, Holsteins Shakes and Buns if famous for their fabulous burger creations. Think: Wagyu burger with foie gras, port onion marmalade, frisee, & truffle mayo. We heartily recommend The Gold Standard, made with dry aged beef sirloin burger, smoked bacon, aged goat cheddar cheese, tomato confit, baby arugula, garlic-chive aioli
Check out the best burgers in Nevada here
---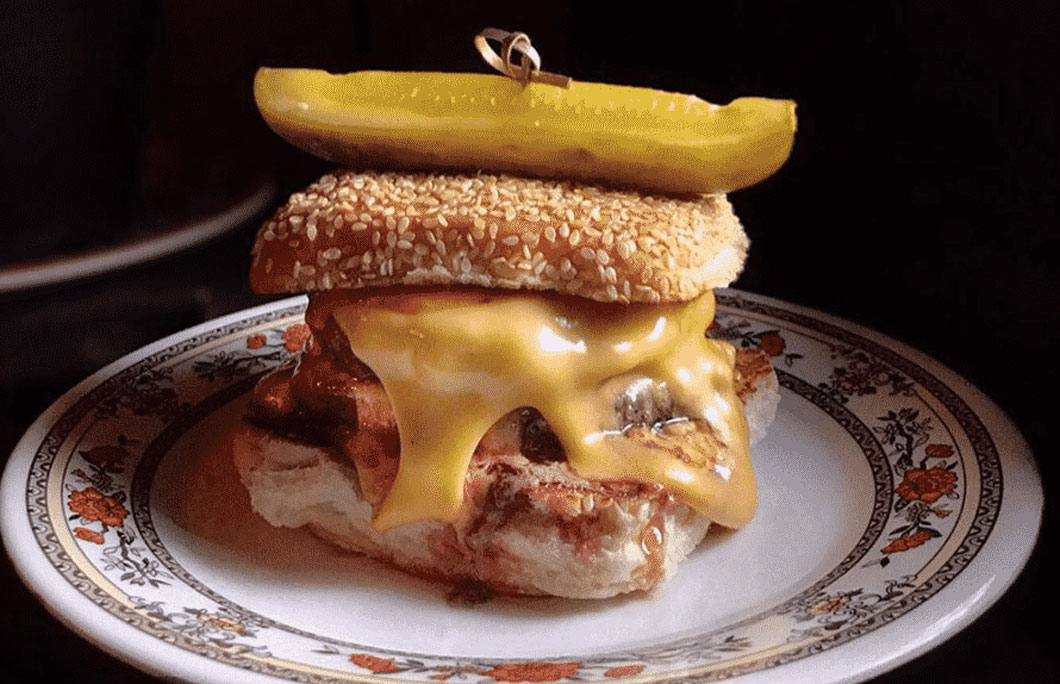 11.Nowon – New York City, New York
Nowon is run by chef Jae Lee who has worked with some of the greatest names in the burger business and had a famous pop-up in the city. His restaurant has a cosy yet buzzy vibe and serves the legendary Dry Aged Double Cheeseburger with 'murican cheese and kimchi mayo, and dill pickle. Truly, one of the best burgers in the United States.
Check out the best burgers in New York here
---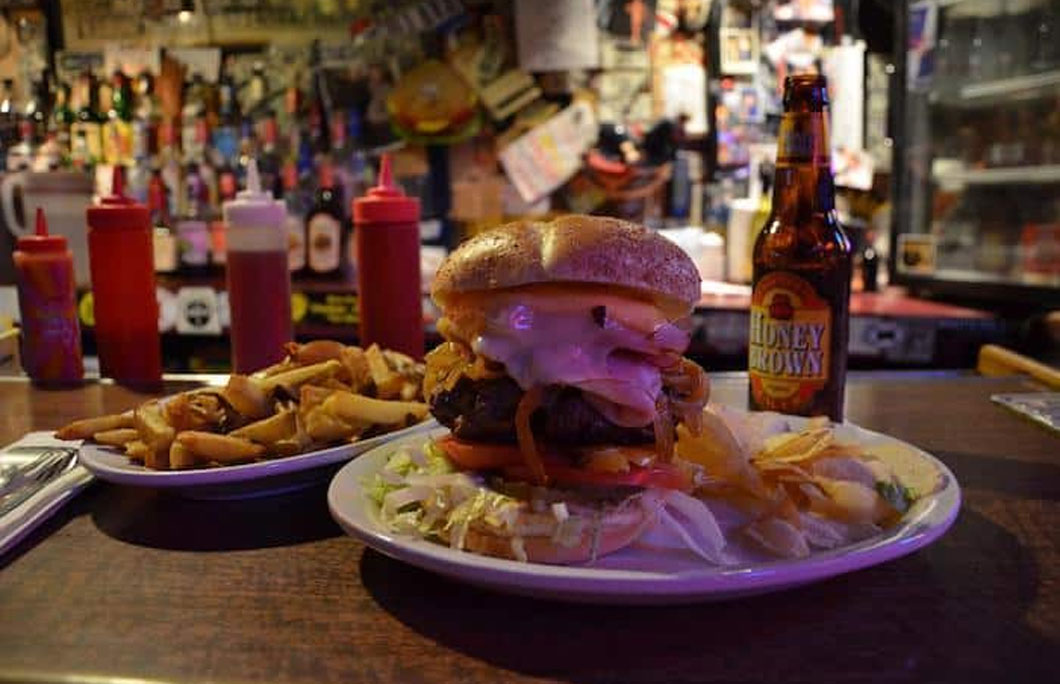 10. The Thurman Cafe – Columbus, Ohio
Columbus can lay claim to some of the most iconic burgers in the world (Wendy's, anyone?), but The Thurman Cafe is something special. Over-the-top is their style, and we love them all the more for it. If you're feeling outrageous, opt for The Thurmanator, which is crammed full of just about every delicious ingredient you can imagine – bacon, cheese, mozarella, mushrooms, ham and a 12 ounce patty.
---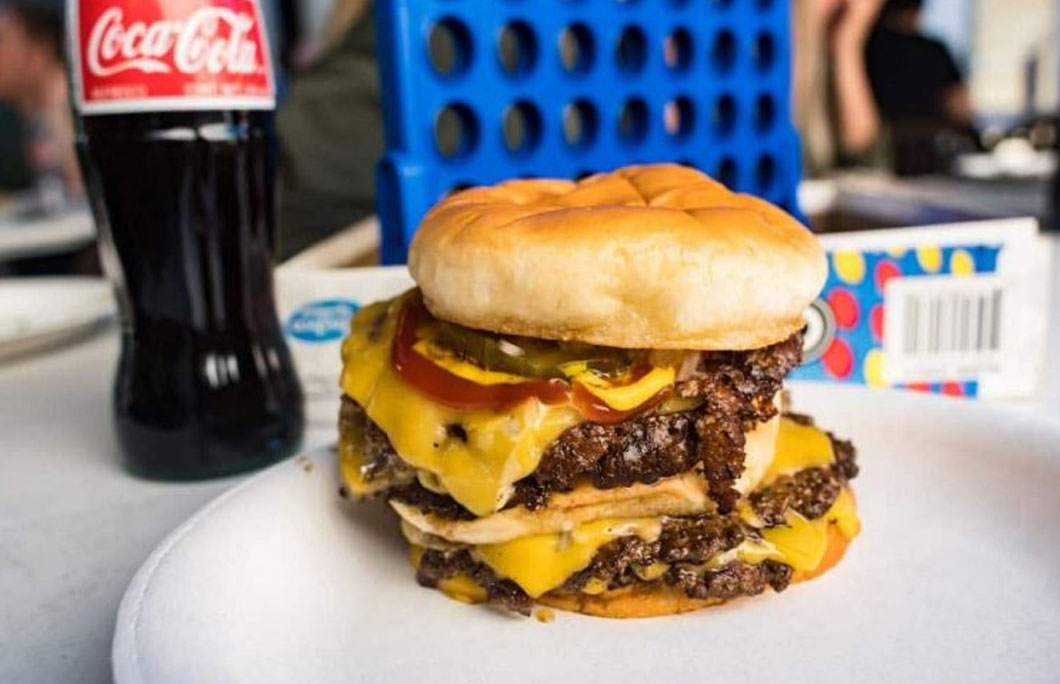 9. Burgers Never Say Die- Los Angeles, California
BNSD's fandom is intense, but oh-so deserved. The legendary pop up recently opened up a permanent spot in Silver Lake where the long lines for these smashed beauties show no sign of slowing down. The top tip to remember? Always. Get. Two. When something is this good, one is never enough.
Check out the best burgers in California here
---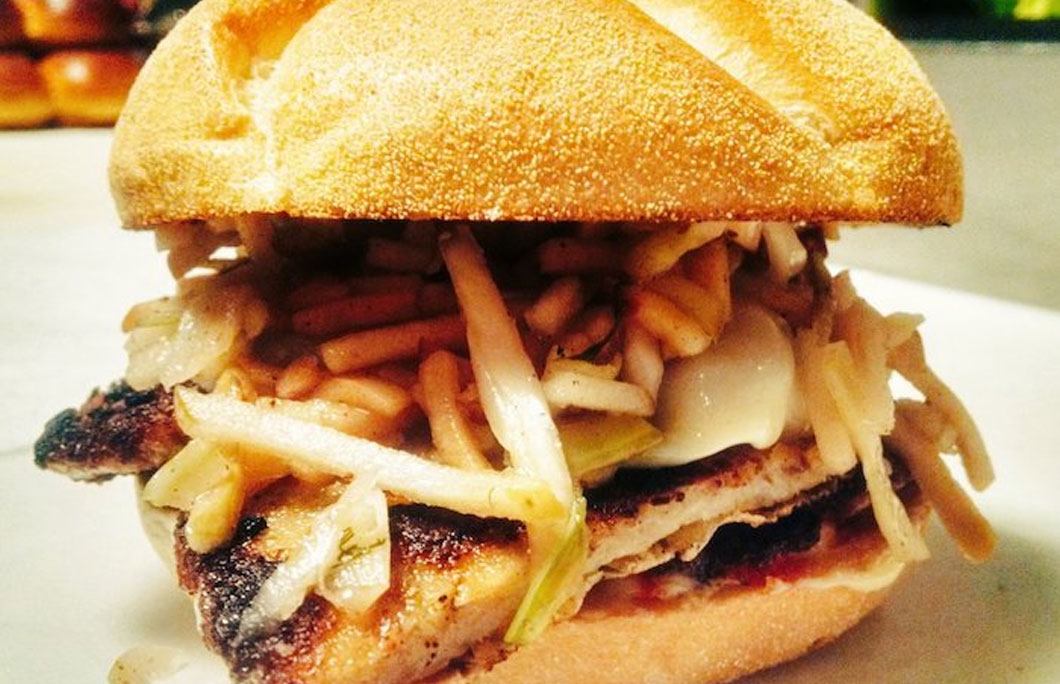 8. Spot Gourmet Burgers – Philadelphia, Pennsylvania
At Spot Gourmet Burgers, they trust you to build your own masterpiece. Choose from fresh ground USDA sirloin, organic chicken or a veggie patty, then simple choose three toppings and any number of condiments. Or you could opt for the chef's creations like the 'Unami', made with mushrooms, grilled onions, lettuce, pickled daikon, samjang, cucumber and pickled daikon.
---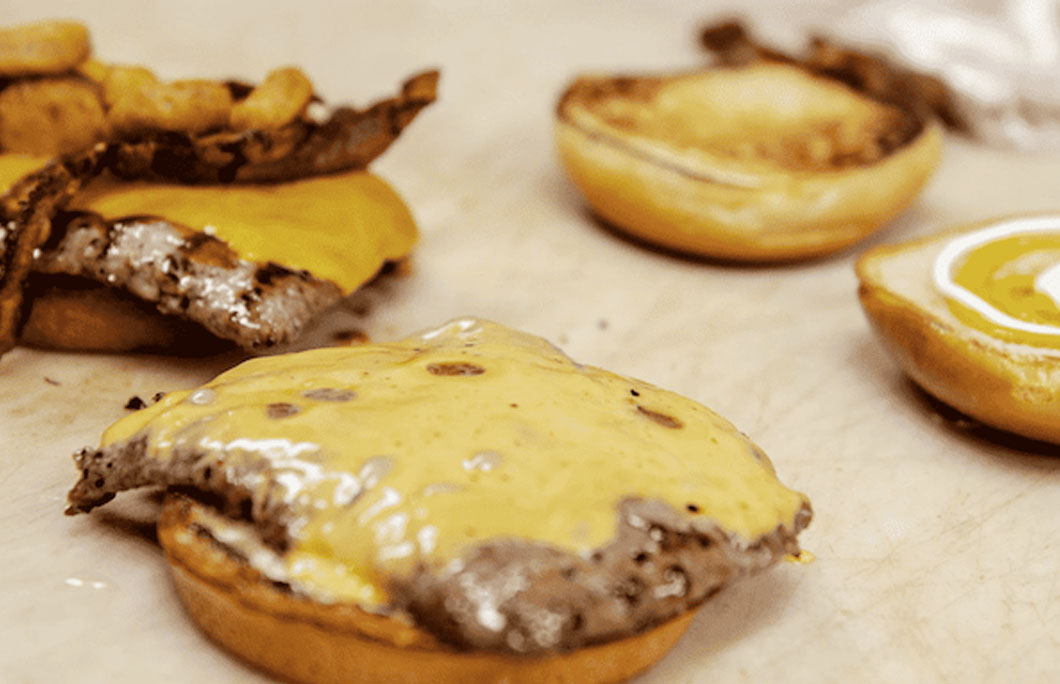 7. Hall Of Flame Burgers – Ruidoso, New Mexico
Hall of Flame's burgers are BIG and spicy. For a proper taste of the south, they put chilli in most of the burgers too. Try the green chilli burgers with bacon and avocado, served alongside crunchy beer batter fries. Service is speedy, even when the queues are long.
Check out the best burgers in New Mexico here
---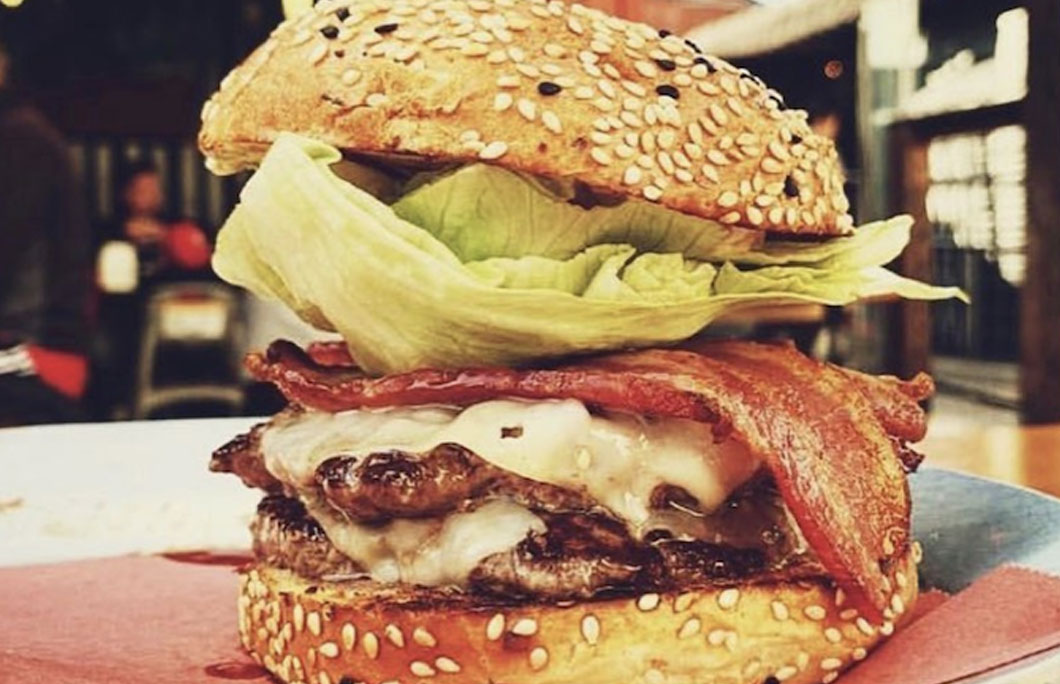 6. 4505 Burgers & BBQ – San Francisco
This barbecue joint serves up top tier burgers in the heart of the city. The grass-fed beef patties are plump and juicy, the lettuce is crisp and the gruyère cheese is a winning touch. We heartily recommend going the whole hog with a fried egg on top too.
---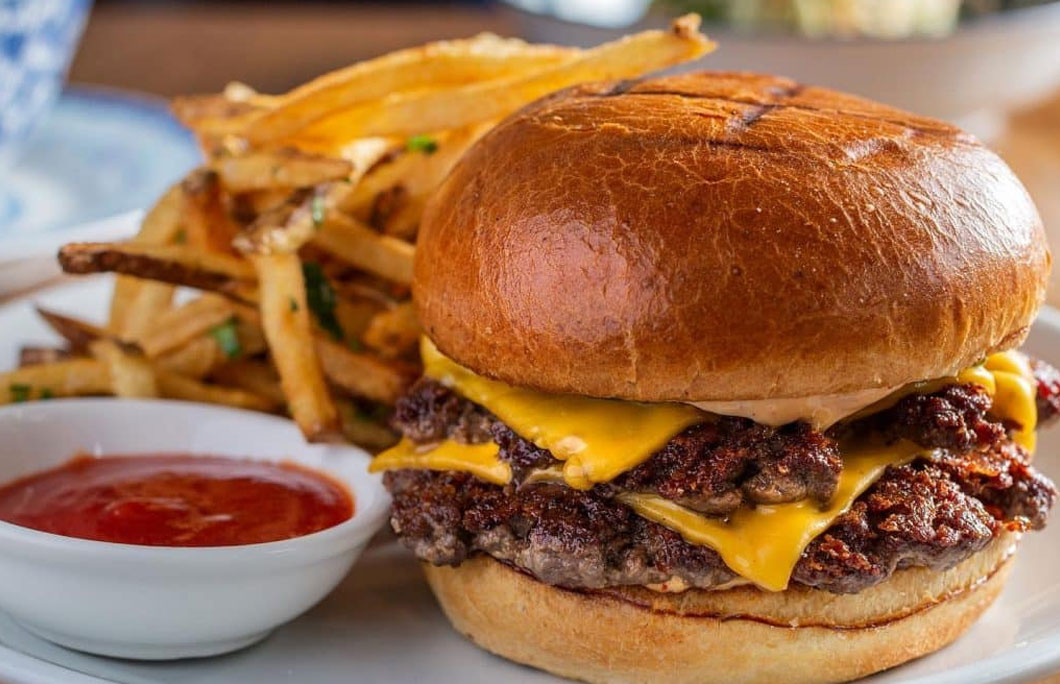 5. Community Tavern – Chicago, Illinois
If you're up to speed with our annual burger roundups, Community Tavern will already be a familiar face. It's features in our top ten two years running, for good reason. The husband and wife team who own the tavern put a lot of love and care into all of their dishes, but it's the burger that really stands out. Comprising two juicy patties, caramelized onions and a zingy sauce, it's a must-order.
Check out the best burgers in Illinois here
---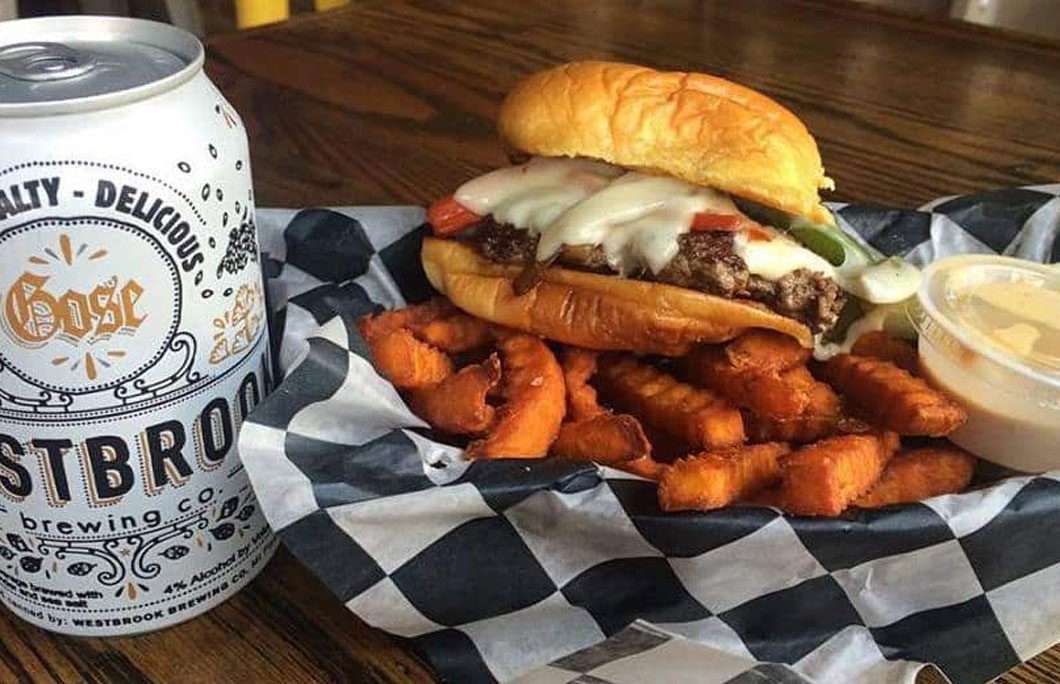 4. Jack Brown's Beer & Burger Joint – Birmingham, Alabama
Founded by childhood friends in 2014, there's a wide range of brilliant burgers on the menu at Jack Brown's but we recommend trying one of the 'specialty burgers'. These bad boy burgers are made with 100% all-natural Wagyu beef. Local favourites include the Elvis (wagyu topped with peanut butter, mayo, applewood smoked bacon and American cheese) and the Dr. Gonzo (with sautéed mushrooms, Guinness onions, Swiss cheese applewood smoked bacon).
---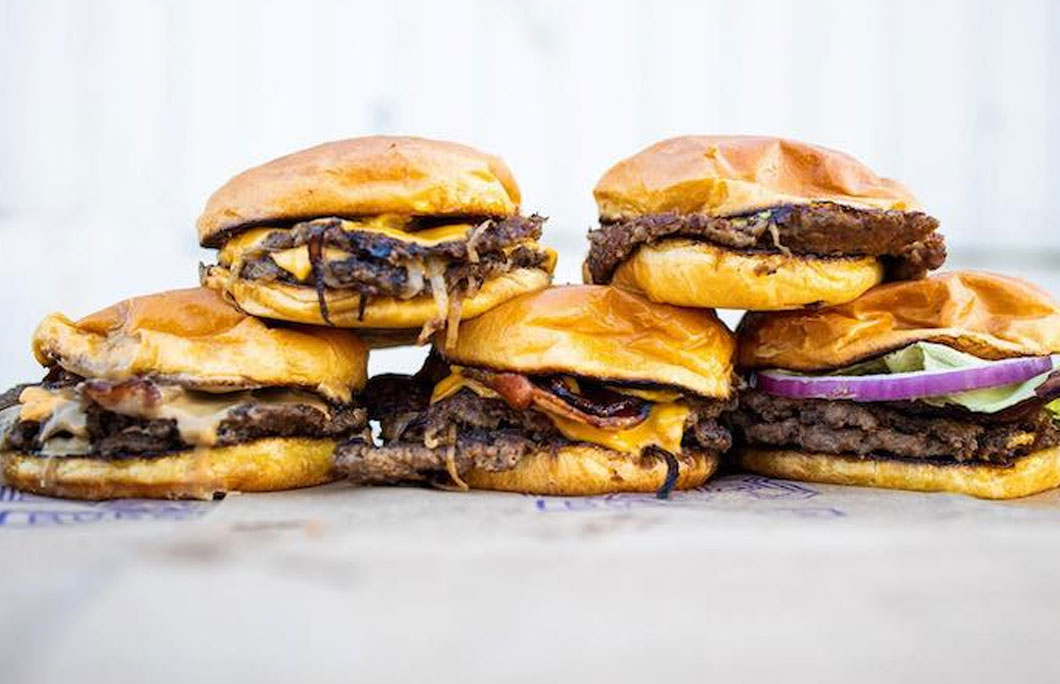 3. Bub's NOLA – New Orleans, Louisiana
Bub's started life in 2020 as a pop-up but their burgers became so popular that it quickly became evident that the tight-knit group of friends would need a permanent home (now on Banks Street) If it's your first time here, opt for their namesake burger, made with two juicy patties, America cheese, pickles, onions and 'Bub sauce' loaded onto a toasted brioche bun.
---
2. The Nook – St. Paul, Minnesota
The Nook describes its as 'a small place with big burgers', and boy are they right about that. It's the best place in town to try a 'Jucy Lucy' – a stuffed burger with cheese inside the meat instead of on top for an extra gooey, melted bite. You can also choose a pretzel or wheat bun too.
---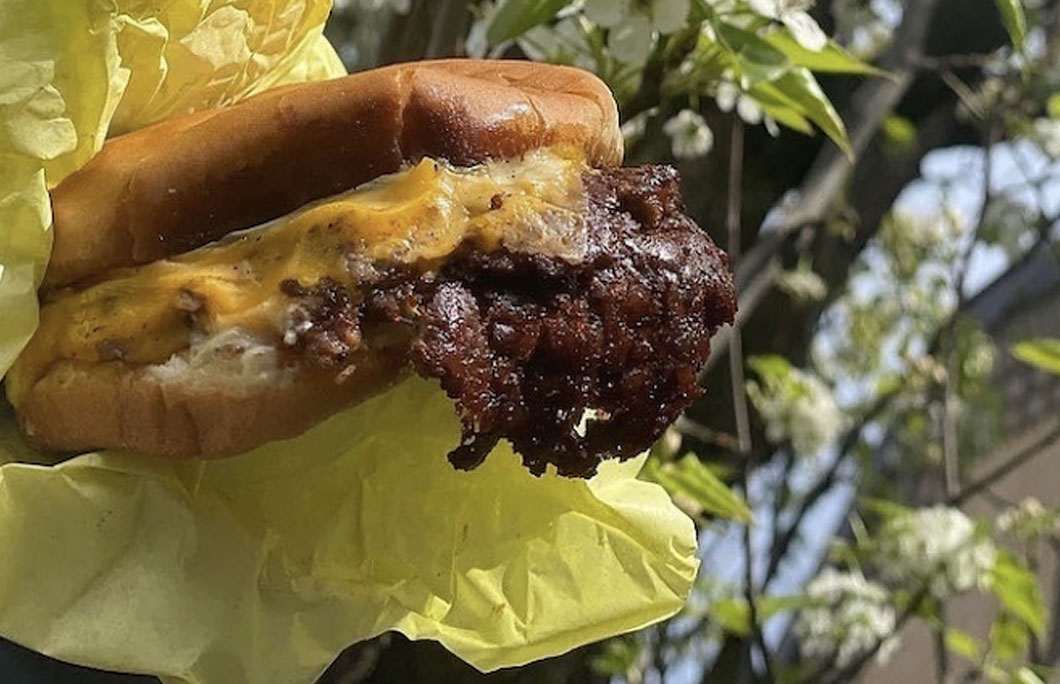 1. Mid-City Smash Burger – Portland, Oregon
These burger boys are, quite literally, smashing it. The New Orleans-born business boasts Portland's best – and newest – smash burger. On the surface it's just meat, cheese and sauce in a bun but the reality is so much more. Two thin beef patties are smashed together, slathered with american cheese slices and the chef's own special smash sauce, and served between two fluffy buns.
---