Top 10 Road Trips from Kansas
Wichita KS to Oklahoma City OK.
Topeka KS to Kansas City MO.
Manhattan KS to Lincoln NE.
Liberal KS to Amarillo TX.
Pittsburg KS to Tulsa OK.
Leoti KS to Cheyenne Wells CO.
Elkhart KS to Albuquerque NM.
Coffeyville KS to Bentonville AR.
Hiawatha KS to Bethany MO.
Colby KS to Boulder CO.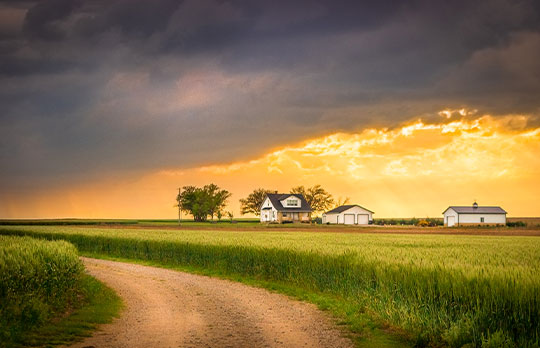 Top 10 scenic drives from Kansas
A famous state in the US Midwest, Kansas has a fascinating history and a dynamic contemporary culture. Named after the Kansas River and its local Kansa Native Americans, the state is landlocked between neighbors Colorado, Oklahoma, Missouri, and Nebraska, with Wichita as its largest city and Topeka as the capital. When Kansas was first officially opened to settlers in 1854, several years of pitched battles between pro-slavery and abolitionist forces commenced, with the latter eventually emerging victorious and 'The Free State' entering the Union in 1861. These days, agriculture drives the local economy, with wonderful golden wheat fields and rolling green hills dominating much of the scenery.
As gorgeous as the Great Plains scenery is, there's much more to Kansas. For instance, Lawrence has a vibesy music scene, Hutchinson boasts a brilliant space museum, and the Sedgewick County Zoo has over 3000 animals of all stripes. Alternatively, the Evel Knievel Museum is a must-see for fans of the legendary stunt rider, and although the Wichita Gardens are at the other end of the adrenalin scale, they're so cathartic to walk around. Last but not least, Kansas features heavily in The Wizard of Oz and there's a museum dedicated to the book and movie in Wamego.
But whether you're a Kansan or just based here for a while, you might want to spread your wings beyond the Sunflower State ‐ in which case, it's a brilliant central base for road trips to all points of the compass. Hire a car in Kansas and some of the best of America is in easy reach.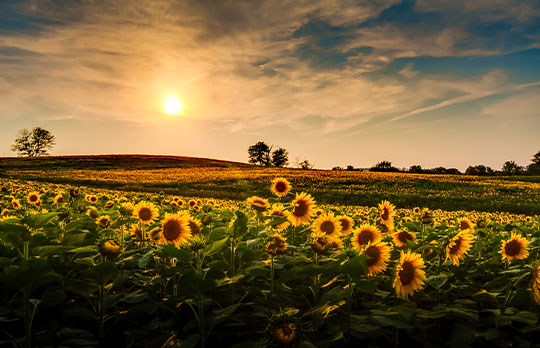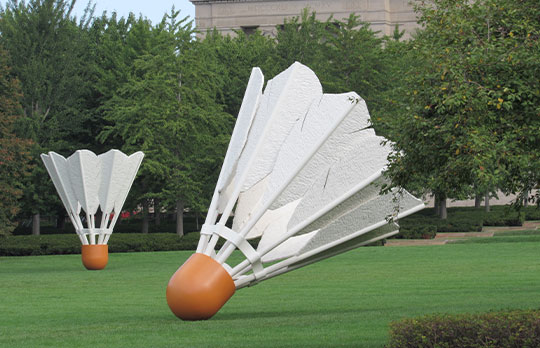 Top tips on driving in Kansas
Your top 10 road trips from Kansas will be here in a click of your ruby red shoes. But some driving tips are a sensible stitch in time. The Kansas Highway Patrol advises that you should always wear your seat belt and never let small kids or teens ride in the front passenger seat if there's an airbag fitted. Furthermore, obey the traffic laws and always drive defensively. If you ever become stranded, dial *47 (*HP) on your cell phone and the highway patrol will assist. Always observe the speed limits in Kansas, which are 121 km/h on rural freeways and 32-48 km/h in residential areas.
Now we're up to date with driving in Kansas, let's get back to your road trips!
Wichita KS to Oklahoma City OK
How does escaping Wichita for another close by (but still legendary) city sound? Oklahoma City is only two hours and 20 minutes away via I-35 S, so it's a manageable day trip but booking an overnight stay makes it more pleasant. There's a ton of great stuff to do in OKC ‐ take your pick from strolling or kayaking in Scissortail Park, watching an Oklahoma City Thunder ballgame, or meeting elephants at Oklahoma City Zoo's Sanctuary Asia. And if you're a fan of the Old West, don't miss the National Cowboy & Western Heritage Museum ‐ it's magnificent.
Topeka KS to Kansas City MO
Ready to saddle up in Topeka for a ride eastwards? Kansas City, Missouri is just one hour away via I-70 E and there's a whole lot going on. Enjoying lip-smacking ribs at Joe's Kansas City Barbecue at 47th is a rite of passage, then strolling round Country Club Plaza's designer shops helps you digest. Meanwhile, the Nelson-Atkins Museum of Art has 4000 works (including the giant shuttlecock out front) and the American Jazz Museum is packed with interactive exhibits and amazing artefacts. Kansas City ‐ you might need more than a day to take it all in!
Manhattan KS to Lincoln NE
Tired of Manhattan? Transfer to Lincoln Nebraska with a 2 hour, 25 minute ride north along US-77 N. A university city brimming with history and culture, Lincoln makes a marvelous weekend getaway. First off, the historic Haymarket District is a great place to soak in the 19th-century brickwork architecture and watch the world go by, and the former Lincoln Station houses a stylish restaurant and visitor center. Move on to the University of Nebraska State Museum to meet the world's biggest articulated mammoth, then rev things up amidst iconic race cars and roadsters at the Museum of American Speed.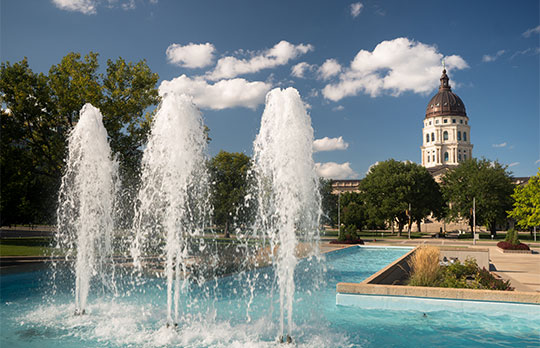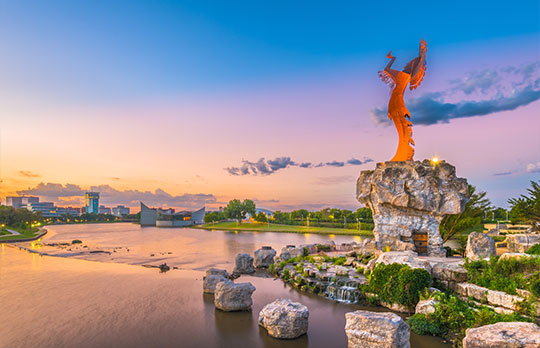 Liberal KS to Amarillo TX
The way to Amarillo? If you're leaving from Liberal, it's two hours 40 minutes' drive down US-54 W and US-287 S. Lots of Texan treat await, including the quirky Cadillac Ranch just off Interstate 30, where several of the classic cars stand nose first in the dirt, ready for you to add your own graffiti. And the road trip vibe continues at Sixth Street Historic District ‐ a famous section of Route 66 with lots of authentic restaurants, shops, and signage. Top off your trip with a drive to Palo Duro Canyon State Park ‐ just 30 minutes south of Amarillo, it's home to America's second-biggest canyon.
Pittsburg KS to Tulsa OK
A road trip from Pittsburg to Tulsa takes two hours 10 minutes via I-44 and it's always worthwhile. Head straight to the Blue Dome Entertainment District if fun is top of your to-do list. Here, 9 action-packed blocks radiate from the iconic reclaimed gas station, with everything from 10-pin bowling to tongue-tingling Mexican cuisine on offer. Alternatively, the Oklahoma Aquarium has sharks, sea turtles and lionfish, and the Tulsa Arts District has attractions like The Brady Theater.
Leoti KS to Cheyenne Wells CO
Need to leave Leoti for a little break? Colorado's Cheyenne Wells makes a welcome change of scenery, just one hour and 15 minutes away via KS-96 W and US-385 N. At the Cheyenne Wells Old Jail Museum, you can tour the cells where some of East Colorado's most notorious badmen were once held, while the Mountain States Telephone and Telegraph Museum celebrates the golden age of the country's first radio wave telephone systems. Treat yourself to some delicious pizza at The Gap grill while you're in town.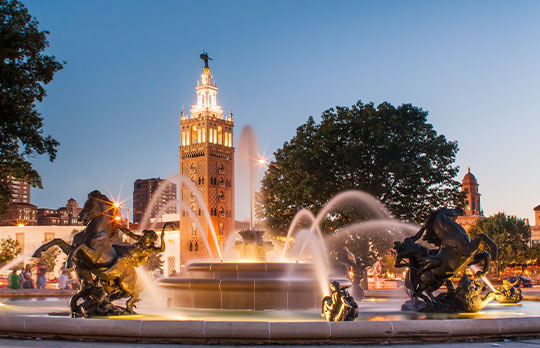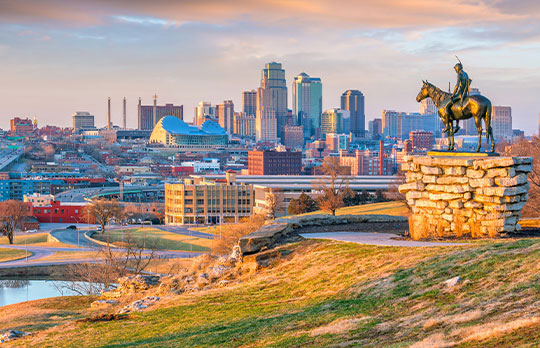 Elkhart KS to Albuquerque NM
How does shipping out from Elkhart to Breaking Bad country sound? Albuquerque New Mexico is 5 hours 30 minutes away via US-54 W and I-40 W and it's a brilliant weekend break destination. Located bang in the middle of the state along the Rio Grande, one of the best things to do here is take a hot air balloon trip over the stunning Sandia Mountains. Got kids in tow? ABQ BioPark has a zoo, aquarium, and botanical gardens ‐ perfect!
Coffeyville KS to Bentonville AR
Bentonville Arkansas is two hours 10 minutes from Coffeyville via US-166 E and I-49. And boy is it a first-rate road trip destination. The Crystal Bridges Museum of American Art is an eye-popping complex set amidst lush woodlands and the Museum of Native American History celebrates the areas original gatekeepers and guardians. But if you're feeling energetic, strap on your safety harness at Climb Bentonville and scale the climbing walls using your fingers, toes, and wits!
Hiawatha KS to Bethany MO
Want to roll out from Hiawatha for a road trip with a difference? Bethany, Missouri is a couple of hours away via US-36 E and I-35 N and it's always a delight. If golf is your thing, try the manicured greens of Bethany Country Club on Highway 69, and a Historic District tour brings you up to date with the history of Harrison County. If you want to stay overnight in traditional style, camp under the stars at Dunn Ranch & Pawnee Prairie ‐ it's an experience you'll never forget.
Colby KS to Boulder CO
Ready to roll out from Colby for a longer road trip? Boulder Colorado is three hours 40 minutes west along I-70 W but it's well worth your efforts. Pearl Street is the brick-paved beating heart of the city, where locals and visitors alike mix and mingle over delicious food and drink. The Flatirons form a mystical mountain backdrop that you can explore them up close with wilderness hikes, and another quirky attraction is the Dushanbe Teahouse ‐ an ornate, dreamy gathering place shipped out from Boulders twin Tajikistan city and carefully reconstructed. The teas are pretty good too.