The 7 Best Boutique Hotels In Tulum
Tulum is a tropical paradise on the Caribbean coastline of the Yucatán Peninsula in Mexico. Tulum is famous for its cenotes, wildlife, diving and Mayan ruins. It is also a perfect location for a sun holiday as it has pristine beaches, which have safe swimming areas. There's plenty of beachside cafes and restaurants and a lively nightlife scene too. When it comes to booking accommodation in Tulum, some charming hotels really give you a flavour of the area. There are plenty to choose from, so to help you with your search, we've picked some of the best boutique hotels in Tulum.
The 7 Best Boutique Hotels in Tulum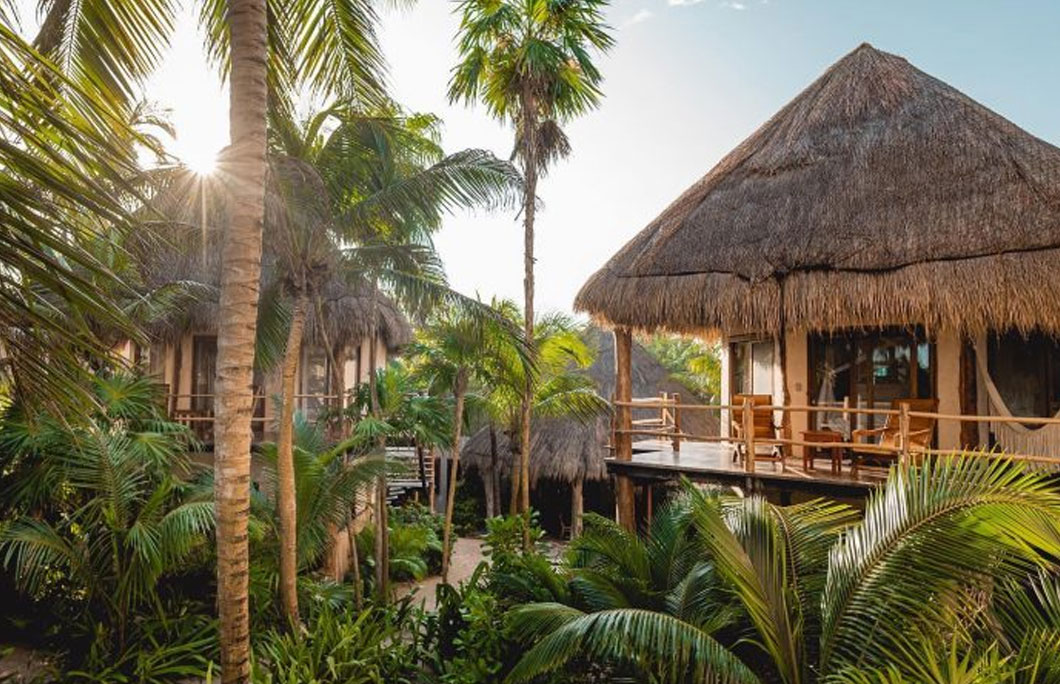 1. Encantada
Encantada Tulum is a beautiful adult-only boutique hotel located along a quiet strip of Tulum Beach. There are just 8 rooms, which makes this property feel very exclusive. With views of the Caribbean Sea and jungle gardens, you feel like you are in a tropical paradise. The natural surroundings are very serene and tranquil. Relax and unwind with a complimentary yoga class or perhaps a curative pre-hispanic sound healing session. Take to the sea and go sailing or snorkelling or just enjoy barefoot strolls on the soft sand. Local hand-made artwork and fabrics adorn the uniquely decorated rooms. With floor-to-ceiling sliding glass doors and wrap-around decks bringing the outside in, Encantada is one of the most relaxing boutique hotels in Tulum.
---
---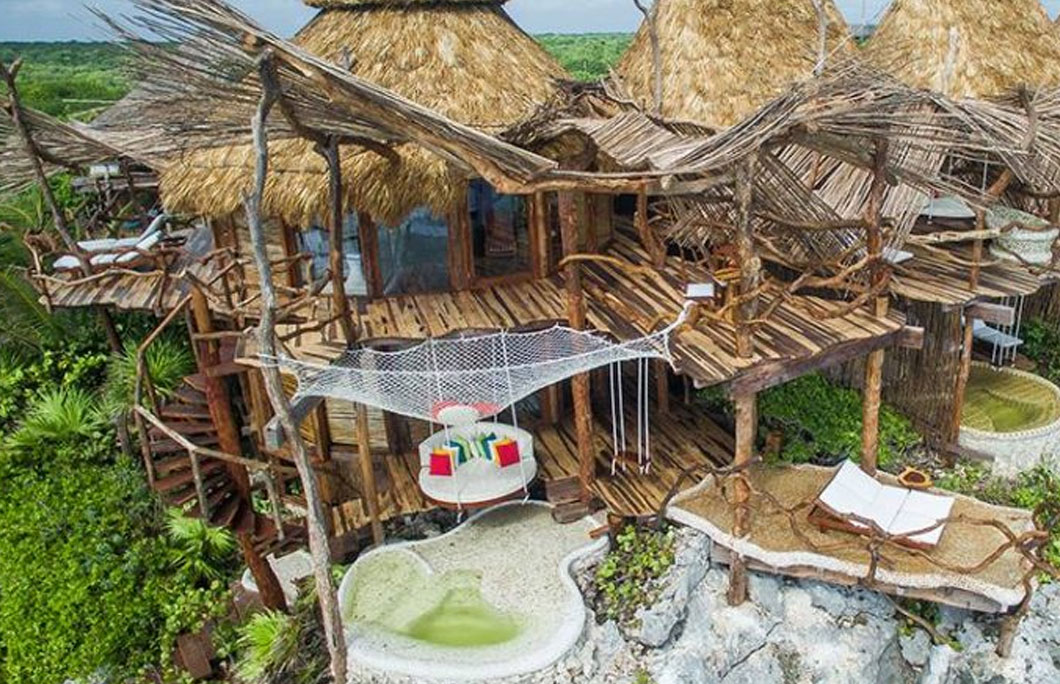 2. Azulik
Azulik is an adult-only boutique hotel where you can reacquaint yourself with nature. The ecological resort has 33 villas fully constructed of fine woods. They all have large private terraces to enjoy the view – the Caribbean to the front and the rainforest to the back. Azulik villas are candlelit to protect the turtle nesting, and this just ups the romance factor too. Because of how peaceful and quiet this place is, you can hear the waves and birds singing as you lay in your beachside cabanas. As if that wasn't relaxing enough, you can enter a deeper state of relaxation during a session with expert healers. These healers use native instruments and traditional bowls vibrations, along with essential oil touches to balance your energy. Azulik is the place to be nurtured in nature.
---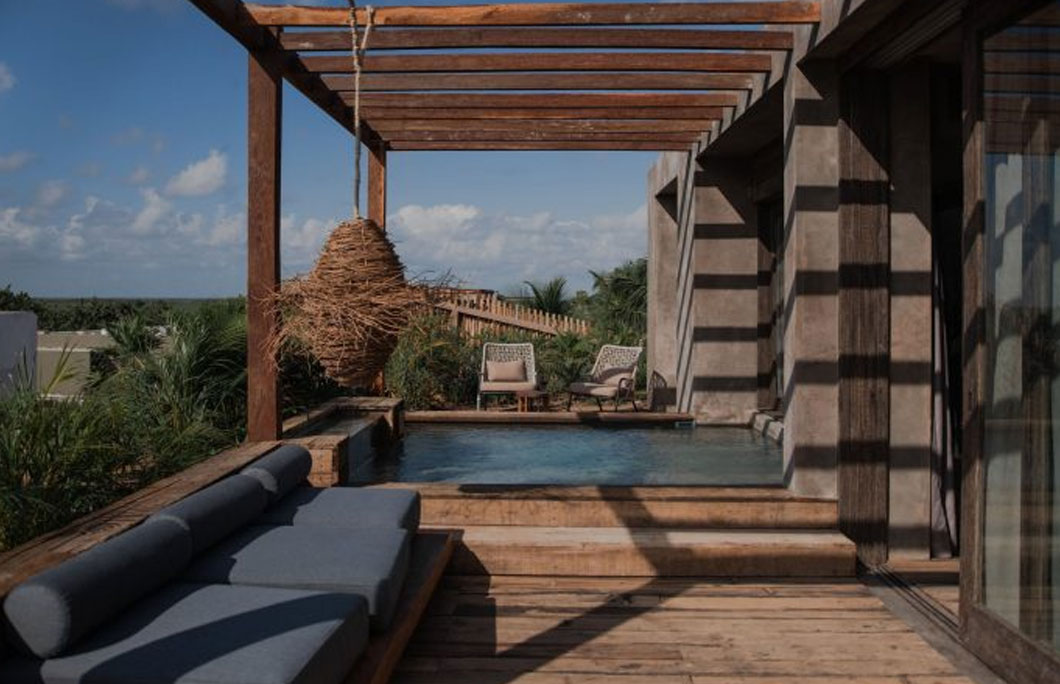 3. Hotel Nômade
The Hotel Nomade is located on sacred land on the Yucatan Peninsula, just a few minutes away from the Mayan ruins in southeastern Mexico. This hotel is a place for restoration with its Yäan Wellness Energy Spa offering healing, rejuvenation and deep transformation rituals. You can stay in rooms or suites, as well as treehouses and tents. The design of the rooms allows you to experience as much of the natural world as possible. Of course, being a luxury retreat, all accommodation options have amenities and facilities to make your stay as comfortable and stress-free as possible.
---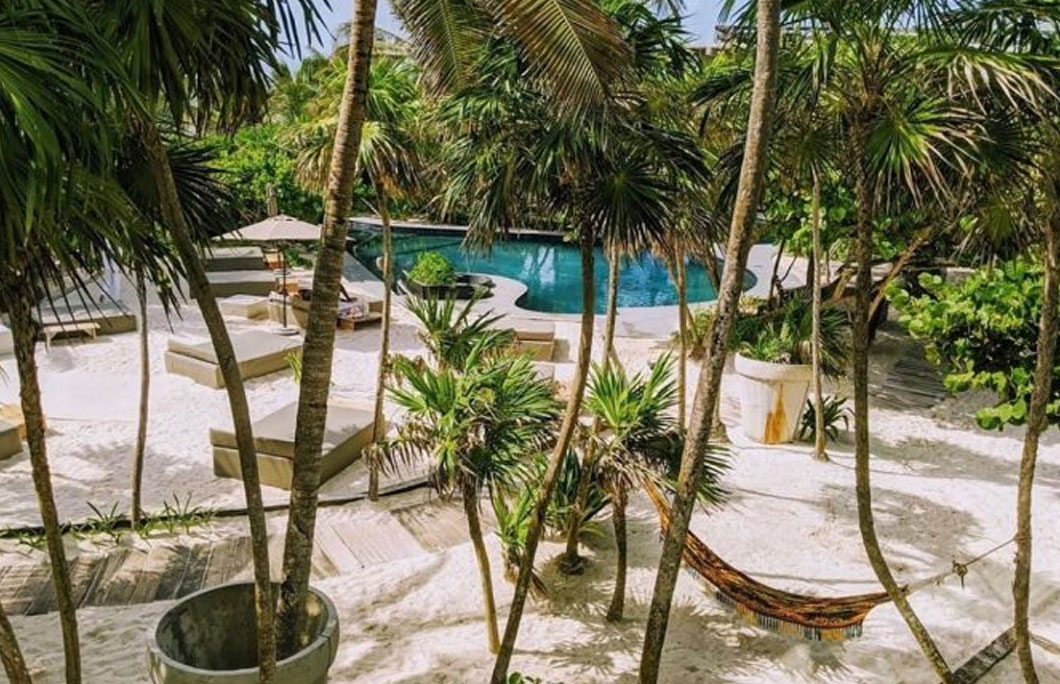 4. Casa Malca
Once a mansion belonging to Colombian drug kingpin Pablo Escobar, Casa Malca is now a luxury hotel. Fusing contemporary art, ancient Mayan culture and Tulum's famous bohemian vibe, this is a wonderful beachfront escape with a real flavour of the area. The 71 rooms all have stunning views of the Caribbean and the hotel's beautiful gardens. The on-site Philosophy Restaurant serves Mexican food with a contemporary European twist and there are two bars. There are plenty of places to relax, for instance, by the outdoor or indoor pools or in one of the many hammocks. You can also walk along the stretch of beach which is flanked by lush rain forest. It really is a spectacular setting fitting for this unique hotel.
---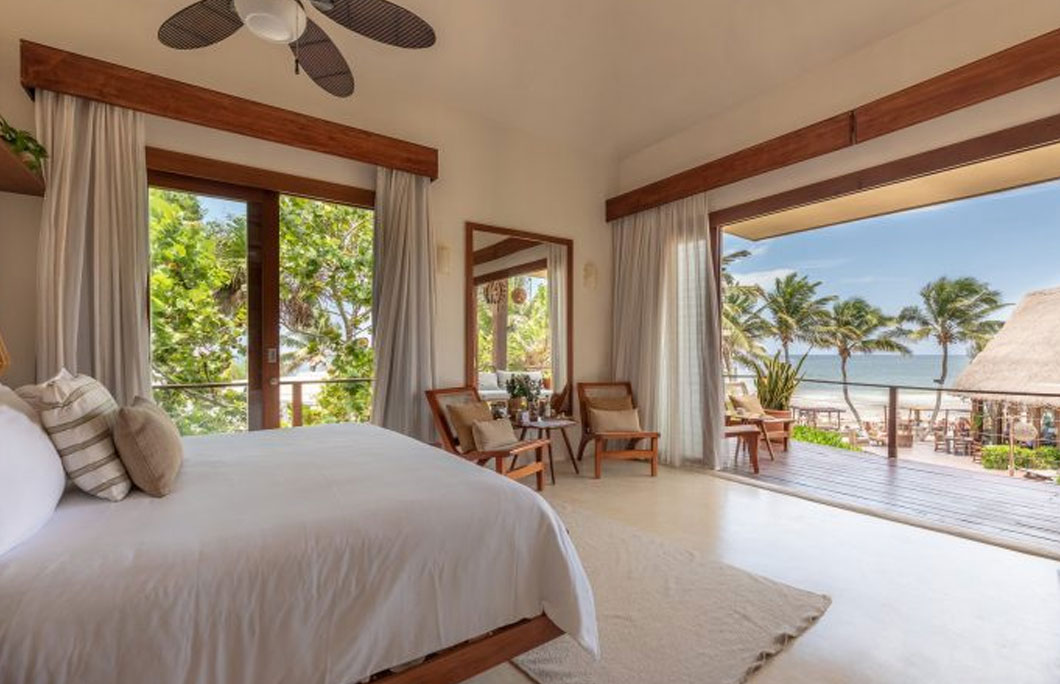 5. La Zebra
La Zebra is a fun-filled hotel with a great vibe. It is perfectly suited to all type of holidaymakers for example families, friends and couples. Located right on the beach, the 30 suites, cabanas and rooms are neutrally decorated so as not to distract from the natural surroundings. They are cool, calm and comfortable. The on-site restaurant gives you a chance to taste the flavours of Mexico with menus that evolve from day to night and highlight the bountiful ingredients available throughout the country. There's also a lively beachfront tequila bar and cantina. With its thatched roofs, swaying palms and location in a historic former coconut plantation, this hotel fused jungle-chic and barefoot luxury.
---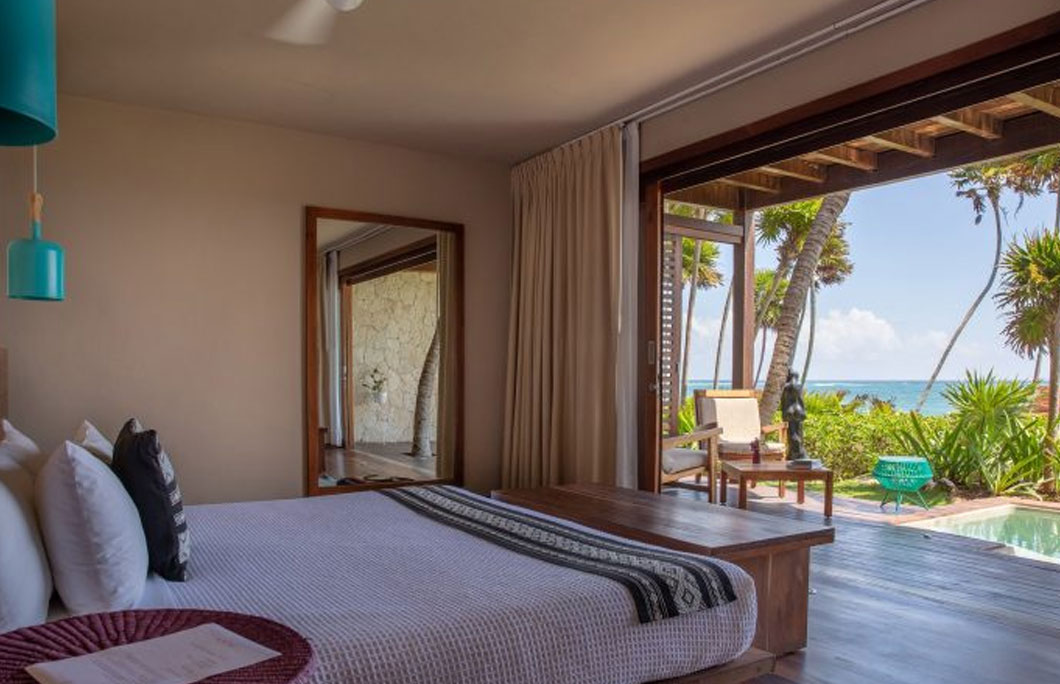 6. Mi Amor Hotel & Spa
This exclusive couple's hideaway is ideal for those looking for a romantic beachside getaway. With just 20 rooms, this hotel feels intimate and offers plenty of secluded spaces and privacy. Rooms are contemporary with high-tech and luxurious amenities, for instance, sumptuous bed linens, a rainfall shower, a Nespresso coffee maker and Bluetooth speakers. There are a variety of rooms to suit all tastes and budgets. When it comes to facilities, the hotel has a tranquil infinity pool that overlooks the ocean and a spa offering relaxing treatments. The magnificent dining room with ocean views serves flavourful food using fresh, local ingredients.
---
---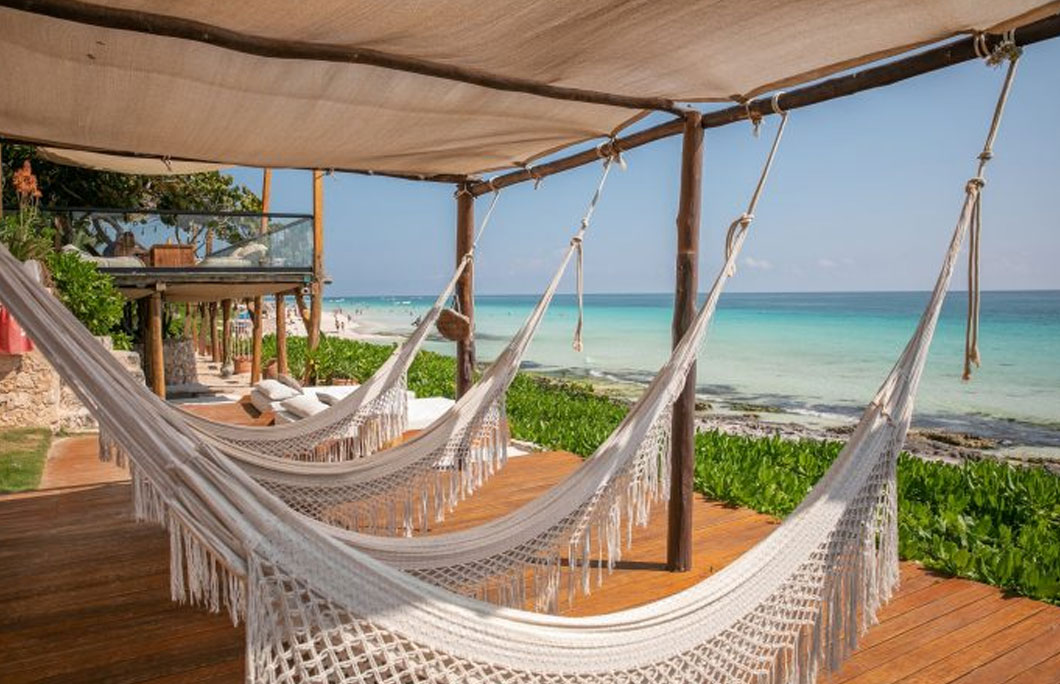 7. Mezzanine
Every aspect of the Mezzanine boutique hotel in Tulum is designed with optimal relaxation in mind. Located inside the Tulum National Park, the Mezzanine is a slick and stylish adults-only boutique hotel with just nine rooms. As you can imagine, this hotel feels exclusive and intimate. You get wonderful personal service that you just can't get at bigger hotels. There is a small swimming pool with a waterfall, a small garden and another sitting area under coconut trees. The hotel is surrounded by mangroves and a soft white-sand beach is right in front. The oceanfront restaurant serves Thai inspired food made with the freshest local ingredients and there is a cool lounge area where you can sip cocktails and catch the sunset.
---