Top 10 Road Trips from Illinois
Chicago IL to South Bend IN.
Peoria IL to Jefferson City MO.
Joliet IL to Kalamazoo MI.
Rockford IL to Cedar Rapids IA.
Chicago IL to Detroit MI.
Marion IL to Clarksville TN.
Makanda IL to Zalma MO.
Woodstock IL to Milwaukee WI.
Moline IL to Des Moines IA.
Olive Branch IL to Wolf Island MO.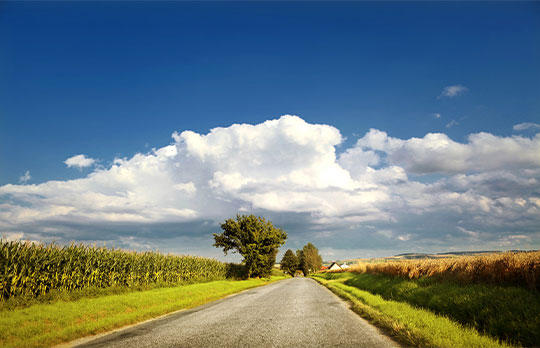 Top 10 scenic trips from Illinois
Best-known to outsiders for Chicago's sophisticated museums, restaurants and skyscrapers, Illinois is also famous as the home state of Abraham Lincoln, the kitsch Americana of Route 66 and Ernest Hemingway's hometown Oak Park. It's also home to Peoria (birthplace of the late, great comedian Richard Prior), and state capital Springfield, home of the Dana-Thomas House.
Outside of urban attractions, you can also explore the undulating agricultural landscape of Poplar Grove and embrace outdoor activities like kayaking, climbing, and hiking. As well as the entertainment offered year-round in restaurants, coffee shops, craft beer bars and cafes, Illinois is also home to famous music extravaganzas like Lollapalooza, the Napier Bluegrass Festival, Chicago Beer Fest, Oak Street Art Fair and Springfield Area Highland Games and Celtic Festival (at Chatham).
The Midwestern location of the state also means that it's a superb springboard for road trips to several neighboring and nearby states ‐ including Missouri, Wisconsin, Michigan, Indiana, Arakansas, Kentucky and Tennessee. Hire a car in Illinois with Enjoy Travel and you'll experience some of American's most beautiful places under your own steam.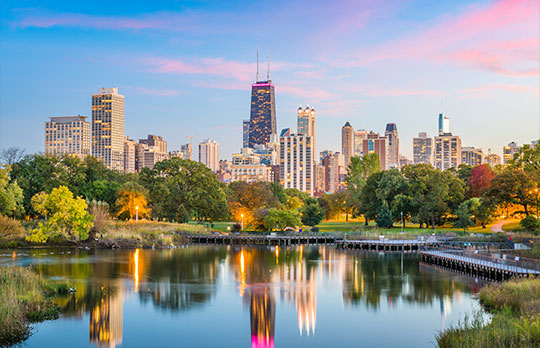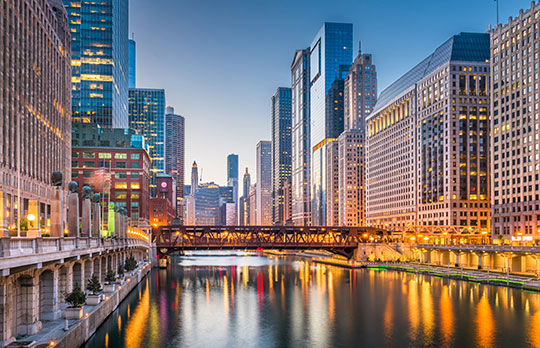 Top tips on driving in Illinois
We'll get right on to your 10 best Illinois road trips but let's pause for some quick driving tips.
The driver and all passengers should always wear seatbelts when driving here and although drivers aged 19 and over can use hands-free cellphones, those aged under 19 aren't allowed to use mobiles in any way.
Kids under 8 should always use a safety seat appropriate for their size and weight, drivers should always give way to funeral processions and it's an offense to pass a school bus on a road with two lanes or less if it's loading or unloading passengers, or if its lights are flashing.
Speed limits in Illinois are 30 mph within city limits, 65 mph on rural highways and 70 mph on interstates.
You should never park within 15 feet of a fire hydrant, or within 30 feet of a traffic signal, and never double park beside a parked vehicle on the road.
Let's get cruising with those inspirational Illinois road trips.
Chicago IL to South Bend IN
Does a trip out of the Windy City to a scenic, arty, destination sound pretty good? A road trip to South Bend, Indiana takes just 1 hour and 30 minutes via I-90 E and there's plenty to do and see. Take Four Winds Field for instance. If you want to catch a ballgame here, you can cheer along with 5,000 fellow fans as the South Ben Cubs take on rivals. Alternatively, the Circa Arts Gallery is a great place to see (and buy) work from local talent and the Healthworks! Kids Museum is an awesome interactive way to teach kids about health and fitness. For something a little livelier, splash out on white water rafting at East Race Waterway.
Peoria IL to Jefferson City MO
Missouri's Jefferson City is around 4 hours from Peoria, so it's best to stay overnight to make the most of this road trip. Missouri State Penitentiary is a great place to start your Jefferson City sojourn ‐ this well-preserved penal facility is spooky and fascinating. Meanwhile, the domed State Capitol building is another must-see and everything from F-4 Phantoms to Sherman tanks are displayed at the Museum of Missouri Military History. The Runge Nature Center is another top pick ‐ with hiking trails, exhibits and a wildlife viewing area, it showcases the area's natural beauty.
Joliet IL to Kalamazoo MI
Rev up your engine for this two hour 30 minute route along I-80 E and I-94 E to a destination that just trips off the tongue. And Michigan's Kalamazoo doesn't just sound cool ‐ it also delivers dynamic distractions. You'll see 20th Century masterpieces by Warhol, Butterfield and others at the Kalamazoo Institute of Arts, check out retro automobiles and the Gilmore Car Museum (at nearby Hickory Corners), and see the world's only remaining example of a Blackbird stealth plane at the Air Zoo. Afterwards, cool off with an ice cream in the gorgeous green space of Bronson Park.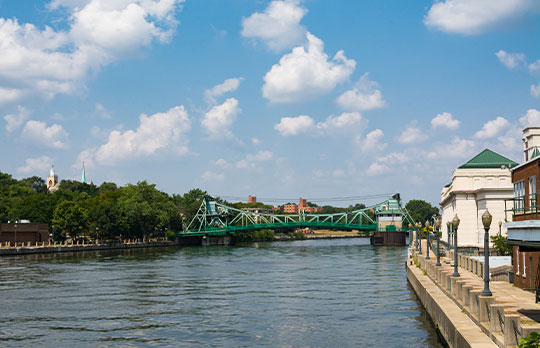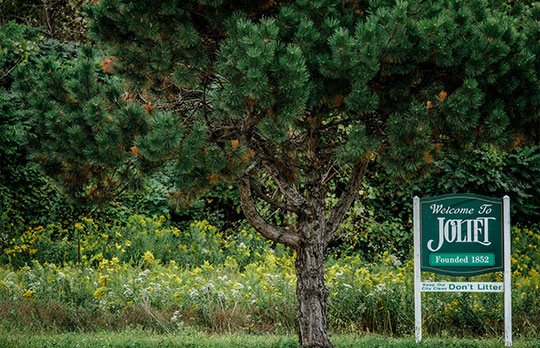 Rockford IL to Cedar Rapids IA
Rolling out of Rockford for the weekend? The 3 hour trip along US-20 W and US-151 S to Iowa's Cedar Rapids has much to recommend it. Once you reach your location, you can check out the wonderful studio where Grant Wood painted American Gothic and learn about local history at the brilliant Brucemore site (complete with 1886 mansion). NewBo City Market is perpetually popular too ‐ you can pick up everything from fresh flowers and baked goods to specialty food and regional crafts.
Chicago IL to Detroit MI
Ready for another cool Chicago road trip? Roll along the I-94 E for around 4 hours 15 minutes to spend a couple of days in Michigan's marvelous Motor City. Boxing fans landing in Detroit should make a beeline for the iconic Kronk gym, where everyone from Thomas Hearns to Lennox Lewis sharpened their skills, then you can cool off at beautiful Belle Isle in the Detroit River. Alternatively, bookworms adore the ornate Detroit Public Library, and the Henry Ford Museum explains how the automobile shaped America. Downtown and Greektown are great places to stay in this famous city.
Marion IL to Clarksville TN
Tempted by a Tennessee road trip? If you're based in Marion, Clarksville is just 2 hours 20 minutes along the I-24 E and you'll get a great ROI on your gas spend. To chill out in Clarksville, take in some local history at the beautiful Customs House Museum (built in 1898) or stroll along the McGregor Park Riverwalk or into the woods at Clarksville Greenway. You can also explore an 8-mile long cave at Dunbar Cave State Park, picnic at Liberty Park & Clarksville Marina, and make your own pottery at Horsefeathers studio downtown.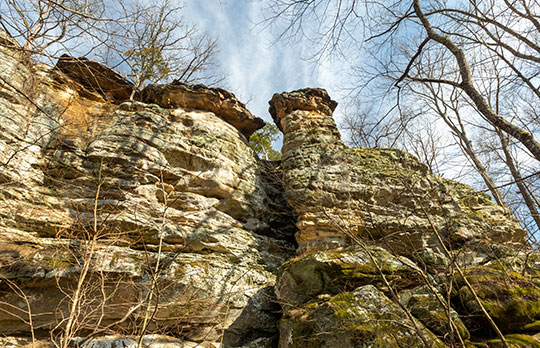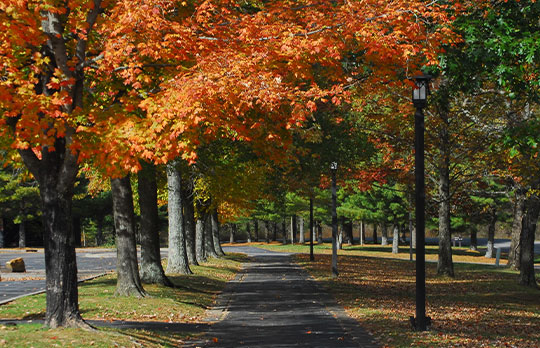 Makanda IL to Zalma MO
The road trip from Makanda to Missouri's Zalma takes 1 hour and 30 minutes via IL-146 W and you pass through pretty Cape Girardeau on the way ‐ if you're into animals, take some time out here to discover the Lazy L Safari Park, which has ibex, alligators, camels, monkeys, zebra and deer. At Zalma, you can camp, fish and kayak at Castor River Hideaway or enjoy fabulous food and live music at The Rustic Lodge (famous for karaoke Sundays and the annual Rustic Summer Jam). For a rural getaway, Zalma is pretty much perfect.
Woodstock IL to Milwaukee WI
Need a break from Woodstock? Wonders await in Milwaukee Wisconsin ‐ just 1 hour and 20 minutes along the I-43 N. If you're an arty sort, you'll love the Historic Third Ward ‐ a creative neighborhood that's home to the Milwaukee Institute of Art and Design (MIAD) and bags of boutiques and eateries. You can also let the good times roll in awesome performing arts spaces like Pabst Theater, Milwaukee Opera Theater and the Marcus Center for Performing Arts. You're in luck if you're a biker too – this city is home to the famous Harley Davidson Museum.
Moline IL to Des Moines IA
Des Moines Iowa is 2 hours 40 minutes from Moline via I-8- W, but it's well worth the effort. The capital of the Hawkeye State is a Midwest Mecca, with attractions including the quirky Des Moines Art Center with its fascinating sculptures and exhibits and the elegant Salisbury House with its manicured lawns and lush gardens. If you really want to relax, take a laid-back walk around Greater Des Moines Botanical Garden ‐ the Bonsai collection is delightful.
Olive Branch IL to Wolf Island MO
Missouri's Wolf Island is just 45 minutes from Olive Branch via IL-3 S and MO-77 S and you always have a howling good time there. Outdoor attractions at idyllic Wolfe Island include the scenic Columbus-Belmont State Park, and Wickliffe Mounds State Historic Site, and architecture fans will be impressed by U.S. Custom House and Cairo Public Library. Don't miss Reelfoot Lake ‐ surrounded by thick forest and panoramic hiking trails, it's ideal for fishing and spotting birds. For a relaxing trip in the great outdoors, Wolf Island is wonderful.