Long-Term Car Lease Vs Car Rental
So you're wondering whether long-term car lease or car rental is best?
Great question and the right answer very much depends on your needs and circumstances.
There are many similarities between leasing a car long-term and renting one – as well as some subtle differences. For instance, despite their length compared to a traditional daily or weekly car rental, they're both short-term commitments compared to actually buying a car. You don't own the car in both these scenarios and therefore can't make any customizations or sell it on. They can both allow you to drive a newer car at a lower cost than purchasing and there's often a mileage limit.
So what are some of the differences? Well for starters, there's more of a commitment involved in leasing a car than renting one and there are differences in the auto insurance required (your own auto insurance can cover a rental car but you'll have to take out a separate policy for a lease). You also get a lease from a car dealership and it usually lasts 2-4 years, whereas you rent from a car rental firm (sometimes through a comparison site like Enjoy Travel) and the period can be anything from less than a week to a few months.
Now our long-term car leasing Vs long-term car rental debate is shaping up, time for a deeper dig.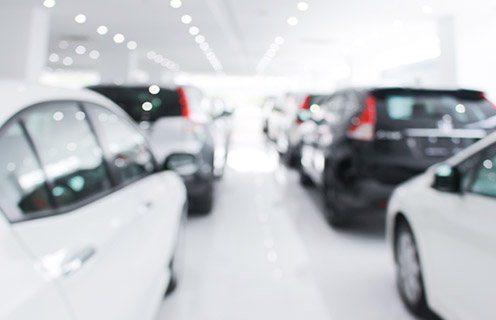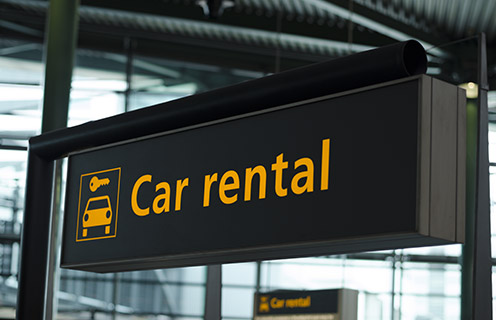 Leasing a car long-term: pros & cons
Leaning towards leasing a car? Let's take a look at some of its positives and negatives.
Pros of leasing a car long-term
Lease a car through a dealership and you can choose your ideal vehicle from right across their range. This means you get the model you really want – whereas the choice is usually more limited with a rental company.
Using a month-by-month comparison, leasing a car can work out cheaper than renting over the same period. Maintenance costs are also lower – they're often included in the lease agreement.
Leasing allows you to drive a new car without making a down payment and the longer you lease for, the greater the financial benefits.
Some long-term car leasing agreements allow you to buy the car outright at the end of the term. Just pay the rest of the car's agreed value and you can drive it away forever.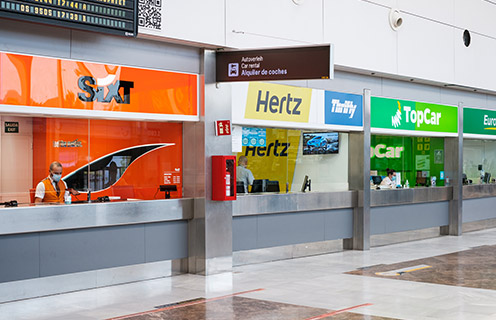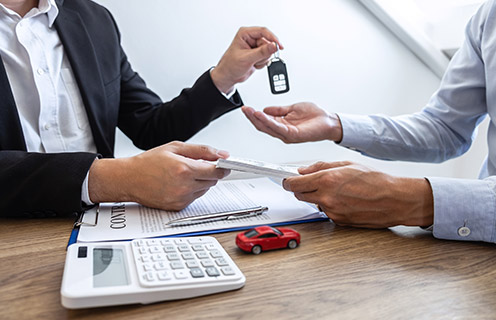 Cons of leasing a car long-term
Leasing a car is less flexible than renting. For instance, you usually need to sign up for at least a year from the get-go and your initial rates will likely be high – with the cost reducing over the lifetime of a longer lease. If you only need a car for 3 or 4 months, renting is preferrable – so think carefully about what 'long-term' means to you.
You'll be subject to a thorough credit check before you lease, which means providing all of your personal financial information.
You'll have to take out your own insurance with a leased car – insurance cover and services like 24 hour breakdown are not included as standard in lease agreements so you have to pay extra.
You have to stick to your choice of car model when you lease. If you change your mind, you'll have to end your current contract and find a new one – starting from scratch with credit checks, informing your bank and carrying out onerous admin tasks.
Renting a car long-term: pros & cons
Does it feel like renting a car for a longer period might float your boat a bit more? Here's some useful information to chew over on the pros and cons.
Pros of renting a car long-term
The first big advantage of renting a car is the sheer flexibility it offers. You can rent a car from a day to several months or longer – the choice is yours.
Booking can often be done in a few clicks – just as easily as organizing a couple of days' rental – plus you can drive away in a new model car.
Swapping out your vehicle during your rental period isn't a problem. So if your original vehicle no longer satisfies your needs, or you're simply hankering for a change, no problem to request a change.
Because you don't have to go through the rigmarole of credit checks etc., renting a car is the best option if you need a vehicle long-term in another country.
If you have any problems with your car, you can rely on the support of your rental provider – just call them for assistance at any time.
Renting a car can be a good choice if you're a businessperson spending a few months at a certain location. If you only drive for business occasionally, it might be preferable than leasing or buying a fleet vehicle – rent a reliable vehicle for as long as you need, then simply hand it back.
Renting long-term (for over one year) can be more costly than leasing, but you claw back cash with engine and tyre maintenance included in your agreement. Something to consider.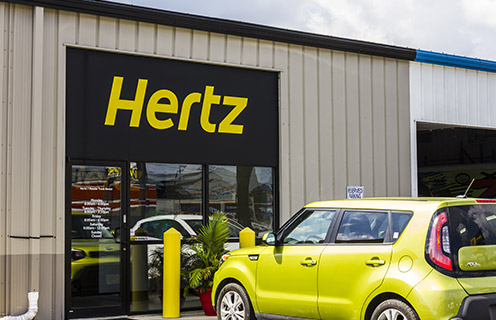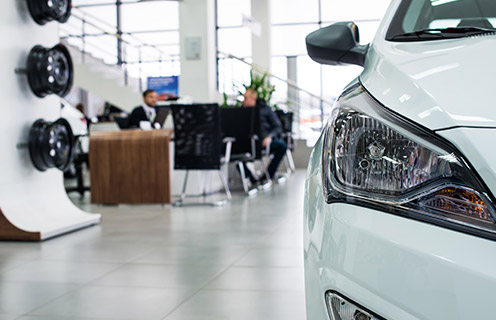 Cons of renting a car long-term
Cost is a factor – depending on the length of your rental, it can work out more expensive than leasing.
There's no possibility of selling the car at the end of your rental period. It remains the sole property of the car rental company.
There will likely be a mileage limit on your long-term rental vehicle, so if you've got lots of road to roll through, it might not be the best option.
Because the car isn't yours, you're not free to modify it or sell it on. You'll also have to be very careful that it doesn't get damaged and return it in good condition.
Which companies offer long-term car leasing?
So which makes of car can you lease?
There's a huge choice out there – from Acura to Audi and Mercedes-Benz to Volvo, chances are your favourite manufacturer is offering a leasing deal. Which means you can drive off in desirable models like the Acura Integra, Buick Encore, Cadillac CT4, Dodge Durango, or Ram 1500. Just imagine rolling out in one of these pristine machines sometime soon.
As we've mentioned, scout around and you might also find a lease agreement with the flexible option of buying out your car at the end of the term – so if you fall in love with it, there's no need to let it go.
Which companies offer long-term car rental?
Worried that your favorite car rental firm doesn't do long-term rentals?
Relax – chances are it does. For starters, Hertz offers multi-month rentals, provided you're renting for a minimum of 63 days. And Avis Flex is another long-term offer from a big industry name and it's available across the US and beyond. Meanwhile, Sixt, Budget and Alamo all offer long-term car rental too – there's plenty to choose from and we can always advise further here at Enjoy Travel.
So what's best for me – long-term car leasing or renting?
You're probably closer to deciding now about which option is best for your needs.
Longer-term rental has great advantages in terms of convenience and flexibility. It's quick to arrange, a low credit score is not as much of a barrier, and you can change vehicles when the mood takes you. And you can also hit the road in a new car model (although the choice for any one manufacturer won't necessarily be vast).
On the other hand, leasing can cost less than renting in the long-term, there's a wider selection of cars and you can buy out your lease. You'll have to stick to the choice of car you make initially but if you're sure and want the option of eventually owning it, leasing might be the way to go.
If you're moving to a new country, you might be able to find a specialist service for leasing cars which arranges your credit checks etc – take a look online. But to get you behind the wheel as quickly as possible abroad, nothing beats the speed of renting.
Last but not least, top rental providers like Hertz and Sixt also offer monthly car subscription services whereby you pay a reasonably monthly fee for a suitable vehicle and insurance and maintenance fees are included – certainly worth looking into.
Hopefully we've helped you make your mind up in the fierce long-term car leasing Vs long-term car rental debate – there are lots of excellent options out there for different types of drivers.
Whatever you choose, stay safe on the road and keep on rolling!