The best road trips in Oregon
Trail Ridge Road
Million Dollar Highway
Independence Pass
Peak to Peak Highway
Santa Fe Trail
Highway of Legends
Mount Evans Scenic Byway
South Rim Road
Cache la Poudre-North Scenic Byway
Trail of the Ancients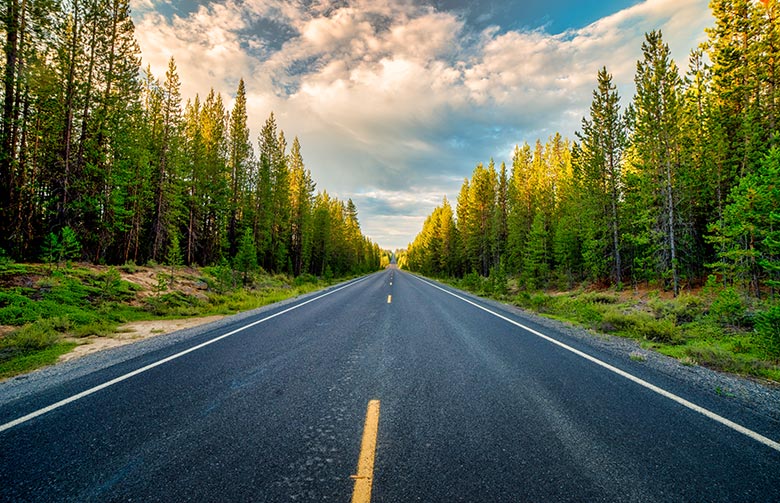 10 best scenic drives in Oregon
Heading to Oregon for your US staycation? Great pick. When it comes to terrain, this state has a quicksilver quality that makes it tough to describe definitively – you'll see everything from verdant forests to dramatic coastlines and isolated deserts to stark glaciers. Oregonians will claim that the Great Outdoors doesn't get any greater – it's tough to disagree!
Famous landmarks here include the dazzling Crater Lake and the chameleonic Painted Hills, while you can switch off from the outside world in endless labyrinthine trails that take you through mountains, forests, and pastures.
Oregon is no slouch when it comes to towns and cities either. Portland is hip and boho, but don't forget superb small towns like Astoria (80s kids will recognize it as 'The Goonies' filming location) and arty Jacksonville with its awesome historic architecture. Meanwhile, you can feast in excellent restaurants in laid-back Cannon Beach, enjoy the Alpine vibes in Joseph (dubbed 'Little Switzerland), and drink in formal gardens, magical murals and wondrous waterfalls in Silverton.
This state has also been the homeland of indigenous people like the Burns Paiute Tribe, Confederated Tribes of Grand Ronde, Confederated Tribes of Siletz Indians, and many more for thousands of years You can find out more about their rich history and vibrant contemporary culture at attractions like the Tamastslikt Cultural Centre near Pendleton.
As you can see, Oregon is ideal for exploration by car – rent a vehicle here and look forward to some of the best scenery the US has to offer.
Top tips on driving in Oregon
Your top 10 Oregon road trips are coming right up, but let's take a super-quick pitstop for some driving tips.
As you'll expect, you must wear seatbelts at all times here and please remember that pedestrians have the right of way at crosswalks. This state is (rightly) very strict about drink driving – whenever you get behind the wheel here, you're automatically consenting to urine, blood, or breath alcohol tests. The limit is 0.08%.
Speed limits in Oregon are lower than in many US states – for instance in tight city roads they can be as low as 15 mph. In school zones and business districts, the limit is 20mph, it's 25mph in residential areas, 55-65mph on rural highways and 70mph on interstate highways. At four-way stops, drivers to the right have priority and you should treat traffic lights that aren't working as a four-way stop. You'll find meter parking in most towns and cities, but park and ride facilities can be more convenient wherever these are available.
Now we're caught up with the road code in the Beaver State, let's get strapped in for your top 10 road trips!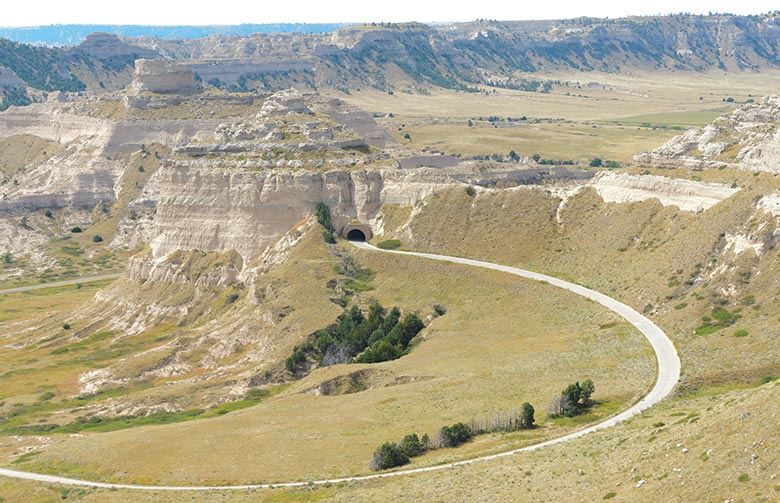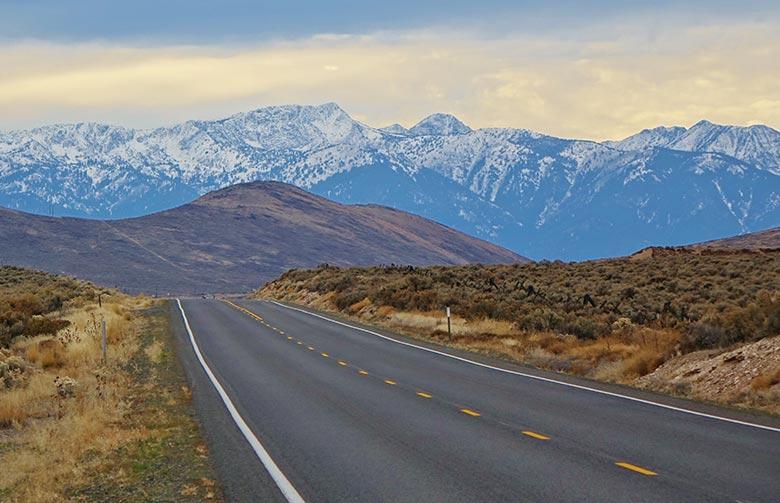 Pacific Coast Scenic Byway
Roads don't get much more dramatic than the Pacific Coast Scenic Byway. This epic 584km route takes at least 10-12 hours to traverse, so you'll want to build in at least one overnight stop in order to really make the most of it. Covering craggy headlands, remote beaches, rocky pools, roaring waves, and rugged coastal communities, it's truly inspirational. Starting in Astoria in the northwest, stop-offs include Garibaldi, Newport, and Coos Bay, with Brookings as the final destination (famous for its banana belt climate and the state's largest stand of coastal redwoods).
Hells Canyon Scenic Byway
This legendary 335km loop takes you from La Grande to Baker city, via Hell's Canyon (America's deepest river gorge) and the Wallowa Mountains, in the heartland of the Nez Perce tribe. 19 of the Wallowa peaks reach over 9000ft and here you'll find the backpackers paradise Eagle Cap Wilderness. Starting at the pioneer town of La Grande in eastern Oregon, the route takes in Elgin, Enterprise, Joseph, and the eye-popping Hell's Canyon – split by the Snake River, at some points on the east rim this gorge drops more than 8000 feet, which exceeds even the Grand Canyon.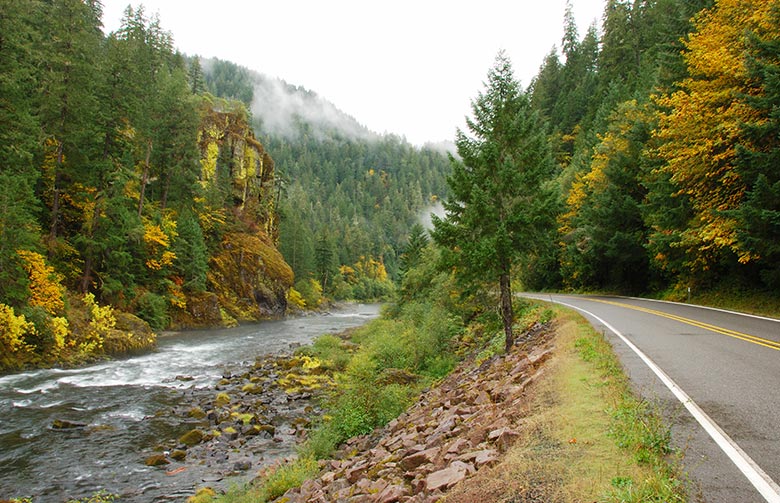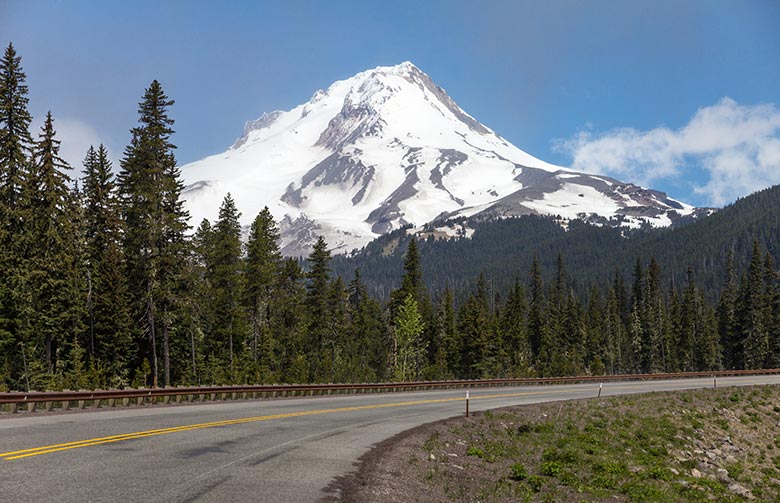 Umpqua River Scenic Byway
Fancy a 106km drive that takes you through traditional timber settlements, winelands, fishing spots and historic fur-trading posts? The Umpqua River Scenic Byway includes all this and more as it winds through the coast range en route to the Pacific. Grab a hearty bite at Oakland's Lamplighter Inn at the start of your trip, then enjoy stop-offs at Sutherlin, Kellogg (the fishing is fantastic here), and Elton, where there's a beautiful butterfly house at the community education center. Look forward to a warm welcome wherever you park your wagon down by the river.
Hood to Coast Road Trip
Want a wonderful 357km road trip that takes you from Portland through volcanic mountains all the way down to the coast? Course you do! Starting at Mount Hood Meadows Ski Resort (ace for crisp, fresh pow in winter), you'll wind down to Rockaway beach in time to treat yourself to superb seafood with a sunset view. This 3 hour trip encapsulates the varied terrain that makes Oregon so magical – you'll love it!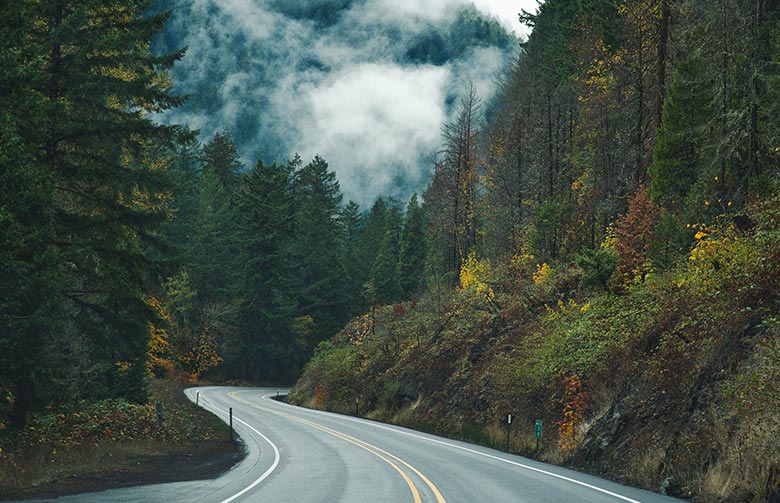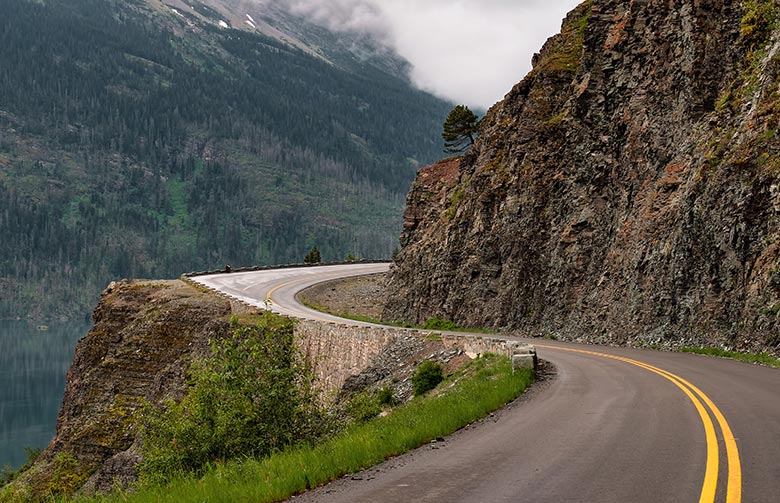 West Cascades Scenic Byway
This sublime 346km road trip skirts the verdant western slopes of the Cascade Mountains, past rivers, mountain lakes, dense fir forests and steaming hot springs. Starting at Estacada outside Portland, you'll head south above the rushing white waters that cut through Clackamas River canyon, before travelling through Olallie Lake National Scenic Area. Next come Detroit Lake and the North Santiam River, followed by McKenzie Bridge and Westfir. Watch out for deer and elk on the way!
Blue Mountain Scenic Byway
You'll see the best of this panoramic northeastern Oregon road trip in the fall when everything has a gorgeous autumnal hue. Blue Mountain Scenic Byway starts in hunting spot Heppner, then continues down Willow Creek Road to Umatilla National Forest. You can camp under the stars here at North Fork John Day campsite and soak up the atmosphere before heading home.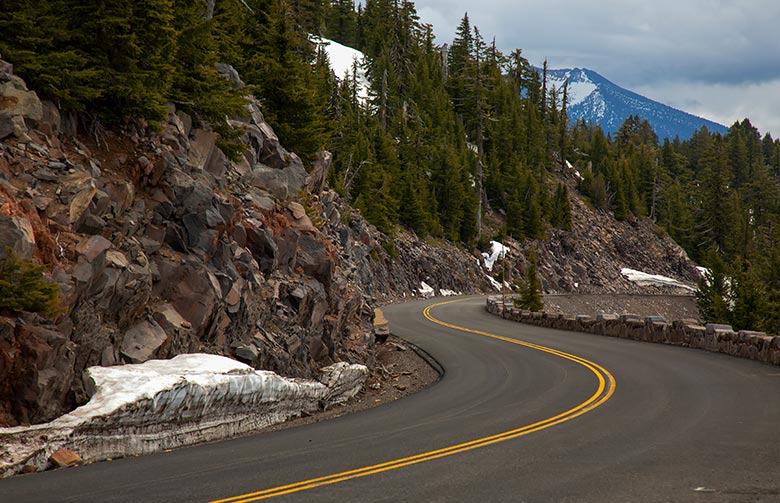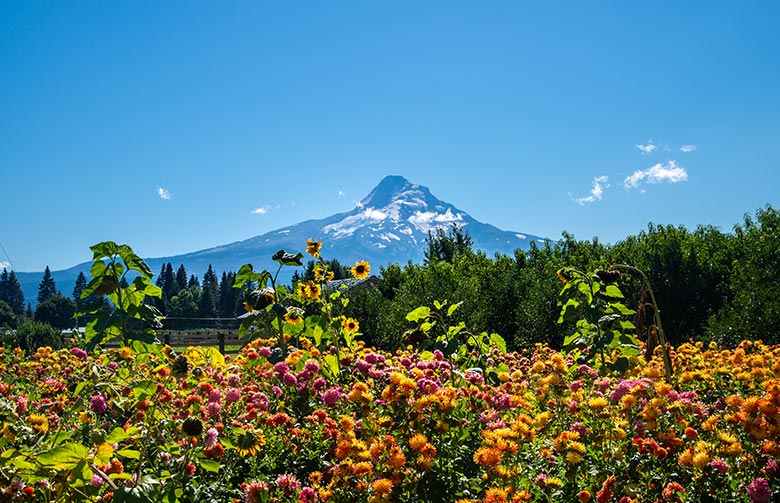 Volcanic Legacy Scenic Byway
If volcano spotting floats your boat, you'll love this 225km road trip in southern Oregon loops round crater lake, Upper Klamath Lake and much more besides. Starting at Diamond Lake Junction on US-97, you'll reach Crater Lake via Fremont-Winema National Forest. The views at Cloud Cap Overlook and Mt Scott are amazing, Klamath Lake is lovely, and at Klamath Falls (your last stop), you'll find the retro Baldwin Hotel and a plethora of Native American artefacts in the Favell Museum.
Fruit Loop
A favorite for foodies, this short but sweet seasonal 56km trip starts and ends in Hood River, taking you past 25 farms and fruit stands that offer the Pacific Northwest's most mouth-watering fruit and natural fare. At The Gorge White House, you'll pick perfect pears, there's refreshing cider at Fox Tail distillery (bring a designated driver) and you'll be in sensory heaven at Hood River Lavender Farm. Travel in summer or fall to get first pick on various fruits!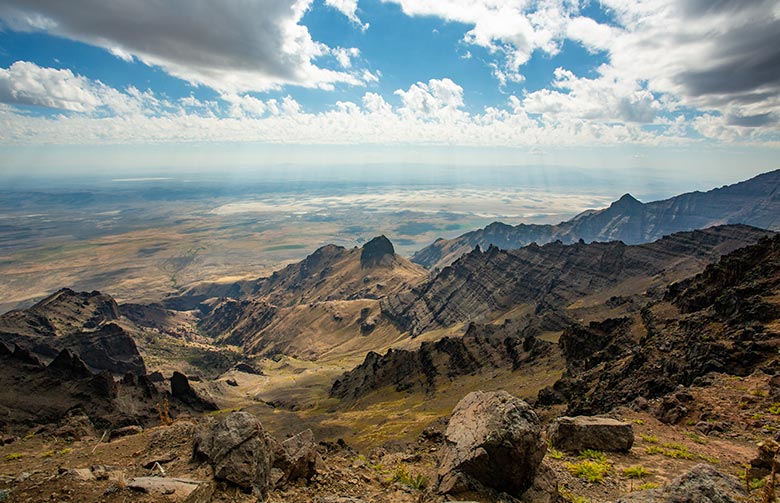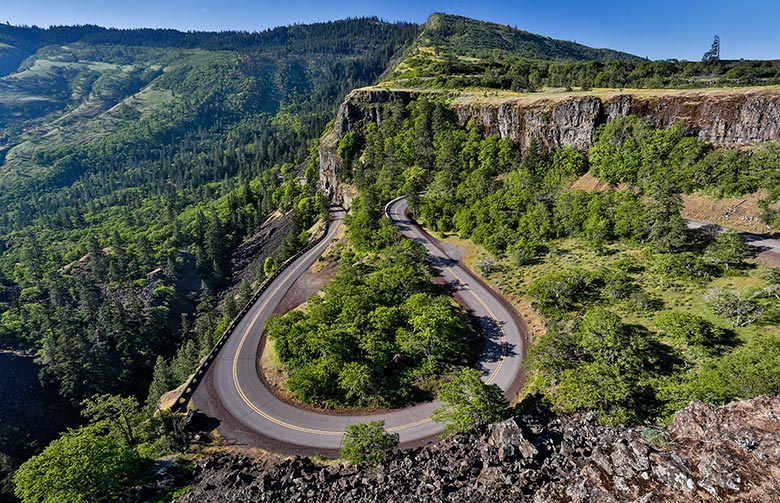 High Desert Discovery Scenic Byway
A 204km road adventure that takes around 7 hours depending on how many pitstops you make, High Desert Scenic Byway gets you up close and personal with mountains, lakes and wildlife. You'll cruise through the wetlands environment of Masher Lake, continue through historic Frenchglen, and take the OR-205 to Steens Mountains Wilderness, which hosts bighorn sheep and wild horses. Bliss.
Columbia River Highway
America's first scenic highway, this 113km route has been called the 'King of Roads' and you'll need 3-5 hours to make the most of it. Best tackled Spring through Fall, as well as the dramatic basalt walls of the gorge, you'll see firs, unique flora, and waterfall after wonderful waterfall (including Latourell, Shepperd's Trail, and the 620-ft Multnomah). Bonneville Lock is worth a visit and as you mosey on down to Mosier you'll see the terrain transform from fir forest to distinctive pine and oak stands.
So there you have it – a decathlon of road trips that exemplify exactly why Oregon might be America's best state to explore by road.
Rent a car with Enjoy Travel at a location near you, strap on your seatbelt and get ready to embrace the freedom of the open road!