The 25 best stop-off diners along Route 66
Route 66 is probably the most famous driving route of all time. The route runs through 8 states: Illinois, Missouri, Kansas, Oklahoma, Texas, New Mexico, Arizona, and California. By driving this infamous route, you'll be able to see some of the most exciting parts of the USA – but you'll need to plan your route ahead of time so you know exactly where to stop. There are so many restaurants and diners in each of the states, you'll be spoilt for choice. Road trips are super fun, but can also be pretty tiring too, so rest stops are essential.
According to a recent poll, there are some absolutely fantastic Route 66 stop-off diners to visit while on the road. But what are the 25 best and where are they? We have collected together our favourites for you to choose from to make your trip a little easier and more enjoyable.
Illinois
25. DeCamp Junction
Staunton
Built in 1931 and the only surviving remains of a coal-mining settlement along Route 66 is DeCamp Junction. This restaurant doubles as a bar and is home to a lot of coal-mining memorabilia available for the public to see. Along with good food and well-priced drinks, what makes this diner unique is that it also has a softball diamond and volleyball course on-site – so it is the perfect stop-off for sports fans.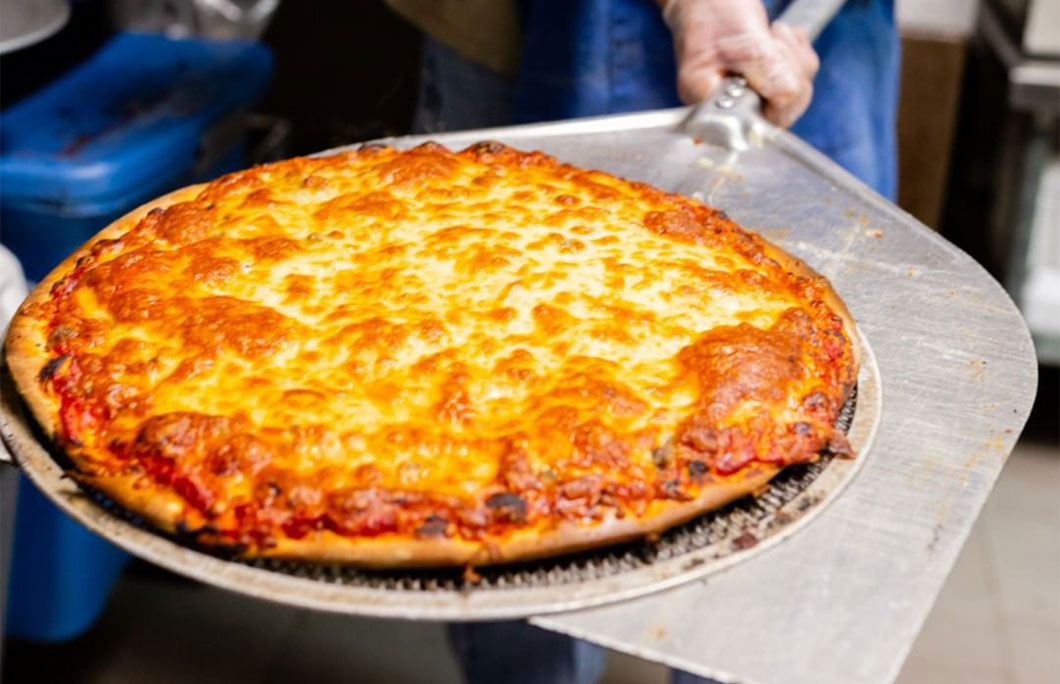 Photo credit: @decampstation
---
24. Ariston Cafe
Litchfield
The Ariston Cafe in Litchfield made it to the top 10 of restaurants – for good reason too. This café, which dates all the way back to 1935 has won numerous awards in its time, and has even nabbed a place on the Illinois Route 66 Hall of Fame. This café has been run by the Adam family for three generations and has all sorts of foods on offer.
Photo credit: Ariston Café
---
23. Lou Mitchell's Bakery and Restaurant
Chicago
Breakfast is Lou Mitchell's Bakery and Restaurant speciality and has been since 1958. They have also, every day since, handed out free doughnut holes for women and kids who pass through their doors – how great is that? We think more restaurants should be like them. Grabbing some authentic American pastries and breakfasts is a great way to start a long day of driving.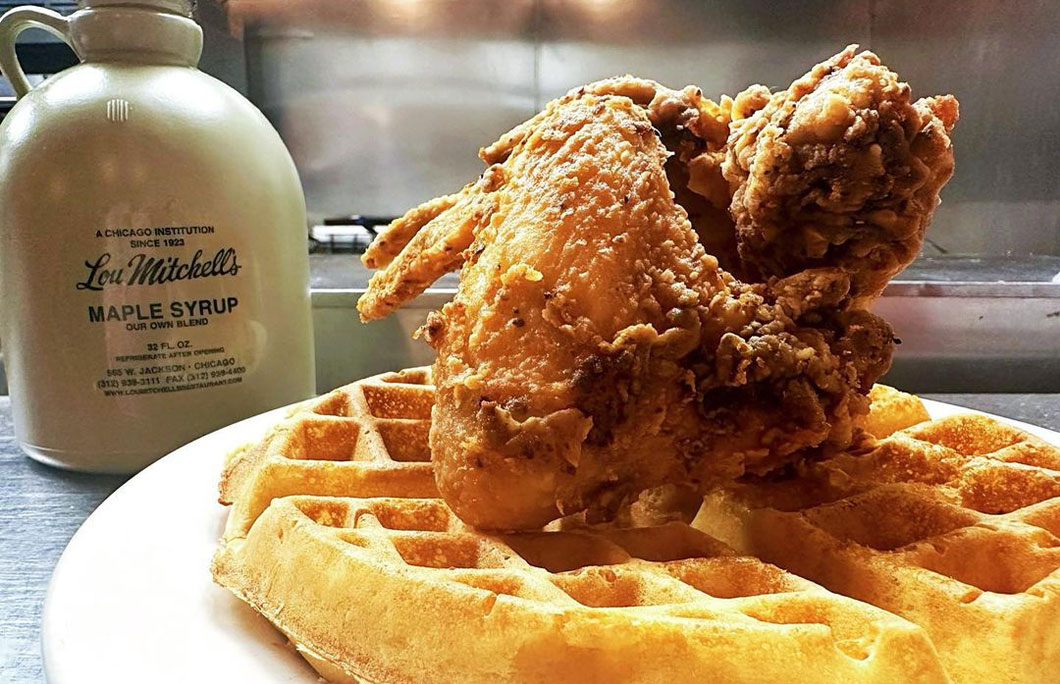 Photo credit: @loumitchells565
---
22. Cozy Dog Drive-In
Springfield
In 1946, Cozy Dog Drive-In served the first ever hot dog on a stick – and they have been serving them ever since. The owners of the diner were the first to figure out cornmeal batter could go in the deep fryer, which created the famous 'cozy dogs.' On-site you can also find another gift store too – you won't be short for those.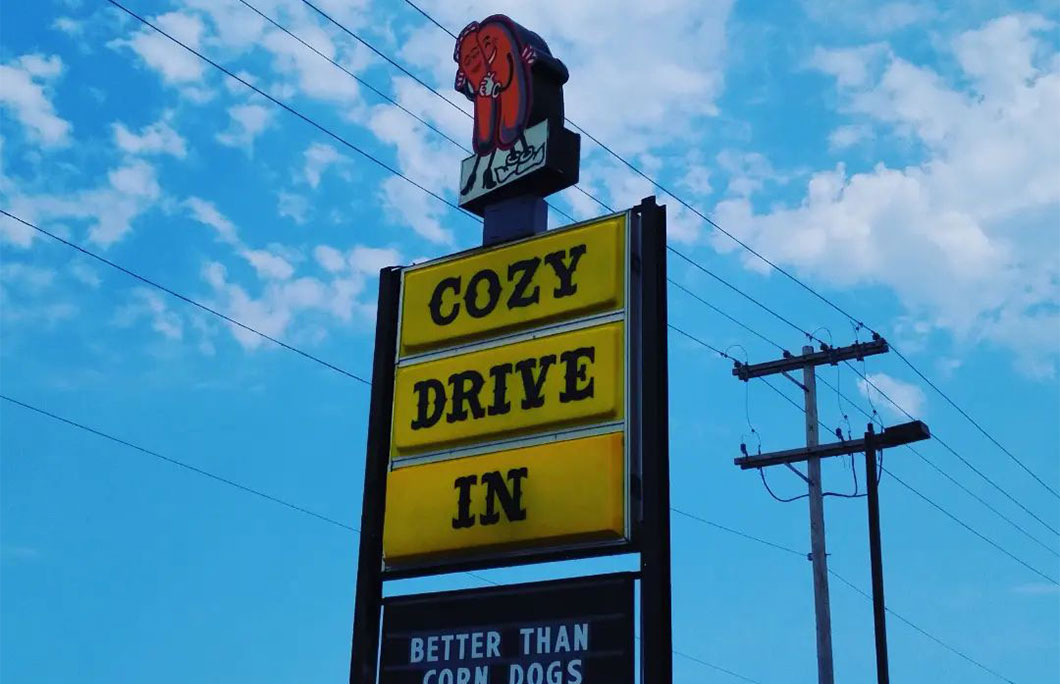 Photo credit: @mattyt_83
---
21. Dell Ray Chicken Basket
Willowbrook
Dell Rhea's Chicken Basket if famous for serving people chicken on Route 66 since the 1930s, or there abouts. Originally starting as a gas station, they then started to serve food and eventually, in the 40s, they opened up as a restaurant. Although their food is relatively basic, it is a nations favourite – especially their 25-hour-marinated-chicken.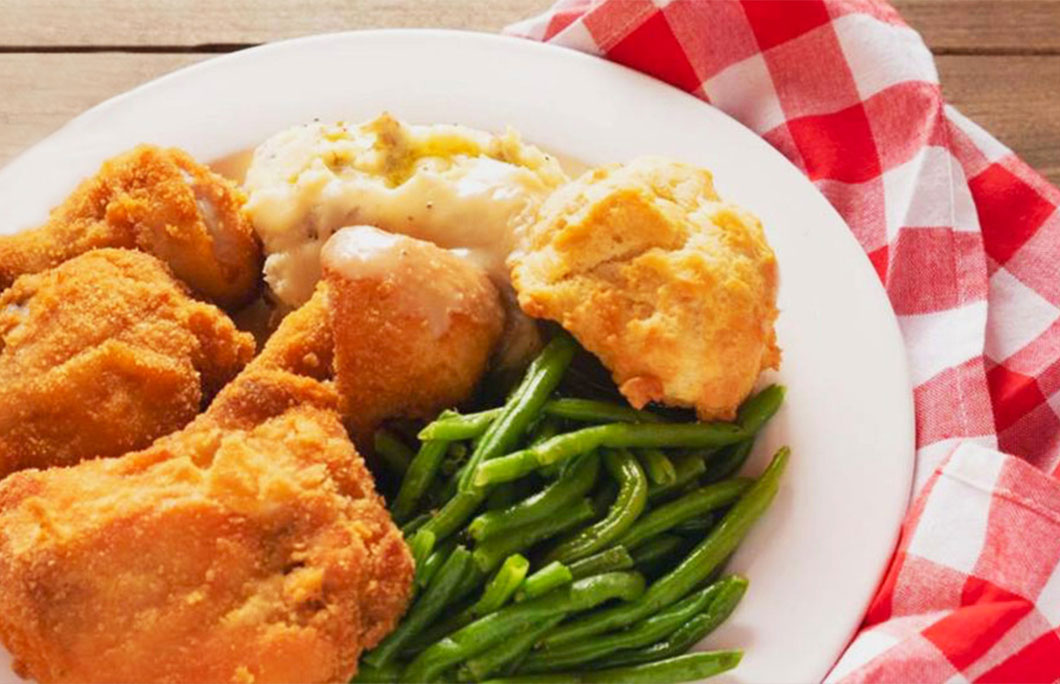 Photo credit: Dell Ray Chicken Basket
---
Missouri
20. Missouri Hick Bar-B-Que
Cuba
The Missouri Hick Bar-B-Que is relatively new compared to its other Missouri cousins – but it is becoming just as popular. With its cedar-carved furniture and cosy feel, it is the perfect place to stop off on your trek down Route 66. The meats on offer at the restaurant, which have all been smoked for at least 12 hours, are a favourite amongst travellers. And not to mention the fact that the famous Wagon Wheel Motel is only a few feet away, means it is the perfect rest-stop for all who end up there.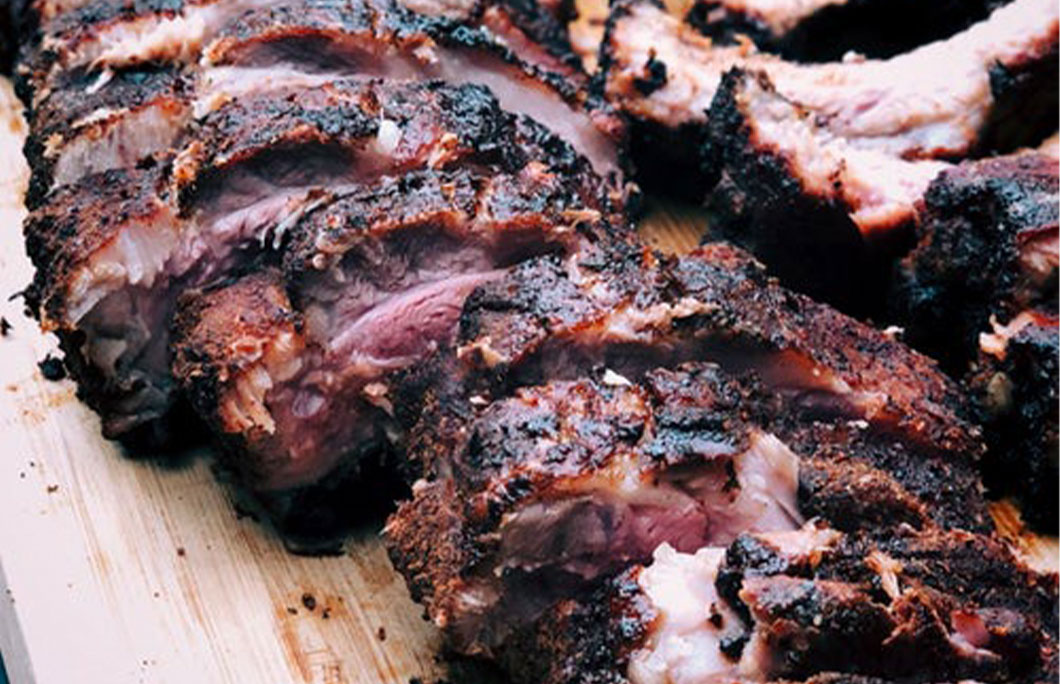 Photo credit: Missouri Hick Bar-B-Que
---
19. Ted Drewes Frozen Custard
St Louis
Did you know frozen custard is a thing? And, more to the point, that it has been around for well over 90 years? I know, we were surprised too. But Ted Drewes Frozen Custard is a famous Route 66 stop-off and has long been selling this delicious frozen treat to travellers. Invented in around 1959, frozen custard is their most popular item on the menu – they have even been featured on the Food Network on multiple shows.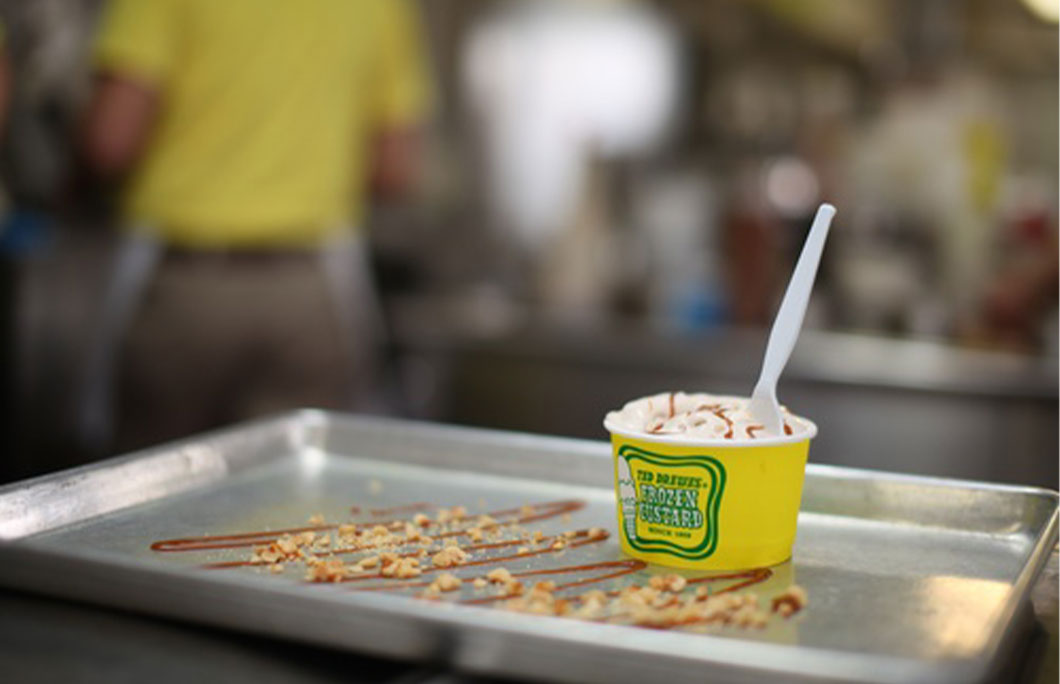 Photo credit: Ted Drewes Frozen Custard
---
18. Spencer's Grill
Kirkwood
The Spencer's Grill is a favourite for those grabbing breakfast, and has been since way back in 1947 when it opened. Just outside of St Louis you will find this small, but charming grill ready to serve you some of their most popular breakfast foods. From crispy pancakes, to burgers – this diner is the best stop-off place to get that much-loved greasy food. Since the menu hasn't really changed for over 70 years, they pride themselves in their food choices as people keep coming back for more. The town it is in called Kirkwood also hold an annual Route 66 festival for vintage cars and guitars – so be sure to check that out if you're in the area during this time.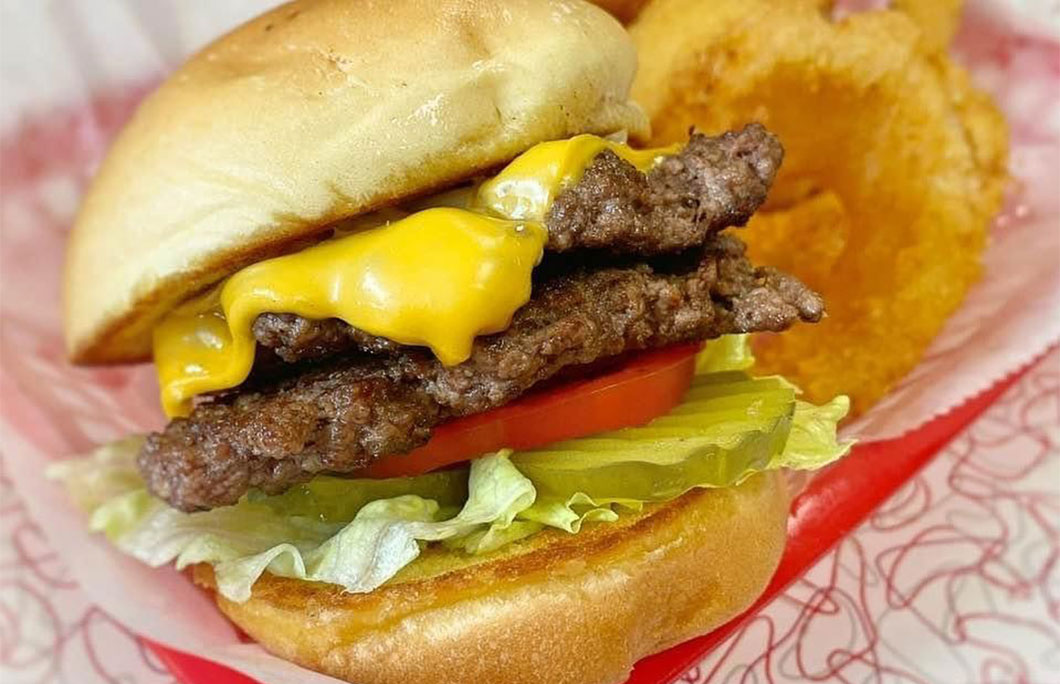 Photo credit: @spencersgrill
---
17. Uranus Fudge Factory
St. Robert
Okay, it is very hard to be subtle about this one – but we are sure you noticed the light-heartedness of the name. Well, puns can be found everywhere in this famous fudge factory, and they are part of what makes this place so family-friendly. Nobody is too serious here, and it is really worth a light-hearted stop if you are in need of some fun. This place isn't as historic as some of the other places on this list, but it is still a fantastic tourist attraction nonetheless – especially if you're after some fudge and ice cream.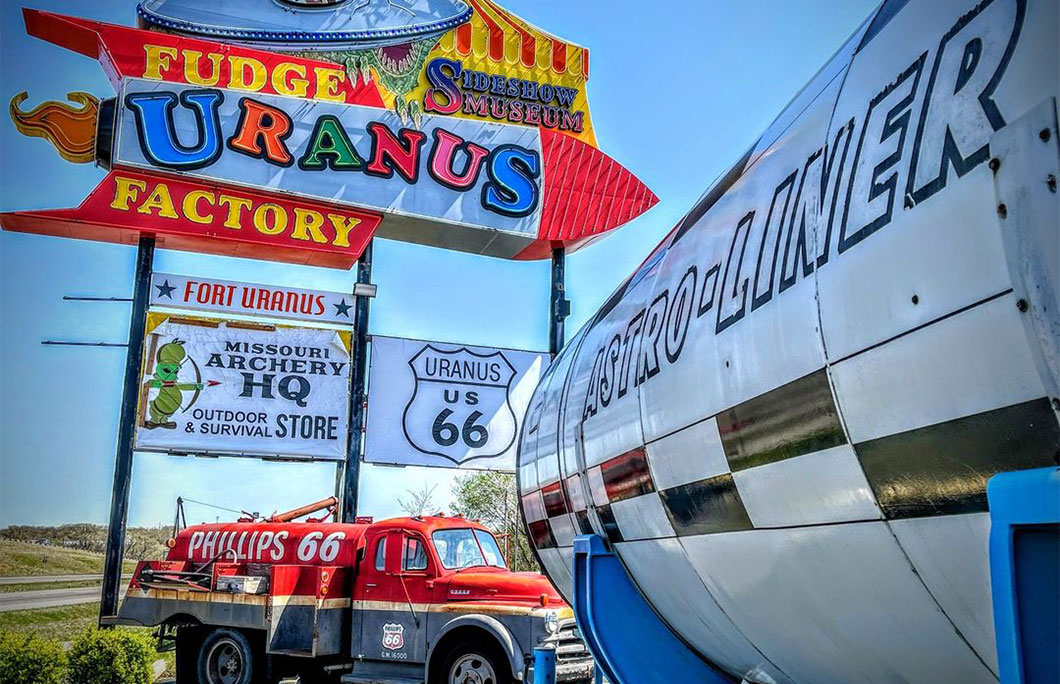 Photo credit: @uranusfudgefactory
---
Kansas
16. The Old Riverton Store
Riverton
Although this one isn't really a restaurant, The Old Riverton Store is a great place to stop off to pick up some groceries or snacks for the drive – they even have their own handmade sandwiches made on-site. Since opening nearly a century ago, the store has hardly changed – and they have just as big a heart as the day they opened. Oh, and they have a fantastic Route 66 memorabilia gift store too for you to pick up some gifts and postcards to remind you of your trip.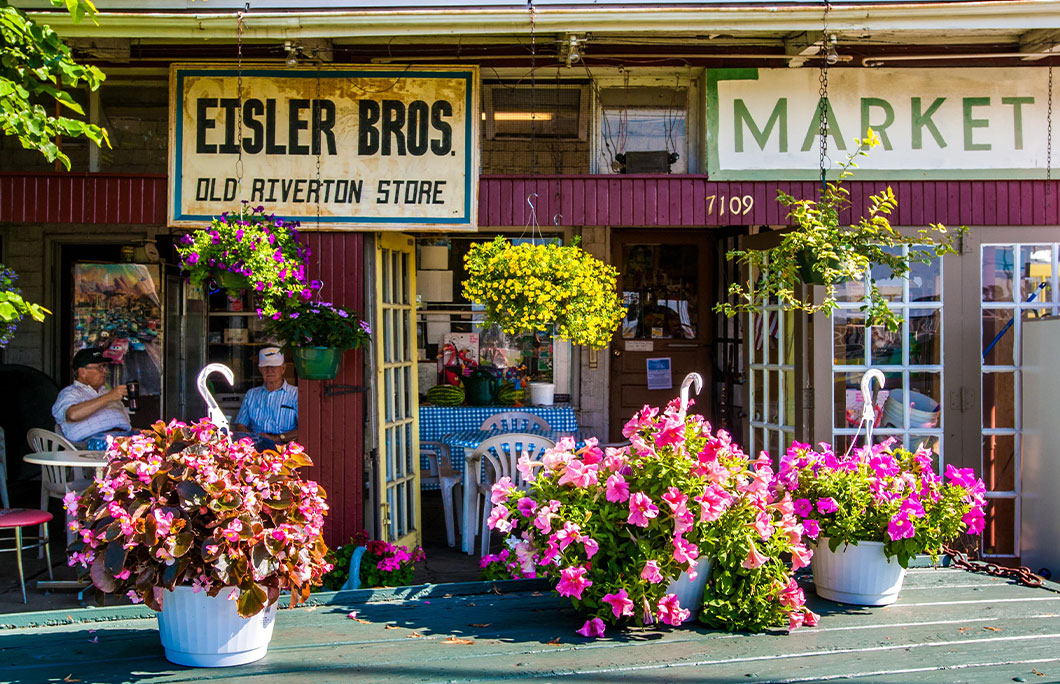 Photo credit: The Old Riverton Store
---
15. Tanner's Bar & Grill
Kansas City
Tanner's Bar and Grill is the perfect place to stop off while in Kansas City. This famous grill is a favourite among tourists and locals alike and people come from far and wide just to try some of their delicious foods. The hospitality in the grill is unmatched by anywhere else and we love their friendly approach to new comers – especially those travelling along Route 66. They love tourists and will welcome you with open arms and great food – no matter who you are.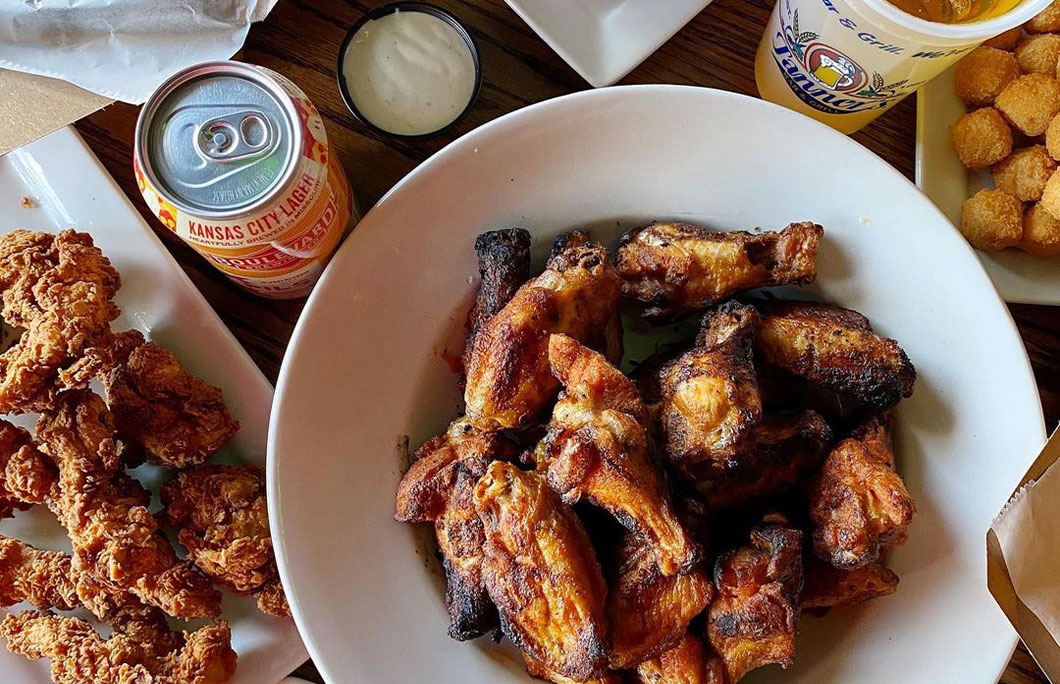 Photo credit: @tanners_kc
---
Oklahoma
14. Waylan's Ku Ku Burger
Miami
You cannot go on a Route 66 trip without try the hamburgers that are on offer along the way. Since the year 1965, the Ku Ku burger has been a favourite on the road and it lures in many a happy traveller. As one of the original drive-in restaurants along Route 66, Waylan's Ku Ku Burger is a must try – especially as there are as few as 200 left around the US now. People come to this burger place for the nostalgia and famous foods – but stay for the friendship and hospitality everyone receives.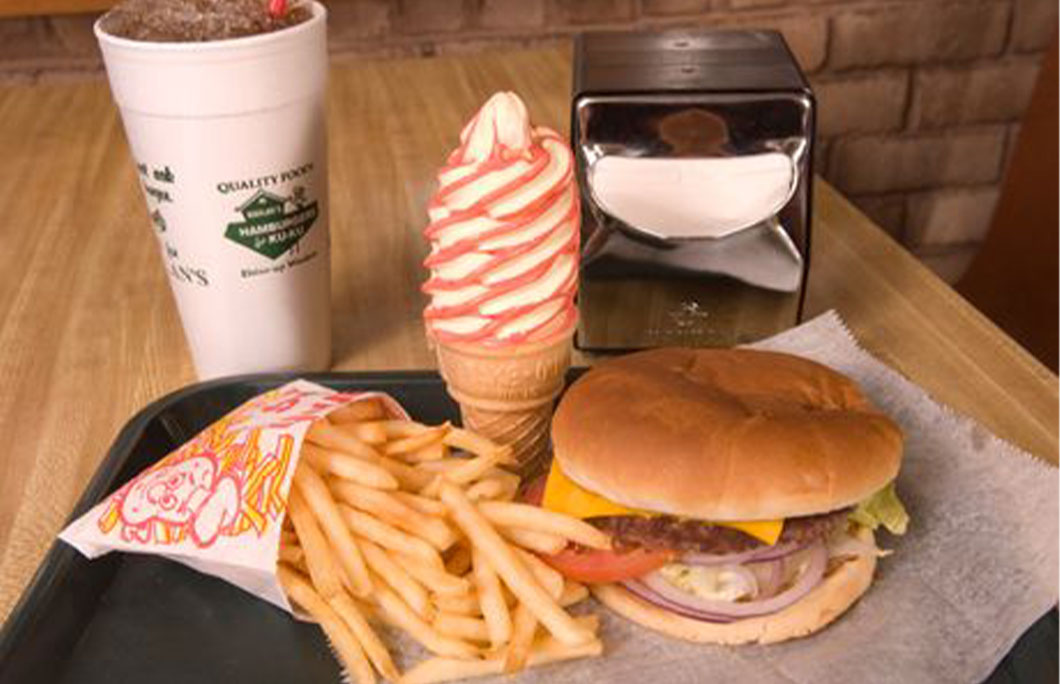 Photo credit: Waylan's Ku Ku Burger
---
13. Rock Cafe
Stroud
Everyone has heard of the famous Rock Café – but have you heard of this Rock Café? Having opened in 1939, this café is a favourite among those who travel down Route 66. Named after the famous sandstone in the area, which was even used in its construction, this café is a must-stop. Visited by Pixar in 2001, it helped to develop the character of Sally Carrera in the hit Disney movie Cars (2006).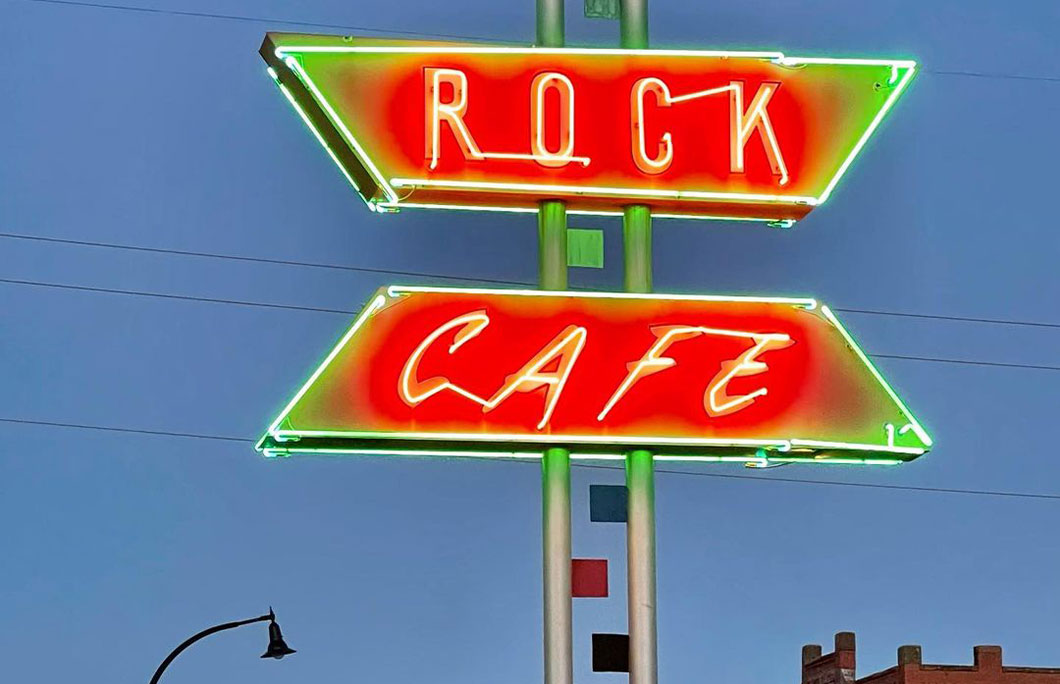 Photo credit: @rockcafeonroute66
---
12. PrairieFire Grille
Elk City
Situated just on the Missouri-Kansas-Texas rail line is the PrairieFire Grille. Having opened in 1910, this all-American steakhouse is a favourite of not only the locals, but tourists too. This cosy grill has its own unique charm about it, from the food all the way to the architectural choices. Co-owned by a mother-daughter dream team, this gorgeous grill uses only the best fresh ingredients, as well as adapting their own tasty menu each year. We are hungry just talking about this place.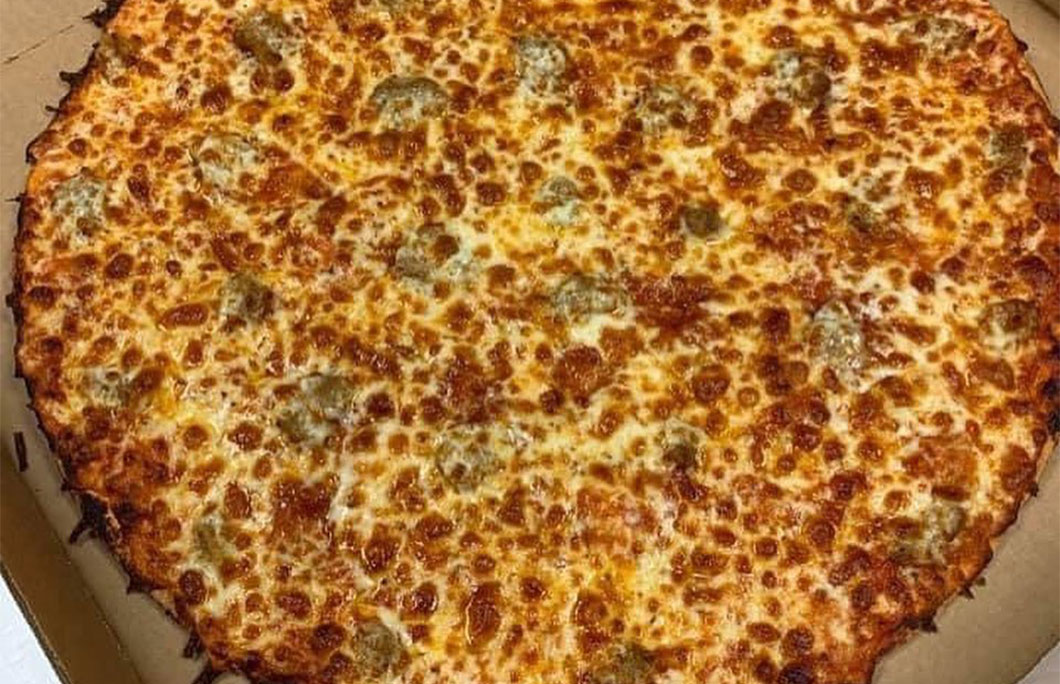 Photo credit: @prairiefiregrill
---
Texas
11. Big Texan Steak Ranch
Amarillo
Famous for its 72 oz steak challenge, the two-story Big Texan Steak Ranch is the ideal place for the meat-lovers among us. With endless choices of meats on the menu, as well as fun eating challenges – the Big Texan Steak Ranch is the ideal place to stop off while on your travels along Route 66. Around the restaurant, there are also opportunities to take part in – such as shooting at a range for instance. This stop-off is the perfect place to get a taste of Texas so you won't want to miss it.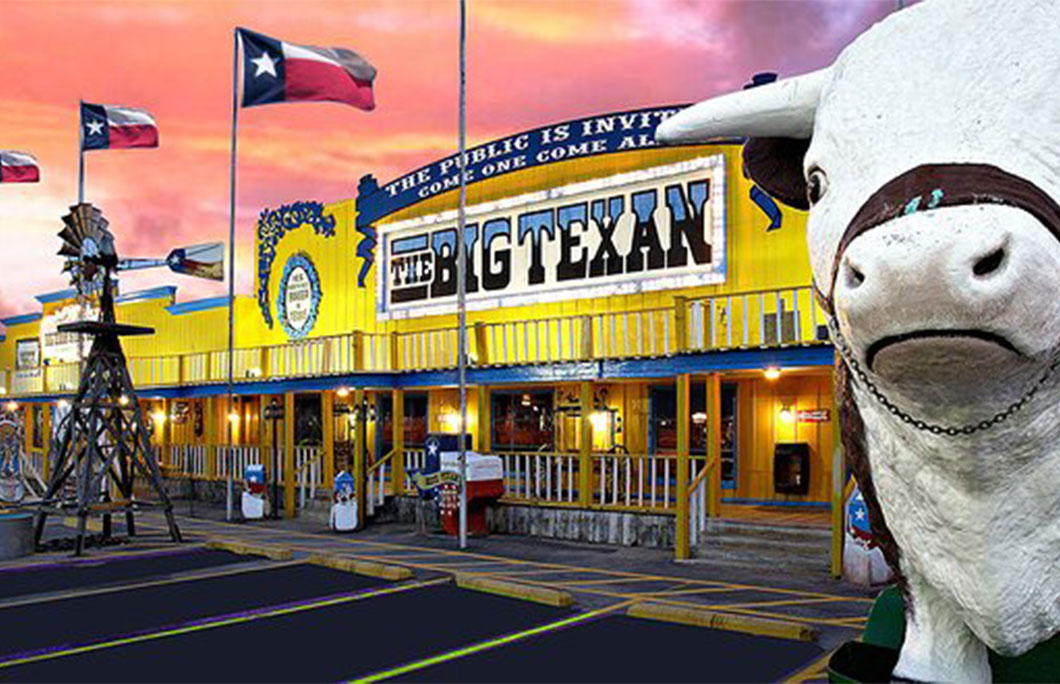 Photo credit: Big Texan Steak Ranch
10. Golden Light Cafe
Amarillo
The Golden Light Café has been up and running since the 1940s and has been a staple stop-off since then. Best known for its burgers and Frito pies, the old-worldly atmosphere is the perfect place to refuel yourselves before continuing along Route 66. As well as great food, this café also prides itself in being a live-music venue – so be sure to check out any live music if you stop off here on your trip.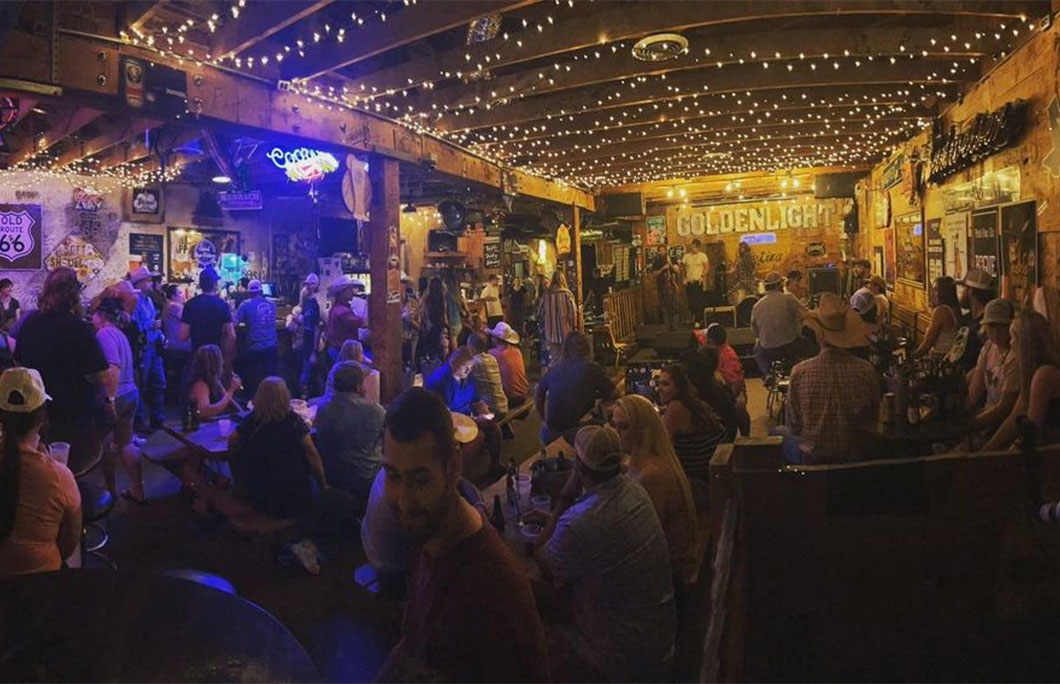 Photo credit: @glcamarillo
---
9. MidPointe Café
Adrian
MidPoint Café is the exact "geo-mathematical" centre of Route 66 – meaning it is the half way point from Chicago to LA – 1139 miles to be exact. If you don't stop here for food, then you absolutely have to stop here for the photo opportunity and the gift shop, just to make sure you have bough something from your trip. That being said, however, it would be a shame to miss out on the food here as it is some of the best, especially if you're into homemade pies.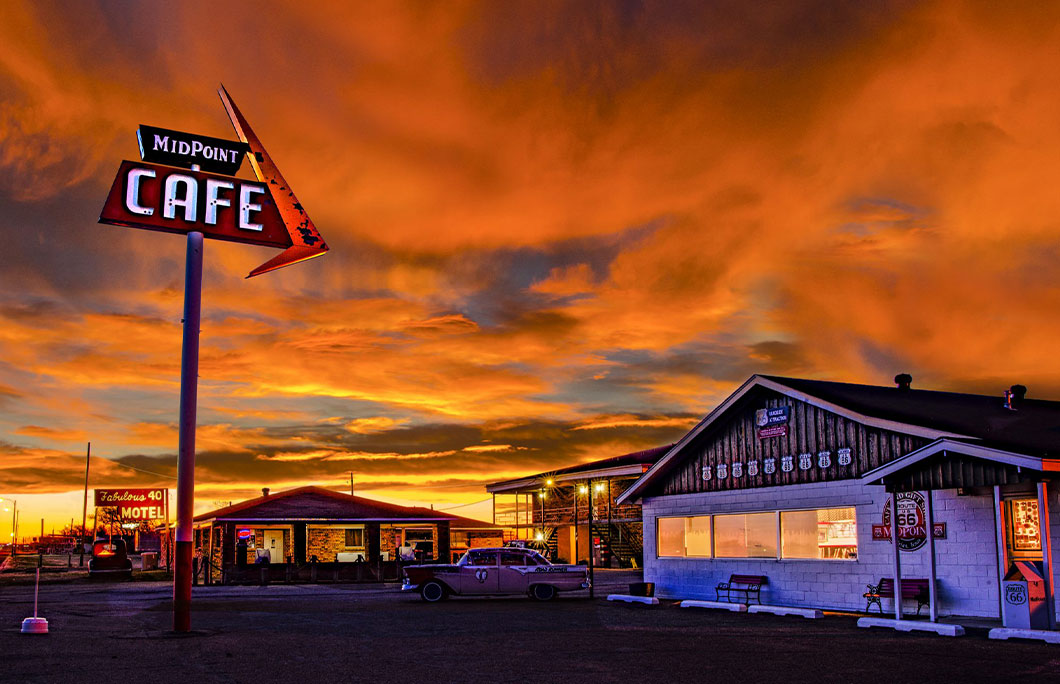 Photo credit: MidPointe Café
---
New Mexico
8. Mine Shaft Tavern
Madrid
In the old coal-mining town of Madrid there is a little tavern called the Mine Shaft Tavern. Back in the 1950s, the whole town was for sale, but it failed to grab anyone's attention and remained unsold. Since then, it was known as a bit of a 'ghost town' to the locals. However, in the last 30 or so years, it has slowly been livening up again – largely thanks to this tavern. This gorgeous bar has people coming into the town from all over and stopping for great food and friendliness along Route 66. But nevertheless there is still a creep, ghost-like feel to the town… who knows what you might see when you stop off here?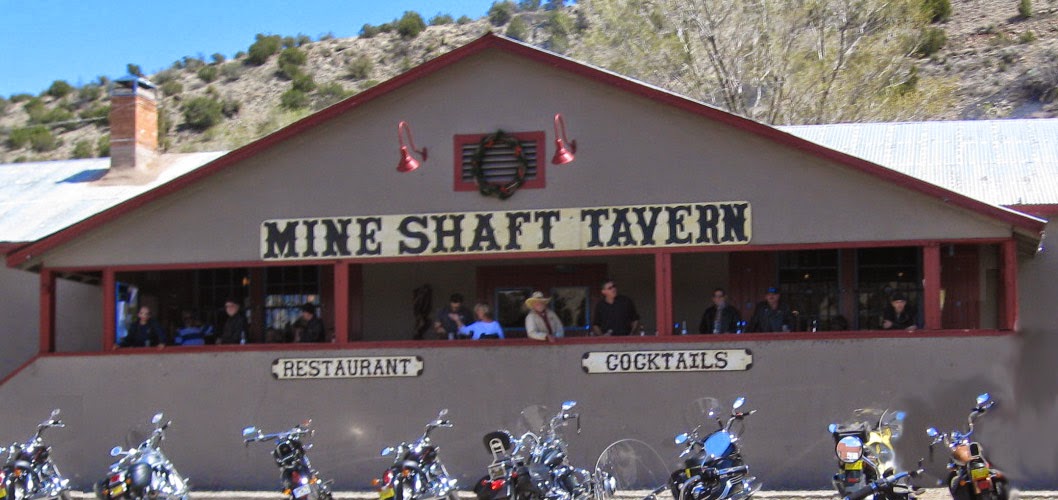 ---
7. Clowndog Hot Dog Parlor
Albuquerque
Having been features in the Guinness Book of World Records for the Most Corndogs Eaten in Three Minutes, the Clowndog Hot Dog Parlor is a must for anyone looking for a small business with a unique flair on traditional foods. At the parlor you have the ability to build your very own hot dog – how many places offer you that opportunity? They have so many toppings available, from the relatively normal, to the absolutely outrageous. Have you ever wondered what a fried egg and pineapple hot dog would taste like? Well you can try that, as well as 50 other toppings at the Clowndog Hot Dog Parlor along Route 66.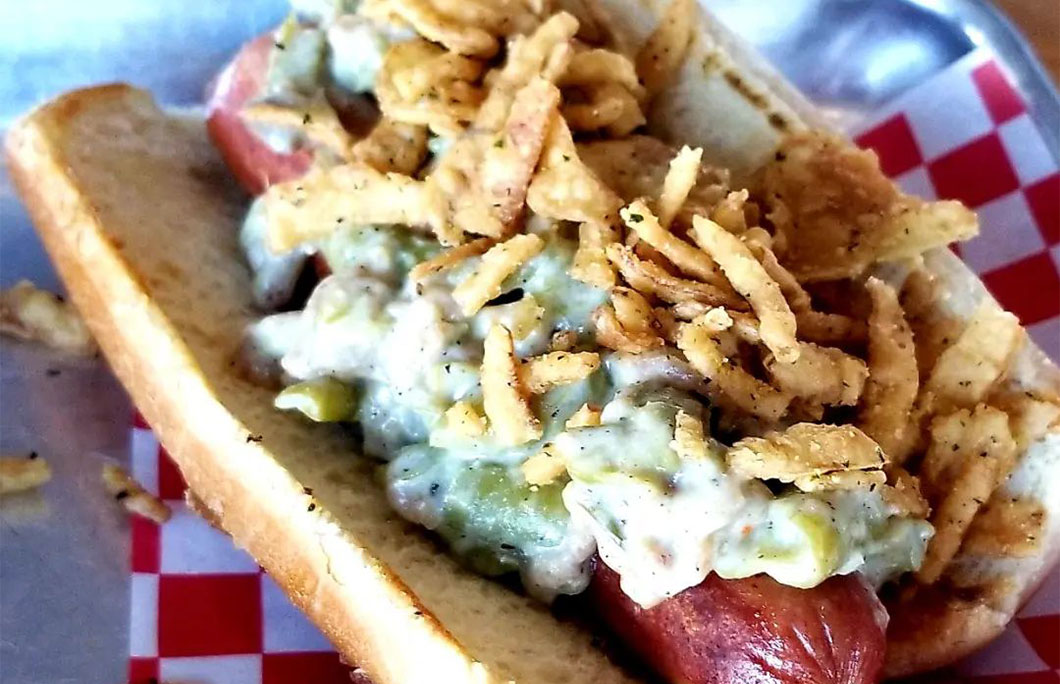 Photo credit: @clowndogabq
---
6. Loyolas Family Restaurant
Albuquerque
If you're a fan of Breaking Bad and Better Call Saul, you're going to want to stop at the Loyolas Family Restaurant. These two shows were both filmed here, as well as many other movies and commercials over the years. This restaurant has not only been the set of some famous films, but it also serves up a mighty fine breakfast too. This is by far one of the best New Mexico dining experiences out there – you cannot miss it.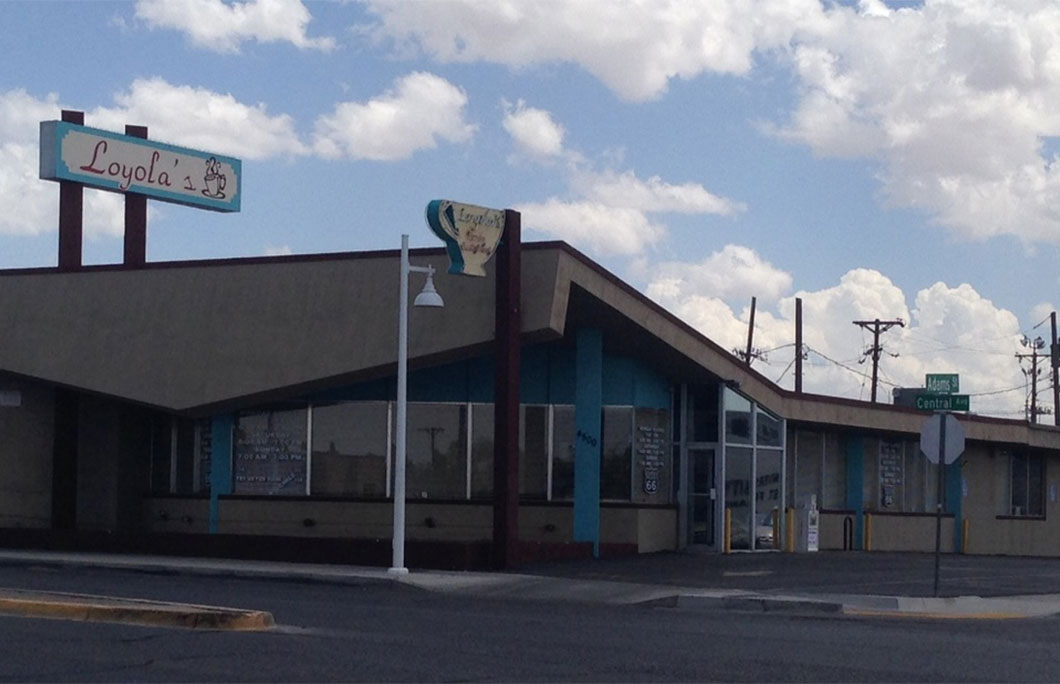 Photo credit: Loyolas Family Restaurant
---
Arizona
5. Mr. D'z Route 66 Diner
Kingman
If you're looking for authentically American diner foods then look no further, because this is the stop for you. Decorated by authentic vintage americana all around the diner – this is a must-stop place for those really trying to get the American experience. This diner will allow you to step back in time and even play some music on their jukebox. A favourite among the Route 66 diners and a real memorable stop, Mr. D'z Route 66 Diner is a must. In fact, Oprah Winfrey even ate here, so if that doesn't sell it, nothing will.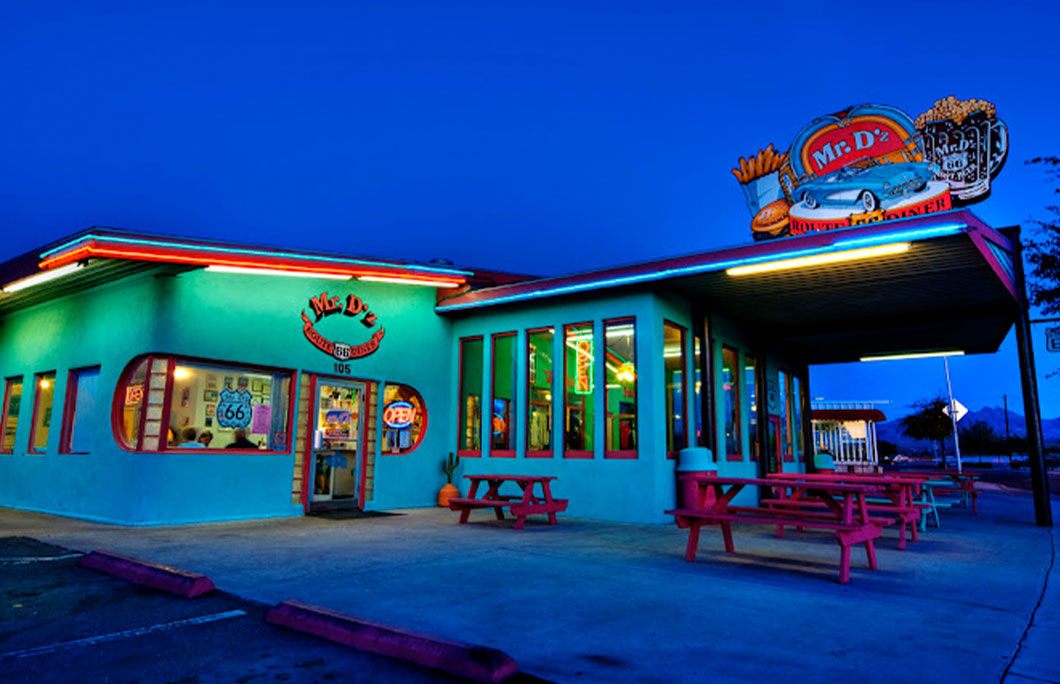 ---
4. Delgadillo's Snow Cap Drive-In
Seligman
The Delgadillo's Snow Cap Drive-In is the perfect stop-off location and is iconic for anyone travelling along Route 66. This eatery serves burgers, malts, milkshakes and much more – and people return to this spot to soak in the atmosphere. Their unique décor style is really one to be seen, with random toilets and classic cars used to decorate the diners garden – we know, whacky right? The humour doesn't stop there, though. The owner loves to put his dry humour in everything – including the menu. "Cheeseburger with cheese and "dead chicken" are favourites on the menu – so be ready to laugh a lot while you're stopping off here.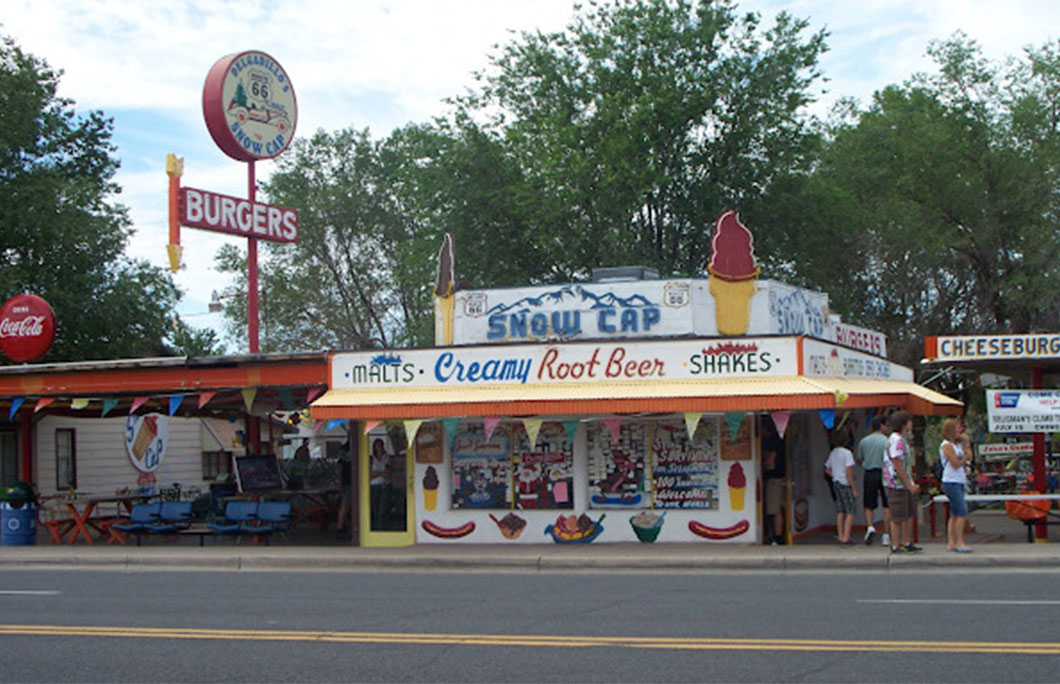 Photo credit: Delgadillo's Snow Cap Drive-In
---
California
3. Bluewater Grill
Newport Beach
This grill might just be your last stop (or first!) on your journey of Route 66. Located right on the water at Newport Beach is Bluewater Grill. At the grill, they serve unique and local seafood, as well as delicious fries and sides like coleslaw. Don't worry if seafood isn't your thing, they also have plenty of other options on their menu for all sorts – you're bound to find something you like at this unique grill.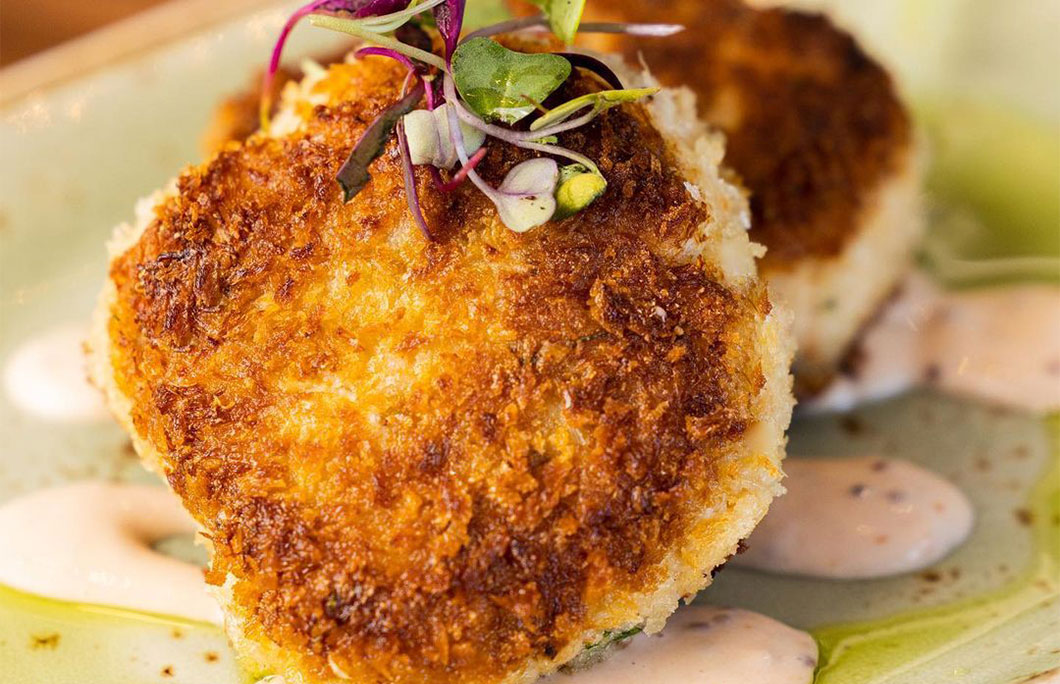 [Photo credit: @bluewatergrill]
---
2. Roy's Motel and Café
Amboy
Blink and you'll miss it. The small town of Amboy is often called a 'ghost town' and is in the remote area of the Mojave Desert. Roy's Motel and Café is best known for its sign that was inspired by space and, although they only do snacks, light bites and drinks, they are a great place to stop if you want some peace and quiet during your stop – and trust us, they are always quiet!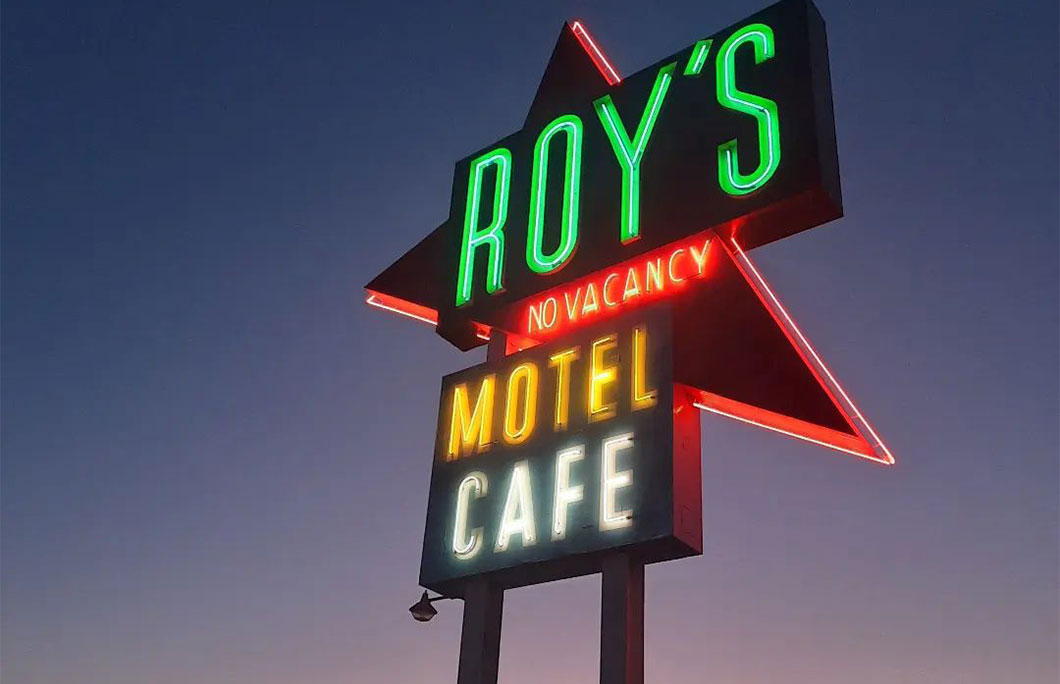 Photo credit: Missouri Hick Bar-B-Que
---
1. Emma Jean's Holland Burger Café
Victorville
The 1947 Emma Jean's Holland Burger Café is best known for their delicious biscuits and gravy. It is a cosy, friendly and tasteful place to stop-off and is extremely popular among truckers thanks to its simple, yet tasty menu. Also – are you a fan of Kill Bill 2? You might recognise this diner from the movie if you look closely…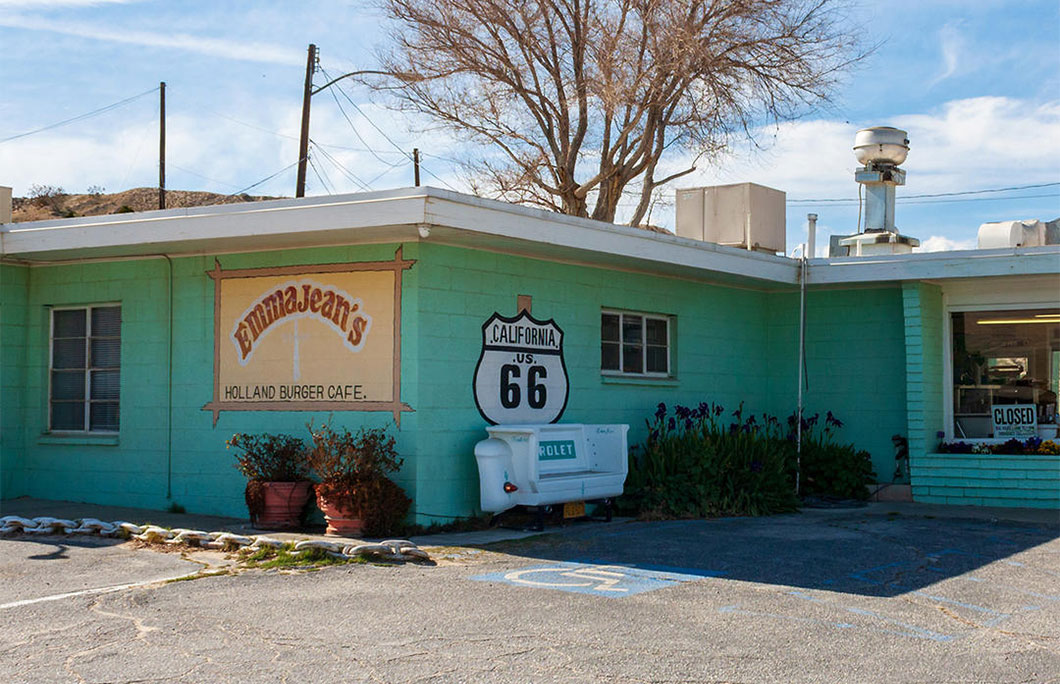 Photo credit: Emma Jean's Holland Burger Café
There you have it, our top 25 best stop-off places to grab a bite to eat along Route 66. Share with us some of your favourites on Twitter @EnjoyTravelUK and let us know what you think.
Get the latest travel news and offers