Top 10 Road Trips from Connecticut
New York, New York
Hudson River Valley
Newport
The Hamptons
Providence
Old Sturbridge Village
Hyannis, Cape Cod.
The Berkshires
Salem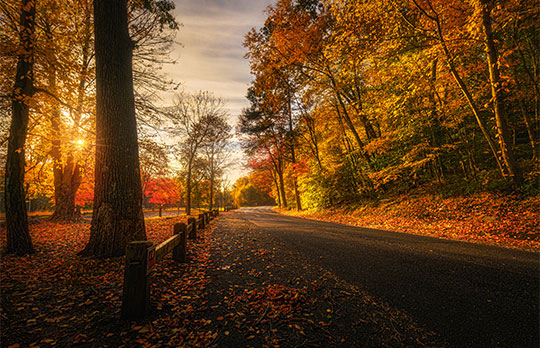 Top 10 scenic trips from Connecticut
Connecticut is handily located on the New York commuter belt, but opulent areas like Greenwich and Litchfield are desirable locations even for affluent Big Apple denizens. It's also home to New Haven's world famous Yale University, has a rich history that's pivotal in the development of the United States, and it's peppered with pretty waterfalls and state parks. A diminutive state (just 55 miles wide by 90 miles long), Connecticut also boasts verdant vineyards, gorgeous art galleries, and a renowned farm to table cuisine scene. State capital Hartford is benefitting from a great regeneration program, New London is a magnet for hipsters and Mystic and Stonington simply ooze old world charm.
Top attractions in Connecticut include the Submarine Force Museum and USS Nautilus, Lake Compounce Amusement Park (still going strong since it opened back in 1846), Beardsley Zoo (complete with gorillas and tigers) and the Dinosaur State Park and Arboretum, where you can walk in the footsteps of those iconic creatures (you'll find over 2000 preserved tracks in the park). Gillette Castle State Park is another quirky Connecticut hotspot, and the Mark Twain House & Museum is always popular for fans of classic literature.
When you want to hit the road from Connecticut, Massachusetts, New Hampshire, Maine, Pennsylvania, and New Jersey are within easy reach as well as New York ‐ so it's a well-positioned base for brilliant road trips.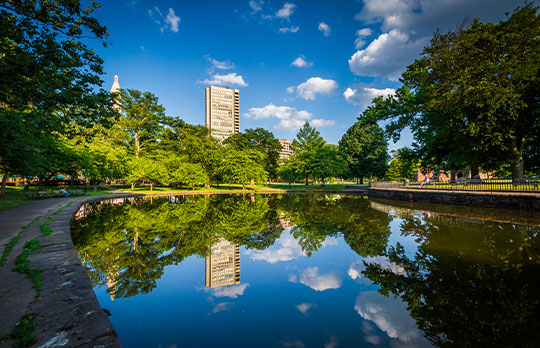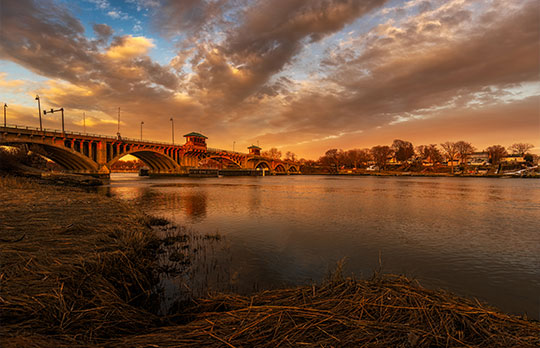 Top tips on driving in Connecticut
We'll get onto your top 10 Connecticut road trips soon, but let's take a swift look at some driving tips first.
It's illegal to use your cell phone while driving here and each driver and passenger should wear a seatbelt or age-appropriate restraint. You should also obey any signals given by an officer of the law (even when they contradict a traffic signal).
When you're entering a four-way stop, the vehicle reaching the intersection first proceeds first, and if more than one vehicle reaches the intersection simultaneously, the vehicle on the right has priority.
Speed limits in Connecticut are 20-40mph in city limits, 45-50mph on undivided rural roads, 50-55mph on divided rural roads, 45-55mph on freeways in city limits and 65mph on freeways outwith city limits.
Now start your engine for those scenic road trips!
New York, New York
The Big Apple is only two hours away from the farthest Connecticut locations and just 45 minutes from the closest. And once you reach the city so good that they named it twice, you're truly in a different world ‐ you can people watch in Central Park, visit the iconic Empire State Building downtown, gaze in wonder at the Brooklyn Bridge and even visit the Bronx to explore the birthplace of Hip-Hop. Fuel yourself with classic NYC burgers and pizzas in between stops!
Hudson River Valley
Just a two hour skip from Connecticut, the Hudson River Valley always makes for a vibrant day trip. Renowned for its stunning scenery, wildlife, and elegant architecture, it's very easy on the eye ‐ and the view is even more sublime aboard a Hudson River pleasure boat. Awesome attractions in the 10 counties that span the area include the New York State Museum in Albany, hiking in the stunning Shawagunk Mountains, and chilling out in boho towns like Woodstock. If you want a laid-back road trip from Connecticut, this is it.
Newport
The picture postcard coastal city of Newport, Rhode Island, is less than two hours from Connecticut and it's regarded as the world's sailing capital. However, if rope knots and spinnakers aren't your thing, you can hike along Newport cliff walk and drink in the delightful views, tour the elaborate mansions on Bellevue Avenue and eat, drink and be merry on Thames Street. Although Newport is a manageable day trip, give yourself at least a weekend to take in the amazing ambience.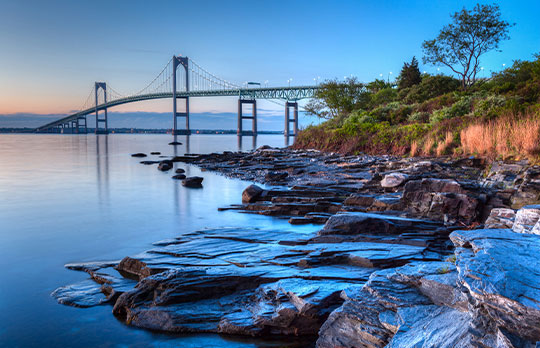 The Hamptons
Tempted by an old school (and old money) day trip? A tour of Long Island and the Hamptons definitely fits the bill. The classic holiday home location for wealthy Manhattanites has much to recommend it, including surfing at Coopers Beach, recharging your batteries in the Montauk Salt Caves, wine tasting at Wolffer Estate (provided you've got a designated driver), and learning more about Native American traditions at Shinnecock National Cultural Center & Museum.
Boston
Massachusetts capital Boston is a couple of hours drive from Connecticut and there's always plenty to see and do in this sports-mad metropolis famous for its Irish cultural heritage. Popular activities include wandering around the lush Boston Common and Public Garden, park sledging (in the winter), feasting on a signature lobster roll, and exploring the palatial Isabella Stewart Gardner Museum (former residence of the eponymous art collector). Alternatively, if you want to stretch your legs and tone your muscles, try hiking in the scenic 7,000-acre Blue Hills Reservation.
Providence
An hour's drive from Connecticut, Rhode Island state capital Providence is always a popular road trip and it's a dream for anyone with an interest in Italian culture. Down in the Federal Hill district you'll find a Little Italy that rivals any counterpart stateside ‐ as well as delicious pasta, pizza and gelato, you can even enjoy a gondola ride on the Providence River. Other attractions include Roger Williams Park Zoo, RISD Museum of Art, and Providence Performing Arts Center.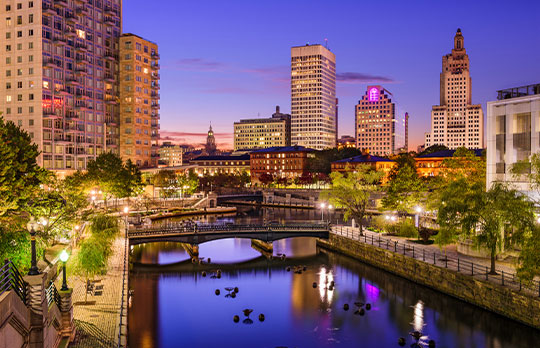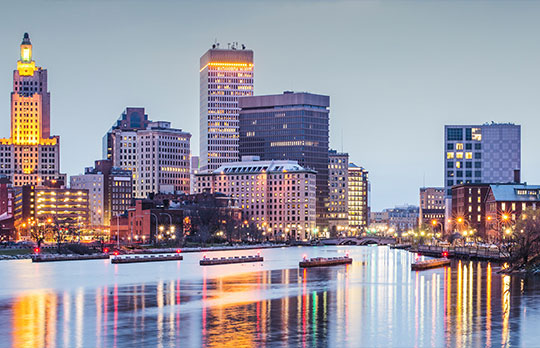 Old Sturbridge Village
A hotspot for Connecticut history fans, Old Sturbridge Village in Massachusetts is a magical 200-acre New England living museum, where knowledgeable hosts in authentic period costume bring rural life in the 1790s to 1830s into living color. Stroll around the Mill Neighborhood, Countryside and Common and Center Village and learn all about the blacksmith shop, cider mill and other attractions. Treat yourself to a hearty meal in the Tavern before hitting the road for home. For an easy day trip that let's you step back into the past, this takes some beating.
Hyannis, Cape Cod
The lively coastal town of Hyannis sits on the southern point of Cape Cod and its popularity as a summer holiday hotspot exploded after it became the getaway of choice for JFK and the Kennedy clan. As well as Kennedy trails, museums and memorabilia, there's retail therapy on Main Street, ocean-fresh seafood at the Naked Oyster and watching the world go by as the waves hit the sand at Craigville Beach. You can also enjoy live music in the unique Cape Cod Melody Tent (a tent theatre) and, if you're staying overnight, sample the hospitality at Captain David Kelley House ‐ an authentic 18th century sea captain's abode.
The Berkshires
A romantic rural region in the mountains of western Massachusetts, The Berkshires are ideal terrain for a scenic road trip from Connecticut. Famous for their lush scenery, fascinating culture and rich history, these collection of New England towns complement each other like a pretty string of pearls. North Adams and Pittsfield are Berkshire County's two major cities and they're complemented by 30 towns and a vast expanse of unspoiled wilderness. If you enjoy the great outdoors, there's biking and hiking, while in winter you can ski, snowboard, or climb the snowy peak of Mount Greylock. Other highlights include the Tanglewood open-air music pavilion, brilliantly named Bash Bish Falls State Park, Clark Art Institute in Williamstown, and Pulitzer Prize-winning author Edith Wharton's home The Mount, in Lenox.
Salem
Located couple of hours from Connecticut and close to Boston, Salem is synonymous with the witch trials of the 1690s and the interactive attractions at the Salem Witch Museum recreate those terrifying days in spine-tingling detail. Other spooky activities include haunted walking tours and the Salem Witch Village (where you can meet a real witch), while the Peabody Essex Museum contains 840,000 unique cultural and historical artefacts from around the world, and the Salem Trolley Tour is the best way to see the city if you're short on time ‐ it cruises around 8 miles in the city center and stops at 14 fabulous locations including House of the Seven Gables and the waterfront. Foodies enjoy the steak, seafood, burgers and lobster roll at Brodie's Seaport and the handmade artisan chocolates at Harbor Sweets, while it's always a pleasure to stay at the Clipper Ship Inn.