Top 10 Road Trips from Georgia
Atlanta GA to Chattanooga TN.
Athens GA to Anderson SC.
Savannah GA to Charleston SC.
Valdosta GA to Madison FL.
Blue Ridge GA to Cherokee NC.
Rome GA to Sparta TN.
Carrolton GA to Talladega AL.
Cairo GA to Port St. Joe FL.
Sylvania SC to Folly Beach SC.
Ringgold GA to Bowling Green KY.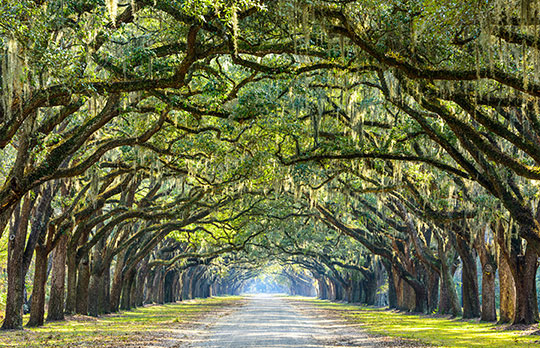 Top 10 scenic trips from Georgia
A Deep South delight, Georgia is the largest state east of the Mississippi. In many ways it's a land of contrasts ‐ from liberal, wealthy cities like Macon and Savannah to modest, conservative backwater towns, and dramatic northern mountains to laid-back southern beaches and islands.
State capital Atlanta also constitutes a tale of two cities ‐ it's packed with cultural riches and bustling hip-hop and tech scenes, alongside traditional Southern values and old time wealth. The state's geographical position close to Florida, Alabama, Tennessee, Arkansas, and the Carolinas also makes it a great base for road trips in the region ‐ hire a car in Georgia and there's plenty more to explore.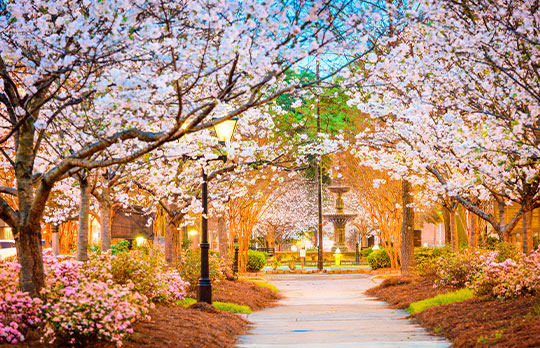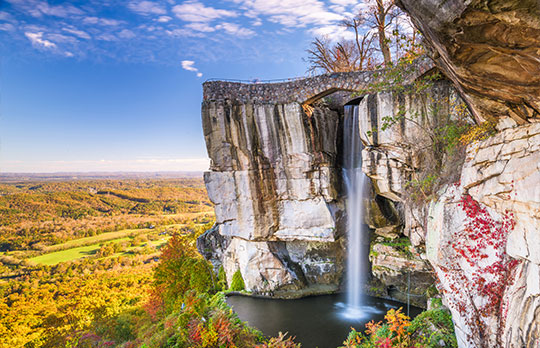 Top tips on driving in Georgia
Your top 10 road trips from Georgia will be here in two shakes of a mule's tail. But some quick driving tips are a worthwhile stitch in time.
Traffic is reasonably quiet in Georgia compared to more populous states ‐ Macon, Savannah and Atlanta have their moments, but rural areas are generally quiet and clear.
You're not allowed to use your cell phone while driving here ‐ and that includes texts, instant messages, email, and any internet use.
There are also rules to observe when you approach a school bus that's preparing to stop ‐ the bus driver will activate yellow flashing lights to indicate this is his intention, after which you should slow down and get ready to stop. One the flashing bus lights turn red and stop signs extend from the bus side, it's against the law to pass.
Unless signs indicate otherwise, you're allowed to make a right turn on red when you're at an intersection controlled by a traffic control light. The same goes for making a left turn on red from the left lane of a one-way street onto a one way street where the traffic moves to the driver's left.
You might come across an intersection with no stop signs. In this case, if you arrive at the intersection at the same time as another vehicle, the driver on the left should give way to the driver on the right.
Speed limits in Georgia city limits are 25-45mph, 55mph on undivided rural roads, 55-70mph on freeways in city limits and 70mph on those outside city limits.
Now let's hit the road for your scenic road trips out of Georgia!
Atlanta GA to Chattanooga TN
A road trip from the bright lights of Atlanta to sample the tempting charms of Tennessee's Chattanooga takes around 1 hour and 45 minutes via I-75N and it's a day journey that's a real delight. Once you reach Chattanooga, you can chill out on a traditional riverboat cruise and see the Tennessee River Gorge from the water, tour the city by Segway, or (provided you've got a designated driver) sample world-famous whiskey at the Jack Daniel's distillery. Alternatively, the Chattanooga Zoo has some amazing animals and it's cheap to enter and very compact.
Athens GA to Anderson SC
If you can tear yourself away from Athens GA hotspots like the Lyndon House Arts Center and Sandy Creek Park for a while, the 1 hour 22 minute trip along GA-172 E to Anderson, South Carolina has much to recommend it. At Anderson, you can catch live music at the terraced grass William A. Floyd Amphitheater, take a hike (or kayak) in the swampy 400-acre Rocky River Nature Park, or pick up fresh local fare at the bustling Anderson Jockey Lot and Farmers Market ‐ at peak times it has 60,000 visitors per day!
Savannah GA to Charleston SC
Based in Savannah Georgia and craving for a coastal interstate road trip? The two hour cruise to Charleston South Carolina via I-95 N and I-26 E will certainly float your boat. A small city with lots to see and do, Charleston boasts brilliant bars and restaurants, captivating art and scenic water views. History buffs love the whale skeleton that hangs in the city's fascinating museum (amidst lots of other cool exhibits) and you can take a horse-drawn carriage tour to see grand waterfront mansions and pretty pastel-colored townhouses. If you love golf meanwhile, it doesn't get much better than Kiawah Island resort.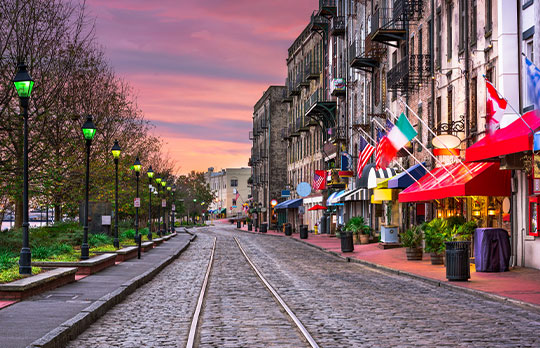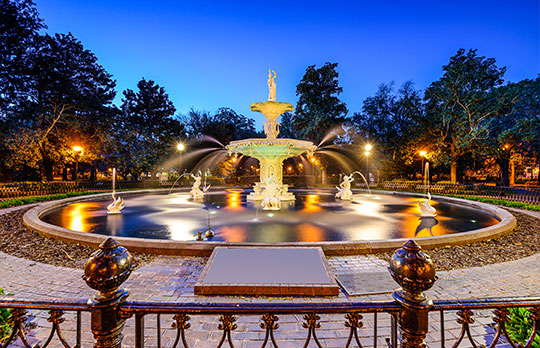 Valdosta GA to Madison FL
In the market for a manageable day trip from Valdosta? The trip across the state line to Florida's Madison takes just 35 minutes along Madison Highway and FL-145 S, but it transports you to a whole new world of fun. Four Freedom's Park is the beating heart of Madison's historic district (it's dedicated to Florida's endorsement of Lincoln's Emancipation Proclamation), and the countryside is characterized by tobacco farms and riverside hiking and cycling trails. Treat yourself to an overnight stay at Grace Manor Bed & Breakfast ‐ a 19th century pile that oozes southern charm.
Blue Ridge GA to Cherokee NC
The hip mountain town of Blue Ridge is blessed by attractions like the Chattahoochee National Forest and the Blue Ridge Scenic Railway, and the one hour 40 minute drive to North Carolina's Cherokee takes you through another amazing natural setting &dsah; the Nantahala National Forest. At Cherokee, you can drink in the rolling green hills of the Great Smoky Mountains National Park and sit spellbound at a production of 'Unto These Hills' by the Mountainside Theater ‐ which brings the rich history of the Cherokee Native Americans to life before your very eyes!
Rome GA to Sparta TN
This classic trip takes you two and a half hours north from Georgia's Rome to Tennessee's Sparta, via the I-75 N and TN-111 N. Stop at Soddy-Daisy on the way to stretch your legs and satisfy your stomach with delicious tacos from Delia's Mexican Food. Stay overnight at Sparta's fabulous Firefly Acres to make the trip more leisurely and explore the pretty Wildcat Falls park and garden. You can also view unusual Appalachian tent graves at Mt Gilead Cemetery and watch your favorite fiery globe sink into the horizon at Sunset Rock.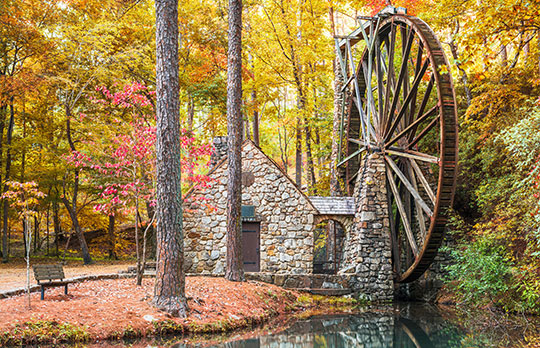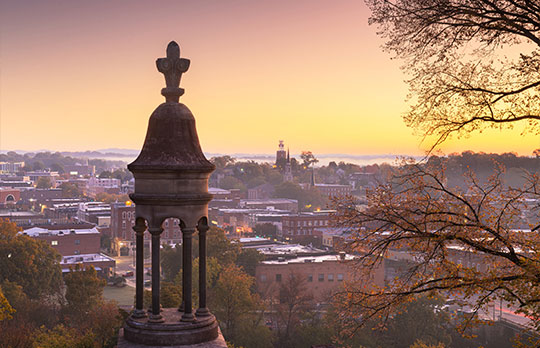 Carrolton GA to Talladega AL
If you're based in Carrolton, it takes just 1 hour and 15 minutes to hightail it to Talladega, Alabama ‐ a smart move for a scenic day trip. Once you reach your destination, catch full-throttle motorsports at the legendary Talladega Superspeedway, try horseback riding amidst the pretty pines in the Talladega National Forest, or explore the amazing underworld of DeSoto Caverns. Don't miss Cheaha Mountain if you want a jaw-dropping view ‐ at 2047 ft above sea level, it's the highest peak in Alabama.
Cairo GA to Port St. Joe FL
How does getting out of Cairo for a day (or weekend) trip to the seaside sound? If you're nodding your head, the 2 hour, 15 minute ride to Florida's Port St. Joe is a winner. Located on Florida's stunning Emerald Coast, St Joseph Peninsula State Park (to give its formal name) boasts idyllic isolated beaches at Cape San Blas that are just a dream. In the town proper, you can stroll the elegant waterfront marina, browse bistros, and pick up antiques ‐ what a delight.
Sylvania SC to Folly Beach SC
For an alternative coastal road trip, loop across the SC-64 E from Sylvania, Georgia, to Folly Beach, South Carolina ‐ it takes around two and a half hours, so you'll have to leave early or build in an overnight stay to make the most of it. Nicknamed the 'Edge of America', Folly Beach nestles next to the Atlantic and as well as golden sands and super surfing waves, the terrain spans grasslands and wetlands teeming with wildlife. Enjoy a family break on the beach and sample ocean-fresh seafood ‐ Folly really is fabulous.
Ringgold GA to Bowling Green KY
Searching for a weekend escape from Ringgold? Kentucky's Bowling Green is 3 hours 10 minutes north along I-24 W and I-65 N and it's a great getaway location. At BGKY the fun never ends ‐ you can sail into an underground labyrinth at Lost River Cave, watch high-octane action at Beech Bend Raceway, then take a farm tour and taste legendary ice cream at Chaney's Dairy Barn. Meanwhile, Fountain Square Park is also the perfect place to stroll people watch and the city also has a lively craft beer scene.