Cannot decide whether to choose Vienna Vs Prague?
There are so many wonderful destinations in Europe that are perfect for a city break. Two of its most popular and most beautiful cities are Vienna and Prague. Vienna is known for its culture, coffee and cuisine, whilst Prague is famous for its history, heritage and hoppy Czech beer. The centre of Prague feels like an outdoor museum, but the centre of Vienna is filled with world-class museums. Both cities are charming and postcard-perfect and should be high on your list for a city break. However, if you don't have time to visit both, which one should you pick? Our handy guide on how to choose between Vienna or Prague will help you decide.
Vienna Vs Prague: How to Choose Between the Two
Overview – is Vienna Or Prague better?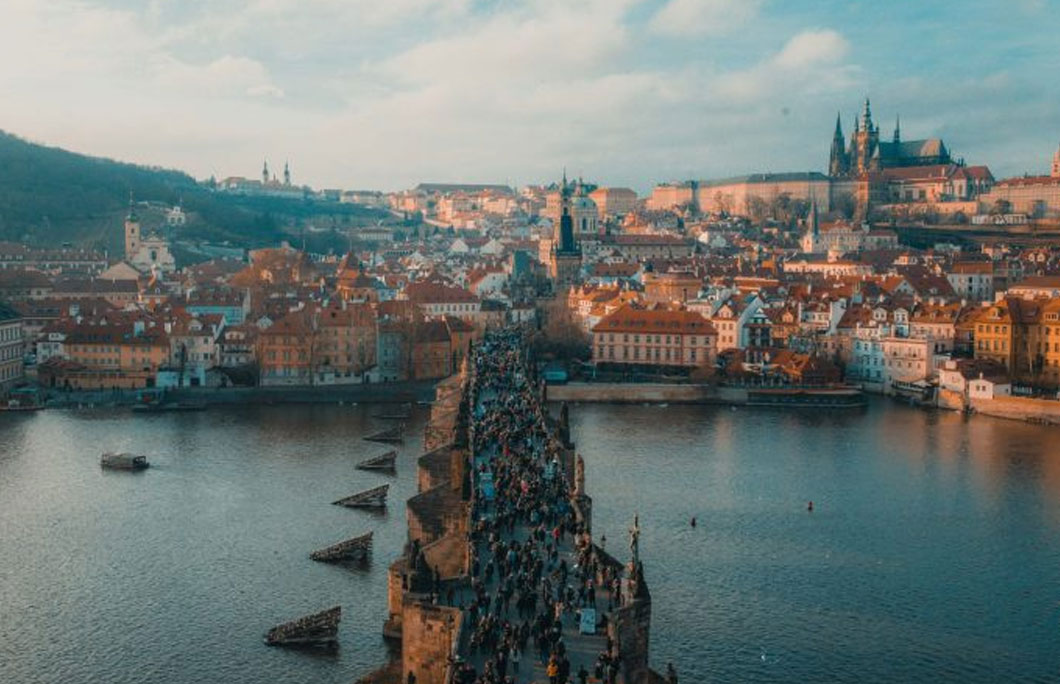 Vienna, the capital of Austria, is an elegant, clean city with lots of green spaces, ornate buildings and friendly locals. There is a relaxed and safe vibe to the city which makes it a pleasure to visit especially for families and solo travellers. The city is rich in history and there is a tremendous amount of interesting cultural institutions. Vienna is one of the most culinary diverse cities in Europe, so it is a great destination for gastrotourists. In fact, Vienna is such a great city that it was voted the best place to live in both 2018 and 2019.
Prague is the capital and largest city in Czechia (also known as the Czech Republic). Its nickname is the City of a Hundred Spires and when you gaze over the rooftops you'll see why. Although, today, it is estimated that there are nearly 500 spires in the city. Sitting on the banks of the Vltava River, Prague is an incredibly atmospheric place with its medieval buildings, cobble-stoned streets and laneways and beautiful bridges. It has a great nightlife scene too.
Both Vienna and Prague have efficient public transport systems making it fairly easy to get around. However, both cities are ideal for walking and this is the best way to appreciate the charms of both cities.
---

---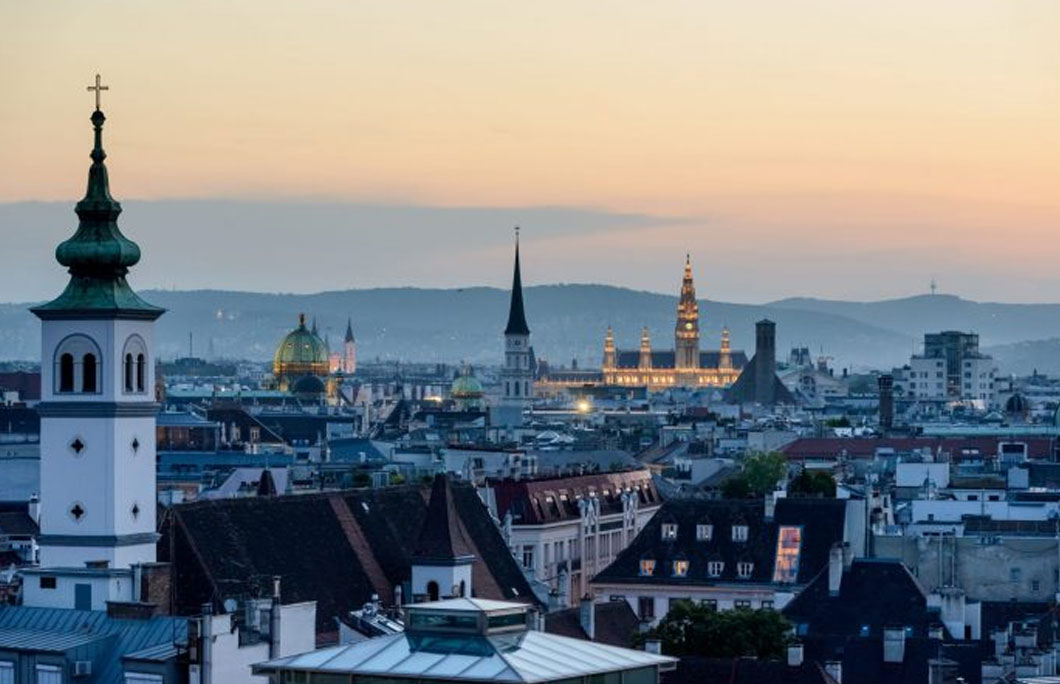 Vienna
Whether it's admiring precious artworks, enjoying a leisurely coffee in a centuries-old cafe or soaking up the tranquil beauty of its many gardens and parks, Vienna has something for everyone. Get your bearings with a ride on the Riesenrad Ferris wheel to get a bird's eye view of this beautiful city. Then, head to the Hofburg Palace to deepen your knowledge of the history of the city. The MuseumsQuartier is a meeting hub and a hive of activity. It has some wonderful attractions including marvellous museums, cool bars, cafés and restaurants, and a sculpture park that doubles as a mini-golf course. One of the most popular things to do is to follow the thousands of tourists to the Upper Belvedere Palace to admire Gustav Klimt's 'The Kiss', which many consider his greatest masterpiece.
The food fight between the Hotel Sacher and Demel is legendary. Both businesses lay claim to inventing the recipe for the Sachertorte chocolate cake. You should research this important part of Viennese history by sampling a slice of this cake in each establishment. For a caffeine fix, join the queue outside Café Central, the traditional Viennese Kaffeehaus, which opened in 1876. This is where Freud, Trotsky and Stefan Zweig liked to drink and think.
Vienna has some serene parks are gardens right in the heart of the city. These are colourful places to relax and take a rest and enjoy the beauty of nature. Some of the prettiest parks and gardens to visit are Vienna City Park, Volksgarten and the palace garden in Schönbrunn.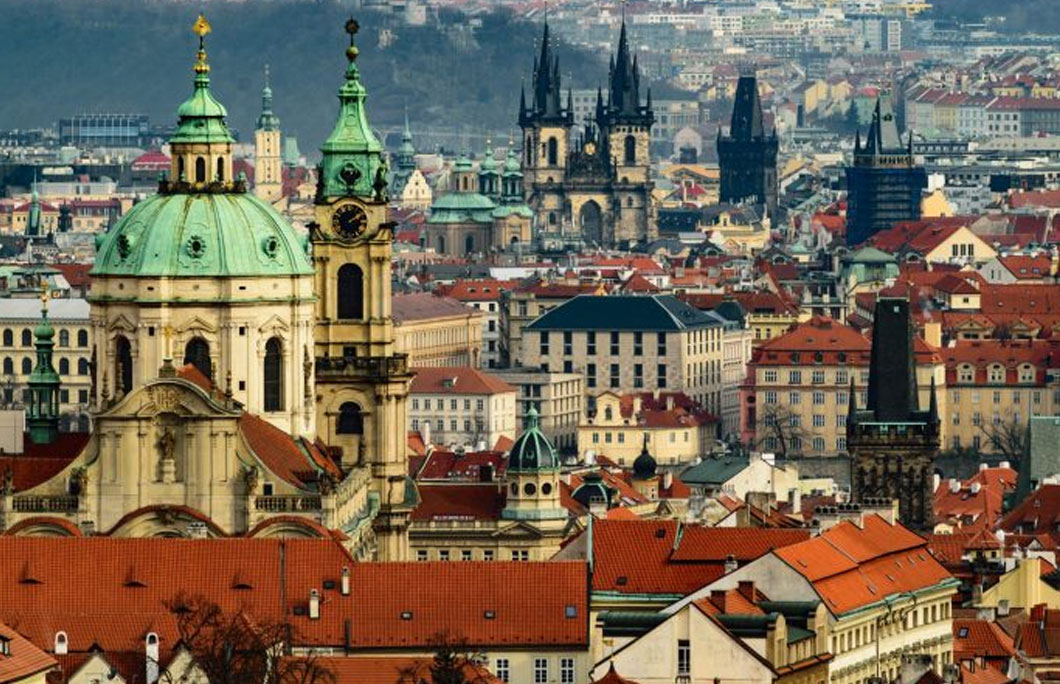 Prague
The Charles Bridge is probably the most famous landmark in Prague. It is a postcard-perfect medieval stone arch bridge that spans the Vltava River. It is particularly beautiful at sunrise and when it is foggy. This bridge is very busy with traffic and tourists so to really appreciate its design get up early to beat the crowds. This is solid advice for most of Prague's landmarks.
The Prague Astronomical Clock is another one of the city's most iconic attractions. Dating from the 15th-century, this medieval clock on the Old Town City Hall draws big crowds to watch the "Walk of the Apostles". Every day, on the hour, from 9am to 11pm, 12 mechanical figurines of the Apostles make their way to the tower's window. It's very charming indeed. Whilst you are here, spend some hours walking around Prague Old Town, exploring the shops and streets and just soaking up the atmosphere.
Prague Castle and St. Vitus Cathedral are also big tourist attractions in the city and for something a little more unusual, check out the John Lennon Memorial Wall with street artwork dedicated to the musician. Want to see the city from a different perspective? Take a river cruise. This is a particularly lovely thing to do in the evening when all the riverside buildings are illuminated.
---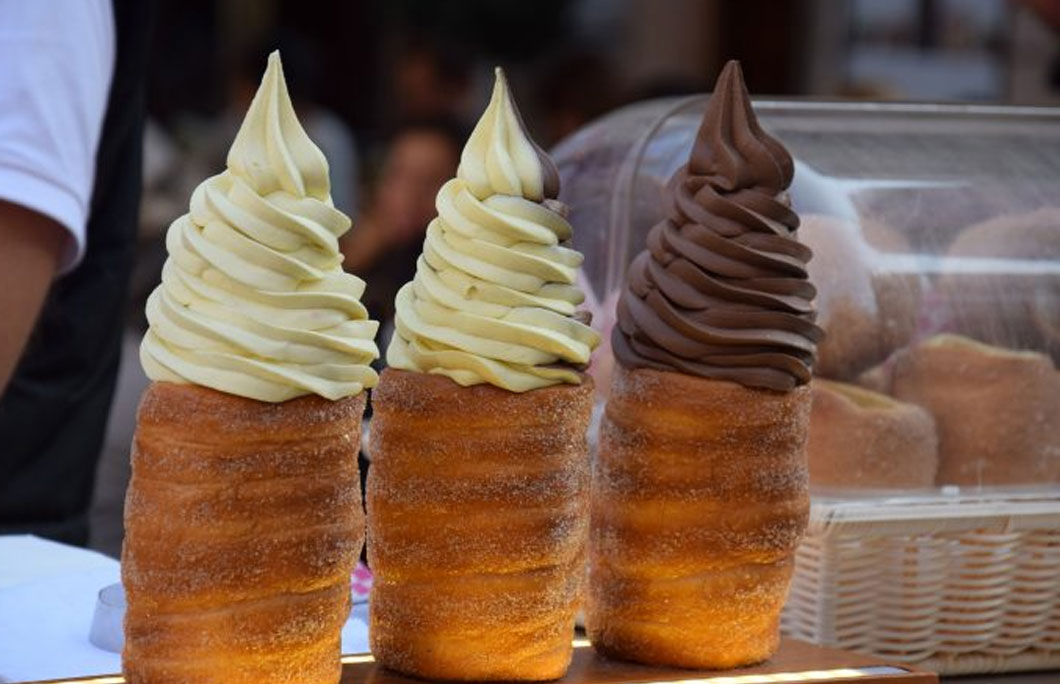 Vienna's culinary diversity is vast, with a terrific range of restaurants serving food from all over the world. However, Vienna is famous for its coffee houses, outdoor food markets and scrumptious desserts. To sample some of the local food, look out for the following dishes on menus: Sachertorte chocolate cake, Wiener schnitzel, tafelspitz, apfelstrudel and Kaiserschmarrn.
The food in Prague is wholesome, hearty and unpretentious and draws influences from all of its surrounding countries. There is a great selection of restaurants in Prague where you can try the regional specialities. If you want to try the local cuisine, order up a big bowl of česnečka (garlic soup), smažený sýr (deep-fried cheese), knedlíky (dumplings) and trdelník (warm rolled pastry covered in sugar).
Both cities have a long café culture tradition. When it comes to alcohol, Vienna is a great place to try Austrian wine and Prague is a great place to try the local beer. Beer is big here. Czechs drink the most beer per capita in the world.
---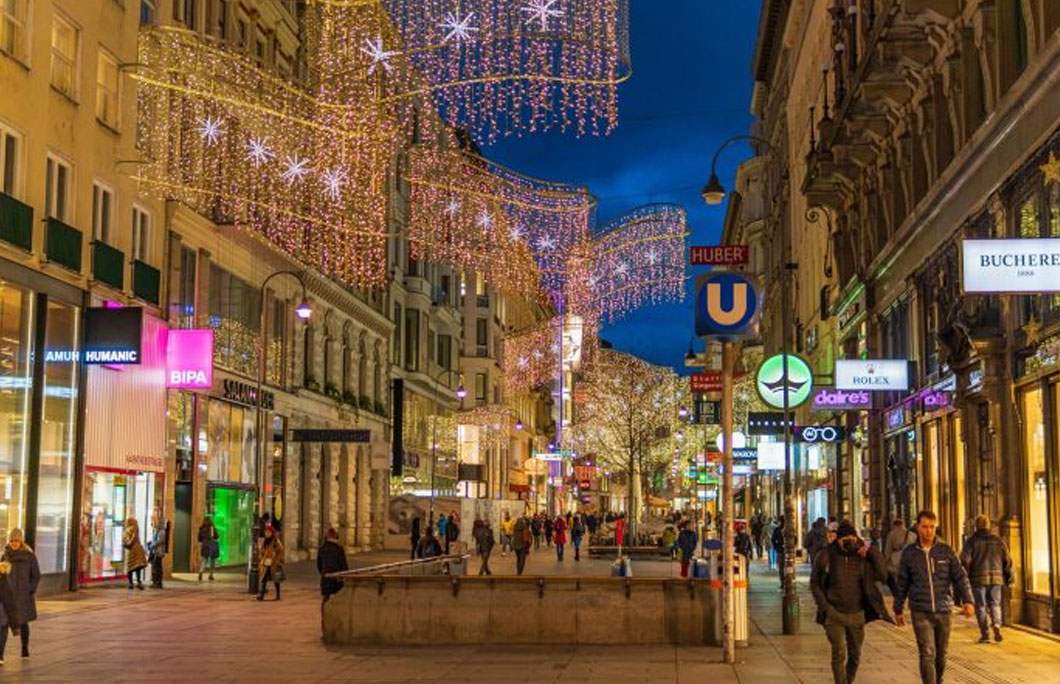 If you love shopping, you'll love Vienna with its mixture of designer boutiques and smaller local businesses too. There are some good art and antique shops too. If it is luxury shopping that you are looking for, head to the Goldenes Quartier in the 1st district. If you are looking for a bargain, head to the Naschmarkt flea market, where over 400 sellers have all manner of goods. The market takes place every Saturday from 6.30am to 2pm.
Prague is also a good destination for shopping, especially for local handicrafts. For a memorable souvenir buy some Bohemian crystal, Czech garnet jewellery and handmade wooden toys and puppets. For designer shops, head to Parízská Street, and for Europe's largest flea market, head to the U Elektry Market on the weekends from 6am to 2pm.
---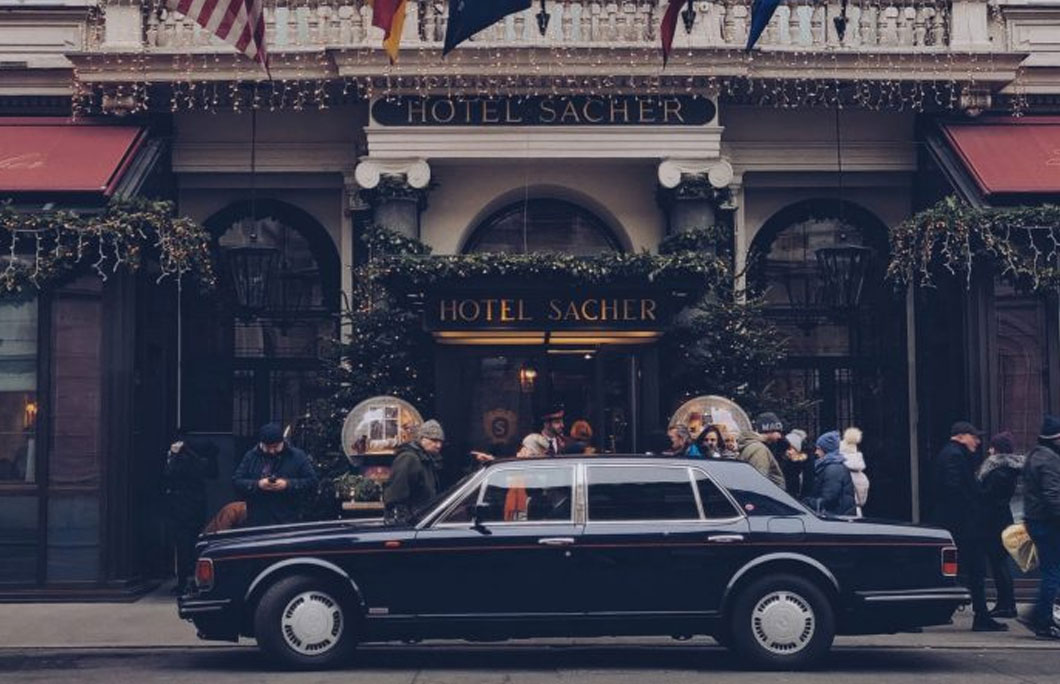 The main tourist attractions are located in the 1st district (Innere Stadt). So, if being close to everything is a priority for you, look for hotels here. Be warned though, accommodation in the 1st district is a bit more expensive than in other areas. For a more mid-range budget, but still within easy walking distance of the main sights, look for somewhere to stay in the 2nd and 3rd districts (Leopoldstadt and Landstraße). Look for accommodation in and around the 10th district near the Favoriten train station if you are on a tight budget.
If it is your first time in Prague, and want to be in the heart of the action, and don't mind the crowds, find a hotel in the Old Town. It goes without saying, prices here will be higher than elsewhere in the city. Across the river, is Lesser Town where you'll find the castle, St. Nicholas Church and Petřín park. This is a charming and quieter place to stay and prices are a little bit cheaper too. The Zizkov district is a good option for those with a smaller budget.
---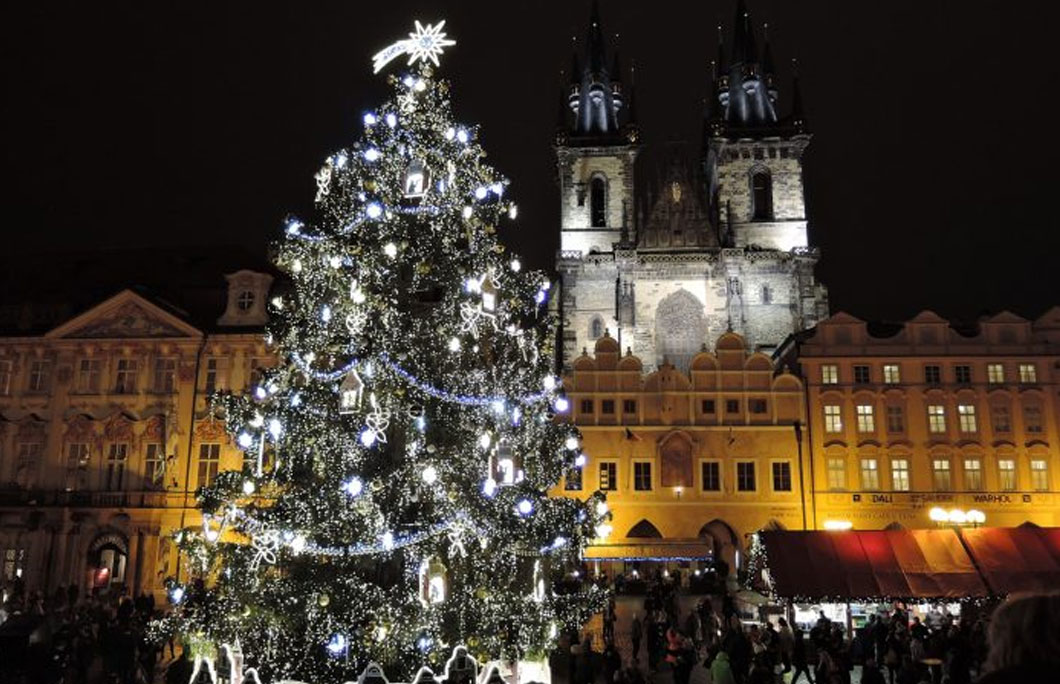 The hottest month in Vienna is July. The average day time temperature is 22.6°C (73°F). The coldest month is January with an average temperature of -1°C (30°F). The most agreeable weather is in the springtime and autumn and these are the best seasons to visit. The months of May, June, September and October being particularly lovely. Despite the cold temperature in the winter, Vienna is just magical at Christmas with its festive lights and markets.
The best time to visit Prague is in spring, late summer and early autumn when the crowds have dispersed and you can enjoy the sights in comfortable temperatures. Much like Vienna, Prague is just brilliant during the Christmas period as it is incredibly festive with its lights and markets.
---