Top 10 Road Trips from Alabama
Birmingham, Alabama to Memphis, Tennessee
Montgomery, Alabama to Atlanta, Georgia
Tuscaloosa, Alabama to Jackson, Mississippi
Dothan, Alabama, to Tallahassee, Florida
Florence, Alabama to Tupelo, Mississippi
Citronelle, Alabama to De Soto National Forest, Mississippi
Bayou La Batre, Alabama, to Baton Rouge, Louisiana
Ozark, Alabama to Fort Walton Beach, Florida
Mobile, Alabama to New Orleans, Louisiana
Andalusia, Alabama to Pensacola, Florida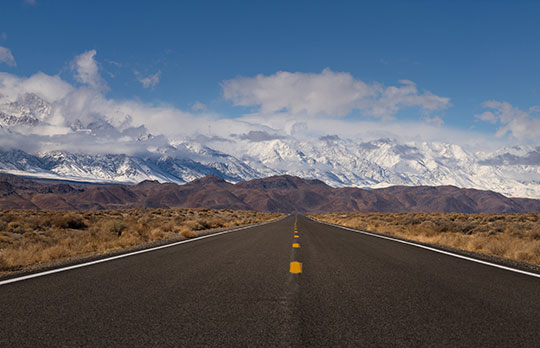 Top 10 scenic trips from Alabama
Alabama is a state whose history is interwoven with evocative history ‐ stretching from expansive Mississippian American settlements of the past to the classic French-Caribbean architecture of Mobile and the skyscrapers reflected in the waters at Birmingham's Railroad Park. Inextricably interlinked with the US Civil Rights movement, Alabama's fine cities, frontier towns and backwater villages combine to create a unique character and culture, manifested in magnificent music, food and arts. Wherever you're located, you're close to dynamic day trip destinations in neighboring states like Florida, Mississippi, Louisiana and Arkansas ‐ so it's simple to hire a car with Enjoy Travel and hit the road.
In a nation famous for wide open spaces, Alabama is reasonably compact and bijou ‐ stretching for just 250 miles from north to south. But this pocket rocket of a state encompasses the rushing rivers, pounding waterfalls and serene lakes of the Appalachian foothills as well as the gorgeous white powder beaches of the Gulf Coast. Peach and pecan farms thrive in the rich soil of the interior, with agricultural land in the heart of the state buffering the capital Montgomery, while northern cities like Birmingham and Huntsville are magnets for industry.
Top attractions in Alabama include the state's highest point, Mount Cheaha, which towers above Talladega National Forest, the otherworldly grottos and labyrinthine pathways of Dismals Canyon and beautiful beaches at the Gulf Coasts' Dauphin Island and Gulf State Park. And don't forget the feasting ‐ foodies are more than satisfied with bombastic BBQ dishes and signature fresh royal red shrimp with garlic toast on the side.
Hire a car in Alabama with Enjoy Travel and awesome adventures await!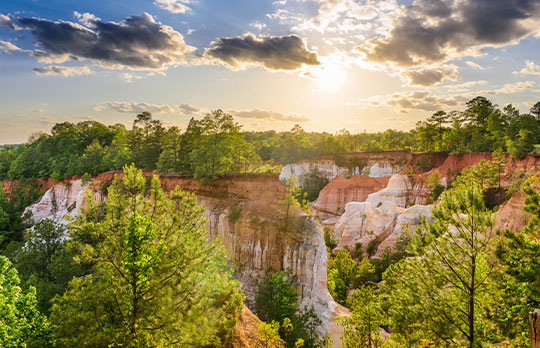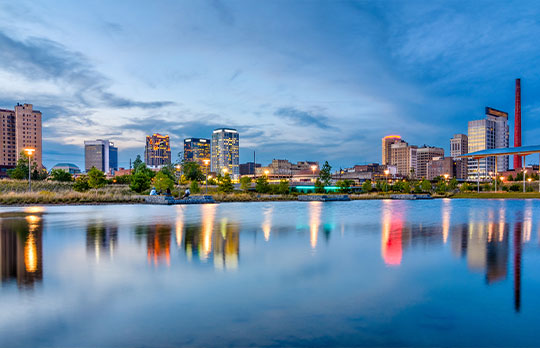 Top tips on driving in Alabama
Your top 10 road trips from Alabama are coming up soon, but let's take a quick look at some driving tips first.
You're not obliged to give right of way to vehicles at intersections here, but rather follow signage and manoeuvre when it's safe.
Furthermore, you should always turn on your headlights when using windscreen wipers and move one lane away from emergency vehicles that have stopped ‐ if this isn't possible, slow down to 15mph below the speed limit.
Always wear seatbelts when travelling in the front seats, children under 15 should wear a seatbelt and babies and toddlers have to ride in an appropriate safety seat. Speed limits in Alabama are 70mph on interstate highways, 65mph on roadways with over 4 lanes, 55mph on highways, 35 mph on country roads, 25mph near houses and 15mph in school zones.
Now let's get moving with those marvellous road trips!
Birmingham, Alabama to Memphis, Tennessee
This trip northwest from Birmingham along the I-22 to Memphis takes around three and a half hours ‐ to make the most of it, you'll want to stay overnight in Tennessee. Treat yourself to a stacked breakfast at The Original Pancake House in leafy Birmingham before hitting the road and you'll stave off those travelling hunger pangs. Once you reach Memphis and freshen up, you can visit the legendary Sun Studio where Elvis laid down 'That's All Right' and enjoy panoramic views of the Mississippi River and Memphis skyline from the Big River Crossing bridge.
Montgomery, Alabama to Atlanta, Georgia
Fancy saddling up for a ride from Montgomery into the Peach State's most exciting city? The trip northeast to Atlanta takes around two hours and 20 minutes on I-85N, so it's a manageable day trip but you'll probably want to stay overnight. Get into Zen driving mode by taking in the gorgeous collections at the Montgomery Museum of Fine Arts before hitting the road for the bright lights of ATL, where you can catch live music at the famous Fox Theatre, visit the moving Martin Luther King Jr. National Historic Site, and people-watch in pretty Piedmont Park.
Tuscaloosa, Alabama to Jackson, Mississippi
If you're interested in Native American culture, the 320-acre Moundville Archaeological Park near Black Warrior River just south of Tuscaloosa features 800-year-old earthen mounds that are the remnants of one of the most expansive cities in North America in the 14th Century. Then head down the I-20 W from Tuscaloosa proper and in around two hours 40 minutes, you'll reach Jackson. Nicknamed 'The City With Soul', attractions here include the Mississippi Children's Museum and nearby LeFleur's Bluff State Park, which boasts 305 acres of magical forest, lakes and trails.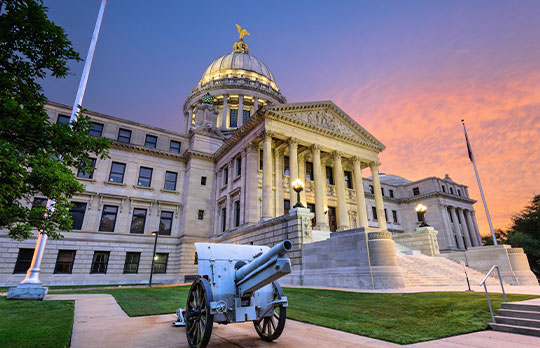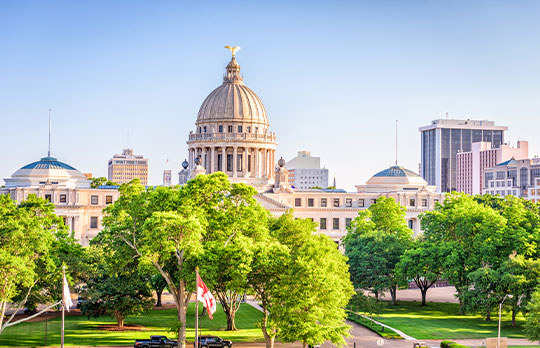 Dothan, Alabama, to Tallahassee, Florida
Fancy sweeping southeast from Dothan via US-84 E to reach the temperate climes of Tallahassee, Florida in under two hours? Of course you do! The small city of Dohan is known as 'The Peanut Capital of the World', so you can easily stock up on protein-packed snacks for your road trip, and don't forget to visit the Wiregrass Museum of Art, where stunning contemporary works are housed in a former power plant. Then there's plenty to see and do once you reach Florida's state capital Tallahassee, including sublime cityscape views from the 22nd floor observation deck at Capitol Tower, watching gridiron at FSU, and enjoying cabaret at the Mickee Faust Club.
Florence, Alabama to Tupelo, Mississippi
A road trip from Florence to Tupelo connects two terrific cities and states ‐ in a journey along AL-247 S and I-22 that takes just one hour and 30 minutes. Part of The Shoals area of Alabama, famous for the Muscle Shoals Sound of Aretha Franklin, Paul Simon, and Percy Sledge, as well as the stunning creeks and waterfalls of Shoal Creek Preserve, Florence is a fab launchpad. And in Tupelo you can take a sightseeing tour of the Elvis Presley birthplace, wander along the sublime Natchez Trace Parkway and enjoy waterskiing, fishing, and hiking.
Citronelle, Alabama to De Soto National Forest, Mississippi
If you drive down to the woods today, you're sure of a big surprise ‐ the drive from Alabama's Citronelle to southern Mississippi's De Soto National Forest takes just an hour but transports you to another world. The softly undulating scenery at your outstanding great outdoors destination is characterised by crystalline streams and scented pine ridges, while activities include camping, hiking, cycling and fishing. If you want to get away from it all for a weekend, De Soto is delightful.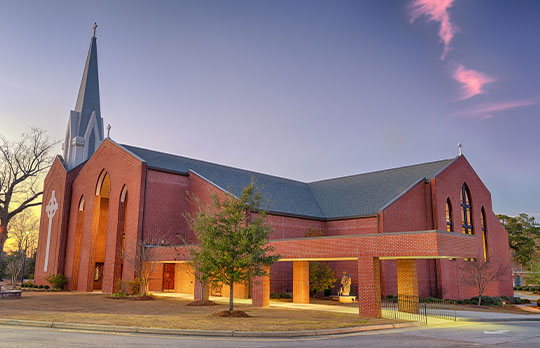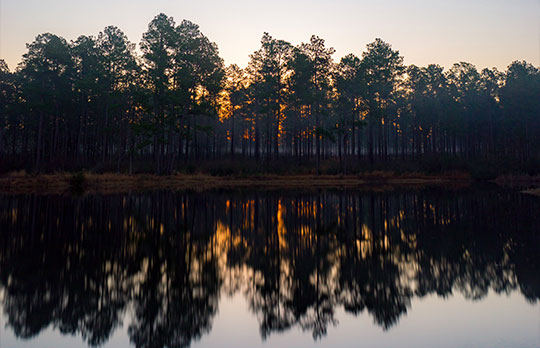 Bayou La Batre, Alabama, to Baton Rouge, Louisiana
Striking out eastwards from Bayou La Batre, a trip to Baton Rouge takes just under three hours and you'll pass famous pitstops like Biloxi and Hammond along the way as well as some gorgeous Gulf of Mexico scenery. Your destination Baton Rouge is located along the banks of the Mississippi River and attractions here include the planetarium at the Louisiana Art & Science Museum, the imposing Old State Capital building, and Baton Rouge Zoo. Foodies can also pick up fresh fare at the Red Stick Farmers Market.
Ozark, Alabama to Fort Walton Beach, Florida
Ozark, Alabama was once a heartland of the Muscogee people and it's part of the Wiregrass Region. It's home to outdoor attractions like the picturesque Ed Lisenby Lake and US Army Aviation Museum. A road trip of around two hours along FL-285 takes you to idyllic Fort Walton Beach in Florida, home to the powdery sands of Okaloosa Island, the emerald waters of John Beasley Park and the Indian Temple Mound and Museum. Kids also love Wild Willy's Adventure zone, with its crazy golf and go-kart racing.
Mobile, Alabama to New Orleans, Louisiana
New Orleans is only two hours from Mobile via the I-10 route, so it's a popular weekend trip for anyone who likes to party. You should definitely give yourself a couple of days to make the most of The Big Easy, where you can explore the French Quarter's fabulous architecture and lively vibes, the neighbouring Marigny quarter is renowned for live music, and Magazine Street comprises a six mile strip packed with lovely independent stores, awesome art galleries, and friendly bars and restaurants.
Andalusia, Alabama to Pensacola, Florida
Your road trip from Andalusia to Pensacola takes just one and a half hours and takes you through some super scenery. The culture at Pensacola is deeply intertwined with the Deep South and this northwest Florida settlement is one of the prettiest in the Panhandle. There are watersports aplenty in Pensacola Bay, you can step back in time at the historic Pensacola Village, and the Pensacola Lighthouse and Maritime museum offers outstanding views of the coast.