The best road trips in Arizona
Sedona to the Grand Canyon
Route 66
Painted Desert
Tucson to Scottsdale
London Bridge
Whiskey & wine route
Monument Valley Scenic Road
Tucson to Tombstone
Meteor Crater
Coronado Trail Scenic Byway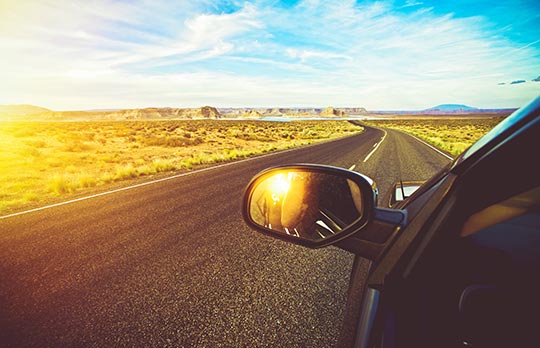 10 best scenic drives in Arizona
Big blue skies, red rock stacks, tough green cacti, Old West towns and wide open roads – is there any state in the US more perfect for road trips than Arizona?
Covering a gargantuan 295,234 square km, this western state is America's 6th largest and an excellent destination for your staycation at any time of year. The unmistakable highlight here is the Grand Canyon of the Colorado River – famous worldwide for its sheer size and rugged beauty. But there's much more to this truly cinematic state than its main attraction. Over one-third of the territory is still owned by Native Americans, who are the most populous group outwith urban centers. Consequently, this means that Arizona is one of the best places to immerse yourself in rich indigenous culture, with the legendary Navajo Nation and Hopi still standing strong in the northeast and the Apache ranging over the stark southeastern mountains.
Indigenous sites like Canyon de Chelly and Monument Valley are complemented by buzzing cities like Tucson, the state capital Phoenix, and traditional towns like Tombstone where you can still feel the gunslinging spirit of the frontier country in the air. Meanwhile, if you're yearning for outdoor adventure, you're spoiled for choice – from hiking and horseback riding on desert trails to off-road driving in red rock terrain, Arizona has it all. If you're a real thrill-seeker, you can even try whitewater rafting on the Colorado River or skydiving above stunning slot canyons. Foodies can chow down on some delightful dishes in Arizona too – signature dishes include Indian fry bread, napoles cactus tacos and the mouth-watering Sonoran hot dog (a hot dog wrapped in bacon and spicy ingredients like jalapeno salsa) and there's also haute cuisine and fine local wine and whiskey.
As you can see, adventure awaits on the open road in Arizona – get ready to roll!
Top tips on driving in Arizona
Ready for your top 10 Arizona road trips? Hold your horses just for a minute longer for some useful tips on driving in the Grand Canyon State.
First off, remember to wear your seat belts – they're mandatory for the driver and all passengers, while kids under 8 must be secured in a child passenger seat. Also (as you might expect), cell phone use whilst driving is not permitted in Arizona.
If you're driving between sunset and sunrise here, using your headlights is compulsory (it just makes sense, doesn't it?) and if you encounter a school bus from any direction while it's picking up or dropping off kids, you've got to come to a complete stop. Watch out for HOV (high occupancy vehicle) lanes in Arizona too – you can't travel in them with less than two people in your vehicle Monday through Friday at specified times.
School zones in cities typically have a 15mph speed limit, it's 20-25mph elsewhere within city limits, 45-65mph on rural roads, 55-65mph on freeways in city limits and 65-75mph on freeways outside city limits.
Now let's get started with your road trips!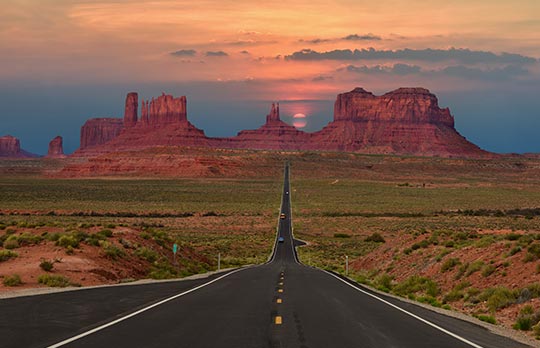 Sedona to the Grand Canyon
This stunning two hour drive takes you from sublime Sedona in the Verde Valley to the heart of the Grand Canyon. Taking the 89A to leave Sedona, you'll see Oak Creek Canyon, then drive on to Flagstaff, home of Humphrey's Peak, the state's tallest mountain. Continue on to the Grand Canyon and the best location for service and stunning views is El Tovar hotel – stay overnight to really make the most of your trip and simply step outside to start your South Rim hike after breakfast in the morning.
Route 66
Arguably the most famous road in the world, Route 66 is a mecca for drivers from all around the world and this 87 mile stretch from Kingman to Seligman is the longest still in use. Kingman hosts the Arizona Route 66 Museum (always worth popping into), then get your motor running on the 'Mother Road' as you power along with tumbleweed to your side and the big blue sky above. Seligman is known as the birthplace of Route 66 and here you can refuel your stomach as well as your gas tank and pick up some memorabilia before heading onwards.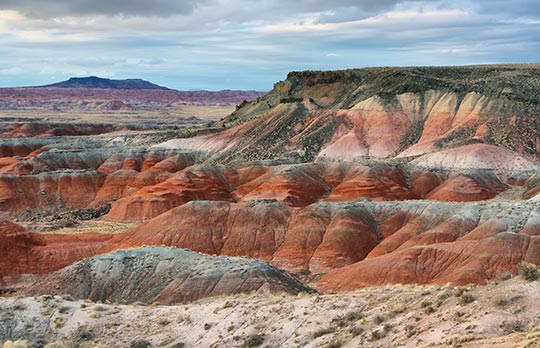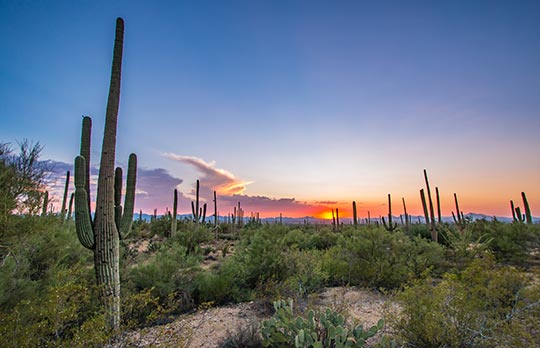 Painted Desert
If a real badlands adventure floats your boat, head 90 miles east of Flagstaff to the Petrified Forest National Part to start this rollicking road trip. The Painted Desert covers the area from the northern border of the Petrified Forest to the east of the Grand Canyon and the kaleidoscopic colors at iconic sites like the Red Basin and Blue Mesa are simply amazing. For dreamy blue skies and possibly the best sunsets Stateside, don't miss this terrific road trip.
Tucson to Scottsdale
This short but sublime two hour trip takes you from Tucson all the way to Scottsdale along scenic Route 179. Along the way, you'll pass one of North America's largest prehistoric structures, Casa Grande Ruins, which is steeped in the history of the Sonoran Desert. Once you reach Scottsdale you should trek up Camelback Mountain for the panoramic view that stretches as far as Phoenix, then pop into Roaring Fork to reward yourself with some stacked burgers and ice cold beer (provided you've got a designated driver). For a quick trip between two quality destinations, this is tough to beat.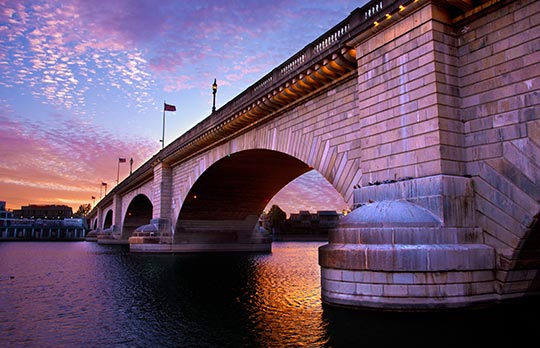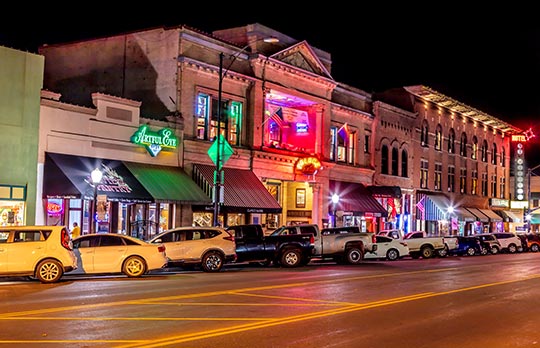 London Bridge
No, it's not a typo – there really is a London Bridge in Arizona! It's located in Lake Havasu City, around 3 hours from Phoenix and makes for a pretty interesting family road trip. This original London Bridge was purchased by the US in the 60s and now sits majestically atop Lake Havasu – as well as immersing yourself in the bridge's unusual history, you can swim and kayak in the lake and soak up the vibes of this compact, charming town.
Whiskey & wine route
This 60-mile trip through the high desert from Prescott to Sedona takes you through some of Arizona's best spots for locally-produced wine and whiskey. Prescott is famous for its Wild West-style saloons where the barkeep can slide you a sarsaparilla after you strut through the swing doors, while your next stop is spooky Jerome, perched on a Mount Mingus cliffside. Now you're on the Wine Valley Trail, which takes you through a plethora of wineries at Cottonwood and Cornville before you reach Sedona.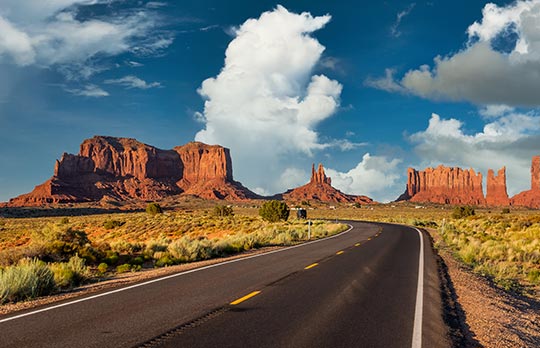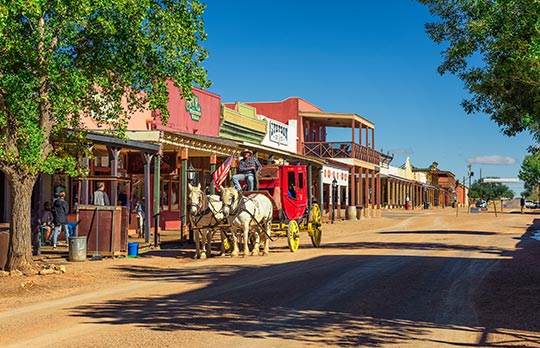 Monument Valley Scenic Road
This short drive from Kayenta to North Rim covers just 27 miles, but it's undoubtedly the best choice if you want to absorb some Navajo culture. At the Navajo Shadehouse Museum in Kayenta, history buffs can learn all about the WWII Windtalkers who deployed their indigenous language as a secret code, while there are ancient Puebloan cave dwellings a little further north at Agathla Peak. For a scenic trip infused with rich tribal history, this is first-rate.
Tucson to Tombstone
If you're a Wild West fan, you've no doubt heard of Tombstone. And if you're based in Tucson, the good news is that this famous gunslinging town is just an hour's drive south. As soon as you arrive and see the costumed cowboys, sheriffs, and carriages, you're instantly transported back in time and the fun includes gunfight reenactments and much more. There's no better place to strut your spurs and enjoy yourself.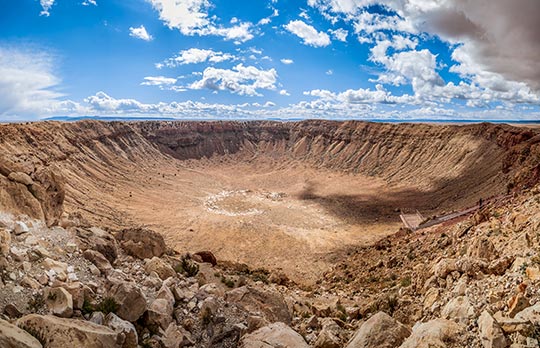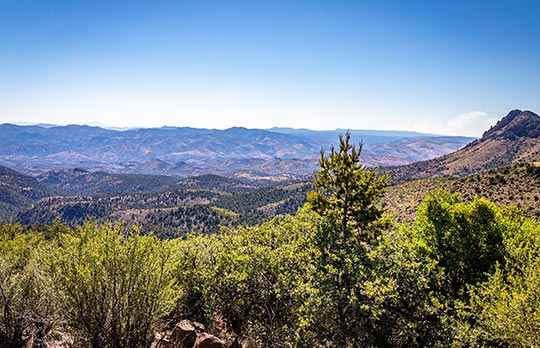 Meteor Crater
Want a road trip that's out of this world? Meteor Crater has your name written all over it! Located between Flagstaff and Winslow, the Arizona Meteor Crater is one of the world's best-preserved examples. At 1200m wide and 560m deep, it's quite a sight, and there's even a movie theatre where you can learn all about its history. For a road trip with impact, look no further.
Coronado Trail Scenic Byway
A 117-mile slalom between Springerville and Morenci, the Coronado Trail Scenic Byway has no less than 460 turns. First nicknamed 'the Devil's Highway', it takes you from the Casa Malpais Indian Ruins at Springerville through the White Mountains near the New Mexico border. Rolling through the verdant Apache-Sitgreaves National Forest, you'll pass the landmark Arrow Tree (pierced with real arrows) before you reach Morenci. En route, watch out for bobcats, bears and even wolves!
Bet you can't wait for your Arizona road trip now, right? Whether you hire a car in Tucson or anywhere else, this is simply the best state for anyone who's born to be wild!