Epic Road Trips on Route 66
Route 66 is a historic U.S. highway that runs 2,400 miles from Chicago, Illinois, to Santa Monica, California, along the Pacific coast. With a distance of almost 2,400 miles, it passes through eight states (3,900 km), crossing portions of Illinois, Missouri, Kansas, Oklahoma, Texas, New Mexico, Arizona, and California on its way from east to west. When compared to transcontinental highways such as the Lincoln Highway and US Highway 40, Route 66 does not stand out as America's oldest or longest road. However, this section of national highway was unique in that it was the shortest year-round route connecting the Midwest with the Pacific Coast. It cut the trip between Chicago and Los Angeles in half, making the route popular with thousands of travelers heading west in the decades that followed.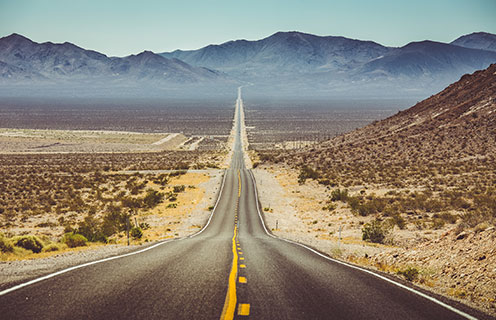 The best scenic drives on Route 66
Although Historic Route 66 is no longer known as the "Main Street of America," the streets are an adventure through American history, with old-fashioned eateries and motels, flickering neon signs, strange roadside sights, diners serving authentic American food, as well as some of the country's most renowned attractions along the way.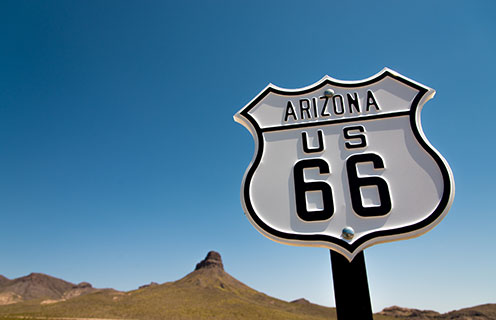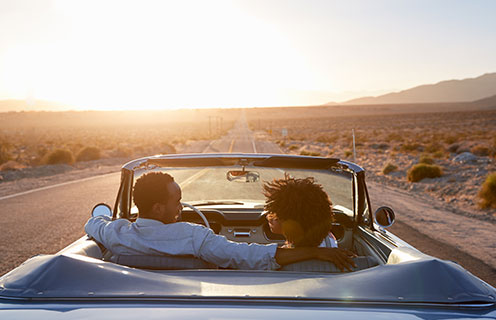 Know before you go
Take a selfie with the Route 66 sign
As fall descends upon New England, the landscape transforms into a yellow, orange, and red-hued wonderland that words can't do justice to. Franconia State Park in New Hampshire is especially spectacular during this time of the year. Just a 5.5-hour hour drive from New York City, the route takes you through the sublime countryside of Connecticut to reach the magnificent White Mountains area. Here you can indulge in picturesque hikes through the colorful foliage, cycle through the thick forests, or take a refreshing dip in one of the many gorges and waterfalls. Alternatively, you can hop on the Cannon Mountain Aerial Tramway to take you to the summit of Cannon Mountain. The roads that run through the park are in excellent condition, making it an absolute pleasure to drive through stunning scenery.
When to go
Road 66 sees the most traffic from early May to late September, and this is considered the ideal season to travel the route. Winter months from mid-November to mid-February are best avoided because of unpleasantly low temperatures. Due to its vastness, Route 66 presents both obstacles (and joys), since it passes through deserts, plains, mountains, and grasslands, and six different temperature zones (ranging from desert to Mediterranean to alpine climates).
How long to go for
If you want to follow the historical Route 66 as closely as possible, you'll need at least two weeks to travel the entire route, taking in all the major sights along the way. However, with only two weeks to go, it will be hurried. Three/four weeks appears to be the optimum time frame for driving the route religiously at a leisurely speed and having enough time to visit all the attractions. Additionally, it's true that following Route 66 is a bit of a mystery without the help of signage. So if you're traveling with friends, we suggest delegating the all-important responsibility of safe navigation.
Although Route 66 may be traveled eastward, a trip west over its patchwork of asphalt is unbeatable if you want to experience its symbolic power. With that in mind, we've put together a list of the best sights and stops along the way to take you to the pinnacle of Americana nostalgia. Route 66 is a journey, not a destination, so take your time.
Best stops along Route 66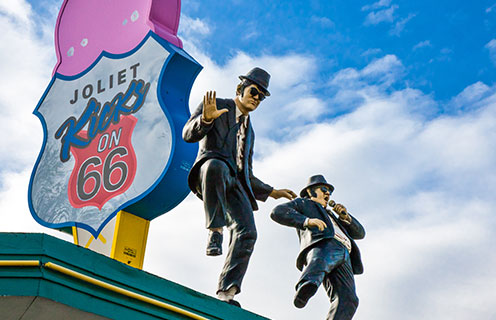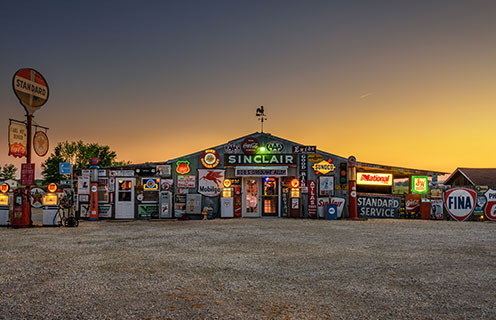 1. Chicago, Illinois
Most Route 66 excursions begin in Chicago. There are enough attractions in Chicago to keep you busy for a few nights, including museums, live music venues, Millennium Park's sculptures, and Lake Michigan's white-sand beaches. In a city known for pizza, we cannot recommend Chicago's original deep-dish pizza restaurant, Pizzeria Uno, enough.
The city is also well-known for its impressive skyscrapers. The world's first ten-story building was built here in 1885. Since then, the total has risen to 121, and both their design and height have improved dramatically. The Chicago River offers spectacular views of the city's skyline, making river walks and boat rides popular tourist activities. Among the most skyscrapers are the 141-meter (462-foot) neo-Gothic Tribune Tower, the Wrigley Structure, which was inspired by Spanish colonial revival and French Renaissance architecture, and the Willis (Sears) Tower, the world's tallest building for 25 years. The city's museums, such as the Art Institute of Chicago, are also certainly worth a visit for their world-renowned Impressionist and Post-Impressionist collections.
After leaving Chicago, the road leads southwest towards St. Louis and takes you through rural Midwestern villages with classic motel neon, antique gas stations, roadside giants, and old bridges.
2. Springfield, Missouri
Some tourists regard the stretch of Route 66 between St. Louis and Tulsa to be the heart of Route 66. It bridges the Midwest to the West Coast by connecting the eastern and western hemispheres of the United States. Although much of this section is on I-44, there are numerous exits and county roads, the view is often breathtaking.
The "Queen City of the Ozarks" and the "Birthplace of Route 66" are both nicknames for Springfield, which used to be a railroad hub, the site of a brutal Civil War fight, and a key player in the birth of the Mother Road. Springfield, Missouri's third-largest city, is located in the Ozarks area of the United States, which is noted for its scenic landscapes, outdoor activities, and unpredictable weather. Don't be surprised if you come across a couple of unexpected surprises, like if you see antique vehicles parked outside of quaint motels.
The Springfield-Style Cashew Chicken, the city's hallmark dish since it was introduced more than 50 years ago, is a must-try while you're there.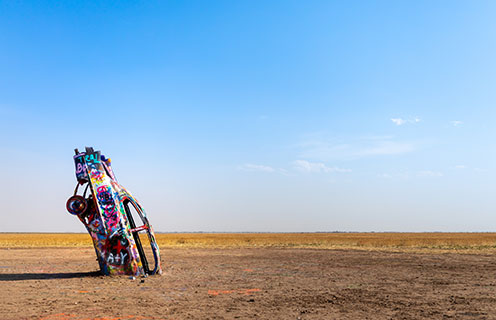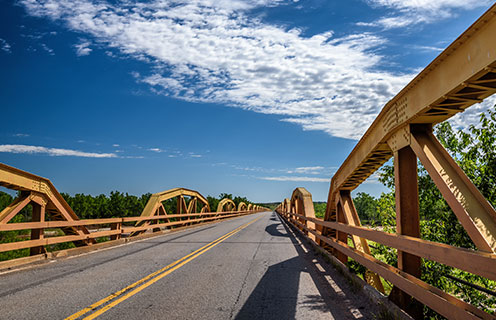 3. Catoosa, Oklahoma
The Blue Whale of Catoosa is a well-known Route 66 stopover point. Hugh Davis created it for his wife Zelta, who loved whales and collected whale miniatures, as a surprise anniversary gift in the early 1970s. Hugh Davis worked as the director of a Tulsa zoo and owned an alligator farm off of Route 66 with his wife Zelta. After 34 years of marriage, Hugh surprised Zelta with an 80-foot-long sperm whale made out of pipe and concrete in a small pond on their property. He designed it with a diving platform on the back and a slide coming out of the top, making it a wildly popular stopover for Route 66 adventure-seekers in its heyday.
However, the attraction was shut down in 1988 because the owners were getting on in years and the pond was abandoned. It is now beyond repair, despite its continued existence. But since it was so well-known and well-loved, Whale supporters now congregate in Catoosa on an annual basis to repair the concrete and repaint it.
Spend some time exploring the ruins of this once-famous roadside attraction and enjoy lunch at one of the nearby picnic tables.
4. Amarillo, Oklahoma
Oklahoma's plains disappear as you approach the Texas Panhandle, where you'll find a drier climate. This five-hour stretch of road is quite dull, so take the highway to make the time fly by. To get to Amarillo, you'll need to travel Interstate 40 (I-40). A meadow next to the road, ten miles outside of Amarillo, is home to an uncommon sight. The noses of ten graffiti-covered Cadillacs are dug out and buried in the dirt. What began as a simple art piece has grown in fame along Route 66, and visitors are encouraged to make their mark with spray cans to commemorate their visit.
Cadillac Ranch was the brainchild of a gang of art-hippies from San Francisco who came to the area in the 1960s. They went by the name The Ant Farm and while looking for something that would surprise the locals, the hippies decided on a homage to the Cadillac's evolution as a tail fin. The Cadillacs have been in the ground for longer than they were as working automobiles. They've been stripped down to their rusted frames and painted in a neon splooge that makes them seem nothing like vehicles. Nevertheless, it's become somewhat of a pilgrimage destination for people who take The Mother Road.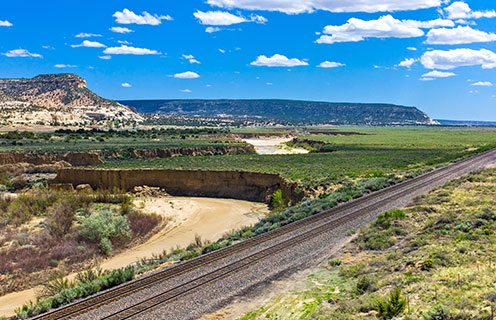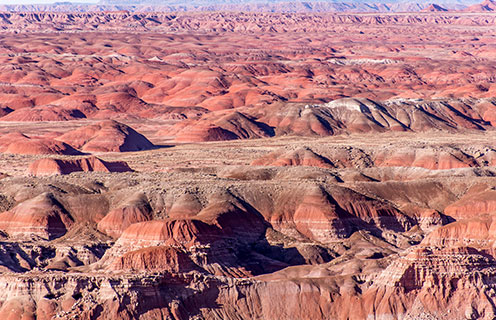 5. Acoma Pueblo, New Mexico
New Mexico's nickname is the "Land of Enchantment" with good cause. Some attribute this to a diverse landscape that includes hot springs, woods, deserts, and mountains. Others point to the area's long history as well as its deep emotional links to the past. Acoma Pueblo, located on a 367-foot (112-meter) sandstone mesa in Grants, New Mexico, and 65 miles (105 kilometers) west of Albuquerque, is one of the Southwest's most remarkable locations. Acoma, which has been called "Sky City" for years, is one of the earliest settlements in North America, having been established in the year AD 1150. The vistas across the plains, especially to the northeast toward Enchanted Mesa, are memorable.
You may learn about the region's historic history up close and personal here. The museum is a great place to visit exhibitions, take guided tours, and take in the expansive vistas of the plains. There is no other way to get to the many hundred-foot-tall mesas. Traditional artisans sell their pottery and other wares on the mesa where the Pueblo residents still dwell.
There are two ways to get to Acoma Pueblo: Exit 108 (westbound) or Exit 96 (southbound) on I-40 (eastbound). Visit the Haak'u Museum at the foot of the mesa, where tours of the old Sky City begin, to begin your visit by admiring the relics on exhibit.
6. The Petrified Forest, Arizona
The Petrified Forest National Park in northeastern Arizona is a geological wonder. It is well-known for its fossils, particularly those of fallen trees from the Late Triassic Epoch of the Mesozoic era, which lasted for around 225 million years ago. Petrified logs, ancient petroglyphs, and fossils abound in this Arizona national park, making it unique. If you have the opportunity, spend a day in the Painted Desert by taking a day trip into the wilderness. Overnight camping is completely free.
Alternatively, there is a beautiful petrified wood forest in the forest's southern reaches, called the Rainbow Forest. With its paleontology displays and many trail accesses, the Rainbow Forest Museum is a popular attraction here. Newspaper Rock, with its petroglyphs, and Puerco Pueblo, a deserted town, are the park's centerpieces. The Painted Desert Inn, a 1930s adobe structure housing a museum with Hopi paintings, can be found to the north.
Just driving through the park will provide you with spectacular views of this well-known and vast natural marvel. Getting out of your car doesn't necessitate awe, but taking a break to enjoy nature will make you glad you did (and snap some great pics).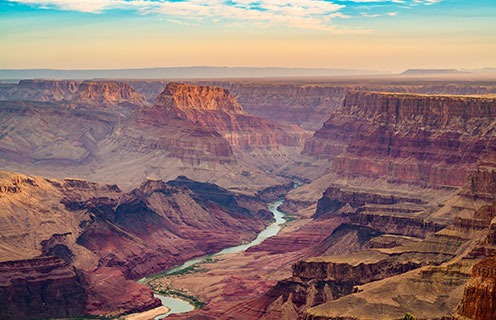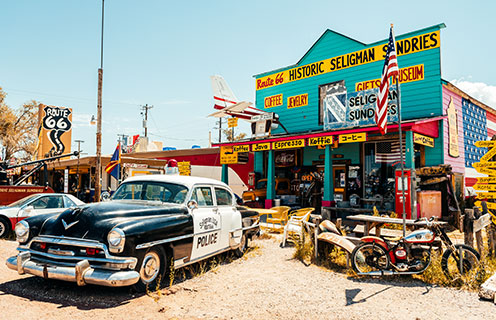 7. The Grand Canyon, Arizona
When you see the huge, brilliant white Teepee Trading Post advertising "jewelry, ceramics, kachinas, and southwest souvenirs," you know you've crossed into Arizona. The surroundings start to boast stunning red rock cliffs and you'll just get the feeling that something incredible is up ahead.
Grand Canyon National Park is one of those genuinely magnificent locations that must be seen to be believed. Although the Grand Canyon isn't technically on Route 66, it is well worth the little detour. If you're hiking up, wait for the woods to fade away and the Grand Canyon to emerge before your eyes, and you'll feel an adrenaline rush erupting from your core. But the canyon offers more than just awe-inspiring views. The Colorado River Canyon, which stretches for 200 miles along the ancient route, is a must-see site in and of itself. It's possible to arrange exhilarating whitewater rafting adventures as well. According to the National Park Service, the shuttle buses that run along the South Rim provide the best views of the site for most tourists.
On your way to the Grand Canyon, consider stopping at the Meteor Crater outside of Flagstaff. The crater, as its name implies, is a massive pit dug by a meteorite that slammed into the Earth some 50,000 years ago. The location has a lot of extraterrestrial overtones, and you can only go within a certain radius of it, adding fuel to the fire of conjecture.
8. Seligman, Arizona
Route 66 is said to have originated in Seligman, thus it's a must-stop on the journey. It's like going back in time to the Wild West in this sleepy little hamlet, complete with horse-hitching rails and a roadway straight out of a Western movie. However, the way of life around here is extremely genuine, replete with enormous cow ranches.
Many people don't know that the town was dealt a major economic hit when Interstate 40 came through in 1978. Eventually, Seligman would create a reputation for itself despite this setback. Residents of Seligman, most notably Angel Delgadillo, succeeded in persuading the State of Arizona to designate Route 66 as a historic route in 1987, earning the title of "Birthplace of Historic Route 66." If this narrative seems to ring a bell, that's because Seligman was the inspiration for Radiator Springs, the beautiful town featured in Pixar's animated film Cars!
Now, tourists from all over the world come to witness the Route 66 town that battled for the restoration of the iconic road. Seligman is also the starting point of the longest intact length of Route 66. While here, make sure to visit the Roadkill Cafe ("You kill it, we grill it").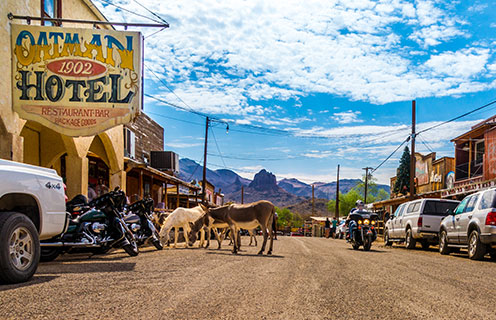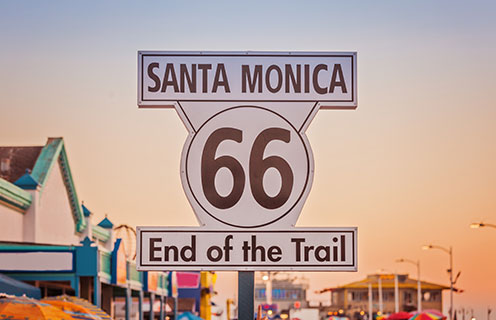 9. Oatman, Arizona
Oatman must be seen to be believed. More wild burros (donkeys) than humans live in this little mining town, which was chiseled out of the forest by tenacious miners. The town's main street is lined with funny businesses, and the furriest "residents" – miniature donkeys descended from miners' beasts of burden – take part in the town's annual fall Burro Biskit Toss.
But without Route 66 memorabilia, history as a "wild west gold mining town." and neighboring casinos, Oatman may have gone the way of many other Arizona mining communities and became a ghost town. Even the wooden walkways, simulated shootouts, and kitschy stores in the town preserve a Wild West vibe. For those who are interested in adopting a burro, you may do that too!
Oatman is bordered by the Bureau of Land Management wilderness, which is home to desert bighorn sheep. Hiking, camping, hunting, photography, and rock climbing are just a few examples of outdoor activities you can partake in with a basecamp here.
The section of Route 66 from Kingman to Topock has been classified as a Back Country Byway.
10. Santa Monica, California
The Santa Monica Pier, located near the city's westernmost tip, is the ideal place to stretch your legs and take photographs of the ocean after successfully completing your 2,000-mile journey west. Even though it's a tourist trap, you shouldn't let that deter you from riding the 1922 carousel or getting a treat from the soda fountain. The public pier offers a wide range of fun activities for the whole family, as well as live entertainment, restaurants, and stores.
There's a lot of excitement here, from the roller coaster and Ferris wheel to the arcade and the official Route 66 sign, where a victorious selfie is highly encouraged! You can also swing by the Last Stop Shop, a convenience store nearby, which will give you a commemorative certificate for making it to the end of the trip.
In Barstow, the final major attraction along Route 66 before you reach Santa Monica, you may want to visit the Mother Road Museum and take a break from the drive if you choose. The museum houses a variety of artifacts linked to the ancient route and is a worthwhile pit break as you reach the finish of your journey.