Top 10 Road Trips from Nebraska
Omaha NE to Des Moines IA.
Gothenburg NE to Sterling CO.
Chadron NE to Hot Springs SD.
Scottsbluff NE to Douglas WY.
Lincoln NE to Topeka KS.
Valentine NE to Gregory SD.
McCook NE to Woodward OK.
Bellevue NE to Quincy IL.
Sydney NE to Loveland CO.
Grand Junction NE to Beaver UT.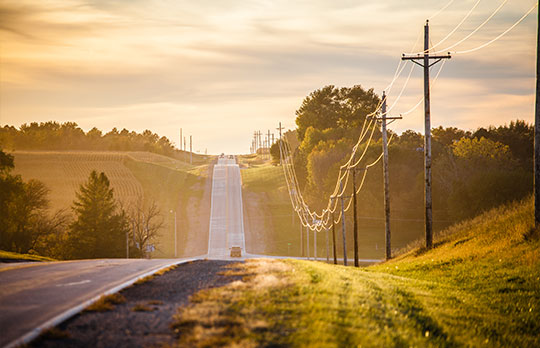 Top 10 scenic drives from Nebraska
What's not to love about Nebraska? The Cornhusker State boasts bustling Omaha and Lincoln, ravishing river valleys, and a rich history that encompasses everything from dinosaur skeletons to Native American culture and tough frontier tales.
There are lots of exciting things to do here. And they're a little bit different. Like floating down a river in a converted livestock tank with nothing but a few cold beers and good friends for company. Or visiting Carhenge ‐ Nebraska's stacked-car tribute to England's Stonehenge monument. Then there's the Toadstool Geologic Park ‐ the nearest you'll get to walking on the Moon without NASA training and a space shuttle.
And don't forget gorgeous Great Plains towns like Beatrice (home of the Homestead National Historic Park), Columbus (wild water parks and serene lakes), and Ogallala (where the stunning 100-mile shoreline of Lake McConaughy ‐ AKA 'Big Mac' ‐ awaits).
What's more, Nebraska has some lovely neighbors. Like Missouri, Kansas, Colorado, and South Dakota. Which makes it the perfect place to hire a car and hit the road for adventures.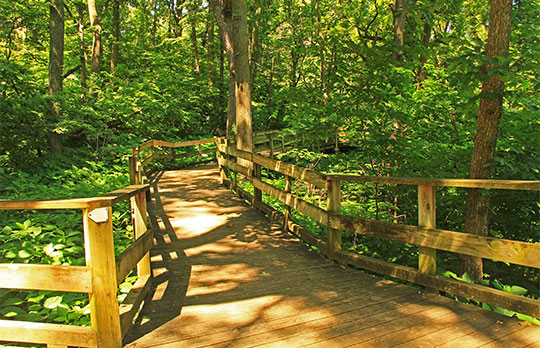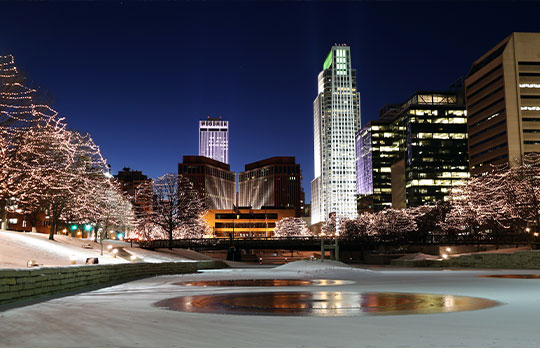 Top tips on driving in Nebraska
We'll get on to your scenic road trips from Nebraska before you know it. But let's take a pitstop for some quick driving tips.
Be particularly careful if you're hitting the road in winter ‐ warm up your car before you leave, keep more distance between yourself and the vehicle in front, and always drive defensively.
Don't drink and drive, aways wear your seatbelt and don't use your cellphone while driving. The absolute speed limits in Nebraska are ‐ 20mph in business districts, 25mph in residential areas, 25mph in school zones and urban area construction zones, 55mph on dustless highways not in the state highway system, and 70mph on most highways that are part of the interstate system.
Now let's gear up for those road trips!
Omaha NE to Des Moines IA
How does heading east from Omaha for a two hour road trip along I-80 E to Des Moines sound? Once you reach this Iowa hotspot, there's a whole heap of things to do. For some serious shopping, explore Jordan Creek Town Center or the trendy Historic East Village, grab local fare at the Farmers Market or sample craft beer in busy taprooms. And keep your kids busy at Blank Park Zoo and Adventureland Park.
Gothenburg NE to Sterling CO
Want to ride way out west from Gothenburg into Colorado? The route to Sterling takes two hours 30 minutes along I-80W and I-76 W and it's worth saddling up for. For starters, North Sterling Reservoir is a scenic 3,000 acre spot that's great for angling and camping, and the par-71 Riverview Golf Course is a championship-level challenge. The City of Living Trees Walk is also a quirky attraction you shouldn't miss ‐ it comprises 20 cottonwood trees with trunks carved intricately by local artists.
Chadron NE to Hot Springs SD
South Dakota's Hot Springs is only 55 minutes north of Chadron via US-385 N but this small city in Fall River County offers a welcome change of vibe. It's named after the cathartic hot springs revered for generations by the Cheyenne and Sioux indigenous peoples ‐ one of the most famous of which is the Evans Plunge. Black Hills Wild Horse Sanctuary is another rewarding place to visit, while the Mammoth Site contains the world's largest number of mammoth remains ‐ a mind-boggling 61 in total!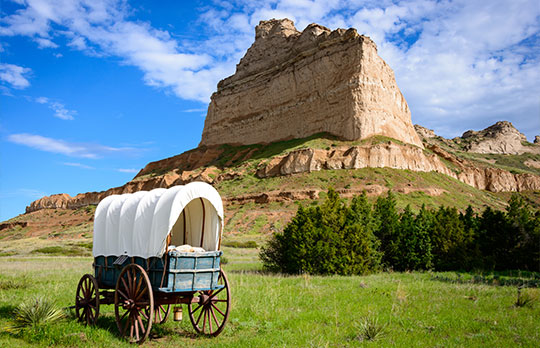 Scottsbluff NE to Douglas WY
Does shipping out from Scottsbluff for a Wyoming weekend sound good? A road trip to Douglas takes just over two hours along US-26 W and I-25 N and takes you through some scenic terrain at Guernsey and Glendo State Parks. When you reach your destination in Douglas, top attractions include Ayers Natural Bridge & Park, Fort Fetterman, and North Platte River Fishing, just a stone's throw from downtown.
Lincoln NE to Topeka KS
When you want to leave Lincoln for a few days somewhere a little bit different, an interstate trip to Kansas ticks all the boxes. Topeka is around three hours away via NE-2 E and US-75 S and has lots to recommend it. For starters, visiting Old Prairie Town at Ward-Meade Park lets you walk in the shoes of an old time prairie pioneer. Then there's designer shopping at Warehouse 414 and Ash Boutique and the North Topeka Arts District has cool live music venues like the Wheel Barrow. Something for everyone then.
Valentine NE to Gregory SD
Ready for a road trip that's a love letter to South Dakota? Roll out along NE-12 E and US-183 N for an hour and a half to Gregory and there's plenty to capture your heart. Once you reach your destination, you can go wild at Bramble Zoo, or show the locals a few strikes on the lanes at Burke Bowl. And if you're staying overnight (or have a designated driver), let your hair down with cold beers and good company at local hotspots Bernie's Inn and Cody's. Get ready to develop a soft spot for Gregory.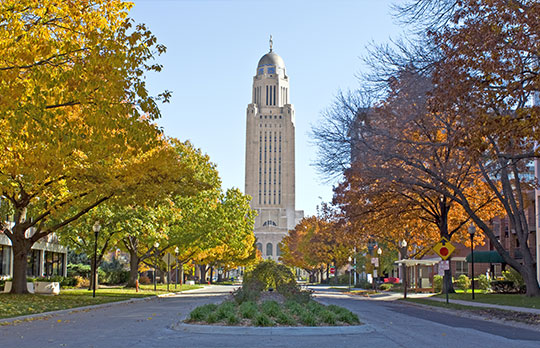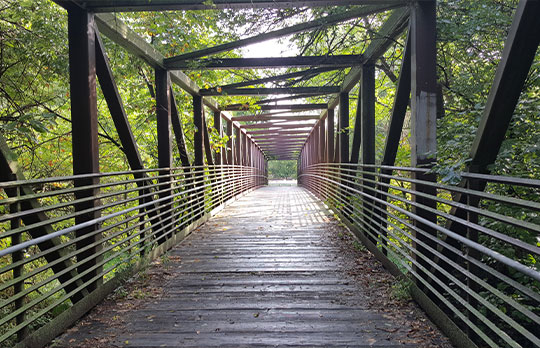 McCook NE to Woodward OK
Need to get out of McCook for a while? How does a trip through Kansas to a cool Oklahoma destination sound? Woodward is around 5 hours away via US-283 S, so you'll need a couple of days to make the most of this hidden gem. The main draw here is the stunning natural beauty and wildlife of Boiling Springs State Park, but there's also a great golf course if swinging is your thing. Meanwhile, the Woodward Arts Center has some fascinating community exhibits and the Plains Indians & Pioneers Museum has been named the best in Oklahoma. For culture, history and nature, Woodward punches above its weight.
Bellevue NE to Quincy IL
So the only Quincy you've heard of is the 70s TV show? Let's remedy that with a 5 hour road trip via I-29 S and US-36 E to Quincy, Illinois. But what's your reward after such a quest? This western Illinois city next to the Mississippi has plenty of distractions, like strolling through Historic Downtown and admiring the Italianate architecture or visiting the Moorish-style Villa Kathrine high on the bluffs. Meanwhile, Clat Adams Bicentennial Park hosts outdoor concerts and fireworks displays, and the Bill Klingner Trail is a must for nature lovers. History. Nature. Architecture. Quincy has it all.
Sydney NE to Loveland CO
Ready to set your heart aflutter? Strap on your seatbelt for a two hours 30 minutes trip along I-80 W and I-25 S to Colorado's Loveland. You'll pass some picturesque Pawnee National Grassland scenery on the way, and the Loveland Museum and Gallery is a great first stop ‐ packed with interesting artefacts illustrating the area's history. Benson Park Sculpture Garden is another gorgeous attraction ‐ the wood, glass and bronze statues look stunning against the big blue Colorado sky, while more lively activities like kayaking and mountain biking are available at Boyd Lake State Park. If you're staying overnight (recommended), grab some tickets for a classic movie or live show at the Rialto Theater Center, which has been entertaining locals for a century. Or treat yourself to a tasting tour at Sweet Heart Winery on Highway 34 ‐ lovely.
Grand Junction NE to Beaver UT
Yearning for a break from Grand Junction in a destination that offers everything from fresh mountain air to snow sports, hiking and history? Leave it to Beaver. This underrated Utah location is 4 hours 20 minutes away via I-70 W and it's a wonderful place to while away a weekend. If cruising through fresh pow sets your pulse racing, Eagle Point Ski Resort is set in a panoramic spot high in the Tushar Mountains and boasts 650 skiable acres. Alternatively, explore the mysterious Beaver County Ice Caves or trek out into the Wah Wahs wilderness to discover the only place on the planet where there are red emeralds large enough to fashion into gemstones. And don't miss the Skyline and Paiute Trails ‐ whether you tackle them on foot, mountain bike, horseback, or ATV, they're spectacular.